Usually, if we leave the house, we have our wallet and our key chain (or key ring).
What better way would there be, to ensure that you have some basic tools than to put together some key chain survival tools?
Ranging from size, quality, and use, here are the top must-haves in your SHTF key chain.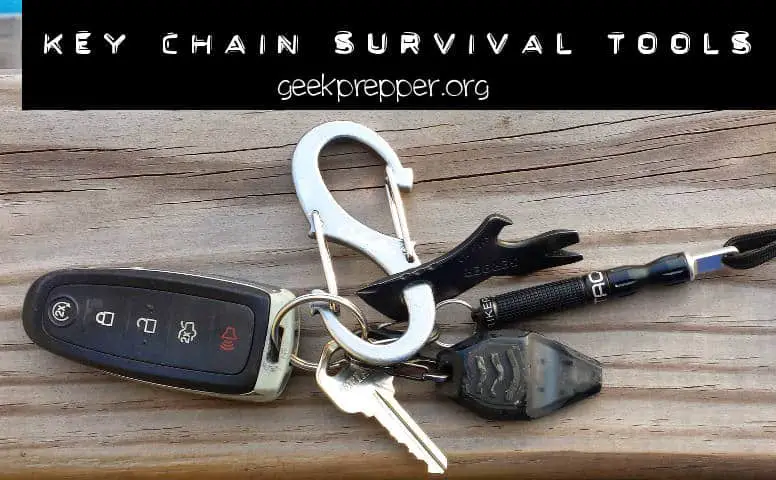 Key Chain Survival Tools
What do you have on your key chain (or key ring)? Keys? Is that all?
If your answer is yes, then it's definitely the time to upgrade. Since this is something you always carry in your bag or pocket, it's street-wise and SHTF-wise to carry a couple of items on your key chain to give an edge up if things go down.
1) Flashlights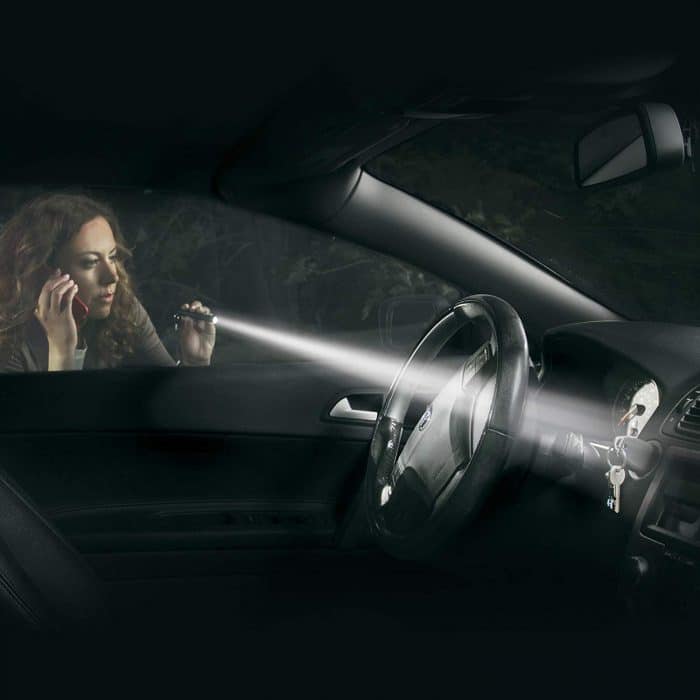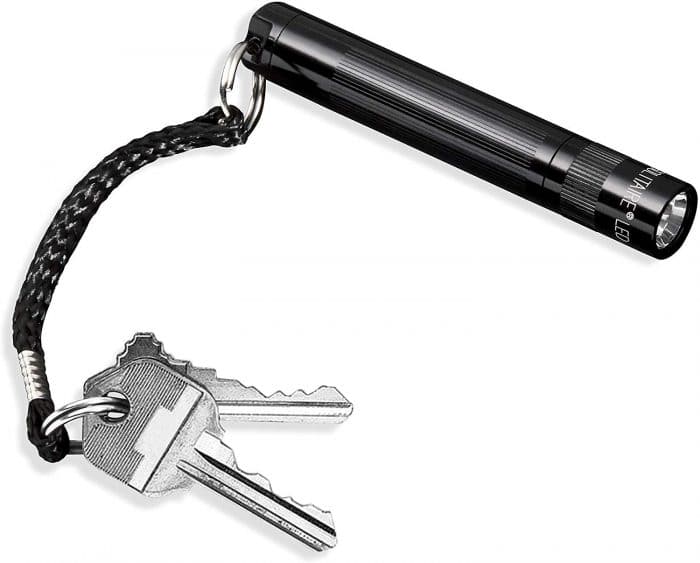 Maglite Solitaire LED – This tough little light, from Maglight, gives you the ability to focus the beam from a wide-angle floodlight down to a narrow spot beam. The high-powered LED output of this tiny titan provides 37 lumens, enough power to light up objects on the far end of a parking lot (55 meters), and runs off of a single AAA battery!
This keychain flashlight is tiny enough that it can live in your pocket, or on your key ring. It will always there when you need it!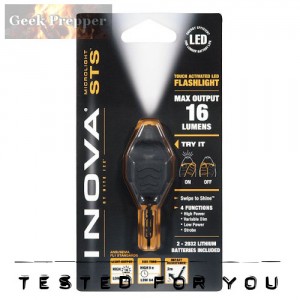 Nite Ize MLSA-M1-R7 Micro Light STS – Lately, I've been carrying the Nite Ize MLSA-M1-R7 Micro Light STS and love it.
Since it's "Swipe" activated, I find that it doesn't come on by accident while in my pocket. 16 scorching Lumens of white light when I need it. This is a great little light! 
2) Mini Pry Bar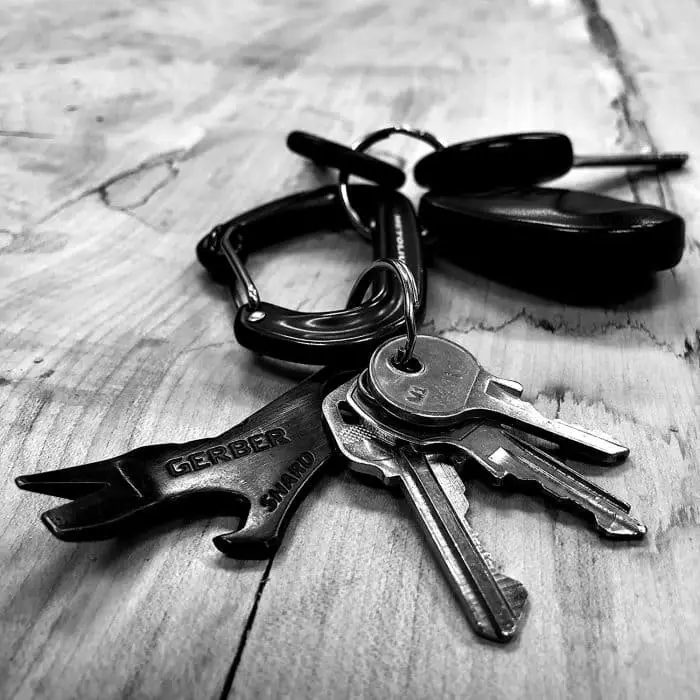 The Gerber Shard has been my key chain companion for quite some time now and I'm surprised by how much I've used it. It's handy because it's right there, so I've grown accustomed to using it to pry, unscrew, tighten and many other uses.
Bottles of root beer are being popped open, by this Gerber Shard, as we speak…. that counts as an emergency use right?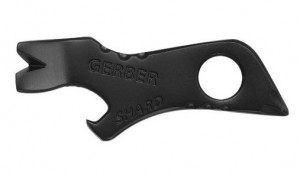 The Gerber Shard includes a small and medium flat driver; Philips head driver, wire stripper, pry bar, bottle opener, lanyard hole.
3) FireStarter
Exotac nanoSTRIKER XL Ferrocerium Fire Starter – This is a handy, self-contained tool. It boasts 3000 fire-starting strikes and the 1/4″ Ferrocerium rods are replaceable. This fire starter will even work if it's wet.
4) Multi-Tools

Leatherman Squirt – 420 HC clip-point knife blade, Needlenose pliers, regular pliers, wire cutters, Spring-action scissors, wood/metal file, bottle opener, Flat/Phillips medium regular screwdrivers and key ring attachment.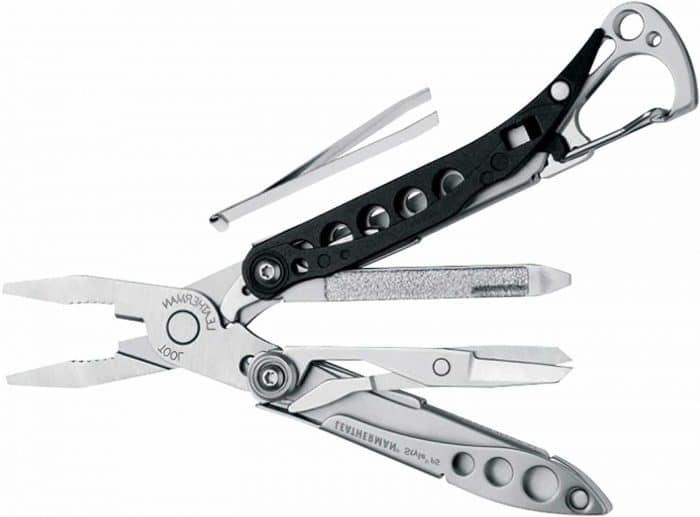 Leatherman Style PS Multitool – (No knife, but it does have pliers, wire cutters, scissors, file, regular and phillips screwdrivers, nail file, tweezers). This multi-tool is perfect if I know that I have to fly. It's fully TSA approved.
5) Knife Sharpener
Survival knives need to remain razor-sharp so they can efficiently perform cutting tasks.
With that in mind, you also need to carry the most reliable knife sharpener in your key chain survival tool to combat such situations. It can help retain the sharpness of the blade, which is necessary for most survival situations.
Here are a couple of knife sharpeners that you can include in your survival key chain, making them easier to grab: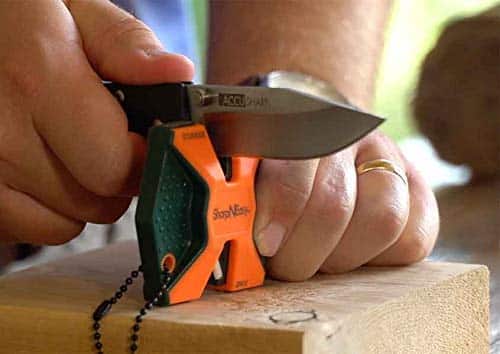 SharpNEasy 336C 2-step Knife Sharpener – With the built-in key chain attachment, it's surely a great tool to incorporate into your survival key chain.
This knife sharpener is a great choice with its coarse and fine ceramic rods. It also features a rubberized grip, which ensures that you can securely and comfortably hold and grip it.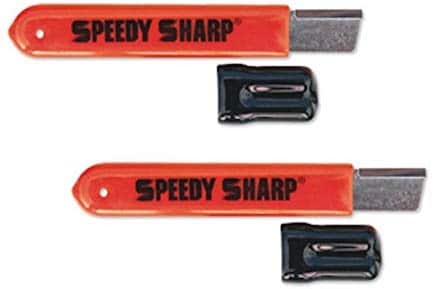 Micro 100 KS-1 Knife Sharpener – This compact and sturdy knife sharpener can be easily attached to your key chain survival tool. What's great about it is its fast sharpening capability. It easily fits not only in your pocket but also in hunting packs and toolboxes. It sharpens almost everything that comes with edges, including knives, scissors, razor blades, axes, and fish hooks.
6) Whistle
This is a small yet fantastic signalling device. The fact that it is inconspicuous and compact makes it worthwhile to include in your survival key chain. It is useful in signalling for help and notifying law enforcement or other people in case you are in defensive situations.
Among the best key chain whistles you can invest in guaranteed to carry sounds over long distances are: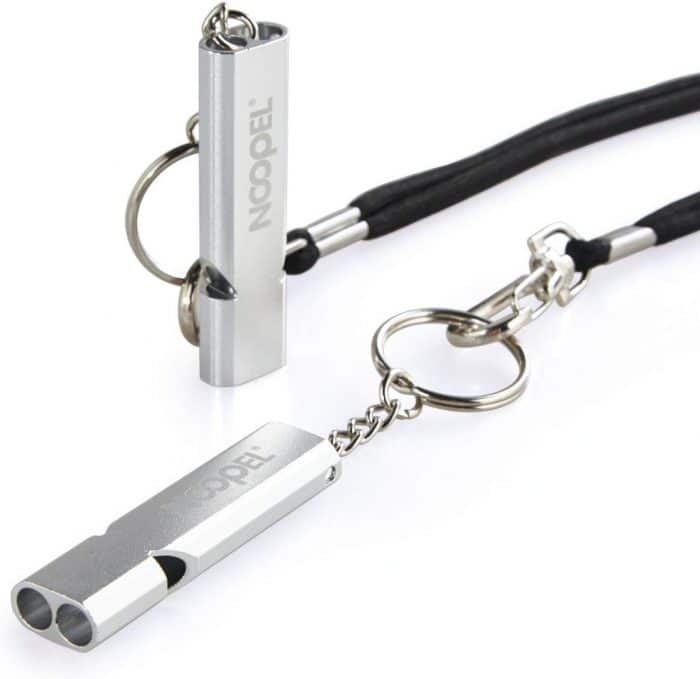 Noopel 2-pack Emergency Whistle – Constructed out of durable, premium-quality, and sturdy aluminum alloy material, this emergency or survival whistle produces super-loud sounds, up to 120 decibels, giving you a guarantee that even those in long distances can hear it.
It's lightweight and easy to carry, providing an assurance that it won't weigh down your survival keychain. It is also water-resistant, allowing you to use it in all kinds of environment and weather. Furthermore, it takes pride in its amazing airflow design.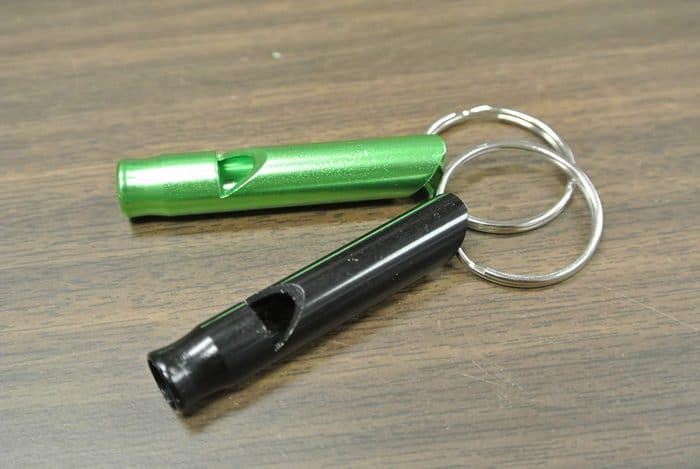 TruePower 40-0455 Emergency/Survival Whistle – Ideal for survival situations, disaster preparedness, and emergencies, this survival whistle from TruePower is also a fantastic and valuable addition to your survival keychain.
Your purchase of this product lets you get a hold of five pieces of this aluminum-based whistle. It's small, compact, and lightweight. It also perfectly fits a keychain, making it truly perfect for survival and emergency kits.
7) Tactical Pen
Tactical key chain pens are also famous among survivalists and preppers.
A tactical pen is that it is sturdier than ordinary pens since it is made of highly durable materials, like aluminum. With such construction, expect it to have the ability to handle more abuse.
Tactical pens also serve as non-lethal weapons. One end of it comes with a blunted tip, which is useful in inflicting injury to someone who attacks you.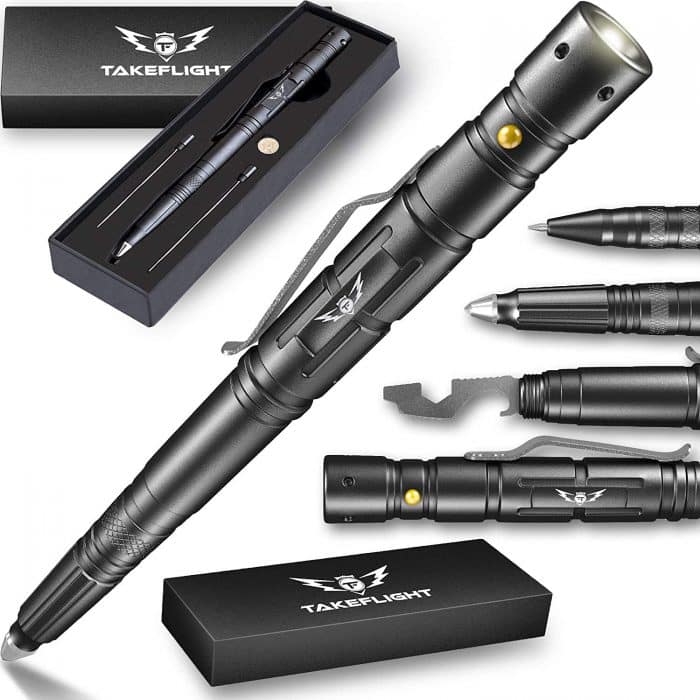 TF TAKEFLIGHT Tactical Pen – This is a 4-in-1 tactical pen, which you can attach to your key chain survival tool if you are looking for a practical and discreet solution for preparing for almost everything.
It is a powerful tool for fending off an assault, smashing car windows, and other things self defense and survival uses.
With this tactical pen, you can keep yourself safe and secure discreetly. This is possible without the need to bring heavy or dangerous items with you. This pen also features a tactical flashlight, making it all the more useful during power blackouts.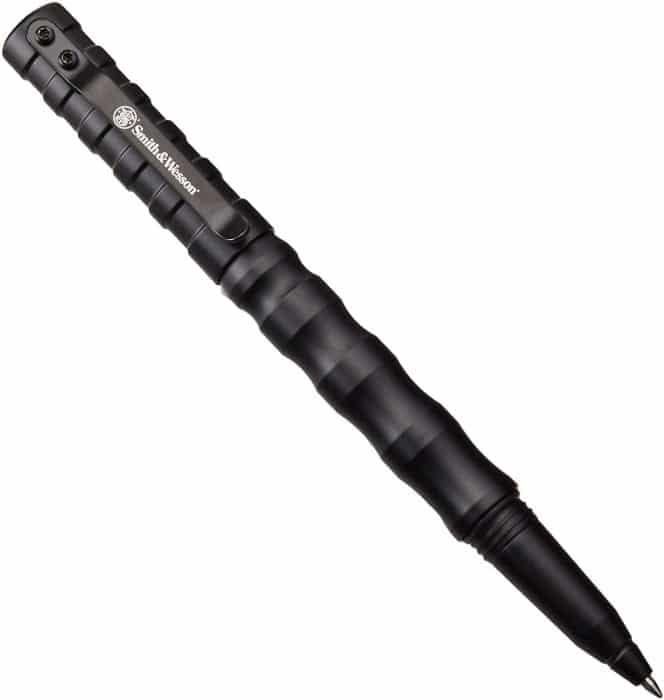 Smith & Wesson SWPENMP2BK Tactical Screw Cap Pen – Your survival keychain will also become even more functional with this tactical screw cap pen from Smith & Wesson around.
It is constructed from the strong and sturdy T6061 aircraft aluminum material, proving its reliability in several emergency and survival situations.
Once attached to your survival keychain, you can quickly and easily access it whenever you need it. It also takes pride in its comfortable grip as well as a screw-off cap.
8) Paracord
A paracord also makes for a fantastic inclusion to your key chain survival tool. With this around, you can make traps, build tents, or be fully prepared no matter what kind of disaster or emergency you are facing.
Here are a couple of survival keychain paracords worthwhile to check out: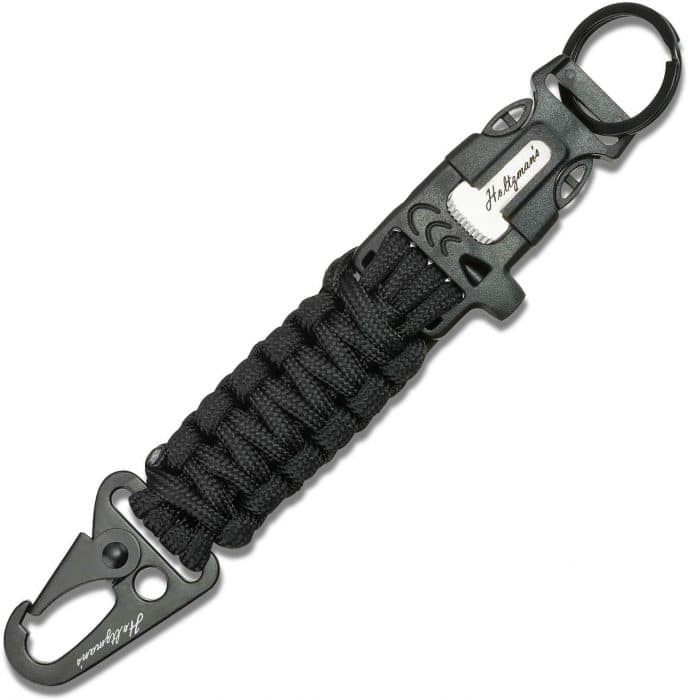 Holtzman's Paracord Keychain Carabiner Tool – With this paracord integrated into your survival keychain, you have a higher chance of remaining safe and protected during outdoor adventures and survival situations.
It is convenient, lightweight, and practical, which is built in a way that it can handle all possible challenges related to backpacking, fishing, or some disasters and emergencies. It is easy to attach to any keychain, too.
Furthermore, it features other survival tools in just one price, including the emergency whistle, flint rod, cutting tool, and key ring.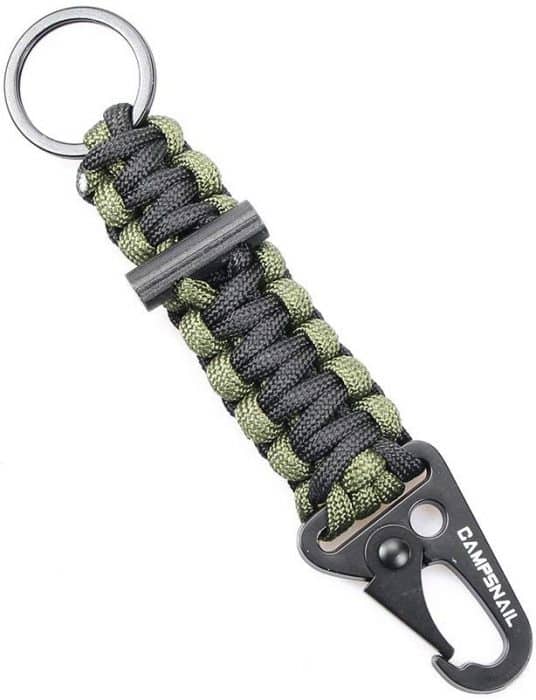 CAMPSNAIL EDC Paracord – You can also choose to incorporate the CAMPSNAIL EDC Paracord into your survival keychain.
What is great about this paracord keychain is that it is built to be not only strong and sturdy but also versatile.
It can handle multiple uses, including during emergency and survival situations as well as when doing some outdoor activities, like camping, hiking, and climbing. It is lightweight and is tarnish-proof and rust-proof.
Conclusion
It's good to take advantage of your key chain and add some tools to make life easier. Key chain survival tools will give you an edge in unexpected situations and to make survival easier. Put together some key chain survival tools!