When was the last time you took a glance at your bugout bag?
Do you think it is time to make an upgrade?
With very little effort you can upgrade an ALICE pack, with modern straps and waist belt, making it comfortable, and giving you a great platform to utilize.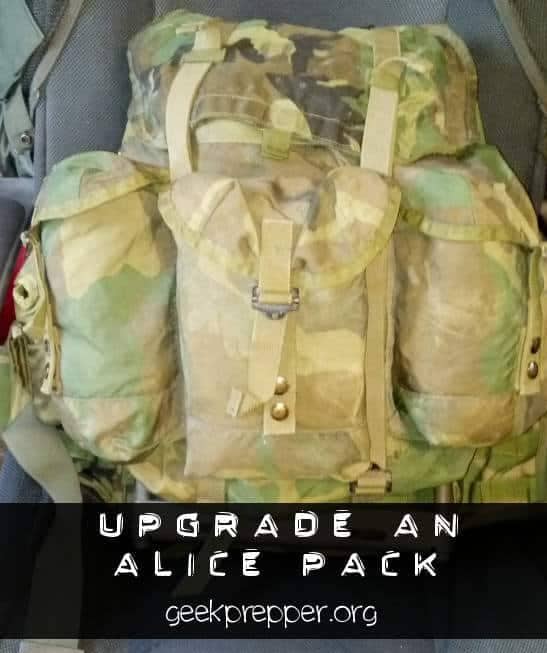 Why the Alice Pack as a Bugout Bag?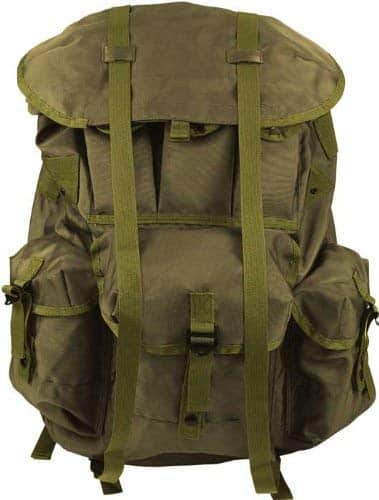 The more I use the Large Alice Pack with Frame, the more I realize that this thing is a beast. 
The Alice Pack is a battle-proven, time tested platform for moving large amounts of gear and supplies.
Since these packs are military surplus, they can be found fairly inexpensively at surplus stores and other retailers.
The main compartment alone is between 3200 – 3500 sq inches. That is well over 60 liters.
 

Water-repellent 420D Nylon

Rugged military construction

Snap-closure pouches

ALICE webbing

Drawstring closures

Buckle-closure flap cover

Pack does not come with straps

CAPACITY: around 5,000 cu.in. (inside storage capacity of right at 3276 cubic inches not including the outside storage pockets)

3 additional outside pockets are about 10 inches x 9 inches x 3 inches each

3 more outside pockets are approximately 7 inches x 3 inches x 2 inches

DIMENSIONS: 22.00″ x 20.00″ x 19.00″

Made in the USA
I recently picked up a shelf, for my pack, that will allow me to carry heavy, bulky items using the frame of this pack. I'll now be able to strap 5-gallon water containers, Jerry cans of fuel, firewood and a zillion other things to my frame and pack it back to camp.
Reasons to Invest in the Alice Pack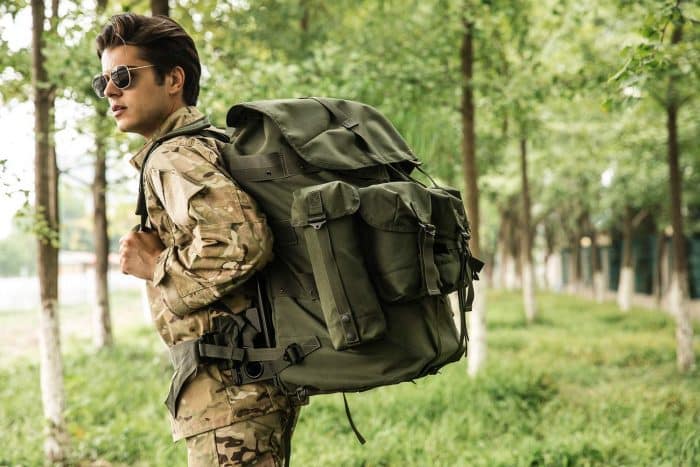 1) Rugged construction
One amazing thing about the Alice pack is that it has a rugged and sturdy construction. Many even consider it as one of the sturdiest military bags available today. It is constructed from water-resistant nylon, which can remain dry while holding up to heavy and rough use.
It is long-lasting because aside from its strong and sturdy construction, it also has:
Several webbing at the sides and back

Light frame made of aluminum material

Drainage holes found at the bottom part of the pack's pockets

Plenty of interior space
2) Reasonable price
Many also love the Alice pack because of its affordability. It is inexpensive without sacrificing reliability. Most of its parts are also available at reasonable prices.
You can also find affordable mods and upgrades for it. For instance, if its shoulder straps break after a few years of use, you can rest assured knowing that you can find several inexpensive replacement parts ib the market today. This also holds true for the pack's frame.
3) Allows modifications
The Alice pack also makes for a sound investment because of its compatibility with other military systems that can bear load. This makes it fully upgradable.
For instance, you may buy a MOLLE waist belt and install it on the pack. The upgrades and mods available for the Alice pack are also inexpensive. This ensures that you can improve the comfort level and functionality of the pack without spending too much.
Before upgrading your Alice pack, though, make sure to do the following:
Examine the entire pack and the frame – Note that while the Alice pack provides numerous advantages, there are still some shortcomings and weaknesses in its design. One is that its stress point reinforcements are considerably lower compared to modern field packs. The riveted frame also seems to be lacking in stability.
With that in mind, make sure to spend time examining the stitches and rivets of the Alice pack and its frame before buying. If it has weak rivets then you may want to start upgrading it by integrating a more solid base.
Learn basic sewing skills – Most of the modifications and upgrades you can do for the Alice pack may require you to sew. The good thing about learning how to sew is that you can also use this skill during survival situations.
How to Upgrade an ALICE Pack
We all have our views on what makes the perfect Bug Out Bag.
The ALICE pack platform has proven its reliability and for ruggedness with the US military, but dang if those things aren't uncomfortable.
If you take some time you can upgrade an ALICE pack, with modern straps and waist belt, making it comfortable, and giving you a great platform to utilize.
1) Why would you want to upgrade an ALICE pack?
The ALICE pack has been in use since 1972, and has only recently been replaced with the MOLLE system gear. Even now the ALICE packs are still in active use by our military.
This means that the ALICE packs are available almost everywhere. If something rips, breaks or gets ruined you can replace it easily, and at a manageable cost.
The frame can be easily repaired using rivets and a rivet gun.
2) Alice Pack Specs
Large ALICE Pack:
Water-repellent 420D Nylon

Rugged military construction

Snap-closure pouches

ALICE webbing

Drawstring closures

Buckle-closure flap cover

Pack does not come with straps

CAPACITY: 3,800 cu.in. (inside storage capacity right at 2,800 cubic inches, including the outside storage pockets 3,800 cu.in)

DIMENSIONS: 22.00″ x 20.00″ x 19.00″

Made in the USA (Heck yeah!)
Medium ALICE Pack:
Water-repellent 420D Nylon

Rugged military construction

Snap-closure pouches

ALICE webbing

Drawstring closures

Buckle-closure flap cover

Pack does come with straps

CAPACITY: 2,350 cu.in

Made in the USA (Heck yeah!)
Personally, I prefer the Medium ALICE pack, not because it's better, but because it's smaller, forcing me to pack smarter.
It's way to easy to pack too much into a  Large ALICE pack and end up with a 200lb pack strapped to my back. Not a great idea for bugging out…or camping.
3) The Upgrade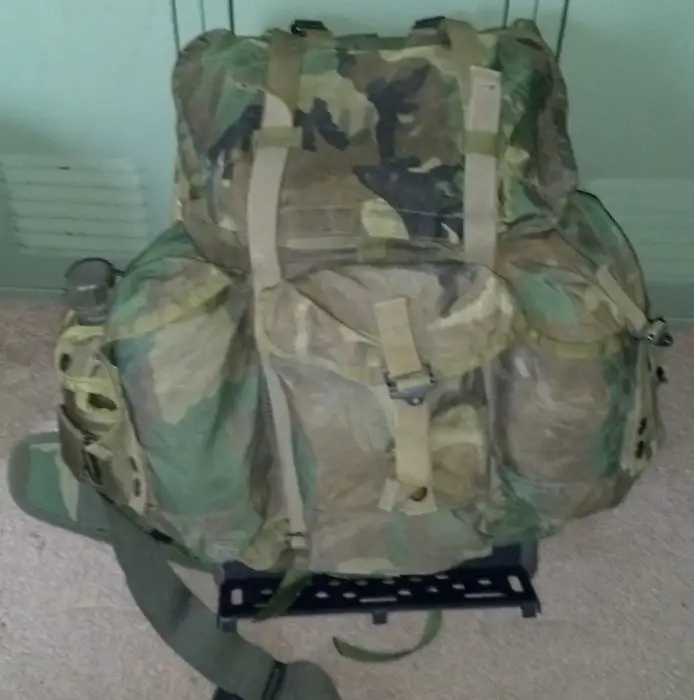 What does it take to make a ALICE pack into a Hell Cat ALICE PACK?
You take an ALICE pack WITH external Frame and then replace the waist belt and straps with MOLLE gear. This makes the ALICE pack a whole new beast.
It's comfortable and carries the load on your hips while gently cradling your shoulders with padded goodness. Ok, it's still a backpack but you know where I'm going.
What you need:
Large ALICE Pack or Medium ALICE Pack

External ALICE Frame, if one isn't included with your pack. Many of them come with the frame.

MOLLE Waist belt (to replace that awful ALICE waist belt)

MOLLE Shoulder Straps (to replace those awful ALICE should straps). Make sure the ones you get come with the LOAD BEARING ATTACHMENT STRAPS. Many sellers try to remove those and sell them separately, especially on ebay.com. Scurvy dogs!
To see how to connect the new straps to the frame, head over to Building a "Hellcat" Hybrid Ruck from US Mil Surplus. This is a great site with lots of good pictures and info on routing the straps properly.
If you want a PACK with easy to find, easy to replace parts, that won't cost you a fortune, an  ALICE pack or the Hell Cat ALICE pack mod might be a good fit for you.
Other Viable and Functional Alice Pack Mods and Upgrades
1) Waterproof it
The Alice pack has great water-resistance capability. Once soaked, it tends to weigh a bit more than other load-bearing systems.
However, this does not mean it is waterproof. The water-resistant nature of the pack is only because of the drain holes integrated at the bottom. There is still a chance for the water to penetrate because of the top flap.
The good news is that you can also upgrade it to make it waterproof.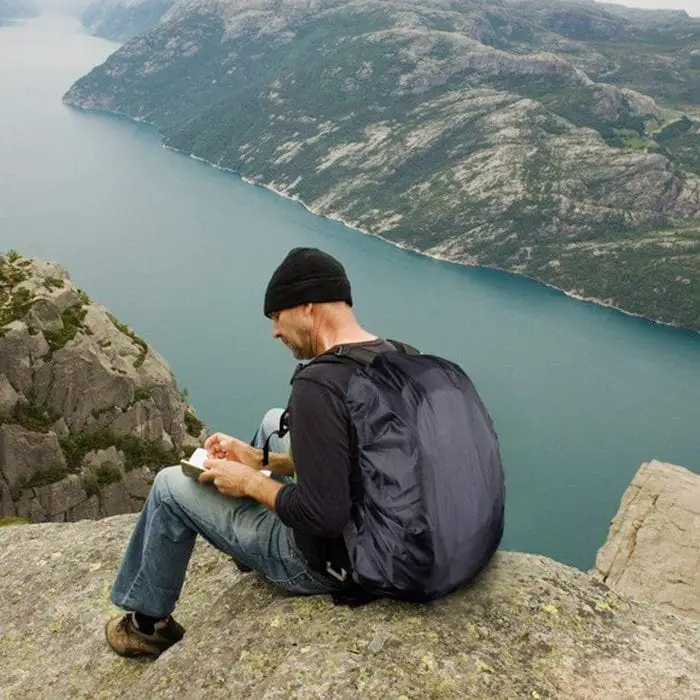 One solution is to enclose it in a waterproof cover. You can buy covers for this specific purpose from various sources. If you have a rain poncho then you can turn it into a waterproof Alice pack cover.
Another way to waterproof the pack is to put waterproof bags inside it. All pockets should have a waterproof bag (ex. freezer bags work well for small pockets while a kitchen size trash bag is appropriate for the primary compartment).
A storm flap may also be added to the pack.
All it takes is sewing in a circular section made of nylon material within the opening of the top compartment. Ensure that the middle part of the nylon material has a hole. Put a drawstring to the middle hole, which you can use in pulling it close and prevent water from getting inside.
2) Add more reinforcements to some stress points
Another great Alice pack mod involves reinforcing some of its stress points.
Among these points or locations are those where you specifically mount the pack into the frame. This specific spot is where the pack's contents bare most of the weight.
This helps shore up the pocket corners. This is especially helpful if the pack carries a lot of heavy gear. Another great way to reinforce the Alice pack's stress points is to add extra zigzag stitches.
3) Install carry handles
While it's somewhat tempting to hold the pack through its padded part at the top, you should avoid doing so because this is the specific section is designed to handle the frame.  It is not designed to withstand repetitive stress caused by carrying a pack with a full and heavy load.
If you want a handle, what you should do is mount it on the frame. In this case, you may find ballistic nylon straps useful. You may also want to make a paracord carry handle.
4) Install some interior dividers
One shortcoming of the Alice pack is that it only has one large pocket.
It is spacious but since it only comes as a single piece, your gear can easily shuffle about inside, causing a mess. To prevent that, adding interior dividers can help. You can add such upgrades by permanently sewing them into the pocket.
Another option is to put hook & loop sections inside. Just make sure to install them on the soft side of the pack. This way, you can use Velcro in adding and moving dividers as you wish.
5) Integrate MOLLE shoulder straps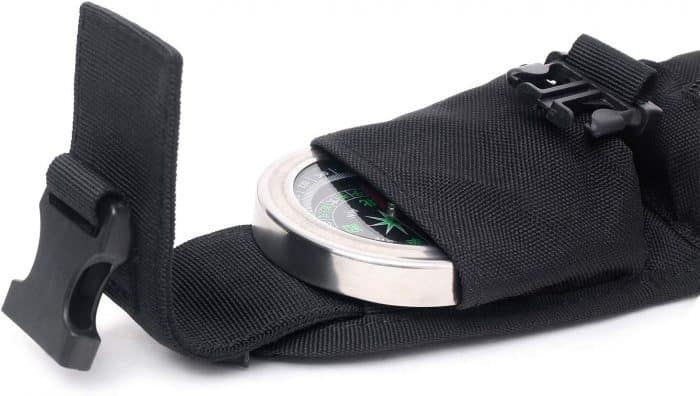 The shoulder straps used in the Alice pack are not well padded or adjustable. Fortunately, you can use the well-padded and adjustable MOLLE shoulder straps to replace them. These are suitable for the Alice pack's frame. You can put these straps on without doing permanent modifications to the pack's stock construction.
Tips on Shopping for Mods
If you do go to ebay, make sure that the Shoulder straps that you buy come with the load carry straps.  These are the straps that actually connect to the ALICE frame. Many sellers remove them so they can sell them separately. Those scurvy dogs!
After much Google-Fu (in a browser that's never logged in to a Google Account) I came across another blog who had great instructions, with lots of pictures, to help me get all the straps on correctly.
Check out the post on Liberty Tree Blog.
I still am missing the Molle sleep system carrier, but I'll add that in the near future and post some pictures, but then I'll have to figure out how to carry the ALICE shelf without it being mounted on the frame. Decisions decisions.
These shoulder straps and waist belt really change up the feel of the ALICE frame and pack.
It's much more comfortable and I'd feel much better about lugging firewood or 5-gallon fuel cans with the ALICE Shelf with these straps.
If you're looking to use an ALICE pack of any size, take a few minutes to consider purchasing the updated carry straps for your gear, it will make a huge difference.
If the ALICE gear just isn't for you, here is another option: The ALPS OutdoorZ Commander Freighter Frame Pack (5250 Cubic Inches).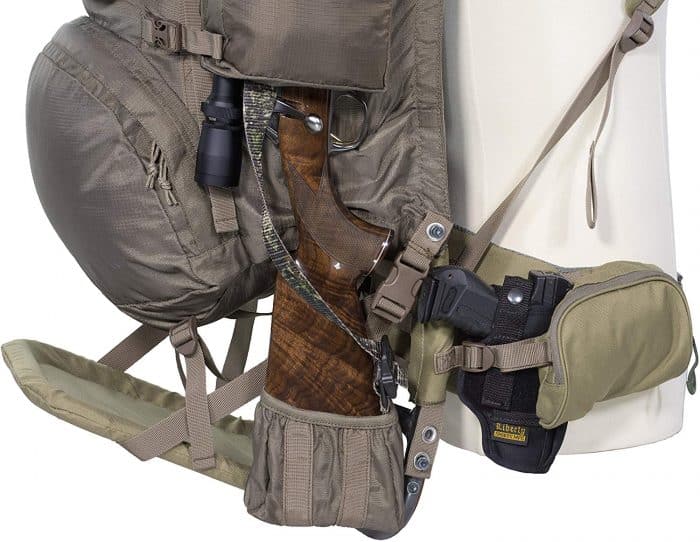 It doubles as both a backpack and a Freight Hauler, to carry heavy loads to your camp or back to the road! Plus you can even strap your long gun, rifle or shotgun to the side of it (someone was thinking when they designed the ALPS OutdoorZ Commander Pack)!