I wanted a decent tent…
I only had 2 requirements, that it didn't cost me a fortune and that it wasn't a crazy bright color, but something that would blend in.
If I could meet those 2 items I'd have a great budget but out tent!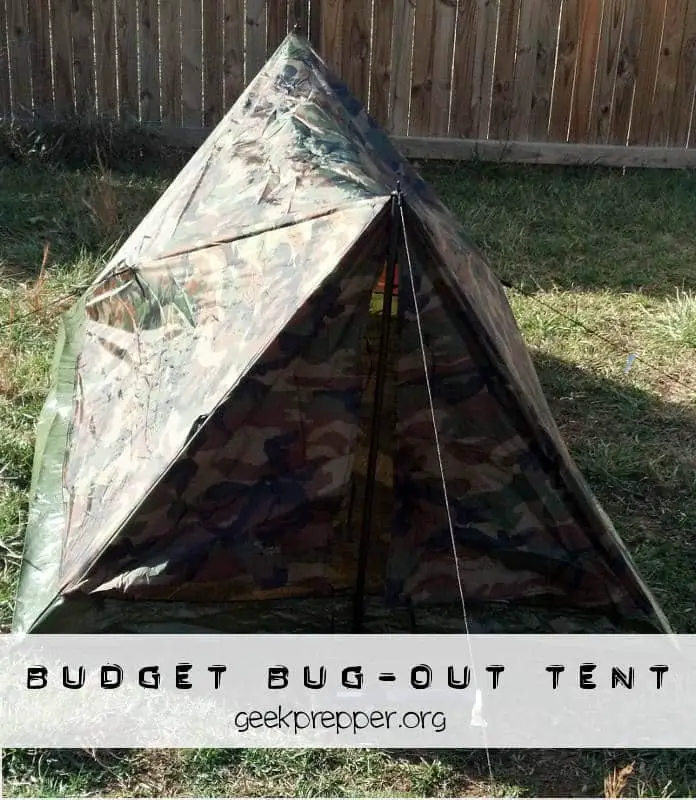 Quick Navigation
Budget Bug Out Tent
I love our family-size tent (a Coleman Red Canyon Tent), but I've come to realize that if we have to bug out that this huge, bright orange tent might not be the best option. I needed a tent that was more petite and that would be a little easier to hide or blend into the forest.
I don't know what has happened in the last couple of decades, but it seems like every tent you see, is a super intense color, that you can see from miles away.
This is probably great for the drunk camper, who needs to stumble safely back to his tent, in the wee hours of the night, but what about someone, who is interested in staying off the radar or do some stealth camping?
There just aren't many decent camouflage tents these days.
After much shopping and comparisons, the Texsport Camouflage Trail Tent seemed like the best contender, and since it cost low, I figured even if it was garbage, I wouldn't be out of a ton of money.
When the Texsport Camouflage Trail Tent arrived, it was a pleasant surprise. It was a much better tent, than I had dared to hope.
Why is this a great budget bug out tent?
Packed size is roughly the

same size as a loaf of bread

, it should be easy to pack in your bug outback or to lash it to your pack.
It's

not heavy

to carry
It camouflage. This will help when you're hunkered down in the woods.
It's pretty

large for a pup tent

. Measures 54-by-38-by-84 inches (W x H x D). We'll talk more about this below.
I've camped out in pup tents as a boy so I was no stranger to pitching this tent. It went up relatively quickly. I can set this up in less than 5 minutes. Which is nice since my family size tent takes about 15 minutes.
After setting it up, I'd do a few things differently.
Replace the cheap nylon guy lines with 550 paracord (I'd probably use some Zing It, or Lash it).
Treat with some waterproofing spray or get a rain fly to setup over it.
The tent stakes aren't the super-robust high dollar stakes, but are no means are they the worst I've seen. They are light (aluminum) so I'll keep using them with the tent.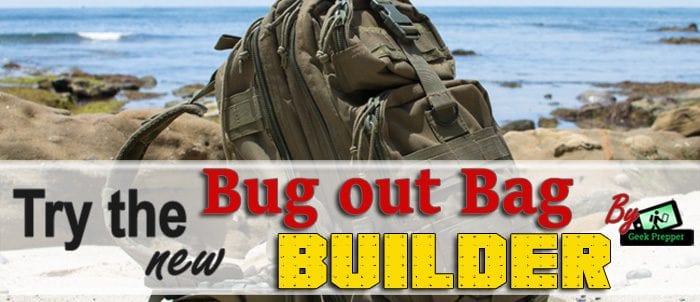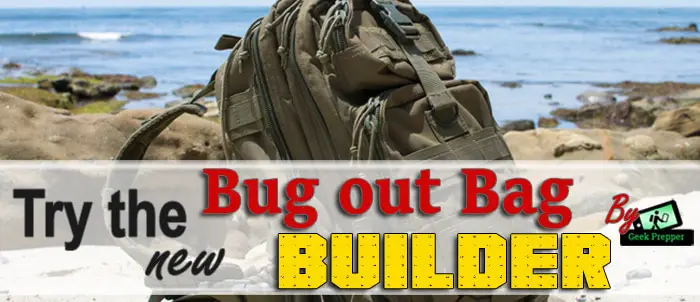 Tent Size
As I mentioned before, the tent measures 54-by-38-by-84 inches (W x H x D). Inside the tent, I am always amazed by the space. I am 6 foot (265lbs) and am able to stretch out in this tent. I could sleep in here easily.
Today My 7-year-old daughter crawled in to join me, and if we both had moderate-sized backpacks we'd probably be able to store them on her side down by her feet. If we had no fear in the tent, my 5-year-old would fit fine too.
If we were in a bug-out situation my wife,  3 daughters and I should be able to squeeze in just fine. If not, I've always got my poncho shelter.
For the price, this tent is a great deal. I do a lot of camping (back yard and forest) and am pretty pleased with this.
For a tent at this price, it's a great Budget Bug Out Tent for your bug-out bag or gets a home bag!
Other Budget Bug-out Tents to Check Out
Aside from the Texsport Willowbend Trail Tent, which I highly recommend, I also researched some survival tents designed to meet the demands of budget-conscious buyers. Here are just some of the best budget bug-out tents you ought to check out:
Grizzly Gear Thermal Emergency Tent
If you are searching for a budget-friendly versatile survival tent then the thermal emergency tent from Grizzly Gear deserves your attention. It can handle multiple uses – among which are acting as a backpack cover, distress signal, and shelter during a disaster or emergency.
It is lightweight and compact, making it easily portable when backpacking, camping, and hiking. I am also impressed with how spacious its interior is as well as its weatherproofing properties that can withstand water and wind.
| | | | |
| --- | --- | --- | --- |
| Weight | Dimensions | Material | Uses |
| 0.16 kilograms | 8 ft Length x 3 ft Height | Thermal Mylar | Uses include bivouac shelter, ground cloth, distress signal, backpack cover, rain poncho, sleeping bag liner, horseshoe pack, windscreen, shade sail, solar cooker, rainwater collector, snow melter, flotation, cordage, fishing lure, bird repellent, splint, sling, bandage, tourniquet, trail marker, bear bag, and more |
Pros
It's simple to set up
Lightweight
Uses NASA-designed mylar material
Can be used as a sleeping bag, tent, isolation device, and water collection in an emergency
Can absorb up to 90% of your body's heat
Thermal insulation material
Weatherproof
Cons
No warranty
The tent's rope is slightly thin and not very long-lasting
River Country Products Trekker & Backpacking Tent 2
I also highly recommend the River Country Products Trekker & Backpacking Tent. It is one of the lightest and most compact survival tents available today. One reason to love this tent is its quick and effortless set-up process. With that, it is a sure hit for hikers and campers.
It is also a nice addition to your bug-out or survival bag due to its compact size. It perfectly fits your backpack without letting you worry about it filling up the entire space. Another benefit of this tent is that it has plenty of room despite its compactness and lightness.
| | | | |
| --- | --- | --- | --- |
| Weight | Dimensions | Material | Uses |
| 0.91 kilograms | 7 ft Length x 3.5ft Height x 5 ft Width | Rain Resistant Fabric | hiking, camping or an addition to your bug-out bag |
Pros
It weighs in at a hefty 2 pounds
Budget-friendly
Exceptionally large
It has a high rating
Setup time is quick and simple
Cons
Trekking poles are not included in the package.
Go Time Gear Life Emergency and Survival Tent
Another great addition to your bug-out or survival bag is the Go Time Gear Life Emergency and Survival Tent. It is a fantastic choice because of its windproof and waterproof properties designed to keep you warm and dry during extreme conditions.
Made of thick polyethylene material, it can resist tears and punctures while effectively sealing out snow, wind, and rain. It is easy and quick to set up without sacrificing the amount of space it can offer. This tent is built to be durable, too, allowing it to withstand repeated and heavy uses.
| | | | |
| --- | --- | --- | --- |
| Weight | Dimensions | Material | Uses |
| 0.25 kg | 8 ft Length x 5 ft Height | Polyethylene Material | Hiking, Camping and Survival Situations |
Pros
With a drawstring closure that ensures a secure fit
Small size that makes it simple to transport
Its water- and weather-resistant construction makes it excellent for usage in any weather
Cons
Due to standard packing, item could arrive damaged
TETON Sports Mountain Ultra Tent
You might also want to check out the TETON Sports Mountain Ultra Tent if you are in search of a high-quality and durable survival tent for your bug-out bag. It is built specifically with the purpose of staying dry and cool/warm, no matter what the disaster or emergency you are facing is.
It has waterproof rainfly that features vents designed to optimize the flow of air. Setting this tent up is also easy because of its lightness. It is easy to pack in case you are into camping and backpacking. This handy tent even features a gear loft designed to store your essentials.
| | | | |
| --- | --- | --- | --- |
| Weight | Dimensions | Material | Uses |
| 2 kilograms | 6.83 ft Length x 3.29 ft Height | Full Mesh Tent Body | Hiking, Camping and Survival Situations |
Pros
Very long-lasting
Extremely resistant against the weather
Multi-use capabilities
Ideal for both warm and cold weather camping
Cons
For first-time users, the setup might be tedious
The pricing is rather high
Featherstone 2-person Outdoor Backpacking Tent
This Featherstone outdoor backpacking tent has more than enough space for two people. It is created with a couple of vestibules and doors, offering adequate storage space for some of your survival or camping gear. It makes use of lightweight and sturdy fabrics that are not only waterproof but also tear-resistant.
Furthermore, it is comfortable and breathable due to the micro-mesh fabric. This material lessens condensation for your comfort. It is also a great choice with its seam-taped built designed to act as a barrier from rain and moisture. The fact that it has a bathtub floor design also ensures that it has an elevated bottom to keep you fully protected from wet grounds.
| | | | |
| --- | --- | --- | --- |
| Weight | Dimensions | Material | Uses |
| 2.27 kilograms | 7 ft length x 3.58 ft height | 75-denier Ripstop Polyester with 3000mm polyurethane hydrostatic rated coating | Camping Or Survival Situations |
Pros
The best freestanding tent
Lightweight
Weather-resistant
Cons
Poles may be able to pierce the rainfly
Coleman 2-Person Pop-Up Tent
Product Description:
185T 68D Polyester fly that is fire and water resistant
The lightweight camping tent takes just 10 seconds to put together
Pop-up poles are pre-assembled and ready to use
Even when the ground is soaked, the floor seams are taped to keep you dry
Rainfly with many positions provides the ideal blend of protection and breathability
The tent has a 2-foot 11-inch central height and is 7 feet 6 inches by 4 feet 5 inches
The Coleman 2-person Pop-up tent comes in two sizes: two-person and four-person, and I'd suggest them as two of the best-quality pop-up tents on the market if you simply want a straightforward shelter with no frills.
They stand as soon as they're liberated from their circular bag, like other pop-ups I've tried; all you have to do is peg in the reflective guy lines. A thick nylon groundsheet keeps you dry inside, and big roof vents aid with circulation.
The groundsheet is one of the most durable I've seen, with no danger of leaking. There isn't much space for gear, and there isn't a separate porch for it, so if you have luggage and don't have a car nearby to store it in, you'll need a pup tent, or you could keep the Coleman for weekend getaways.
Pros
Excellent ventilation
Pops up in seconds
Cons
Only a single layer of skin
This design is more pricey than others of a similar kind
Those are just some of the most affordable survival or bug-out tents for you to check out. For more info on how to purchase the right tent for you, and how to build your own survival shelter, see our Survival Tent & DIY Shelter Mastery Guide.