If there is a disaster and there is no food on the shelves, what will you eat? Should you go Trapping for Food?
Picture this: No Food in the stores. What is your first thought?
"I'll hunt for food!"
Well, may not so fast.  Let's take a look at why trapping, rather than hunting, could be a better alternative for survival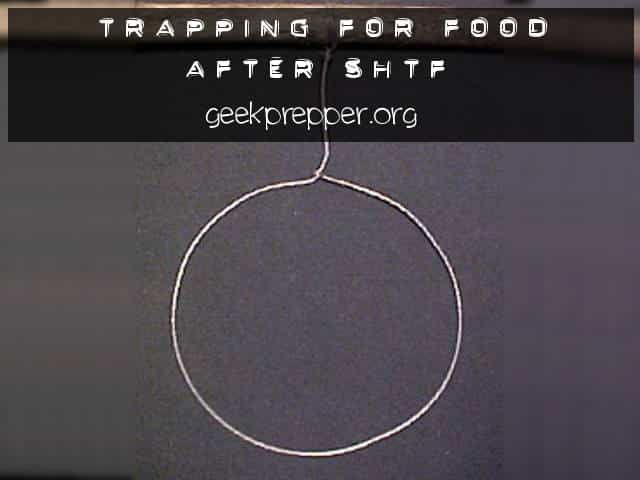 That's what I thought too until I realized that everyone else will be attempting to hunt too.
Also, one must consider the opportunity cost of hunting, which involves a lot of sitting and waiting with no guaranteed outcome.
With trapping you increase your odds with numbers and it's a set and forget approach requiring less time and energy than hunting. 
Once your traps have been tested and set, you can focus on other critical survival tasks such as obtaining water, building shelter, tending to wounds, etc. '
When you critical prepping tasks are out of the way, check your traps for harvest, and reset them if needed.
Wildlife will hide. People who aren't hunters will shoot anything that moves, including themselves and others. It will be forest mayhem!
Trapping for Food After SHTF?
You'll have plenty on your mind already, with protecting your loved ones and supplies from roving gangs and looters, while trying to lay low. How will anyone have time to hunt?
To make things even worse, everyone will be stomping around the forest and scaring the food, you'll have to spend longer looking for wild game.
The smart move will be to make the food come to us! Why hunt for food when you can catch food while doing other things? Multi-tasking will be the key.
Traps and Snares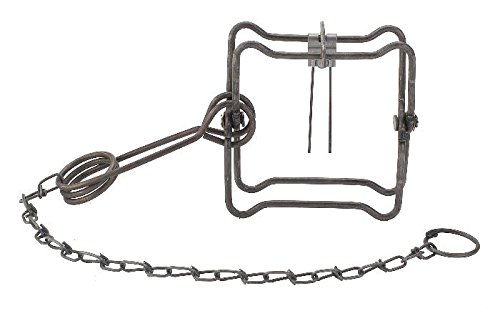 Some leg traps and snares placed at strategic locations along trails and streams, creeks, and rivers should provide some good meat. Animals will hide from hunters and humans, but they'll still need to hunt and to drink water.
I know many of you have never trapped or set up snares, but if you Google "rabbit snares" and you'll see how easy it is to snare small game, with nothing but some wire.
In addition to the traps and snares, you should set up some "Trotlines" and Fish YoYos to catch fish, without fishing.
For those of you who aren't very outdoorsy, let me give you a quick tip:
Squirrels may not look like much, but many pioneers survived on a fried squirrel.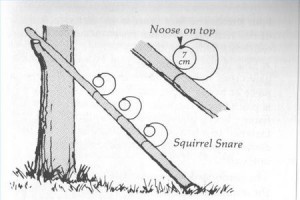 Luckily those suckers are lazy. All you have to do is prop a stick or log against a tree and they will take that new route almost every time. If you happen to put a bunch of snares on that log, they'll walk right into the trap. Squirrels do have an unfortunate instinct to leap once they are caught, so they leap right off the log with the snare around their neck.
The funny thing about squirrels, they'll go down the same log that just hung 20 of their friends, just to see what the heck is going on.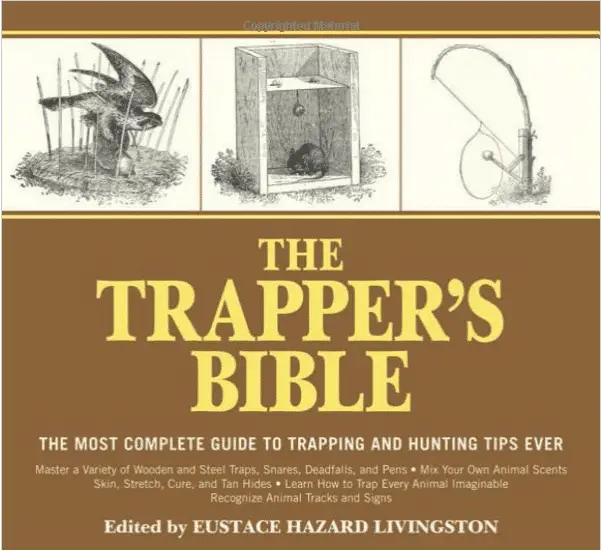 Instead of just hunting and foraging the wilds for food, make sure to add some trapping to your bag of tricks. Set traps in places that make sense. This allows you to handle other survival business, while the food comes to you. Many people think they can hunt, but how many know how to trap? Get some books and read up on trapping for food now, so you can feed your family and make cool fur crafts after the SHTF.
Trapping for Food with Mouse or Rat Traps for the Non-trappers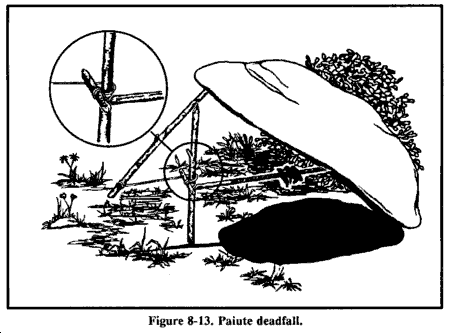 Many people have never set a tradition leg hold trap or body trap, but most of us have at least seen a mousetrap or rat trap and are familiar with its operation.
I know that the concept of eating something from a mousetrap or rat trap is gross, but survival isn't pretty and people will be very desperate. Better to be grossed out and alive than hungry and dead!
There are plenty of small non-mouse and non-rat animals in the forest, there are squirrels, rabbits, and chipmunks too. After a few weeks though, a mouse or rat might be a feast!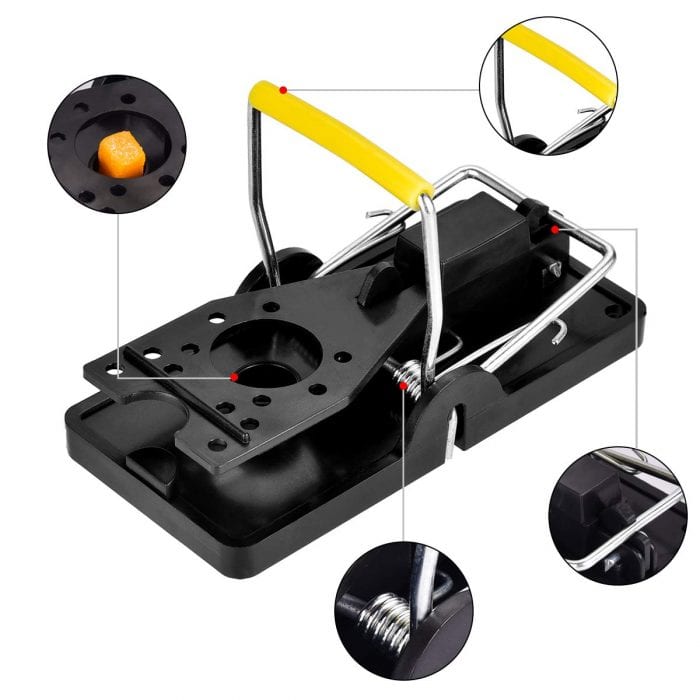 Mousetraps and Rat Traps are mostly flat, you could easily fit a couple in your bug out bag or bug-out kit. Keep in mind that the base is wood so after a couple uses withing a very short period of time, you'll want to discard it and use a fresh one.
I have leg hold traps and body traps in my Bug-In kit and in my Automobile Bug-Out totes, but I can only carry 1 in my bug out bag, so I have a handful of Rat Traps in there too!
A little bait and some patience and some small animal is going to have its last meal. That's sad, but it's the circle of life and this might be the only meal you can get for a while.
You could avoid resorting to mouse traps, and plan ahead by learning how to trap by reading a few books on trapping, and buying some leg hold traps and body traps now before the SHTF.
Deep Hole Trap
This one is pretty simple. Also called a bottle trap, it can help you capture different types of animals. The list includes crabs, frogs, rats, lizards, mice, and snakes. To do this, you'll need to dig a deep hole into the ground.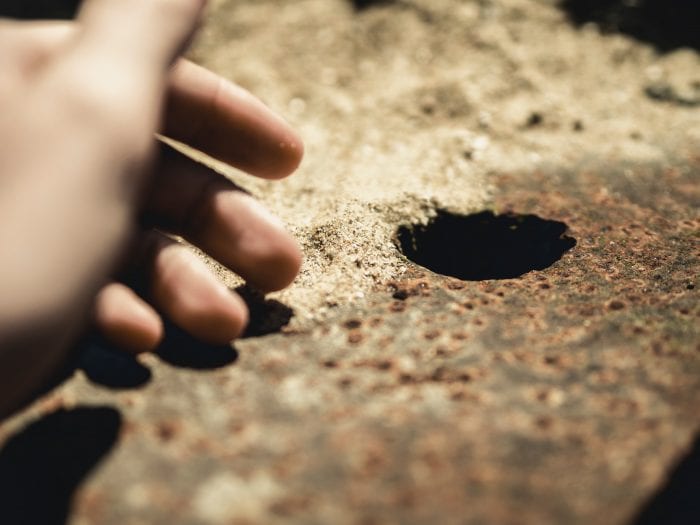 Take note that the bottom of the hole should be wider than the width of its opening. The inward-sloping walls should make it hard for the trapped animals to get out again. To make it more effective, you can put a bait at the bottom of your trap. Another option is to put a triggered lid that falls down to block the entrance.
Paiute Deadfall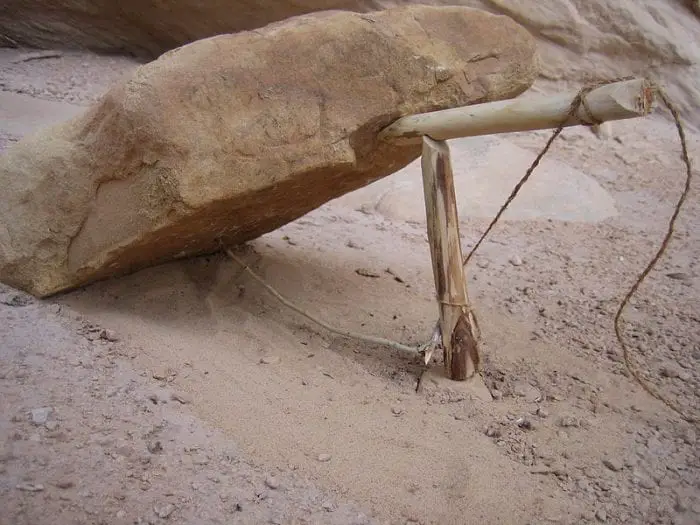 If you set this trap correctly, it's fast-acting. To start, you'll need to find the right materials and make them the right size. For example, to trap an average-sized rodent, you'll need about a Y-shaped stick that's about 8 inches long. You will also need a straight stick that's about 9 inches long. It should be a bit thicker than a pencil. The trap also requires a skinnier stick measuring 2 inches long, a bait stick that's half the size of a pencil's diameter, 8 inches of string, a few critter baits, and a flat rock weighing 5 to 10 pounds. Once you have those things ready, you can start setting up the trap.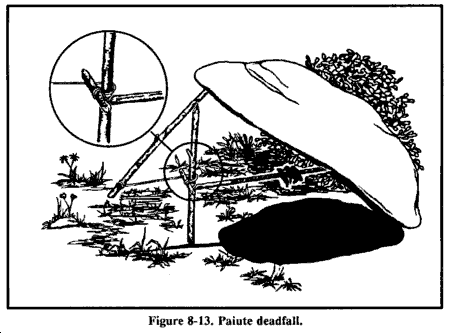 Get the 9-inch stick and tie a string to one of its ends. Then, tie the other end of the same string to the 2-inch stick. At the end of the 12-inch bait stick, you can skewer the bait. After you're done with those things, you can install the Y-stick by the rock's edge. Lift up your rock and put it on the lever's tip. Take the 2-inch toggle and wrap it around the post. At this point, you should be able to keep up the rock by the toggle. The baited end needs to be placed under the stone and the toggle's tip. You'd know if you've done the trap correctly if the rock stays up when you let go of your trigger stick.
Drag Noose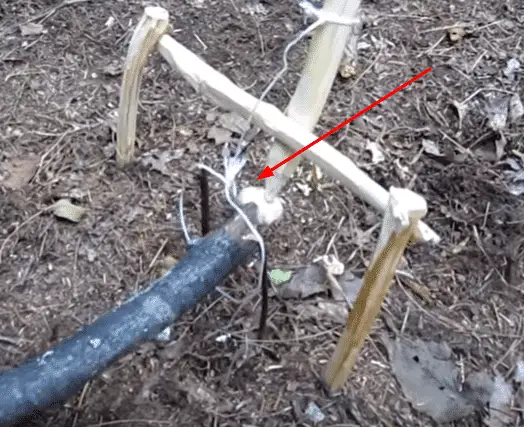 This is a really common cordage-based trap. It works by leading a prey into a snare that loops around the neck. As it tries to break free, the noose becomes tighter. One of the positive things about it its ability to trap larger prey, like coyotes and rabbits. The downside, however, is that the animals can break free or chew through the snare. Apart from that, there's also the risk of having other predators get to your prey even before you know you have caught something with it. With that, you must be quick if you want to use this type of trap. You must also remember to use a strong cord that can keep your prey trapped until you can get to it.