Handheld HAM radios are great since they are small and portable, but you may find yourself needing to extend their range.
A BaoFeng Antenna upgrade might be exactly what you need.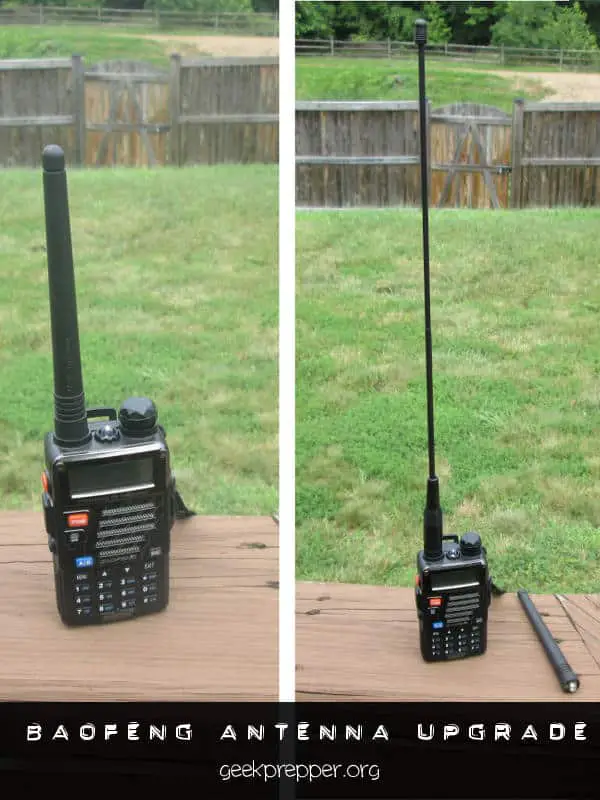 How Antennas Work for Ham Radios
The existing antenna in your Baofeng is just around 5 inches. Having a small communication device and a short antenna is good in terms of portability.
However, the range in which you can communicate is compromised. The range is affected by several variables such as indoor or outdoor use, the weather, or terrain.
As you get better in using your ham radio, you will realize that it cannot be used to its full potential without a good antenna. An antenna is a piece of metal connected to your radio that conducts electricity. Its main purpose is to receive the signal you want to hear and radiate the signal from your radio.
To give your ham radio a better signal, an antenna upgrade is a good option. An upgrade will give your radio a better signal even over long distances and will allow you to deliver clearer communication without unnecessary stress involved.
Baofeng Antenna Lengths – How Long Should Your Antenna Be?
We have now established that longer antennas give you better chances of transmitting and receiving good signal. The best length for your Baofeng antenna upgrade will depend on how and where you'll use it. Take a look at the different antenna lengths available and see which one best suits your needs:
Baofeng Factory Antenna
The antenna that comes with your Baofeng radio when you buy one is usually called the "rubber duck". This type of antenna is typically built for 136-174MHzand 400-480MHz amateur radio bands. It is usually around 5 inches and length. With a full battery and if your radio is in full power mode, this antenna will work for you if you only need about 5km in range depending on obstacles.
7.5-inch antenna upgrade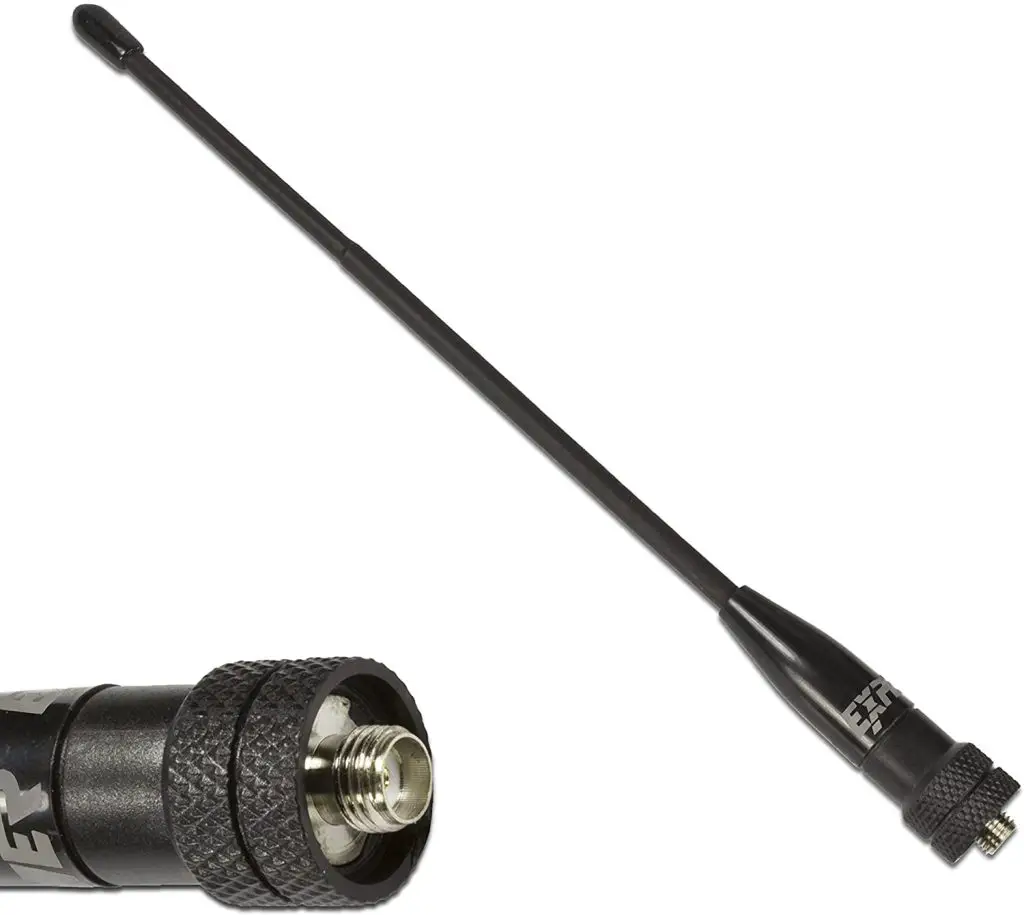 A 7.5-inch antenna typically has a frequency of 144-146MHz and 430-440MHz.  Depending on obstacles and other factors, this antenna may fit your needs if you want up to 10km range.
14.5-inch Antenna Upgrade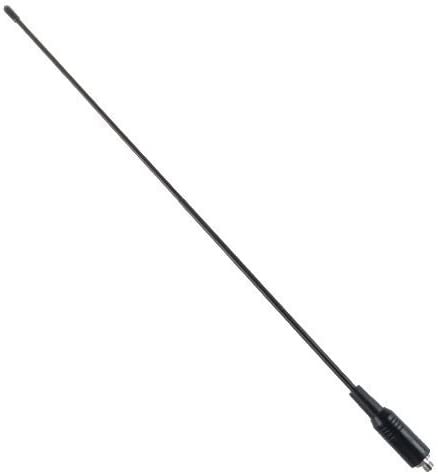 This antenna length can also have a frequency of 144-146MHz and 430-440MHz. An upgrade to a 14.5-inch antenna can cover a talk range of around 15km.
My BaoFeng Antenna Upgrade Test
If you've read any of our HAM radio or Communication posts, then you know what fans we are of the BaoFeng handheld radios. They can cover the 2 Meters, 70 cm, MURS, GMRS, FRS, Weather, Marine bands and more.
The stock antenna is fine for most, especially if you're looking right at the repeater tower (ok, I'm exaggerating, I've gotten some pretty good distance out of the stock antenna). There are those occasions though, where I wish I could pick up far off signals a little better, or just to get a little more reach to someone I'm trying to communicate with or to the repeater.
I finally decided to see if a simple antenna upgrade would rectify these issues.
The Antenna

I've had the ExpertPower 14.5″ DUAL BAND 144/430Mhz U/V SMA-F Antenna on my Amazon Wishlist for ages, and since it is so low cost, I can't figure out why I hadn't bought it up until now.
I decided to break open my piggy bank so I could purchase the ExpertPower 14.5″ antenna.

In comparison to the stock 5″ BaoFeng antenna, the ExpertPower 14.5″ Antenna is huge. This has to provide a better signal than the tiny rubber ducky antenna.
The procedure to change antennas took 30 seconds and required no tools. If you can twist a knob, you can change the antenna!
Did it Work?
I took my BaoFeng outside and tried some frequencies that I could pick up, but not very clearly.
This Antenna allowed me to hear some of them as if I was standing right beside them. Now it didn't fix all the frequencies, that I had trouble with, but there was a marked improvement on many of them.
I will note, and as you can see from the pictures, this antenna is long, so I might keep the rubber ducky on for general use.
Or, I may use the ExpertPower 7.5″ DUAL BAND 144/430Mhz U/V SMA-F Antenna, that I ordered after my success with it's big brother the 14.5″ version and keep the ExpertPower 14.5″ Antenna, stowed in my backpack (or strapped to the side, if space is an issue).
This way if I need to use comms, and I'm not having any luck, I can switch to the longer antenna as needed.
Was this Upgrade worth the cost
I think the ExpertPower 14.5″ DUAL BAND 144/430Mhz U/V SMA-F Antenna was worth every penny, just as I'm sure that the ExpertPower 7.5″ DUAL BAND 144/430Mhz U/V SMA-F Antenna will be worth the price that I paid for it.
Update
My ExpertPower 7.5″ DUAL BAND 144/430Mhz U/V SMA-F Antenna arrived today, and even though it's only 2″ longer than the stock BaoFeng 5″ antenna, you can tell that it is much better than the stock antenna. I haven't used it to transmit yet, but if the transmitting benefits as much as the receiving, then the ExpertPower 7.5″ will be used instead of the stock antenna from now on!
Any enhancement that lets me increase my communication abilities may not be valued by money or costs alone, because if I had to use this radio in an emergency, it might make enough of a difference to save a life.
I am pleased with the performance boost so yes, I'd buy this Antenna again!
Additional Recommended Baofeng Antennas
Looking for other options? Check out some of these additional product recommendations:
1. Mirkit Foldable Tactical Antenna 18.7 inch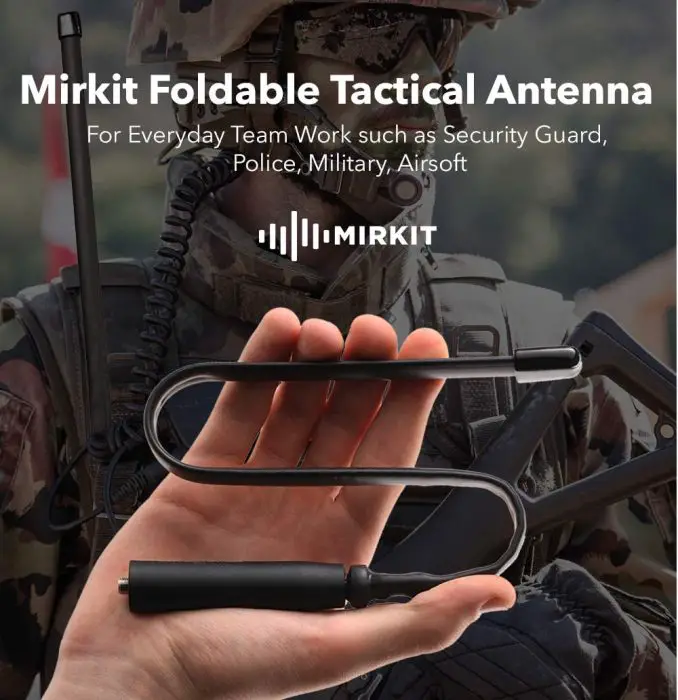 This antenna has an SMA-Female Connector, Dual Band VHF/UHF (136-174MHz, 400-520MHz) for: UV-5R, UV-82, BF-F8HP, UV-5R V2+ Plus, BF-F9 V2+ Two Way Radios.
If you plan to go on camping, hiking, or other outdoor activities, the Mirkit Foldable Tactical Antenna is a good option. Its talk range is > 6.5 miles and you won't have to worry about it being bulky or the extra space it might consume because it has an adjustable gooseneck that is adjustable and foldable. You can also easily strap it on the outside portion of your bag.
2. Retevis RHD-771 2 Way Radio Antenna Extension Dual Band VHF UHF SMA-F Antenna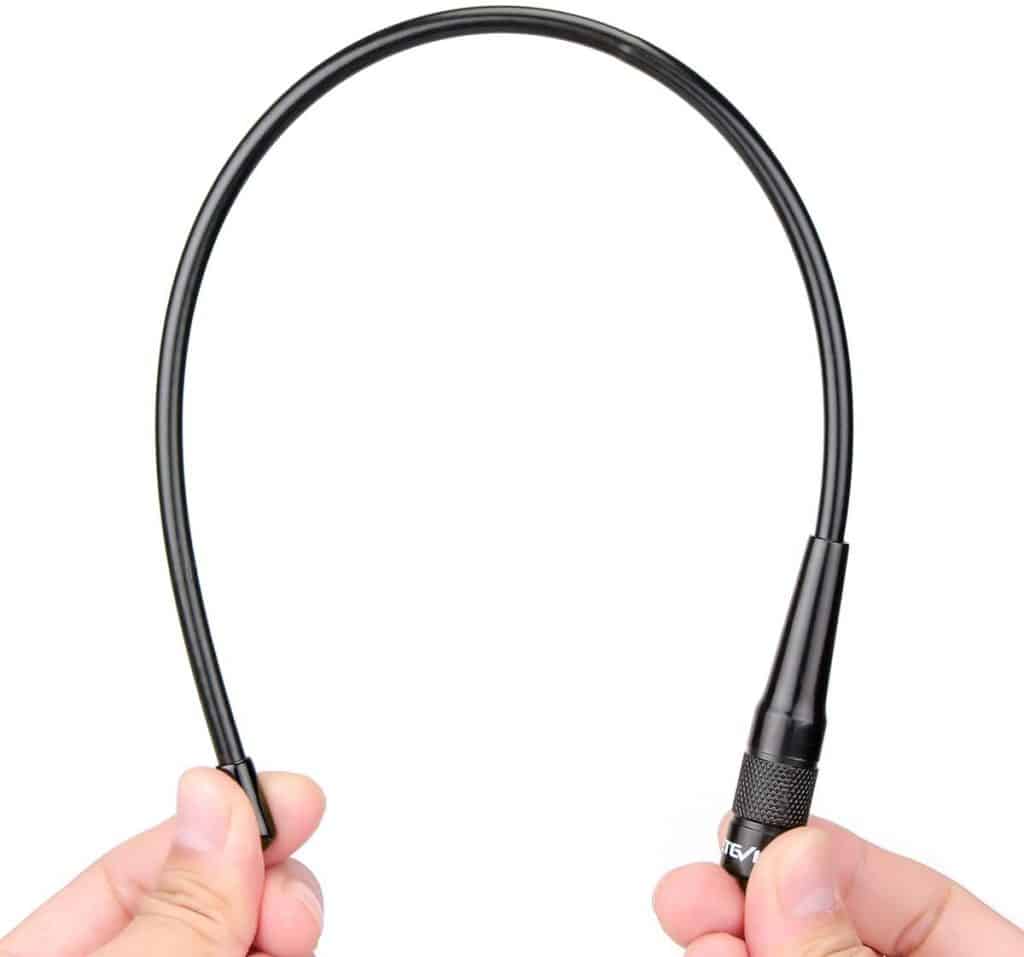 You can use this antenna on Retevis H-777 RT5R Baofeng UV-5R 888S Kenwood Walkie Talkies. 
The Retells RHD-771 made of ABS material and uses heat shrinkable sleeves. It is flexible and foldable, allowing you to easily tuck it inside your backpack or strap it outside. It Is approximately 39cm/15.4inch in length and gives your radio a gain of 2.15db and max power of 20W. These features help in significantly boosting the capacity of your radio to transmit and receive signals.
It works well with most of the radio brands in the market, so compatibility is less likely to be an issue. The maximum frequency range it can give is 144-430Mhz, which makes it also a good option for outdoor activities.
3. Walkie Talkie Antenna 15.6-Inch Whip Dual Band UV VHF/UHF 144/430Mhz Antennas SMA-F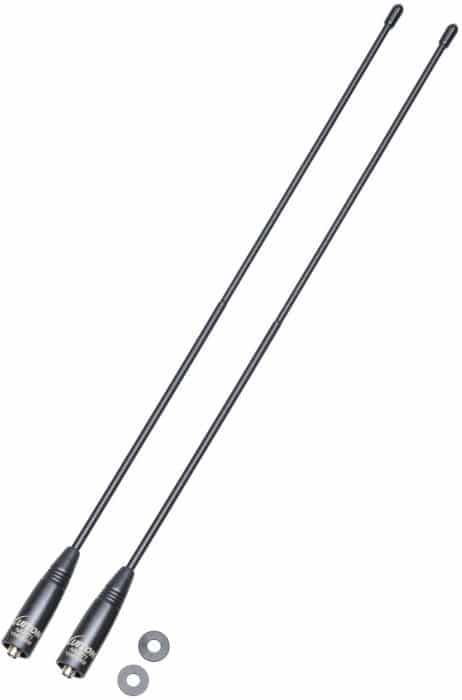 This antenna is an updated model. It is almost 16 inches long and is perfect for outdoor usage. Just like the first two product recommendations, this antenna is also durable yet flexible, which also makes it easy to be packed and carried during travel.
It comes with a rubber spacer (just in case you need it) and an extended antenna cover which will protect the base of your radio from outside elements. The maximum frequency range it can give is 144-430MHz. This antenna is compatible with, UV-5R, 888s plus, and UV-82 series.
4. ABBREE SMA-Female Dual Band VHF/UHF 144/430MHz High Gain Soft Whip Foldable CS Tactical Antenna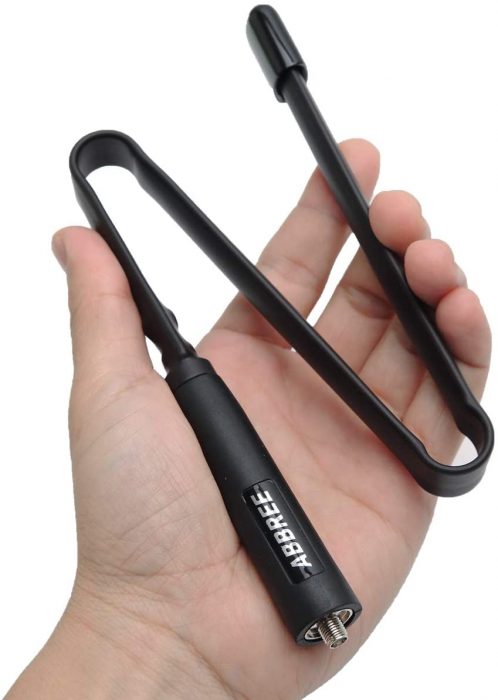 The ABBREE SMA-Female Dual Band is compatible with Baofeng UV-5R UV-82 BF-F8HP ham two-way radio. Its connector type is SMA-Female and gives you a gain of 2.15dBi and a frequency of 144-430MHz.
This is a newer version of a previous model from the same brand. It comes with a new packaging and better quality in terms of additional flexibility to allow more bending and improvements in signal as well.
This antenna is available in six different lengths: 13in, 18.8in, 23.6in, 28.3in, 39.3in, and 42.5in.
5. Authentic Genuine Nagoya NA-771 15.6-Inch Whip VHF/UHF Antenna SMA-Female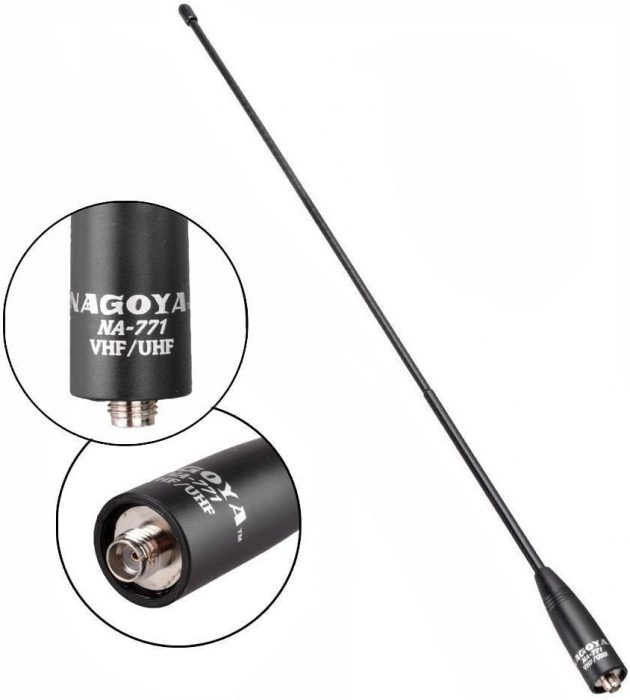 The Nagoya NA-771 antenna is compatible with Baofeng and BTECH radios. It is almost 16 inches long and is also a good alternative to improve your radio signal during outdoor activities. Just like the ABBREE antenna previously mentioned, this brand also has a rubber spacer and extended antenna cover included in its kit.
This antenna is flexible yet durable and can withstand tougher usage than thestock antenna your Baofeng radio currently has. Its maximum frequency is 144-430MHz with maximum power of 10 watts. This Nagoya antenna can give your radio a gain of 2.15dBi and is compatible with almost all BTECH and Baofeng models.
How Far Can Your Baofeng UV-5R Tran
smit?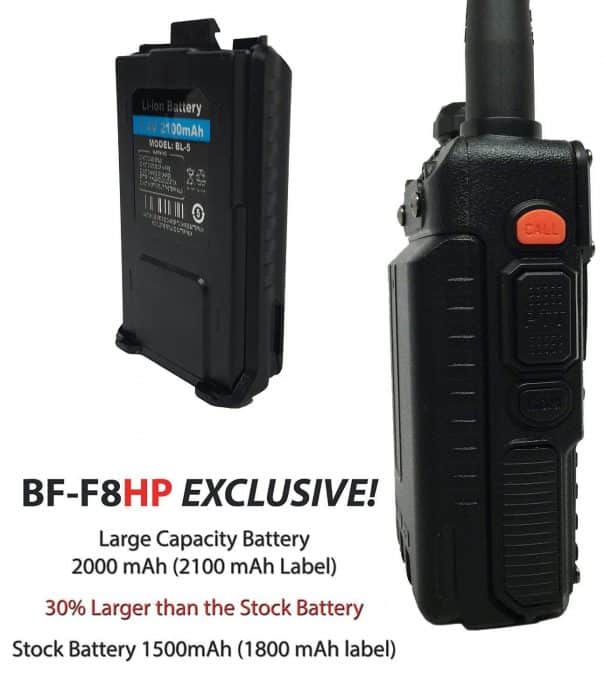 There are a lot of factors that can affect the range of your transmitter. However, with a full battery and when used in full power mode, you should be able to get a decent range of 10 to 20 kilometers. If you are in a big city, you'll probably get less.
If you want to somehow maximize your transmission range, you can consider using a repeater. The range you'll get from doing that will depend on the presence of different obstacles.
Is Owning A Baofeng UV-5R Illegal?
If you don't own a Baofeng UV-5R yet and you've been doing your research to see if it's worth your money, then you've probably seen a couple of articles saying that the devices are illegal.
Well, generally speaking, owning a UV-5R isn't illegal in the United States. It's how you use it that can get you in trouble.
For example, as a radio amateur, you're not really allowed to operate it outside of the designated HAM bands. You're also not allowed to go on certain business frequencies that you're not authorized to use.