You can use paracord for almost anything! There are so many projects that you can create to help you with survival.
We've scoured the internet to find some of the most useful paracord projects we could find!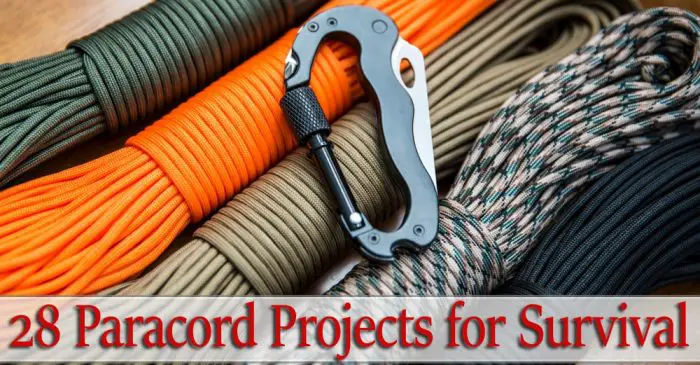 Below you will find the projects listed along with some instructions on how to create them yourself!
1. Paracord Survival Knife Handle Wrap
This project is great for you to use on an open blade to protect your hands from being cut up. It's also great to make the handle of your blade more comfortable to use. See the video below for complete instructions so that you can easily create this paracord knife handle wrap!
2. Paracord Bottle Harness
Having trouble keeping up with your water bottle? This is a great project to help you keep up with your water bottle by being able to attach it to your bag or belt to help you carry it. Watch the video below to help you create this project.
3. Paracord Bow Sling
If you're a bow hunter this is a great project for you to create so that you do not have to hold your bow for hours when you are up in a tree. If your hand is tired it's going to be hard for you to aim properly. Watch the video below and create your own.
4. Paracord Snare Trap Rig
Snare trap rigs can be great for catching a squirrel or a rabbit. One snare trap isn't going to be great at catching things, you should set up a few and then come back in a day or two and see what you catch. Watch the video below and create a few for yourself.
5. Paracord Survival Hammock
Paracord is a great tool to have on hand, if you have some and you find yourself in need of a place to rest, a hammock is a great thing to have. It will take a lot of work, but it will be more comfortable than laying on the ground. Watch the video below and create your own.
6. Paracord Snow Shoes
If you were to find yourself lost in deep snow, then learning how to make a set of paracord snowshoes can save your life. Watch the video below and you can make a set of paracord snowshoes today and then attach them to your bag, or you can learn how to do it for a future survival situation.
7. Paracord Belt
A paracord belt has many more uses than a leather belt. You can take it apart and use it for many things so it's much more efficient for you to have on hand. So get started on making your belt today with the video below.
8. Paracord Rifle Sling
It can get tiring lugging around your rifle without having something to carry it with. Create this rifle sling with the video below to make it much easier for you.
9. Firewood Carrier
This firewood carrier will allow for you to carry and collect much more firewood than you can carry in your arms. It's a great tool to have. Check out the video below for instructions.
10. Fishing Line
If your stuck in the wildness without food and you need to hunt for some, being able to create this fishing line is a great tool to have. Watch the video below to learn how to create it for now to carry with you or learn it for later.
11. Emergency Survival Shelterr
An emergency survival shelter will be a great resource to have if you ever get lost out in the wilderness. Make sure you have your survival bracelet with you and find 3 large tree branches, watch the video below for more information on how to create it.
12. Survival Bracelet
A survival bracelet can be used for so many great things if you get into a survival situation. Follow the video below and create yours today and always keep it with you in case you need it!
13. Fishing Net
You can pair this with the fishing line mentioned above to help you catch even more fish. It's great to have when you are low on food and have to hunt for your own. Watch the video below and make yours now!
14. Emergency Sewing Thread
You never know when you find yourself in an emergency situation. You might need to sew a piece of clothing or worse stitch up a wound. Learn how to create some emergency sewing thread just in case you get in a tough spot and need it to survive.
15. Cell Phone Pouch
Having a hard time keeping up with your phone when you are out exploring in the wilderness? Create this cell phone pouch to make it easier to tie it on to your bag and keep up with it.
16. Backpack Strap
This is great to strengthen your existing backpack strap if its getting worn out or so you can carry more things.
17. Fast Rope for Climbing
Climbing is fun and you need a strong rope for it. Creating this rope will ensure that you can climb out of any tough situation.
18. Barrel Hitch Knot
This knot is great to learn so that you can carry a heavy barrel or container on a longer distance.
19. Bow Handle Wrap
Use this to wrap around your bow to make your grip more comfortable and easier to hold on to.
20. Wrap a Paddle
A wooden paddle can be uncomfortable to row with on long distances. Use this wrap to make your paddle easier to use and less wear and tear on your hands.
21. Paracord Buddy
Do you have scraps of paracord lying around? If you do, have some fun with it! Use those leftover scraps of paracord to make a paracord buddy for your key chain or as a gift.
22. Practice Bola
Use the bolas on your next outdoor adventure. Take proper care when you are using these practice bolas. Make sure you don't injure somebody or cause an accident. Avoid using these bolas on things that might fall off and break.
23. DIY Clothesline
Watch the video below to learn how to make your own clothesline to dry your clothes if your out on an adventure in the wilderness and have to dry out your clothes.
24. Friction Saw
Watch the video below to learn what a friction saw is and how to use it.
25. A Spear
Creating a spear using parachute cord is simple and can be an effective tool when out in the wilderness. Watch the video below to learn how to create a spear.
26. Wire Sleeve
You can use your paracord to create a wire sleeve on cheap headphones that will prevent them from become tangled when taking them in and out of your pocket. Learn how to create one below!
27. Zipper Pulls
Using zipper pulls can be great for customization and easier access to your gear.  What this video to learn how now!
28. Hammock Chair
The next time you find yourself in the wilderness without a chair, the hammock chair is a great option to have. Watch to learn how to create one now and store it in your backpack for later use.
Always keep paracord on you so that you can create many projects that you need to when you are in the wilderness. If you have paracord on hand you do not have to carry a bunch of tools, you can create them and save tons of room in your backpack for more essential items.