Many of us can barely afford our day to day lives, so finding a decent yet, economically priced survival knife, is sometimes an unreachable goal. 
We all see the slick-looking $500 survival knives out there, but that's not realistic for many of us.
Is there a reliable, budget survival knife for us "budget preppers"?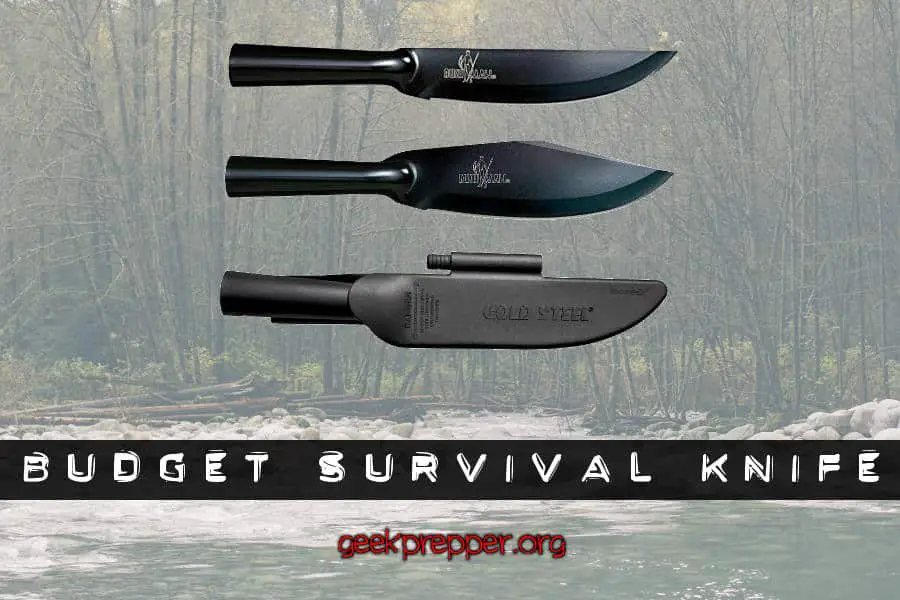 Budget Survival Knife
Again we ask the question?
Is there a reliable, budget survival knife for us "budget preppers"?
Yes, there is a fantastic budget survival knife, the Cold Steel Bushman!

The Cold Steel Bushman
The Cold Steel Bushman fits this role perfectly.
This is a reasonable price especially if you think how great the overall quality of the knife is. As a matter of fact, many consider the Cold Steel Bushman as the strongest outdoor/survival knife in the world.
It is created without joints or seams in between the blades. There is also no need for a mechanical fastener for the handles. What it has, instead, are integral handles and blades cold-forged expertly in one piece of high carbon steel with just the right amount of thickness.
Get to know more about the Cold Steel Bushman through this article.

Bushman Features

The Bushman isn't just full tang, it goes beyond full tang, the blade and handle are a single piece of 2.5mm thick SK-5 high carbon steel. The resulting knives are expertly heat-treated and tempered to RC54. Since it's one piece of solid steel there are no mechanical fasteners to fail and no handles to fall off.
Is the single-piece design strong?
In quality testing these knives have withstood over two tons of pressure on their blade/handle transition!
The Hollow handle is a pretty great design. You can use the hollow handles to store survival supplies or to use a variety of handle extensions which can maximize reach, leverage or ease of throwing (spear).
All it takes to leverage the hollow handle for supplies is to find a wine cork or rubber stopper to plug up both ends.
| | | | |
| --- | --- | --- | --- |
| Blade Length: 7″ | Blade Thickness: 3/32″ (2.5mm) | Blade Steel: SK-5 High Carbon | Handle: Hollow |
Material Used/Overall Construction
As mentioned, this knife is constructed from one piece of high carbon steel.
This material is marked as SK-5, which proves its sturdiness. However, because of the material used in constructing the knife, it has a high chance of accumulating rust in the future. This is the main reason why the company decided to use a black powder coating into it.
I noticed that aside from making the knife look attractive, the black powder coating also contributes to boosting its durability.
Blade Styles
The Bushman knives are available in two blade styles (standard and Bowie point, I prefer standard, but to each his own). Both feature continuously curved blades that are ideal for skinning, and will pierce, cut, slash, slice and shear like you won't believe.
Blade Dimensions and Weight
Apart from the styles of the blade, there are also other details about it that contribute to the overall performance of the knife.
One vital detail regarding the blade is its dimension. The two styles mentioned earlier have an overall length of 12 and ¼ inches. The blades of both are also 7 inches and their weight is approximately 10 ounces each.
The knives are thin, so expect them to be unsuitable for serious chopping.
As for the blade, expect its saber grind to be hollow. It is 2.5-mm thick while boasting of a huge flat part for the use of the saber grind. It works best for basic chopping and batoning.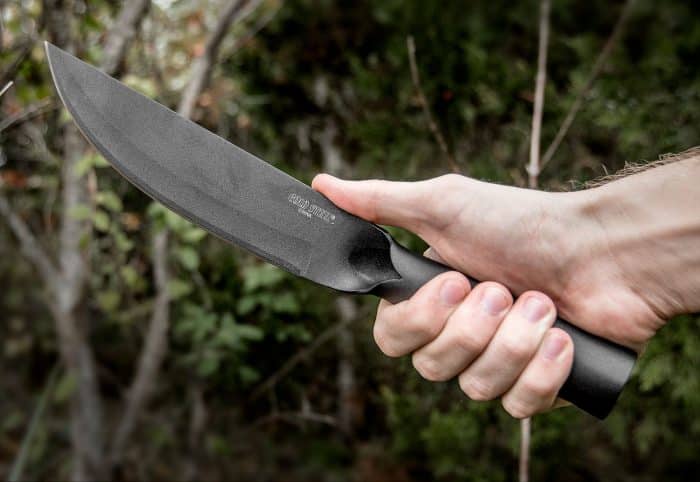 Sheath
Regardless if you choose "Standard" or "Bowie" they now come  with a heavy duty Secure-Ex® Sheath With Ferrocerium Fire Steel.
When you order it, make sure that you get the Cold Steel Bushman with this new style sheath.  It is constructed from Condura while having sufficient reinforcements through rivets, stitches, and plastic sheets.
One flaw, though, in the way the sheath is designed is that it seems to be lacking in a form of retention. This means that the blade risks falling out in when turned upside down. It would be better if there is a retention strap around to prevent this from happening.
Handle
One thing that you will notice about the Cold Steel Bushman knife is its simplicity.  It's constructed from steel into once piece. This material is folded to form a tube then joined together. However, despite the simplicity of the handle, it is still strong and it can take a lot of abuse.
It is made to withstand a a force of up to 2,000 lbs. You even have an assurance that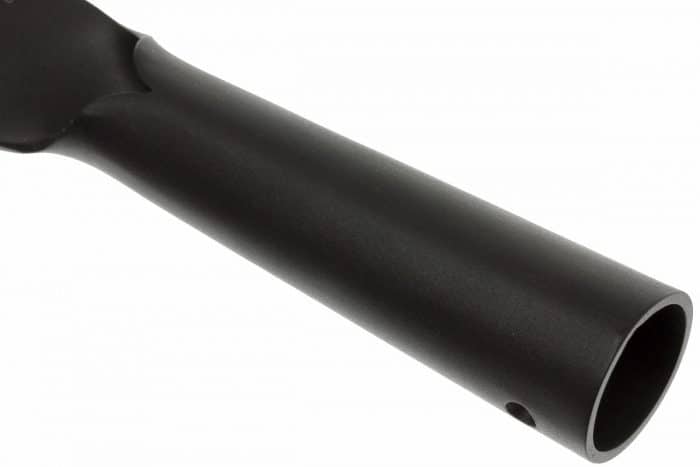 The strength of the handle does not affect the weight of this survival knife, though. In fact, it is so lightweight that carrying it for day hiking and camping trips is easy.
Level of Comfort
Cold Steel Bushman also seems to win in the comfort department with the ergonomic handle design. 
One notable problem problem is it's lack of grip, from having a smooth surface. This is why you should consider wrapping something around the handle to add grip texture. You can use lanyard, paracord, or athletic tape to wrap the handle.
Overall Functionality
The Cold Steel Bushman knife is also one of the most functional survival knives you can find in the market today. The fact that it has hollow handles means that you can use it with various survival supplies and handle extensions.
A handle will allow you to maximize leverage for prying motions, make the process of throwing easier, and allow it to reach further. Furthermore, you can turn it into a makeshift spear, which is extremely useful during emergencies and survival situations.
Crafting a Spear
If you would like to use this budget survival knife to fashion a spear all you need to do is shove a rod, handle, stick or pole into the hollow handle,
The handle even has a convenient hole so you can secure it to a pole with a nail or screw.
I use my Bushman to baton wood, skin game, cut, chop and for any rugged knife task, you can imagine and it's still going strong. I have sharpened it a few times and always put a light coat of oil on it to prevent rust, but that's all it's needed to continue performing.
The Cold Steel Bushman comes from the factory razor sharp. I cut myself and had no idea until I saw blood on my table.
I trust this budget survival knife that this is the knife that I keep in my get home bag. It's priced right, it's tough and if it gets lost or stolen, oh well, I'll purchase another one to replace it with.
This is a great budget survival knife for the budget-minded prepper!

Other Budget Survival Knives
While the Cold Steel Bushman serves as the ultimate choice of many in terms of budget-friendly survival and outdoor knives, there are also a couple more choices. Some of the most prominent ones are:
1) Coleman Fixed Blade Knife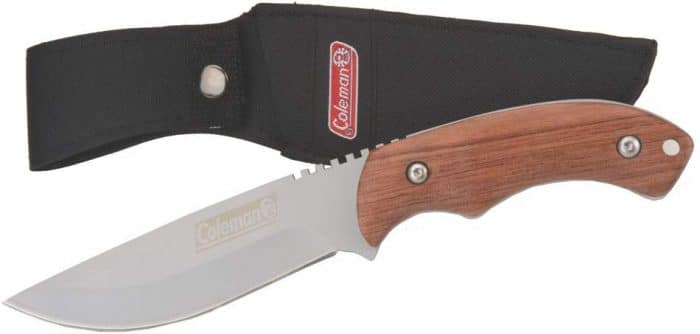 The Coleman Fixed Blade Knife is perfect for any survivalist or outdoor adventure enthusiast who wants to find a survival knife with maximum extras.
It is a versatile knife that can handle most tasks. It also assures users of a more comfortable cutting grip with the aid of its contoured handle. The blade is sharp plus the aluminum handle is textured, thereby preventing it from slipping.
| | | | |
| --- | --- | --- | --- |
| Blade Length: 4.5 in | Serrated: Plain | Blade Steel: Stainless Steel | Handle: Wood. Contoured handle |
2) Schrade SCHF51 Frontier Fixed Blade Knife

Another affordable survival knife that you can invest in is the Schrade SCHF51.
It works well for survival situations and other outdoor adventures like camping. The blade is very sharp and constructed from high carbon steel, making it durable. 
| | | | |
| --- | --- | --- | --- |
| Blade Length: 5.1 inches | Weight: 13.5 ounces |        Blade Steel:            1095 High Carbon Steel | Handle: Thermoplastic elastomer handle |
3) MTECH USA MT-673 Fixed Blade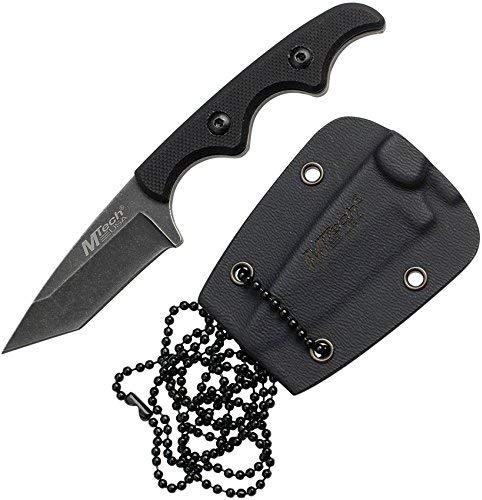 You can also go for the budget-friendly yet dependable MTECH USA MT-673 Survival Fixed Blade Knife.
It boasts of its 2-inch stainless steel blade with a stonewash finish. It is lightweight and comes at the practical length of 5 inches, making it easy to carry. The handle has a full tang design plus it has a raised palm support, which is a big help in offering additional comfort.
| | | | |
| --- | --- | --- | --- |
| Blade Length:   2 inches | Length: 5″ Overall | Blade Material:  Stainless Steel Blade | Handle: G-10 handle neck knife |
4) Condor Tool and Knife CTK232-4.3HC Bushslore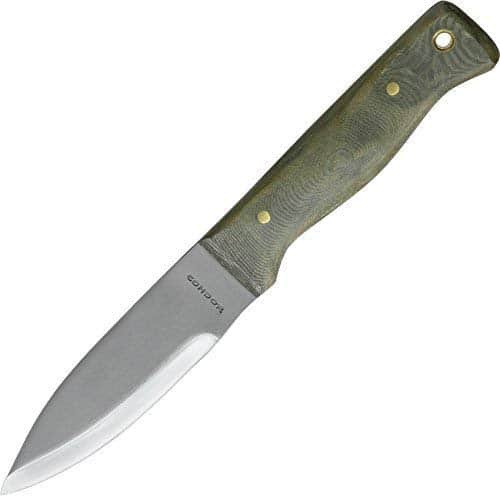 The CTK232-4.3HC Bushslore Survival Knife from Condor Tool and Knife is also perfect for survivalists who want to stick to a budget.
It features hardwood handle scales that sport a more classic and elegant look. A couple of brass rivets are used to hold the handle securely. Made of high carbon steel, this survival knife is indeed a great companion in any of your outdoor adventures and whenever you are dealing with a survival situation.
| | | | |
| --- | --- | --- | --- |
| Blade Length: 4.3125 inches | Weight: 0.80 lbs |    Blade Material:            1075 High Carbon Steel | Handle: Hardwood, Micarta handle scales |
Conclusion
You actually have several options for budget survival knives.
The only thing that you have to do is to find out which one suits the purpose you have in mind the most.