I get asked quite often "What are your favorite fixed blade knives?"
This is a tricky question because if I have a choice, I grab the knife that's the best fit for the job.
Favorite Fixed Blade Knives
I use quite a few different knives. It's hard to pick a favorite, but I can provide an overview of some of my favorite fixed blade knives. Each one has certain attributes that make it the tool for the job.
Ka-Bar Becker BK16

The BK16 has edged its way into 1st place for my go-to knife. The blade is almost the perfect, manageable size for most bushcraft or camping tasks. Its blade length is 4 3/8″, making it's overall length 9 1/4″. It has a full flat grind and is made from 1095 Cro-Van steel, with an HRC hardness rating of 56-58.
My only gripe about this knife is that out of the box, there's not a good edge to strike a Ferro rod, but this is easily resolved with a little work, with a file, to square off a section of the spine.
The BK16 comes with the nylon sheath that provides a pocket to store items like duct tape, fishing line, a small multitool, like the Leatherman Squirt, and a mini-firesteel. This would provide an EDC camping/survival kit in one sheath.
| | | | | | |
| --- | --- | --- | --- | --- | --- |
| 9 Inches Length | 422 grams | Blade made of 1095 Cro-Van | 25.4 millimeter thick blade | Grivory Handle Material | Comes With Cordura Sheath |
Ka-Bar Becker BK7

The Becker BK7 is a combat and utility knife with a 7-inch blade. Originally this knife stole the show for me, but many times, I can make do with a smaller blade. The blade is 1095 Cro-Van steel blade and is 3/16″ thick at it's thickest point.
This knife, while rugged enough for any camp task, would make for a lethal weapon, if it had to be used in that role. The Sheath also has a nifty pocket on the front which is the perfect size for a Becker Remora knife, which is perfect for those smaller camp tasks.

This knife is amazing and well worth the price!
| | | | | | |
| --- | --- | --- | --- | --- | --- |
| 12 1/4 Inches in Length | 340 grams | Blade made of 1095 Cor-Van Steel | 4.82 millimeter thick blade | Durable glass-fiber-filled nylon handle | Comes with Cordura Sheath |
Becker BK2 Campanion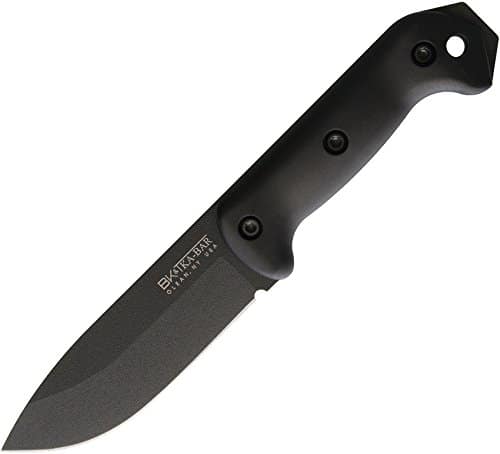 The Becker BK2 Campanion is one of the workhorses of my knives. If you could only survive with one knife, then the BK2 would be a solid choice. The thickness of this blade is amazing. You can see pictures of its girth on the Becker BK2 Campanion post.
While this knife is a workhorse, it is much to thick for skinning or other finer camp tasks. This is where you'd want to carry a secondary knife, like the inexpensive, but awesome Mora Knives.
| | | | | | |
| --- | --- | --- | --- | --- | --- |
| 10.75″ Inches in Length | 133-millimeter  blade length | Blade made of 1095 Cor-Van Steel | 6.35 millimeter thick blade | Contoured Zytel Handle | Comes with Hard Shell Nylon Sheath |
SOG Seal Pup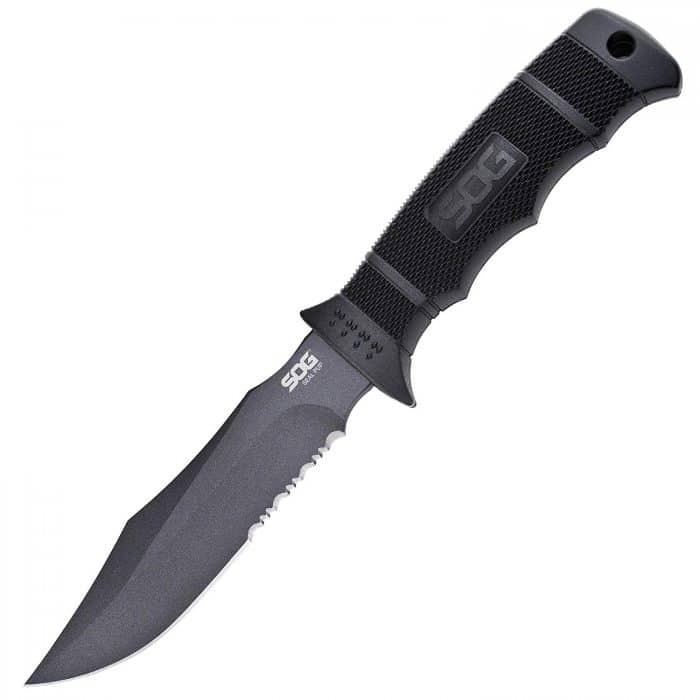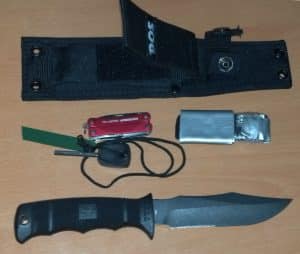 I learned of the SOG Seal Pup from a retired operator. Anytime we'd be talking about knives, he would always mention it. I finally gave in to my curiosity and bought one!
It turned out to be a really great knife. It has a similar blade size to the BK16, but with a much more aggressive-looking profile.
It's compact, and easy to conceal if required, and it's pretty rugged. Some models come with a partially serrated blade, to make short work of cutting cordage or straps
Like the BK16, the SOG Seal Pup comes with the nylon sheath that provides a pocket to store EDC camping/survival items.
| | | | | | |
| --- | --- | --- | --- | --- | --- |
| 9″ Inches in Length | 4.75″ Inches in Blade Length | Blade made of AUS-8 Steel | N/A | Glass-Reinforced Nylon | Kydex Sheath |
Cold Steel Bushman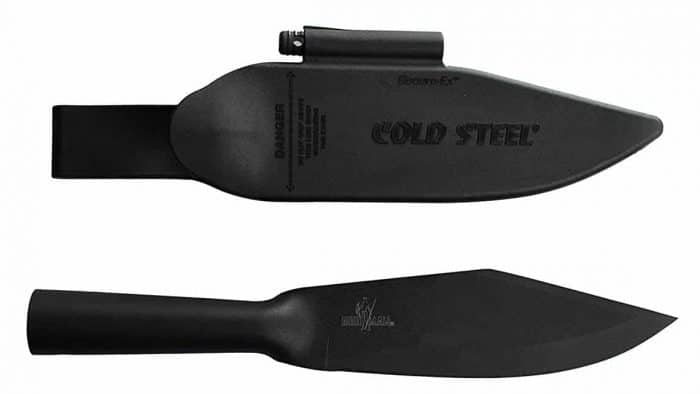 For the budget-minded prepper or camper, there really is no better knife than the Cold Steel Bushman! Its one-piece design is rugged yet elegant.
This is the perfect knife, to keep in a Get Home Bag, because if someone steals your bag, then you've only lost an inexpensive knife. You can find out more details, about the Bushman in the post: Cold Steel Bushman, Budget Survival Knife.
| | | | | | |
| --- | --- | --- | --- | --- | --- |
| 12.4″ Inches in Length | 7″ Inches Blade Length | Heat Treated Steel Blade | 2.5 millimeter thick blade | Heat Treated Steel Handle | Comes with Secure-ex Sheath |
Mora Knives

Also make sure to carry a smaller, general-purpose blade, to back up your survival knife and to handle smaller more delicate tasks (cutting food). The Swedish Mora Knives fit this role perfectly. For a budget friendly price you can get really strong, razor-sharp knife, that holds an edge.
| | | | | | |
| --- | --- | --- | --- | --- | --- |
| 8.8″ Inches in Length | 4.1″ Inches Blade Length | Made of Carbon Steel Blade | 3.2-millimeter thick blade | Ergonomic Handle with High-Friction Grip | Plastic Sheath Type |
Schrade SCHF9

The Schrade SCHF9 is a highly rated 12.1-inch fixed blade knife made of high carbon steel. It is a versatile knife that you can use for bushcraft, camping, or any other outdoor or survival situations. The fact that it is constructed out of high carbon steel material is a big advantage as it is harder and tends to hold an edge longer compared to stainless steel.
This makes it work well in survival situations. It has nice ergonomics. The handle is constructed from a hard rubber, which offers a nice grip whether dry or wet. It fits comfortably in the hands, promoting ease of use.
| | | | | | |
| --- | --- | --- | --- | --- | --- |
| 12.1″ Inch Over All Length | 6.4″ Inches Blade Length | Made of High Carbon Steel | 6-millimeter thick blade | Handle Made of Kraton Scale Material | Made of Cordura Sheath |
Condor Tool and Knife CTK232-4.3HC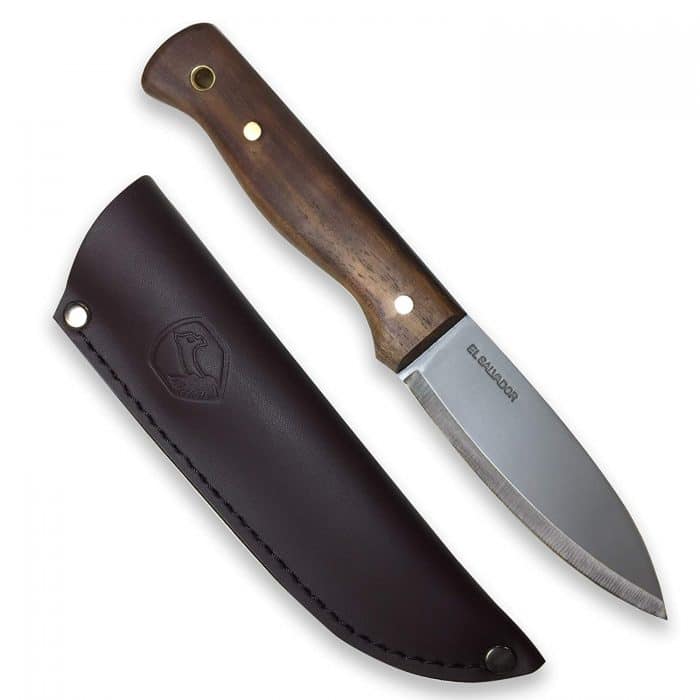 If you want to use a robust fixed blade survival knife then you can go for the Condor Tool and Knife CTK232-4.3HC. It is versatile that you can use it for almost all tasks that require the use of a knife around the campsite. The robustness of this knife makes it capable of handling all tough tasks, like carving cooking utensils and splitting wood.
The hardwood handle is comfortable enough that you will not experience pain even when used on tough tasks. It is also compact, so carrying it is easy.
| | | | | | |
| --- | --- | --- | --- | --- | --- |
| 9.31″ Inches Long | 4.31″ Inches Blade Length | Made of 1075 Carbon Steel Blade | 1/8″ Blade Thickness | Handle Made of Hardwood | Handcrafted Welted Leather |
Gerber Bear Grylls Ultimate Pro Knife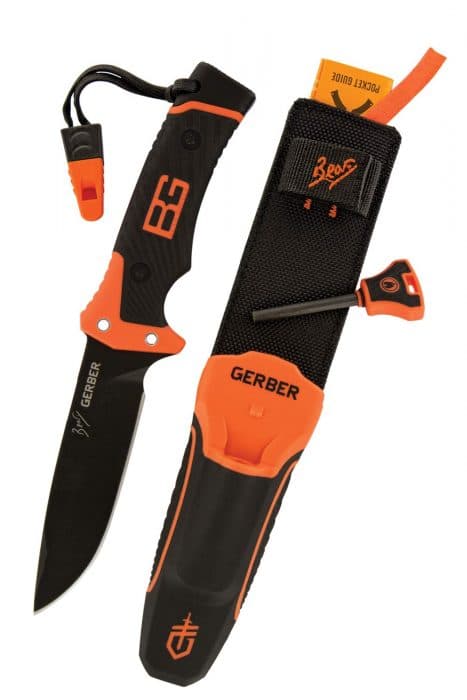 The Gerber Bear Grylls Ultimate Pro Knife is also a fantastic choice for those who want a multifunctional knife. It is highly durable, thanks to its premium stainless steel construction. The knife also guarantees sharpness with the aid of the pull-through carbide sharpener that comes along its mildew-resistant and military-grade nylon sheath.
Another advantage of this knife is that it is capable of retaining its edge for a longer period in between each sharpening. It is easy to use since it is lightweight plus it feels balanced and solid when you hold it in your hand.
| | | | | | |
| --- | --- | --- | --- | --- | --- |
| 10″ Overall Length | 4.8″ Blade Length | 9Cr19MoV Steel Type Blade | N/A | Non-slip rubber grip | Mildew resistant nylon sheath |
Glock Perfection OEM Fixed Straight Blade Field Knife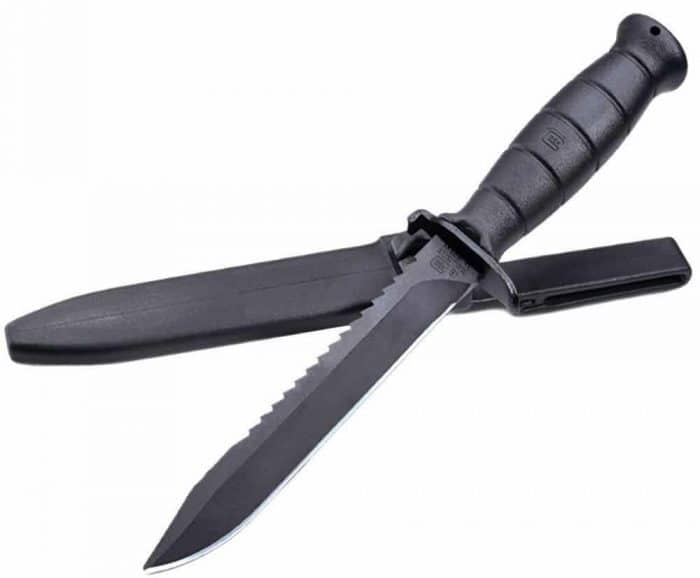 A budget-friendly yet high-quality choice for a fixed blade knife also comes in the form of the Glock Perfection OEM. With the sturdiness and quality of this survival fixed blade knife, it is surely a great addition to your field pack, belt, tool kit, and survival/bug-out bag.
It is tough enough to cut even the hardest tree limbs or break windows, thanks to its blade made of carbon steel. It also features a molded polymer handle. Another great benefit of this knife is that it has the right balance that makes it suit all conditions and activities no matter how extreme they are.
| | | | | | |
| --- | --- | --- | --- | --- | --- |
| 11.4″ Inches in Length | 6.5″ Inch Blade Length | Spring steel HRC ~ 55 Blade Material | N/A | Polymer Grip | Polymer Sheath |
MTech USA MT-20-70C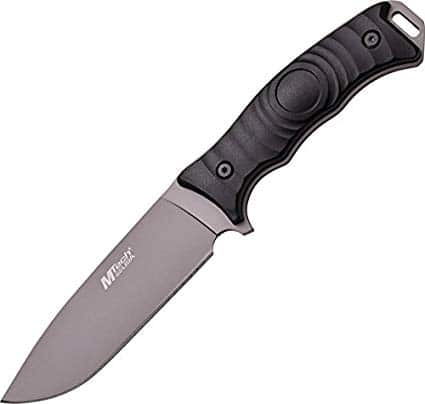 The MTech USA MT-20-70C is also one of those survival fixed blade knives that have a lot to offer to its prospective users. It has the kind of versatility that most survivalists and preppers want from a fixed blade knife. It is because it's built and construction make it suitable for survival training, hunting, camping, emergencies, disasters, SHTF, and other outdoor adventures.
Aside from its thick and strong stainless steel blade, this knife also has a comfortable black nylon fiber handle. Combined with the nylon sheath, carrying the knife is completely safe and easy.
| | | | | | |
| --- | --- | --- | --- | --- | --- |
| 10″ Inches in Length | 5″ inch Blade Length | Stainless steel blade | 4mm thick blade | BlackNylon Fiber Handle | 1680-denier nylon sheath |
Any of these knives, from my favorite fixed blade knives list should work for you in camping or survival situation. It just depends on what you're really looking for!
How to Find the Best Fixed Blade Survival Knife
There's a couple of important factors when looking for the best fixed blade survival knife. I recommend carefully researching any knife before yo buy it to make sure you're getting a quality and reliable piece.
Here are the top things I consider when buying a fixed blade knife:
Materials – The materials used in creating the fixed blade survival knife should be scrutinized carefully if you want to make sure you're buying the right one. Among the most popular materials for this type of survival knife are carbon steel and stainless steel. I'd avoid anything other than these two materials.
Fixed blade knives made of stainless steel are beneficial because they are rust-resistant. The stainless steel material is also perfect if you plan to venture to wet environments, like tropical areas. Furthermore, it requires less maintenance compared to knives made of carbon steel. The downside is that these knives are more costly and harder to sharpen than the others.
Carbon steel is a good choice, with a better ability to hold its edge compared to stainless steel. It will not rust provided you do not use it too frequently without maintaining it. You may also want to go for a carbon steel fixed blade survival knife with a protective layer coating as it helps prevent rust.
Handle – Check the handle of the knife before buying, too, as it performs a couple of important purposes. One of these is that it ensures a comfortable and firm grip. Furthermore, it acts as your finger guard and enhances your aim by preventing your hand from sliding down the blade. Go for a tough handle – one that is unbreakable even when exposed to the extremes.
Full tang – Ensure that the knife falls under the category of full tang. This specifically means that its blade is created in a way that extends the knife's whole length starting from the tip to the handle's end. Choose a full tang fixed blade knife as it can provide the strength needed in the majority of survival situations and emergencies.

Unlike the partial tang, which is extremely flimsy when used on situations that involve forcing the blade against hard objects, the full tang survival knife can be expected to be a lot stronger. It also works more effectively for digging and prying.
Length of the blade – Spend time assessing the blade's length. Note that longer blades can't always be expected to work better compared to the others during survival situations. Your goal is to find just the right length – one that allows you to perform most tasks when you are planning to survive but still not too long that it will interfere with your movements.
It would be best to choose knives that are around 4 to 7 inches long. Most say that this is a comfortable length in the sense that you will not have a difficult time handling and carrying it.
Conclusion
Buying your first fixed blade survival knife can feel daunting, but the key aspects outlined above will help you make an informed choice to give you the greatest value for your money. Be wary of subpar choices out there that seem too good to be true. What you save now will cost you later when your knife doesn't last. As with all survival gear, consider it an investment in your family's safety during survival and SHTF situations.