You're driving home from work one day, and BANG, it goes down.
The Shiz has hit the fan. Your car is out of commission and like most commuters, you've got a good distance to go to make it home.
You quickly check your Get Home Bag, strap it on and start moving! What separates you from everyone else stuck on that stretch of road?
The contents of your GHB (Get Home Bag) and a few items from your Automobile EDC Supplies are what separates you from them!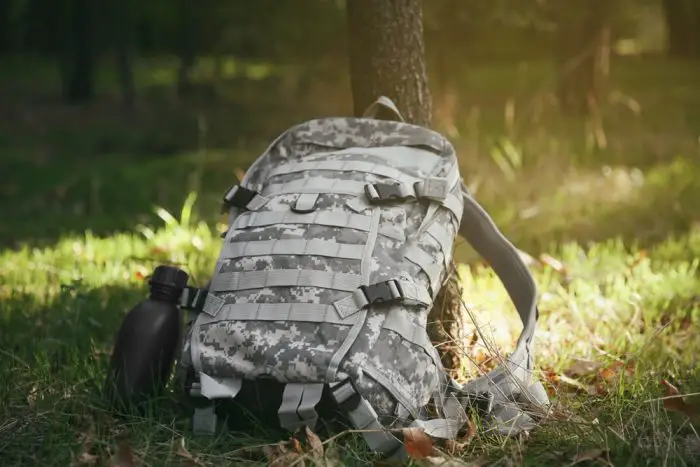 First, let's figure out what constitutes a Get Home Bag.  I like to think of a Get Home Bag as a backpack, filled with enough tools and supplies to get me home. We may not have to hike a thousand miles, but some of us might end up on foot for more than 40 miles.
A. Choosing the Type of Bag:
1) Backpack:
You don't have to use a backpack, but I want something I can strap on and go! You'll probably want to avoid anything expensive, fancy or tactical.
I used an old computer backpack. You'll want a backpack that looks very similar to what the other commuters would carry. 
While tactical backpacks serve as great bug out bags, due to the design and ruggedness, we'd recommend avoiding tactical backpacks with strong camouflage patterns in order to avoid standing out.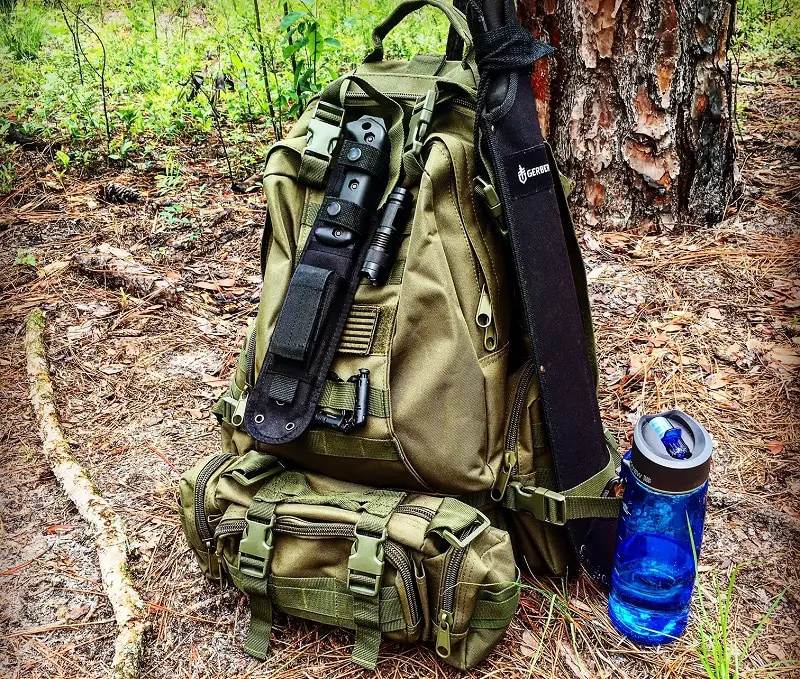 You don't want the other stranded motorists to think that you may have anything that they don't.
People get real sketchy in life or death situations.
For more on this see: Covert Prepper Backpack and the tactical backpack guide by Globo Surf
Backpacks are staples because they offer hands-free carrying and hefty storage space. In situations where you'll need to sneak, run or climb, backpacks won't slow you down or give you trouble.
One notable downside is that backpacks aren't easily accessible if you're mobile. Plus, a large backpack is more noticeable as compared to the other bags on this list.
2) Messenger Bag:
Messenger bags are great for retrieving stuff from your bag while you're on the go. It also works as a discreet get home bag if you're more on stealth than brute storage space.
One disadvantage is that you'll have to position the messenger bag so it won't get in your way while you're running. It becomes more cumbersome the farther the distance and weight distribution becomes more noticeable over time.
3) Hydration Pack:
Hydration packs are for those who'd like to exercise minimalism in their get home bags. It stores an adequate amount of water and can easily be carried over large distances.
The waist and shoulder straps add a nice touch in terms of efficient weight distribution. One downside is that you can only hold water and very little else.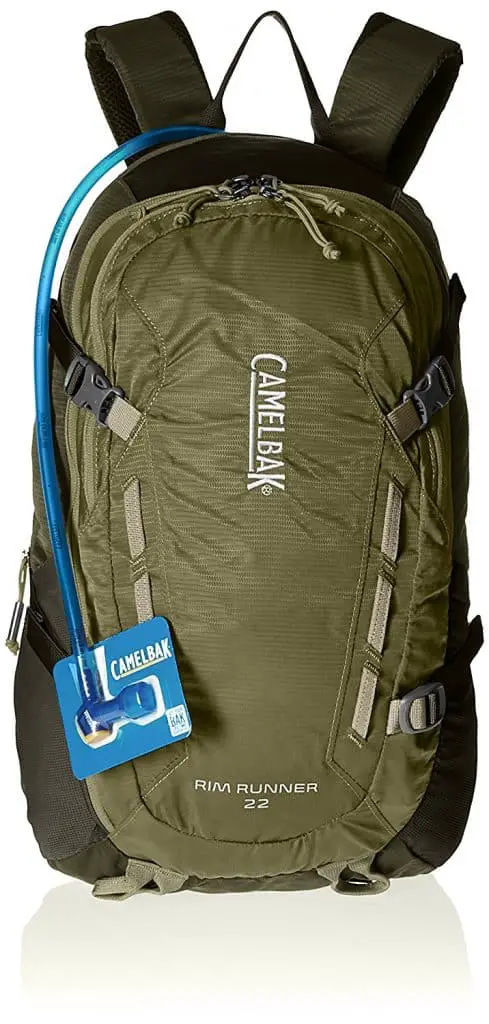 4) Lumbar/Mountaineering Hiking Pack:
Lumbar packs are designed to put the weight on your hips. It's compact and the pack's contents can easily be accessed if needed.
One downside is that you can't fit in additional items and you'd need to rely on the external straps to do so, which sacrifices a bit of mobility.
Here's what you can do to determine which one works best in your situation. Assemble everything you'd need and spread it out. This will give you an idea of how large you'll need your get home bag to fit them all in.
A bug out bag and a get home bag primarily works in the same way. If your get home bag and bug out bag are roughly the same sizes, then you may want to re-prioritize what you'll really need in order to get home safely. The only exception is that if it takes you more than an hour to get to work.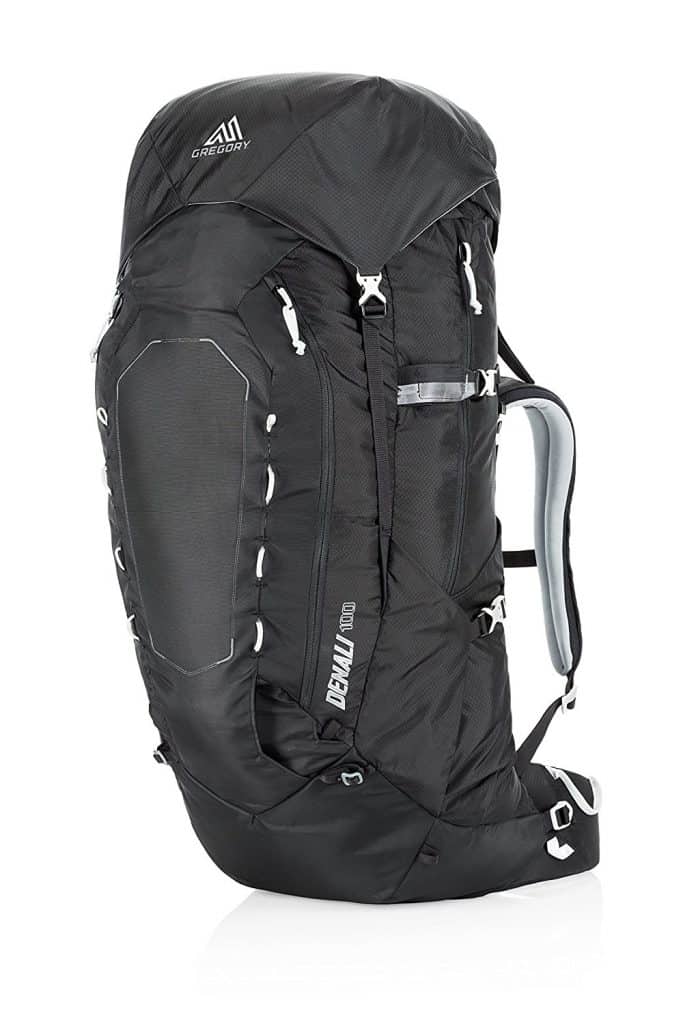 B. Get Home Bag vs. Everyday Carry Kit vs. Bug Out Bag
You'll need all three of these survival bags in order to be prepared for anything. The Every Day Carry Kit will contain the necessary tools, items and survival materials you'll be using daily.
If you're at a loss to what that is, think about the most common tools you wish you'd have when you're faced with a problem, i.e., a flashlight, scissors, extra batteries, etc
The Get Home Bag will contain the necessary tools, food and other elements that give you a greater chance to make it home safely and in one piece. It doesn't matter whether you're commuting or driving your own car.
In cases of civil unrest, natural disasters and minor inconveniences such as experiencing a car breakdown and road closure, you'll want to be equipped with things that will tide you over the course of roughly 24 to 48 hours. Keep it as compact as possible while still being versatile.
The Bug Out Bag will contain items that you'll need to survive for a few days. Everything you need should fit in and it should still be light enough for you to carry.
Bug Out Bags are stored in a convenient part of the house and should be ready within a moment's notice.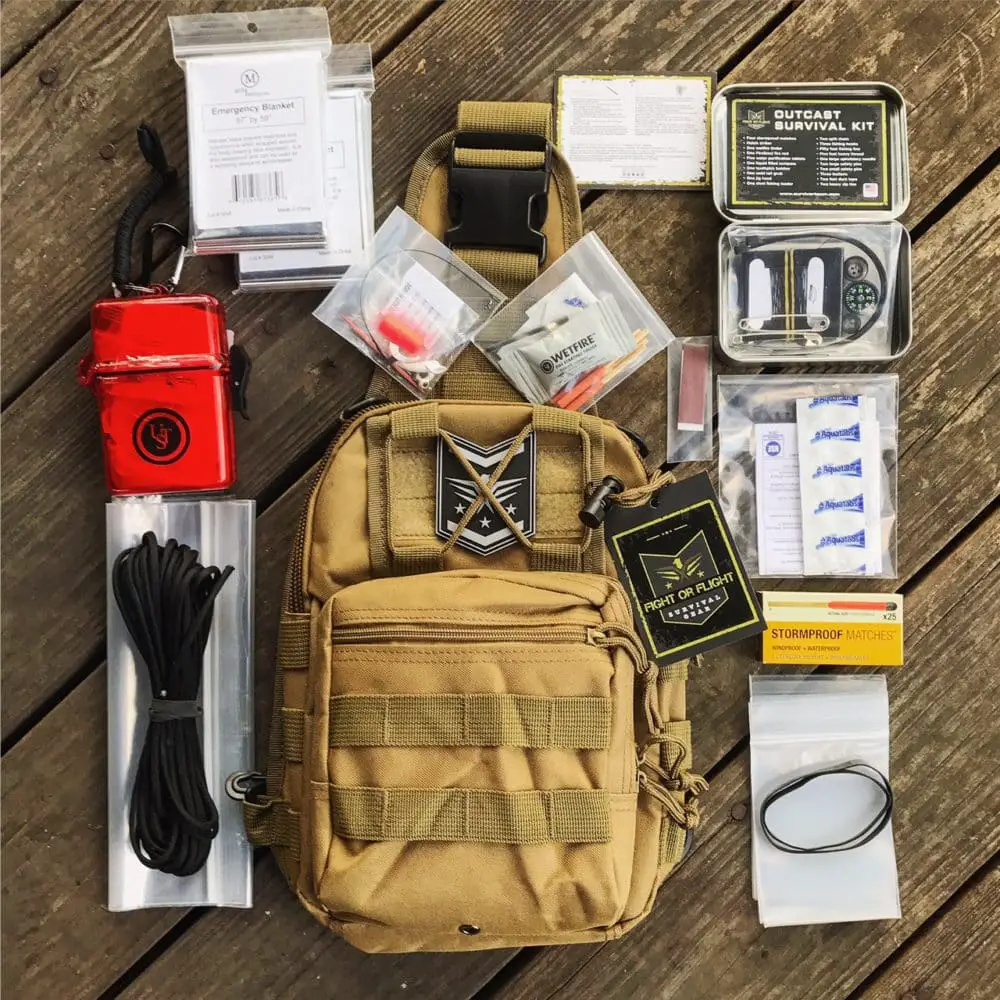 C. Get Home Bag Contents:
The contents of your Get Home Bag should contain these types of items:
1. Extra Medications / Fever reducers
2. Flashlight or Knife – You'll need a sturdy, water-proof headlamp or flashlight. It should have a stable hands-free feature and has several light modes including strobe signals, dimming, and flash. Be sure to have extra batteries.
3. Sensible Walking or Hiking Shoes – If you wear heels or dress shoes to work, keep a comfortable pair of sneakers or walking shoes in your car.
4. Extra Socks – Traveling long distances won't be so great for your feet. You'll need extra socks to keep comfortable and in instances where you need to ward off sores and blisters. Pack in wool socks if you know that you're going to travel long distances.
5. Knife – We're talking about a survival knife. One that can baton wood, cut cord, skin game, and do all the things a good, rugged, outdoorsy knife can do. It doesn't have to be expensive, but it should be decent. This is exactly why I have a Cold Steel Bushman knife. We did a couple of posts on knives: Budget Survival Knife: Cold Steel Bushman knife, Becker BK2 Companion Survival Knife, and the recent Bushcraft Buyers Guide.
6. Fire – Firesteel, waterproof matches or a bunch of Bic Lighters, just have some way to make fire. It's best to pack in several means to start a fire because this element can mean the difference between life and death. One fire-starting product to consider is a compact and waterproof/ windproof lighter that starts reliably in rough conditions.
6. Knife – This can act as your rain gear and your shelter tarp, or in a pinch, you add a poncho liner or jungle blanket and you've got a weather-resistant sleep system. That's right multi-use gear, 3 birds with one stone (I know I just blew your mind). If you can't envision how a poncho becomes a shelter here are a few links to help you out: 9 Military Poncho Survival Shelter Configurations and Poncho and Tarp Shelters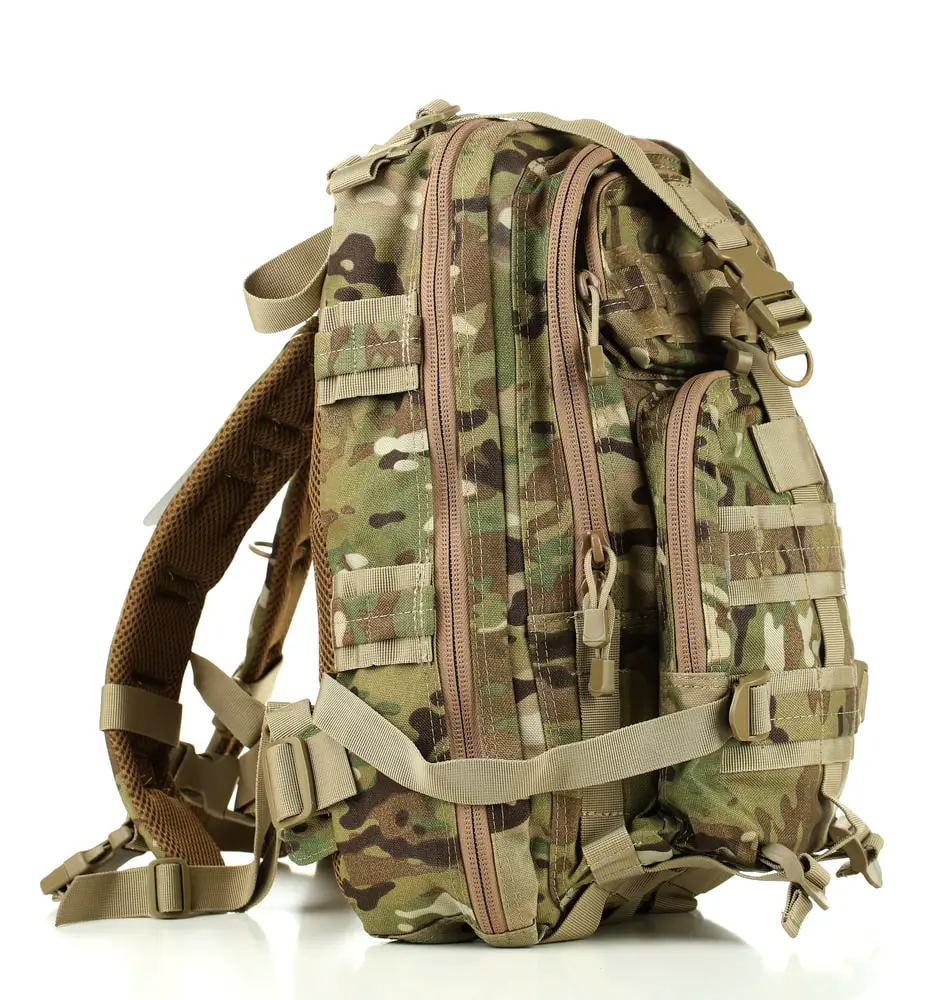 7. Rope / Cordage – pick up at least 100 feet of 550 paracord. You'll need it to rig your poncho into a shelter and you'll probably need it for a bunch of other things.
8. Duct Tape – I just take an old plastic card (library, shoppers rewards, etc) and wrap a decent amount of duct tape around it. I don't want to carry a huge 8-inch thick roll of duct tape, but I want some, so I make sure to have about 1/2 inch thick roll of duct tape, conveniently off the roll and around the flat card. This will fit easily in our GHB.
9. Multitool – Like most of the items in your get home bag, your multi-tool should be high-quality and carefully considered. It should have at least wire cutters, cross point, and flat drivers, pliers, a saw blade and a solid knife blade. This will be your go-to item for cutting rope, small pieces of wood, building a tent and more. If you're handy and well-trained with a knife, you can opt for a fixed blade or a machete depending on the perceived situation.
10. Backpack first aid kit – You can buy one or make your own. Basic first aid items such as medical tape, moleskin, gauze pads, splint, tweezers and bandages should be included. You'll also need medications that provide relief from common aches and pains such as antacids, aspirin, Tylenol, etc. If you wear eyeglasses it will be wise to pack in a backup just in case.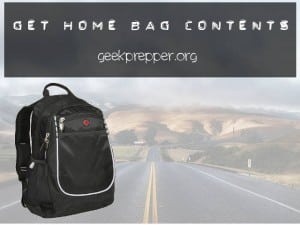 11. Bandana or Shemagh – Head covering, sling, sediment water filter (will not purify water) and a trillion other uses. Trust me, these are awesome to have.
12. Hat – Keep sun off head, if winter have a stocking cap (WOOL).
13. Compass (or GPS) and MAPS! – Get the Delorme atlas for your state and keep one in your car. 
You should assume that the main roads are congested in times of emergency. A map that will show you detours and alternative routes will come in very handy. If you have the time, you can scout in advance for possible routes to take.
14. Sun Screen
15. Insect Repellent
16. Food and Snacks – Simple is best when it comes to emergency food rations. You'll need around 3 to 6 energy bars to get started. Trail mixes and high-calorie bars should do well.
You won't need to heat them up and they can be eaten while you're on the go. The nutrition you get from these bars should power you up physically and mentally.
17. Water / Water purification tabs or Water filter – You wouldn't want to risk getting sick from drinking local water sources.
18. Stainless Steel water bottle – This can save you from buying the $4 plastic bottled water on road trips and can be used to carry and boil water if you find yourself stranded far from home! If you don't go stainless steel, you still need a way to carry water so consider a Nalgene bottle or a collapsible water bottle, if space is tight.
19. Toilet Paper – Walking a long distance sucks, and you will have a nature call.
20. Sunglasses – to protect eyes from sun and debris (goggles might even be good).
21. Work or utility gloves – You'll be working with your hands most of the time outdoors, so it's best to protect it. Pick the best one in the current season. Get thick ones and gloves that will protect you against scrapes, scratches, cuts, and burns.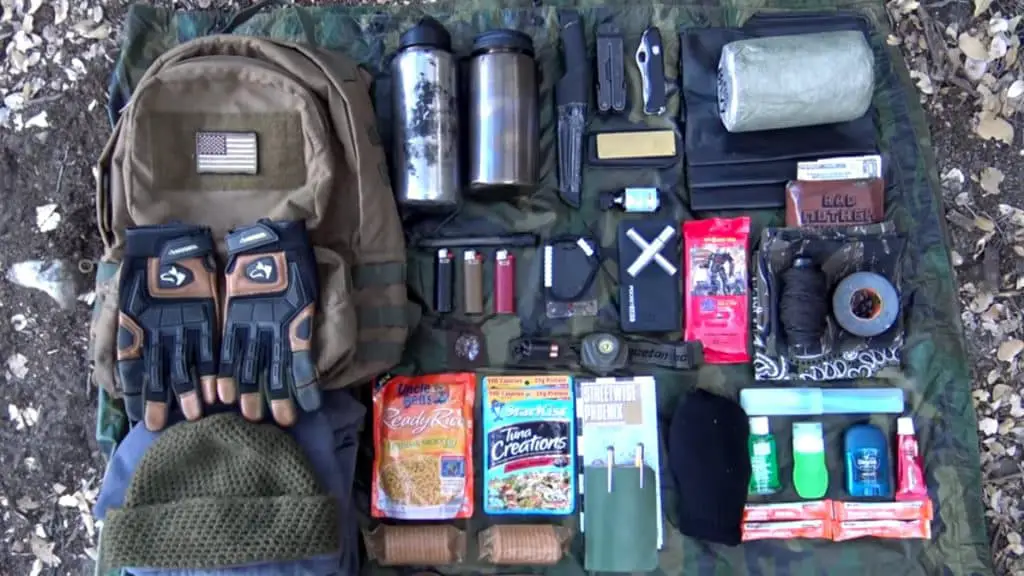 22. Wet Wipes / Baby Wipes
23. Cash – Cash is always useful to have, especially in emergency situations. Don't carry large bills- instead, a bundle of '20s should do the trick quite well. It's wise to spread your money out in different places so you won't reveal all of your money at once.
24. PrePaid Calling Card (in case you need to use a payphone)
25. Prepaid Credit Card
26. Rope or Cordage – It's light and serves a thousand outdoor uses. It would be foolish not to put one in your get home bag!
27. Wet Wipes – A pack of wet napkins provide handy and convenience for when you need quick spit baths. Hand sanitizers are small enough so don't forget to put one or two for good measure.
28. Paper and Pencil– Use this for recording information and leaving a note. With it, you can map landmarks or write down coordinates of places that could be useful later.
29. Weather Appropriate Clothing –  One of the first things you'll need is a change of clothes for practical reasons. Don't forget to include a comfortable hat and a tough pair of gloves.
Extra clothing should be rotated constantly depending on the season. You'll certainly need dry clothes in wet and cold conditions or else you won't survive the trip home. Layering up is essential to keep body warmth intact as you travel outdoors.
30. N95 Face Mask –  You'll be needing an N95 Mask to keep away that dust, dirt, sand, bacteria and viruses floating about. A t-shirt won't be as effective.
31. Emergency Radio –  The best one to pick is a hand-cranked dynamo that's small and compact. Check and see if the radio gets NOAA Hazard and Weather Alerts. If the city or state goes into a blackout, you can rely on your emergency radio for useful information.
If possible, get a unit that also has a charging port for your smartphone or mobile device. You may not realize it now but having timely information regarding weather and emergency alerts will prove to be useful in catastrophic events.
32. Firearm and Extra Ammo –  Get this type of self-defense if you live in a state that allows it. Pack a few extra magazines or rounds into the get home bag in times when you need stopping power.
33. Walking Stick – There's a very good chance that you'll be walking most of the time. Collapsible walking sticks are convenient and provide support for your knees while on extended travel. This item can also double as an emergency shelter when coupled with a poncho.
34. Glowsticks –  Get the ones that give you 12 hours of light. It's useful as it could be attached in shelters or when you need to light the trail in unfamiliar terrain.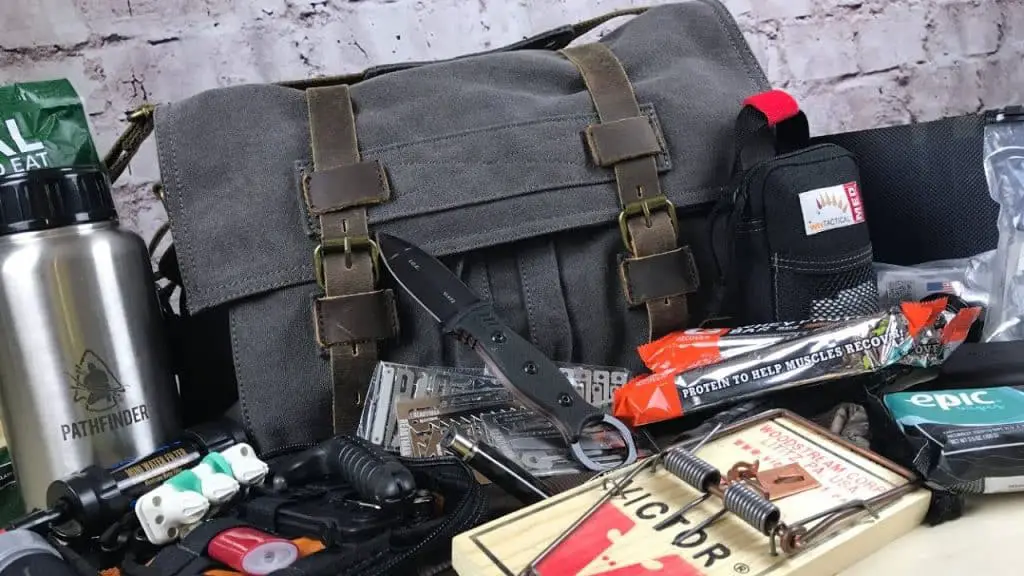 Bonus Items
35. Personal Defense items (legal in your area) – Mace, Pepper Spray, etc. People panic and are often irrational in large-scale emergency situations. It's a breeding ground of confrontation and desperation.
You should keep this in mind and think about self-defense as part of surviving the ordeal. Avoid hand-to-hand combat; it's wise to pack in a strong pepper spray, a firing taser or a compact handgun to show hostile forces that you shouldn't be taken lightly.
36. Solar Charger for a phone (and GPS)
37. Small Binoculars – You'll want to be able to check for obstacles and "situations" before you get to them. These don't have to be pricey. I've linked to a small Coleman 10×25 pair.
38. Emergency Signal – Pack in a small mirror or a flare for when you need long-distance signaling items. A whistle can also come in handy.
D. Get Home Bag Care & Management
1) Is a Get Home Bag Even Necessary?
The short answer is YES. One of the best things you can do is to prepare for the unexpected.
There are a number of unforeseen circumstances that can happen anytime- earthquakes, riots, flooding, plagues, hurricanes, fierce storms, terrorist attacks and nuclear war.
A get home bag serves to increase the chances of you making it home and planning the next step. Even if these calamities didn't happen, you'll have peace of mind knowing that you're ready at any given time.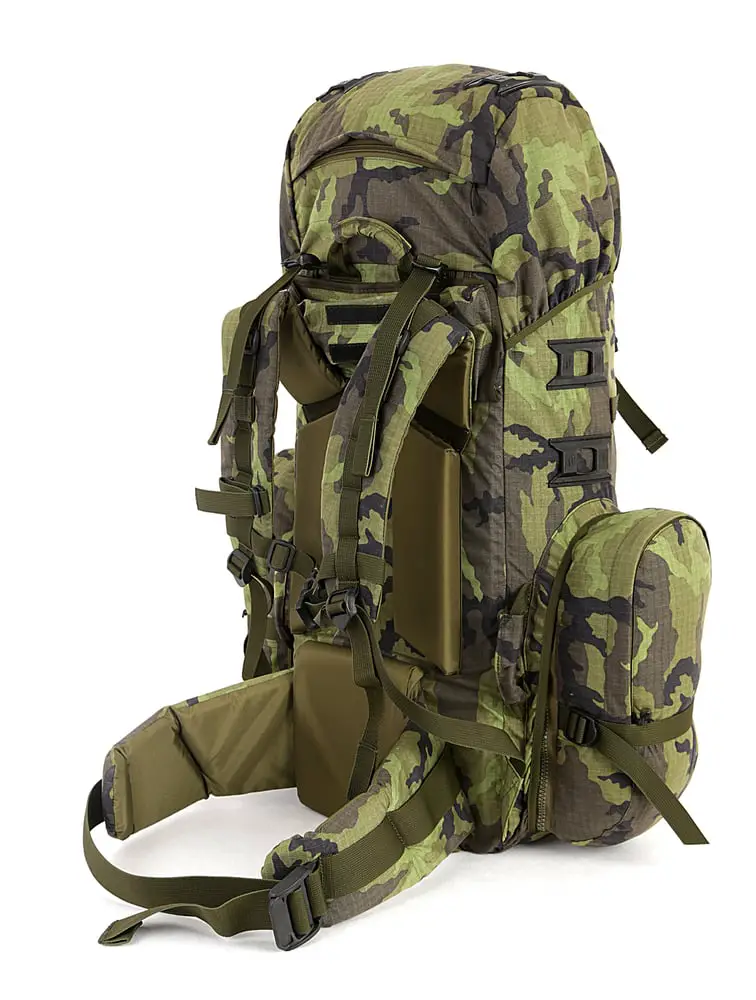 At the very least a get home bag can make you more comfortable in non-calamities such as extreme traffic, road closures and forced overnight stays.
2) Storing Your Get Home Bag
A get home bag can get you home even amidst huge calamities and disasters, but it only works if you have it with you most of the time.
Stashing it in the trunk of your car is not recommended as your vehicle may prove to be inaccessible in certain situations, i.e., riots, earthquakes, etc.
Good storage places include your office, a nearby public locker or a PO Box. The key here is that it should be accessible most of the time.
If your line of work requires you to travel by car, then it will be acceptable to keep it stored in your trunk. This is because most of the time you'll be inside the vehicle as compared to being far away from it.
3) Organizing Your Get Home Bag
Your get home bag will consist of roughly 3 levels. Every level will have items you'll need to survive for a specific time period.
The bottom items are more of the long-term variety while the ones on top are the ones that you'll be sure to need right away.
Level 1
The first level should be the most accessible of the three. This level will ensure that you get home safely within a 3-hour period. The items here will prove to be very useful but aren't helpful when it comes to overnight stays.
Level 2
The second level should have items that will tide you over after a length of time has passed, i.e., 8 hours or more. Consider putting items that you'll need for a 12-hour journey here.
Level 3
The third level should contain essential sleeping gear and anything that will be of value for long-term travel. Pack in items that you'll need for an overnight trip.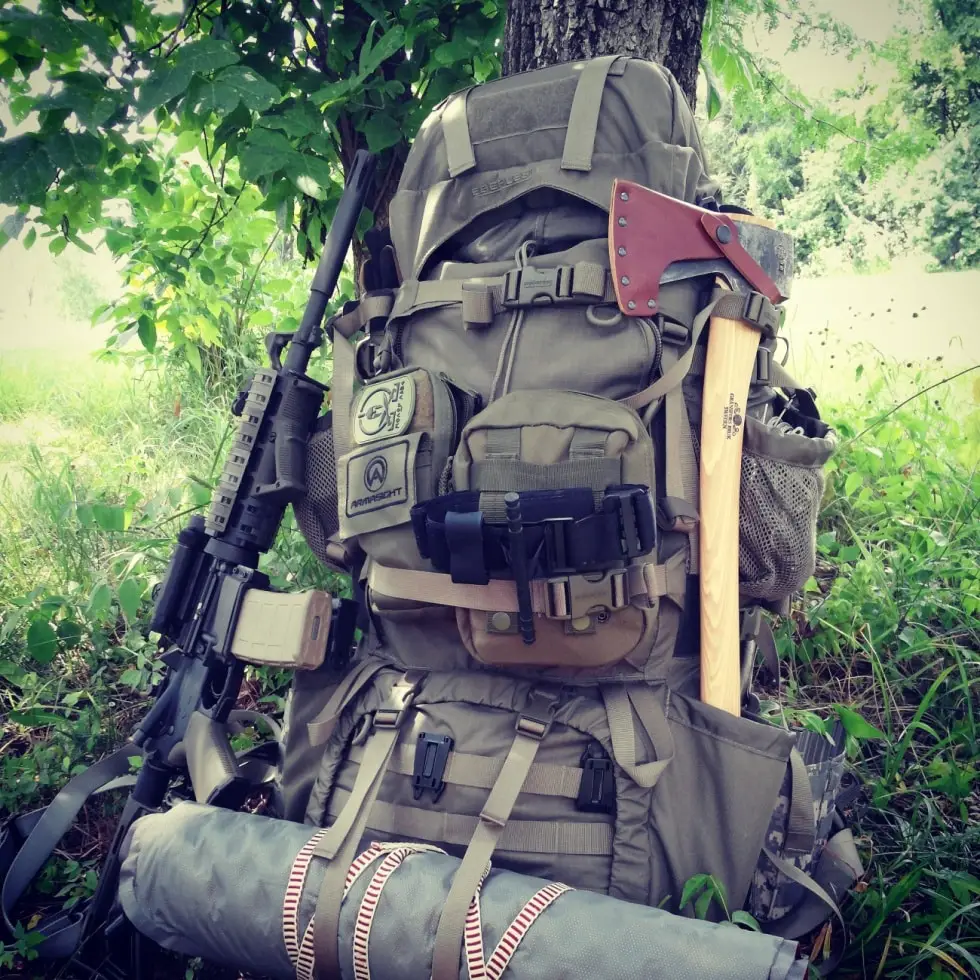 4) Customizing Your Get Home Bag
Each individual can have special needs. How you customize your get home bag will depend on your personal circumstances or situation.
You'll need to think about the season, your region and the type of commute that's available to you. For example, an urban environment may have required more specific items as compared to the rural routes.
Your job, office location and career may change how you prepare your get home bag. Plus, you'll need to think about possible emergencies and the geographical location to see if there's anything else you'll need.
Think about your commute from home to work, then work to home. Do you know of any alternate routes or paths that could prove to be useful? A detour through the park, a trail or unused alleys are just a few examples.
Think about what you'll need so you can travel without compromising your health or safety.  Get a bird's eye view of all the possible scenarios.
Answer the following questions- will you be walking through the woods or around bodies of water? What are the quickest routes to take? Which ones take the longest? What are the ones that get you the most exposed to the public?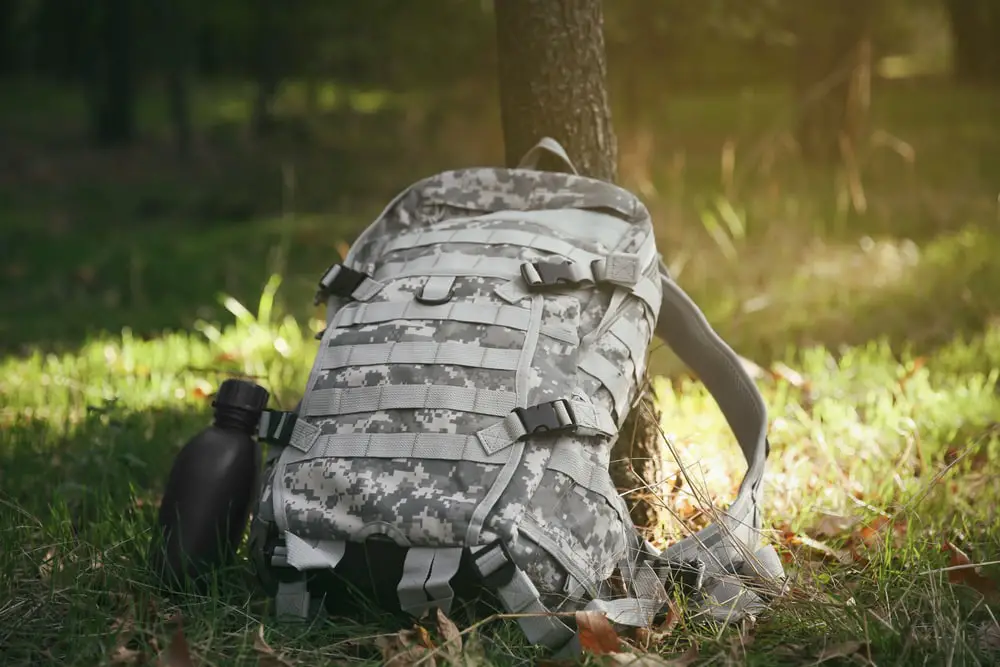 All of us naturally think of getting home as soon as possible when disasters strike. For this reason you'll need to have a get home bag prepared. Increasing the chances of making it to your home base gives you the confidence and motivation to survive.
A get home bag is absolutely essential if you have loved ones or family members who will rely on you to get them home safely. Remember to take the "When" and not the "If" approach when considering the items you'll need. You will be glad you did!
Make sure to grab your EDC Survival Kit and some extra gear from your Automobile EDC Supplies.  Make sure to grab that Automobile Sun Shade from your car before you head out. This can act as a makeshift sleeping pad, and to reflect heat back to your body when it starts to get cool or cold.
You should probably make a list of these items and put it on your GHB so you don't forget to grab them from the Car supplies.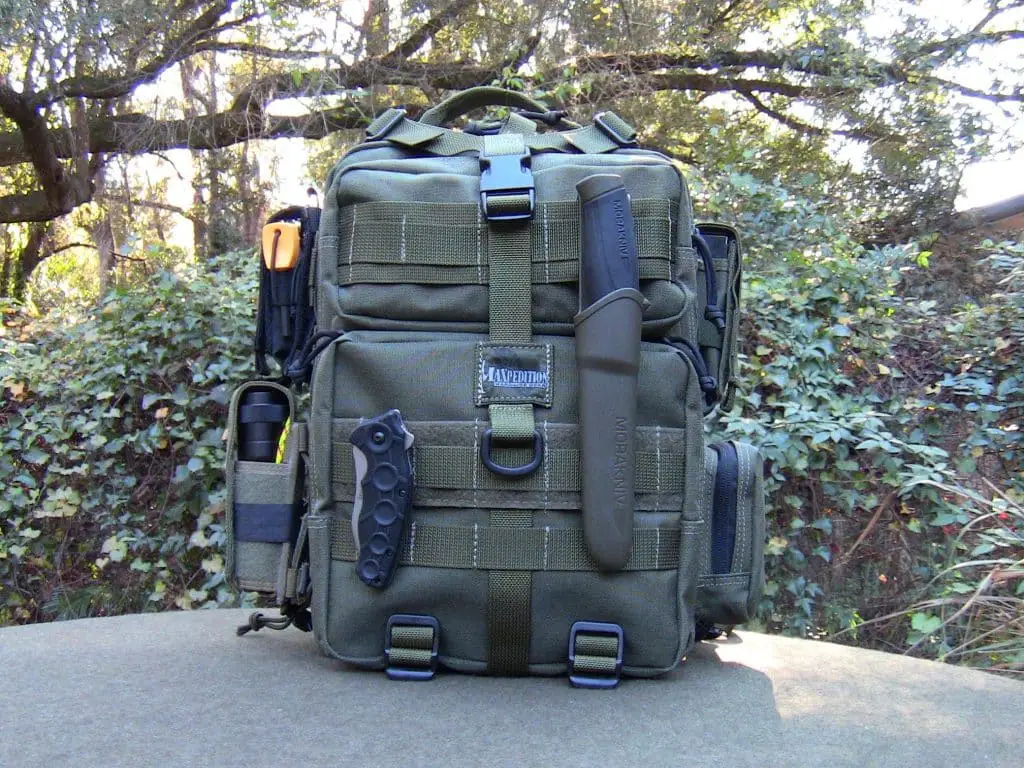 Make sure to add any other item that makes sense for the season, your region, commute or personal needs!
Download the printable Get Home Bag Checklist in pdf format.
Last but not least, take your brain. There will be a lot of lost, scared and predatory people. Use your wits. Watch out for traps. Gangs use "helpless" damsels in distress to lure in people all the time.
I'm not saying don't be a good Samaritan and don't be chivalrous and charitable, but use your binoculars to observe for a while to make sure you don't become the victim.
No matter what happens, you want to get home. What separates you from everyone else stuck on that stretch of road? Your Get Home Bag and your planning is what separates you from them.
E. Testing Your Get Home Bag
So you worked on your survival bags for the past 6 months. You hand-picked the items to get the best ones for the best price. Heck, you even assembled your own first aid kit….
But have you actually tested your survival bags? Did you simulate an emergency and try to get home in record time? If you're not doing this now, in a survival situation, you're gonna wake up with a slew of problems you never really thought to. This is why drills are good: they uncover holes in your prepping plans you wouldn't otherwise see.
Let's see how you should test your get home bag and, with it, a few get home scenarios. You need to know how you'll be getting home in case of an emergency.
If you have a car that you use every day, that's probably where you keep your GHB (short for Get Home Bag). On the other hand, if you're using a bike, public transportation, taxis or even go on foot, then you need to do things differently.
In short, you have to test getting home in record time but there're a few things to consider.
For example, you're gonna need to think about getting speeding tickets or even causing an accident. While you buy simulating a disaster in your own head, the rest of the world won't see that, particularly the police officers who won't hesitate to stop you.
On the other hand, if you're using a bike or if you're on foot, you can rush it. People will just assume you've got an emergency and will even step aside to let you pass.
So how would you go about testing your GHB? The first thing you need is time. If you're at work, you need to make sure you have time to get home and then come back from your lunch break.
Doing it during the break is better because it puts extra pressure on you to get back but you can also do this in the evening when you finish work.
One thing you need to do in advance is to measure how long it typically takes you to get home, so you see how much faster you'll be in case of an emergency. It's always good to have a benchmark so you can break your record in subsequent drills.
Yes, doing this drill more than once is recommended. You're gonna need to simulate taking a different route and even more complex scenarios such as getting into a car crash or running into an angry mob that stops your car and surrounds it.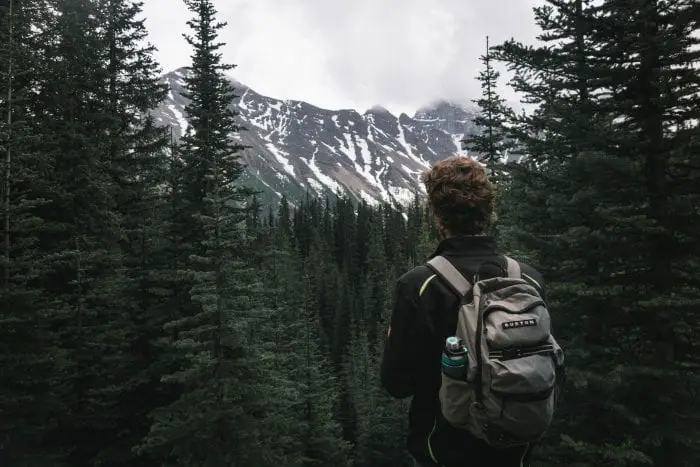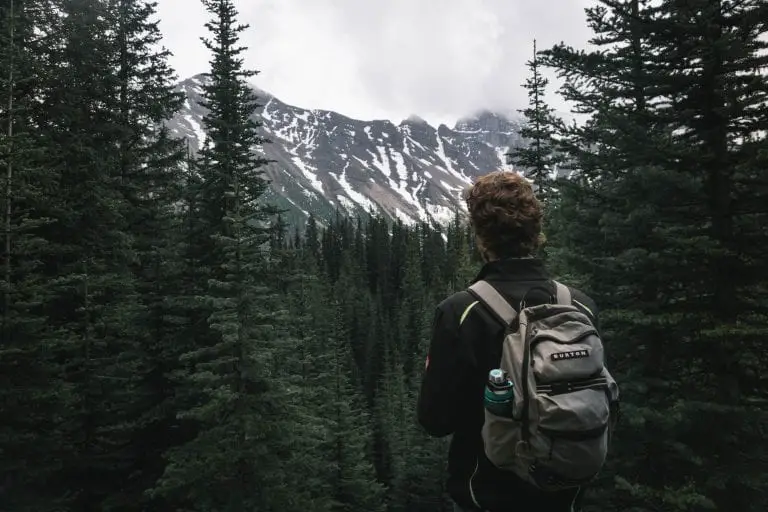 No, you don't have to stop your car in the middle of the road or use pepper spray but stopping the car on the side of the road and seeing how fast you can reach your self-defense weapon will work.
Ok, we talked about testing the self-defense items in your bag. You learned that if the bag is in your trunk, you can't really get to them unless you get out of the car. How do you actually test the other items?
It's easy. You just have to imagine running into various obstacles along the way and having to use the items in your bag to overcome them. For example. If you see a vending machine on the side of the road, quickly stop the car, then use the cash from your bag (not your wallet) to get some water and energy bars.
Another thing you can do is call your friends and family along the way; this will help you practice your distributive attention.
I should mention you shouldn't use the phone while driving unless you have hands free. You also don't necessarily have to talk with them about survival as you don't want people on the bus (if that's what you're taking) to panic or think you're crazy.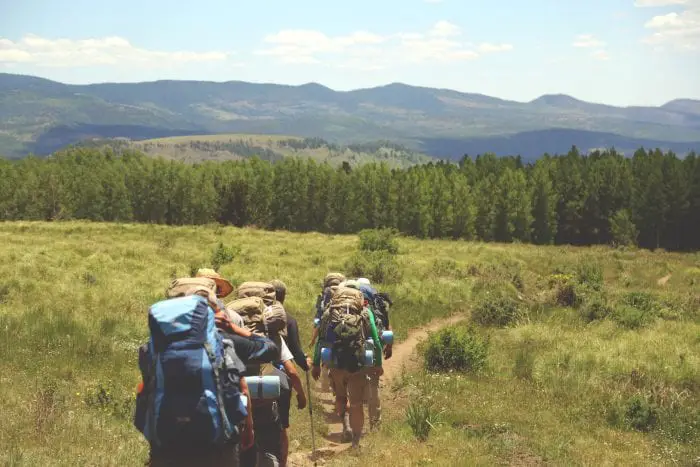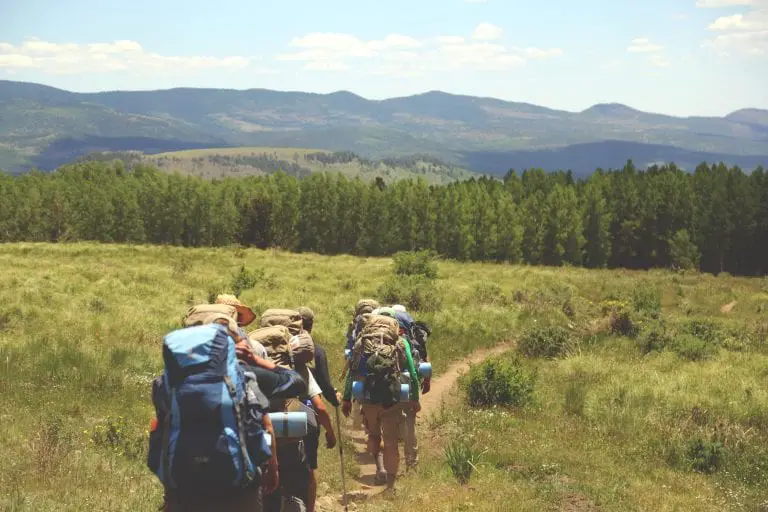 Last but not least, let's not forget that if your GHB is too heavy or if you haven't done a push-up since high-school, you're either gonna need to carry less stuff or improve your fitness levels. The last thing you want is to stop every couple of minutes to catch your breath.
Final Word
If you liked what you read, that's great. If you actually went ahead and did it, that's amazing. Once you start taking action, you realize some of these survival drills aren't that hard at all!
And if you're wondering how to assemble a get home bag, there're plenty of resources out there. You just need to keep the whole thing light (unless you keep it inside your car) and to always have quality items inside.