I'm all about redundancy and multi-use gear for prepping.
This is why I love my *Cold Steel Shovel(s).
They can do so much more than dig!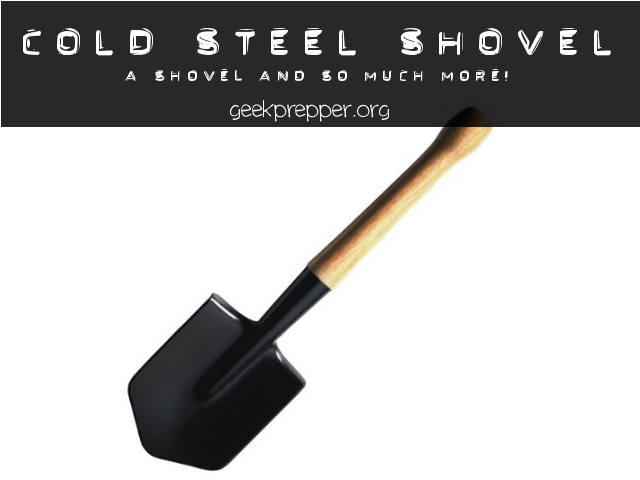 Cold Steel Shovel
I was looking to replace my folding e-tool. I wanted something with less moving parts and, hopefully, something that could do more than just dig. I bought a single, Cold Steel Shovel.
To be honest, I've had my eye on this shovel for a while and was probably just looking for an excuse to buy one. I had read the reviews on the Cold Steel Shovel and had seen some amazing videos on youtube. It seemed like a lot to believe and I wasn't quite sure if this Shovel could really do all that they claimed.
Once it arrived, I gave the shovel a very close inspection. This Shovel is well constructed and very sturdy. The steel, that the shovel blade is made from, is very hard and makes this one rugged tool!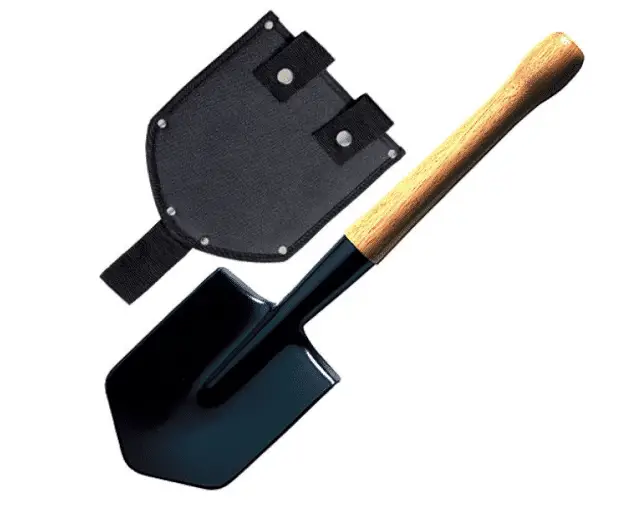 Over the years, the handle would be replaced now and then. Handle replacement would be easy enough since it's held on with 2 screws. That's right, screws. not rivets. Since Cold Steel used screws, you can change the handle out with a longer one (or a stick) to compensate for numerous other purposes.
Based on the quality of this shovel, I can see it lasting a lifetime.
There was only two minor customizations I decided to do to improve it's versatility and ease of use:
Mod 1:
I drilled a 1/4″ hole in the handle and threaded a length of para-cord through it, for a wrist lanyard.
Mod 2:
On hot days the handle can become slippery with the added element of sweat, or when working in wet conditions (even with gloves).  A simple wrap around the handle with a high quality, durable grip tape made a big difference with efficiency.
Mod 3:
Edge sharpness and shaping to fit different uses. Read below for more info.
Reasons to Use a Cold Steel Shovel
Many prefer to use a cold steel shovel for a wide range of reasons. For me, I find the multi-functionality and versatility motivating me to bring it everywhere weather camping, hiking, commuting, or road tripping.  At this point I just leave it in my vehicle.
Good Throwing Capability – Throwing this thing is akin to throwing an axe.  Due to it's weight, it sinks into hard wood like it's foam.  It's "throw-ability" allows you to practice your edged weapon throwing skills, which is always fun and in some way, hypnotic.  And of course, it's a potential self defense tool for either throwing or chopping in hand.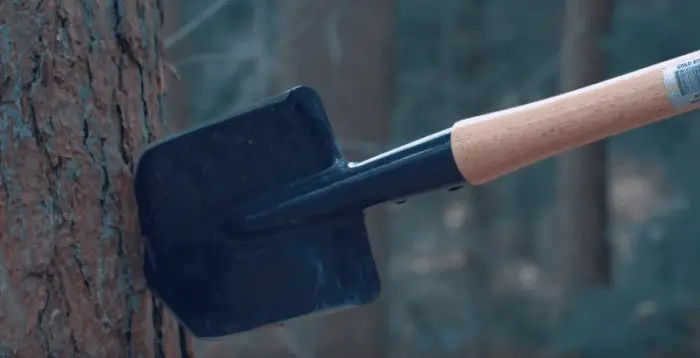 Despite it's ability to penetrate, note that this will likely shorten the lifespan of the handle, especially when not hitting your target with the sharp edge and instead the handle.  Again, it should be easy enough to replace if you can't resist beating it up.
Easy to Sharpen – It's easy to sharpen with a basic file, or on a diafold and doing so not only gives you a cleaner cutting edge, but reduces the damage accrued from colliding with materials that meat it's match.
One thing to remember about the cold steel shovel is that it has multiple edges. With that in mind, you can keep one of its sides more obtuse so you can use it to chop roots. As for the others, you can make them more acute as a means of using them to shape and chop woods. Furthermore, you can make some changes to the grit finish.  This is yet another way to customize the shovel.
Easy to Carry – Despite it's weight, the cold steel shovel is wieldy enough. You can always opt for the version with a sheath, or buy it separately.  Note that its much cheaper when purchased with the shovel. The sheath will make it easier to strap to or place inside a bag and avoid it cutting unwanted material on your expensive bug out or GHB.
That said, you can modify my paracord mod (mentioned above) and avoid drilling and  instead make use of Velcro and/or heavy straps so you can easily carry the shovel.
Testing
I spent a long afternoon abusing… I mean testing the Cold Steel Special Forces shovel. I dug holes with it, I chopped wood with it, I threw it like a finely balanced ax (I sure threw it, but with my lack of skills I only got it to stick a few times) and hammered stuff with the shovel blade. I quickly realized that this shovel could be used in place of, or as a back up to, many other tools.
The Cold Steel Shovel can be used for:
Digging – I noticed that the cold steel shovel stands out in terms of digging. It can move through the soil with too many roots because of its ability to chop through roots, which can't be done by a standard shovel and pick.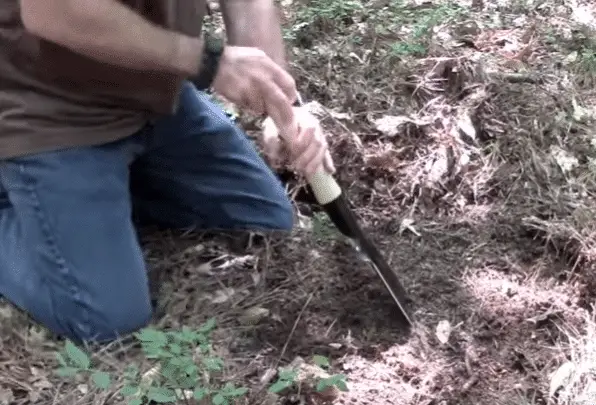 Aside from that, you will find this shovel useful in readily blasting through thick ice, a function that the majority of shovels in the market today have a hard time doing. I also discovered that a cold steel shovel can dig holes even on rocky grounds while ensuring that there will only be minimal damage out of the procedure.
Also, the shovel's sharp edges seem to get abrasion from rocks while the leading edge gets the heavy impact. This lessens the difficulty in preserving the sharpness of the shovel's sides.
Food Preparation – One thing that the cold steel shovel can do is it tends to balance behind its head. This means that if you use your index finger to grip along the back and your middle finger to grip behind its head, your hand will be in a neutral position. With such a position, you will be able to put less strain on your wrist even if the shovel is heavy. This makes it suitable for use in the kitchen for food preparation.
Before using it in your kitchen, though, reground its edge to around 35 to 37 degrees then sharpen it to gain a high finish. With such an edge and finish, it is possible for you to use the cold steel shovel in slicing pork. You can even use it to dice onions finely. Provided you position it correctly, you will be able to use the shovel to slice and dice some ingredients for food preparation.
Chopping – You will also find the cold steel shovel useful in chopping thick, hearty wood. This is possible even if you reduce the edge by a few degrees per side and after polishing. Just do not forget to sharpen the edges each time to ensure that it will hold a nice edge for sharp chopping capability.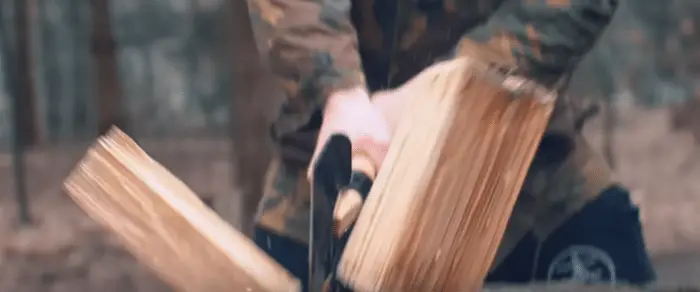 Miscellaneous Cutting and Other Possible Uses
One thing to remember is that while the shovel's initial edge only has a minimal cutting ability, you just need to regrind it so you can use it to carve a few stakes. You might also find it useful when planning to chop a few sections of a poly rope.
While it is quite hard to do precision carving, like contouring a curve because of the wide blade, you will still find it effortless to use to make points and notches and cut different plastics, synthetics, and cords to a certain length. Other possible uses, include:
Hammering (I wouldn't use it if I had a hammer, but it did a decent job of smacking in nails and tent stakes)
Throwing weapon (like an ax)
Defensive weapon – I fought and killed a grizzly bear with this shovel. Ok, that's a lie, but I did wave it threateningly at a suspicious-looking squirrel!
If we run down the list above, the Cold Steel Shovel can act as a backup for my hatchet, hammer and many other tools.
Why Did I Buy Multiple Shovels?
*You might have noticed I said Cold Steel Shovel(s) (plural of the shovel, as in more than one). I'll explain how I went from a single shovel to having quite a few.
After my afternoon out in the woods with the Cold Steel Shovel, I was so impressed with it, I came home and ordered 5 more.
Five more?
YES, five more shovels.  I now have 6 shovels, 4 of which I will be keeping close.
3 One for each of my family's vehicles (car, mini-van, and work truck)
1 for camping/bug out bag
2 for Christmas gifts (dad and step-dad, you're welcome!).
Thank you, Cold Steel. You now have a huge fan in the Cold Steel Shovel Special Forces Shovel.
EDIT: 10/2015
After using one of these shovels on a regular basis, for setting up campsites and misc uses, these shovels really do hold their own. When you're all alone, miles away from civilization there is something about having this in your hand, that makes you feel more secure!
EDIT: 01/2019
After all these years, I've finally killed two shovels that I purchased. The handle mount just got too widened on one to hold a handle with enough reliability, and the other one got ground down so much it started looking like a nub of a shovel.  Then it cracked.  Keep in mind the mileage I put on this thing would not be considered normal use with all the throwing I do.