Survival is our main concern during tough times, but after that, what will be the next step to keep in mind?
Hygiene after SHTF, or after a natural disaster will be important to stop the spread of illness and disease.
It can also provide a measure of relaxation and normalcy in a strange, tense time.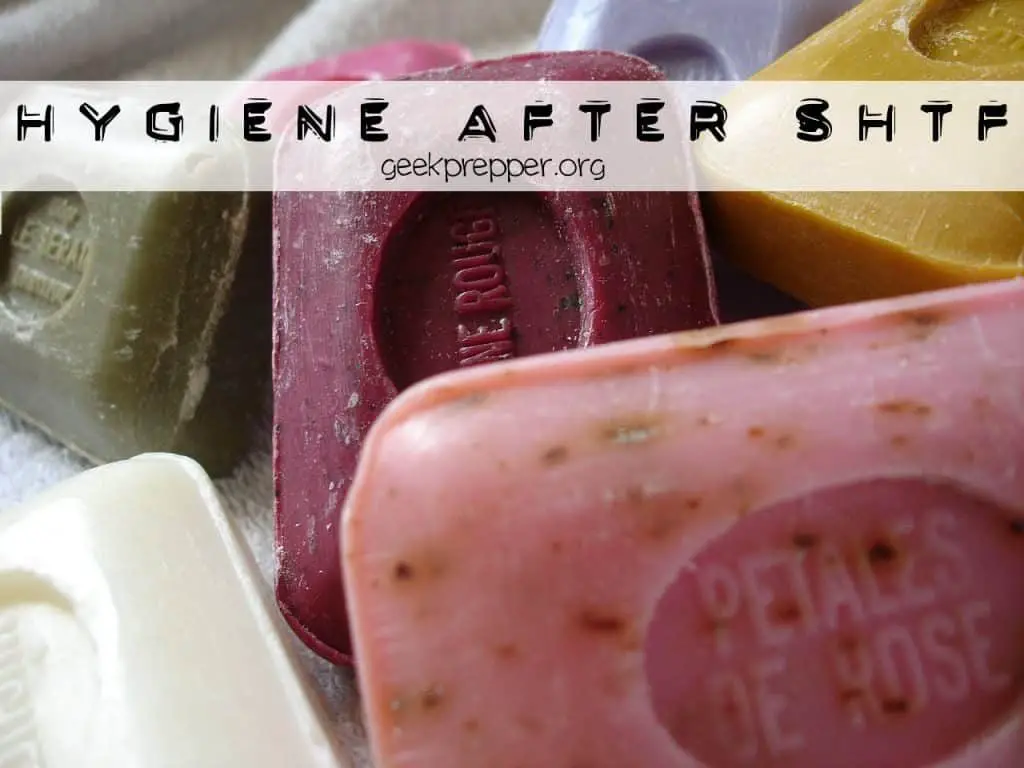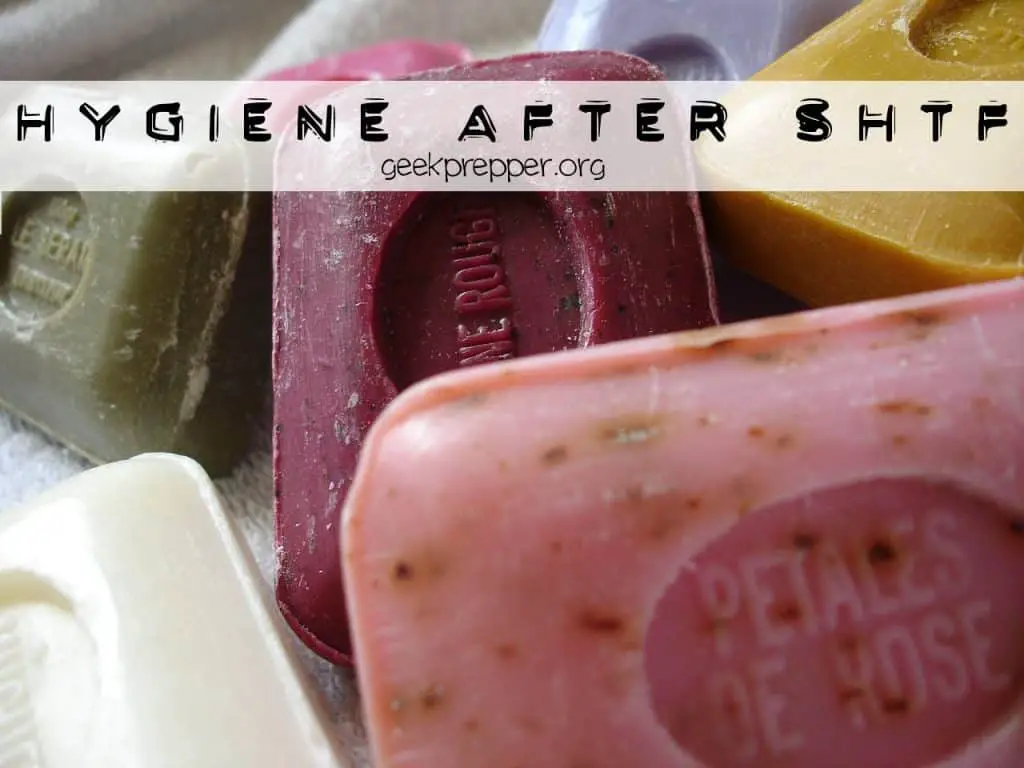 Hygiene after SHTF or a natural disaster
Sometimes after a long or stressful day, a nice warm shower can really take the edge off. Wouldn't it be great to be able to take a warm shower after a world or area changing disaster?
I will smell like a pretty little flower while the world goes to hell in a hand basket!
Here are some ideas for Hygiene after SHTF:
Do you have a Comb or brush in your bug out bag (or bug in kit)? I must admit that I did NOT. I'm bald so I didn't even consider a comb or brush, but if I take my own post teotwawki advice and avoid shaving, that hair will come back. Maybe not on top where I need it (hence the hat, bandana or shemagh that I carry for sun protection) but the back and sides of my head will be bushy as can be.
No one wants tangles and rats in their hair. Grab a comb from your bathroom and toss it in your bag.
2 – Solar Showers
Fill your solar shower up with water and set it out in the sun to heat up.
You could almost pretend that you still lived in a normal world, with that hot water running down your body. This might be the only luxury that many of us will have. This would even be great for camping trips, so warm showers aren't just for the apocalypse.
Advanced Elements 3 Gallon Solar Shower
The Advanced Elements 3 Gallon Summer Shower / Solar Shower is well designed (4 ply) and well thought out. There's even a mesh pocket to hold your camp soap bottle or razor. The Advanced Elements solar showers also come in a 5-gallon size, so if you have a large group and extra hands to help you hang it, this larger size would be perfect.
The Pocket Shower is made of the same heat-resistant waterproof fabric and roll-top closure as Sea to Summit's standard Dry Sacks.
Built into the base is a compact showerhead that operates with an easy-to-use on/off twist mechanism. The twist spout also adjusts the flow of water, delivering an efficient trickle to a free-flowing shower. Fill the 10 Liter (2.6 gallon) Pocket Shower, roll it to close at the top and hang it from two tough Delrin D rings with the 20 feet of lightweight cord provided.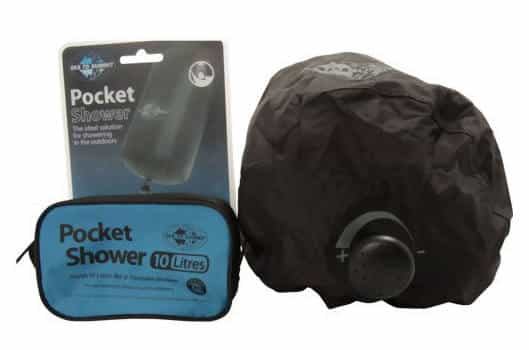 The black fabric soaks up sun during the day for a warm shower or fills it at the end of the day for a cool rinse. For multi-function, the Pocket Shower can also be used as a regular dry sack to transport clothes or sleeping bag.
3 – Soap

Soap to wash your hands and body is very important, after all, you did just read about the solar shower, and what good would that be without soap? Many people buy camp soap, which is fine. I like to buy the Castile Liquid Soap Organic-Peppermint (also available in a bar of soap). The Castile Liquid Soap is super concentrated. To use it for bathing or washing you dilute it with water 10:1 (see bottle for directions).
A gallon of this can last a family well over a year. It's organic and shouldn't hurt the environment if you use it in the great outdoors. Plus that pepperminty scent will make all the survival girls (or guys) swoon with post-apocalyptic passion!
4- Camp Washing Machine
Give your clothes a machine quality wash while on the go, whenever and wherever you want. The Scrubba Wash Bag is currently top in this class.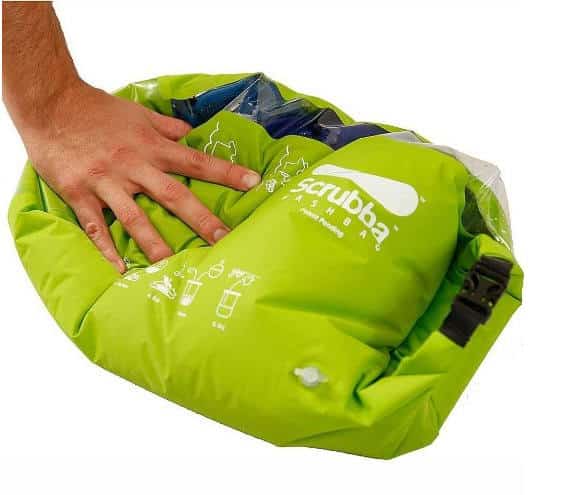 You'll want to dry off after washing or mop up your sweat after hot outside work. Camp towels or Travel Towels are designed to be very absorbent, pack small and dry fast. I won't go too deep into this, as I'm sure this already makes sense.
All of these products are very similar. Some situations call for a quick, cleansing wipe. Maybe you didn't have time for that shower or worse, maybe something you ate didn't quite agree with you. Either way Baby Wipes, Camping Wipes or Travel Wipes can come to the rescue for a quick refreshing clean up.
If you're tight on space, you can always buy a Wipes Travel Case and load it from your larger stash of Baby Wipes, Camping Wipes or Travel Wipes that you keep at home or camp.
7 – Scissors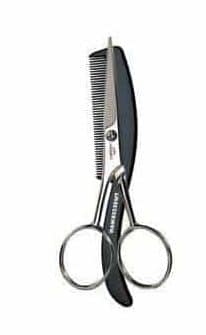 Sooner or later you'll need to even up those bangs… I mean trim your hair. Even if you're a beautiful lady with gorgeous locks of hair, you'll need to trim the split ends or to keep your hair to a manageable length.
Men, in a post-apocalypse or a post-natural disaster situation, I highly recommend NOT SHAVING. A minor nick or infected whisker at this time could be the end of your life.
This is the time to kick it up a notch and grow that beard. A beard will protect your face and help keep you warm. Use the scissors to trim the beard and mustache as needed.
The Tweezerman His Moustache Scissors with Comb will work nicely in your bugout bag, and travel kit.
Before you ask. Yes, I did search for a solar-powered electric razor. I don't think they exist.
8 – Hand Sanitizer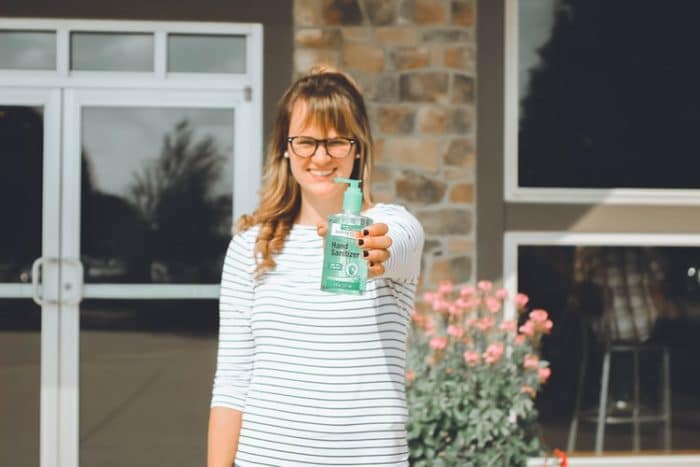 This is a great tool for killing germs. I use it after every meeting, as soon as I get to my car to stop the spread of germs, from shaking hands and touching doorknobs and elevator buttons.
Hand Sanitizer now comes in travel sizes and in hand sanitizer wipes. Freaking awesome stuff! Get some, get plenty. I buy it in large, economy sizes (Sam's Club, Costco, etc) and refill the handy travel size bottle (with a carabiner on it)  that I purchase previously.
9 -Toothbrush
Make sure to have a toothbrush in your bug out bag and in your camping gear. I like to travel toothbrushes because they are more compact making them easier to pack. Travel toothbrushes aren't essential, you can use a regular toothbrush if you have a spare.
While we're talking about it, when was the last time you replaced your everyday toothbrush? It's getting a bit ratty, isn't it?
10 -Tooth powder
It's easier to clean tooth powder off of gear than toothpaste. It also is easier to get through airport security with tooth powder (non-liquid). I also like tooth powder because most types don't contain fluoride.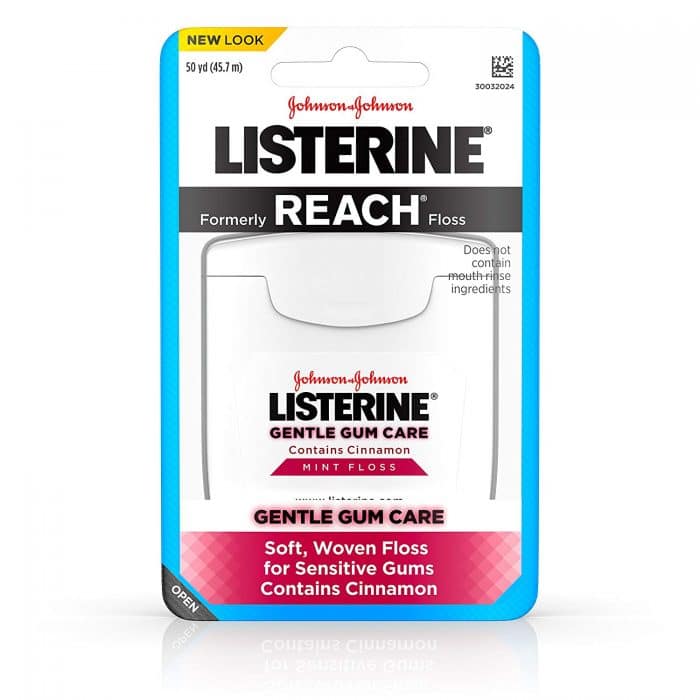 I don't care what anyone says about fluoride, sure it makes your teeth strong, but it's just not good for you.
11 – Dental Floss
There is nothing in the world as annoying as having stuff stuck between your teeth. Plus you need to floss every day to avoid dental problems. Dental Floss also has a myriad of alternate uses so you'll be glad you packed some.
12 – Nail Clippers
Remove hangnails with ease. You don't want to die of infection because you were picking your nails instead of trimming them with nail clippers. Common sense here.
13 – Tweezers
Remove painful ingrown hairs, splinters and thorns (man I really really hate thorns). Tweezers cross the line between hygiene and first aid, so you really need them!.
I think we made some great progress on Hygiene after SHTF or after a natural disaster. This is important stuff that normally doesn't come to mind when we're stuffing survival knives into our bug out bags or bug in kits. Make sure to review this list and add your own hygiene essentials as needed.
For those witty readers who will ask: No, I don't plan on posting anything about "Moisturizing after SHTF", but we'll see.
Feminine Hygiene Products for SHTF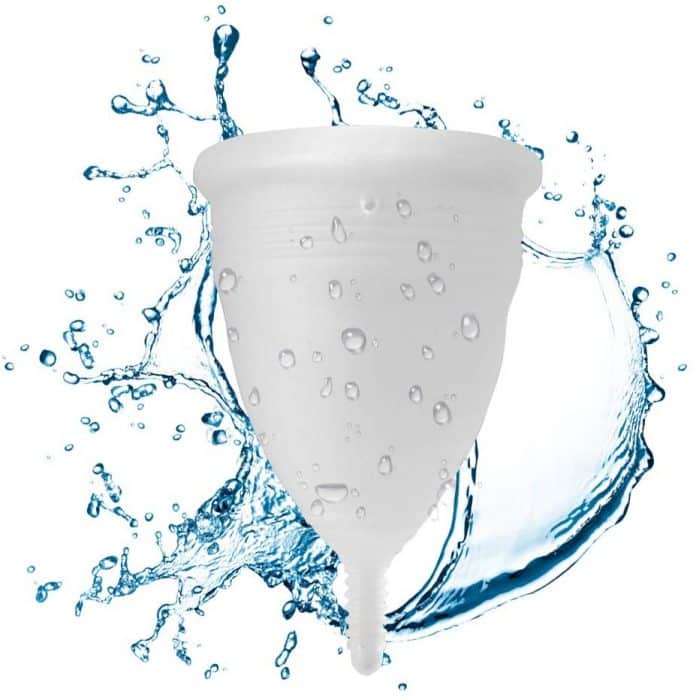 We all know that tampons and maxi pads make great multipurpose first aid and survival items, but sooner or later you're going to run out of those items, then what is a lady to do?
Men, I know many of you are wanting to stop reading and move on, but trust me, this is stuff you need to be aware of too.

14 -Tampons
Tampons are great for plugging up bullet holes and a million other uses, so once you've used them all up, what will the ladies in your group use when that "monthly visitor" comes calling?
The best answer for a long term solution is the Menstrual Cup. There are many vendors and producers of Menstrual Cups.
I was skeptical, but after some urging from my wife, I read up on these Menstrual Cups, and if you have doubts, then read the reviews.
15- Maxi Pads

Maxi pads make great bandages and absorb a lot of blood, I'd be really surprised if you could find any on the shelves after any sort of disaster or after a post-apocalyptic event.
The good news is that they make washable/reusable menstrual pads. It will take some planning to ensure that they can be stored/stowed after use and washed before they are needed again, but this is a better solution than having no solution at all when it's too late.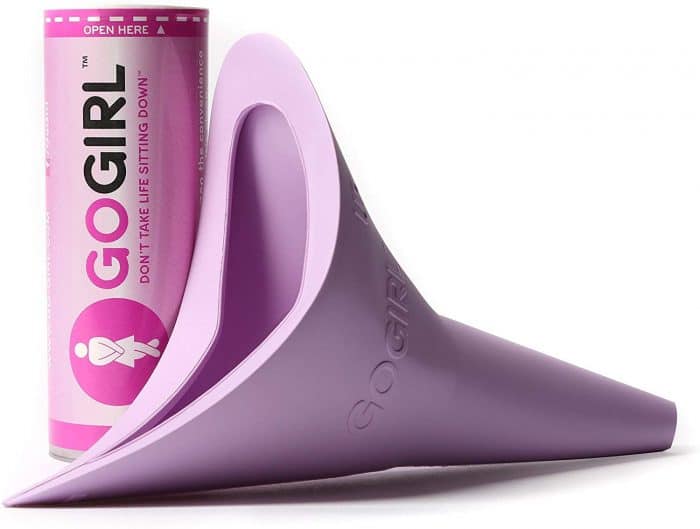 I didn't know this device existed until my wife bought one from Amazon.com. She purchased the Go Girl Female Urination Device (in pink), but keep in mind there is also a khaki/camouflage Go Girl too)
Here's a description from Amazon.com: Go Girl is a simple, sanitary device made from germ-resistant medical-grade silicone that allows women the benefit of going to the bathroom standing up.
The easy-to-use device is reusable or disposable and the small storage tube fits easily into a purse or backpack. Go Girl is for active, traveling and germ-conscious women who don't have access to a sit-down toilet or who don't want to use unfit facilities.

Conclusion
If we ever have an SHTF situation, life will be tough enough.
You'll want to be sure have all the supplies you'll need and feminine hygiene is every bit as important as first aid supplies. Make sure you have enough of these items for all the ladies in your group and for those little ladies in your group who will mature sooner or later too! Stock up on some reusable Feminine Hygiene Products for SHTF!