Bushcrafting is defined as a skill or a person's ability to survive in the wilderness, usually by choice. The bushcrafter's equipment of choice is not a hefty, heavy, and cumbersome tool, but rather an efficient, all-in-one tool that does everything they would need to effectively survive.
It should be able to prep firewood, build a shelter, cut through dense foliage, make traps for small game and even act as a weapon in emergencies. A bushcraft knife does all of those things and more. But how is it different from a pocket knife or a survival knife?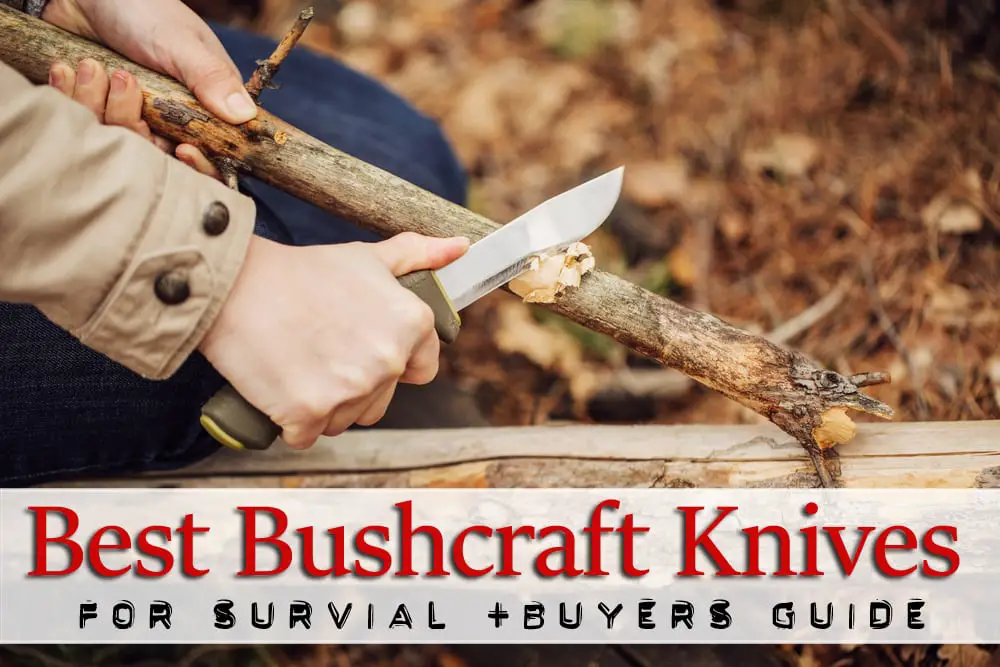 Bushcraft Knife VS Pocket Knife VS Survival Knife: What's the Difference?
Here's where we define each one and set them apart:
Pocket knives come in the foldable type and are generally smaller in size than the other two knives listed here. You can easily put it in your pocket and whip it out for general, everyday tasks.
Survival knives have fixed blades and are bigger than pocket knives. Like a pocket knife, they are reliable for a wide variety of everyday tasks. Survival knives are considered as the jack of all trades; they can be employed to cut into thick materials, pry open doors and break the glass.
Bushcraft knives are primarily used for cutting wood. You can create sharp points to make stakes with it, feather with it and notch wood with it, among other things. Their defining characteristic is a shorter edge, which gives it more maneuverability than survival knives. You can prepare small traps and skin game with it along with it the other wood-cutting tasks.
You'll quickly find out there's a number of different models and makes of bushcrafting knives available in the market. How do you pick out the right one for your needs?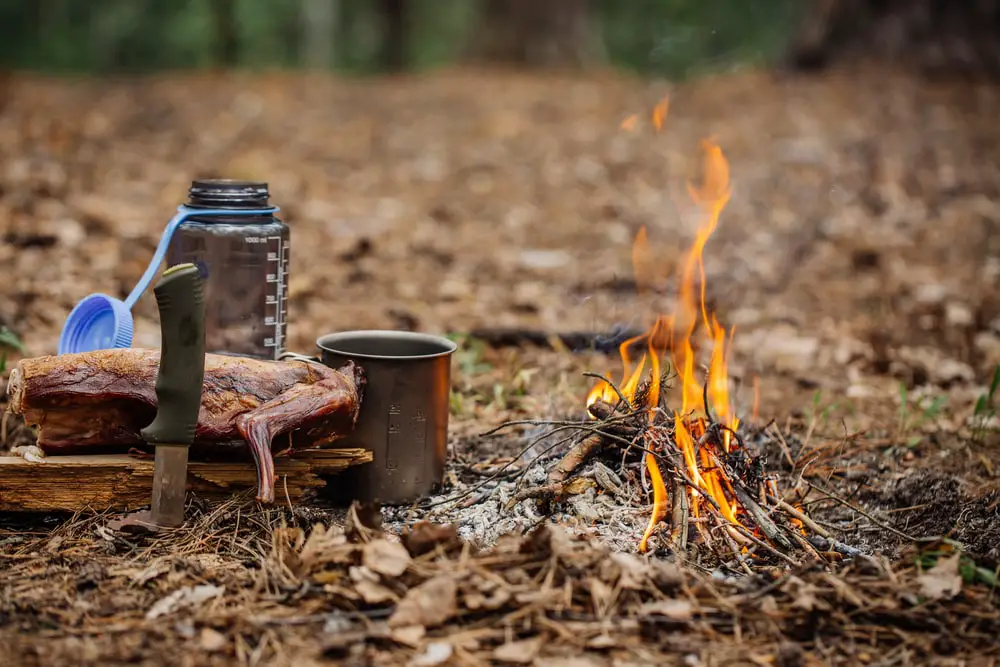 What to Look for When Choosing a Bushcraft Knife
1. Blade Size
This is probably the single most important factor when choosing a bushcraft knife. Buy one that's too long, and you'll find it inconvenient to carry around. The longer the blade of a knife, the better it is with heavy-duty tasks, but at the cost of mobility.
Smaller blades are better at the finer, more delicate tasks but they might break or bend when used in tough woodcutting conditions.
Your best bet would be to choose a size that's a balance between the two- around 3″ to 6″ should do the trick. It's flexible enough to do medium to heavy woodwork while being small enough to handle smaller, more refined tasks.
2. Sharpness
The sharpness of a knife defines how it can handle certain tasks. A fine-edged blade is great for removing the skin neatly off games and in slicing meat for cooking, but you can't really expect it to last long.
A large-edged bushcraft blade can last a long, long time and take abuse, but it will lack the sharpness that you've come to expect from a thinner blade.
Knives that come with primary bevels are easier to sharpen than ones that come with secondary bevels. It can be done, but you'll need to be careful and have enough experience to touch up a secondary bevel knife.
3. Blade Design
The best bushcraft knives have a blade design that has a flat grind and a flat cutting edge with a defined drop point.
This kind of design allows you to do many things. The blade should be shaped in a way that it's useful for many survival tasks. Try and imagine if you will be able to build shelter, create a fire, chop, baton or do some push-cuts with it.
Skinning and field dressing games should become an easier job with it. That's not just the list of things a good bushcraft knife can do- you should be able to hollow, butcher, whittle, carve and drill with it.
When talking about the many blade designs found in a bushcraft knife, two points stand out- the drop point and the spear point. In layman's terms, the blade design should be sharp enough to make common bushcrafting skills easy and broad enough to lessen the more mundane jobs.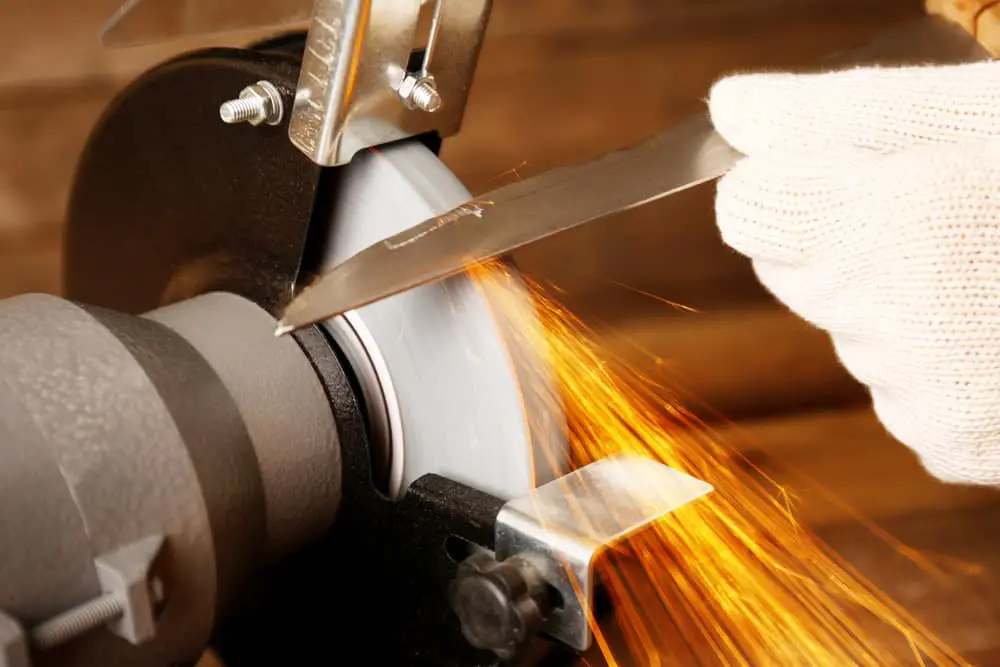 4. Blade Grind
The primary bevel, or "blade grind" is the term used for how the knife's blade was designed on the cutting-edge phase or secondary bevel. Like the blade design and sharpness, the grind dictates how you should use a particular bushcraft knife.
Hollow grinds are excellent for skinning and dressing; a chisel grind type is fantastic for heavy woodcutting tasks such as drilling, batoning, chopping, and cutting lumber. Some of the more popular blade grinds are the Scandi grind, flat grind, and convex grind.
5. Blade Material
Here are the different steel types:
High Carbon: High carbon knife blades are less prone to dulling, but they rust faster. The material is softer as compared to the other steel types, which makes them easier to grind. Offset the disadvantage by oiling the blade often and if you live in wet climates.
The Carbon/Alloy type comes in different varieties- O1, A2, CPM D2, D2, 5190, 52100, 1080, 1085, and 1095.
Stainless Steel: The material is the complete opposite of high carbon- it needs to be sharpened more, but you won't have to worry about it rusting. The tough nature of SS also makes it a pain to sharpen. This translates to less maintenance, but won't have as sharp an edge as the HC type.
The Stainless variety comes in the following- VG10, 440c, CPM S35V, CPM 154cm, and CPM 3v.

6. Handle Material
There's quite a diverse selection of bushcraft knife handles you can choose from- firm plastic, dense rubber, Micarta, wood, etc. Of course, each handle type has its own uses, so listen carefully.
Wood is usually the handle when it comes to traditional bushcraft knife makes. It's tough and it looks good, but it tends to absorb moisture. Rubber and firm plastic are utilized to provide users with a firmer handle and a better grip.
Premium bushcraft knife manufacturers use high-end materials such as Micarta or G-10, a fiberglass material that's also very durable. These handle types work well under pressure and last a long time.
Helping You Decide With Some Friendly Shopping Advice
So, which one is the best bushcraft knife you should buy? The quick answer is, there's no perfect bushcrafting knife that does everything. It entirely depends on how you plan to use it!
14 Best Bushcraft Knives on the Market Right Now
1. GGD Handmade High Carbon Steel Fixed Blade Bushcraft Knife
This knife tops this list for its durability and reliability. It's an excellent piece to have whether you're out hunting or doing tactical activities.
The blade is made of high-quality carbon steel. Partnered with its rosewood handle, it's quite easy to use too.
The knife feels light and easy to balance in my hands. Compared with other knives, this one won't cause as much pain or fatigue to use.
| | | | | | |
| --- | --- | --- | --- | --- | --- |
| 10 inches in length | 280 grams | 1095 Carbon Steel Blade Material | 4.5-millimeter blade thickness | Handle made of Rose Wood | Real leather sheath |
Pros
Completely handmade
Made from high quality carbon steel and wood
The blade is lightweight
Cons
2. Tops Knives Brothers of Bushcraft
This knife is very affordable while being able to handle most Bushman tasks.
The added weight gives a premium feel while being a welcome addition to handling chopping tasks. Need to start a fire? You can use the bow drill pivot located in the handle to kindle some flames.
The knife's pommel is the tang, wrapped up in the grips. Batoning is one of the things this bushcraft knife can do better than most.
Wrap your hands around the BOB bushcraft knife and you'll find the hilt conforming to your thumb. This made it easy for me to do some basic bushcraft tasks such as setting up snares or skinning caught games.
| | | | | | |
| --- | --- | --- | --- | --- | --- |
| 10 inches in length | 280 grams | High Carbon Steel Blade Material | 4.83-millimeter blade thickness | Handle made of Green Canvas Micarta | Sheath made of Coyote Tan Kydex |
Pros
Blade can withstand a variety of challenging applications
The knife's strength comes from its craftsmanship and high-quality materials
Even after several applications, the edge remains sharp
Cons
The blade can chip
The fire starter or striker on the handle is not so effective
3. Buck N Bear Knives Tactical Bushcraft Tracker
You can consider this knife the ultimate survival knife. Whether you're stuck alone on an island or you need a reliable tool you can use with you during camping or an emergency, it won't let you down.
The knife features a big, beefy blade. I found it to be very handy whenever I needed to split wood, hack through bushes, or chop items outdoors.
It's made with top-quality materials. For one, its blade is made from D2 High Carbon Steel, making it durable and reliable. 
Now, take a closer look at its handle. Made from maple burl, it's very comfortable to hold. It lets you get a good grip on the knife without the risk of it slipping out of your hand. The material allows you to work with ease and precision.
| | | | | | |
| --- | --- | --- | --- | --- | --- |
| 9.75 inches in length | 227 grams | D2 high-carbon steel blade material | 2.286 mm blade thickness | Handle made of Maple Burl | Leather Sheath |
Pros
Blade is solid and feels good in the hand
Overall quality is definitely on par with the price
Sheath is a nice sturdy leather
Cons
A little heavier than expected
4. JEO-TEC Nº39 – NEW CELTIBERO – Bushcraft Survival Hunting Camping Knife, MOVA Stainless Steel, Kydex Sheath – Handmade
The New Celtibero Knife from JEO-TEC has been particularly designed for people who are passionate about having exciting experiences. The list includes fishermen, hunters, explorers, and even those in the military.
Made to withstand harsh outdoor environments and rough conditions, this is a good knife to have in your backpack during an emergency. Its blade is made from MOVA or Molybdenum-Vanadium which is considered classic steel in the brand's knives. The combination of the elements allows the knife to be durable against corrosion.
I really like that its handle has an ergonomic design. It allowed me to carry out most outdoor tasks without worrying about pain or hurting myself.
When you buy the knife, you'll get either Kydex sheath or a Genuine leather sheath. Both options can be used in multiple positions for your comfort.
| | | | | |
| --- | --- | --- | --- | --- |
| 11 inches in length | MOVA Stainless Steel | 5-millimeter blade thickness | High resistant Mikarta handle | Kydex Sheath + Firesteel. |
Pros
The blade is easy to sharpen
Well built out of quality materials
The leather is thick and smooth
Stitching is well done
Cons
Some grind lines are not well made
5. KA-BAR Dog's Head Utility Knife
KA-BAR Dog's Head Utility Knife is an excellent all-around utility knife. You can use it for just about anything you want to put it to. Survival, bushcraft, hunting- you name it!
The Ka-Bar is largely famous for their U.S.M.C combat knives and this particular knife lets you experience the legendary performance of those knives even if you're not in a military setting.
Now, how different is it from the first U.S.M.C combat knife?
The pommel isn't the same. I also noticed that the guard is shorter. There has also been a stamp change.
But what makes the knife great?
The flat ground blade is made of 1095 Cro-Van steel. This material is much better than plain 1095 since both chromium and vanadium are resistant to elements. The only downside to it is sharpening the blade which takes a bit more effort than regular 1095.
Its pommel is steel and it can withstand a good amount of pounding. Near the end of the blade, you'll see a slightly curved crossguard. This serves as protection for your hand. It's also a big help when you need to put the knife in its sheath.
| | | | | | |
| --- | --- | --- | --- | --- | --- |
| 11.875 inches in length | 317.5 grams | Blade is made of 1095 Cro-Van steel | 4.318 mm blade thickness | Stacked leather handle | Leather sheath |
Pros
Good overall quality
Great blade sharpness and material
Cons
6. Condor Tool and Knife Bushlore 4.375-Inch Drop Point Blade, Walnut Handle with Leather Sheath (Plain)
This one's a very stable knife. With the nice contour of its Micarta handle, I didn't have a hard time establishing a secure grip even when it's wet.
The knife's blade is made from N690 steel which makes it easy to sharpen. Trimming is a bit pleasant as well since it's not completely a zero-scandi.
It features a fine stonewash finish which is actually great if you don't like seeing traces of use.
Its blade is quite thick at 4mm. This thickness allows the knife to withstand tons of abuse even when used for heavy chopping work. This is why it's one of the best bushcraft knives you can have in your backpack.
| | | | | | |
| --- | --- | --- | --- | --- | --- |
| Blade Length 4.31 Inches | 0.2 Kilograms | Blade is made of High Carbon Steel | Blade Shape Straight Back | Handle: Micarta | Leather sheath |
7. Boker Arbolito Bushcraft Micarta
This one's a very stable knife. With the nice contour of its Micarta handle, I didn't have a hard time establishing a secure grip even when it's wet.
The knife's blade is made from N690 steel which makes it easy to sharpen. Trimming is a bit pleasant as well since it's not completely a zero-scandi.
It features a fine stonewash finish which is actually great if you don't like seeing traces of use.
Its blade is quite thick at 4mm. This thickness allows the knife to withstand tons of abuse even when used for heavy chopping work. This is why it's one of the best bushcraft knives you can have in your backpack.
| | | | | | |
| --- | --- | --- | --- | --- | --- |
| 9 inches in length | 189 grams | Blade is made of N690 Stainless Steel | 4.0 mm blade thickness | Micarta handle | Leather sheath |
Pros
Great looks and nice sheath
Cons
Fair balance with a slight bias towards the handle
8. Morakniv Bushcraft Carbon Black Tactical Knife with 0.125/4.3-Inch Carbon Steel Blade and Plastic Sheath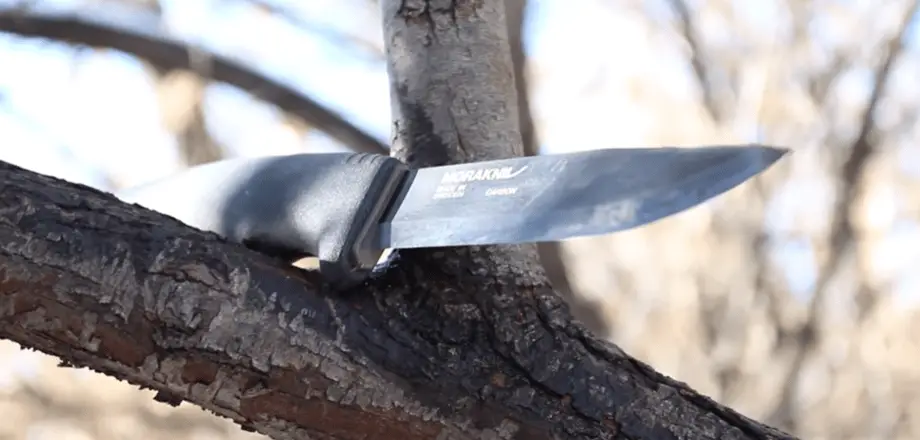 The brand Morakniv is known for having cutting-edge products. It has achieved a cult following because of a razor-sharp blade and outstanding resilience, coupled with a price that is wallet-friendly.
Where do we start? The 3.3mm high carbon steel blade is an absolute beast. It performed really well when I was testing it. Overall, it can do things such as cut meat with impunity, or assist you in delicate tasks such as shaving hair. In bushcrafting, it can cut thick lumber, then do some elaborate carvings on it. Name a task, and the Morakniv Knife can do it!
More about the materials- the blade has a straight point, a flat grind and it's coated with corrosion-resistant tungsten. The product manufacturers made the backside to be a fire starting tool.
You get a diamond sharpener and a sheath when you buy this bushcraft knife. More or less, you can do everything needed to survive with the Morakniv knife. The affordability puts it among the best bushcraft knives being offered in the market.
Con: The knife's handle and sheath feel sub-par.
| | | | | | |
| --- | --- | --- | --- | --- | --- |
| 9.3 inches in length | 142 grams | Stainless steel blade material | 2.5 millimeters blade thickness | High-friction rubber Grip handle | Plastic sheath material |
Pros
Blade protection with a slick black finish
The blade is really sharp when it arrives
Solid weight and a thick spine
Cons
The knife's handle and sheath feel sub-par
Diamond blade sharpener damages the knife
Blade will rust if you don't take adequate care
9. ESEE Model 5 Survival Fixed Blade Knife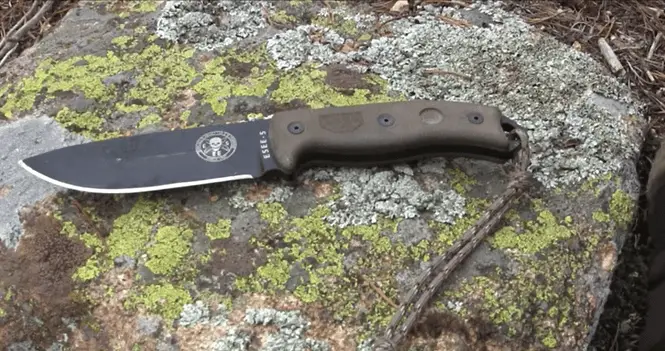 This knife feels a bit bulky. Despite that, it has everything you need to get through a survival situation. In the first place, it's designed to be a survival knife and that's exactly how it works.
On its back, you'll find a glass break pommel. When you look at its blade, you'll see how well it's made. Its material is high carbon steel which means that it won't get rusty easily even if you don't spend a lot of time caring for it.
The knife does an incredible job when it comes to heavy-duty cutting, too. It won't fall apart while you're trying to complete a task.
The only thing you may not like about it is the lack of a finger coil. However, if you consider its heavy-duty functions and durable makeup, it's not an issue to skip the knife completely.
| | | | | | |
| --- | --- | --- | --- | --- | --- |
| 11 inches in length | 450 grams | Blade is made of 1095HC steel | 6.35 mm blade thickness | Canvas micarta handle material | Kydex sheath |
Pros
The warranty is bulletproof
Comfortable handle
The build is quite durable
Cons
Some users may find the blade to be too short
10. GCS Custom Handmade Hammered D2 Tool Steel Skinner Bushcraft Knife Knives Buffalo Hide Sheath 10
The GCS brand of custom bushcraft knives come from Europe and are considered to be on the top end of the bushcraft knife lines. The blade is made from D2 Tool Steel, known for its exceptional hardness and fantastic resistance to bushcrafting wear and tear.
It's one of the few knives sporting a Micarta handle, wonderfully ergonomic and requiring less maintenance than other handles. I had literally used it all throughout the day and didn't even notice the time passing by!
The leather sheath can be worn in a variety of ways. Wear it the regular way, or in a linear fashion along the beltline. Fasten it on a bag strap, or on a MOLLE-type webbing if you prefer.
| | | | | | |
| --- | --- | --- | --- | --- | --- |
| 8.25 inches in length | 340 grams | The blade is made of D2 Steel | 0.25-millimeter blade thickness | The handle is made from Micarta | The sheath is made of Buffalo Hide Saddle-Leather |
Pros
Great price point
The blade is sharp, very solid construction
Cons
Slightly sub-standard sheath
11. Ontario Knife 6525 Bushcraft Field Knife
How about a bushcraft knife with a bit of a pedigree? Ontario's offering has been hailed the best of the best in field and stream for the year 2014.
This bushcraft knife has a profile that makes it more than appropriate for some of the more tedious bushcrafting tasks. I found it really easy to use for woodlot chores and various tasks around the farm.
The Ontario 6525 has a full tang construction concluded in a brushed satin finish, and a walnut handle with 3 embedded bolts. The blade is made of carbon steel, sporting the best of both worlds.
It's quite sharp and can chop with the best of them! Comes with a 21 paracord lanyard and a custom sheath that has a built-in fire starter. Oh, and it's made only in the USA.
| | | | | | |
| --- | --- | --- | --- | --- | --- |
| 10.12 inches length | 158 grams | The blade is Made of Carbon Steel | 20.83-millimeter blade thickness | The handle is made of Walnut Hardwood | The sheath is made of nylon |
Pros
The flat-ground design allows for an increased cutting surface
The handle provides a well-balanced feel in your hand
Comfortable and reasonably priced
Cons
The blade is slightly thin
No lanyard or fire starter as advertised
12. Morakniv Bushcraft Fixed Blade Knife with Sandvik Stainless Steel Blade, Orange, 0.125/4.3-Inch
Pros
Anti-corrosive coating
A Swedish-made fire steel and a diamond sharpener are included
Adjustable and detachable belt clip
Handle is non-slip
Exceptionally well-balanced
Sheath made of hard plastic with a drainage hole
Cons
Exercise caution while using this knife for food preparation due to black coating
Costs more than the Companion
This isn't a cutting knife (in our opinion)
With so many Moras in the list, here's a mini-guide to follow:
Versus the Mora Bushcraft Black
The orange hue is more practical for when you need to locate it easily under dark conditions. The Black sports carbon steel makes; the Orange has Stainless features which makes maintenance easier.
Pros
A fantastic sheath that enables you to connect the knife to your waist in a variety of ways.
Great grip that may be used for extended lengths of time
Has good finger protection
Cons
A little more costly for Mora knives
Food preparation will need the use of another knife
Will slightly struggle to chop thicker pieces of wood
Versus the Mora Bushcraft Survival Orange
You get a fire starter and diamond sharpener built on the sheath with the Survival Orange, but those extra bells cost you almost double the price.
Pros
A well-balanced survival knife set
Strong, durable blade that maintains its edge even when repeatedly beaten
All of the components are held together by a solid sheath.
Cons
When wet, the rubberized handle becomes slippery
The sheath would be more secure in the long run if it included a supplementary retention clip
Versus the Mora Companion
The Companion is a great buy for bushcrafters, but those who want more heft and thicker blades can turn to the Orange for an unbeatable value. The blade thickness lets you do more.
| | | | | | |
| --- | --- | --- | --- | --- | --- |
| 8.8 inches in length | 153 grams | Made from carbon steel blade | 3.17 blade thickness millimeter | The handle is made of a soft rubber grip material | The sheath is made of plastic material |
Pros
Inexpensive
There are several sub-models available
The handle is pleasant to hold and gives a solid grip
Lightweight
One of the finest knives available for around $100.
Cons
The blade only has a 3/4 tang
Only the right hand sheath is available
The blade is made of carbon steel, which corrodes easily
14. Spyderco Zoomer Fixed Blade Knife Black
The Spyderco Zoomer has been designed by a survival expert. That alone should make you feel excited about this knife.
I'm quite impressed with the really good features the Zoomer has been designed with. Its G-10 handle, for example, is ergonomically shaped. Plus, it eliminates hot spots.
If you take a closer look at its drop point blade, you'll see a Hamaguri edge. It's a huge help when it comes to keeping the edge strong and sharp.
| | | | | | |
| --- | --- | --- | --- | --- | --- |
| 10 inches in length | 272 grams | Blade made of CPM-20CV Stainless Steel | 4.0 mm blade thickness | G-10 handle material | Leather sheath material  |
Pros
Crafted with highly evolved ergonomics to minimize fatigue
Ideal for outdoor use
Has a secure grip
Cons
Conclusion
In order to find the best bushcraft knife, you'll need to answer the following questions- where and what am I going to use it for? The environmental condition you'll be working on is also a factor to consider.
Choose a few bushcraft knives from the list that caught your eye, then do a side-by-side comparison to see which one comes out on top. Or, choose from a list of preferences on factors such as blade size, material, etc. and see which bushcraft knife has them all.