Bushcrafting is defined as a skill or a person's ability to survive in the wilderness, usually by choice.
The bushcrafter's equipment of choice is not a hefty, heavy and cumbersome tool, but rather an efficient, all-in-one tool that does everything they would need to effectively survive.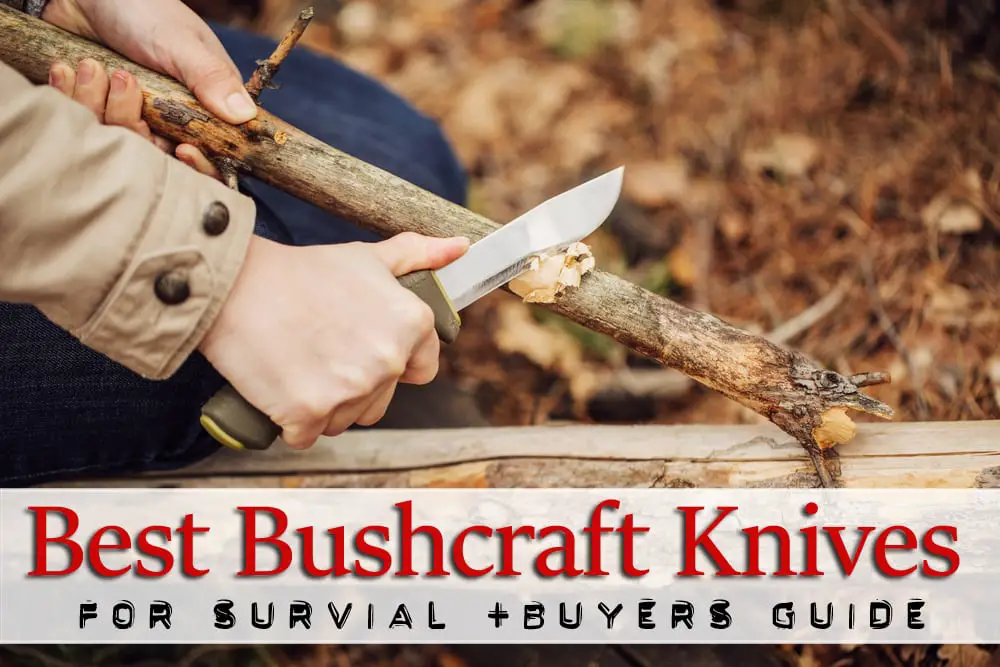 It should be able to prep firewood, build a shelter, cut through dense foliage, make traps for small game and even act as a weapon in emergencies.
A bushcraft knife does all of those things and more. But how is it different from a pocket knife or a survival knife?

Quick Navigation:
1. Knife Types Compared
2. Tips on Choosing a Bushcraft Knife
3. Shopping Guide
4. Conclusion
Bushcraft Knife VS Pocket Knife VS Survival Knife: Whats the Difference?
Here's where we define each one and set them apart:
Pocket knives come in the foldable type and are generally smaller in size than the other two knives listed here. You can easily put it in your pocket and whip it out for general, everyday tasks.
Survival knives have fixed blades and are bigger than pocket knives. Like a pocket knife, they are reliable for a wide variety of everyday tasks. Survival knives are considered as the jack of all trades; they can be employed to cut into thick materials, pry open doors and break the glass.
Bushcraft knives are primarily used for cutting wood. You can create sharp points to make stakes with it, feather with it and notch wood with it, among other things. Their defining characteristic is a shorter edge, which gives it more maneuverability than survival knives. You can prepare small traps and skin game with it along with it the other wood-cutting tasks.
You'll quickly find out there's a number of different models and makes of bushcrafting knives available in the market. How do you pick out the right one for your needs?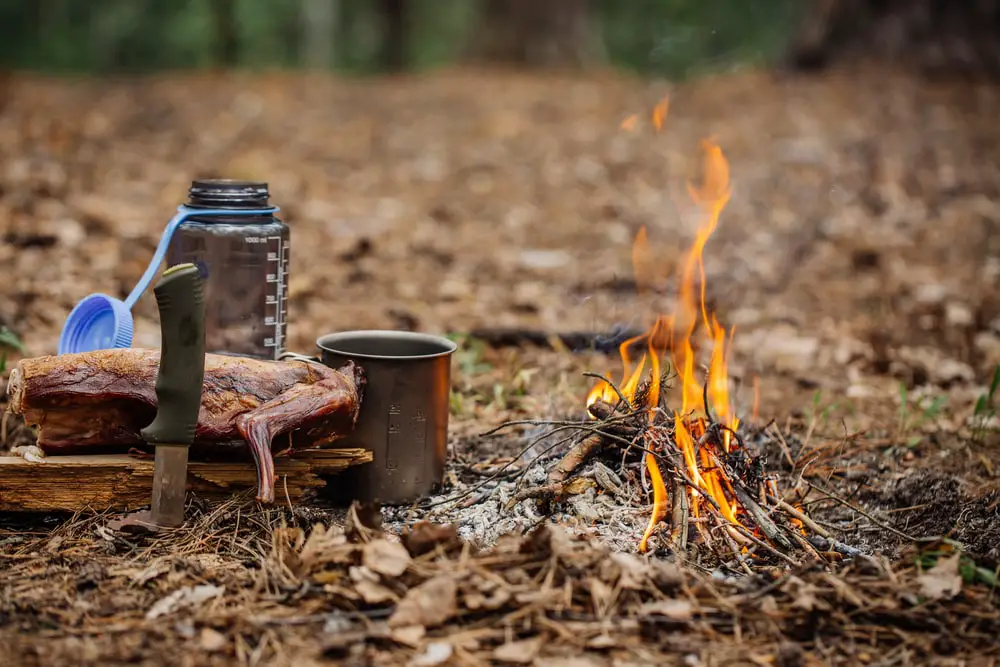 What to Look for When Choosing a Bushcraft Knife
1. Blade Size
This is probably the single most important factor when choosing a bushcraft knife. Buy one that's too long, and you'll find it inconvenient to carry around. The longer the blade of a knife, the better it is with heavy-duty tasks, but at the cost of mobility.
Smaller blades are better at the finer, more delicate tasks but it might break or bend when used in tough woodcutting conditions.
Your best bet would be to choose a size that's a balance between the two- around 3″ to 6″ should do the trick. It's flexible enough to do medium to heavy woodwork while being small enough to handle smaller, more refined tasks.
2. Sharpness
The sharpness of a knife defines how it can handle certain tasks. A fine-edged blade is great for removing the skin neatly off games and in slicing meat for cooking, but you can't really expect it to last long.
A large-edged bushcraft blade can last a long, long time and take abuse, but it will lack the sharpness that you've come to expect from a thinner blade.
Knives that come with primary bevels are easier to sharpen than ones that come with secondary bevels. It can be done, but you'll need to be careful and have enough experience to touch up a secondary bevel knife.
3. Blade Design
The best bushcraft knives have a blade design that has a flat grind and a flat cutting edge with a defined drop point.
This kind of design allows you to do many things. The blade should be shaped in a way that it's useful for many survival tasks. Try and imagine if you will be able to build shelter, create a fire, chop, baton or do some push-cuts with it.
Skinning and field dressing game should become an easier job with it. That's not just the list of things a good bushcraft knife can do- you should be able to hollow, butcher, whittle, carve and drill with it.
When talking about the many blade designs found in a bushcraft knife, two points stand out- the drop point and the spear point. In layman's terms, the blade design should be sharp enough to make common bushcrafting skills easy and broad enough to lessen the more mundane jobs.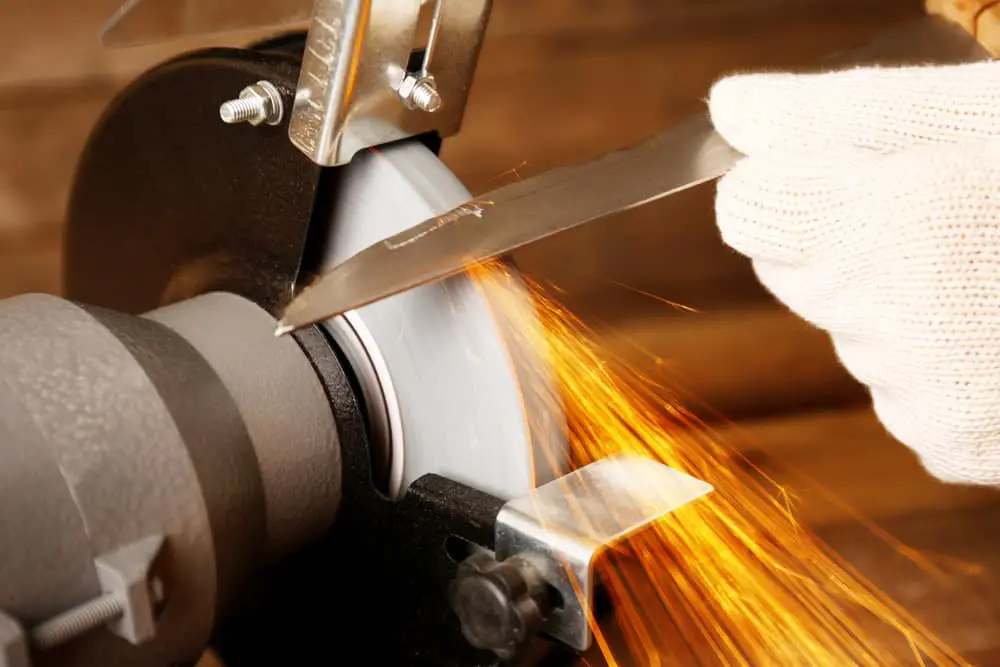 4. Blade Grind
The primary bevel, or "blade grind" is the term used for how the knife's blade was designed on the cutting-edge phase or secondary bevel. Like the blade design and sharpness, the grind dictates how you should use a particular bushcraft knife.
Hollow grinds are excellent for skinning and dressing; a chisel grind type is fantastic for heavy woodcutting tasks such as drilling, batoning, chopping and cutting lumber. Some of the more popular blade grinds are the Scandi grind, flat grind, and convex grind.
5. Blade Material
Here are the different steel types:
High Carbon

: High carbon knife blades are less prone to dulling, but they rust faster. The material is softer as compared to the other steel types, which make them easier to grind. Offset the disadvantage by oiling the blade often and if you live in wet climates.
The Carbon/Alloy type comes in different varieties- O1, A2, CPM D2, D2, 5190, 52100, 1080, 1085 and 1095.
Stainless Steel

: The material is the complete opposite of high carbon- it needs to be sharpened more, but you won't have to worry about it rusting. The tough nature of SS also makes it a pain to sharpen. This translates to less maintenance, but won't have as sharp an edge as the HC type.
The Stainless variety comes in the following- VG10, 440c, CPM S35V, CPM 154cm and CPM 3v.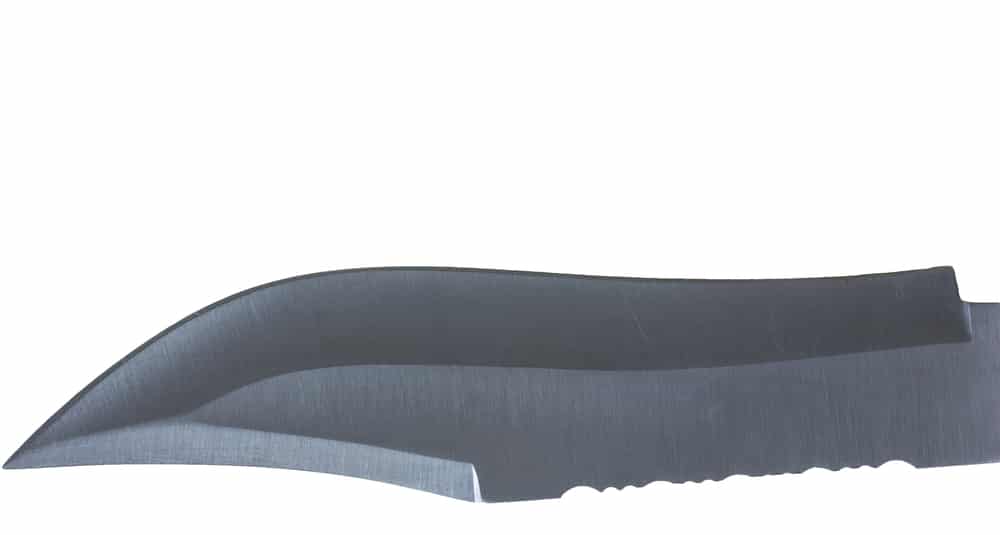 6. Handle Material
There's quite a diverse selection of bushcraft knife handles you can choose from- firm plastic, dense rubber, Micarta, wood, etc. Of course, each handle type has its own uses, so listen carefully.
Wood is usually the handle when it comes to traditional bushcraft knife makes. It's tough and it looks good, but it tends to absorb moisture. Rubber and firm plastic are utilized to provide users a firmer handle and a better grip.
Premium bushcraft knife manufacturers use high-end materials such as Micarta or G-10, a fiberglass material that's also very durable. These handle types work well under pressure and last a long time.

Helping you Decide with Some Friendly Shopping Advice 
So, which one is the best bushcraft knife you should buy? The quick answer is, there's no perfect bushcrafting knife that does everything. It entirely depends on how you plan to use it!
15 Best Bushcraft Knives on the Market Right now :
1. Spyderco Bushcraft G-10 PlainEdge Knife with Leather Sheath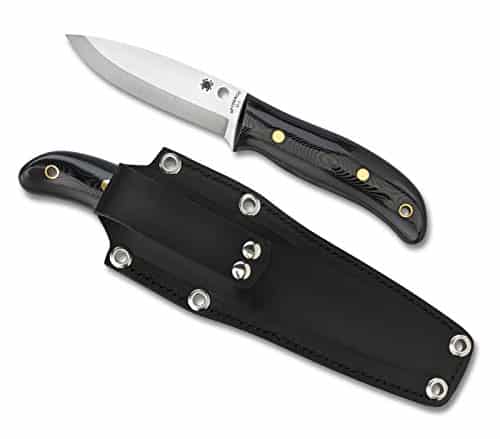 Spyderco is a household brand when it comes to self-defense knives; it comes as no surprise that they can also help you survive in the wild!
The G-10 model comes to exactly the same specifications as bushcraft website BushcraftUK.com and bushcraft expert Chris Claycombe in collaboration with Spyderco's design staff.
Everything is made high-end: the blade is made from O-1 carbon steel, while the grind is of Scandi and finally, a bombproof G-10 handle.
Construction is full tang. Spyderco has left its mark by leaving its signature thumbhole feature, which provides finesse in delicate tasks and stability for heavier woodwork.
The G10 grip is ergonomically designed to reduce fatigue; it's well-shaped while being solid. Rounding it off is a leather sheath that you can use immediately out of the box.
Con: The grip becomes slippery during wet or bloody conditions.
| | | | | | |
| --- | --- | --- | --- | --- | --- |
| 8.75 inches length | 219 grams | Blade made of Carbon Steel | 3.56 millimeter | G-10 Handle Material | Black Leather Sheath Material |
2. Benchmade 162 Bushcrafter Fixed Blade Knife w/ Free Benchmade Bottle Opener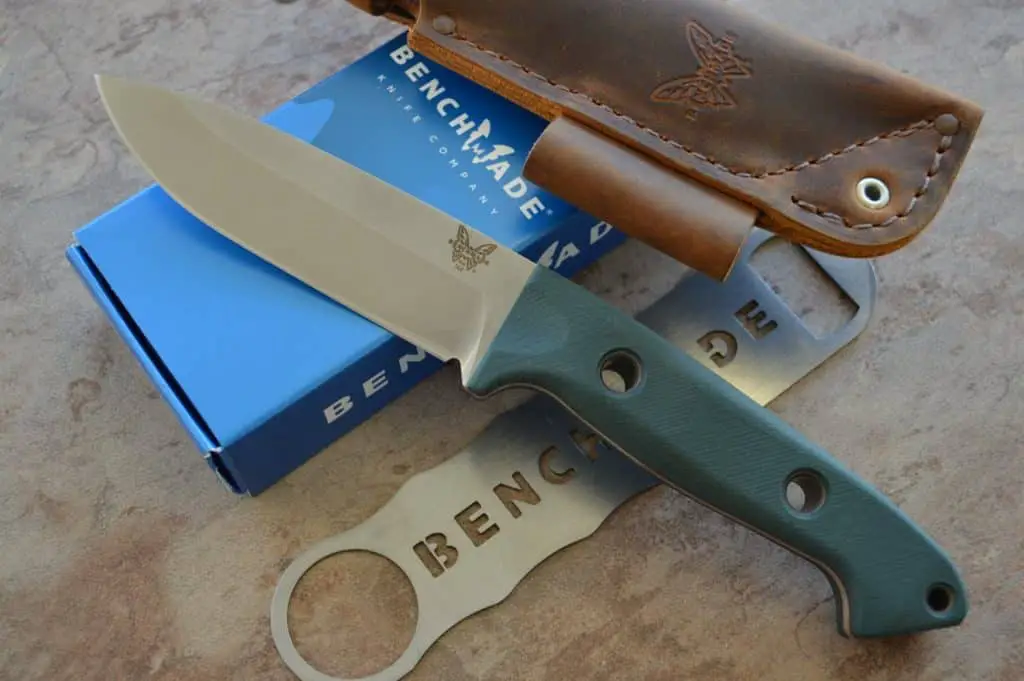 Quality can't get any better if it's made by Benchmade. You get a tough S30V Stainless Steel Blade containing 1.45 percent carbon, which is optimal for bushcraft knives. Those with large-sized mitts will be able to wield Benchmade's titanium-infused G10 handle, and the blue hue with red highlights adds a nice touch.
Some people will be glad to know that this bushcraft knife is made in the US and will not be arriving from anywhere else.
This premium also puts it at a higher price tag than the other selections, but the bottom line is you get what you pay for, right? Bushmen who want a knife that will not falter can depend of Benchmade's product to do the job exceptionally well.
Con: The handle cannot be removed.
| | | | | | |
| --- | --- | --- | --- | --- | --- |
| 9.15 Inches Lenght | 218.86 grams | Blade made of CPM-S30V steel | 4.17 millimeters blade thickness | Handle Material | Full-Grain Buckskin Leather Sheath Material |
3. Morakniv Bushcraft Carbon Black Tactical Knife with 0.125/4.3-Inch Carbon Steel Blade and Plastic Sheath

The brand Morakniv is known for having cutting-edge products. It has achieved a cult following because of a razor-sharp blade and outstanding resilience, coupled with a price that is wallet-friendly.
Where do we start? The 3.3mm high carbon steel blade is an absolute beast. It can do things such as cut meat with impunity, or assist you in delicate tasks such as shaving hair. In bushcrafting, it can cut thick lumber, then do some elaborate carvings on it. Name a task, and the Morakniv Knife can do it!
More about the materials- the blade has a straight point, a flat grind and it's coated with corrosion-resistant tungsten. The product manufacturers made the backside to be a fire starting tool.
You get a diamond sharpener and a sheath when you buy this bushcraft knife. More or less, you can do everything needed to survive with the Morakniv knife. The affordability puts it among the best bushcraft knives being offered in the market.
Con: The knife's handle and sheath feel sub-par.
| | | | | | |
| --- | --- | --- | --- | --- | --- |
| 4.3 Inches Length | 142 grams | Blade made of Stainless Steel Material | 2.5 millimeters Blade Thickness | High-Friction Rubber Grip Handle | Plastic Sheath Material |
4. CELTIBEROCOCO Bushcraft Knife – Cocobolo Wood Handle
Love camping out in the wilderness each weekend? Then you'll love the CDS Survival Bushcraft Knife. Camping and survival basics such as hunting and scouting are made easy with this product.
Fish cleaning, fatwood shaving, making feather sticks, splitting, batoning and chopping are handled very well.
You can use the knife spine and the included striker to get a fire going pretty quickly. The sheath serves a double function of keeping the knife-edge sharp when you put the blade against the edge.
Moreover, the weight feels excellently balanced with the 1/8″ high-carbon stainless steel material. You can baton through 2 1/2 diameter logs and cut through half-diameter inch branches with it. You get full tang and nice Kydex grips when you buy this baby.
| | | | | | |
| --- | --- | --- | --- | --- | --- |
| 10.83 Inches Length | 698 grams | Blade made of Stainless Steel Material | 5-millimeter blade thickness | Handle made of Wood | Genuine Leather Sheath |
5. Tops Knives Brothers of Bushcraft
Perching at the top of the Bushcraft knives is Tops offering. Like the Benchmade, it's very affordable while being able to handle most Bushman tasks.
The added weight gives a premium feel while being a welcome addition to handling chopping tasks. Need to start a fire? You can use the bow drill pivot located in the handle to kindle some flames.
The knife's pommel is the tang, wrapped up in the grips. Batoning is one of the things this bushcraft knife can do better than most.
Wrap your hands around the BOB bushcraft knife and you'll find the hilt conforming to your thumb, making it easy to do some basic bushcraft tasks such as setting up snares or skinning caught game.
| | | | | | |
| --- | --- | --- | --- | --- | --- |
| 10 Inches Length | 280 grams | High Carbon Steel Blade Material | 4.83-millimeter blade thickness | Handle made of Green Canvas Micarta | Sheath made of Coyote Tan Kydex |
6. Morakniv Companion Heavy Duty Knife with Sandvik Carbon Steel Blade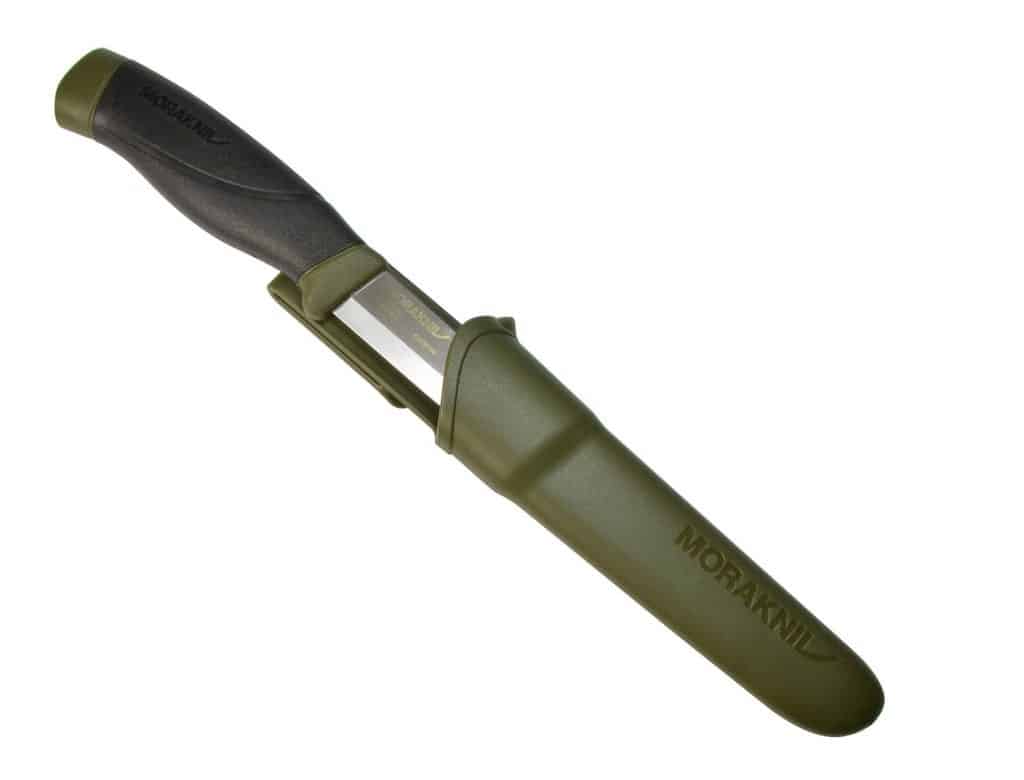 Outdoor lovers will find the Mora Companion bushcraft knife a handy helper. It's not just for bushcrafters, but also hikers, hunters, and weekend warriors.
The Heavy Duty knife is perfect for batoning purposes- the thick, 3.2mm carbon steel blade sports a 27-degree angled edge which makes it a go-between for both sharp and heavy tasks.
Morakniv's HD knife touts a classic Scandi grind with a mix of carbon steel; sharpening it is easier than pure stainless steel bushcraft knives. Larger hands will also appreciate the impressive ergo handle coupled with a relatively soft, high-friction material grip.
Bottom line is that the Heavy Duty Companion knife combines everything into a jack-of-all trade bushcrafter knife that can handle almost all bushcrafter tasks quite well.
| | | | | | |
| --- | --- | --- | --- | --- | --- |
| 8.8 Inches | 135 grams | Carbon Steel Blade Material | 3.2-millimeter blade thickness | Handle made of soft rubberized grip | Sheath made of plastic material |
7. Morakniv Bushcraft Stainless Steel Survival Knife with Fire Starter and Sharpener, Orange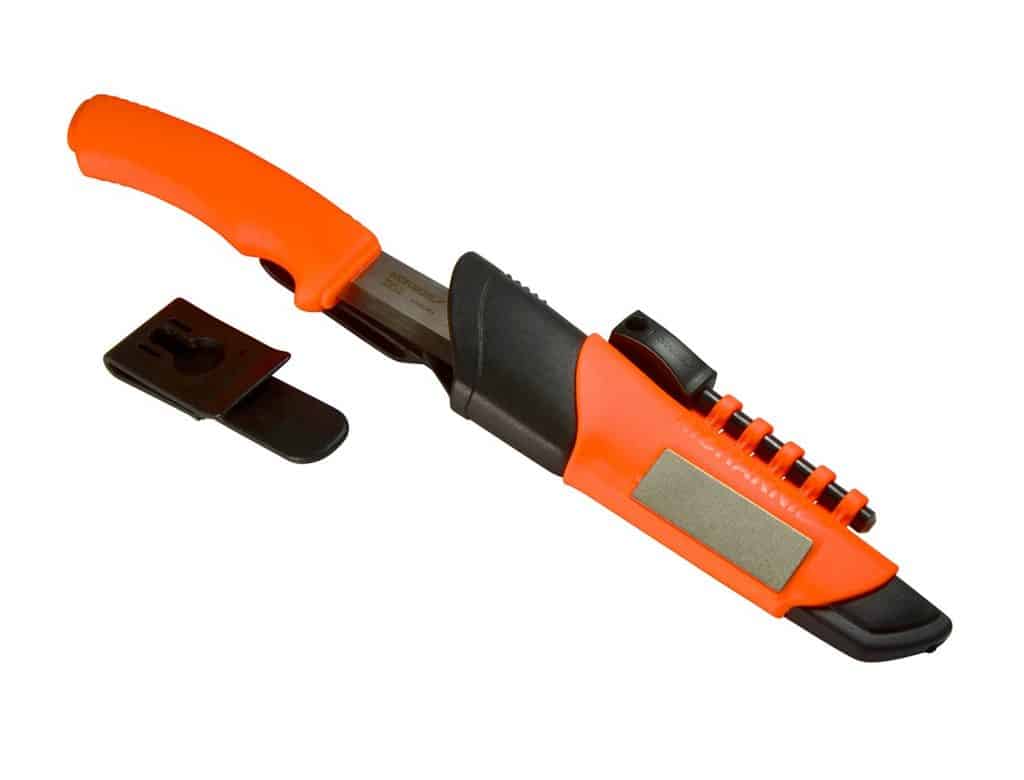 The title says it all- Mora has created a versatile bushcraft knife that can be used for tactical, hunting, outdoor and in some instances, emergency situations. It stands out because it has an exceptional edge sharpness that you can depend on for cutting tasks.
The thick stainless-steel blade is trademark Mora- a burly, 3.2mm monster with razor-sharp features. The other end of the blade is a ridge-ground spine, useful for starting fires in conjunction with a good fire starter.
This Morakniv Survival Bushcraft Knife model comes with a highly visible orange sheath made of plastic. The sheath also holds a manufacturer-made fire starter and a diamond sharpener.
As you might have heard, Morakniv's fire starters can be reliably used to yield about 7 thousand strikes and produce 3 thousand degree sparks even when it's raining.
It is also worthy to note that the blades are Sandvik Stainless Steel, excellent for construction, fishing and marine applications.
Bushcrafters will appreciate the low-maintenance aspect that comes with this bushcraft knife, as the stainless steel material is further enhanced with chromium which reduces oxidation and corrosion to a manageable minimum.
| | | | | | |
| --- | --- | --- | --- | --- | --- |
| 9.9 inches in length | 212 grams | Made of Stainless Steel Material | 3.2-millimeter blade thickness | The handle is made of a soft rubber grip material | Sheath made of plastic material |
8. Ontario Knife 6525 Bushcraft Field Knife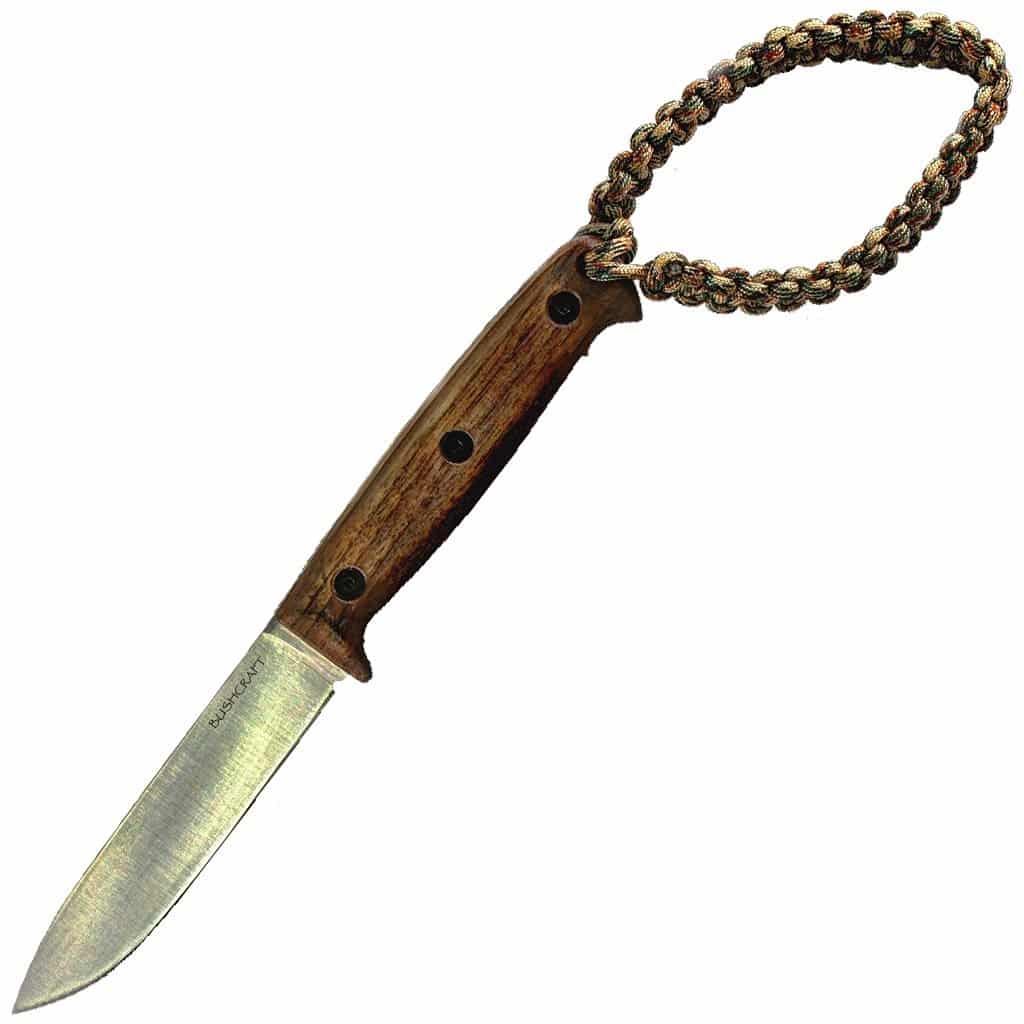 How about a bushcraft knife with a bit of a pedigree? Ontario's offering has been hailed the best of the best in field and stream for the year 2014.
This bushcraft knife has a profile that makes it more than appropriate for some of the more tedious bushcrafting tasks. You can use it for woodlot chores and various tasks around the farm.
The Ontario 6525 has a full tang construction concluded in a brushed satin finish, and a walnut handle with 3 embedded bolts. The blade is made of carbon steel, sporting the best of both worlds.
It's quite sharp and can chop with the best of them! Comes with a 21 paracord lanyard and a custom sheath that has a built-in fire starter. Oh, and it's made only in the USA.
| | | | | | |
| --- | --- | --- | --- | --- | --- |
| 10.12 inches length | 158 grams | The blade is Made of Carbon Steel | 20.83-millimeter blade thickness | The handle is made of Walnut Hardwood | The sheath is made of nylon |
9. Boker Real Steel Bushcraft Coyote D2 Steel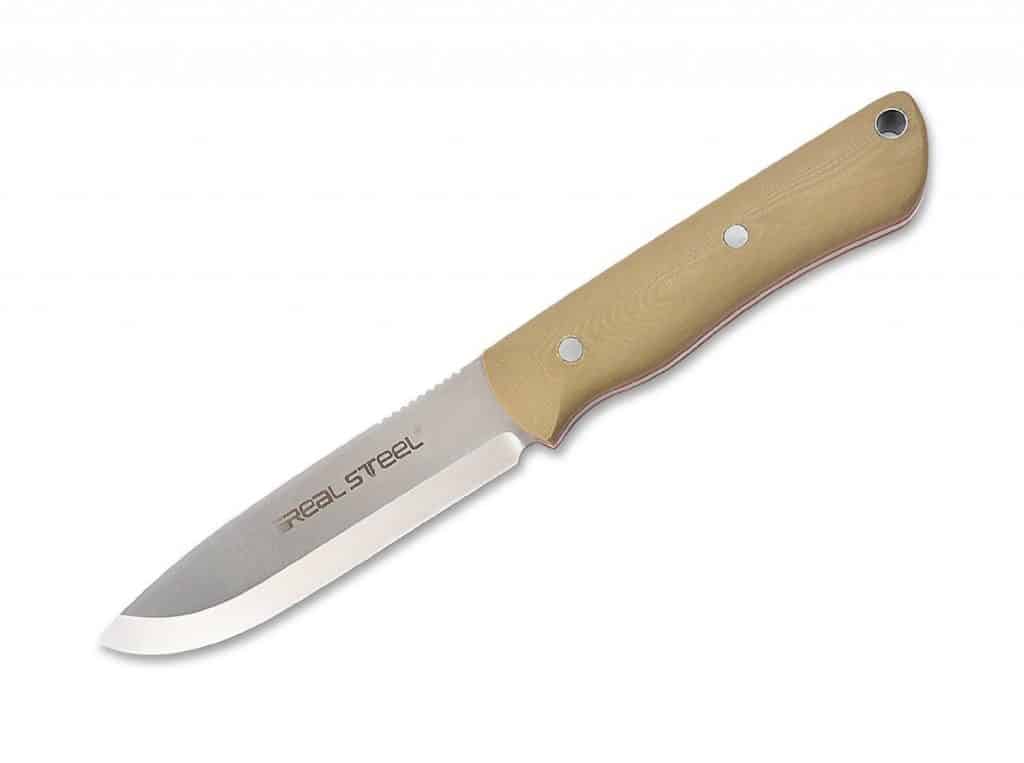 There's quite a market for well-rounded bushcraft knives, and Boker's product offering caters to those audiences. Considering its relatively inexpensive cost, entry-level bushcrafters can certainly try it out and give it a go.
For starters, the blade is D2 material in a Scandi grind, shaped in classic bushcraft style.
You can cut and chop with it, and it's easy to sharpen. The edge is reasonably well-made, but be careful when doing some lateral loads.
It's a bit harder to sharpen, and is prone to rusting, so keep an oil-can handy. You get a Kydex sheath w/ removable loop, and the handle is of G10 material with a spacer and a lanyard hole.
| | | | | | |
| --- | --- | --- | --- | --- | --- |
| 8.62 Inches | 172 grams | The blade is made of D2 blade | 3.5-millimeter blade thickness | Made with G-10 Handles | Includes Kydex Sheath |
10. Ka-Bar BK2 Becker Campanion Knife with Fixed Blade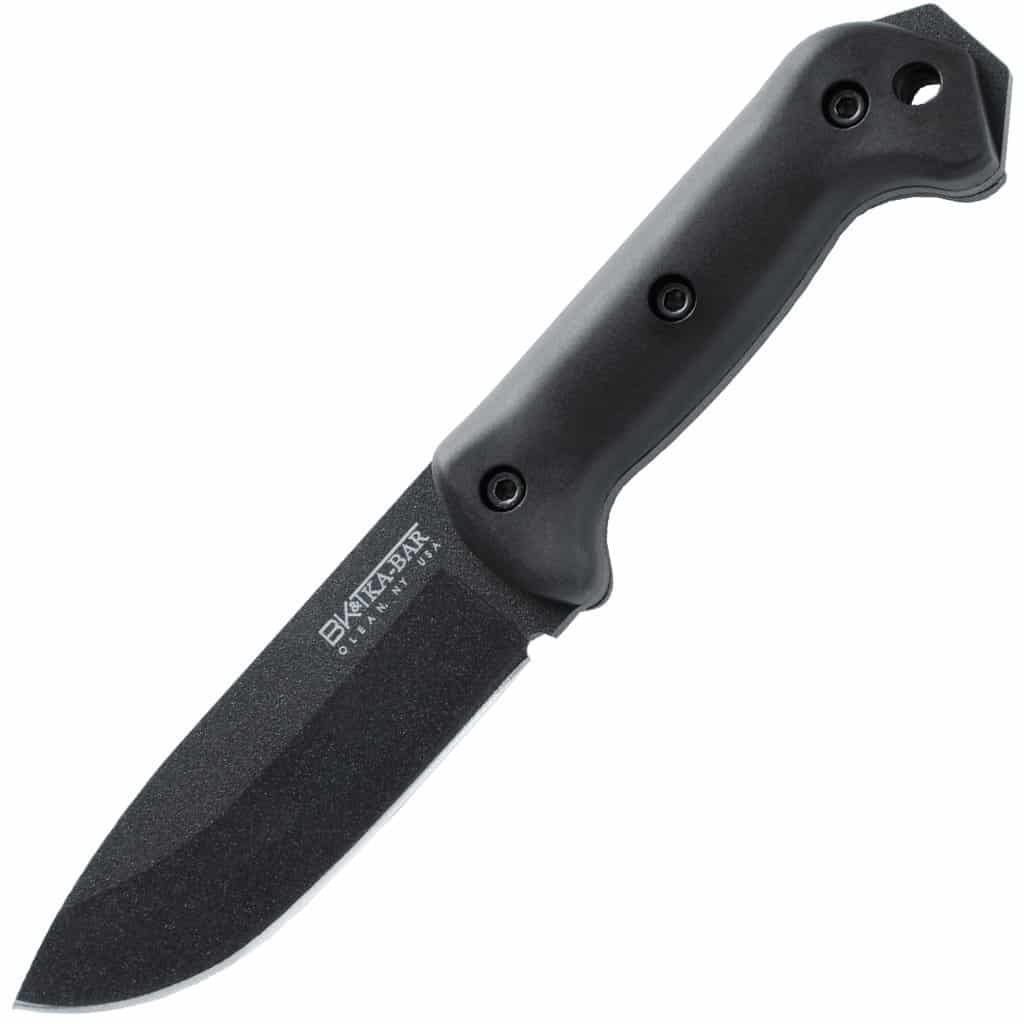 The BK2 is the brainchild of celebrated master survival expert Ethan Becker. The pedigree alone makes it a curious product to buy and test out.
The Campanion bushcraft knife is unique in that it's far bulkier than the others and made specifically for experienced survivalists who love hard, grueling challenges.
What's the Ka-Bar blade made of? A 1095 blade infused with vanadium carbide and chrome, set on top of a Grivory handle that can be removed. Suffice to say, it can pierce wooden branches and bushes as easily as it can through animal hides.
The handle is such that batoning and hammering can be done with little to no trouble. The Becker Campanion bushcrafter knife comes in a sleek black design.
Con: The huge size may be a plus to some, but prove to be too unwieldy for others. Newbies can look to other products on this list.
| | | | | | |
| --- | --- | --- | --- | --- | --- |
| 10.5 inches length | 453 grams | The blade is Made of 1095 Crovan Steel | 6.35-millimeter blade thickness | Made of Ultramid Handle Material | Hard Plastic Sheath Material |
11. GCS Custom Handmade Hammered D2 Tool Steel Skinner Bushcraft Knife Knives Buffalo Hide Sheath 10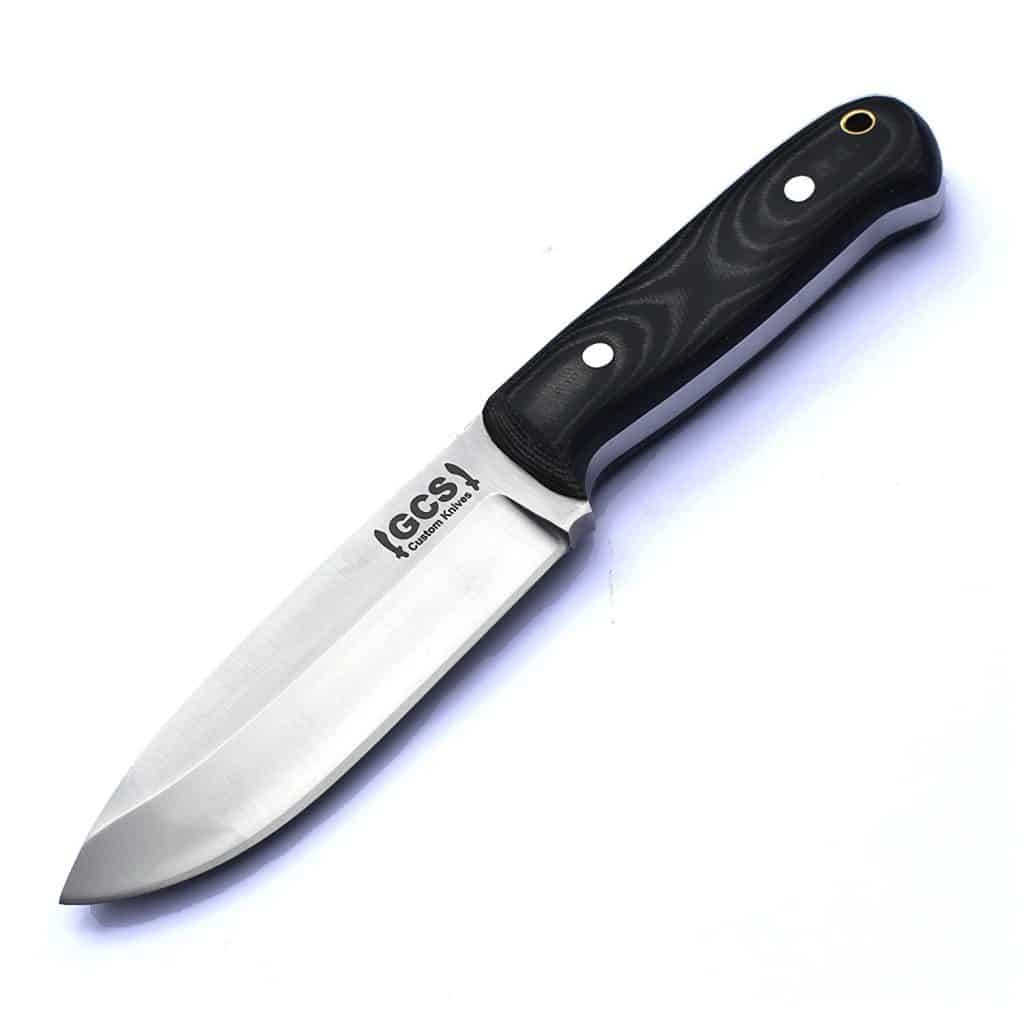 The GCS brand of custom bushcraft knives come from Europe and are considered to be on the top end of the bushcraft knife lines. The blade is made from D2 Tool Steel, known for its exceptional hardness and fantastic resistance to bushcrafting wear and tear.
It's one of the few knives sporting a Micarta handle, wonderfully ergonomic and requiring less maintenance than other handles. You can literally use it all throughout the day and won't even notice the time passing by!
The leather sheath can be worn in a variety of ways. Wear it the regular way, or in a linear fashion along the beltline. Fasten it on a bag strap, or on a MOLLE-type webbing if you prefer.
| | | | | | |
| --- | --- | --- | --- | --- | --- |
| 8.25 Inches Length | 340 grams | The blade is made of D2 Steel | 0.25-millimeter blade thickness | The handle is made from Micarta | The sheath is made of Buffalo Hide Saddle-Leather |
12. Aitor AI16127 Zero Survival Bushcraft Fixed Blade Knife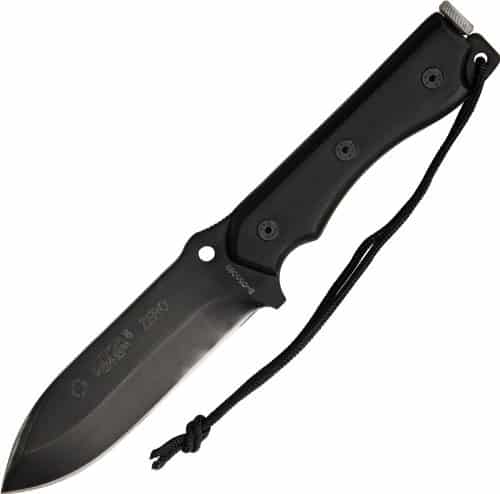 Another brand that makes use of the excellent Micarta-type handles, the Aitor Zero Bushcraft Knife has some very interesting features. All kinds of knife work can be handled- landscaping, gardening, even canoeing and some camping jobs are easily carried out.
Spanish company Aitor has made sure their product is competitive. You get a professional military-grade product with a blade that is easy to sharpen. It's rust-resistant, able to create fires and the sheath has some extra room for gear and other carry options.
| | | | | | |
| --- | --- | --- | --- | --- | --- |
| 9.88 Inches Length | 589.67 Grams | Made of Stainless Steel Blade | 3.56 blade thickness millimeter | Made of black micarta handles | Black Cordura MOLLE compatible belt sheath |
13. ESEE RB3 Camp-Lore Fixed Blade Bushcraft Knife, Scandi Grind – Leather Sheath Included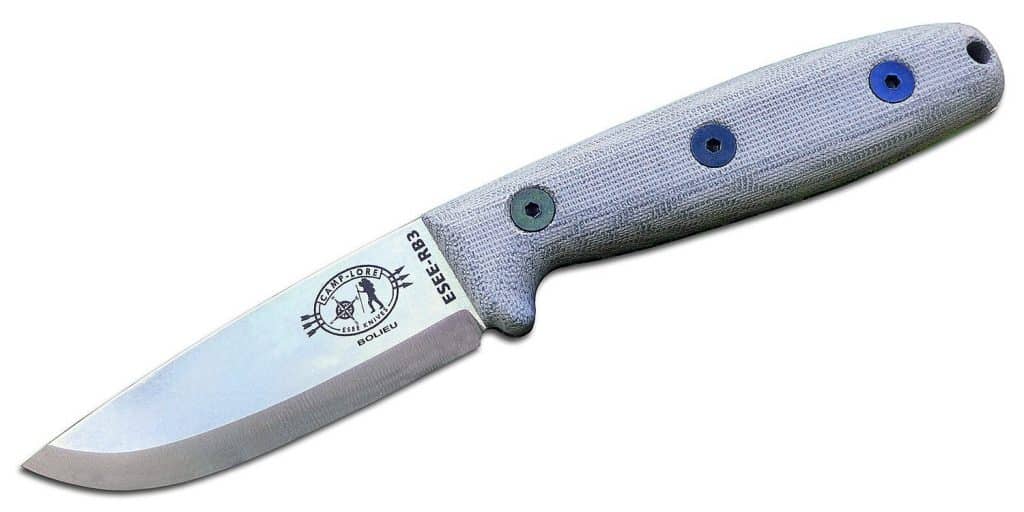 Out of nowhere comes the underdog of the list- the ESEE Camp-Lore RB3 is a product of survival expert Reuben Bolieu. The carbon blade sports a Scandi grind and was created to be the definitive solution to basic bushcrafting skills
You get a 1095 Carbon-Steel blade in two forms- either the part-serrated or the plain edge. The handles are scaled Micarta, complementing the full tang design. The handle is removable, but you won't be replacing this tough, yet comfortable material anytime soon!
| | | | | | |
| --- | --- | --- | --- | --- | --- |
| 8.13 Inches Length | 170 grams | Made from Carbon Steel Blade | 3.17 blade thickness millimeter | Handles are made from Micarta | Leather Belt Sheath |
14. Morakniv Bushcraft Fixed Blade Knife with Sandvik Stainless Steel Blade, Orange, 0.125/4.3-Inch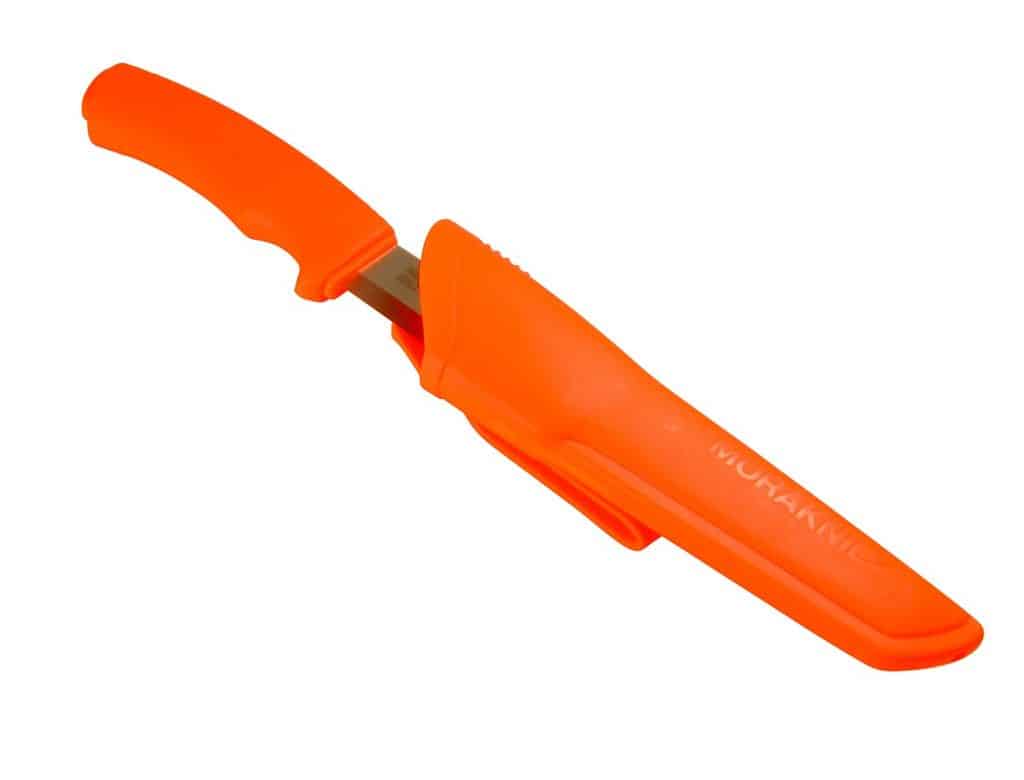 With so many Moras in the list, here's a mini-guide to follow:
Versus the Mora Bushcraft Black
The orange hue is more practical for when you need to locate it easily under dark conditions. The Black sports carbon steel makes; the Orange has Stainless features which makes maintenance easier.
Versus the Mora Bushcraft Survival Orange
You get a fire starter and diamond sharpener built on the sheath with the Survival Orange, but those extra bells cost you almost double the price.
Versus the Mora Companion
The Companion is a great buy for bushcrafters, but those who want more heft and thicker blades can turn to the Orange for an unbeatable value. The blade thickness lets you do more.
| | | | | | |
| --- | --- | --- | --- | --- | --- |
| 8.8 inches length | 153 grams | Made from carbon steel blade | 3.17 blade thickness millimeter | The handle is made of a soft rubber grip material | The sheath is made of plastic material |

15. Condor Tool and Knife Bushlore 4.375-Inch Drop Point Blade, Walnut Handle with Leather Sheath (Plain)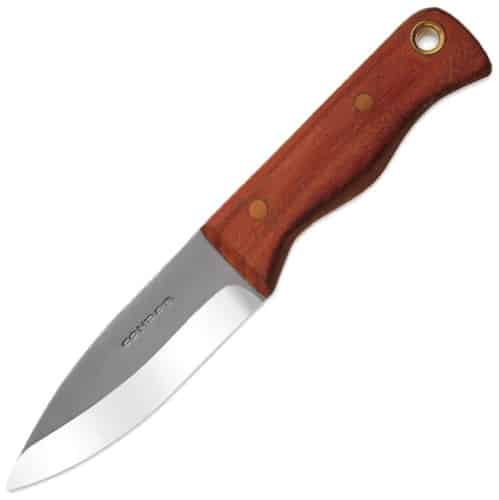 Condor Knife and Tool is for the budget-minded bushcrafter. This product can surprise the user by having a lot more quality under its belt in spite of the low entry cost!
You get a 1075 high-carbon, blasted satin finish blade that looks great and works even better. Rounding out the package is a wooden handle and full tang blade with a Scandi grind.
Con: Drags a bit when cutting wood
| | | | | | |
| --- | --- | --- | --- | --- | --- |
| 16 Inches Length | 362 grams | Made from carbon steel blade material | 3.17 blade thickness millimeter | The handle is made from Hardwood Material | The sheath is made from black sheath material |
Conclusion
In order to find the best bushcraft knife, you'll need to answer the following questions- where and what am I going to use it for? The environmental condition you'll be working on is also a factor to consider.
Choose a few bushcraft knives from the list that caught your eye, then do a side-by-side comparison to see which one comes out on top. Or, choose from a list of preferences on factors such as blade size, material, etc. and see which bushcraft knife has them all.