Choosing a backpack is tough.  Choosing a bug out backpack is even tougher.
The wrong bag could leave you holding the bag… or worse.
Lets take a deep dive on how to pick out and equip a bug out bag that will prepare you for nearly any scenario.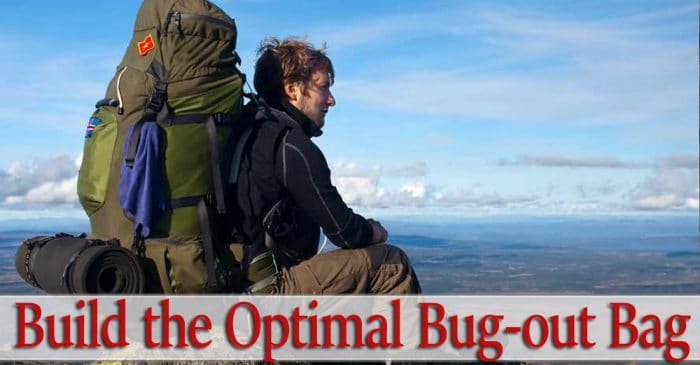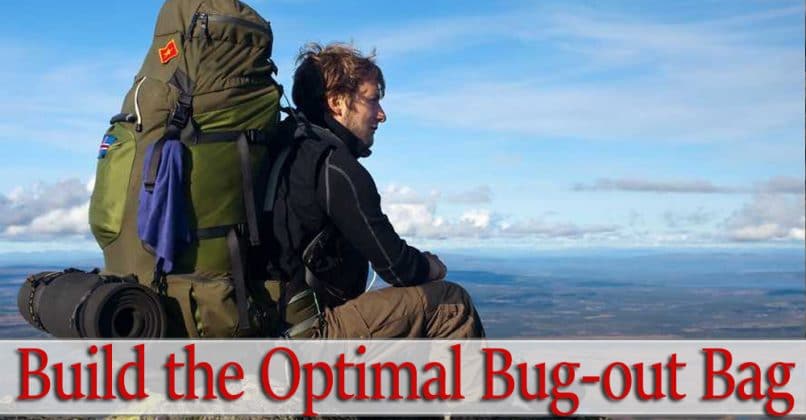 A. Choosing a Bug Out Backpack
I'll admit it, I am a backpack junkie. I have more backpacks than many women have purses. The good news is that since I'm a preparedness blogger and camper I can rationalize that all day long.
Finding and building the perfect bug out bag is a journey not a destination. You're going to buy and try many before you find that perfect pack, and even then it may not be perfect for all circumstances.
How big of a backpack can you carry? Are you a large person, a petite person or a 7 foot tall giant?
How do we solve this dilemma? Let's figure out what factors or metrics are the most important in a backpack. Then and only then can we begin that search.
1) Volume: Cubic Inches or Liters?
When choosing a Bug Out Backpack, I've noticed much confusion about the capacity of backpacks.
Many packs claim the exact same capacity, but we find that one backpack holds much more gear than the other. It is somewhat confusing, more so, because the process for measuring backpack capacity has been standardized for many years.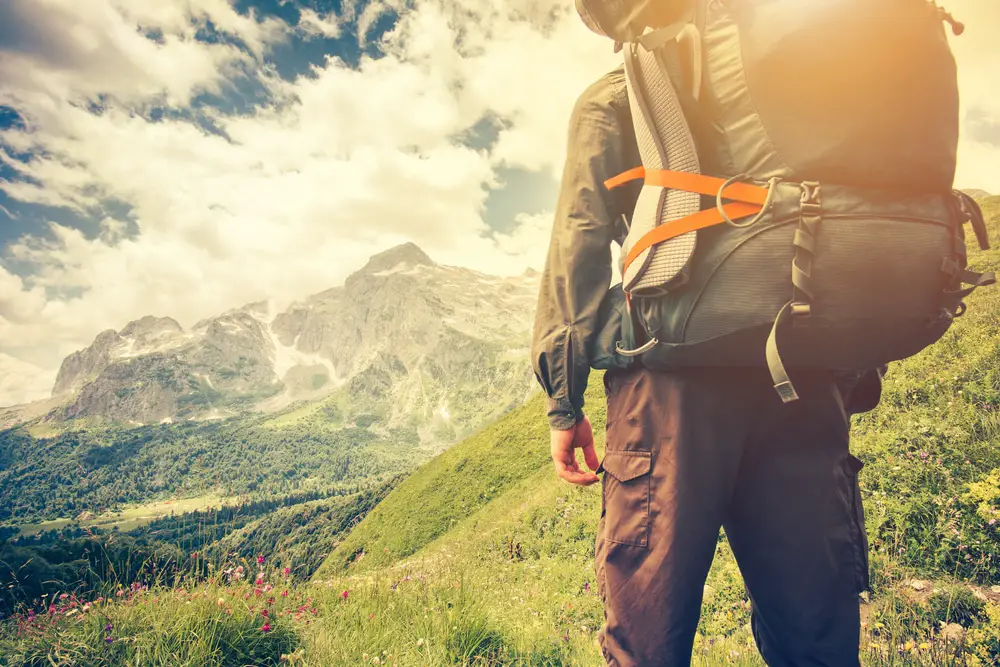 The standard for determining the capacity of a backpack entails using 20mm plastic balls as the filler. Packs are loaded up, then emptied. The 20mm balls are then dumped into a measuring device.
According to the standard, capacity measurements should not include any compartments that are not entirely sealed by zippers, such as shovel pockets, bottle holders, compression pockets, etc.
We suspect that some of the overstated backpack capacities, that we see, must include the additional capacity of these pockets. This makes online backpack selection very frustrating, since we lack the ability to compare the sizes in person.
Why is that some backpacks are measured in cubic inches and some are measured in liters. Many companies state their capacities in liters, but its in no way a universal thing.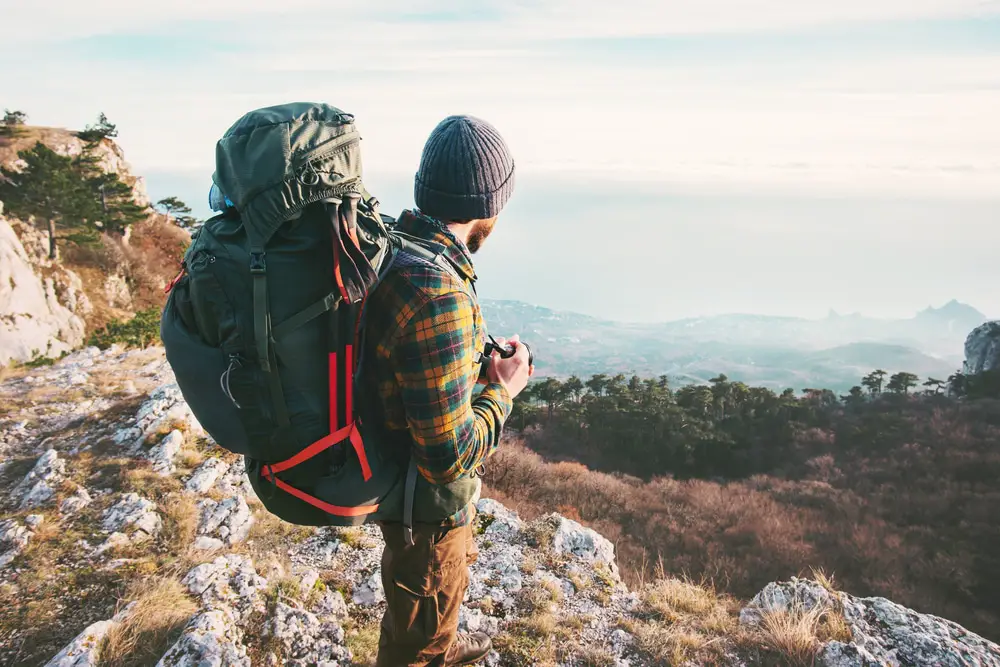 2) General Sizing (in no way an exact science)
Daypacks will be under 2,500 cubic inches or 40 liters
Weekend packs are typically 2,500 to 4,000 cubic inches or 40 to 65 liters
Weeklong packs range from 4,000 to 6,000 cubic inches or 65 to 95 liters
Expedition packs are 6,000 cubic inches or 95 liters and up
Sample capacity data for reference:
ALPS OutdoorZ Commander Freighter Frame Plus Pack Bag – 5250 Cubic Inches
High Sierra 75 Liter Internal Frame Pack (Classic Series 59501 Appalachian) – 4580 cubic inches or 75 liters
ILBE (Improved Load Bearing Equipment) – 4500 cubic inch main rucksack,  can be mated with an additional 1500 cubic inch Assault Pack, along with 100 ounces of liquid in a hydration bladder. This would give you 6000 cubic inches of rucksack space, on your back. (Military Surplus)
Kelty Trekker External Frame Pack – 3950 Cubic Inch volume
Large ALICE pack – Main compartment 2,800 cubic inches. Total Capacity 3,800 cu.in. (Military Surplus)
Osprey Packs Atmos 65 Backpack – 3,783 cubic inches (weighs 3 lbs 6 oz)
Teton Sports Scout 3400 Internal Frame Backpack – 3400 Cu. In
Medium ALICE pack – 2,350 cu. in. (Military Surplus)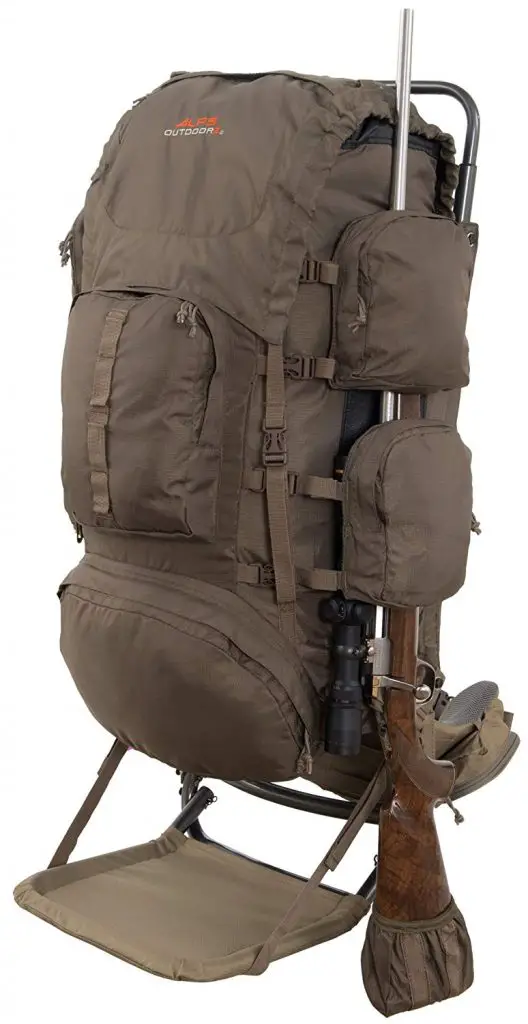 3) Frame Types
Internal frame backpacks are fairly popular because they use a hidden metal (usually aluminum) or composite frame that supports the backpack from the inside. The frame is used to help place the weight on your hips, which is where your body can most effectively carry it.
An internal frame backpack typically has a narrower profile and is  generally positioned behind the shoulder harness.
The frame does provide some stiffness, but it still offers an amount of flexibility, which will allow the pack to move as your body moves. Internal Frame backpacks are slimmer providing you more room to maneuver your arms for climbing and other activities.
An internal frame backpack should hold the load closer to your center of gravity, which is key to maintaining your balance.

An external frame backpack is pretty much a backpack on an aluminum tube frame. External Frame backpacks are rigid and strong.
They are generally heavier than internal frame backpacks, but with increases in technology and plastics, lighter weight models have become readily available.
A feature that I enjoy on the external frame backpacks is that I can expand the load more easily by strapping items, such as tents, sleeping bags and other items directly to the frame.
There is typically more space between the frame and your back too, so you don't get all gross and sweaty on your back. We're already feeling miserable so why have a sweaty back?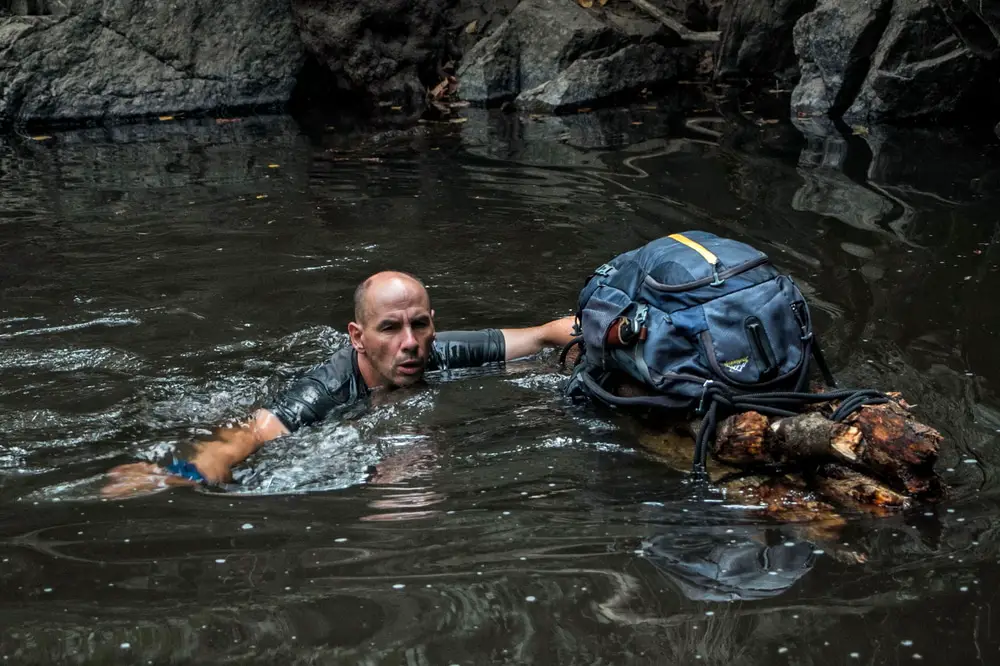 Some external frame packs have the option of being used as a "Freighter Frame".  Freighter Frames, like the frame on the ALPS OutdoorZ Commander, allow you to remove the backpack from the frame and use the frame to carry loads of heavy items (think deer, loads of water or automobile batteries). This is a same concept that the ALICE pack uses with the ALICE Pack Shelf system.
If you do opt for an ALICE pack, make sure to do the HellCat mods to make it more comfortable
4) Materials and Construction
This is where seeing a bag in person, makes it so much simpler. You can typically tell by a quick visual inspection and by touch if a bag is cheap material, that may rip or tear easily. This is why a great seller like Amazon.com, makes all the difference.
If the bag arrives and is cheaply made, or the zippers totally suck, you can put it back in the box and ship it back to Amazon. Plus reading the reviews from other purchasers makes Amazon the king in my book!
5) Color & Design Pattern
If you're only concern is camping or commuting, then choose any color you desire. If you plan to use it for a bug out bag or wish to be a bit more stealthy then natural, subdued or neutral colors might be best.
You may want to avoid going with a camouflage or tactical bag, because people may identify you as a person who may have stuff they want.  Neutral colors, greens, greys and browns blend in well but shouldn't label you as a prepper or secret special forces wanna-be.
6) Water resistant or rain cover
You might have a bag that is fairly water resistant and that is great, but a rain cover can an additional layer of protection.
Having a couple different rain covers will allow you to quickly change the look of your backpack. You could have one cover for blending in as a regular camper or commuter and a 2nd rain cover in camouflage and/or black for stealth use.
Better yet, what about a reversible rain cover? The Eberlestock Reversible Rain Cover, is the best of all worlds. It gives you a bright colorful look, that can be reversed in a moments notice to its camouflage side for blending in with the forest.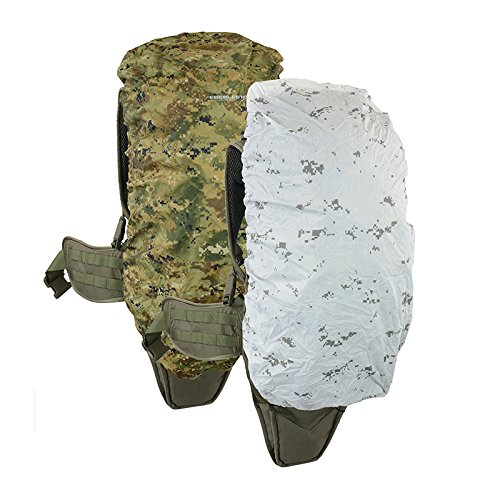 B. Selecting a Size
These are some very general examples of packs that work for Average Sized and Petite individuals.
1) Average Sized Individuals
A 6 foot tall individual will probably be able to carry a 55 – 75 liter pack or a large/expedition pack with no problem.
Osprey Packs Atmos 65 Backpack, with it's generous 3,783 cubic inches of volume and weighs only 3 lbs 6 oz
High Sierra 75 Liter Internal Frame Pack
ALPS OutdoorZ Commander Freighter Frame Plus Pack Bag (5250 Cubic Inches)
Large ALICE pack
Medium ALICE pack
2) Petite Individuals
An individual who is 5 feet tall and weighs 105 lbs (give or take) would probably be fairly comfortable with something in the 55 liter size or smaller range.
Teton Sports Scout 3400 Internal Frame Backpack (Measures 17 X 33 X 12 inches, 3400-cubic-inch / 55-liter cargo capacity; 4.5 lb weight).
5.11 Rush 12 will also works for most people with a more petite frame. One of the biggest complaints I hear from the petite prepper ladies, is finding backpacks that fit them!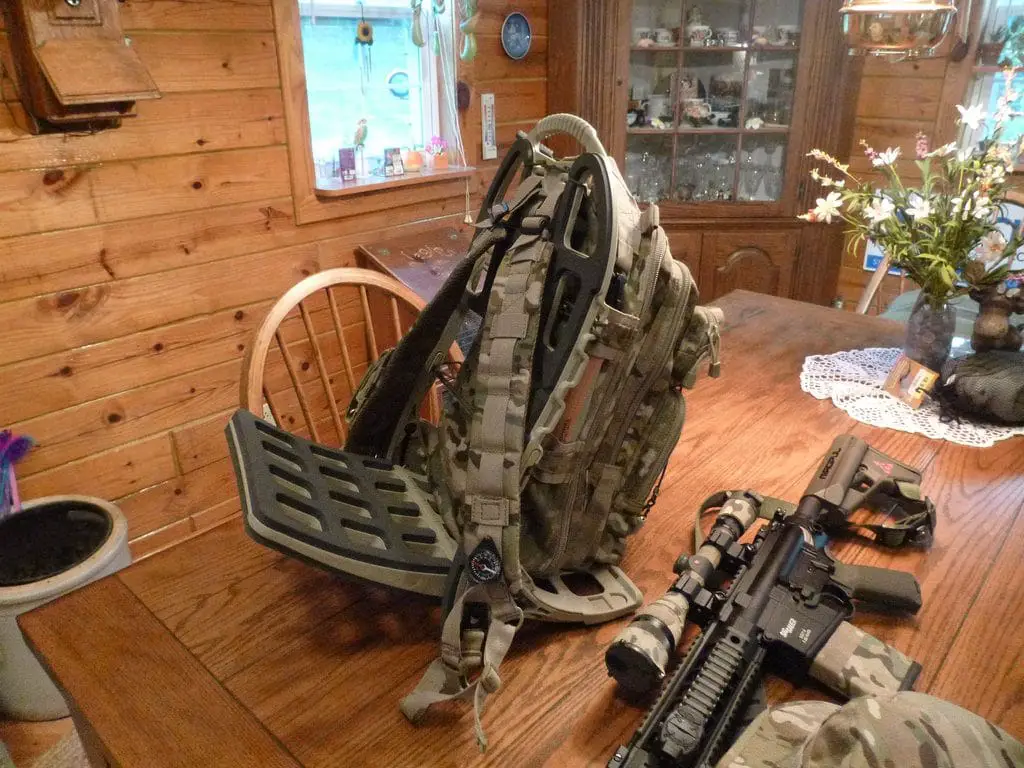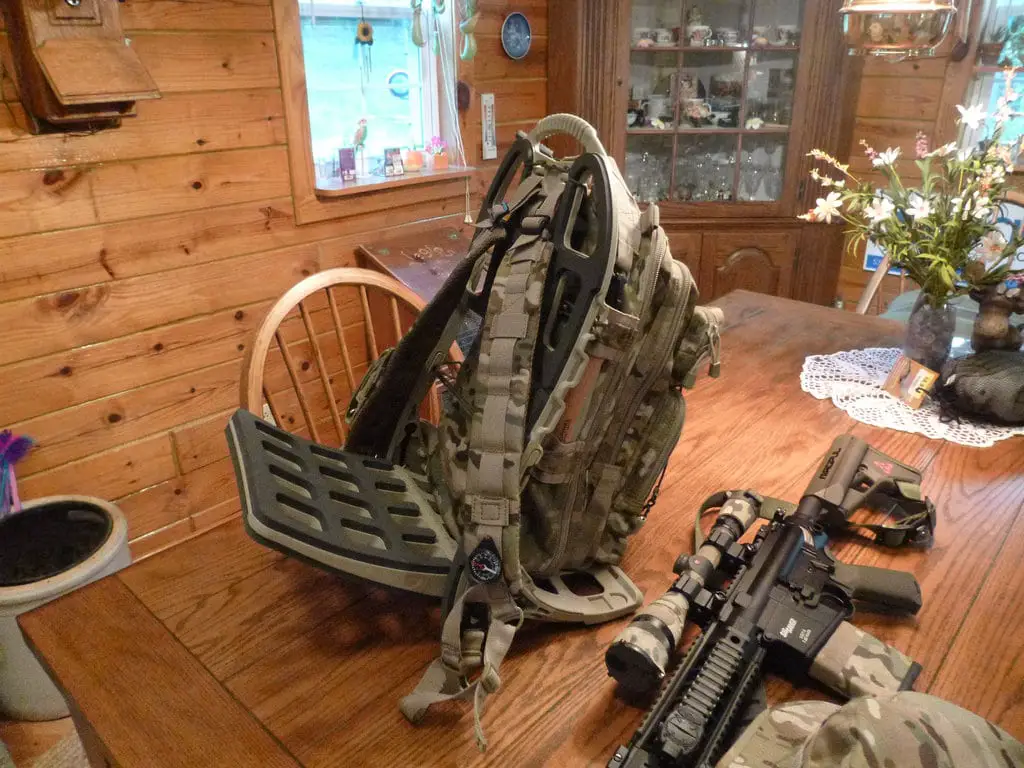 3) General Sizing
If you have to prep for your family, including small children, then get the largest pack you can carry comfortably.
I have a wife and 3 young daughters so carrying food, shelter, sleeping bags, cook gear, bug repellent, clothes, and etc for more than 1/2 of the family so I need something almost expedition class which is why my minimum is 3950cu inches and probably more reasonably around 5250 Cubic Inches (ALPS OutdoorZ Commander Freighter Frame Plus Pack Bag).
Choosing a Bug Out Backpack is a journey not a destination. As long as you keep that in mind, you won't freak out and kick yourself every time you find a better bag than your last one. You're going to buy and try many before you find that perfect pack, and even then it may not be perfect for all circumstances.
What if you could only grab 5 items in an emergency, when you are bugging out or before being stranded on a desert island ? What 5 items would they be?
C. Complete Bug out Bag Checklist
The list of items we should have on our person or in our backpack at a minimum to ensure survival:
1) Food and Water
Camp Stove / Rocket stove: you may want to cook some food or boil some water, without a full blown camp fire. A Kelly Kettle or Solo stove is what I like, but there are so many options!
Mess Kit
Water Purification (Sawyer Mini or LifeStraw)
Hydration pack: Drink while you're on the go. Your backpack may already be setup for a hydration bladder.
MREs or Dehydrated camping food
Camp cup or stainless steel bottle (boiling/heating water)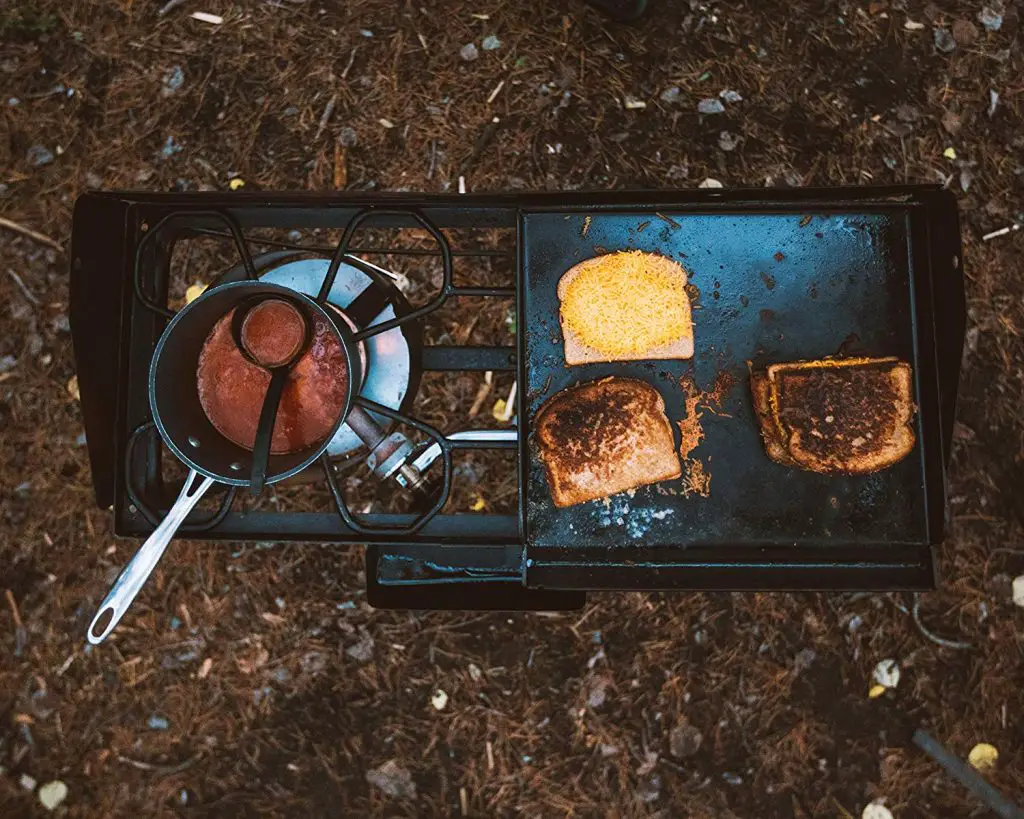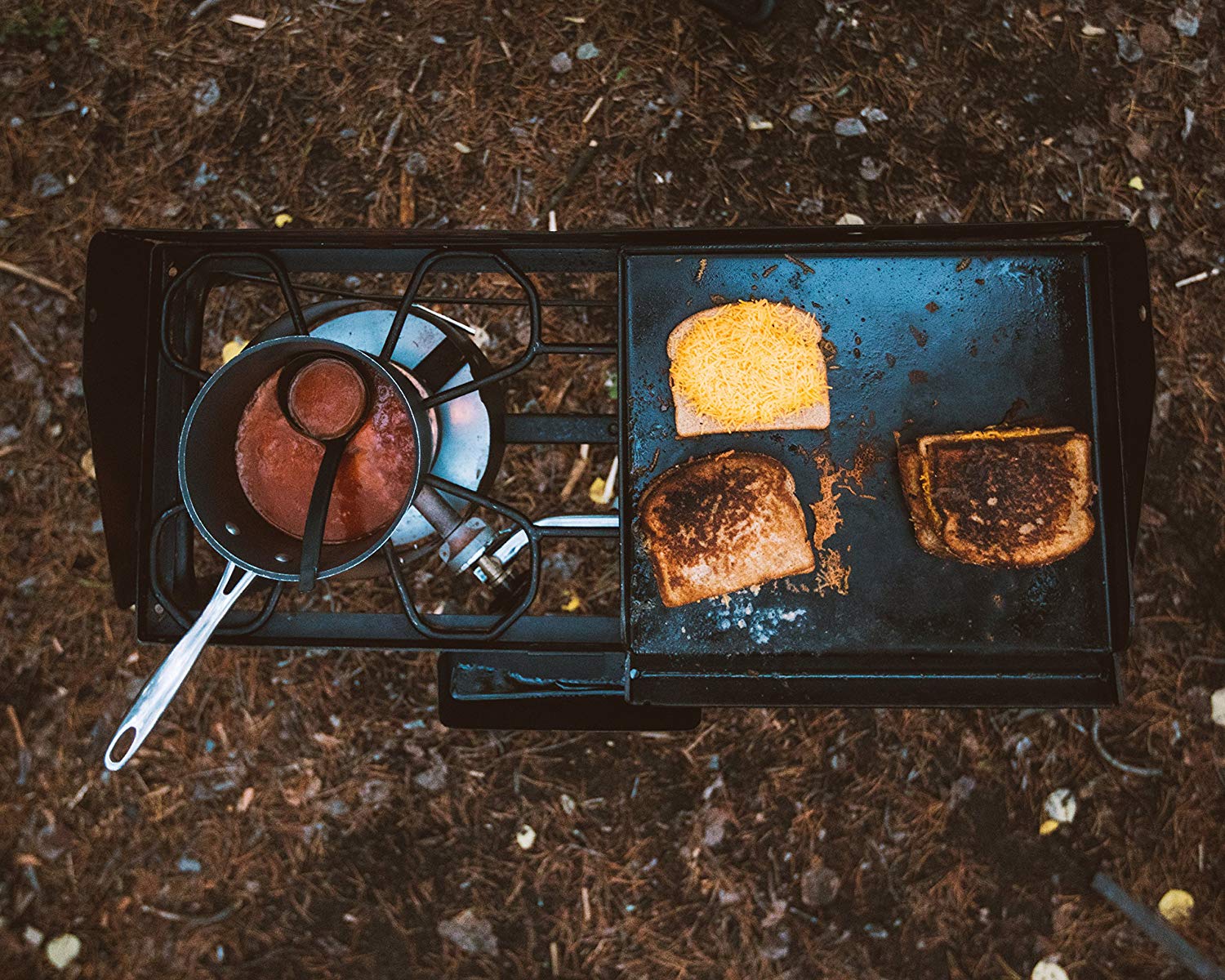 2) Shelter
Tarp for shelter
Heavy duty survival blanket
survival space blankets
Sleeping bag
3) Fire
Firesteel
Cigarette lighter
Tinder or fire-starting materials
4) Light
Flashlight
Head lamp
Emergency candle
5) Tools
Survival Knife
Backup knife or fine task knife (Morakniv)
Hatchet
Camp shovel (Cold Steel Special Forces Shovel or E-Tool)
Multi tool (leatherman, gerber etc)
550 Paracord (100ft)
Duct tape
Wire ties / zip ties
Sewing kit
24 gauge wire (snares)
Air rifle, bow, spear or gig
Survival manual (FM21-76, SAS Survival Guide, etc)
Self defense and hunting gun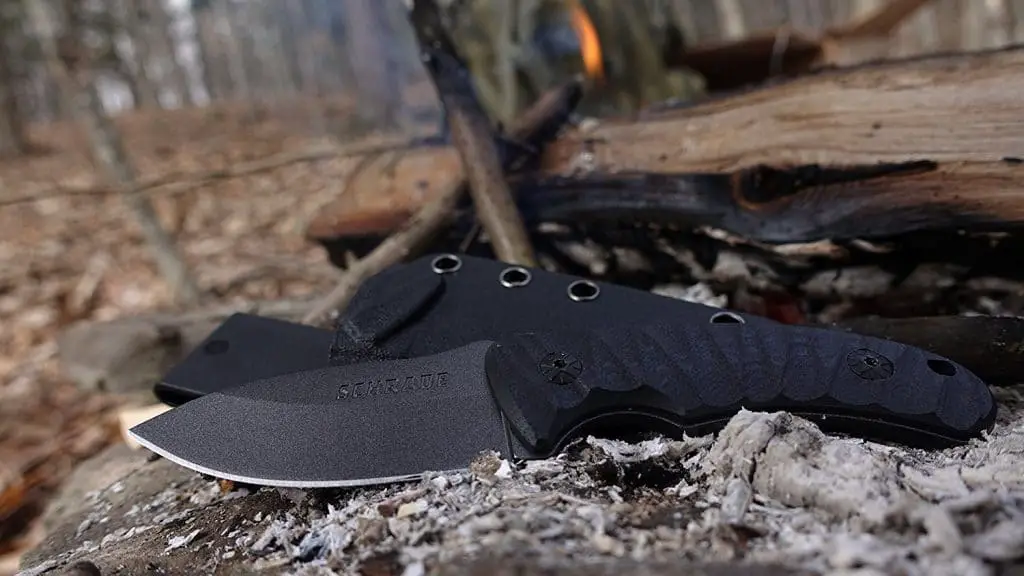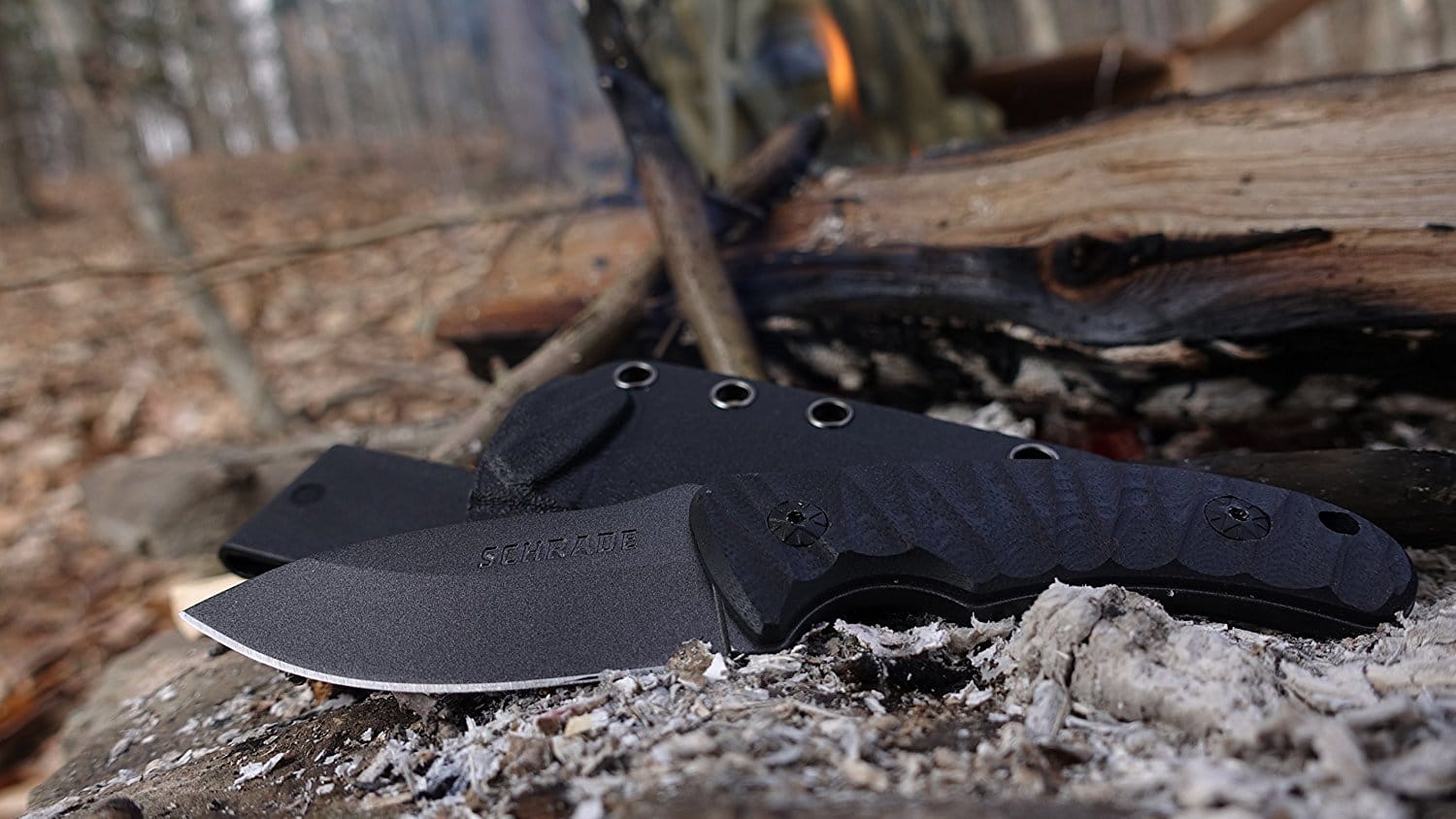 6) Clothing
Military rain poncho (get one that opens up to double as small shelter)
wool stocking cap (watch cap)
hat (sun protection)
Bandana or Shemagh
Socks, and extra socks (wool?)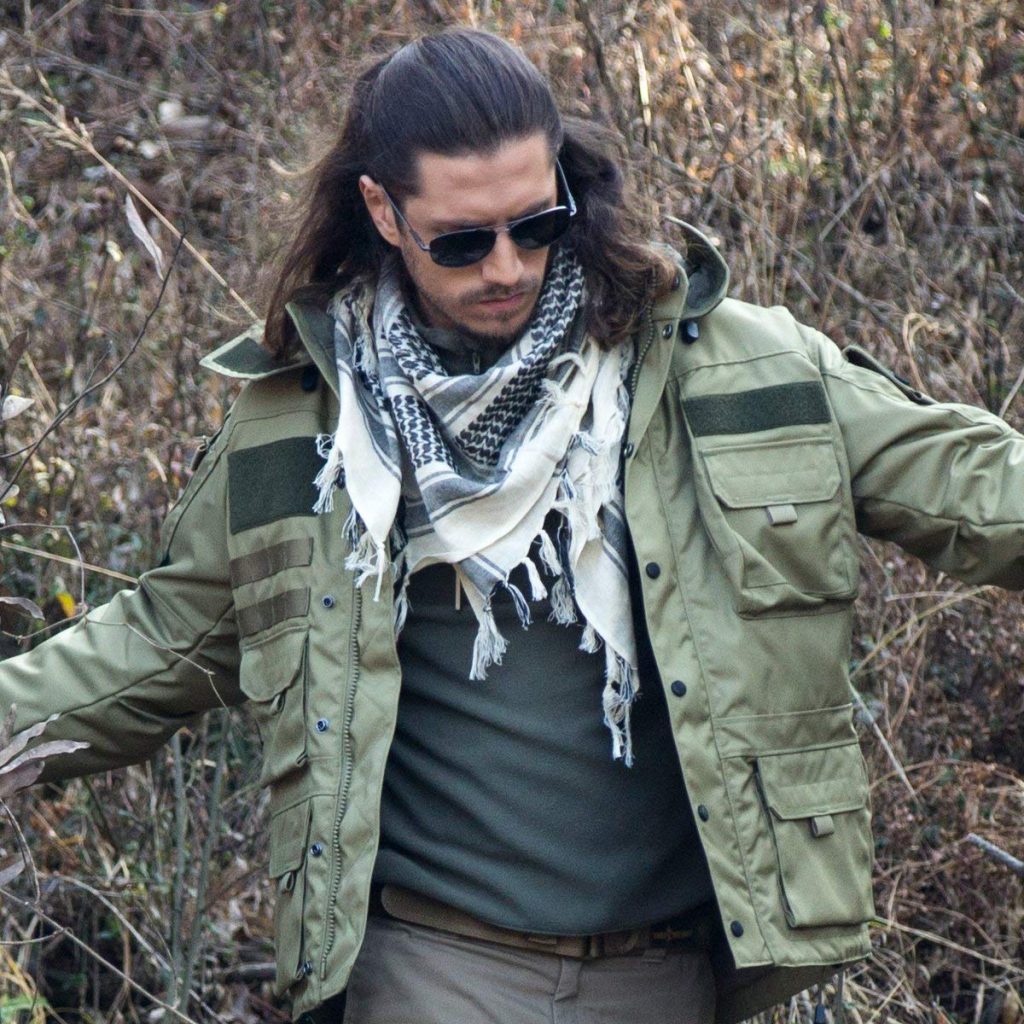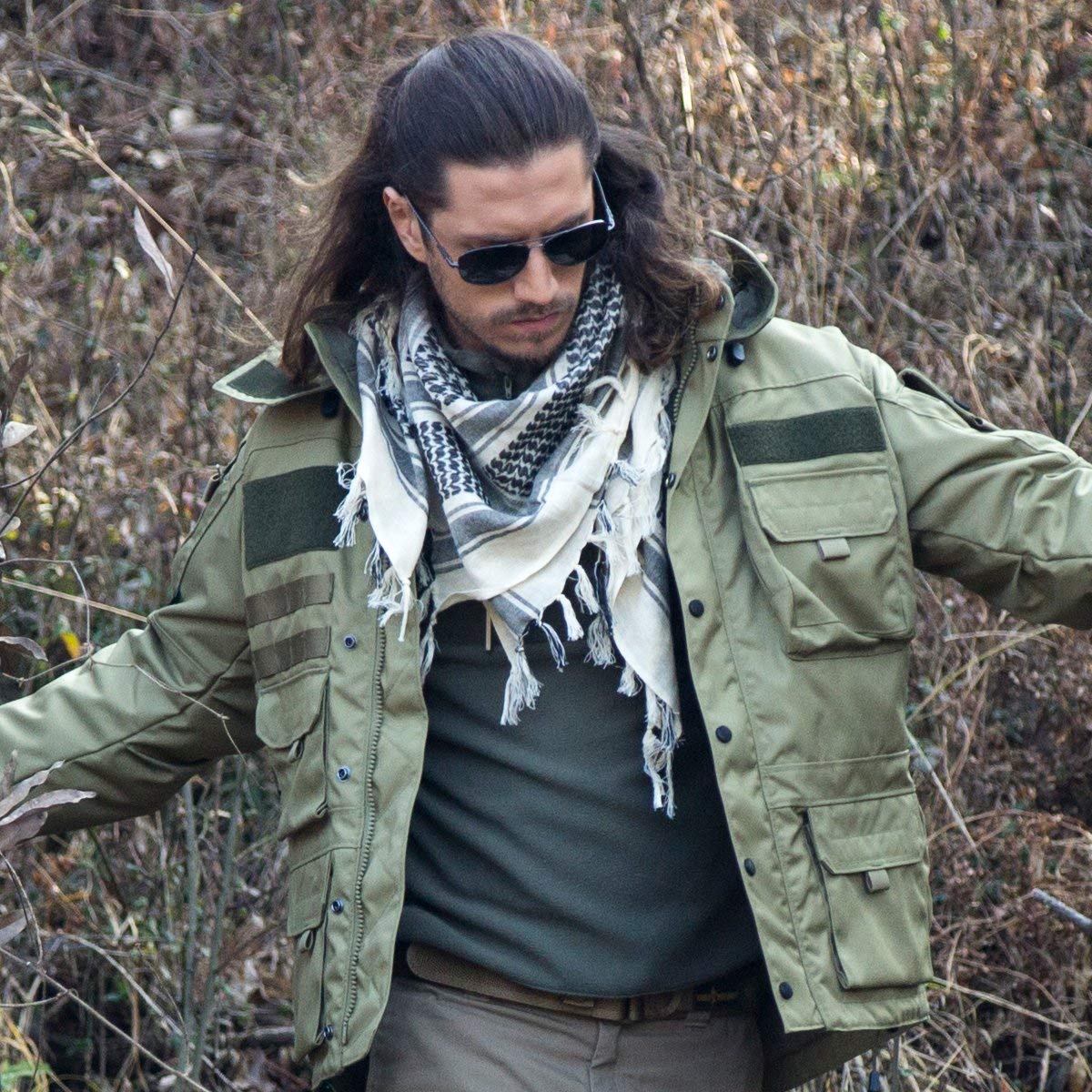 To help prevent overlooked bug out bag essentials, we've brainstormed and put together our list of essential items that seem to get over looked.
This is just the start, we're going to keep brainstorming and investigating this topic, then add to it as we go!
D. Overlooked Bug out Bag Items
I hate it when I'm on a trip and I forget to pack something. Imagine how much worse it would be after SHTF? You may not be able to run to the store and get what you need.
The time to get these items is now. If you can't buy, then barter or trade for what you can get!  Do you have the tools and supplies that you need for bug out or bug in?
1) Tools
Sewing Awl: You can use this to repair items made of tough materials, like leather and
Canvas. I've used this to repair my backpack straps, sew canvas, stitch a camp chair, to repair leather sheaths and holsters and even to make my own sheaths and holsters. If you can't by new items and must repair, maintain and create your own, this Awl will be one of your most valuable possessions! The Awl that I linked to is Made in the USA! Don't forget to order extra Thread for this (or use tough fishing line) and replacement needles.
Sillcock key: Get to water that is locked up or secured! We did a very popular post on the Secret Weapon to Access Restricted Water
Duct Tape: You can use this for almost everything and you will use it!
Figure 9 Carabiner: Fantastic and quick alternative to knots for tents, hammocks, clotheslines, etc. These tightens, tension, and secure ropes without knots, a hassle-free alternative to untying difficult knots and using ropes that quickly lose tension. They've made it even easier to use by adding a carabiner clip that attaches to any fixed anchor point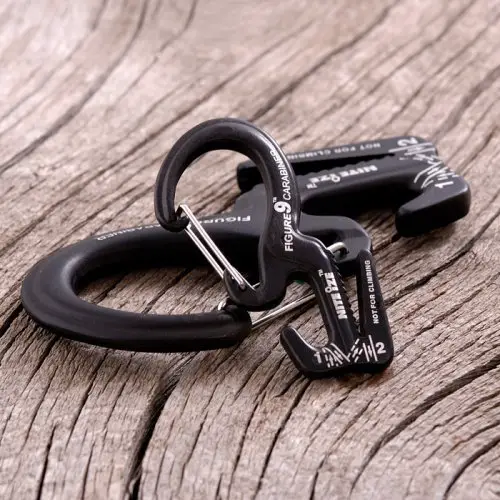 Adjustable Wrenches: Everyone should ALWAYS have at least 1 adjustable wrench in their bug out bag, in their car and some at home. For Bug Out Bag, I'd probably go with a 12 inch and a 4 inch, both wrapped in a camp towel to keep them quiet.

12-Inch Adjustable Wrench
8-Inch Adjustable Wrench
6-Inch MaxSteel Adjustable Wrench
4-Inch Adjustable Wrench
Black & Decker MSW100 Ready Wrench

10-in-1 screwdriver: That's right 1 screwdriver that can handle almost anything you come across. This is the Klein brand. Lifetime warranty. Bits included: 5/16-Inch and 1/4-Inch nut drivers, 1 and 2 Phillips, 1/4-Inch and 3/16-Inch slotted, T10 and T15 TORX, and 1 and 2 square-recess.
Long reach pliers: extend your reach into tight and narrow work areas. These always come in handy. When I don't have them is when it seems like I need them the most!
Compact Gun Cleaning Kit – because crawling through mud makes guns dirty!
Camp saw: Firewood isn't going to cut itself!
2) Fire Gear
FireSteel: lighter's can break, and it's a good idea to have a backup. An Exotac nanoSTRIKER Ferrocerium Fire Starter on your key ring would be perfect!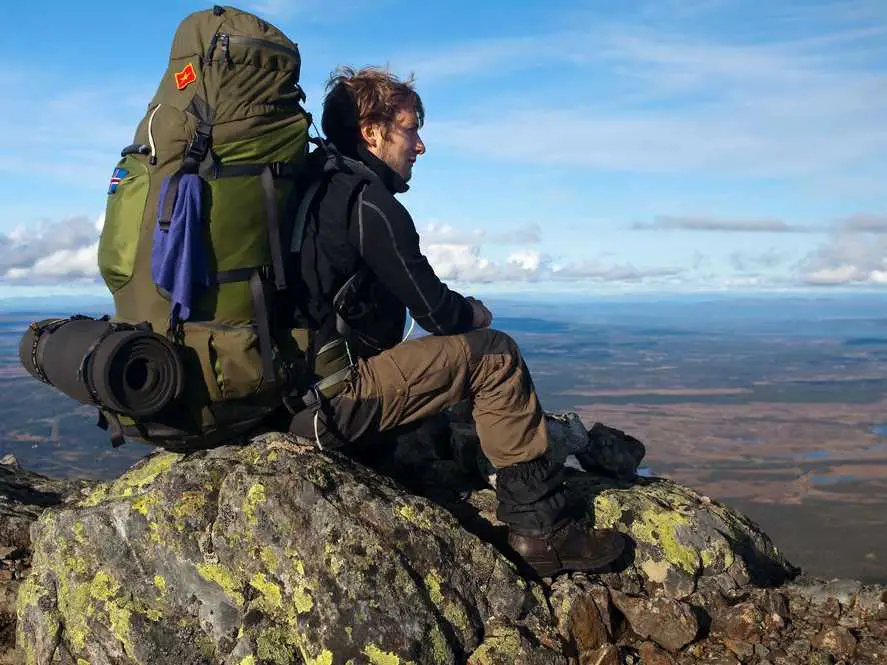 3) Food Gear
Fishing Gear: Everyone packs fishing tackle, but what about a tiny fishing pole? The Pocket Fisherman would fit in a pack. I think having some Fishing Yo Yo's would be very helpful for some automated fish catching!
Snares: Catch some small game.
Camp bowls: not everyone can eat out of the cook pot at the same time. The silicon, collapsible bowls take up almost no space
Sporks for each person in your group. They can carry their own, so put one in each pack.
Camping Spices: All the essential food seasonings to make food zesty!
Cooking Utensils: Because flipping an egg with a knife can get crazy. If nothing else grab a Spatula from your kitchen before you head out! Trust me on this one.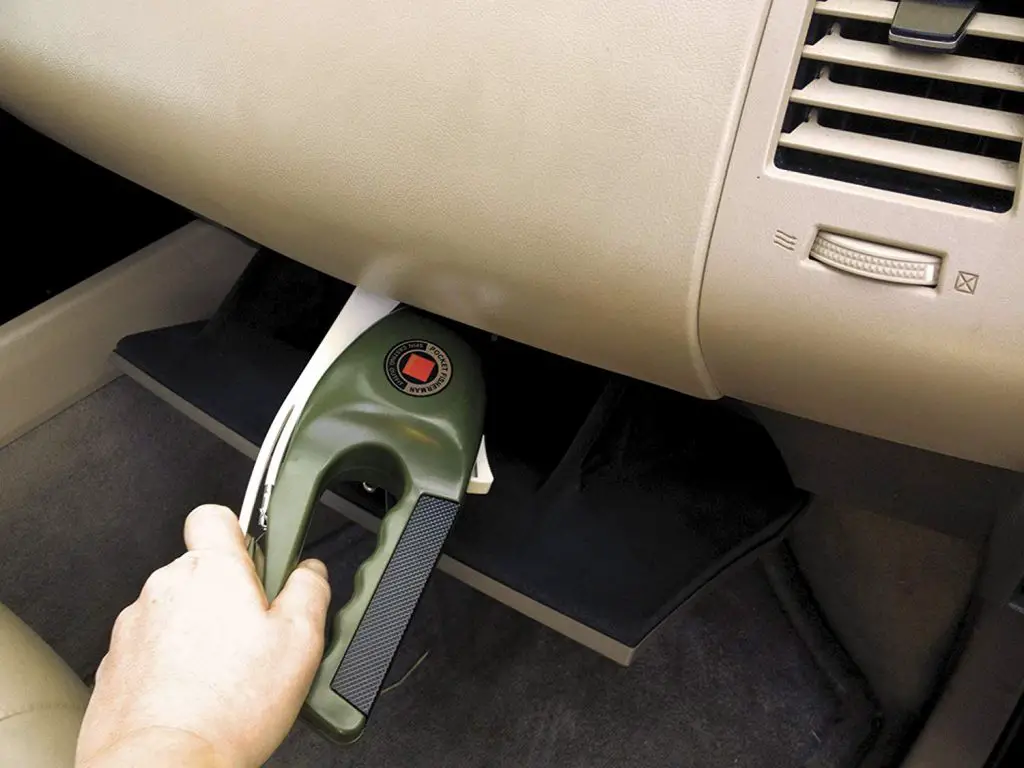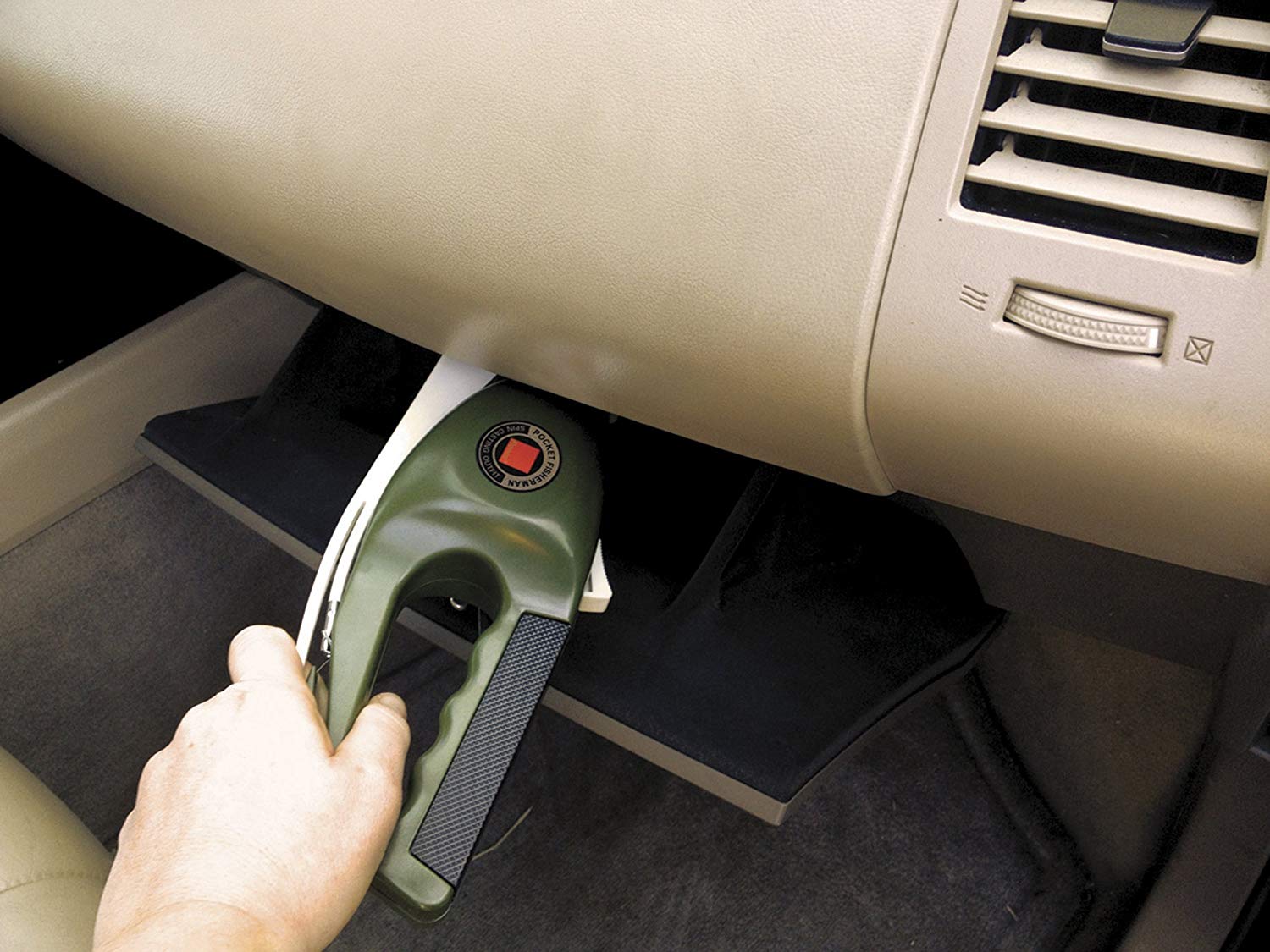 4) Navigation Aids
Compass: A good compass is always a must, especially for people who might be traveling via back roads or across the wilderness. People don't understand how easy it is to walk in circles…for days.
Maps: We're always pushing maps. We have to because if the SHTF and it's the type of situation, where we need to lay low and avoid any form of entanglements, then you can bet that we won't have ANY electronic devices on us, for them to track or triangulate us with. We're talking old school, move at night stuff. Learn to navigate using maps and compass. We discuss using a map and compass in one of our posts.There are really good books to on navigation to help you:

Map Reading and Land Navigation: FM 3-25.26. If you have internet skills you can find this in PDF format, but it won't help you after the grid down, unless you've memorized it.
The Essential Wilderness Navigator: How to Find Your Way in the Great Outdoors, Second Edition

Binoculars: Observe and scout before you move into an area. This is essential. If you don't do this, you will walk into ambushes or stumble into gangs of looters or worse! I found out the hard way that water-proof binoculars should be the standard for outdoorsy people and preppers.  Trust me when I say you need waterproof binoculars! "Whoops"…..<SPLASH>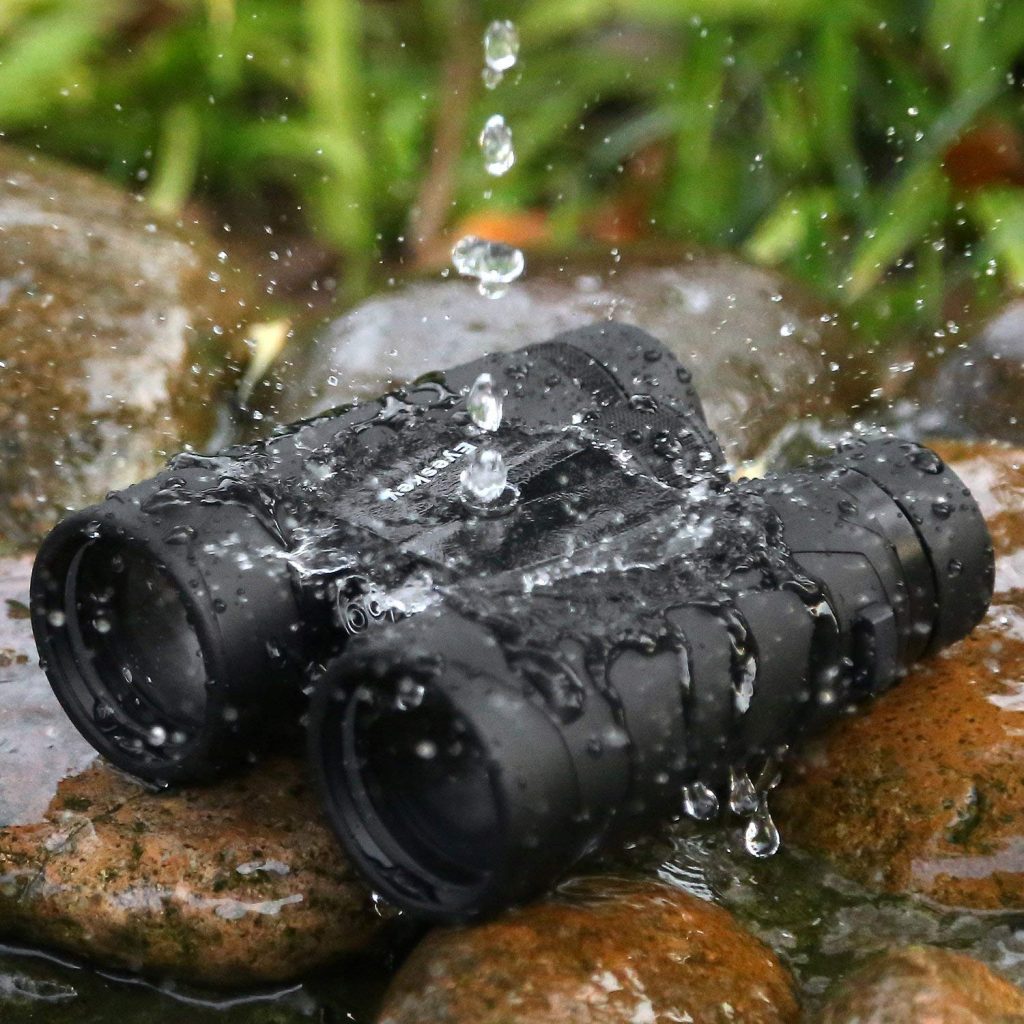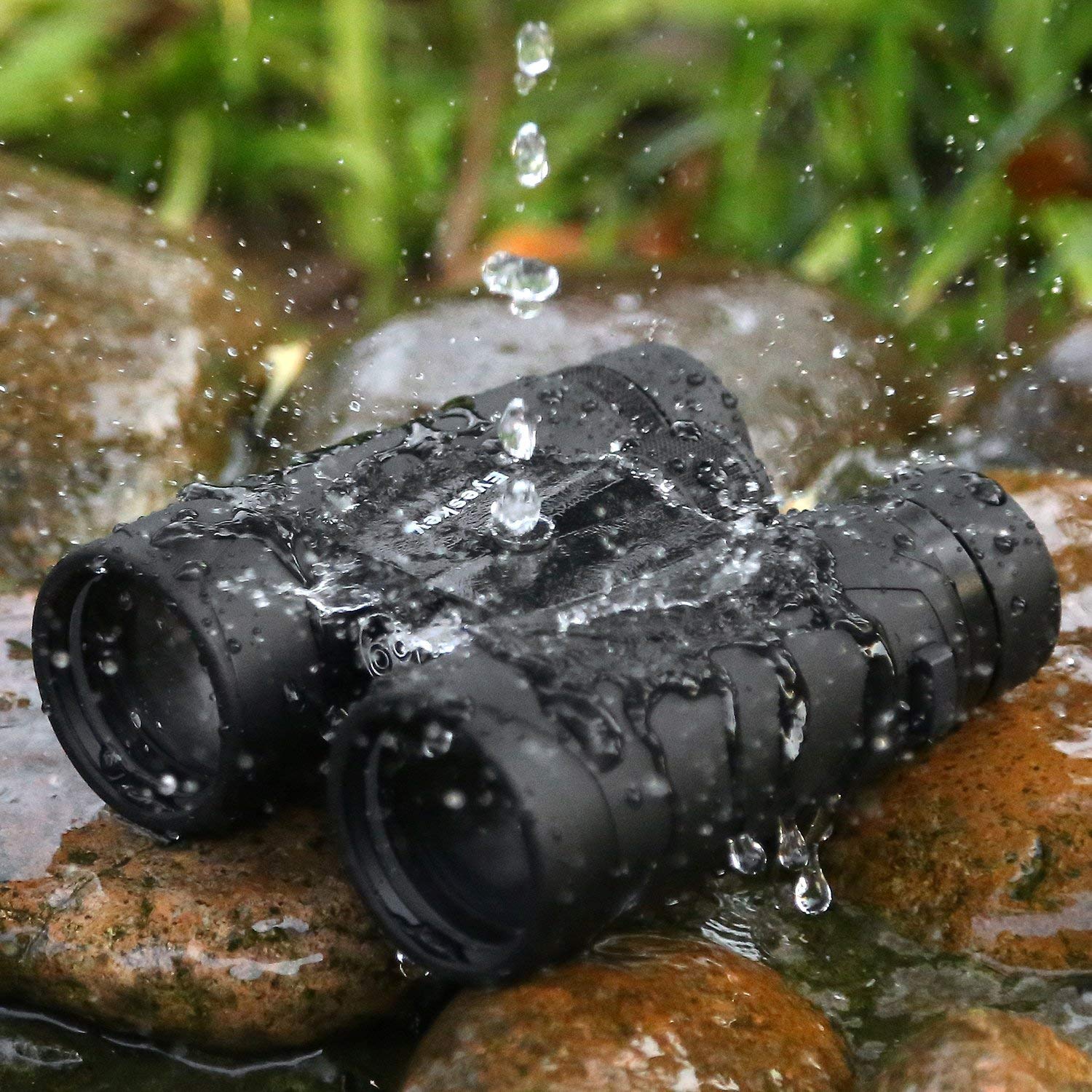 5) Protective gear
Goggles: There is a reason that our military issues these to our troops. Keep crap out of your eyes while on the move. Dust, debris, and tree branches will poke out your eyes. Never go in the forest without protective eye-wear! Don't be blinded by assailants wielding "Pocket Sand".
P95 Respirator: Keep your airways safe, while you breathe. There may be dust and smoke in the air.
Gas Mask: If I have to use a gas mask (and we might), I'm going to use one from Israel (they fight and survive). These also use the NATO filters (Type 80), which you can find.If you have children, get the Child-sized gas masks too!
Nitrile Gloves: You're going to be touching some nasty stuff, even if you'd rather not. You may be moving bodies or performing first aid. Keep some in your bag, your car and at home!
Helmet: A rock climbing, bicycle or skateboard helmet is essential. It'd be a pity to survive the apocalypses to trip and hit your head on a rock, then die. Also helps to negate being hit over the head when attacked!
Insect repellent. Ticks, mosquito and biting insects can be fatal, but they are always irritating. You'll have enough to worry about without bugs.
Sunscreen: protect your head and face from sun. If you're not wearing a Shemagh or hat make sure to have sunscreen. Also think about Lip Balm.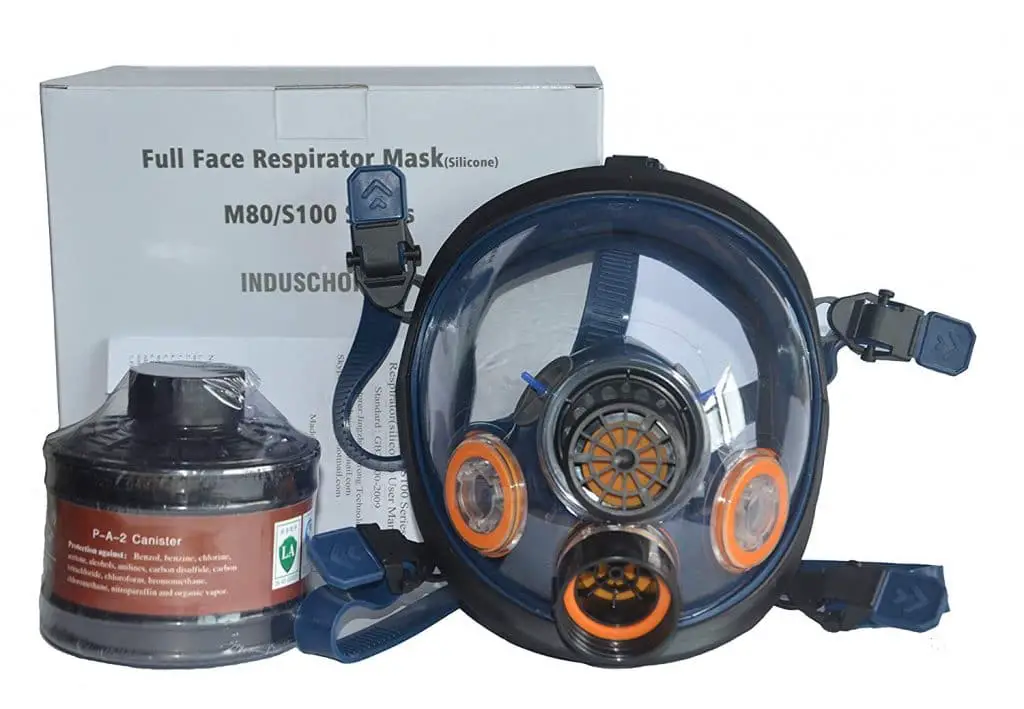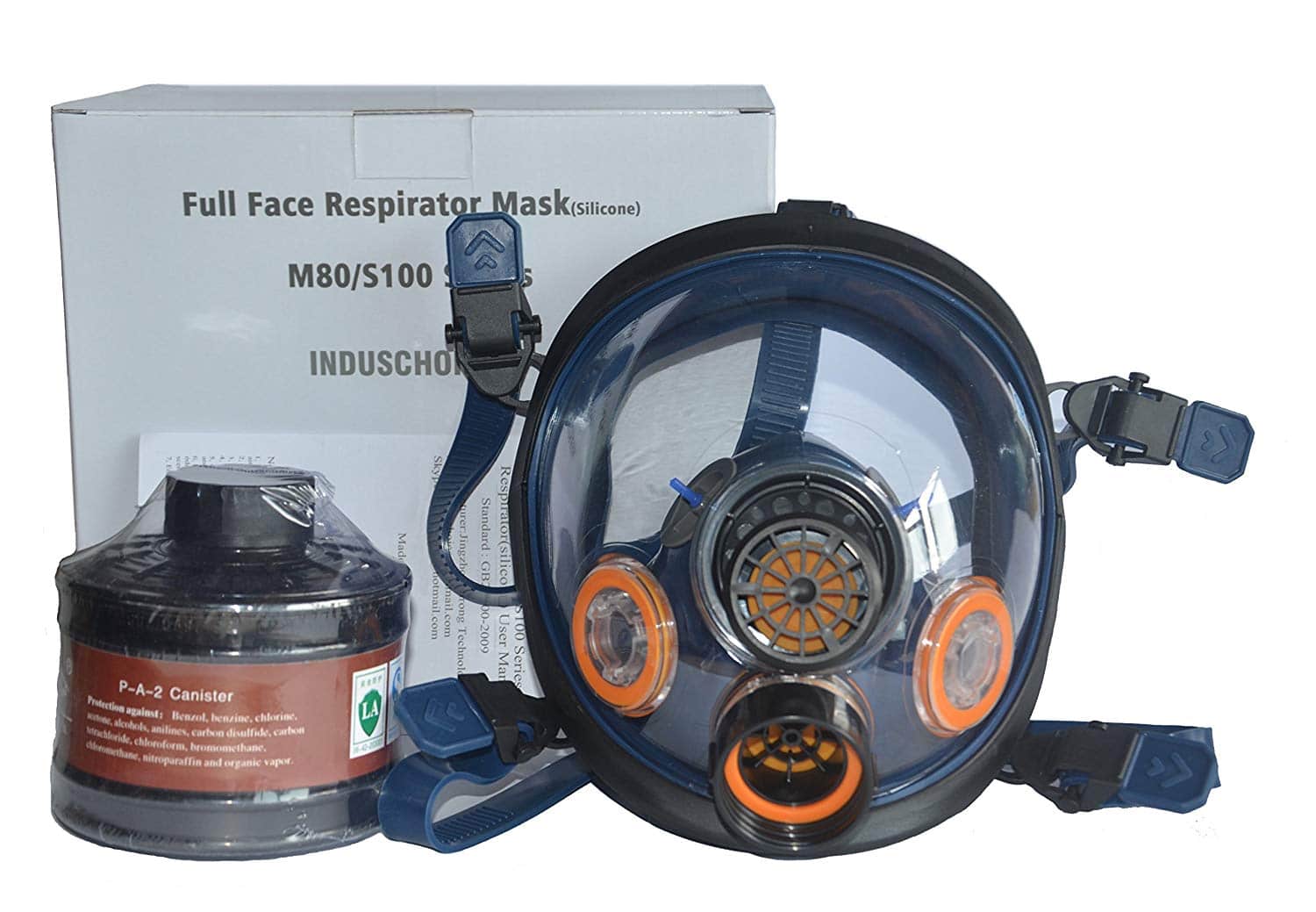 6) Hygiene
Hand Sanitizer: Clean your hands before eating, or touching your face. Every time. Take no chances, not just after SHTF, but day to day too.
Nail Clippers: That last thing I want to die from is an infection from a hangnail. You can buy nail clippers anyplace, pick up a couple sets for your fingernails and toenails!
Feminine hygiene: Besides the obvious uses, tampons can be used to filter water and maxi pads make great bandages. There are a million uses for both of these items.
Toilet paper: grab a roll from your bathroom and reroll it on a smaller tube, or buy some camping toilet paper. Your tushy will thank you.
Camp Suds wash: to clean your body and hair. I sometimes use Dr Bronners Castile soaps instead.
7) Hydration & Water Storage
Dromedary Bag: While on the move, there may not be convenient water stops. Stock up on water whenever/wherever you can!
Collapsible bucket: use water where you need it!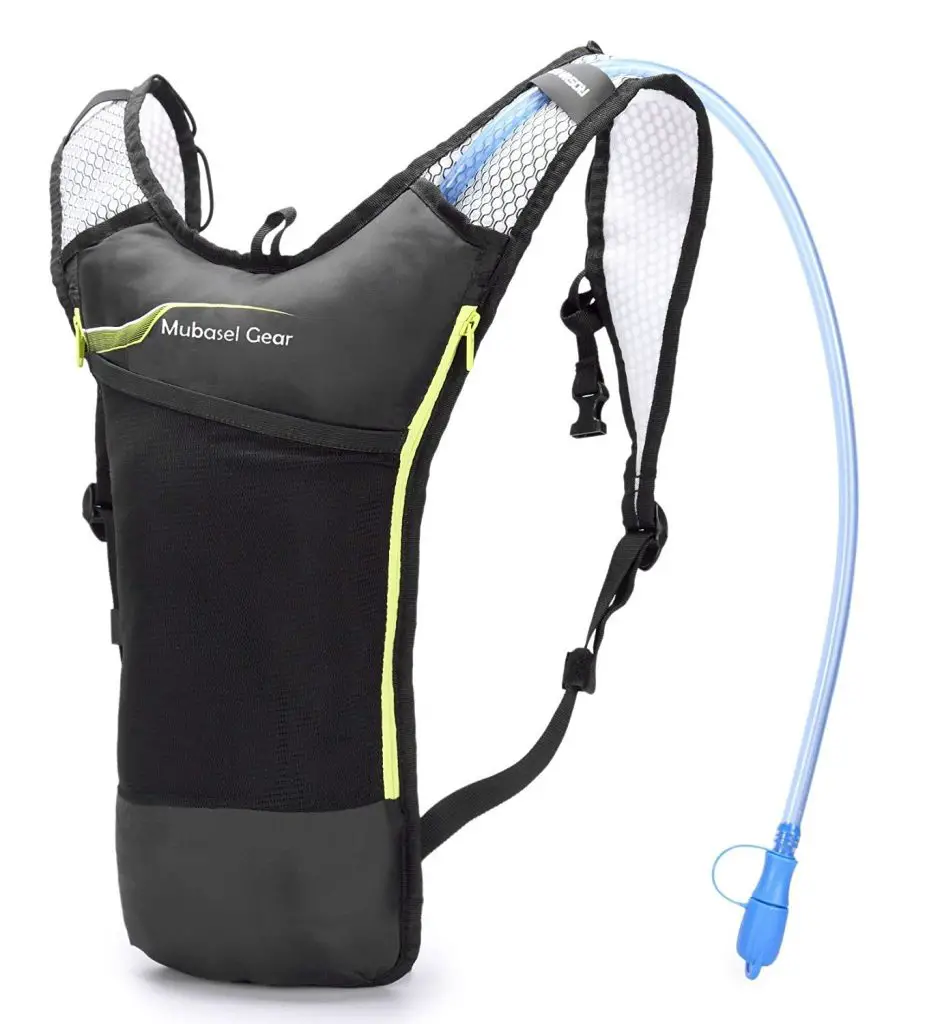 8) Power and Light

Battery Converters or Adapters: Turn your AA batteries into C or D batteries. This would be very very handy!
Solar battery charger: Recharge your rechargeable batteries with the Sun.
Lantern: Sometimes you need to do things and holding a flashlight or using a headlamp, just isn't optimum!
Candle Lantern: A non battery alternative
Automatic Watch: A watch that is EMP proof and doesn't ever require batteries is essential.Knowing the date and time can help you plan your movements and help keep you sane. You can even use a watch to help you determine direction. I too have procrastinated on getting an Automatic Watch, but I have resolved that this will be my next purchase, because it's not a bank breaker and it's really important.
Solar watch: An alternative to the automatic watch.
9) Shelter
Tarp: Any color will work, but I'm all for camo or earth tones, to blend in.
Military Poncho: Rain gear, shelter and tarp, all in one! Fantastic gear. Get a good military surplus one. Keep one in each of your vehicles and each of your backpacks!
Tent: A good tent will provide you some shelter. I like camo or earth tones, but you can always cover your bright tent with a subdued tarp.
Sleeping bag: This is your key to warmth on those cold nights. Get a good one.
Sleeping pad: This provides a measure of comfort to help you sleep, and also adds another layer of insulation between you and the cold hard ground. Trust me, this is important.
Waterproof Bible: We'll all need some hope in a post Apocalyptic world. Hope may be all that keeps you going! This is your spiritual shelter 😉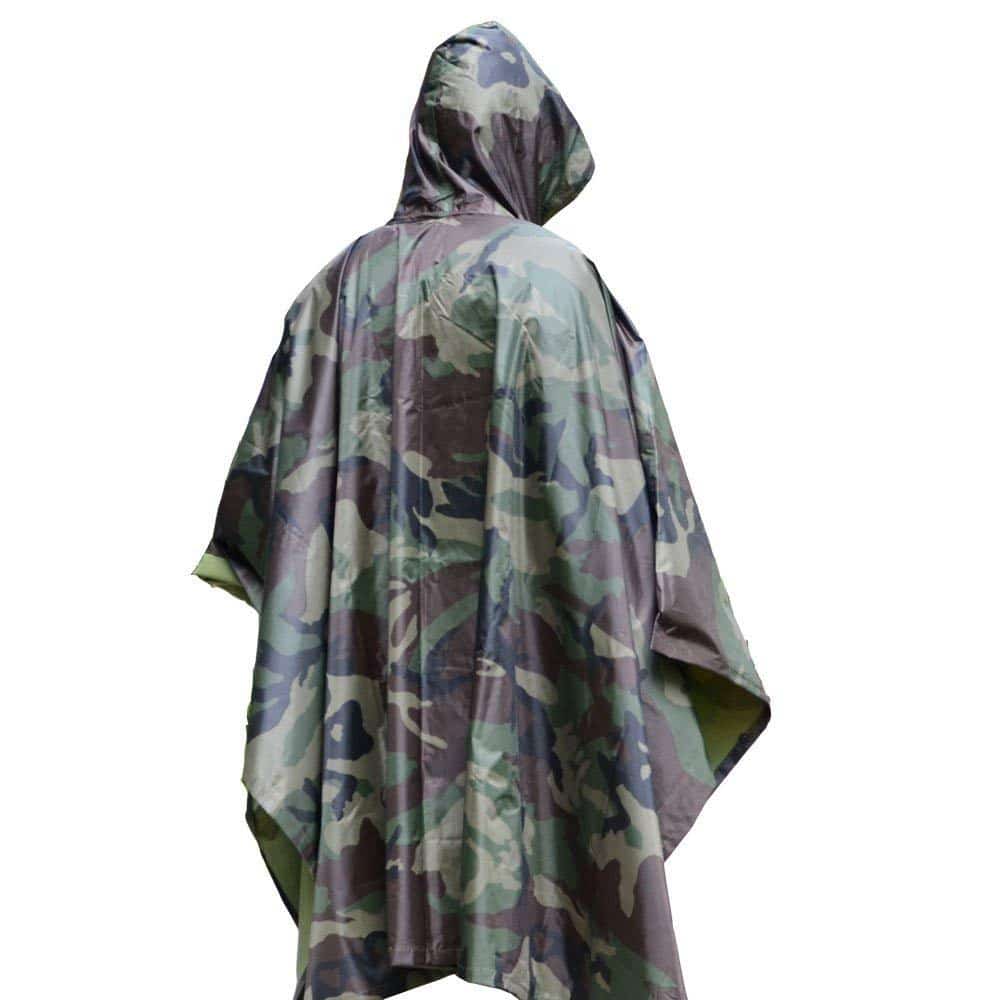 10) Cordage
Paracord: The work-horse of the rope world. You can never have enough!
Zing It: sometimes you need rope that is only 1.75 mm in thickness, but has a 400 lb strength (This stuff is perfect for hammock ridge lines)
Lash It: Same strength and thickness as Zing It, but in a more subdued color.
 Did we miss something? Let us know in the comments and we'll make sure to add it!
Try to find a quality backpack for your gear, because even if you don't plan to bug out, a good backpack will come in handy!
This list of Overlooked Bug Out Bag Essentials wasn't originally designed to be published, it was designed for me any my family to determine what we'd need that isn't normally included when thinking about post-SHTF life. When I showed it to a friend, he was amazed and wanted a copy. He said he had the same experience when he showed it to other friends.
Please use this list of Overlooked Bug Out Bag Essentials as a starting point to help you prepare for the worst.  We're seeing craziness around the globe so how long do you think it'll be before it comes to your area?
E. Budget Bug-Out Bag Gear
Everyone deserves a chance, regardless of income or station, in life. The budget bug-out bag gear list will give you multiple options to help you cut costs, while giving you dependable options, for the bag itself and the contents to keep you alive.
1) Backpacks:
Medium Size ALICE Pack w/Frame:  The ALICE Pack is rugged, dependable and has been field tested by the military for over 40 years of service. Some of the Medium ALICE packs come with an external frame. The frame can also utilize an ALICE Pack Shelf to for cargo carry, if the ruck sack is removed.
The frame can be removed if needed. The original ALICE should straps and waist straps can be replaced with the newer MOLLE straps (Hell Cat Mod ALICE Pack) making one awesome Budget Bug Out Bag.
Load rating: 50lbs;
Volume: 2,350 cubic inch capacity
Condor Medium Assault Pack: You may have to settle on color to get the best price). The more I use Condor gear, the more I trust them. They are rugged, well made and I have a healthy respect for them. This isn't a huge pack, but "light and agile" should be your methodology.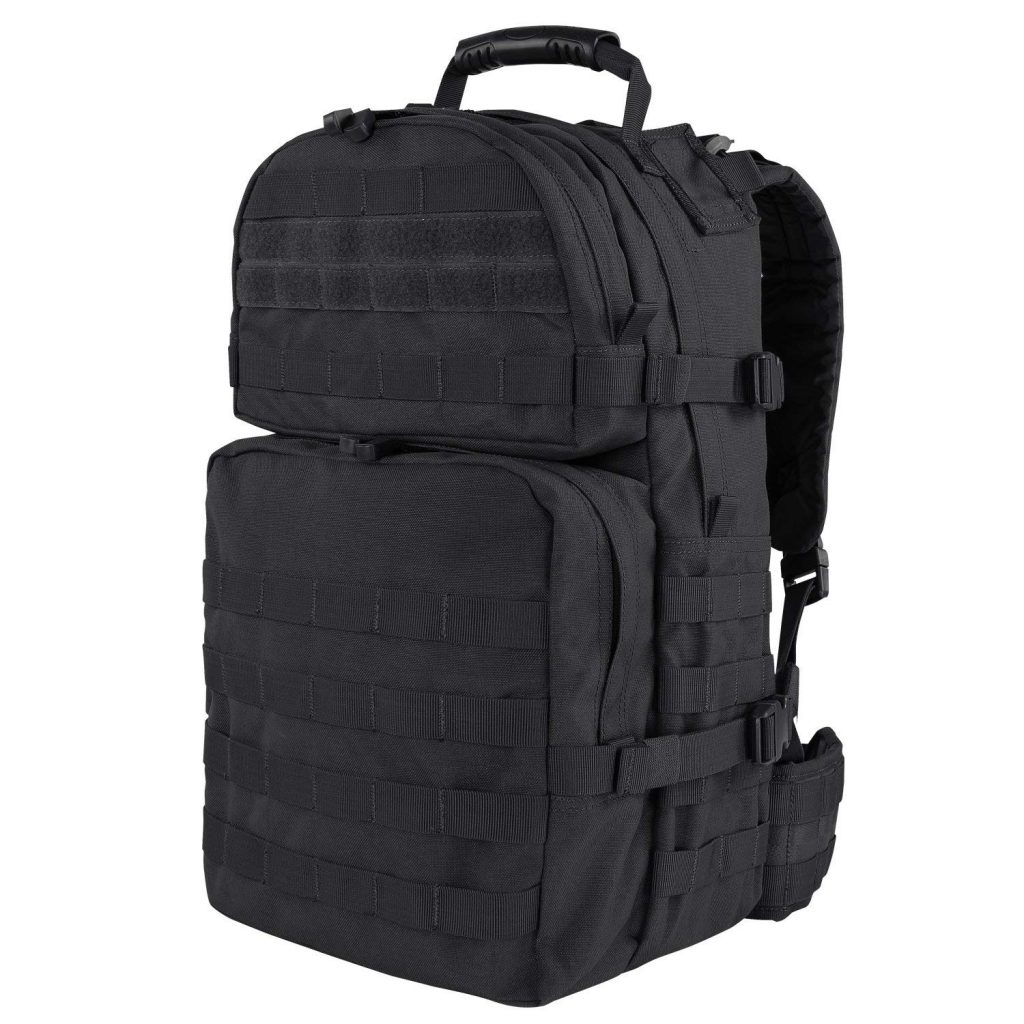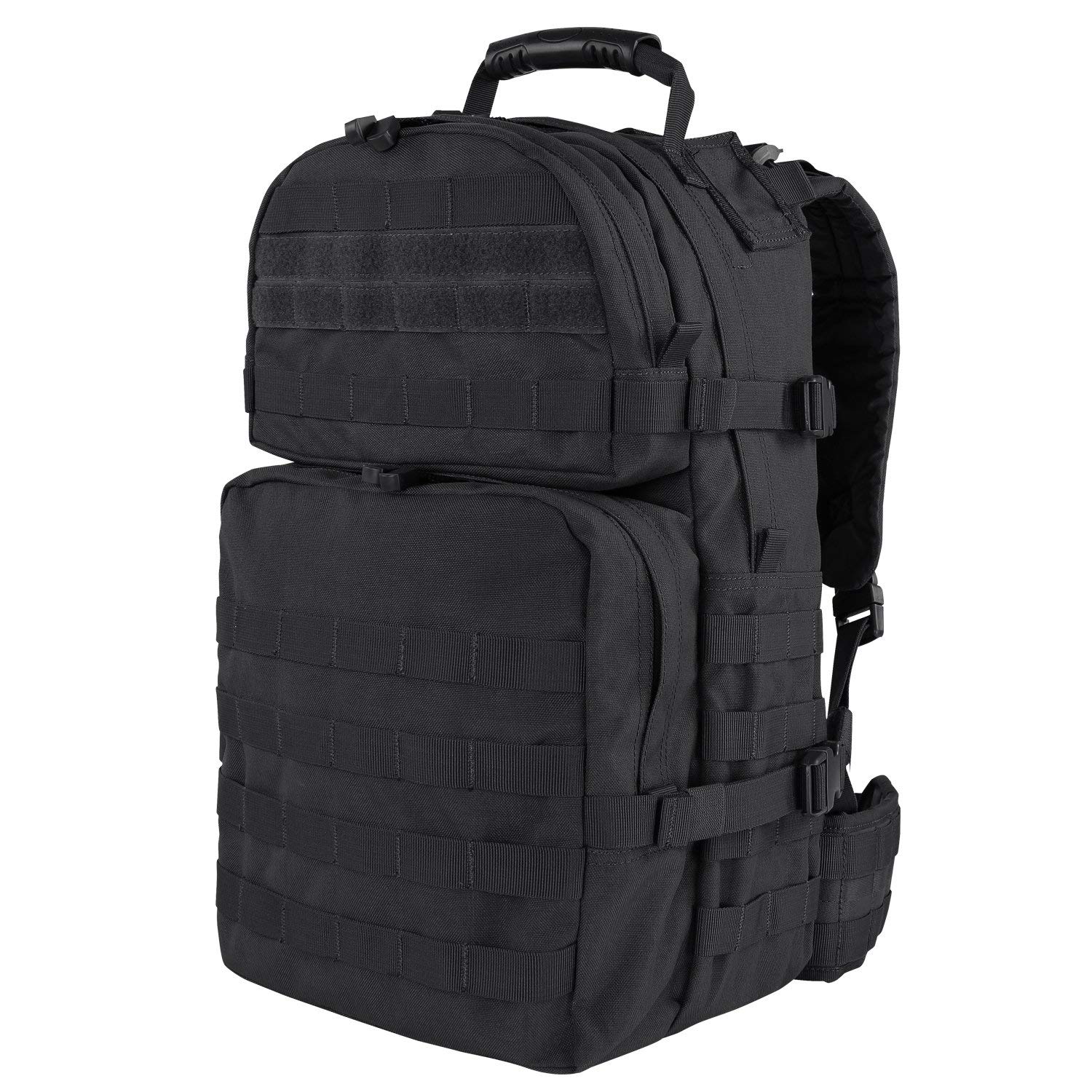 Volume: 1846 cubic in capacity
The alternative to these backpack is any dependable backpack you can find. Look at your local thrift stores, big box stores and military surplus outlets. You can also look online for deals on cragislist.org.
2) Survival Manual:
US Army Survival Manual (FM 21-76): This book is chock full of the same survival knowledge that has keep our armed forces guys (and gals) alive. I've seen these at the local surplus store but get one someplace, anyplace, now. Stick it in your bug out bag!
3) Survival Knives:
Here we have a 3 good recommendations for your Budget Bug Out Bag. All have a full tang (blade metal extends fully through and is part of the handle) and all have great reviews.
Cold Steel Bushman: I own a couple of these, and one of them is in my Get Home Bag! The blade and handle are one seamless piece of hardened steel. The handle portion is rounded/hollow allowing you to easily mount it on a pole to make a spear. The handle can be corked at both ends to hold smaller supplies (fishing tackle perhaps). The sheath doesn't have a snap or velcro to hold the knife in security, you're going to need to use paracord or something to hold it fast. The sheath does have a nice external pocket for extra items (sharpening stone perhaps).


Smith & Wesson CKSUR1 Bullseye Search and Rescue: This knife appears to be designed with the K-Bar military knives in mind, but is a bit smaller (not a bad thing). I EDC a Smith and Wesson knife and find their quality and price point to be pretty good. This one is on my wishlist for an upcoming purchase. This knife has had great reviews on Amazon and should be a good Budget Bug Out Bag survival knife.
Cold Steel GI Tanto Knife with Secure-Ex Sheath:  Another great knife from Cold Steel. This knife is rugged and inexpensive. It will baton wood like a champ. I am a really big fan of the tanto style tips for durability too. Make sure to order the one that comes with the Secure-Ex sheath!!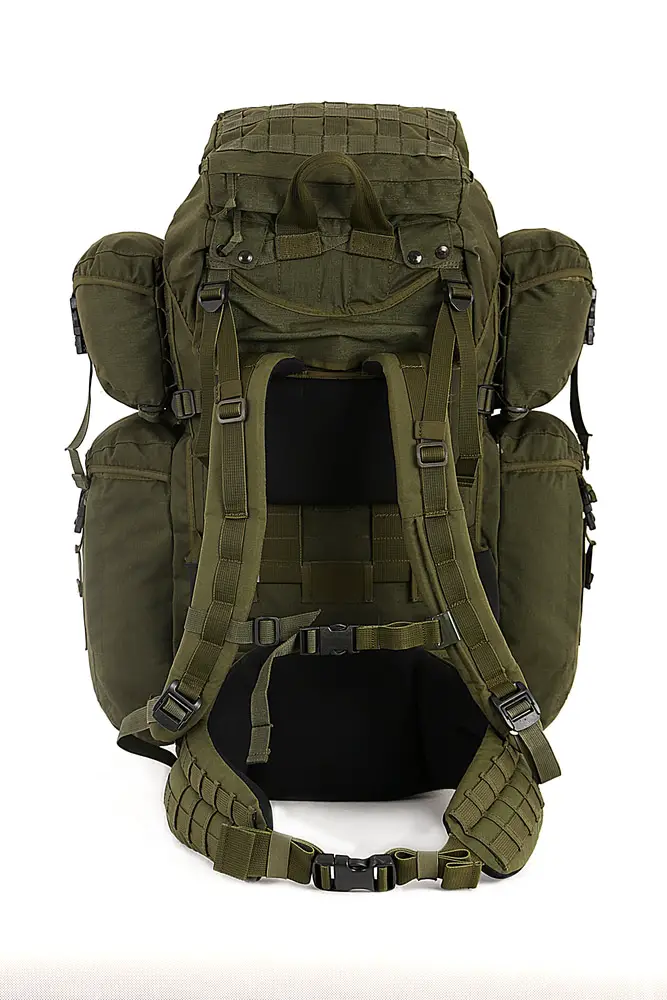 Mora Knives: A standard kitchen sized knife, perfect for cooking and chopping, but can also be a backup to your full size survival knife. Make sure to get a smaller, general purpose blade. Either the Swedish Mil. Mora Knife or the Mora Utility Knife would be perfect. Mora makes a really fantastic knife, their blades come razor sharp and hold that edge quite well. Be careful, these are sharp, very very sharp.
4) Light
Lighting EVER Super Bright LED Headlamp:  This headlamp has 18 White LED and 2 Red LED, offering you a choice of 4 Brightness Levels. The win factor for me was the Red LED mode. You can operate with lower Red light, saving your night vision and helping to protect you from observation when navigating. Make sure to have a headlamp and some red light source in your budget bug out bag.
5) Shelter:
Woodland Camouflage Rip-stop Poncho:  I like this because it's both rain gear and can be unsnapped into a shelter tarp. It's dual purpose saves space and could save money instead of buying rain gear and a tarp.
Texsport Camouflage Trail Tent: If you already have a rain coat or just really want a tent, this is a great tent. I'm 6 foot and fairly stout, but I can lay in this tent comfortably. My 3 children (3, 5 and 7 yrs) can also fit in here with me. It's light and packs up to about the size of a loaf of bread. I'd replace the cheap tie down lines on this with paracord. I must recommend using waterproofing spray on this tent or any other, before using it in the wild.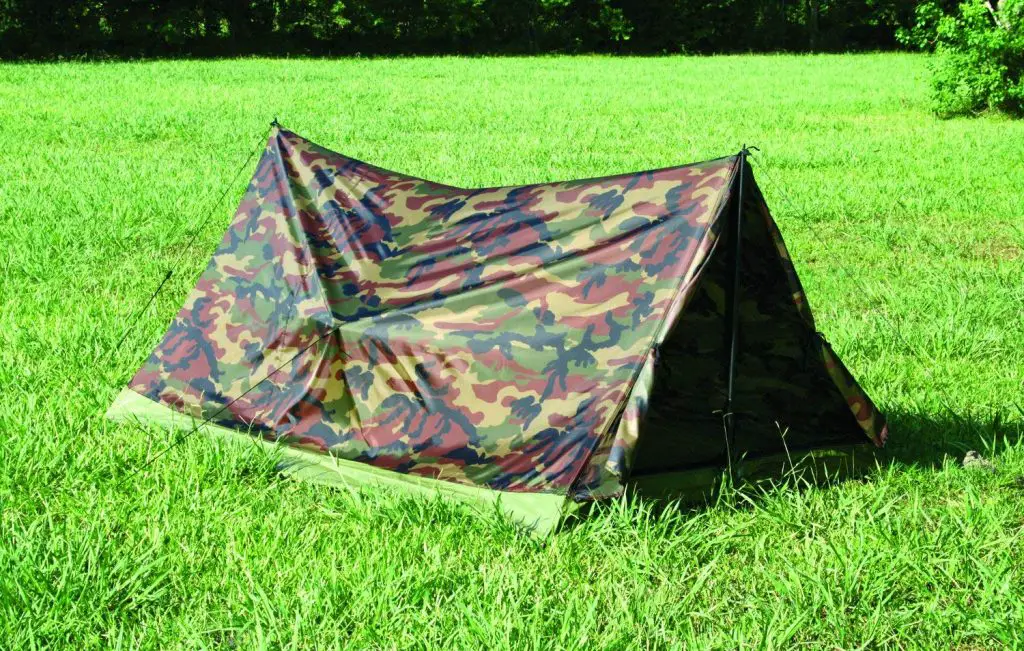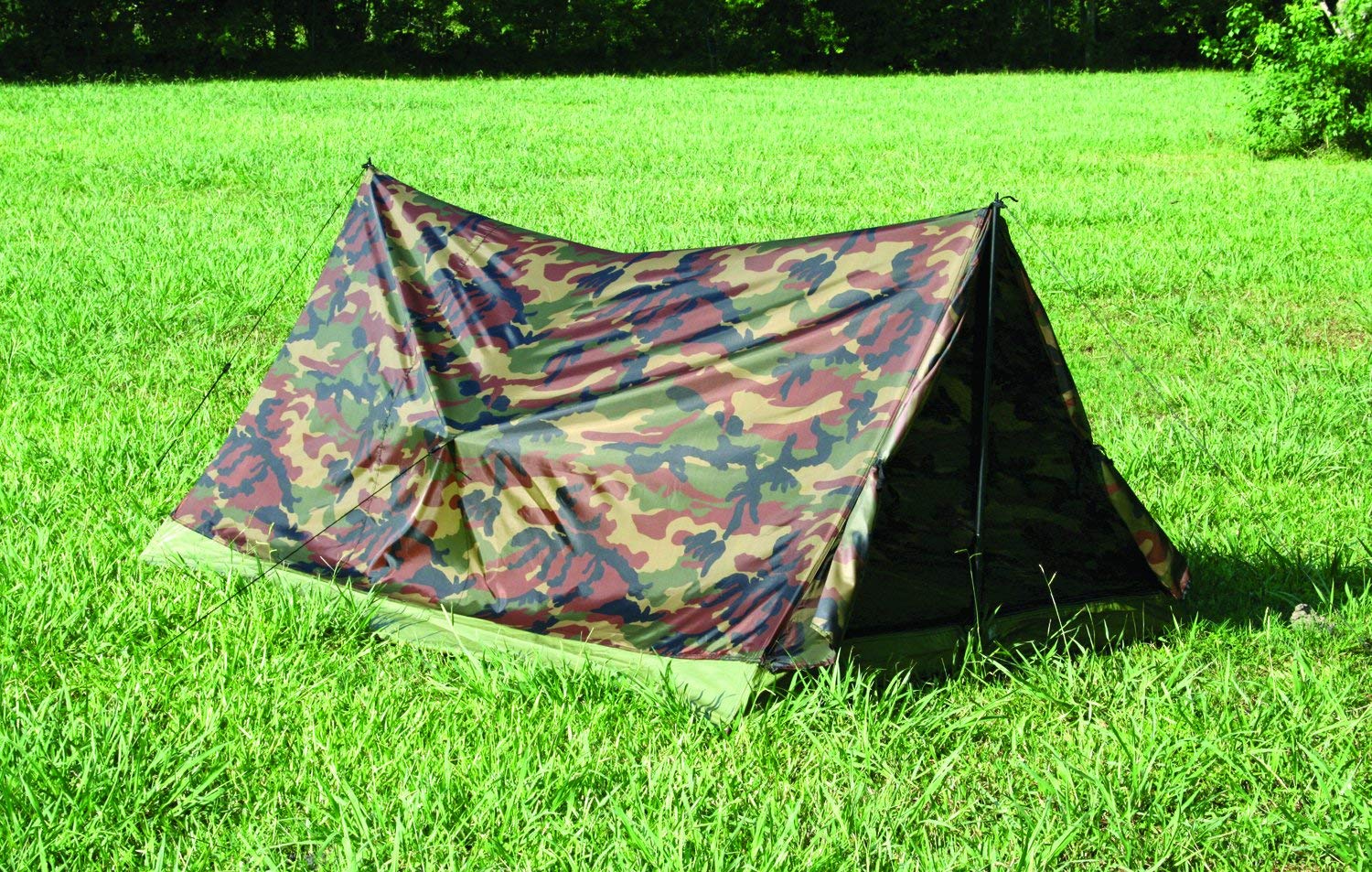 6) Multi-Tools:
Leatherman Wingman: Knives and multi-tools are places where it's really hard to cut corners to save money. Leatherman tools are rugged and I use my Wingman every day. It's served me well and I'd trust it with my life.
Gerber Suspension: I have 4 Gerber multi-tools, mostly the Gerber 600 and Gerber 600 MP Scout. The Gerber Suspension is one I don't have, but based on my experience with Gerber, this one should be comparable.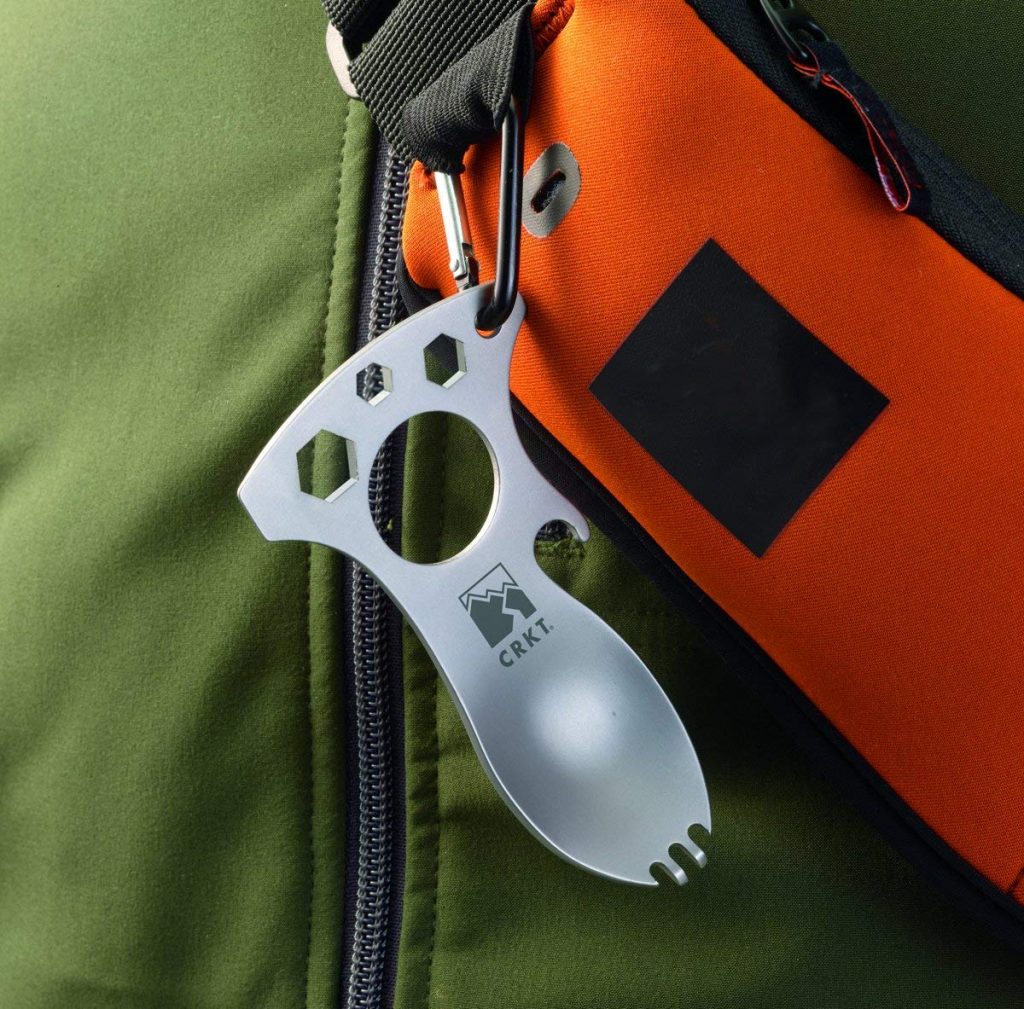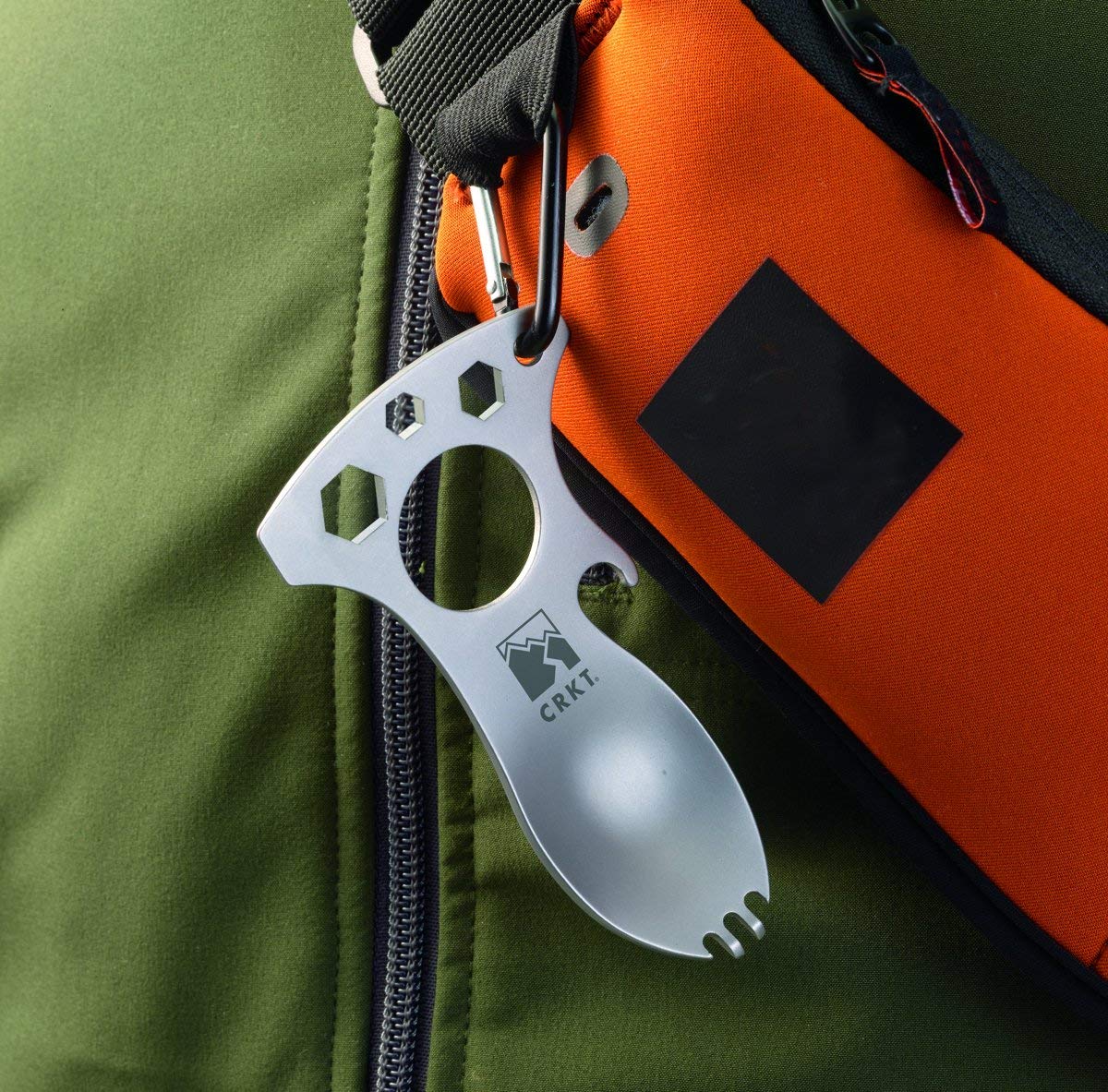 7) Food and Water:
Rothco Canteen / Cup Kit with Cover in Olive Green: Canteen, Canteen Cover and GI Cup. Drink from the Cup and also use the cup for cooking your meals. If you are bugging out a family, just lash one of your skillets to the outside of your backpack! You can also add the Aluminum Canteen Cup Stove  and nest it all together, saving space. Esbit 1400 Degree Smokeless Solid Fuel Cubes would make this a fully complete cook set. Find variable sizes for your bag by using a canteen or Naglene water bottle.
Esbit Ultralight Folding Pocket Stove with Six 14g Solid Fuel Tablets:   If you don't want to use the Canteen Cup Stove, the Esbit folding pocket stove is almost the standard in backpacking/survival stoves and it comes with 6 fuel tablets already.
Columbia River – EatN Tool:  A Spork with a bottle opener and carabiner attachment. Also has a couple hex openings for common bolt sizes. You could just grab your own silverware on the way out the door, but in an emergency who's thinking about flatware?
GI P51 and P38 Can Openers: I know you want to open that can of food you thought to bring. I keep one in my tackle box.
LifeStraw Personal Water Filter: The standard for portable water straws. Filter up to 1000 liters with this amazing device. Every bug out bag and automobile should have one in them. I know I have these stashed in my bags and cars. Do you?
Potable Aqua Water Treatment Tablets: These are great for when you can wait 30 minutes to take a drink. Perfect though for treating the water in your canteen that you just filled from that dirty river! When you make camp, then you'll have time to boil….maybe.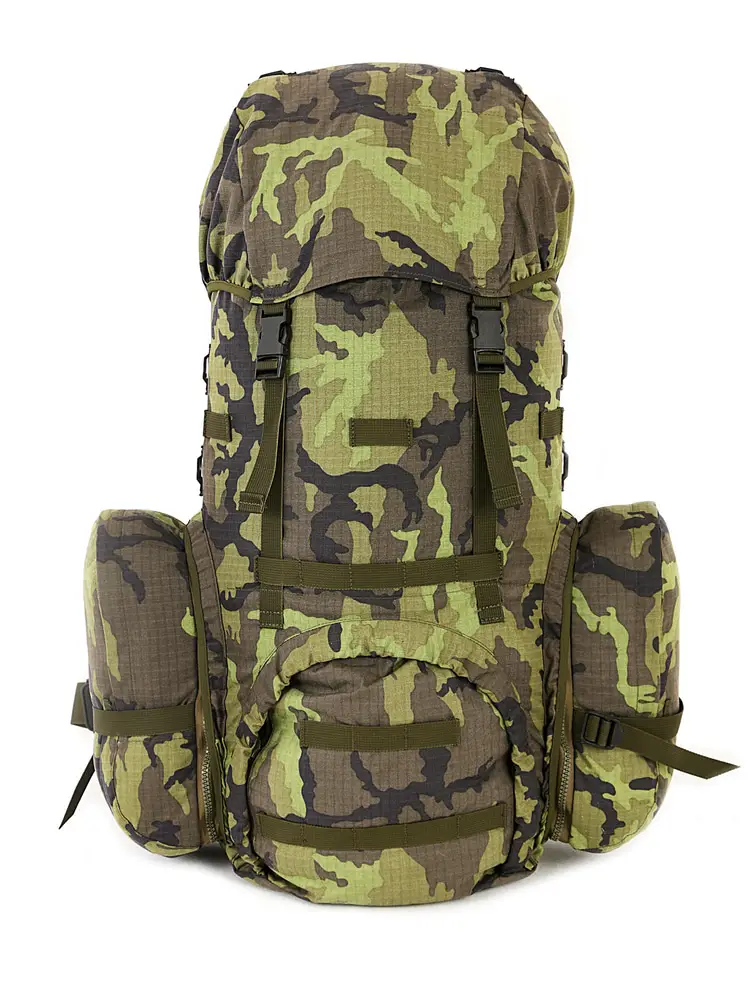 8) Fire:
Lighters, tons of Lighters: I like the outdoors as much as anyone, but if I'm hungry or cold, I want my fire now. I will make fire with firesteel or flint, sure, as soon as I run out of lighters. I have 10 lighters in my bug out bag. I have 2 in my first aid kit, I have 5 in a ziplock bag in each of my cars. I know I can light a fire with cold fingers using a lighter. 50 lighters is not too many, 100 lighters is not to many. Get some and stash them in all your cars and kits.
Coghlan's 1005 Flint Striker:  I highly recommend that you practice with this before you try to use it in an emergency. Yes it will make fire, but you need to understand how to do it.
9) Fishing:
South Bend 137-Piece Deluxe Tackle Kit:   A bunch of good supplies, probably too much. I'd probably take the essentials and move them to a smaller Plano 3214 Stowaway Micro Organizer Box
Fishing Line: South Bend Monofilament Line, 50-Pound:  110 yards of 50 lb test. Yes that's heavy line for fishing, but there's a good chance you'll be using this for many other things.
10) Other:
Paracord: You can never have enough Paracord. This is good to have in Bug Out Bags, automobiles, and in tool boxes. I even keep some in my laptop case.
Duct Tape: You probably have duct tape already, if not make sure to get some next time you are shopping.
Mini Sewing Kit: You don't want to run around in the apocalypse with a hole in the butt of your pants. What would the other survivors think?
First Aid Kits: You can piece together what you need. It's hard to justify buying cheap items when it comes to heath.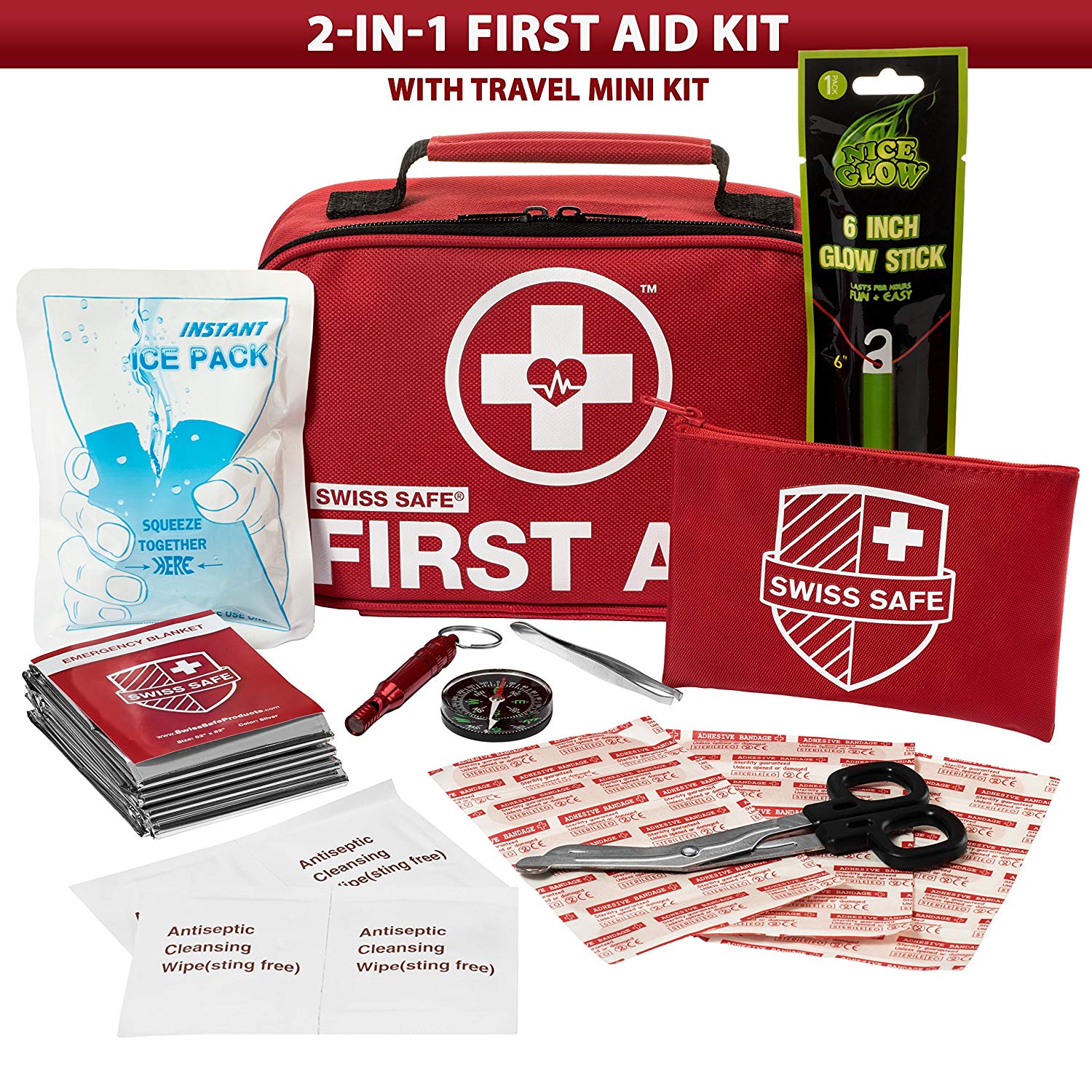 This list of Budget Bug Out Bag items isn't all inclusive. This is only a good starting point or good base for you to modify or substitute according to your needs or regions. Feel free to browse the products on Amazon so you can read the customer reviews, of the products we recommended, and then look at competing or alternate items.
You can also browse our Budget But Out Bag list on our Shopping Portal.
F. Five Essential Grab'n-Go Bug Out Bag Items
You have to bug out, but you can only take 5 items.
I know what my 5 items would be.
Knife (preferably my Becker BK-2 Campanion, but I'd take any knife in a pinch!)
Tarp (preferably nylon, for Shelter, rain harvesting, etc)
cordage (paracord, if given a choice)
Lighter (or firesteel)
Steel camping cup (cooking, boiling water, etc)
That's my list of 5 items. Now what are yours?
A bug out bag checklist, to ensure we have all the gear we'll require when it's time to go!
Preppers must be practical and carry multi-use items.This leads to some very innovative and uncommon Bug Out Bag items. Today we're looking at an item we may all have. 11 uses for a Frisbee for bug out and survival.
G. 11 Reasons to Add a Frisbee to Your Bug-out Bag
Water collection tool: you can get a few cups of water by laying it on the ground during rainfall. Scoop water from a stream. Also could water your dog using it!
plate for food: need to eat off of something
Cutting board: use the bottom of it to slice things up,
Collection basket: collect nuts, berries, edible plants, tinder shavings,
mortar/pestle: you could probably mash or grind up some items, plants, berries or nuts in it
emergency shovel: you could scoop snow or soft soil with a Frisbee
weapon: you might be able to fell small game with a Frisbee, but you could always chuck it at an assailants face for a distraction allowing you to make your move or flee.
Fan: fan yourself to cool down when its hot, fan your fire to help keep it going, blow away smoke and fan away clouds if insects.
Paddle: if you are in a kayak or canoe and lose an oar.
Signaling Device: I chose bright orange so I could wave it around to attract attention
Sport Fun: You can play Frisbee with the members of your group, the ones that aren't on guard or patrol duty.
As an Uncommon Bug Out Bag item, the Frisbee, has a proven that it can serve many role and functions as part of your bug out bag or survival kit. The Frisbee's many uses may allow you to get rid of some single function items in your bag. It's fairly flat and very light weight, which means that you can stow in the back sleeve of your pack.
Let's be honest, Uncommon Bug Out Bag Items are great ideas and items like the Frisbee can seriously be part of the gear, but our main goal is to get you thinking about alternate uses for everyday items.
There are a many many type of Frisbees, some even glow in the dark! Check them out at Amazon.com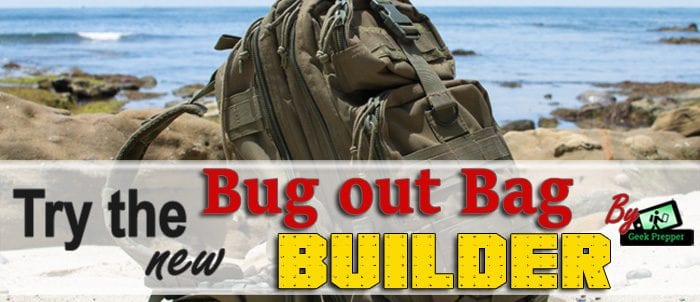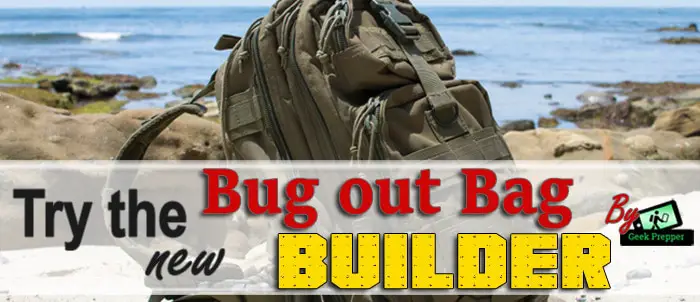 H. One Last Thing: A Walking Stick!
A walking stick is very helpful in the woods, on the trail, at the campsite or even while striding down a sidewalk or road for many reasons.
It can help you with your balance
Crossing water (Rivers, Creeks, Brooks, and Streams)
Hiking up or down hills.
assist you while carrying a heavy pack
Lean on it while at Rest
Reduce Stress on your body (Back, legs, knees, and feet)
Reduces shock on your knees
Reduce pressure to your back and hips
By now you're probably sold, but wait, there's even more!
Miscellaneous Uses
Moving Thorns out of your path so you can pass (Man I HATE thorns)
Moving aside other types of brush
A pole for the side or center of your tarp (or military pocho) shelter
Defense (animals, strangers in the forest).
My favorite use is to indicate to other people that I am hiking and not doing other nefarious things. People see you striding along, take one look at the walking stick and instantly think "Hiking". This is good if you encounter police or accidentally stray onto private property.
Now you ask "John, where can I score one of those fancy walking sticks?". The answer will surprise you.
You can find one in the woods, buy one at many places, or use an old broom or mop handle. Regardless where you get your walking stick, get one. They make a huge difference and come in very very handy.