Preppers need a covert prepper backpack, a bag built to blend in, yet can go operational at a moment's notice.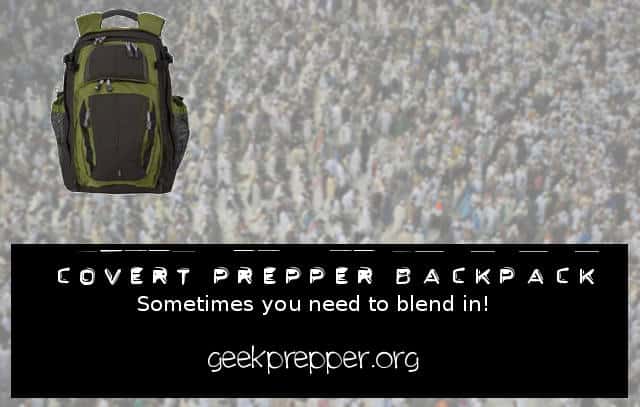 Covert Prepper Backpack
The last thing a prepper wants is to be identified as a prepper, and we sure don't want to be ID'ed as someone who might be dangerous or tactically trained. If we're sporting a military style backpack the bad guys and their spotters will pick us out from the other refugees much faster. This is why I needed to researched a solid, rugged covert prepper backpack.
I am very familiar with 5.11's backpacks and they are very cool, in that tactical, "hey shoot me first" – way. I'm not disrespecting them, I've got a few of their packs, and I love them for non-SHTF use, when it's ok for me to look like a chubby special forces ninja, but when the SHTF, I want to look like any other person and blend in.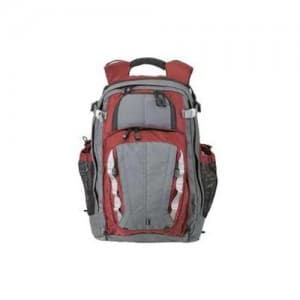 My search for the perfect covert prepper backpack, finally led me to the to the 5.11 Covrt18 Backpack, it took me ages to find, but when I did, I knew I had found a great contender.
Features:
nylon
Main compartment- 19″H x 12.25″L x 6.5″D
front compartment-11″H x 9.25″L x 2.5″D
Concealed R.A.C. (Roll-down assault compartment)
Ambidextrous side-entry Back-Up Belt System compartment
Shoulder straps with QuickTact accessory straps
500D Nylon exterior; 420D Nylon interior
Looks like a normal backpack, my wife had no idea, that I was ready for action, while sporting this bag 😉
Colors:
Ice
Blue Depth
Asphalt/Black
Mantis Green/Dark Oak
Steel Grey/Code Red
One other great thing about the Covrt18 backpack, is that you can carry your laptop in it, you can use it for day to day EDC.  You can use it for clothing and toiletries for a trip, you can use it for your techie work gear bag, you can slap in a hydration bladder and first aid kit and use it for a hiking bag. Then when the crap get's crazy you can stuff it with your bug out gear and it instantly becomes your covert prepper backpack. It looks like a regular backpack but is tactical on the inside.
While this may not fill the role for some, as a super large, heavy load bearing bug out bag (we recommend light and agile bug out bags), this is a great prepper bag that doesn't look like a prepper bag. This is a true Covert Prepper Backpack!