Preppers need a covert prepper backpack.
Check your current bag. Is it built to blend in yet can go operational at a moments notice?
If you don't have this type of bag in your arsenal and you are looking for tips and personal review on the best prepper backpack, you have come to the right place.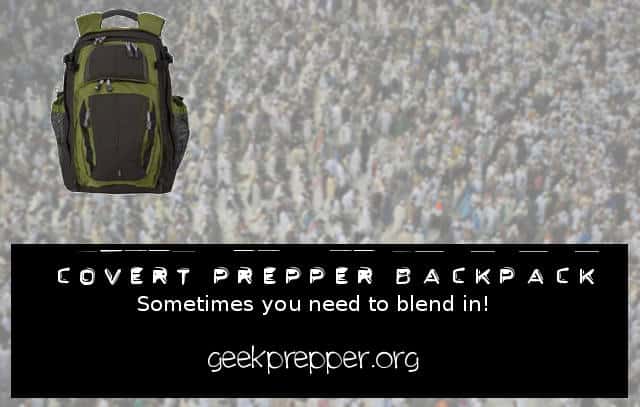 Covert Prepper Backpack
The last thing a prepper wants is to be identified as a prepper, and we sure don't want to be ID'ed as someone who might be dangerous or tactically trained.
If we're sporting a military style backpack the bad guys and their spotters will pick you out from the other refugees much faster. This is why I needed to research a solid, rugged covert prepper backpack.
I am very familiar with 5.11's backpacks and they are very cool, in that tactical, "hey shoot me first" – way.  Some are more attention getting/seeking than others, and the best one is listed below.  
I'm not disrespecting them, I've got a few of their packs, and I love them for non-SHTF use when it's ok for me to look like a chubby special forces ninja, but when the SHTF, I want to look like any other person and blend in.
5 Best Covert Prepper Backpacks
1) 5.11 COVRT18 Tactical Covert Backpack
My search for the perfect covert backpack finally led me to the 5.11 Covrt18 Backpack, it took me ages to find, but when I did, I knew I had found a great contender.  I like mostly because it does not scream "Mr. Tactical", or look at me the Tacti-cool guy.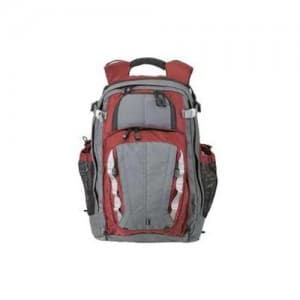 Features:
Nylon

Main compartment- 19″H x 12.25″L x 6.5″D

front compartment-11″H x 9.25″L x 2.5″D

Concealed R.A.C. (Roll-down assault compartment)

Ambidextrous side-entry Back-Up Belt System compartment

Shoulder straps with QuickTact accessory straps

500D Nylon exterior; 420D Nylon interior

Looks like a normal backpack, my wife had no idea, that I was ready for action, while sporting this bag 😉
Colors:
Ice

Blue Depth

Asphalt/Black

Mantis Green/Dark Oak

Steel Grey/Code Red
One other great thing about the Covrt18 backpack, is that you can carry your laptop in it, you can use it for day to day EDC. 
You can use it for clothing and toiletries for a trip, you can use it for your techie work gear bag, you can slap in a hydration bladder and first aid kit and use it for a hiking bag. Then when the crap get's crazy you can stuff it with your bug out gear and it instantly becomes your covert prepper backpack. It looks like a regular backpack but is tactical on the inside.
While this may not fill the role for some, as a super large, heavy load bearing bug out bag (we recommend light and agile bug out bags), this is a great prepper bag that doesn't look like a prepper bag. This is a true Covert Prepper Backpack!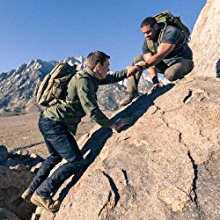 The 5.11 COVRT18 Tactical Covert Backpack is one of the most dependable discreet survival backpacks you can own. It is built to be inconspicuous and subtle, making it perfect in all kinds of survival situations. It is a full-sized bag, which is capable of providing the best tact ical efficiency and utility no matter what environment you are in.
The good thing about this bag is that it provides plenty of storage space. It is roomy enough, thanks to its main and secondary compartments and storage areas that include the back-up belt system area.
Another nice feature of this backpack is the roll-down assault compartment, which is beneficial as it houses a firearm and accessory straps. Furthermore, it has a laptop sleeve in the interiors, which is well-padded, keeping your gadget as secure as possible.
It also has plenty of features in the exteriors designed to improve your comfort level, including the compression straps, adjustable sternum strap, and shoulder straps boasting of a yoke-style structure. This backpack also serves several purposes.
Aside from being a good covert backpack or bug-out bag, it also works as a military or army backpack, hunting bag, hiking rucksack, sling bag, and your daily heavy-duty backpack.
Pros:
Offers the best tactical efficiency regardless of the environment

Made of strong and durable nylon material

Roomy, thanks to its numerous storage areas and compartments

Features adjustable straps

Comes with a laptop sleeve with sufficient padding
Cons: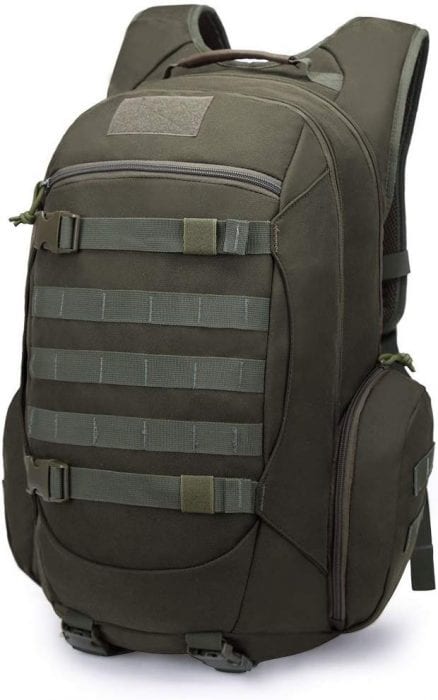 Whether you are searching for a covert backpack that you can use for hiking, motorcycling, traveling, military, hiking, and camping, I am sure that the Mardingtop 25L/28L/35L Tactical Backpack will not let you down. This backpack is highly durable plus it serves multiple functions.
One advantage of this backpack is that its chest straps are sturdy, making them capable of coping effectively with the weight that the bag carries.
With such stability and sturdiness, it is capable of handling even a 3-day period of survival, camping, trekking, or any other emergency.
It features a waist belt design, which has strong stitches. This makes it durable plus easy to put on. It fits snugly and is designed in a way that it does not slide back out.
It is also comfy with the help of its back padding support. This discreet survival bag also features several spaces for your items.
It can hang small items and attach additional gears and pouches. It is even capable of holding a tent, bedroll, and sleeping bag with its two webbing straps with built-in buckle beneath it.
Pros:
Durable

Multifunctional

Can effectively handle heavy weight

Features a waist belt design

Comfortable, thanks to its back padding support
Cons: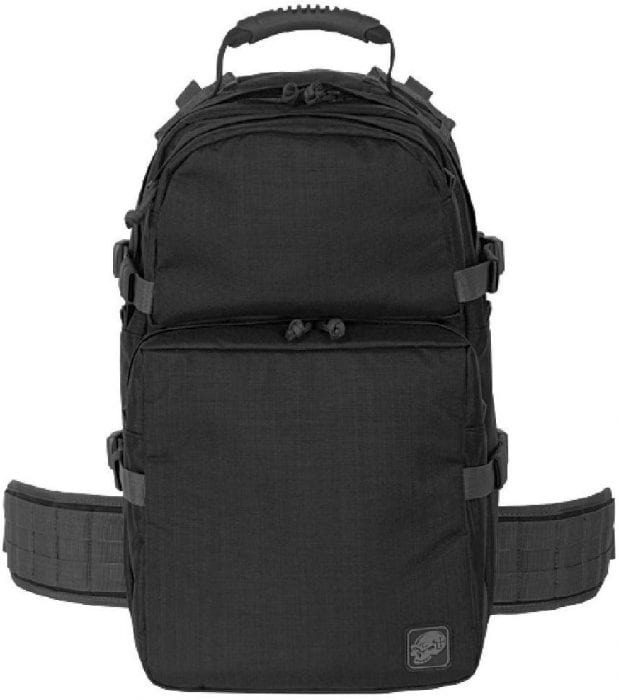 The next covert prepper bag is the VooDoo Tactical Discreet 3-day Pack. Constructed out of 1000D Nylon Condura material, this backpack is a sure hit among survivalists and preppers. I find this bag beneficial for survivalists like me because I noticed how easy it is to blend in with the surroundings making an easy transition to grey man mode. 
It also boasts of a high level of comfort, thanks to the molded and customized back panel integrated into this backpack. The well-contoured shoulder straps are also among its most incredible features as I can easily adjust them based on what can make me feel comfortable.
Add to that the adjustable kidney belt with the right amount of padding and I am sure moving around in any survival situation will be easy and comfortable. This backpack also has advanced and sturdy stitching and high-quality zippers.
It is capable of providing a strong tactical advantage even if it only has a low-profile design.
Pros:
Advanced and sturdy stitching used

Comfortable to use and wear, thanks to its adjustable belt and straps

Offers a strong tactical advantage

Comes with the right amount of padding

Customized back panel built in
Cons:
4) Subtle Patriot USA Backpack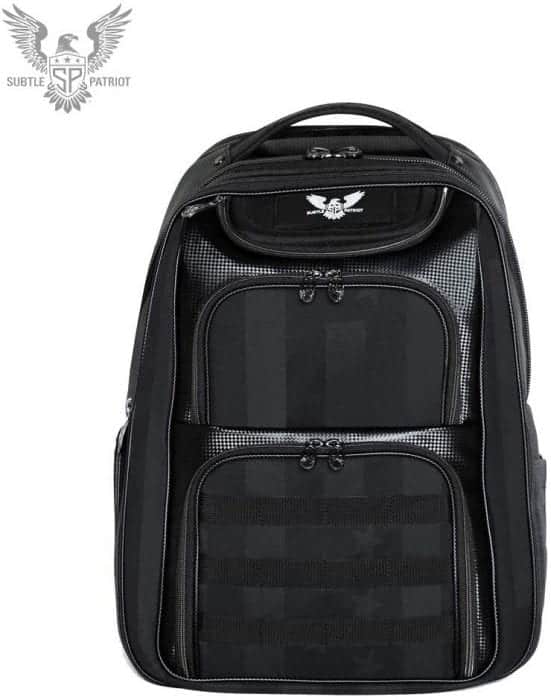 Another covert bug-out bag that deserves the attention of survivalists and preppers out there is the Subtle Patriot USA Backpack.
One impressive trait of this backpack is its versatility considering how it works not only for hunting, hiking, and other adventures and survival situations but also for work and travel.
It is even built in a way that it can securely hold your laptop and other gadgets. All the details in this bag are carefully thought out.
It has well-designed and cool interiors while you will notice nice prints integrated into each pocket.
I like this backpack because it has several pockets, too. It can, therefore, provide a lot of space for all the things you intend to store in there that you can use for emergency, disasters, or any other survival situations.
The zippers are also high in quality. They are built and attached sturdily so they can securely hold the items inside. I am sure you will love its well-designed concealed pocket, too.
Pros:
Versatile as it can blend with different activities

Can hold your laptop and gadgets securely

Well-designed and cool interiors

Comes with plenty of space and pockets

Sturdy and high-quality zippers
Cons: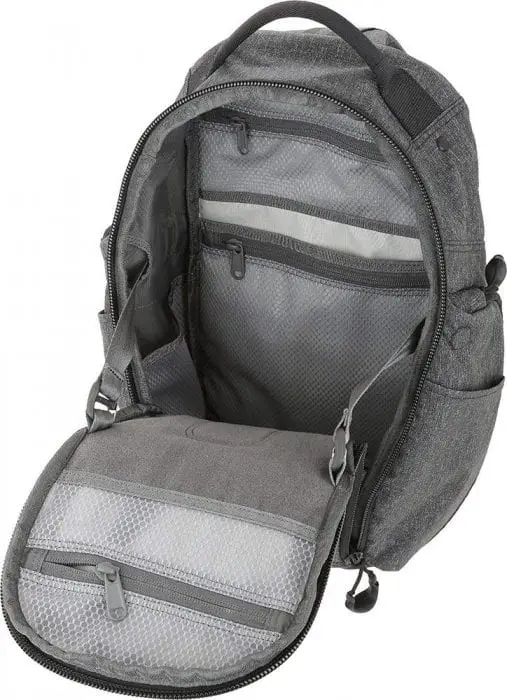 The Maxpedition Entity EDC SlingPack is also another backpack that works incredibly well for all preppers and survivalists.
Constructed from 100% nylon material, this bag will surely serve its purpose for quite a long time. It has plenty of space for all your stuff.
It also boasts of its ergonomic and low-profile design that offers comfort.
The shoulder straps have the right amount of padding plus the buckles can be quickly released. The side pockets built into this bag are also easily accessible.
I am very much satisfied with the lockable compartment integrated into this sling pack as it is also capable of holding a laptop of around 15 to 17 inches in size.
In terms of security, this bag will not also let you down – thanks to its drawbridge straps designed to make the items stored inside more secure. It also boasts of dual side ports perfect for tech cables as well as a loop lined wall that you can use to hold hook-backed accessories.
Pros:
Ergonomic and low-profile design

Features easy-to-access side pockets

Can hold laptops and other gadgets

Secures all your stuff

Long-lasting
Cons:
How to Buy a Covert or Discreet Prepper Backpack?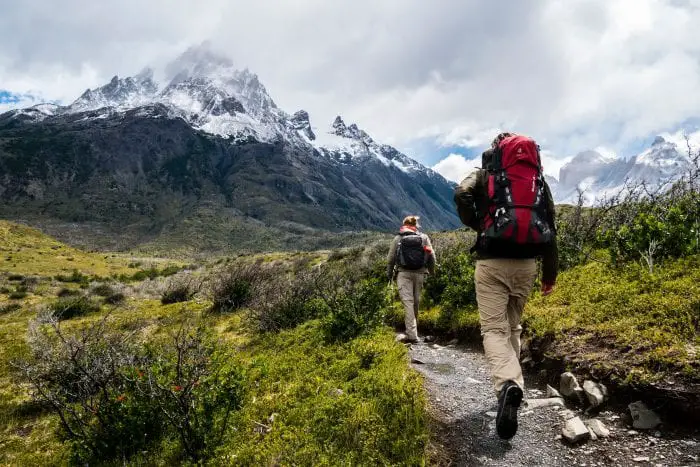 As a prepper or survivalist, you have abundant choices as far as survival or bug-out bag is concerned. It is because these bags continue to rise in popularity as there is also a chance for anyone to experience a natural disaster or emergency.
Note that the risk of earthquakes, hurricanes, terrorist attacks, financial crisis, wildfire, flood, and tornados is always around, which is why several backpacks for survivalists were also introduced to increase one's level of preparedness.
In some cases, people use leisure and school bags, like Jansport, for their survival bags. While these are famous for those interested in covert prepper bags, they are still not recommended because they are not meant to handle rugged and harsh use and abuse outdoors, especially if you fill it up with real and heavy equipment and gears.
To help you find the best discreet prepper backpack, though, make sure to keep in mind these few factors:
Determine the specific environment where you plan to use the backpack first. This is important in figuring out whether the bag perfectly suits the specific area where you plan to use it. You need to make sure that it perfectly blends in the environment where you intend to wear it.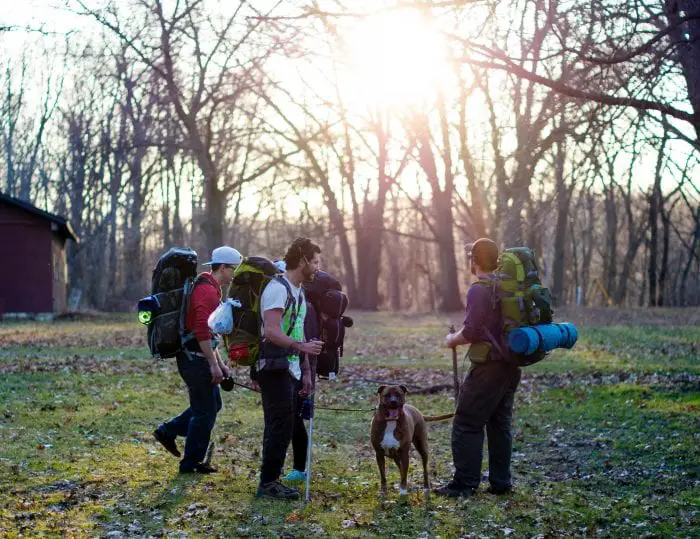 It is also essential to check the size and fit of the bag before choosing. However, take note that you do not need an extremely large backpack to survive.
Note that while it is recommended to have enough space for 3 days' worth of water, gears, and rations in survival situations, it should not still be too large in the sense that it will already hamper your ability to move easily, quickly, and lightly.
The fit should also be perfect.
It should perfectly fit and suit the type of your body. Note that if you choose a covert prepper backpack, which is too large for you then you will most likely feel uncomfortable, especially on the back. This might also hamper your movements.
One way to determine the perfect size and fit for you is to check your torso size. Determine your torso's length as this can help you identify the covert backpack that will fit you comfortably.
Your comfort also matters a lot when trying to pick the best covert backpack.
Among the features that can make this bag comfortable to wear are extra padding, compression straps, and any other component that will help you carry everything you need. In most cases, you can attain a high level of comfort with the combination of a lightweight structure and adequate padding.
It should not stop you from moving efficiently. Make sure that the backpack is also highly breathable. It should be capable of dissipating the heat generated by your body while you are moving.
In this case, backpacks that feature mesh back panels are perfect for you. It is because these can produce a small gap or space that can improve the loss of heat and ensure that your body will remain cool.
Your chosen bag should also allow proper organization.
It should offer a wide range of organizational systems and compartments.
Note that you will be putting several items inside the bag, so they need to be as organized as possible. Find a discreet backpack with multiple compartments. When storing items, group them strategically so you will not have a hard time finding them.
Look for a backpack that features MOLLE organization systems, too.
These are incredible features added to any bug-out bag. It is because the MOLLE webbing comes with straps in the exteriors that make it possible for you to attach gears and other items externally.
However, since what you are looking for is a discreet survival backpack, make sure that the MOLLE< or any tactical attachments are customizable in a way that they will no longer attract unnecessary and unwanted attention.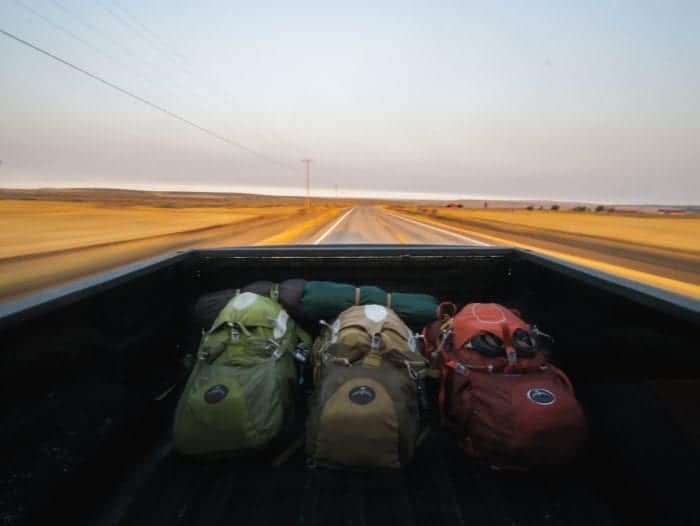 Conclusion
Choosing the best covert prepper backpack is not that hard with the factors and pointers mentioned earlier taken into consideration.
Your goal is to find a bag, which is truly built for survival.
It should also be durable and constructed out of high-quality and heavy-duty materials. You do not want the bag to give up on you too soon nor attract attention during unwanted times, do you? So make sure to shop for a high-quality one that truly serves its purpose.