We've covered the AR-15 briefly in our top survival rifles and today, the modern black rifle is one of the most and sold firearms in America.
This modular, lightweight, accurate, and reliable shooter is favored by preppers for many reasons. 
Perhaps most important is the ability to affordably build and customize your AR-15 for virtually any application.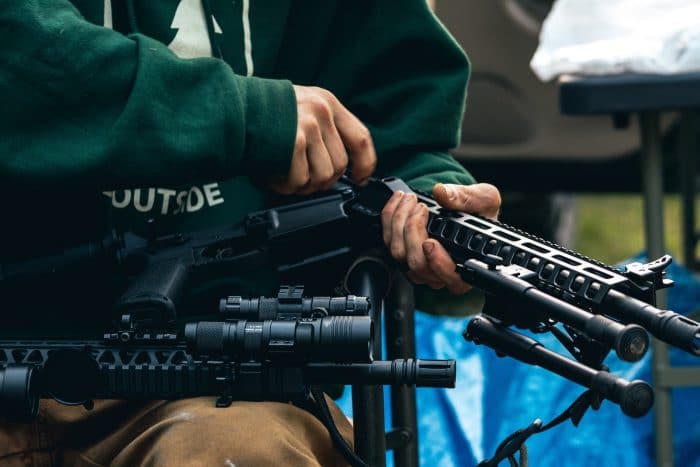 You probably have some questions first, so let's answer the most common ones.
We're covering how to build an AR-15 from muzzle to buttstock, focusing on what parts are best for a well-rounded rifle.
Whether it's a compact 8" pistol for close-quarters defense, an AR-10 for taking game at 400 meters, or the classic 5.56 NATO rifle for a general "SHTF" scenario, the AR can do it all.
AR-15 Build FAQs
Is it legal to build an AR-15?
Yes. The Gun Control Act and ATF both say it's legal to build a gun from parts as long as you can otherwise legally own a firearm.
Some states (like New York, California, New Jersey, and Connecticut) have certain restrictions on AR-15s, so check your state laws before buying any parts.
Do I need to be a gunsmith or have a license to build a gun?
No. Licensing only applies to federal dealers who sell firearms to other individuals.
Are there any special rules I need to follow compared to buying an AR-15?
No. Only the federal laws (and potentially some state laws) that apply to you buying a firearm also apply to building one.
With so many options, what's the standard rifle look like?
The standard AR-15 comes with a 16" barrel and is chambered in 5.56 NATO, or the commercially equivalent .223 Remington, and that's what we're covering today.
The AR-10 is functionally the same as an AR-15 but is chambered in .308 Winchester. Other rifles can be chambered in 9mm (called an AR9) or 300 Blackout.
How much money should I budget for my build?
The AR-15 market is so saturated with parts and makers, quality components have become very affordable. A standard "mid-tier" rifle build with military-spec components can be built for around $500 to $650.
What parts should I buy first?
Excellent segue into our first topic. Only one component of the AR-15 is considered the firearm itself, and it's the part we recommend buying first because it's universal, no matter how you build your rifle.
Everything else you need to build your rifle is not legally considered a firearm and can be purchased online or at a gun store like any other consumer product.
How to Build an AR-15: The Parts List
The AR-15 is quite literally split in half. Two segments, the barreled upper receiver assembly and the lower receiver assembly, combine to make a functional rifle.
Let's summarize the parts list, then we'll dive into the specifications you should look for when it's time to buy each component and put it all together.
Barreled Upper Receiver Assembly

The barreled upper receiver can (and should) be purchased fully assembled since it isn't considered a firearm. Or, you can purchase all the parts individually though installing the handguard, barrel, and gas system requires specialty tools.
If purchased assembled, the upper is considered a "ready-to-fire" component and once mated to an assembled lower, is capable of chambering, firing, and cycling rounds.
The barreled upper assembly consists of the:
• Stripped Upper Receiver
• Barrel with Barrel Extension
• Gas Block and Gas Tube
• Bolt Carrier Group
• Charging Handle
• Front Sight Post (optional)
• Forward Assist (optional)
• Threaded Muzzle Device (optional)
• Ejection Port Dust Cover (optional)
Lower Receiver Assembly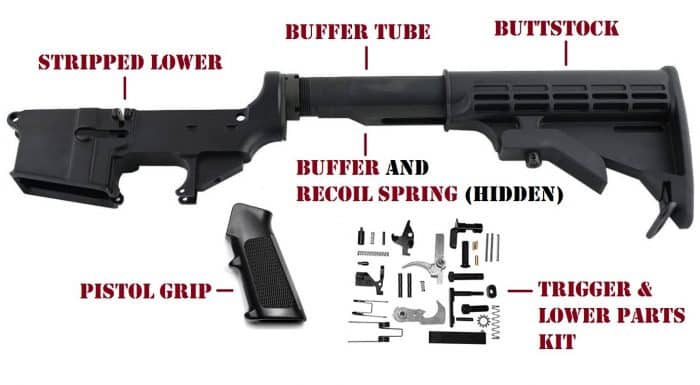 The lower receiver assembly contains the fire controls and hosts the magazine, buttstock, and pistol grip:
• Stripped Lower Receiver
• Pistol grip
• Lower Parts Kit
o Trigger
o Hammer
o Disconnector
o Safety Selector Lever
o Pins and Springs
o Pivot and Takedown Pins
• Buffer tube
• Buffer
• Recoil spring
Assembling Your AR-15
Since most builders opt for buying a barreled upper assembly, the only part that actually constitutes building your rifle involves installing the lower parts kit into the stripped lower receiver, and then attaching the buffer tube and buttstock.
It's a surprisingly simple process that requires no knowledge and few tools. The process can be completed in roughly two hours once all parts have been acquired.
Truthfully, the most time-consuming portion of building an AR-15 isn't the build itself. It's picking out the individual parts and configuration that best suits you. That's the bulk of what we're covering today, including recommendations for where to find all these components at decent prices.
Upper Receiver Parts & Specifications
We're covering the gold standard stuff in a "good-better-best" approach. With hundreds of manufacturers and custom parts, it would take a large field manual to cover all possible AR-15 variants, specifications, and parts. This guide will afford you the components you need to build a reliable, accurate "mil-spec" rifle.
Let's start with the business end, the upper receiver. Although we're covering the upper assembly piece by piece, chances are high you'll find a fully assembled option that matches exactly what's described below. Some of the top makers provide affordable uppers with all the specifications described below:
• Primary Arms
• Palmetto State Armory
• Palmetto State Armory
Stripped Upper
The stripped upper acts as the housing for the bolt carrier group. It contains the barrel extension, which the BCG interfaces with. The outside threads at the front are where the barrel attaches via a high-torque (around 35-50 ft.-lbs.) barrel nut.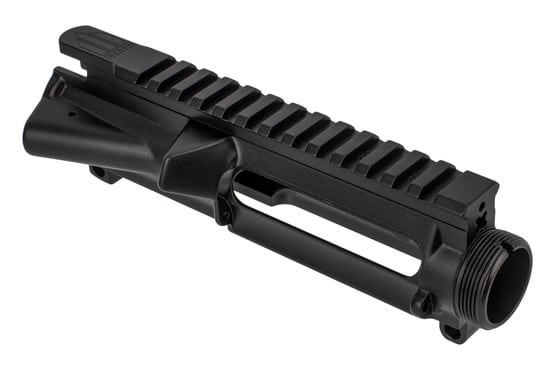 Specifications
Material: Almost all stripped uppers are made from forged 7075-T6 aluminum. Some specialty builds might use carbon fiber or billet aluminum, but 99% of all commercial units are forged.
Features: You'll want to look for an upper receiver that contains M4 feed ramps. These help ensure the rounds being loaded from your magazine don't get tripped up. Again, virtually all stripped uppers come with these feed ramps.

Optional: Most stripped uppers come with a forward assist for forcing the BCG into battery when dirty, as well as a dust cover. If you want an ultra-light and compact build, you can buy a "slick-side" upper that does not come with either feature. These features are not required.
Top Rail: All modern uppers include a Picatinny rail for mounting any iron sights or optics. Upper receivers are available that mimic the design of older M16s, with an integrated carry handle and rear iron sight, but these generally prevent using a modern optic of any kind.
Barrel

The barrel is arguably the most important piece to this build. It'll determine what ammo you shoot, how far you can shoot, and how accurate your rifle is.
Specifications
Length: The minimum legal length for any rifle's barrel is 16", which happens to be an optimized length for 5.56 NATO and .223 Remington cartridges. Investing in a shorter barrel will require configuring your AR as a pistol without a buttstock (more on that later). For these two cartridges, longer barrels don't provide distinct advantages as far as accuracy is concerned.
Profile: Barrels are shaped in different profiles, which increase or reduce weight and may aid in accuracy. The most common (pictured above) is the M4 or Government profile, a middle-ground choice in weight, ruggedness, and accuracy. Bull barrels increase accuracy and heat dissipation during rapid-fire, while lightweight and "pencil" profiles greatly reduce weight.
Material: All modern AR-15 barrels are made from 4140 Chromoly, 4150 Chromoly/CMV, or stainless steel, most often 416R stainless. The 4140 steel is softer and more affordable, though almost all non-stainless barrels are made from 4150/CMV. This is considered "mil-spec". A stainless barrel will afford slightly better accuracy, though they are typically more expensive.
Twist Rate: Twist rate is the number of inches the rifling travels before making one full rotation. A twist rate of 1:7 means the rifling rotates once every seven inches. The 5.56 NATO and .223 Remington cartridges are most sold in 55-grain or 52-grain loads, like Federal American Eagle. These loads favor a 1:8 twist rate.
If you're gunning for accuracy and long-range shooting, stick with a 1:7 twist rate. This "faster" rate will better stabilize heavy match-grade bullets that typically weight 77 to 87 grains, and will still work well with those common 55- to 62-grain loads, too.
Gas Port Length: The AR-15 uses a direct-impingement gas system. It feeds excess gas traveling through the barrel back into the upper receiver via a gas block and gas tube, to cycle the bolt. There are four gas tube port lengths available for the AR-15: Pistol, Carbine, Mid-Length, and Rifle-Length. Pistol-length systems are designed for subsonic or low-power cartridges and specialty short-barrel or pistol builds.
Carbine and Mid-length systems work best for the 5.56 NATO and .223 Remington cartridges in a 16" barrel. Either of the two is suitable, though a mid-length system will induce less felt recoil. Rifle-length gas systems are designed for long barrels (20" or more) and .308-chambered variants like the AR-10.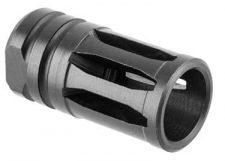 Barrel Extension: Virtually all commercial barrels come with the barrel extension installed and torqued. Installing a barrel extension is a specialty gunsmithing application beyond the scope of this article. Don't buy a barrel without the extension installed.
Threads and Muzzle Devices: Almost all 5.56/.223 barrels come with 1/2×28" threads, which is a universal standard for all .22-caliber muzzle devices to attach to.
The most common muzzle device is the traditional "A2 Bird-cage" flash hider which is most often included on assembled uppers and performs quite well. Custom compensators and flash suppressors can be purchased and installed at your discretion.
Barrel Coatings and Treatments: Stainless barrels are untreated and feature no coating, while 4140 and 4150/CMV barrels ship with either a phosphate exterior coating and optional chrome lining, or a nitride coating on both the exterior and interior. Nitride is the favored treatment, improving barrel and protecting the rifling against lead fouling and corrosion better than chrome-lining, while providing higher accuracy.
Chrome-lining was once the popular choice among commercial AR-15 barrel makers, though because of nitride, it is now typically reserved for fully automatic applications and other, larger weapon platforms.
Gas System

The gas system contains two simple components: The gas block, which seats to the barrel and captures excess gas, and the gas tube, which connects the gas block to the upper receiver and bolt carrier inside.
Specifications
The four gas system lengths are as follows:
• Pistol: 4" (meant for barrels 10" or less)
• Carbine: 7" (meant for barrels 10" to 18")
• Mid-Length: 9" (meant for barrels 14" to 20")
• Rifle-Length: 12" (meant for 20" and longer barrels)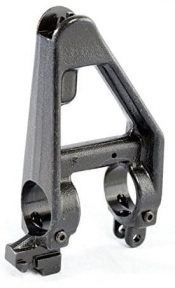 Gas Block Types: The most common and simplest gas block is the low-profile block. Low-profile gas blocks can fit underneath the handguard, allowing longer handguards with more mounting points and rails to be installed over the barrel.
The old-style gas block which also contains the front sight post is considered an "M16"-type gas block and requires a special two-piece handguard to be installed with it. We recommend the low-profile gas block.
Adjustability: Some gas blocks can be adjusted to provide more or less gas to the bolt carrier. These are typically used on low-power cartridges and suppressed rifles shooting subsonic ammunition. They aren't required for the standard 16"-barreled rifle shooting 5.56 or .223.
Gas Tube: The gas tube will measure up with the four gas system lengths described above. All gas tubes are the same diameter, so only length is a required consideration. Most tubes are made from steel and are either stainless or carbon steel coated in nitride or phosphate.
Handguard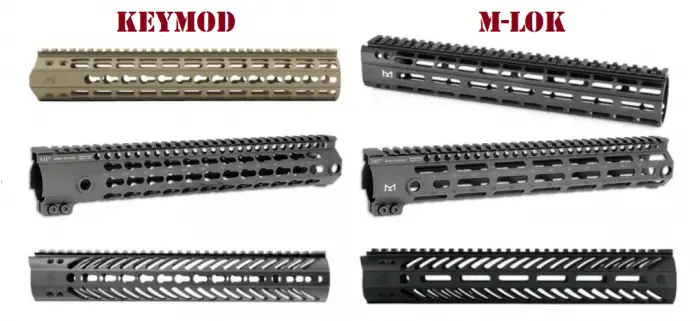 The handguard will determine how heavy your rifle is and what type of mounting system is used for securing attachments, front iron sights, and accessories.
Specifications
Mounting/Rail Systems: The common Picatinny rail remains a widely popular choice among AR builders, though M-Lok and Keymod, two newer attachment systems, are also available.
We recommend avoiding Keymod and sticking with Picatinny or M-Lok rails. USSOCOM stress-tested all three and found Keymod to be generally inferior.
Attachment Method: Handguards are either free-float or two-piece. Free-float guards "float" over the barrel and do not contact any part of it, with the low-profile gas block tucked underneath. This generally increases accuracy.
Two-piece handguards require the M16-style front sight post and gas block and are more rugged. Free-float guards attach via the barrel nut and upper receiver itself.
Bolt Carrier Group

Moving back into the upper receiver, the bolt carrier group interfaces with the hammer, magazine, and lower receiver to chamber, fire, and cycle rounds.
Specifications
Type: Bolt carrier groups are standardized for all 5.56- and .223-chambered AR-15s, and come in profiles: Commercial/lightweight, or M16/Full Auto. An M16 BCG will not make your AR-15 fully automatic and it is legal to own one.
These bolts are heavier, more durable, and reduce felt recoil. Commercial bolt carriers simply have less material built into their bodies and provide a slightly lighter weight solution.
Coating: Most bolt carriers are coated with nitride or phosphate, though more expensive options can sport a chrome, nickel, or titanium nitride treatment. These provide natural lubrication and may appear more aesthetic, though they're typically much more expensive than a "mil-spec" phosphated BCG.

Charging Handle: The handle used to operate the bolt carrier is standard fair, made from billet or forged aluminum with a basic phosphate coating. Custom handles with wider grips or more aesthetic coatings can be installed, if desired.
You should now have a basic understanding of all the components required to buy a properly configured upper receiver assembly. Let's take a look at the lower receiver assembly, which includes the firearm component of the AR-15.
Lower Receiver Parts & Specifications
Functionally, the lower receiver assembly is simpler than the upper receiver. The most complex component of the lower assembly is the parts kit and trigger assembly, which is also generally standardized.
The most critical portion of this is picking the stripped lower receiver, which is the only component you need to purchase through an FFL or local gun dealer by conducting a background check, like a regular firearm purchase.
Because this is typically purchased by itself with the other required parts added by you, the builder, we'll provide individual recommendations for purchasing each component.
Stripped Lower Receiver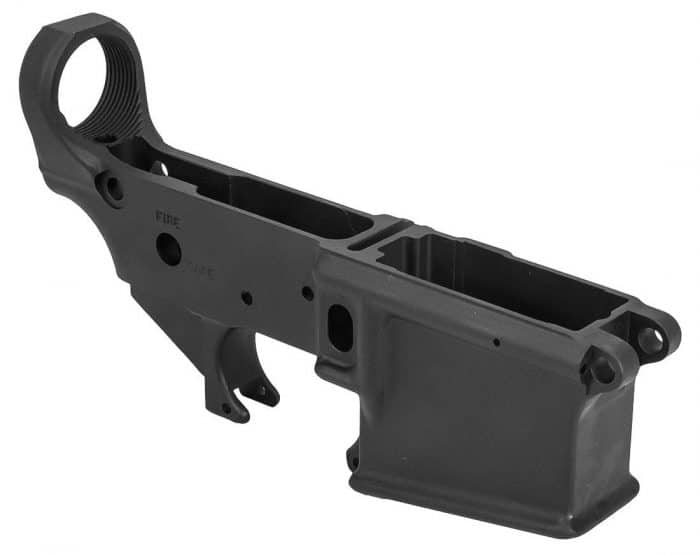 It doesn't look like much but in the eyes of the ATF, this is a firearm. No trigger, barrel, or other parts are required for it to legally be considered as such.
Specifications
Material: Like the stripped upper, the stripped lower is incredibly simple, most often made from forged (7075-T6) or billet (6061-T6) aluminum. Some niche manufacturers have developed lightweight carbon fiber and polymer receivers for ultra-light builds.
Coating: Like the stripped upper, most lower receivers sport a mil-spec matte black anodized finish. Others may come with Cerakote coatings or custom colors, which typically cost more.
Functionality: The stripped lower is fabricated and ready for the trigger, hammer, safety, and parts kit to be installed. This is why the ATF considers it to be a firearm. In recent years, the amateur gunsmithing community and preppers alike have gravitated toward using receiver blanks for their AR-type builds. Commonly called an "80% lower receiver", these units require some additional fabrication – like drilling the parts kit's pin holes and cutting part of the cavity for the parts kit – to be made functional.
This is legal to do under federal law, though some basic tools and machining knowledge are required.
Recommendations: (Buying your lower receiver online will require that it be shipped to a local gun dealer for the paperwork and background check) Anderson Manufacturing's stripped lower most closely matches the military's M4 lower receiver in fit and finish.
Palmetto State Armory provides the most affordable options, including blemished receivers for those who don't mind function over form, and Aero Precision offers receivers with unique or custom features and some interesting aesthetics for a few extra bucks.
Lower Parts Kit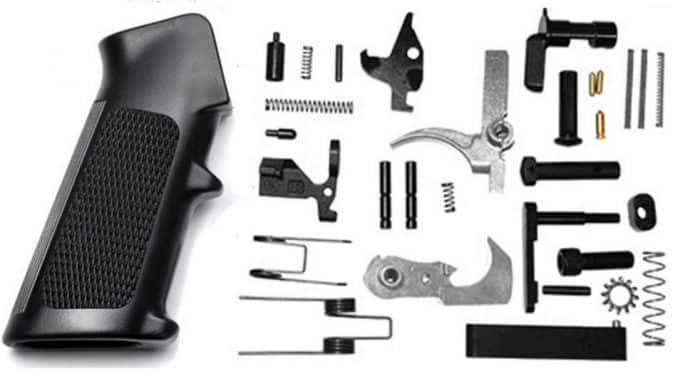 The "meat" of the lower receiver provides all the functions for operating your AR-15. Some parts kits may not come with a pistol grip, so double-check your choice does, or purchase one if required.
Material: The parts kit needs to be standardized for it to work with all AR-15 lower receivers, so virtually all LPKs use the same steel, brass, and aluminum components. "Mil-spec" kits use matte black-coated carbon steel triggers and hammers, while some kits use stainless steel to reduce carbon fouling.
Trigger Types: Most kits use a simple single-stage trigger which is considered "mil-spec". More expensive kits will provide adjustable triggers or two-stage triggers that aid in accuracy. These are more expensive.
Parts Included: All parts kits contain the following:
 

 

• Bolt Catch
• Bolt Catch Plunger
• Bolt Catch Roll Pin
• Bolt Catch Spring
• Buffer Retainer
• Buffer Retainer Spring
• Disconnect
• Disconnect Spring
• Hammer
• Hammer Pin
• Hammer Spring
• Magazine Catch

• Magazine Catch Button




• Magazine Catch Spring




• Pistol Grip Lock Washer




• Pistol Grip Screw




• Pivot Pin




• Pivot Pin Detent




• Pivot Pin Detent Spring




• Safety Selector Lever




• Selector Detent

• Selector Detent Spring




• Takedown Pin




• Takedown Pin Detent




• Takedown Pin




• Detent Spring




• Trigger




• Trigger Guard




• Trigger Guard Roll Pin




• Trigger Pin




• Trigger Spring
Recommendations: Anderson Manufacturing's stainless steel parts kit is a highly-rated stainless mil-spec choice. Palmetto State Armory offers affordable kits, too, including Magpul's higher-end kits.
In addition to installing a standard parts kit, Rise Armament's drop-in triggers provide a big upgrade with an easy installation. These drop-in triggers can be adjusted and provide two-stage function.
Buffer Tube, Spring, and Buffer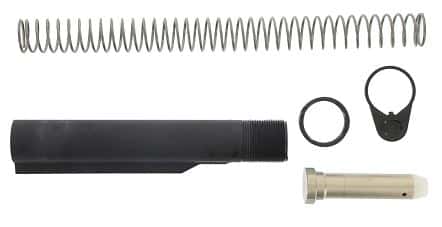 Unless you're building a short-barreled rifle, pistol, or other cartridge, the standard Carbine buffer tube, mil-spec Carbine buffer, and standard recoil spring is the gold standard for all AR-15 builds chambered in 5.56 and .223.
Material: All buffer tubes are made from aluminum. Mil-spec tubes are made from forged aluminum, while commercial tubes are made from billet. These two tubes are not interchangeable.
You'll need a mil-spec, forged receiver for a forged tube, and a billet receiver for a billet tube. The threads on both combinations are not interchangeable.
Dimensions: Mil-spec tubes measure 1.14" in diameter while commercial tubes measure 1.17" in diameter. This is why the threads on both tubes are not interchangeable.
Recoil Spring: Recoil springs are universally the same for the AR-15. Custom springs are available for specialty applications, but that is the beyond the scope of this article.
Even SBRs, pistols, and other cartridges will almost always work with the typical AR-15 recoil spring.
Buffer Weight: The buffer acts as the counter-weight to the bolt carrier as it cycles back and forth. The buffer absorbs recoil and pushes the BCG back into the receiver via the recoil spring. Buffers are available in the following weights:
• Carbine (3.0 ounces)
• Heavy/"H" (3.8 ounces)
• H2 (4.6 to 4.7 ounces)
• H3 (5.0 to 5.4 ounces)
• Pistol (5 to 8.5 ounces)
• Rifle (5.0 ounces)
Again, stick with a Carbine buffer for your 16"-barreled rifle. If felt recoil is high and you're running a Carbine-length gas system on your upper receiver, a Heavy/"H" buffer will reduce that recoil and remain reliable when cycling ammunition.
If your rifle short-strokes or fails to feed ammo, your buffer may be too heavy. For your gas system length. The longer the gas system, the less energy gets transferred to the bolt and buffer itself.
Attachment: All buffer tubes attach to the buffer tube housing built into the lower receiver.
To secure the threads, a latch plate and castle nut are provided. The included castle nut threads will match the mil-spec or commercial tube's threads.
Recommendations: The buffer tube, buffer, and recoil spring are so simple and standardized that we recommend simply purchasing these components with the manufacturer you buy your receiver from.
Virtually all manufacturers provide the same, exact setup. Buying the buffer tube from the receiver manufacturer will help ensure the threads on both units match.
Buttstock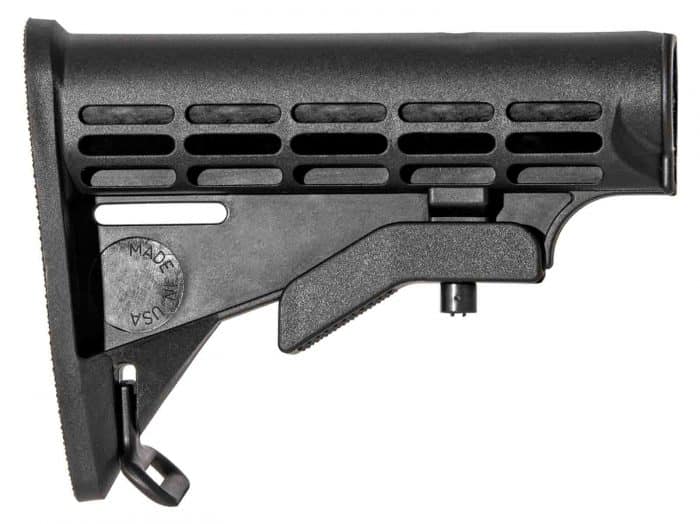 The buttstock pictured above is the most common type of stock found on most AR-15s. It's a six-position adjustable stock that matches the style found on modern M16s and M4s.
It allows for easily adjusting length of pull for any shooter. Though not the most comfortable, it's often the most affordable choice.
Material: To help mitigate recoil, all AR-15 buttstocks are made from high-strength molded polymer.
Finish: Since polymer comes with its own black finish, no special coatings are usually present on buttstocks. Stocks can be ordered in custom polymer colors.
Fitment: Like the buffer tube and receiver, buttstocks must be sized for the tube diameter itself.
Recommendations: Magpul's buttstocks are arguably the most popular choice for most AR builders. They're lightweight, compact, provide a wider surface for a good cheek weld and sight picture, and they provide some additional shoulder padding for comfort. Magpul's stocks come adjustable or fixed.
For a truly high-end buttstock designed for long-range shooting, XLR Industries provides custom (albeit expensive) stocks with built-in buffer tubes, adjustable shoulder pads, and adjustable padded cheek risers. These kits are made from lightweight aluminum or carbon fiber.
Optional: Complete Lower Receiver Assemblies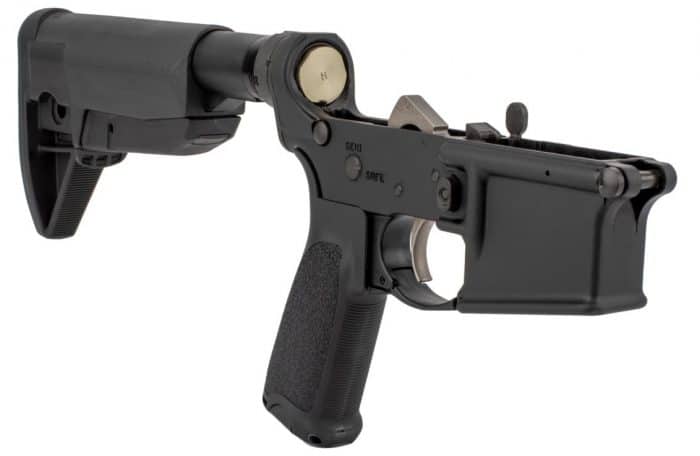 Like the barreled upper, a complete lower receiver assembly can be purchased already installed and ready to fire.
Purchasing the entire assembly is no different than buying the stripped lower receiver by itself. You'll need to have your assembly shipped to a local gun dealer if bought online and a background check and paperwork need to be filed.
Palmetto State Armory, Aero Precision, Primary Arms, and Anderson all provide complete lowers.80% Lowers offers a mil-spec 80% lower assembly with all components and a receiver blank for fabricating.
This is the only "complete lower assembly" that would not require a background check or FFL and would instead require the necessary cutting and drilling operations to be made functional.
Rifle Scopes:
The AR-15 is the most customizable rifle available in the United States. Adding a rifle scope is common, probably because it is so useful. And while the shooter can do a lot with a standard iron sight, he or she does usually need the right skills first.
Adding a red dot AR-15 rifle scope is often the very first optic upgrade most experts suggest. This is because it is more accurate than the standard scope, and the variable optic allows the shooter to see smaller targets at longer distances, over 500 yards, say.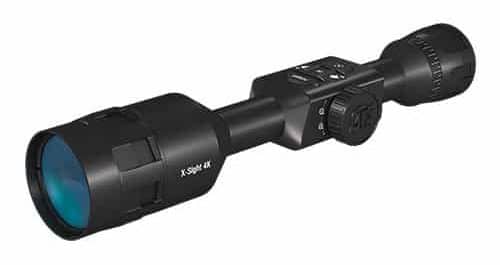 Furthermore, if the shooter wants to keep to shorter distances, such as 200 yards and under, these optics make for even more accurate shooting, and they work well in low-light situations too.
Of course, the term 'red dot' is generic these days, as the dots can now also be found in amber or green. But whatever color the dot is, it is great for close-range shooting, such as home defense. 
It is also used a lot in tactical situations and many rifle competitions. However, red dot sights are mostly used for hunting. Holographic sights, or Holos, can also be added to the AR-15 rifle.
These are similar to the red, green and amber dots, but they make use of laser transmission and can be more versatile. Take plenty of time to choose an optic, and think carefully for what you want it for, as the right one will give yet another dimension to your shooting.