When comes to a SHTF scenario, you will need a reliable survival rifle.
However, picking the right gun can be overwhelming, especially with the many options on the market.
If you need a rifle for home defense, target shooting or hunting, with all the optimal features, you've come to the right place.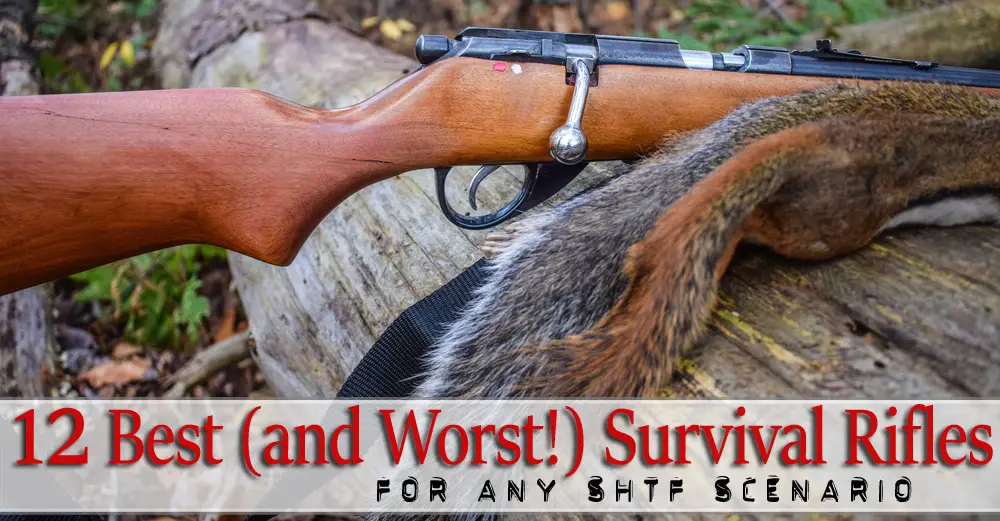 This guide provides you with important suggestions for acquiring and using a survival rifle. The rifles we feature are reliable and durable. Read on to learn about survival rifles, best tips for use, and our top survival rifle recommendations.  
A) Rifle Types and Calibers
Although there are several types of rifles and calibers, each is best suited for particular SHTF scenarios. 
To help you make the best selection, this guide is focused on the four major categories of SHTF scenarios and the best rifles and calibers for each category.
In short, the survival firearms you need depend on the task required as well as the nature of the survival situation. So, what do you intend to use the survival rifle for? Here is a breakdown of the main survival tasks in four broad groups:

1) Wilderness Survival Small Game
When confronted with a wilderness survival situation, there is a high chance that you might need to live off the land. This means that you need a firearm that is effective in harvesting small game.
Luckily, there are several small game animals in many geographic locations including possum, rabbit, squirrel and more that can see your family through this situation.
Regardless, bringing down small animals can be quite tricky. Luckily, there are many excellent rifles suitable for the small game arena, and each can fire different types of calibers.
The 17HMR cartridge is quite popular for good reasons. It has a remarkable velocity and uses a variety of varmint rounds. The .22 magnum is also great due to its extreme power that supersedes the .22LR. However, the .22LR is the best for survival. It offers incredible performance and is highly rated for various reasons.

Firs, it is a versatile, desirable and affordable round. Second, you can pack them in your pockets without much notice. 
The Scoped Ruger 10/22 takedown is our best pick in .22LR. While a Remington 597 is a great alternative, but the internal parts of the Ruger are more impressive compared to this Remington's delicate internal parts.
2) Wilderness Survival Big Game
So, you want to bring down a ten point buck at 300 yards? Which rifle do you need? Well, you definitely need a strong, stealthy long-range rifle.
A cartridge that remains deadly at 300 yards distance or more is the most suitable. You don't want just to wound and lose the buck. The shot has to be precise. 

With this type of goal, it's important to emphasize accuracy, power and speed. Therefore, the mid-sized cartridge won't be practical.  What would be ideal is 170-220 grain region in.30 calibres.
Other great alternatives include .30-06. 300 Win Mag or. 308 Winchester. The Remington 700 is also an ideal choice. It features an innovative design that is never obsolete. In fact, it's considered the mainstay of bolt action sniper rifles and a super deadly rifle great for hunting large game.
3) Self Defense Long Range (250 Yards+)
Killing intruders at long range is no joke. You need to have the ultimate rifle and rounds designed for home and personal defense. Having effective signage can keep the enemies away, but you don't want to scare them by firing in their direction only to miss them. That implies the rifle and rounds of ammunition used must possess excellent accuracy and lethality.
One of the best to use is Remington 700. This survival rifle can kill a deer at 250+ yards away, which means it can also take down your enemy. However, the advantage of the bolt action of the rifle on accuracy can also be a liability when the situation calls for follow up of a shot. While a deer might hang around for some time figuring out what's happening, humans will realize immediately.

In this case, a semi-automatic option would be best if the target has to be human. To this regard, the AR-15 in 5.56 NATO, scoped AR-10 in .308 NATO are great options. The AR 10 boasts outstanding knockdown power. However, the AR 15 has a high-quality buffer to reduce the impacts of recoil, so there is less chance of missing due to higher accuracy.  
4) Self Defense Short Range (Under 250 Yards)
To understand the best rifles for close range defense, you need to understand your environments. If you live in a dense forest, then your needs are quite different from someone who lives in a plains/open area. This means you require different rifles for self-defense.
However, you need a firearm with enhanced reliability and accuracy in either case.
You need to focus on a weapon with excellent accuracy to hit a target at less than 200 yards away. The challenge with close range is that there is a possibility of receiving return fire, or being charged, disarmed, etc… For this reason, every round must be precise and at no moment should the weapon jam.

The AK 47 can blend well in such a situation. The only disadvantage is that accuracy of this weapon reduces once on full auto mode. But, the "Americanized", a semi-automatic AK-47 variant is a great firearm that can do the job in this and many other scenarios.
You can choose the standard 30-round magazine or go for the high capacity option with 75 round drums! Although the drum one can offer more rounds, they will add weight to the already heavy AK, which will make it less transportable, and more difficult to wield. Furthermore, you might be tempted to spray and pray instead of aiming carefully with 75 rounds available.
B) The Best Rifles for Wilderness Survival Small Game
1. Ruger 10/22 Take-down
The Ruger 10/22 Take-down is a wonderful choice if you want the best rifle for the hunting small game. It features a design that is rugged, and easy to clean and maintain. Thus, it is best for going deep into the brush and  hunting small animals that like to hide in the thick underbrush and in trees. This rifle is closely matched to the Remington 597, but there is still something special about this gun.

It boasts a sturdy construction with external and internal parts. With the incredibly durable design, the Ruger 10/22 Takedown rifle can serve you for decades.
Apart from the rugged and weatherproof design, this rifle boats ultimate shooting power and accuracy. Hence, it is the best rifle for hunting small game.
2. Henry Classic Lever Action .22
If there is a must have rifle for small game hunting then it's the Henry Classic. It's an amazing .22 LR which is a favorite firearm for many hunters.
What makes this rifle one of the most famous .22 rifles available today is its clear, accurate shooting and reliability.  Additionally, the Henry Lever Action is remarkably affordable compared competing rifles.

The Henry Lever Action is designed with a good-looking American walnut stock; something idea for mounting above the fireplace or by the entryway. This exceptional quality is usually a feature of weapons which are double or thrice its price.
Its action is so extremely smooth, that it might lead first timers to believe that it magically shoots with no internal parts. This rifle is a great deal and can assure success in small game hunting when you find yourself in an SHTF scenario. 
3. Kel-Tec Sub-2000 Rifle 40 S&W 16.1″ 15+1
If you want a powerful rifle which you can easily conceal, this the most practical option. It features plenty of plastic composite making it very lightweight at only 4.25 pounds. It measures about 30.5 inches when unfolded, and 16.5 inches folded. So, you can conceal it in a bag and travel with it for self-defense machine.

Despite it's compact size, it offers a lot of power and can accommodate heavy rounds to suit your short-range shooting. The KEL-TEC Sub-2000 Rifle has a great punch thanks to its 40 S&W ammo. Perhaps this is why most small game hunters prefer this weapon. It's a suitable choice for SHTF scenarios that demands an effective rifle for survival.
C) The Best Rifles for Wilderness Survival Big Game
4. Browning BLR Lightweight '81
The '81 is outstanding among other types of models in the Browning BLR lightweight series. It's a carbine length lever-action is built with an aluminium alloy stock, 20-inch barrel, rotary bolt locking system and a detachable 4 round box magazine which drops free when you press the release.

It is available with a curved pistol-grip or a straight-grip. You can also find a take-down version that allows easy transport or shipping.
The long-action and short-action model '81 can accommodate various hard-hitting calibres to suit a big game survival situation. They include 450 Marlin, 358 W, 308W, 300WM and 270 WSM.
The advantage of this weapon is that doesn't only pack a punch, it is also easy to carry. This firearm is designed with a short barrel that allows you to shoot in the timber, a ground blind, and from a tree stand.
It comes with an easy loading magazine which enables you to get fast follow-up shots. In summary, if flexibility and durability are your concerns then this is gun will make a good investment.

5. Winchester M70 Super Grade
M70 Super Grade is one of the world's most respected bolt-action big game rifle for solid reasons. It features enhanced pistol grip stock, fixed extractor, controlled feed, and MOA trigger mechanism for excellent performance.
These features together with its classic Mauser action that has a 90-degree bolt lift and the two front locking lungs. It comes with a 24-inch barrel, weighs over 9 pounds and chambered for .30-06 loads.
The incredible weight increases its shooting accuracy making it ideal for the wilderness survival big game. With this rifle, you get an easy time carrying it, and you don't have to worry about being knocked over by recoil. Besides, its new MOA trigger can be adjusted, and its receiver makes loading much easier and quicker.

6. Kimber Model 84M Classic
The Kimber 84M is another bolt action rifle that will give you an impression that it's customized to fit your needs. It is chambered in short-action .308 Win, 7mm-08 Rem, and 43 Win including .338 Federal and a 5-round magazine.
The weapon also has an adjustable trigger designed to release at 3.5-4 pounds. The overall length of Kimber 84M is 41 1/4 inches and has a 22-inch light contour barrel. Together with its scope and mount, the firearm weighs 7 pounds.

This rifle is ideal for the big game offering you easy loading, steady balance, short barrel-length, and is lightweight which makes it a great bolt-action rifle. Its adjustable trigger is an outstanding feature that has earned this hard-hitting ultralight weapon respects for its accuracy.
D) The Best Self Defense Long Range (250 Yards+)
7.  AR-15
AR-15 is designed in different styles, and it's one of the widely used rifles across the world. This semi-automatic AR-15 emerged to become a favorite weapon used by civilian groups, law enforcement, and in the military.
Its popularity can be attributed to its reliability and accuracy with many levels of customization, due to its two-piece receiver and a modular design. The rifle can fire .233 or 5.56x44mm caliber rounds delivered from a 30-round magazine.

A great rifle in the AR-15 series for self-defense in long range is the DPMS Sportical. It has a lightweight and comes with ready-to-shoot carbine-style AR that has an adjustable stock and a 16-inch barrel. Just like most AR's, this rifle can be upgraded and accommodated with various accessories to suit your needs in a SHTF survival situation.
8. Armalite AR-10
Stopping power is an important aspect to consider in a survival rifle. The Armalite AR-10 is designed to work well for defense in long range situations. It features impressive features, and its light weight won't burden you when you need to move.

The rifle is also gas-operated, magazine-fed, air-cooled and uses a piston within the bolt carrier that has a rotary bolt locking mechanism. It conventional layout comprises of a buttstock, handguard, reinforced fibreglass pistol grip, aluminium alloy receiver and an in-line stock.
It features high muzzle velocity and remarkable hitting power which makes it a suitable rifle when you are confronted by threats such as bears or an angry mob at at some distance away. It's no doubt why the rifle was a key battle rifle in the US military at some point in time.
9. Remington 700
If you are looking at getting accurate shots over long distances for defense, then you will want to consider Remington 700. It is designed by a well-known and respected firearms producer, Remington. This means that its quality is exceptional and satisfaction is guaranteed.

The rifle uses powerful 7 mm Remington Magnum rounds which enables it to punch hard even at long ranges. The 7mm magnum rounds enhance the rifle's accuracy in great distances due to the boost in muzzle velocity they retain. You will be astonished at the level of damage left upon hitting the target.
The Remington 700 can be used in various types of weather. It is built using the outstanding Bell & Carlson M40 synthetic tactical stock. Its reliable bolt action round chambering also makes maintaining the rifle easier. If you expect to find yourself in an SHTF environment, then you can count on this rifle for survival.
E. The Best Self Defense Short Range (Under 250 Yards)
10. "Americanized," semi-automatic AK-47 variant
For long term use, it seems like the AK-47, with it's loose tolerances and rugged dependability should be the winner hands down. The AK-47 has been battle tested and proven. It has been buried in mud, filled with sand, picked up out of rivers and in almost every case, has worked without flaw.
This rifle is specially designed to hit the target at 200 yards range. It does so with great precision and knockdown power. This long caliber rifle can help you survive a disaster. It features a sturdy design but is lightweight. It offers little kick or recoil. Thus, it is great for beginners who are new to guns.
It can be a great option for kids and young adults who want to master the art of shooting. It features a tough and over-engineered design. Also, it is easy to customize with various accessories to increase its convenience.

However, the extra accessories may increase the overall weight. It uses 7.62×39 mm round which is highly lethal and travels at outstanding speeds. It has a high level of accuracy and leaves impressive damage.
Aside from its ease of use and training, this firepower can be significant for the close and medium range. These carbine rifles usually come with 10 round rotary magazines that fit flush in the gun.
It is easy to change the magazine even for the beginner. Thus, it is ideal for self-defense at short range like 100 yards due to accuracy, ease of use and speed. In addition, it features a threaded nozzle. Therefore, you can mount a silencer to eliminate excess noise.
The problem with the AK-47 for your SHTF rifle is the availability of the 7.62×39 ammunition. After the apocalypse, imports of ammo will likely stop, and all the AK-47 ammo will get snatched up quickly.
11. Ruger Mini-14 Ranch 18.5″
Despite having a wooden stock design, this gun is a real defensive weapon. It is small, lightweight and incredibly versatile. It can be a good hunting rifle as well as short and medium range defense weapon.

It features an ergonomic design that allows you to easily outfit it with a scope. With the scope on top of this gun, your target has slim chances of surviving. Using the gas operated chambering its rounds are quickly chambered.
Thus, it gives you added advantage if your enemies are hitting back. Amazingly, this rifle only weighs 7.5 pounds when fully stocked with accessories. So, it is a great deal for defense as long as you won't overload it with unnecessary accessories . Moreover, you can send up to 21 rounds before you need to pick another magazine. In addition, it can readily use the Remington 223 rounds which are pretty easy to find.
12. M1 Carbine
As old as it may sound, this rifle is one of the best for combat. Although it has not been active on duty since the Vietnam War, it was and is still considered a lethal weapon.
The design was intended to be lightweight and compact as an improvement of the M1 Garand, and this rifle offers amazing speed and accuracy. This makes this weapon one of the versatile rifles for hunting game.

Apart from its versatility, it is affordable and uses .30 calibre rounds. The standard version comes with 15 round magazines, and the gun is extremely maneuverable during close-range operations.
However, it is becoming increasingly hard to get the original M1 carbine. But once you get one, the rifle is battle ready, and next to unstoppable for hunting and defense.
The modern version of the M1 carbine is the AOM130 and is readily available at a considerable price. This rifle weighs as little as 5.4 pounds and features 18 inches barrel and a traditional walnut stock.
The .30 calibre rifle is becoming increasingly  hard to find and is very expensive. However, this is the only draw back that the rifle has but performance is exemplary especially as a hunting rifle.

F) Top 4 Popular Types of Guns Not Ideal for SHTF
Selecting a good firearm to protect your family, property or for hunting is quite important as you prepare for an SHTF scenario. But you don't want to spend months preparing only to experience challenges with the guns when the time for survival arrives.
While many firearms are perfect for hunting and home defense in such a scenario, there are also many guns that are not suitable. They have limitations such as lack of reliability, poor reload times, limited ammo capacity or poor stopping power among others.
You can use some of these guns for backup but be hesitant to entirely rely on them for help in SHTF situation because they are not smart.
Here are some of the worst guns in each category:
1. Wilderness Survival Small Game
Single Action Revolvers
Single action revolvers like Ruger Vaquero and Colt Peacemaker are not just beautiful; their accuracy is superb. However, that alone

is not enough to make them a favorable choice for an SHTF situation. If we compare them with semiautomatic pistols they lack ammo capacity.  
Slow reload time is another disadvantage of these firearms. This is because you will need to remove every shell casing after firing manually. The fact that cocking the hammer for every single pull of the trigger is done manually makes these weapons unfit for an SHTF gun.
2. Wilderness Survival Big Game
Oversized Revolvers
Generally, revolvers in this category such as .500 Smith & Wesson Magnum, .454 Casull, and .44 Magnum are typically designed for hunting. However, the challenge is that they can be excessively noisy and controlling them when firing is also difficult due to excessive recoil. This means that if you miss the first shot, then you will have less of a chance of hitting your target.

You might also be blinded by the increased muzzle blast and flash when in a low light situation. The many drawbacks of these revolvers make them unsuitable for use during an SHTF scenario.
For a wilderness survival big game to work, you need a highly reliable rifle with no flaws. You don't want to harm yourself in SHTF situations, something which could happen when using these guns.
3. Self Defense Long Range (250 Yards+)
Single Shot Shotguns or Rifles
Most single shot shotguns and rifles are designed with chambers for .22 LR cartridges or 20-gauge shells for shotguns. Due to this, they don't deliver the stopping power that is necessary for self-defense on long range especially when confronted with multiple targets.

They are also built to accommodate only one shot which means that you will need to reload after every shot. This prevents you from seamless aiming at a moving target since reloading forces you off target.
During a SHTF scenario, everything needs to be perfect, and you don't want to waste any chance of taking down the enemy. This is why you shouldn't rely on these weapons for primary defense.
4) Self Defense Short Range (Under 250 Yards)
Pocket Pistols
Pocket Pistols such as Ruger LCP are increasingly becoming trendy due to their small size allowing users to keep them in their pockets. If you need a gun that you can hide without it getting noticed by anyone, then you may find these firearms appealing.
However, this class of guns are not suitable for SHTF scenario due to poor power. They also have high recoil that will limit your firing rate and accuracy and the stopping power is not sufficient for self-defense on short range.
In short, you don't just pick a gun for use in a SHTF simply because it can fit in your pocket. Finding a rifle that you can rely on to defend yourself or your family means looking beyond concealability. It should be able to deliver perfectly. 
G. Ammunition Availability
Here in the USA you can pick up .223 or .308 Winchester ammo almost anywhere. You can head down to the hardware store in some small towns and purchase it, you can get it at Wal-mart, or maybe someone you know has some sitting in their garage.
With ammunition availability as a serious and primary consideration, I personally like the AR-15 due to it's ammunition and part availability. In some area's though, the "scary" looking AR-15 is regulated or outlawed, but no one would bat an eye at your a Mini-14 Ranch rifle, also chambered in .223
There is also the bonus of the "Reach out and touch someone" of the  .308 (7.61×51 NATO) round. The .308 is serious round with an effective range of more than 800 meters. An AR10, Cetme or HK G3 with some optics would really extend your reach.
Obviously there are other choices.  These recommendations are based on my research and my personal preference. Remember to keep ammunition availability in mind when choosing your SHTF rifle!
G) Accessories That Make Using A Rifle Easier
1. New-Era Shooting Vest
Apart from protecting you from misfires and recoils, this bulletproof vest allows you to carry important rifle accessories. You can now go to the range and keep your gear secure and ready for use. The design of this vest features a contoured right armhole which delivers a stable and natural shooting motion.

It also features a removable shooting pad at the right shoulder. This is an important feature that ensures recoil is reduced to a tolerable and safe level. Also, Cabelas men's shooting vest features a zippered media pocket.
This pocket is uniquely designed and secures your device for extended shooting. For additional storage, this men's shooting vest features flapped pockets for accessories.
Additionally, it has bellow pockets to store shotshells. It's top-rated design also features side panels made of polyester material. Thus, the shooter enjoys comfort due to increased airflow.
For a little side bonous, this vest gives you a few style points when you are in the range. It features shock-corded loop making it easy to organize earplugs, sunglasses and other functional accessories.
2. MTM Tactical AR-15 Magazine Can
Are you looking for the best magazine carrier? The MTM Tactical AR-15 offers the best features for anyone looking for the safest and convenient way of storing or transporting magazines.
It features a sturdy design and has a capacity of 15 AR-15 magazines. It is incredibly versatile since it can hold both 20 and 30 round 223/5.56 magazines.

It keeps your stash secure due to the generously padded interior walls. It features pre-cut foam, and the nicely designed ridge keeps the magazine secure and safe from bumps. It also eliminates scratching and sliding when on the go. The can is designed to offer safe storage and transportation of magazines and ammo. 
Additionally, it offers a perfect fit closure to ensure antitheft and safety. Thanks to the O-ring seal design with dual side latches which aids in tight closure.
For added safety and security, they can also feature three padlock tabs and four tie down points which increases your peace of mind. Featuring molded in ridges, the can is stackable, and therefore you can store several in a small space.
3. Quake Claw Rifle Sling System

This is one of the best rifle sling systems available today. It features an innovative design that makes it very quiet and efficient in the field. Quake Claw uses a unique concept that is quite new to the market.
It features Hush Stalker swivels designed to eliminate squeaking and sliding. In addition, it has a rubber claw pad that has excellent nonslip features to grip your shoulders comfortably.
Furthermore, this pad stays securely on the shoulder without bouncing and sliding. This is important when you're in the field and you don't have the time for slippage.
The unique pad material is designed to stay flexible even when the temperature is extremely low. This flexibility is perfect because you will need a high degree of maneuverability in the field.
Also, the pad material is UV stabilized. Hence, it will resist cracking and fading as a result of prolonged exposure.
Another good feature of this sling is that it doesn't retain water. This means that this it performs in all weather conditions, unlike the foam and leather slings.
4. Caldwell DeadShot FieldPod
The Caldwell Deadshot Field pod offers a rock solid bench stability to ensure the best balance of your sniper rifles and other arms.
This innovative cast aluminium hub is incredibly lightweight, allowing excellent portability so that you can position it anywhere.
It features an ergonomic design that enhances easy rotation and tilting ensuring quick and stable target acquisition.

This aluminium gun rest bench also has a high strength extruded construction. The incredible strength and corrosion materials make it one of the most durable shooting benches and is compatible with a variety of rifles.
The design is also unique since it features rear and front supports which independently adjust in height. This increases the maneuverability of the gun depending on the shooting trick and target.
Additionally, the upper frame is adjustable as well as the pivot point promoting a perfect balance and stability.
The gun rest also features a robust dual tube frame design to ensure solid stability when loading and shooting. Moreover, the one-piece design allows you to collapse easily and fold for hassle-free storage and transport
The innovative concept of this shooting rest doesn't end there. The legs are  adjust independently between 20 to 42 inches.
This adds the ability to mount and use it on uneven surfaces also aided by the rugged feet, providing excellent grip on various surfaces.
Final Thoughts
It is evident that not any one weapon is suitable for any situation. Every performs best as specific tasks, like most tools or gear, during a SHTF situation.
This means that you should be prepared with a rifle that fits the SHTF situation that you anticipate.
When making a selection, never forget that the rifle you pick could be the lifesaver for you and your family. Always go for one that is reliable and performs well.
The purpose of these 12 best survival rifles for SHTF scenarios alongside the worst rifles for each situation is to give you insights on which best suits the survival situation.
If you make your selection, then your survival will be more assured until order is restored in your area.