When you think of a rifle, what's the first model that comes to mind? If you said an AR-15, you're not alone.
The AR-15 is great, but if you're looking for something with some serious stopping power, the AR-15's 5.56 caliber ammo might not cut it. That's where the AR-10 comes in, often marketed as the AR-15's big brother.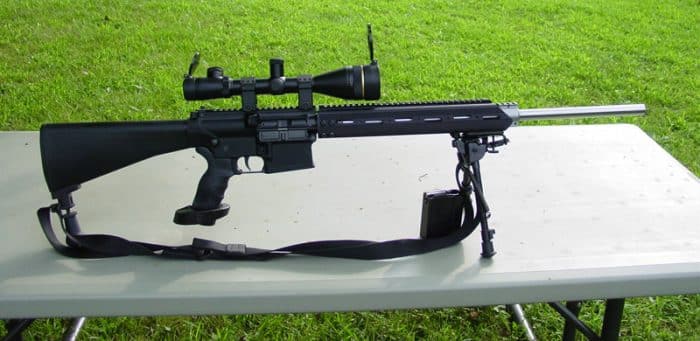 The AR-10 which is a  civilian version of the military M-16 is currently the most popular semi-automatic rifle in America. It's also earned quite a negative reputation thanks to popular media dubbing any semi-automatic gun in the news an AR-15, regardless of its caliber or manufacturer.
What sets the AR-10 apart from other semi-automatic rifles on the market today, and what are the best AR-10s available?
A. The Specs of an AR-10
The AR-10 and AR-15 might be two totally different rifles, but they spring from the same family tree.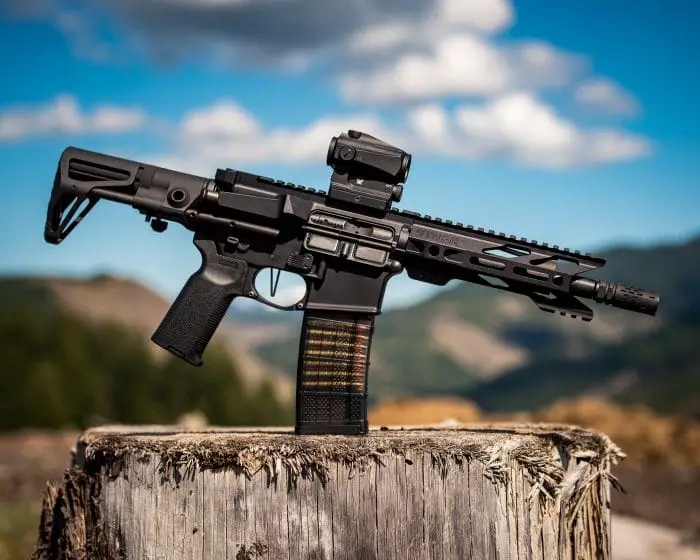 Contrary to what popular media would have you believe, the AR in their names stands for Armalite Rifle, not assault rifle, and both of these firearms owe their creation to the Armalite company. This business opened its doors in 1954, offering the AR-1 as a lightweight tool for paratroopers.
We're comparing the two models below primarily because so many people are familiar with the AR-15.
The main difference between the AR-15 and the AR-10 is in the caliber.
The AR-15 is designed to be lighter and to fire smaller rounds — 5.56 or .223 caliber. This sacrificed some stopping power but allowed troops to carry more ammo. The AR-10, on the other hand, will help you stop whatever is in your path with extreme prejudice. They're designed to fire 7.62 or .308 caliber ammo.
When you compare the two, it's easy to see the difference. The AR-10 will be a couple of pounds heavier than its smaller counterpart and may have a slightly longer barrel. The AR-15 achieves marginally higher muzzle velocity, but the AR-10 has a much better effective range.
Mechanically, they're nearly identical.
They come equipped with the same direct impingement gas system, and they use a rotating bolt design and equal trigger groups. The AR-10 will just have a little bit more heft and larger rounds than the AR-15.
B. Why Choose an AR-10?
Why should you think about choosing an AR-10 when it's so easy to walk into your local gun store and bring home an AR-15?
The fact that the AR-10 uses larger and heavier rounds means it's an effective tool for hunting, as well. It's capable of easily downing most large animals in the United States, or abroad if big game hunting is your thing.
In the right hands, an AR-10 offers fantastic accuracy at extreme ranges, though it may be more expensive to bring home ammo to feed this beast. Still, if you're planning some big-game hunting or long-range shooting, the AR-10 is an ideal choice.
C. Top 8 AR-10
As with any firearm purchase, it depends on what you're going to use it for.
The AR-10 has a dramatically more effective range than the AR-15 or other similar rifles. A skilled shooter can hit targets up to 2,500 yards away, making it an ideal choice for long-range target shooting.

You either love the fact that this rifle's name is pronounced "Reaper" or you hate it, but either way, it's a fantastic entrant on our list.
REPR stands for rapid engagement precision rifle, and that's exactly what you'll get with this gorgeous AR-10.
It's designed to fire 7.62 x 51 mm rounds, providing long-range accuracy that makes it a contender for the military's Compact Semi-Automatic Sniper program. If things go well, the REPR could replace the M-110, which is current military equipment for snipers.
This AR-10 is so accurate that you can hand it to a first-time shooter and have them nailing targets at 325 yards and beyond in no time. It also tends to run a little cleaner than many other AR-10 models, even after heavy use. This isn't a traditional AR-10, but it's built on the same body, so we've included it in this list.
You've got three barrel length options to choose from with the REPR, 12.7, 16 and 20-inch, depending on your needs. Each is equipped with the brand's proprietary muzzle brake, and the longer barrels definitely add quite a bit of weight to this rifle.
This isn't a problem if you're target shooting, but it might get to be a bit much if you're hauling it through the brush on a big game hunt.
Suggested Retail Price: $4,150.00
Top Features:
Unparalleled reliability and easy maintenance
Ambidextrous Charging Handle
Easy operations with gloves
Capable of Sub-MOA Accuracy
If you're going to create a list of the best AR-10s you can buy, you can't go wrong by going back to the source.
The AR-series rifles originated with Armalite, and while it never made it into military hands, it is still one of the best AR-10s on the market today. This particular AR-10 is designed to fire .308 rounds and comes with a 20-inch barrel equipped. That barrel is stainless steel and designed to help dissipate heat to prevent the rifle from overheating during rapid fire.
All-told, Armalite's AR-10 is 43 inches long and weighs 9.7 pounds, making it one of the heavier entrants on our list.
That barrel is also equipped with a custom compensator that hides muzzle flash and helps to reduce the weapon's recoil as well. If you need to put multiple bullets downrange in the same spot, the Armalite AR-10 Tactical Rifle makes it easier to do that.
Instead of using a direct impingement system, it's equipped with a gas system that works through the entire length of the rifle. It also allows you to add a suppressor if necessary or legal in your area.
Suggested Retail Price: $2,099.00
Top Features:
15″ Free-Floating Tactical
Adjustable gas block
Dual-purpose flash hiding compensator
If you're heading out into the brush, you want something that will keep firing even under less-than-ideal circumstances. That's where the Grey Ghost comes in.
This rifle might not be the sturdiest AR-10 on our list, but it is definitely one of the best for dirty situations like long hunts through the wilderness. It has a shorter-than-average barrel and a collapsable stock, making it easier to transport if you don't have a motorized way to navigate through the woods.
Of course, if the short barrel won't cut it when you're aiming for downrange, there are plenty of barrel options for you to choose from. Accuracy is everything, and the barrel of your AR-10 plays one of the most important roles in determining how accurate your rifle is.
It doesn't come with a scope, but if that is something you need for your long-range target shooting, you can easily purchase and attach an aftermarket model.
If you need something that is going to chew through ammo on the range without jamming that can also stand up to the dirt and grime you'll run into on long hunts, this is the AR-10 for you.
Suggested Retail Price: $2,500.00
Top Features:
Extremely accurate
Superlative Arms Adjustable Gas Block
Black Nitrided and MP/MPI tested Bolt Carrier Group

If you're looking for your first AR-10, you probably don't want to spend an arm and a leg before you know whether you're going to enjoy shooting this rifle.
The Palmetto State Armory AR-10 is one of the most affordable guns in this class out there. This is mainly because the manufacturer manages everything from raw materials to shipping out the finished rifles in-house to help keep costs down.
An adjustable gas block — a new addition on the Gen 3 version of this rifle, helps reduce the significant recoil that comes with the powerful .308 rounds. It also works great right out of the box, making it one of the best options for new owners or people just trying out the more powerful AR-10 for the first time.
If you want to save even more money, you can order the complete upper and lower portions of the AR-10 directly from Palmetto State Armory. The parts are a little less expensive overall, plus you avoid the 11% completed rifle tax that you'd pay to order both parts already assembled.
Suggested Retail Price: $899.99
Top Features:
Lower Includes relief cuts for a broader compatibility with 308 BCG's
Twice Staked Castle Nuts
Standardized carbine length buffer tube with short, heavy buffer
5 Position Adjustable Click Switch Gas Block
A lot of rifles and handguns are designed with right-handed shooters in mind.
This is a pretty safe bet for manufacturers since the majority of the population is right-hand dominant, but that leaves out the southpaw shooters. The Daniel Defense DD5V2 is an ambidextrous AR-10 with a modular charging handle, so you can easily switch things up for the lefties in your life.
It's also fairly lightweight for an AR-10, coming in at around 8 pounds. This makes it a great option for anyone who doesn't want to lug around a massive rifle.
Safety is also one of the biggest priorities at Daniel Defense. In addition to the oversized trigger guard that helps prevent accidental discharge, it's also equipped with a two-stage trigger. A brush over the trigger isn't going to make this rifle fire — you have to put some intent behind that pull. In addition to being safer, this also helps make it more accurate.
Daniel Defense is one of the best-known brands when it comes to rifle manufacture, and its AR-10 is no exception.
Suggested Retail Price: $2,699.00
Top Features:
Modular charging handle
Lightweight
Two-stage trigger

If you need something that isn't going to weigh you down while you're trekking through the wilderness on your next big-game hunt, the Bushmaster XM-10 is a great choice.
It's one of the lightest AR-10s on the market, coming in at only 7.75 pounds. It's also equipped with a flash hinder, making it a popular choice for hunters — especially those that like to head out into the woods at night.
Some AR-10 purists won't come within 10 feet of one of these rifles because Bushmaster opted for a polymer lower receiver rather than stainless steel. However, it doesn't affect the rifle's functionality, and it does take quite a bit of weight of your shoulders. It also features a short 16-inch barrel that is lined with chrome to improve durability.
Bushmaster is one of the most well-known names in the industry. If you want an AR-10 you can sling over your shoulder while still being sure it will get the job done, the XM10 is going to be one of the best options on the market for your needs.
Suggested Retail Price: $1,453.39
Top Features:
Milled gas block
Semi-Automatic
Heavy profile barrel

Brownells has tapped into what made us fall in love with the AR-10 in the first place. The BRN-10 Retro is as close as you'll get to the original AR-10 without spending an arm and a leg on an antique. The BRN-10 Retro looks almost exactly like the AR-10 that Eugene Stoner designed when he worked for Armalite in the 1950s.
There are a few downsides to this rifle.
The sling swivel isn't the same as the original, and the stock is fabricated from plastic instead of the Bakelite that Armalite used on the first AR-10s. However, if you want something that looks like you reached back in time and plucked it from the hands of a firearms enthusiast, this AR-10 checks all the boxes.
The Retro comes equipped with iron sights and should be easy to adjust for anyone who is used to this particular type of optics. Don't buy this rifle if you need a scope or other sights — there is simply no place to attach them.
Suggested Retail Price: $1,186.40 – $1,259.90
Top Features:
Greater capacity
Lightweight
Fully automatic
If you're looking for a budget-friendly AR-10 that works out of the box, fits nearly every firearms enthusiast thanks to an adjustable carbine-style stock, and comes from one of the most well-known brands in the world, look no further than the DPMS Oracle.
It's affordable and equipped with a unique Glacier Guard trigger system that ensures you'll have a firm grip on the rifle, regardless of your environment or shooting position.
One of the more unique aspects of the Oracle is the fact that it comes equipped with an A2 pistol grip. It helps provide more control by distributing the recoil into your hand instead of your shoulder, but this can be exhausting if you're hanging out at the range, chewing through ammo.
DPMS also recently updated the Oracle's design to include a flat-top upper receiver, which means your options are endless for things like sights and optics.
If you need an AR-10 that isn't going to break the bank and prefer the extra control the pistol grip provides, the Oracle might be an excellent choice. We wouldn't recommend this one for an afternoon at the range, though.
Suggested Retail Price: $754.99 – $1299.99
Top Features:
Semi-automatic (direct impingement)
Compact frame
Pardus six-position adjustable stock
D. Choosing the Right AR-10 for You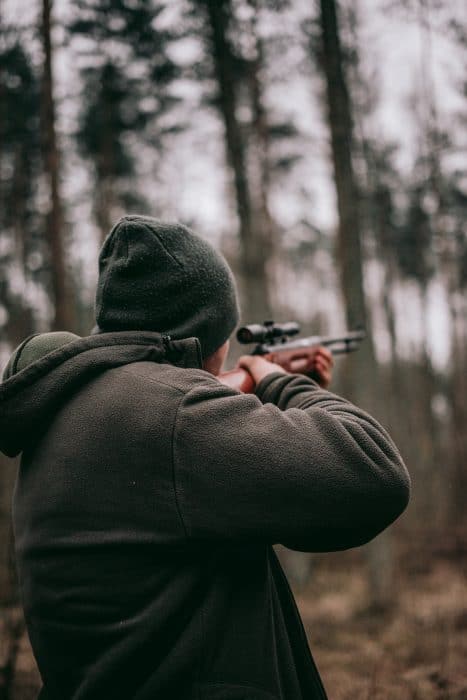 There are so many AR-10s on the market that it can be difficult to know where to start. Our best advice is to use your instincts and, if possible, try out a gun before buying it.
You wouldn't buy a car without test-driving it, and you shouldn't buy a rifle without doing the same.
The AR-10 might not get all the attention the AR-15 does, but that doesn't mean it doesn't deserve some love.
If you need something for your next big game hunt or just want something for long-range target shooting, check out the AR-10. You might be pleasantly surprised.
The AR-10 and the AR-15 both have a special place in our hearts, but when it comes to long-range shooting, the AR-15 just doesn't cut it. If you've never tried an AR-10, it may be time to pick one up.