High-quality and dependable gun security cabinets are highly effective in keeping your firearms secure.
Keep in mind that regardless of how worn out, rusted, or old your firearm is, someone might still be interested in stealing it, so better to play it safe than sorry.
The best thing that you can do to keep it secure is to invest in a gun security cabinet or safe.  But what is better all around, gun safes or security cabinets?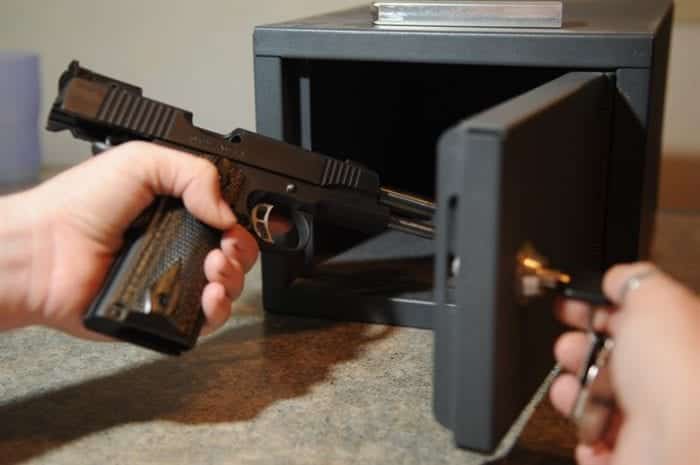 You may think that picking between a gun security cabinet and gun safe is a simple process, but certain factors can turn to make the selection process more involved. In most cases, there are two things that might influence your choice – your level of paranoia and your budget.
Much of your decision might be budget-related. If so, going for a gun security cabinet is a wise move as it is cheaper compared to safes.
While a gun cabinet's door lock is weaker compared to gun safes, it they still do a solid job in protecting your firearms not only from curious children who might want to reach for it but also from determined burglars.
Gun Security Cabinets vs. Gun Safes
Gun safes have plenty of rewarding benefits to those who choose to invest in them. One advantage is that they feature thick and solid steel walls that can withstand sustained assaults. It is sturdy and solid enough that it can protect anything that you put in there, from theft, fire, and water damage.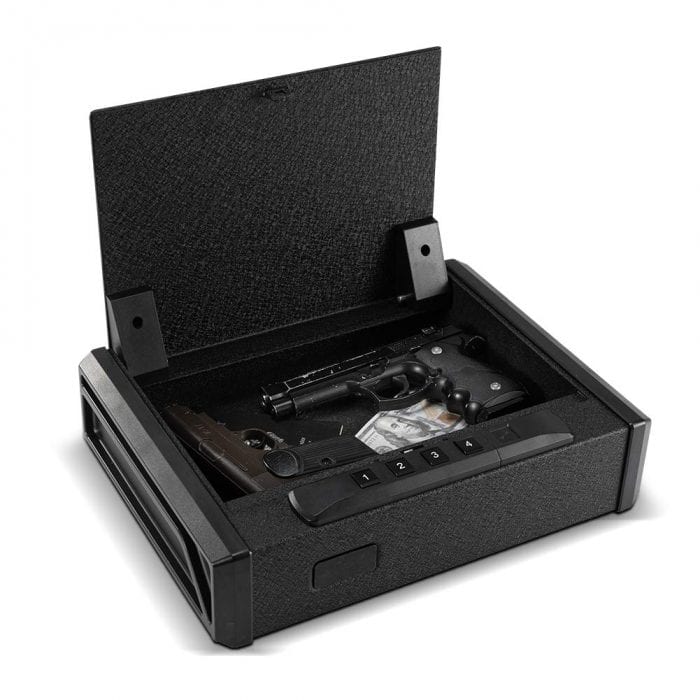 It is also beneficial because in most cases, it is extremely heavy that even the most determined thief will have a hard time moving and carrying it. However, having a heavyweight can also be a disadvantage to the owner for the same reason.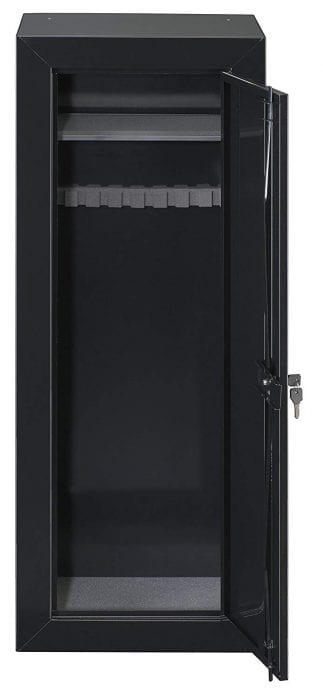 The overall quality of the safe will also have a say in its final price. Visually, gun safes are less attractive compared to gun security cabinets, mainly because you can only find a few safes that match your home décor, and they are boxy.
This is not the case with gun security cabinets as you can expect them to be more visually pleasing than the safe. You can easily find a security cabinet or make one on your own that complements well with your home's entire décor. With such an advantage, it is easy for you to display your firearms collection nicely and beautifully.
Another reason why people choose a gun security cabinet over a safe is that it is lightweight and easier to move.
Choosing the Best Gun Security Cabinet
Shopping for a gun security cabinet might be challenging with the overflowing options currently introduced to the market. Still, certain criteria bring you closer to finding a high-quality and secure cabinet for your firearms.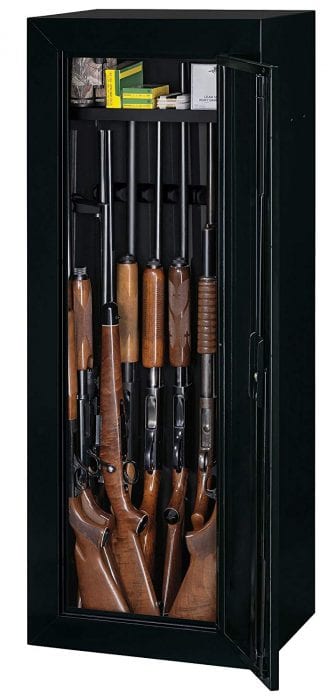 Thick Door – The door of the cabinet should be strong, resilient and thick enough that it can prevent burglary and theft. It should not be easily blasted, drilled through, and pried. If possible, pick a cabinet with a door that has a bendable steel structure. It strengthens the unit and boosts its fire protection rating. The door should also close snugly and swing evenly.
Materials – Check the materials used in creating the gun security cabinet, too. Be extra cautious when you encounter the terms "real wood" or "all wood".  This is because some composite materials taken from glue and sawdust can still fall under the category of wood technically. Look for terms, like "solid wood" but make sure to research thoroughly before buying. Note that some manufacturers just use composite materials from sawdust and apply a thin solid wood layer known as solid wood veneer so be cautious.
Lock – Of course, you also need to check the locking mechanism used in the gun security cabinet. Note that your goal for buying one is to keep your firearms secure. With that in mind, go for a security cabinet with a smooth yet solid locking mechanism. It should not be easy to access by unauthorized people.
Drawers – In case you have chosen a cabinet with drawers then ensure that they are made to close and open without the tendency of sticking. The drawers should be solid and secure, too.
If you are looking for the most secure storage solution for your guns and firearms then investing in a reliable gun security cabinet is a must. Make sure to go for a truly secure and durable one. It should help ensure that your firearms will be out of reach from trespassers, burglars, thieves, and curious children.
Stack-On Gun Security Cabinets
You may not be able to afford a full-blown gun safe, but that doesn't mean you shouldn't have some method to protect and secure your guns!
Stack-On makes a full line up of gun safes and security cabinets. The Stack-On Gun Security Cabinets aren't what you'd call a full-blown gun safe, but it is an economic solution and much more secure than sticking your guns in the closet or hiding them under your bed.
1) Stack-On 14 Gun Security Cabinet & Features
Holds up to 14 long guns

Supports rifles or shotguns up to 54″ tall, non-marring gun barrel rest, Patented barrel standoffs for scoped guns keep them in place

Includes removable top shelf

Secure 3 point locking system installed on the pry-resistant door.

Concealed, full-length welded and staked steel piano safety hinges provide greater security

Double bitted, key-coded-lock

Pre-drilled holes allow for floor or wall fastening (hardware included)

Durable baked epoxy finish in black or hunter green

Meets the requirements of California Penal Code Section 12088.

Measures 21 x 16 x 55″h.

Weighs 77 lbs.
Mounting Tips
If properly secured to the wall and floor the Stack-On Gun Cabinet should prevent unauthorized tampering by your children and also prevent theft, from all but the most determined and prepared thieves.
The idea location to mount this Security Cabinet is in a corner.
Drill holes in the side of the cabinet so that they line up with your wall's studs.

Toss out the 1.5-2 inch bolts that come with the Cabinet and replace them with some stout 3 or 4-inch bolts and use the largest washers you can find.

Secure the Stack-On cabinet with the bolts and washers through the holes in the back, sides, and floor of the "gun safe"
Once this cabinet is secured to two walls and to the floor below it won't be going anywhere. The only issue after properly mounting the Stack-On Gun Cabinet securely is where you'll keep the keys!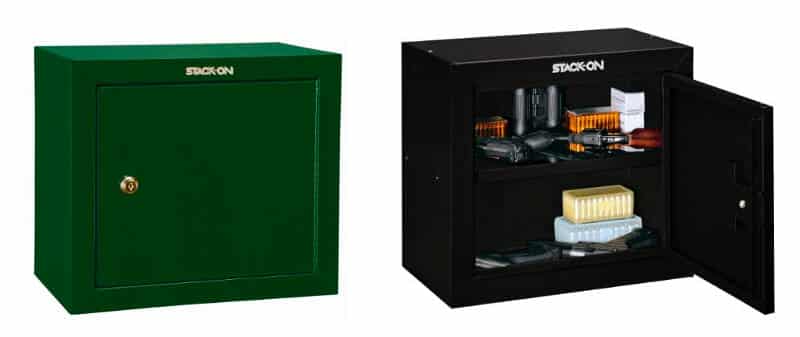 You can expand this firearm storage solution further by adding the Stack-On Steel Pistol/Ammo Cabinets, an optional add-on to the Stack-On gun security cabinets.
Sure there are more secure gun storage solutions out there, but you good luck finding one as inexpensive and as secure as The Stack-On Gun Security Cabinets!
| | | | |
| --- | --- | --- | --- |
| 14 Guns Capacity | 34.65 kilograms | 17 x 21.5 x 58 inches | Key Coded Lock System |
Other Recommended Gun Security Cabinets
2. FCH Electronic 5-Gun Rifle Safe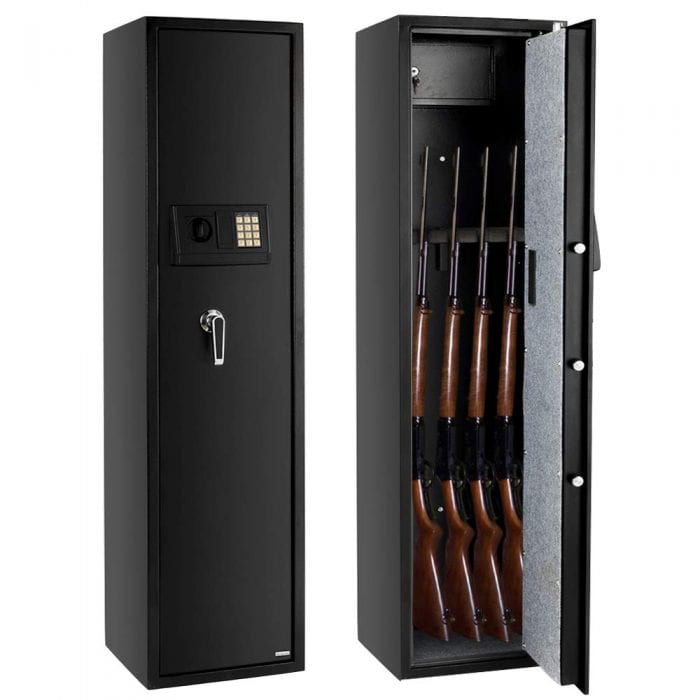 This FCH large gun safe comes already assembled, all you need to do is just insert the batteries and set the keypad. With easy-to-follow instructions, it can be easily programmed. Make sure to keep emergency keys out of the safe in case the batteries die. 
Use the FCH rifle cabinet to store shotgun, a rifle with scope, firearm and keep it safe from kids, it will meet most standards. It also features a small lock box situated inside that will hold 3 or 4 handguns.
| | | | |
| --- | --- | --- | --- |
| 5 Guns Capacity | 33.52 kilograms | 13.78 x 11.8 x 57.1 inches | keypad and key lock system |
3. Stack-On GCB-1522 Steel 22-Gun Security Gun Cabinet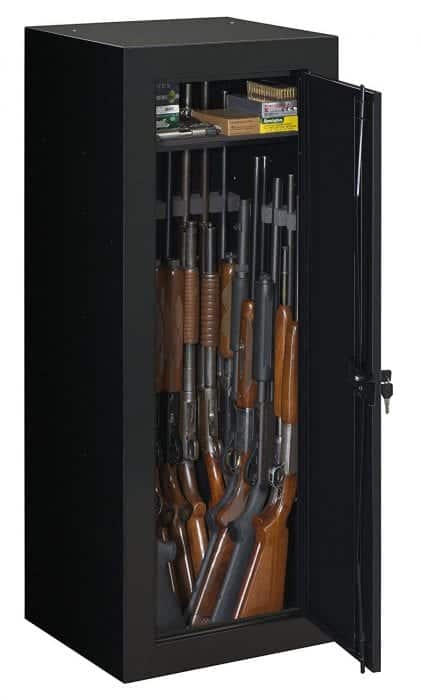 Stack-On's 22 Gun Steel Security Cabinet has our superior all-steel 3-point locking system that provides greater security. The locking bars pass behind the steel cabinet frame at the top, bottom and center section of each unit. The shelf is removable for greater storage and organization. Fastening hardware is included with each cabinet.
This cabinet includes Stack-On's superior all steel three-point locking system to provide greater security. These security cabinets are California approved firearm safety devices. Includes removable shelves and patented barrel rests and standoffs.
| | | | |
| --- | --- | --- | --- |
| 22 guns capacity | 39 kilograms | 18 x 21 x 55 inches | 3-point key lock system |
4. Rifle Safe Gun Safe Quick Access 5-Gun Shotgun Cabinet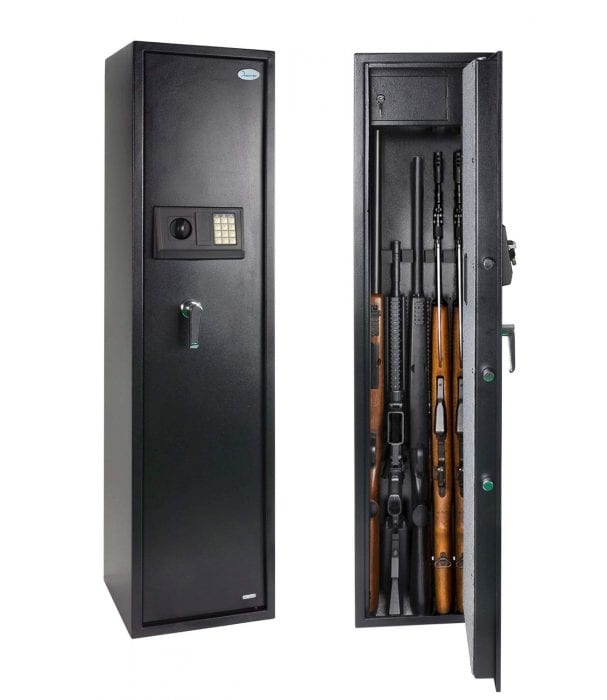 Never leave your loved ones (and firearms) unprotected, Quicktec QTRS series rifle safe offers a speedy, reliable and durable digital or biometric lock system, you can store and access your firearms during any emergency, and grant reliable access to people you trust and locks out those you don't.
Its rugged construction is as hard as nails. Its strong steel body uses anti-pry bars and interior hinges to obstruct tools from breaking in.
5 gun capacity
40 kilograms
14 x 13.8 x 57.2 inches
keypad and key lock system
(comes with a biometric variant also)

5. Golval RF3028 Quick Access Biometric Rifle Cabinet
This Golval RF3028 has smart biometric technology that can retain 100 fingerprints, secures firearms away from kids, and deters theft. For quick firearm access during emergencies, instantly unlock the safe with a reliable 2.5-sec biometric scan.
It is built with solid steel, 5 steel deadbolts, and protective edges, this biometric device resists tampering and prying. It also includes Removable Accessory Shelf 4 AA Batteries, Mounting Hardware, 2 Back-Up Keys. It has Mounting Holes for Walls or Floors.
| | | | |
| --- | --- | --- | --- |
| 6 guns capacity | 38.10 kilograms | 11.8 x 11 x 55.1 inches | Biometric and Key Lock System |
6. 10 Gun Safety Cabinet Stack-On GCWB-10-5-DS Sentinel Security Storage Rack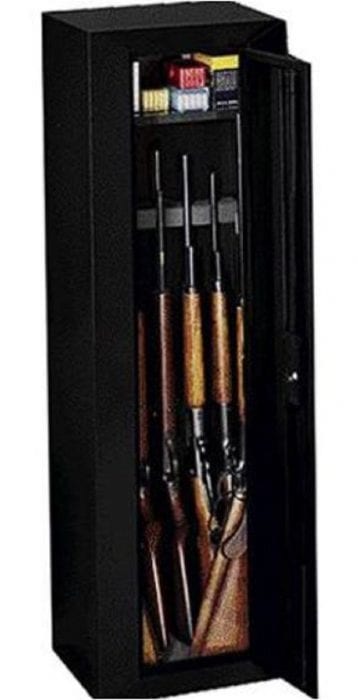 The Stack-On GCWB-10-5-DS Sentinel 10 Gun Security Cabinet holds 10 rifles or shotguns up to 52 inches tall. A steel top shelf provides additional storage for accessories and ammo or can be removed for more space. The Stack-On 10 gun security cabinet features a foam padded bottom and barrel rests to reduce the chance of scratches. This helps to keep your weapons looking their best. A three-point locking system with a key coded, the double-bitted lock provides greater security for your firearms.
It has a black epoxy paint finish with gold accents on the cabinet door. It offers you an attractive and safe way to store your arms. You can display this gun storage cabinet with pride in almost any room in your home. It is slim enough to fit in most spaces. You can rest easy knowing your guns are securely put away.
| | | | |
| --- | --- | --- | --- |
| 10 gun capacity | 27.22 kilogram | 17 x 13.5 x 53 inches | 3-point key lock system |