Everyone who is prepping should be concerned about communications for a post-SHTF scenario.
After the SHTF it's too late to decide that you want to learn about HAM communications.
We know money is tight, so how can you get experience with Ham Radio?
By reading up on our budget ham radio recommendations that focus on the BaoFeng UV-5R and the TYT UFV1.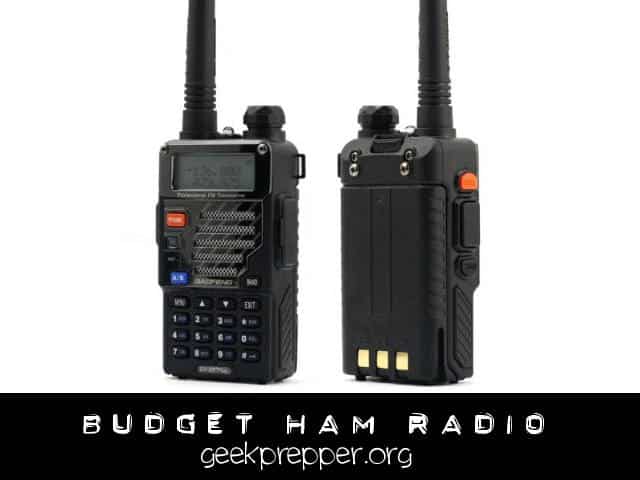 A Brief Overview of Ham Radios
Before we discuss some of the best budget ham radios today, it is crucial to tackle a bit about what this device is all about. Also called amateur radios, ham radios already made their mark in the industry from the late 19th and early 20th century. It is a powerful means of wireless communication.
You can use it to connect with people no matter where they are. It would be great to own one if you are looking for a way to communicate regardless of the situation, especially during emergencies or when you are out on an adventure.
However, for beginners, they do not have to jump directly to buying the most expensive device. Here, you will be greeted with a couple of choices for ham radios filled with amazing features without requiring you to spend a lot.

Budget Ham Radio – BaoFeng UV-5R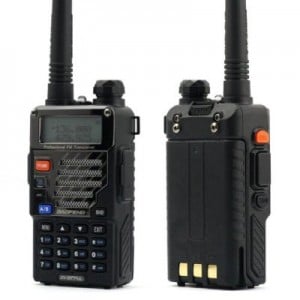 I've been toying with budget ham radio (aka economic Chinese Radios).
I own a handheld TYT UFV1 Dual Band radio which has all the features that you find on other handheld radios that cost many hundreds of dollars and works like a champ, but this is still a decent wad of money for someone with a family.
Recently I started tinkering with the BaoFeng UV-5R Plus Dual-Band 136-174/400-480 MHz FM Ham Two-way Radio. This thing has all the features of the TYT for less than 1/2 the cost!  The prices have dropped even more on these.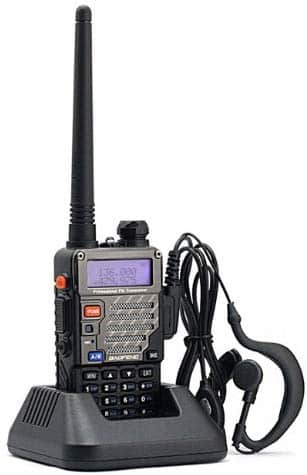 The Bands these cover (Not all of these are legal to broadcast on, but listening should be fine – see FCC Part 95 Rules)
2 Meter

70 cm

FRS (Family Radio Service)

GMRS (General Mobile Radio Service)

MURS (Multi-Use Radio Service)

Marine VHF

Public service Frequencies

NOAA Weather Band

FM radio (listen only)
That is quite a list of frequencies. While it's not legal to transmit on all these frequencies if your not a HAM or if the device isn't approved on the FCC Part 95, that really won't apply after SHTF. I'd take an FCC fine over death any day!
I have other radios (TYT UVF-1, Yeasu FT-7800R), but I always find myself reaching for my BaoFeng when it's time to head out! I've added a few accessories to this great budget ham radio to make it even more awesome and versatile.

BaoFeng Accessories
Car Charging: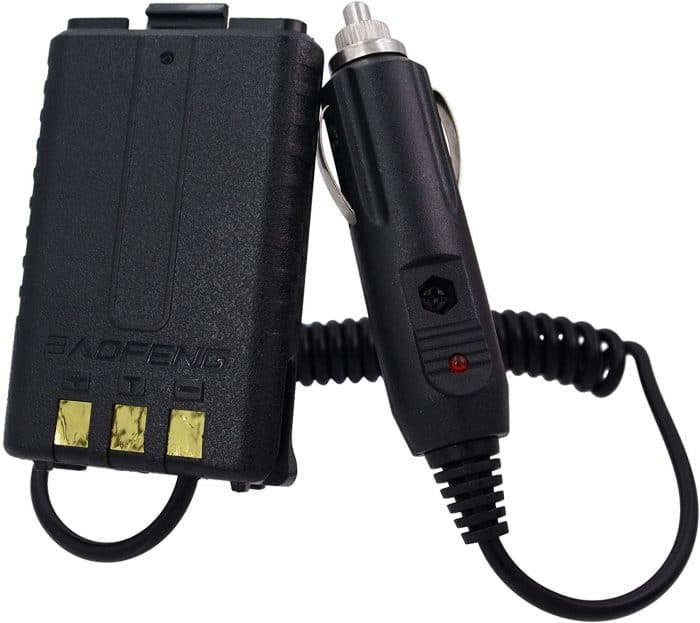 The 12v power adapter is essential. It plugs into your charging base for auto and mobile use.
There is another 12v solution, the Baofeng VPS-001 Vehicle Power Supply / Car Battery Eliminator, this swaps out with your battery, so you run your BaoFeng directly from your auto's 12v current, allowing you to save your battery.
Alternate Power: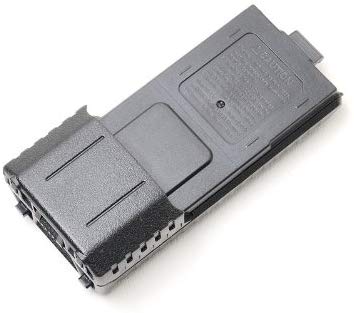 Lb-75n Battery Case, uses 6 AAA batteries to run your handheld, very nice if you have rechargeable batteries!
Radio Battery Case for Baofeng, this one uses 6 AA batteries.
Antenna Upgrades
I've been testing out some aftermarket antennas, that really give my BaoFeng a nice boost in transmit and receive. Post on BaoFeng Antenna Upgrades.
Mobile Antenna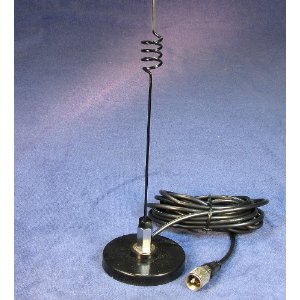 I decided to expand the range and allow myself the ability to use this in my car. Sure it would have worked in my car using the rubbery ducky antenna, but a car is essentially a large metal box, not the greatest thing for radio waves.
Another cool thing I can do is use this without my car, by placing it on a large metal surface (cookie sheet) and use it for a "base station" antenna. I was able to hit a repeater (70cm band) about 25 miles away, without a line of site. We're talking hills and trees, and rain in my path.
MAGNETIC Mobile ANTENNA Ham Radio 2 Meter / 70 cm 144 – 148 & 440 – 470 MHz
Cable Adapter for external Antenna
I needed a way to connect the PL-259 connector to your SMA antenna connection on the BaoFeng, so I grabbed the Reverse SMA to "PL-259" Adapter Cable – Female/Female for Wouxun Baofeng. This is the one that fits perfectly on the BaeFeng.
Note: The TYT UVF1 uses the exact opposite, male SMA fitting ("SMA" to "PL-259" Adapter Cable).
Mobile Microphone for Auto use: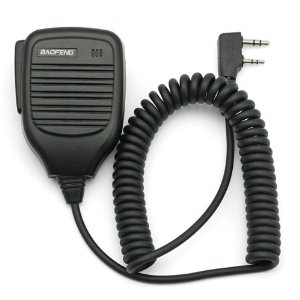 This is pretty self-explanatory. I didn't want to have to grab the radio every time I wanted to broadcast. This microphone is designed for the BaoFeng and feels just like a CB radio microphone.
Original Handheld BAOFENG UV-5R Speaker-mic for dual band radio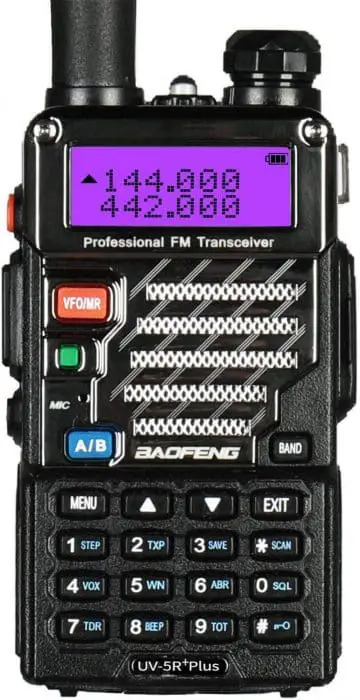 I was unsure of the quality of the BaoFeng UV-5R Plus Dual-Band 136-174/400-480 MHz FM Ham Two-way Radio, but after buying it and using it, I fell in love. I like it so much that I bought 2 more, just in case I dropped mine or it was stolen.
I mentioned this radio last night at a local Ham Club meeting and one of the other members pulled this exact radio out of his coat pocket to show everyone. They are gaining in popularity which means the price might start going up.
Under fifty bucks to get some Ham experience is priceless in my mind!
I must be honest with our readers, there was a dual band, hand held, budget ham radio before the BaoFeng. It was the TYT TH-UVF1 and it's a story worth telling.

Budget Ham Radio – TYT TH-UVF1
Before I owned a BaoFeng UV-5R Plus, I bought the TYT TH-UVF1. The TYT TH-UVF1 is a Handheld Deluxe VHF/UHF Dualband Amateur Radio (2M/70cm) Transceiver with a Twin Display. It also can put out a full 5W of power.
I still own this radio and I still use it daily. I am a little more careful with this one, because unlike the BaoFeng UV-5R Plus , the TYT TH-UVF1 tips the dollar scale at around one hundred bucks. This still falls into the range of the budget HAM radio, but as a prepper I like a bit of redundancy. For the price of 1 TYT TH-UFV1 I can have 2 BaoFeng radios.
Not to lessen this radio, it's awesome, just like the BaoFeng and has a myriad of really cool accessories. It also comes standard with the 12v cable and the standard AC power cable, a nice perk.
One difference to note is that the SMA antenna connector is female on the TYT TH-UFV1, so if you want to connect to an external antenna (mobile or base station) you'd need a cable like this one: "SMA" to "PL-259" Adapter Cable.
The female SMA antenna connector also comes into play if you opt to purchase an aftermarket handheld antenna for this radio.
The TYT TH-UVF1 has a female antenna port, which means your antenna connection accessories must be SMA-Male!
ExpertPower 14.4″ Dual Band Two-way Radio Antenna SMA-Male for a great increase in
distance for transmit and receive.
ExpertPower 7.56″ Dual Band Two-way Radio Antenna SMA-Male
"SMA" to "PL-259" Adapter Cable – For connecting to base station antennas or mobile antennas.
This radio suffers from horrible documentation. The translation from Chinese to English is terrible. Luckily there is a TYT TH-UVF1 Manual Wiki page, written by some enterprising owners of these handy radios, that can help you with the basics of programming.
There is also a handy and Foldable pocket reference pdf you can download and print out. I have mine folded, and taped into a nice little package that I can stick in my wallet or backpack for quick reference.
I've used this radio for a couple of years now and really liked it.
I've used it many times to check in on "nets" and talk to other HAMS via repeaters. The only issue for me is that the economy price of the BaeFeng makes me worry less about breaking it, so it gets tossed in my backpack and the car much more often. If you want something a tad larger than the BaoFeng and don't mind spending a few more bucks jump on one of these TYT TH-UVF1's.
Other Budget Ham Radios Worthwhile to Check Out
Aside from the two ham radios mentioned above, I would also like to suggest the following budget-friendly options that friends have recommenced and are backed up by strong user reviews:
1) BaoFeng BF-F8HP 8-Watt Dual Band Two-Way Radio
This two-way radio from BaoFeng is ideal for beginners who are still exploring the basics of communicating via ham radios. It's budget-friendly, so I think it is great for beginners who do not want to spend a lot on their first radio.
I noticed that it is an upgraded model of the BaoFeng's UV-5R. It boasts 8-watt power, providing two times more output power compared to the previous model. The durability of this device is also unquestionable, which I instantly gleaned from its hardened radio case.
It has a larger battery and a built-in flashlight. Build with novice users in mind, expect this device to be easy to operate. Programming it is a straightforward and simple process.
It also comes complete with everything needed to make it work, including the V-85 antenna, earpiece, hand strap, battery charger, belt clip, and power adaptor. Another great advantage is its expanded battery life, which provides 2000mAh capable of lasting for 24 hours max.

2) Yaesu FT-60R Dual Band 5W VHF/UHF Amateur Radio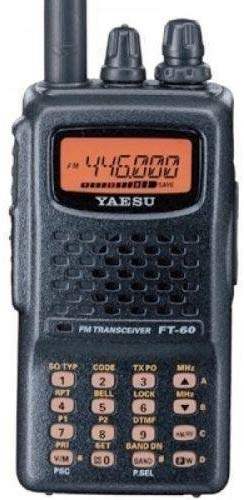 You may also want to check out the Yaesu FT-60R, which seems to continue receiving positive reviews and feedback from users. I like the fact that this amateur budget-friendly ham radio features a large screen. This is useful in ensuring that you can view the channels clearly and without hassle once you begin cranking the knobs.
It comes with easy-to-use knobs and buttons that you can use in controlling the radio's volume and frequency. I also noticed the user-friendly antenna mount included in this device. It comes threaded, making it possible for different styles to remain attached.
On the right side, expect to see a socket, which is for connecting a microphone, or headset. Furthermore, it has a huge battery pack. The battery life is long enough so expect to enjoy it for several hours during the day.
It has a durable build. The radio is versatile in that it can work for both beginners and professionals. The extensive programming choices plus its sophisticated performance make this device perfect for professionals. It also guarantees users amazing clarity and range.
3) TYT MD-380 DMR Digital Radio

Another great choice for those looking for cheap or budget-friendly ham radios is the TYT MD-380. One thing that draws people to this device is its lightweight construction. At just 9 ounces, you will instantly sense its lightness, making transport a breeze.
Even with its lightness, it carries several features that make a lot of ham radio fans pick it. It can run on both low power (Tier 1), as well as Tier II modes. This will enable the user to prolong the battery if using it out in the field for longer terms.
It boasts a max of one thousand memory channels. It also runs in UHF 400 to 480Mhz. Another great thing about this radio is that it provides support for enhanced digital features, like encryption, group or individual calling, and text messages.
It also lets you operate the radio in the UHF analog setting whenever needed. This budget-friendly and lightweight radio also comes complete with a programming cable and antennas.
Reasons to Invest in a Reliable Ham Radio
Investing in an amateur or ham radio allows you to gain several lasting benefits. One major reason why you find ham radio enthusiasts is how it allows communication without the grid, making it ideal for survival and power down situations.
Specifically, one can gather information about traffic, weather alerts, and other critical happenings that can affect the lives of family and friends. A more novel reason is that it lets you communicate and meet different kinds of people all throughout the globe.
In fact, you could view ham radio as the first social network since it has been able to connect people for over a hundred years. You can also use your ham radio to be more adept with the latest technology and improve your communication skills.
Furthermore, you can use this device to be of help to other people. It gives you the opportunity to offer vital information that can have a major impact on their lives, such as when dealing with emergencies.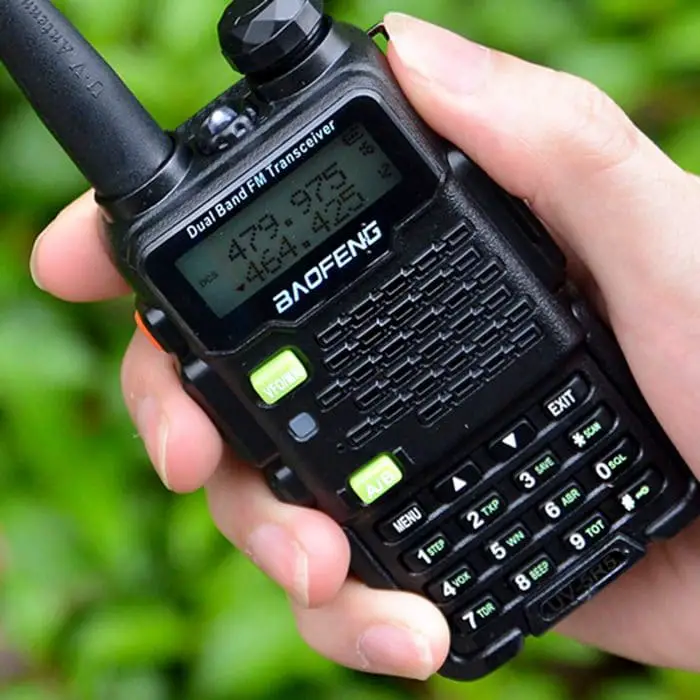 Make sure, however, that you make your choice of ham radio by considering vital factors, including:
Intended use – For local communication, you can just pick small handheld devices. However, for long-distance connections, it would be much better to pick a ham radio with a longer base station.
The specific manner of use – Ask yourself how exactly you will use it.. Are you planning to set it up inside your vehicle or in your home? Do you prefer a more portable and mobile device so you can easily move about? Think about those things when shopping for good ham radio.
Frequencies – You need to check the radio's frequencies as these can determine the clarity of broadcast and the specific people you can connect to.
Your budget should also play a crucial role in your decision. Decide how much you are willing to spend and try to stick to it. Study all the additional features it has, like a flashlight and built-in radio.
Furthermore, determine which accessories you might need to invest in, such as an earpiece and belt clip. By taking the bigger picture and personal use variables into consideration, getting into ham radio can be an enjoyable and learning experience.