The world we live in is very uncertain. The said statement was made true during the onset of the COVID-19 pandemic.
Even though we might not know what will happen the next day, it really pays to prepare for it.
We all know how precious our life is. Thus, we must also prepare ourselves for SHTF moments. That includes investing in the best military gas mask for your protection.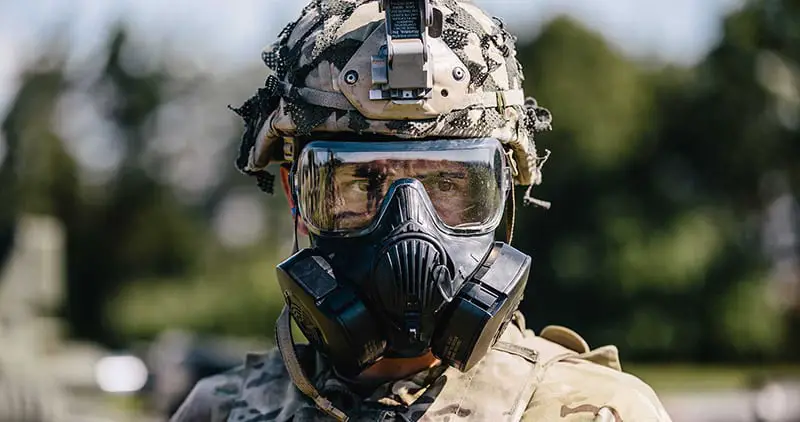 And with the advent of wars and conflicts nowadays, not only do workers need to have and use military gas masks to protect themselves from specific atmospheric hazards such as dust, chemical fumes, and other contaminants.
Terrorism and nuclear fallout can happen at any time. Therefore, if you consider yourself as a prepper, you should have your own respirator to complete your prepping kit. Remember that the said equipment is one of the necessities during emergencies. Thus, each member of the family also needs to have one. 
If you consider purchasing your gas mask, here are the top 10 recommendations I listed down for you!
Top 10 Military Gas Mask Rating Table
Military Gas Mask
Certification
Adjustability
Comfort
Compatibility
Check Price
MIRA Safety CM-7M CBRN


EN 136 CL3EN
148-1CBRN
7
7
2 NATO-standard 40 mm gas mask filters

Check Price
MIRA Safety CM-6M CBRN
EN 136 CL3CBRNCE
10
9
NATO-standard, 40-mm filter cartridges
Check Price
3M Ultimate FX
ANSIU.S
OSHA
10
10
Appropriate for all cartridges and filters
Check Price
PD-101 Full Face Respirator
Not Indicated
10
7
3M particulate filters or chemical cartridges
Check Price
Honeywell North 7600
ANSI Z87NIOSH
9
10
Compatible with full range of cartridges, filter
Check Price
PD-100
Not Indicated
10
10
P-a-1 Filter Set
Check Price
3M Full Face Fr-M40B
NIOSH
7
10
Single 40mm NATO threadedcartridge on either the right or left side.
CN, CS, and P100 particulatefilters
Check Price
Honeywell North 7700
NIOSH
10
10
North N-Series
Check Price
ST-100X Survival & Tactical
CE EN136
10
8
P-D-1 Filter
Check Price
Honeywell Silicone
w/ 5-point Head Strap ANSI Z 87NIOSH 42 CFR 84
10
7
North N-Series
Check Price
List of the Best Military Gas Masks
01. MIRA Safety CM-7M CBRN Gas Mask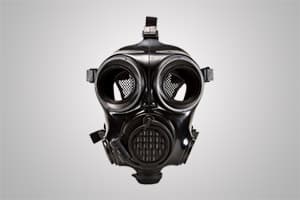 MIRA Safety CM-7M CBRN Gas Mask is a military-grade and police gas mask.
I recommend this for civilians who want to protect themselves during chemical warfare, unexpected attack, or filter harmful contaminants in the environment.
There are a lot of gas masks that have the same features as this one but are not practical for a shooter. This mask is so easy to wear.
It has a mesh piece in the back with five straps that are completely elastic and adjustable.
You can pull tight the straps and seal them to your face as I try it on. I recommend shaving beforehand for hygienic and comfort purposes if you have thick facial hair.
It has caps on both sides, allowing you to switch filters on either side. If you are a shooter, place your filter on the off-dominant side for efficiency during shooting. The amplification of the voice in the military gas mask is slick. People you communicate with easily hear you because of this. 
Luckily, it also has two temperature regulation mechanisms. The exhalation chamber prevents sweat build-up and the drinking canteen. The drinking attachment allows you to rehydrate yourself in contaminated environments without compromising your safety. 
How effective is MIRA Safety CM-7M CBRN Gas Mask for shooting?
Using this mask, you need to tilt your head sideways and lookout using your dominant eye. You can also open both eyes to get a broader peripheral vision. It works well with any hearing protection or helmet. Shooting using a handgun also comes in handy with this mask.
The starting price is $249.95. Filters, special lenses, and other add-ons are not included. Filters cost $70 to $80. Discounts are available for veterans, service members, and first responders confirmed. 
Pros
Protects you from contaminants
Complies EN 136 CL3 standards
Large visor with a vast field of view
Made from butyl rubber 
Meets material specifications for CBRN protection
Has a silicone inner mask to prevent fogging
Hypoallergenic
Comes standard with a speech diaphragm.
Comes standard with drinking system and external canteen
Compatible with CamelBak water bladders.
It fits standard 40mm filter cartridges, which are widely available
Can hold up to two filter cartridges at once, 
Makes breathing easier for persons with limited lung capacity
Governments across Europe and the Middle East utilize it.
Not restricted by ITAR or EAR since they are made in Europe.
Has a 20-year shelf life.
Cons
Difficulty looking down at your plate carrier 
Not NIOSH CBRN approved
It has a rubber smell.
Awkward inhalation valve
It does not include a unique spectacle kit.
One year insurance warranty only.
02. MIRA Safety CM-6M CBRN Gas Mask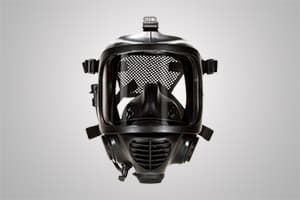 MIRA Safety CM-6M CBRN Gas Mask is cheaper than the previous one, the CM-7M CBRN.
It is a low-profile military gas mask preventing it from being an inconvenience to your movement, especially during shooting.
As I try to put it on, it's lighter and can provide me with a larger field of view of 180 degrees. 
Polycarbonate material is the main component of its lens which is an impact-resistant material. It also has an integrated drinking system.
The drinking tube allows you to drink liquids while the respirator is on. An external knob comes with the pipe that gives you the capability to adjust the straw's internal end to reach your mouth.
There are a lot of ways to put on this mask. However, I first secure the fit of the mask by placing both hands inside the mask. After that, AC, I stretched the mask for it to fit inside my head.
When the mask is already in place, pull the straps for it to fit your head very well. The back part of the mask has a five-point head harness with adjustments to ensure the mask is fit and secure.
The mask has two ports, left and right, where you can attach your canister. As I tried to put the cartridge on both sides, it made breathing easier than having the filter on one side.
The mask comes with a seal that you can put on whatever side you are not wearing your filter. This is compatible with all standard NATO 40 mm canisters.
But, Mira Safety also has its own whole CBRN NBC protection filter. This canister has an impressive 20-year shelf life. 
Now test the gas mask by covering the filters up while releasing air from the inside of the mask. There should not be any air escaping. It should suck to your face, and no unwanted air is running from the edges.
Another good feature of this mask is its speech diaphragm, which allows clear communication between you and other people.
Mira Safety has gas mask options for children, infants, and adults. When we talk about the mask's components, it is made of bromine butyl rubber. This type of rubber is resistant to all harmful chemical compounds.
Is it a good product? Remember that law enforcement and militaries utilize this gas mask. It meets EN 136 1998 class three requirements.
Pros
Full CBRN protection
It has a built-in speech diaphragm
40-mm NATO-standard filter cartridges are frequently available.
Trusted by police and government agencies 
Bromobutyl rubber structure is long-lasting 
Meets CBRN protection standards
Has a broad visor 
Full-face panoramic design allows for a wide-angle perspective.
The hypoallergenic inner mask avoids fogging.
Over 30 hours resistance to mustard gas penetration.
Helmet-compatible
Up to two standard NATO 40-mm, 1/7″ filter cartridges can be used 
It has a built-in hydration system and a canteen. 
The canteen has a 900ml capacity.
Fits with CamelBak water canteen
Used in industrial, agricultural, law enforcement
Used in professional industries.
Cons
Has a distinct rubber odor
The odor might give allergic reactions
It is not NIOSH CBRN authorized
May only be used by professionals in the United States.
Quick-release mechanisms on the straps would be beneficial.
Not the cheapest gas mask on the market.
03. 3M Ultimate FX Full Facepiece Reusable Respirator
This 3M Ultimate FX Full Facepiece Reusable Respirator is next on the list.
As we all know, 3M is famous for offering users ultimate respiratory protection. This full-face mask belongs to the ff400 series. 
I find this gas mask outstanding as it can serve as your protection from being contaminated with specific airborne impurities.
I also noticed that it provides clarity of vision through its built-in Scotchgard protective lens.
The lens is wide enough for me to have superior peripheral vision. This lens also allows you to wipe stains easily from the surface, including different liquids and paints.
Like any other gas mask, it is also made of silicone material, providing users with a sturdy and comfortable experience. It is also compatible with a lot of particulate filters, supplied air systems, and vapor or gas cartridges. 
I also find the respirator's excellent flow valve useful for promoting ease in breathing. 
Pros
Offers protection from specific airborne contaminants
Promotes clarity through its lens
Guarantees a wide field of view
Appropriate for all cartridges and filters
Has a versatile design
It prevents the unwanted buildup of heat
Cons
Lack of information regarding sizing
04. PD-101 Full Face Respirator Gas Mask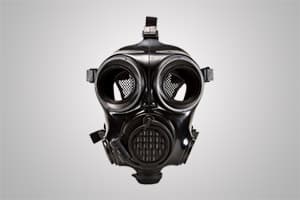 The PD-101 Full Face Respirator is a military respirator designed with performance and safety in mind.
The PD-101 is fitted with a high-grade filtration system that includes a full-face impact-resistant lens and dual-activated charcoal filters and is tested against dangerous substances.
Due to its air circulation technology, the producers also made it impossible for the fog to build within the respirator.
Another feature should give you an idea of how robust and dependable this mask is. The field of view provided by the PD-101 is likewise reasonably large.
Also, if you've ever had trouble tying a respirator to your head and it didn't feel very comfortable, you'll appreciate the high-density elastic straps on this respirator, which you can tighten or relax as needed.
Pros
Heavy-Duty Filtration System for Professionals
a large field of vision
Circulation of anti-fog air
There is a full warranty offered.
Large-diaphragm for voice amplification
Cons
The first few times you use it may feel a little sticky.
There is no drinking tube.
05. Honeywell North 7600 Full-Facepiece Silicone Respirator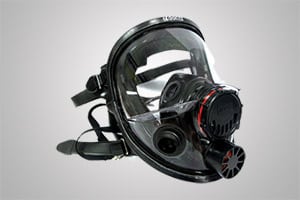 This PD-101 Full Face Respirator respirator is for protection against airborne particulates, including dust, mists, organic vapors, organic vapors, acid gases, nerve agents, and other contaminants.
Based on my experience with these gas masks, this is also very effective for home uses such as spraying pesticides and paint. 
Its compatibility with a wide range of cartridges is very convenient. It allows you to switch to different filters and cartridges according to your needs.
It is also equipped with a speech diaphragm option for more precise communication like the previous ones.  
The use of an oral-nasal cup decreases fogging and dead air space, which improves worker comfort. Additionally, the five-strap harness and chin cup allows the respirator to position to the user's face comfortably and securely.
It has a front and side mount as a powered air-purifying respirator and continuous flow supplied-air respirator. The lens material is a hard-coated polycarbonate which provides over a 200 degrees field of view that is deep, so you will not have to take your respirator off to look left and right. 
When used with the correct cartridges and filters, NIOSH is certified under 42 CFR 84.
Pros
NIOSH has authorized blocking airborne particles.
A sturdy head strap and a tight silicone seal
Lens is made of polycarbonate and has outstanding optical clarity.
For high impact resistance, use an ANSI Z87 lens.
Blocks gas and vapors 
May be used with various filtering systems.
Mounts for breathing systems are very helpful
Cons
It comes at a high price tag.
06. PD-100 Full Face Respirator Gas Mask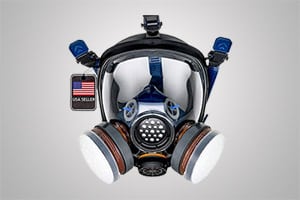 Another recommendation on the list that I want potential users to check out is this PD-100 Full Face Respirator Gas Mask.
Its flexfit head harness makes it stable regardless of your head shape. This respirator is also easy to put on and take off. 
The five straps in the respirator ensure that the respirator is wrapping snuggly around your head.
As a result, you can avoid shifting, which might be a distraction when doing some activities.
These gas masks also adhere to strict standards as far as impact resistance is concerned. Upon researching this PD-100, I also learned its helpful features to many industries, including construction, pesticide protection, environmental technology, pharmaceuticals, and general manufacturing.
Upon wearing the masks, I can say that the construction is very durable and has an excellent visual field. Its threaded filter connection is simple, making it easy for the users to turn it on and off and install it. You can locate the filters on the side. You can adjust it as to what size fits you.
I am amazed by the built-in bonded silicone gaskets. The manufacturer ensures that they cushion all areas with heavy contact with harsh elements. This comes in a soft silicone nose cup and face seal.
The air circulation technology retains the coolness in your face and prevents the lens from fogging. However, it is pricey, but others consider this mask a considerable investment.
Pros
Remains in position on every head shape
Simple threaded filter installation
Compact design
Flexible nasal area
Suits numerous industries 
Versatility
Helpful in cushioning from hazards
Cons
07. 3M Full Face Fr-M40B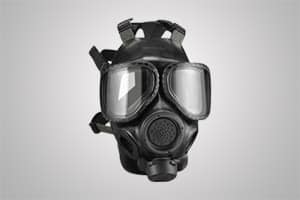 The FRM40B scored somewhat higher than the other APR in the capability, affordability, and maintainability criteria.
I found that breathing is not strained when utilizing the FR­M40B and conducting moderate evaluation tasks. However, the APR was heavier with the filter canister, forcing the mask to pull downward.
The dual-type lenses did not provide a good field of view, and the lowest portions of the lenses were warped.
The FR­M40B has a drinking tube under the nose cup region. I tried to reach for and utilize the drinking tube with my tongue, but I found it impossible to remove it from its place. However, it did not interfere with APR donning.
The mask retainer that comes with the package aids in keeping the form of the gas mask. The user handbook was lengthy and written in three languages, but it was simple to navigate after the evaluators discovered instructions in English.
Helpful instructions were provided clearly and concisely, with images to illustrate them.
Pros
S-M-L sizes are available.
Breathing resistance is low
Face seal that isn't too tight
The user can fix it.
Has helpful detailed maintenance and repair instructions 
Documentation that is simple to understand
There is an over hood available.
Lens coverings that may be replaced 
Lens comes in a variety of colors
Comes in a nice box with a plastic face form retainer for storage.
Cons
Heaviness 
The shape of the mask makes it difficult to see weapons.
a limited field of view
Contamination might enter between mask layers 
Straps with indistinguishable grips/pull tabs
The font in the manual is too small.
Tough to manage a folded instruction manual in the shape of a map.
08. Honeywell North 7700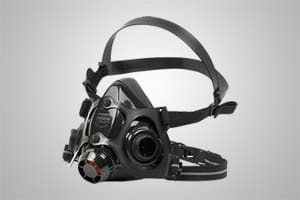 I did a test on this Honeywell North 7700. I noticed that the whole mask has a more excellent feel because it is made of 100% medical-grade silicone.
Note that this gas mask is not a full face respirator. Thus, it only covers your nose and mouth area, making it a half-base respirator. 
However, if you are looking for a high-quality half mask with flexibility and comfort, the 7700 series is the best way to go. 
Upon testing, I used the p100 7580 Honeywell filter. The mask has two primary parts: the head suspension piece and straps. Its straps include a two-way adjustable head strap for alignment and an elastic neck strap for fit and seal.
The seal varies in thickness at different points to cater to the best possible seal throughout the mouth, nose, and cheeks. As the user sweats whenever they use the mask, the bacteria also grow in the area.
To avoid allergies and infection, the head suspension piece often needs cleaning. When cleaning, do not forget the straps that need decontamination too. 
In terms of the function of the mask, it has three valves. Each valve comes out of the mask, leaving one continuous monolithic mask for cleaning. When you want to take the valve out, just put your thumb over the filter assembly and press it out. 
Observe proper handling since the valves are very delicate that it breaks easily. You can do the said step repeatedly for the following two valves to clean the mask properly. The mask is compatible with all the N-series cartridges for different applications.
Pros
Comfortable and long-lasting
Suspension cradle system
Cleaning is simple.
Low dead air space means reduced tiredness for workers.
Cons
It does not protect the eyes
09. ST-100X Survival & Tactical Full Face Respirator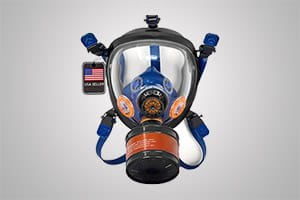 ST-100X Survival and Tactical Full Face Respirator is for folks out there looking for mid-priced gas masks in the market.
First off, let us talk about its convex face shield, which can provide you with a 200-degree range of vision.
Next, just like the gas mentioned above masks, the lens is also polycarbonate, making it impact-resistant.
The cartridge interface on the ST-100X is threaded to accept industry-standard 40mm cartridges. The P-D-1 carbon-activated filter, which is enclosed in heavy-duty polycarbonate for long-term durability, is included in this package.
The P-D-1 filter protects Non-oil-based particles and organic vapors, independently tested. Also, it is scratch and fog-resistant in both hot and cold temperatures.
The 5-point harness was designed with comfort and convenience in mind. The harness extends smoothly over the head without snagging or straining, and the five pull-tabs lock the saddle swiftly and securely.
The straps are robust, durable elasticized rubber that keeps their shape even in extreme heat. This mask is lightweight with 26oz, including the cartridge.
Pros
Meets CE EN136 requirements
Affordable price
It can fit your face well
Simple and convenient to use
It has an extra piece of buckle
The canister allows you to move freely
Cons
No drinking tube
No replacement available for peel-off sheet for lens
Speech is not that clear
10. Honeywell Silicone Full Facepiece Respirator w/ 5-point Head Strap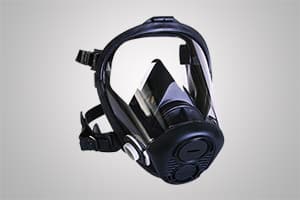 This last gas mask I will share with you is also an excellent one. Its silicone component acts as a seal creating an effective barrier against contaminants.
Along with it is the silicone nose cup that is comfortable and soft to wear, especially for long durations.
Its polycarbonate lens has a wide field of vision. I tried examining its peripheral visions, and I have observed that it is apparent and the downward view.
In other words, it is free from visual distortion, thus giving users with optical clarity. Its lens meets ANSI Z 87 for high impact. 
Let us discuss my experience with its 5-point strap option. The strap includes a center strap that helped me position the mask to my face. The mask holds securely, and the adjustments are very convenient.
Another alternative for user comfort is the industrial mesh head net, which may be worn beneath a hard helmet. A threaded cartridge connector attaches cartridges and filters to avoid inadvertent disconnections.
It fits side mount CF-SARs, front mount CF-SARs, side mount PAPRs, and front mount PAPRs, reducing the need to equip employees on multiple respirators.
Pros
Compatible with almost all industries or use
Can filter airborne particulates, chemicals, 
Effective in fight off biological and radioactive particles
Can filter gas vapors, and smoke
NIOSH 42 CFR 84 regulated
The polycarbonate lens meets the Ansi Z 87
It comes in different sizes (S,M,L)
Compatible with North N-Series cartridge 
Provides all-day comfort
Cons
Bulky
F=Replacement filters and cartridges not included in the package
History Behind the Gas Mask Invention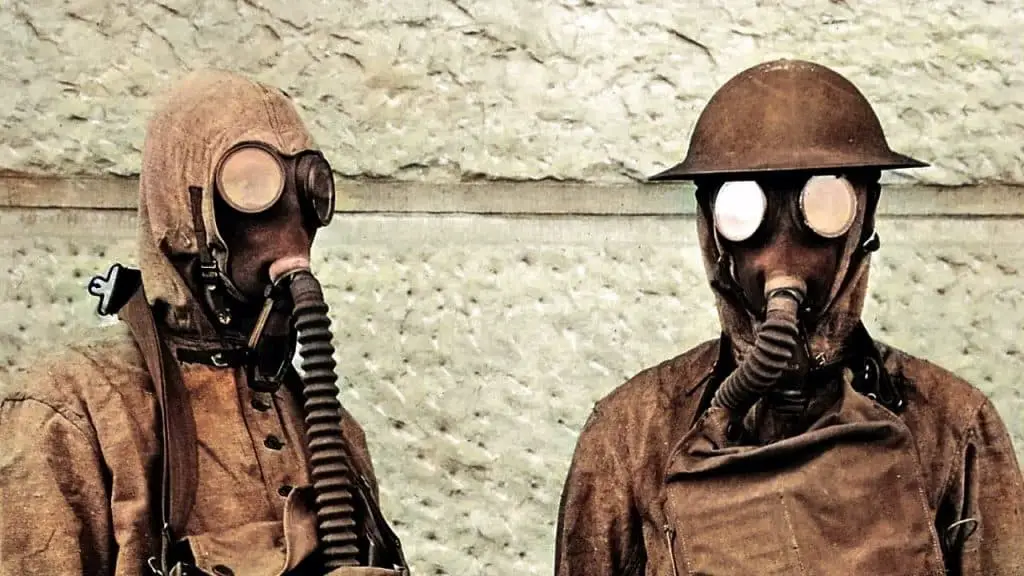 A gas mask protects the wearer from hazardous gases, dust, and other impurities. Masks can be designed with an internal supply of fresh air or a filter to screen out harmful particles.
APRs (Air Purifying Respirators) mask features a tight-fitting facepiece, one or more filter cartridges, an exhalation valve, and precise eye portions. 
Now, let us go back in time for you to know the history of the gas masks we have now. In the 1800s, several inventors created several versions of gas masks primarily for fire fighting and water diving. 
Then, in the 1900s, Garrett Morgan made the Morgan safety hood and smoke protector. After two years of patenting the product, it became beneficial in rescuing thirty-two (32) men stuck in a 250 feet deep underground tunnel during an explosion.
Later on, Morgan safety hoods gained a lot of sales for firehouses in the United States. It became a basis for the U.S army masks during WWI.
In 1915, World War 1 fueled the creation of gas masks or respirators because of the rampant use of gas weapons.
A carbon monoxide respirator, smoke helmet, and small box respirator protect users against carbon monoxide, airborne chlorine, and other chemical fumes. The small box respirator or SBR is the most effective and most utilized during the war among the three gas masks.
As the end of the war came nearer, the government required every citizen to utilize a gas mask every day. Later on, the British Army made a modern gas mask in 1943. This mask is less bulky than those used in World War 1. It now has a replaceable filters canister.
Different Parts of the Gas Mask
Full face gas masks have gained a lot of improvement and advancements since the WW1. It now applies new technology in terms of filtration aids. Manufacturers geared their efforts to produce comfortable and perfectly fitted gas masks.
Remember that the gas mask parts may vary depending on their type and your manufacturer. A full-face mask has several common components or accessories, namely: 
Skirt
Another term for the skirt is the face-covering piece. It holds all the other accessories intact. It also serves as a frame to secure the whole mask around the face. This mask part allows you to attach a one-way valve to expel exhaust gases without letting outside air into the mask.
Eyepieces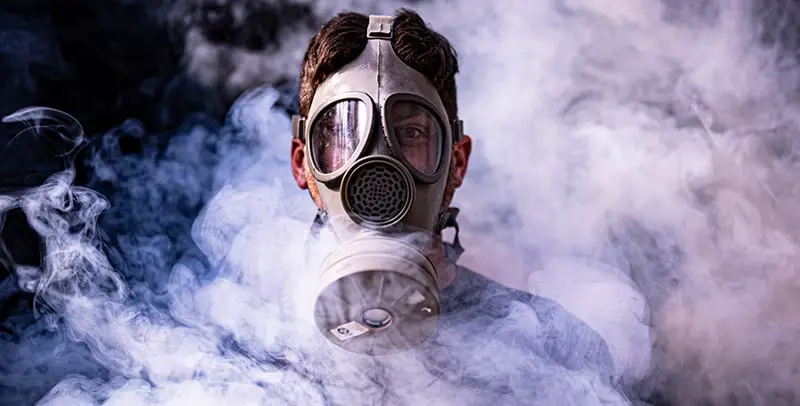 Eyepieces attached to the gas mask serve as a protection for the eye from the harmful effects of chemical exposure. The eyepieces may need to undergo the process of coating for them to be shatterproof, fog resistant, or screen out specific light types. 
Most gas mask manufacturers do not construct their eyepieces; instead, they have them molded from polycarbonate plastic and shipped to the manufacturers for assembly. Polycarbonate is the main component of most lenses. 
These lenses are advantageous because they defog more quickly than glass ones. Therefore, it assures the user of an uncompromised vision. 
Elastic Straps
Elastic straps hold the mask snugly in place. Sometimes people refer to it as the head harness. The primary purpose of this part is for the user to adjust quickly and tighten the mask according to their comfort.
Silicone rubber makes off the straps. There are instances where these straps allow the mask to hang around the user's neck when not in use.
Most respirator manufacturers do not build their eyepieces; instead, an outside source molds them from polycarbonate plastic and ships them to the makers for assembly.
Canister
A canister is a facepiece that attaches to the facepiece or skirt. It is made from styrene plastic which makes this attachment water-resistant and chemical-resistant. Styrene plastic also makes the canister gain dimensional stability for the injection molding. 
It is a thermoplastic resin that can stand a lot of remelting processes. Canisters also have these small circular screens inside to hold the activated carbon in place within the cartridge.
Other components of the canister:
Plastic molding compound
Hopper
Heating chamber
Cooling channel
Spreader
Sprue
Casting 
Filter
Manufacturers commonly use carbon-based filtrates since they are very absorbent when manufacturing gas masks. They can absorb large amounts of organic gases like those released during chemical warfare. On the other hand, carbon fails to absorb inorganic vapors strongly. 
Carbon particles can be treated with specific reactants or breakdown catalysts to increase their absorptive properties. The phrase "activated carbon" refers to carbon chemically treated.
The type of activated carbon used in a filter cartridge is decided by the kind of industrial pollution to be screened.
Cartridge
A respirator cartridge and the filter eliminate gases, vapors, and volatile organic compounds entering the full face mask. A cartridge will last for about six months after being opened, even if not in use. 
This part of the gas mask is disposable; you cannot clean it repeatedly. Remember, it contains carbon that can absorb whatever contaminants in the environment. Therefore, it is essential to have a schedule on when to replace your mask cartridge. 
Here are the indications that you should dispose of your cartridge and filters already:
when you can already taste or smell the contaminants
when you have irritation in your eyes, nose, or throat
if they exhibit any indications of wear and tear
Different Types of Military Gas Mask
We need to distinguish the different types of respirators. This will allow users to make sound decisions in choosing the best gas mask per the environment or situation one will use it.
There are two variations of respirators: the APRs (air-purifying respirators) and the SARs (supplied-air respirators).
Air-purifying Respirators
Air-purifying respirators are responsible for filtering the oxygen that users breathe. It can filter dust, mists, contaminants, particulates, and metal fumes. Some APRs can clean the air you exhale by absorbing vapors and gases using their canister or cartridge. 
The different types of APRs include:
mouth-breathing respirator – this mask fits in the mouth and comes with a nose clip to hold nostrils closed – for escape purposes only
quarter-mask – it can cover the nose and mouth
Half mask – can cover the face from the nose to below the chin.
full face mask – can cover the face from above the eyes to below the chin
Supplied-air Respirators
SARs supply fresh, clean air from a source separate from the work area. In some situations, wearers of these respirators will be protected against airborne pollutants (particles, gases, and vapors) and oxygen-deficient environments.
How Do Gas Masks Protect You from Toxic Situations
It acts as a protective barrier
Gas masks, particularly the full-face ones, act as a shield from the chemicals hitting the layers of the face skin. Also, avoid fumes from entering the eyes, mouth, and nose. The filter fibers are the first layer of defense that holds the particles from entering the mask.
It facilitates the adsorption process
The process of a solid particle holding gas and liquid molecules is known as adsorption. The separation of material from one phase is followed by its accumulation or concentration at the surface.
This process is very similar to cigarette filters which hold the amount of nicotine inhaled by the smoker. 
The two functions of gas masks protecting the user in toxic environments can only take effect if the wearer puts on the mask correctly. Improper mask use can let the fumes and other harmful chemicals leak inside the equipment. 
Here are some ways to check if the gas mask is properly sealed:
Conduct a positive or negative fit check.
For positive fit check:
Cover the exhalation valve with your palm.
Exhale for the air to build up inside the respirator.
A leak indicates air hitting the surface of your face skin.
For negative fit check:
Cover the cartridges with your hands.
After that, try to inhale.
The mask will be drawn closer to your face if no leaks are present.
Gas Mask Rating System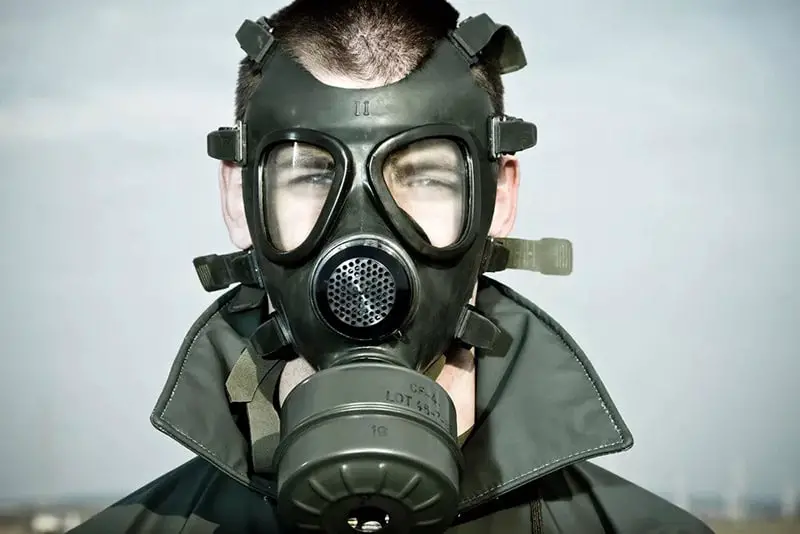 Government authorities create rating systems to guarantee manufacturers maintain suitable standards for their gas masks and other respiratory equipment. The following are the most important ratings to be aware of:
NIOSH
NIOSH, or the National Institute for Occupational Safety and Health, is a research agency geared toward ensuring the safety and health of workers. They aim to empower employers and workers by encouraging them to forge safe and healthy occupational spaces.
The National Institute of Occupational Safety and Health (NIOSH) is a branch of the United States Department of Health and Human Services, particularly in the U.S Centers for Disease Control and Prevention.
Some hazardous jobs require NIOSH-approved gears and PPEs. And, in case of injuries and accidents, the insurance coverage might not apply for non-NIOSH-approved protective gears.
CE
The CE mark, which stands for Conformité Européenne or European Conformity, must be displayed on all items marketed in the European Economic Area (EEA), including personal protective equipment (PPE) respirators.
 A manufacturer uses this mark to demonstrate that their product complies with the EEA Council's health, safety, and environmental protection criteria.
European harmonized standards for respiratory protective equipment have been produced to verify equipment compliance with the EC Personal Protective Equipment Directive's essential health and safety criteria.
The European Communities (Personal Protective Equipment) Regulations, 1993 implement this regulation in Ireland. The only equipment that satisfies these criteria is permitted to bear the mark and be marketed for use in the European Union.
GOST
The process of product and service certification may be mandatory or optional. The certification system was established to defend consumers' interests and prevent the entry of low-quality goods.
The legislation on certification sets the rules and norms that must be satisfied to get a GOST-R certificate. There are also laws stating which items must be certified and which products may earn voluntary certification.
GOST 8762-75, a 40mm threading with a 4mm pitch developed by the Soviet Union, is one of the GOST standards. The Warsaw Pact nations used this standard for many years, and it is still used by the Russian Federation today.
EN 136
EN 136 is the standard that indicates the minimum requirements for full face masks. This compliance conducts laboratory and practical performance tests. However, it does not include diving equipment.
The standard covers three full-face masks: light-duty, general use, and particular use. The said full face masks offer users the same level of protection but differ in application and utilization. 
Masks should pass the temperature stability, the concentration of carbon monoxide, breathing resistance, speech diaphragms, visual field, and impermeability,
Steps in Choosing the Right Mask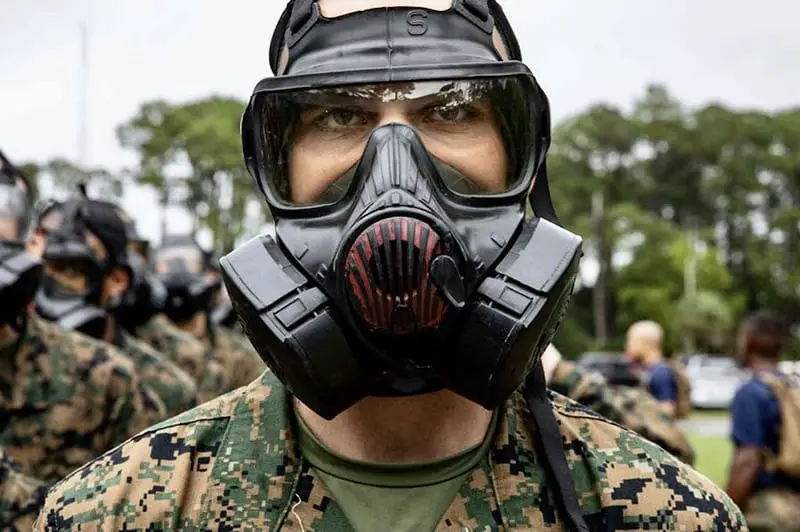 Usage
The first and most crucial step to take when finding the suitable gas mask for you is to know your hazard type. In what situation will you use the mask?
In the most common environments, respirators are beneficial for dusty places or where chemical fumes are most present. Know where you will use it for some cases in both scenarios. 
Proper respirator and filter
Now that you know where you will use the respirator, the next step is to find the best mask and filter for that scenario. Here are the ratings for replacement filters according to NIOSH (National Institute of Occupational Safety and Health):
N – means the filter is not oil-proof
R – means the filter is oil resistant within eight (8) hours of usage
P – means that the filter is oil-proof beyond eight (8) hours of usage
Filters also have number ratings along with them. This number rating equally indicates the percent of particles it can remove from the atmosphere. For instance, a 97 rating means it can filter 97% of particles in the air.
Sizing
The gas mask mustn't be too tight or too loose for you. Super tight masks can make you uncomfortable, mainly when used for a extended period. On the other hand, loose gas masks are very ineffective in preventing toxic industrial chemicals from entering your mask. 
Ordering online is very crucial since the possibility of getting the wrong size is higher than in-person purchases.
To play on the safer side, take your measurement and contact the seller to assist you in choosing the right size for you. When buying in-person make sure that the respirator is fit-tested before checking it out to the counter.
Cost
A good-quality respirator may be purchased for about $50. You may obtain a quality item that gives adequate protection and comfort for this price.
If your budget allows, you may receive goods for as little as $100 or as much as $200 and get the finest safety, durability, and convenience for your money. First, go through the collections of respected brands such as 3M Safety, Honeywell, or Parcil Distribution.
Frequently Ask Questions
How Long Can You Use a Full Face Respirator?
Full face masks are uncomfortably painful to put on for more than one hour. You can clean and reuse them as many times as the manufacturer recommends.
How Long Do Full Face Respirators Last?
There is no strict limit to how long your respirators will last since they vary from one brand to another and their filtering capacity.
However, note that you need to change it regularly when using the mask for 8 hours straight in a very contaminated place. When open, even when not in use, filters should only last for six (6) months.
Will a gas mask protect children?
There are several concerns with the fit and use of respirators for children, tiny children, and infants.
For example, masks now on the market are unlikely to fit the faces of tiny infants and babies. Everyone who uses a respirator must undergo fit testing, training, and proper use and maintenance.
Key Takeaways
Now that you already know the most effective gas masks in the market and the general information on gas masks, you are suitable to purchase your own. However, there are specific reminders I would like to leave you with.
Respiratory protection is only adequate if the following conditions are met:
When the proper respirator is utilized,
It'll be there when you need it,
You know when and how to put on and take it off and are comfortable with it.
You've kept it safe and sound in your storage in line with the manufacturer's instructions.