Rangefinders are modern pieces of equipment that calculate the distance between the user and an intended target.
Used mostly in hunting and golf rangefinders sport now terrific technologies and many features.
It thus makes it difficult for many to choose the proper one that serves their needs without burning holes into their pockets.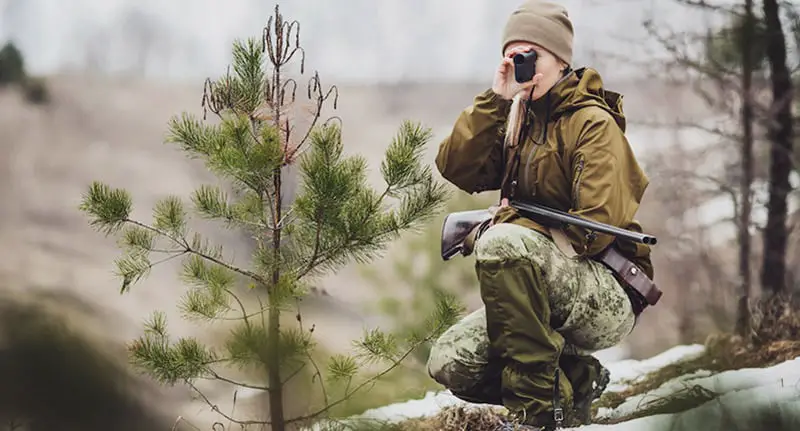 Today, we will break down rangefinders for you as we aim to help you find the best product for your goals and activities!
How Do Rangefinders Work?
Rangefinders (either for hunting or for golf) work by firing an invisible, sharp, and firmly focused beam of light at the intended target.
Then, they offer the user a measuring of the time it takes for the beam to return to the rangefinder, depending on the reflectivity of the said target.
As you can quickly figure out, many factors that can influence such readings. Some of them include the reflectiveness of the target itself, hazy weather, glares, and all other objects standing between the user and the target.
For this reason, it is vital to understand a rangefinder's tech specs, features, and uses!
What Should You Look for in a Rangefinder?
Before we begin, we have to discuss the differences between optical rangefinders and laser ones briefly.
The latter is the most popular because they employ advanced technologies that help hunters or golfers aim and hit their targets to levels of precision unmatched by optical ones.
For this reason, when you are looking for the best rangefinders on the market, you will most likely encounter laser ones.
They make excellent tools for crossbow and rifle hunting, sharpshooting, surveying, golfing, and more. Most hunters know that their specialized cameras or monocular come with built-in rangefinders.
However, having a standalone one is not at all a bad idea. Add a tripod to the mix, and you will achieve some spectacular results!
Now that we cleared things up let's discuss the tech specs, features, and properties of rangefinders that you need to know to make an educated purchase!
1. Yardage (Maximum Distance)
If you have hunting in mind, you need to know that laser rangefinders can accurately calculate distances between 1 yard and 1,500 yards.
At the lower end of the scale, you will find few rangefinders incapable of precisely calculating the distance to about 300 or 400 yards – more than enough even for big game hunters using hunting rifles. Bow hunters need rangefinders able to pinpoint the target at about 1,000 yards.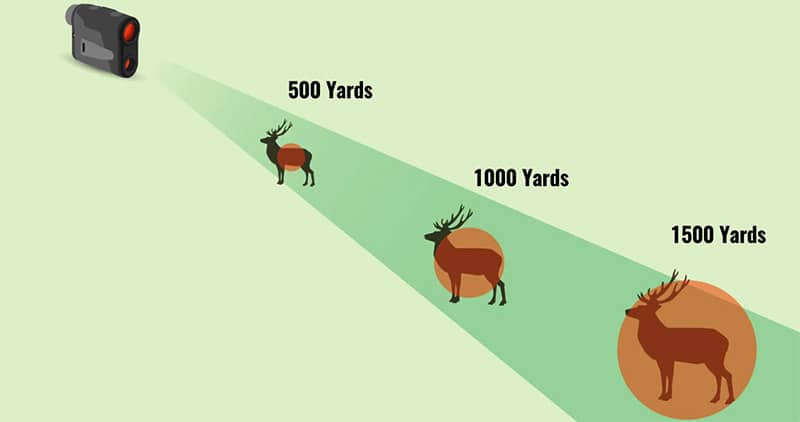 Golfers, on the other hand, do not need to hit targets at hundreds or thousands of yards away. The laser rangefinders for golfers have to allow them precision at shorter distances and in some specific conditions.
However, if the maximum distance of a product is 1,500 yards, you have to know you might reach that distance under ideal atmospheric conditions and on highly reflective large targets.
Always check the manufacturer's specifications and discuss with other users about the accurate yardage you can rely on in different situations and on different targets.
2. Target Priority Differences
Now, things get interesting, as you have to know the differences between target and priority modes in rangefinders.
If you are shopping for golf rangefinders, you need one with First Priority Target. It means that the device focuses on the target (a flag at 100 yards distance, for instance), ignoring everything else in the background (trees, people, golf carts, etc.).
When you look for hunting rangefinders, you need to opt for Second Priority Target modes. When you want to aim and put down a deer at 400-500 yards distance, your rangefinder needs to ignore all the elements standing between you and your target: branches, trees, etc.
You can also find hybrid laser rangefinders allowing you to switch between these modes. However, experts recommend you take a rangefinder explicitly designed for your needs.
3. Magnification
If you ever used a camera, binoculars, or even a telescope, you know that magnification is a calculated number that describes the apparent enlargement of an object in the distance.
Magnification is crucial, especially in hunting rangefinders, as some animals are so far away, hunters cannot even see them with the naked eye.
Modern laser rangefinders for golf, rifle hunting, or archery boast magnification capabilities ranging from 4X to 10X. You can choose a high-quality device with 6X-7X magnification, no matter the activity you engage in most frequently.
4. Reticles and Displays
The reticle or aiming point is the crosshair (circle or point) you see when you look through your rangefinder.
Modern rangefinders for both hunting and golf usually feature LCDs that turn the reticles into black lines; you have to superimpose over the target you want to range.
Hunters do not do well with these types of reticles, because in the dark or low light conditions, the lines are tough to distinguish.

This type of reticle works better for golfers, who usually play their favorite sport in the middle of the day.
Most rangefinders come with adjustable LED-illuminated reticles. Still, they can be problematic in bright light, as many people cannot even see them, let alone the other data displayed on the screen (yardage, modes, different settings, etc.).
For you to view your target and use the reticles at their maximum efficiency, you should look for a rangefinder that features an LCD screen with a backlight.
The devices will help you hit your target regardless of the light conditions. Moreover, you should go for a rangefinder with an eye relief of about 15mm to 17mm, because it can make a difference in how you see the target on the screen, especially if you wear glasses.
5. Angle Compensation
This feature is crucial for most hunters and people who practice archery. Usually, a rangefinder offers you a line of straight distance to a target found on flat ground.
However, the gap between the line of sight and the horizontal distance changes (becoming larger) when you have to deal with an increased distance and angle.
For this reason, rangefinders featuring angle compensation are invaluable because you don't always hunt (or play golf for that matter) on flat surfaces.
Moreover, there is not always a tree there to give you an accurate reading of a horizontal distance to an object below or above you.
Tilt rangefinders can compensate for the height differences, as they instantly calculate angles and factor out elevation.
6. Other Features to Look For in Rangefinders
The following features you might enjoy in a rangefinder have plenty to do with your comfort and the efficiency of your target hits. So let's see some of them!
Size, weight, and compactness – essential elements to consider, especially for hunting rangefinders. Keep in mind that some devices are bulkier and heavier should they feature large objective lenses;
Noise reduction – again, a significant feature for hunters who need to stand perfectly quiet when shooting animals. Some rangefinders for hunting come with a rubber armor that absorbs noise;
Camouflage – for hunters, it is crucial that their target does not see a shiny object in the bushes 50 yards away. No matter what rangefinder you get, make sure it comes with a matte finish that does not reflect light off it.
Waterproofing – an essential element for both hunters and golfers who are out there in the rain, during winter, or on hazy mornings doing what they do best.
Specialized modes, menus, and specs – some golf rangefinders calculate curves and slopes, measure club swings, and even offer club suggestions for certain hits. Some hunting rangefinders allow you to pre-load them with ballistic data, choose magnification power, change the lenses, etc.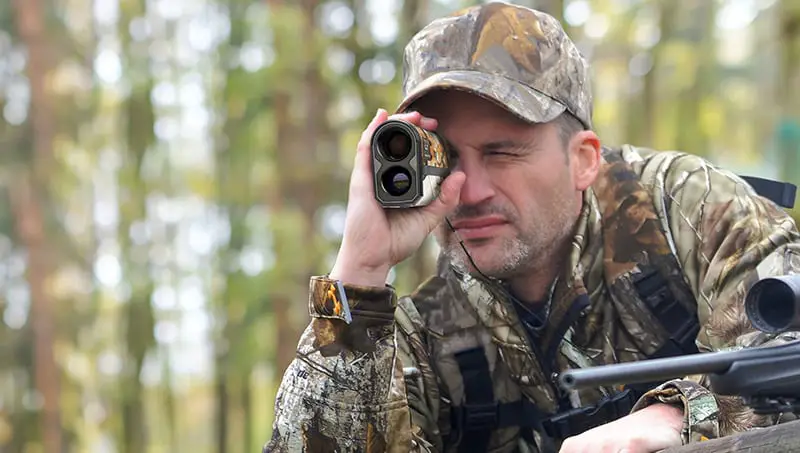 The idea is to factor in all the tech specs you need to make the best out of your rangefinder.
As we already said, while you can use a hybrid one for multiple activities, it is best to get a specialized one for either hunting, golfing, sharpshooting practice, surveying, or other activities.
Top 5 Rangefinders Comparison
Rangefinder
Laser Type
Details
Check Price
Bushnell BoneCollector 850


Class 1 Eye-Safe IR Laser
4X 21mm objective lens
Realtree skin
10-600 yard range

Check Price
TecTecTec VPRO500 Golf
Class 1 laser and <0.5mW average power output

6x Magnification
+/- 1-yard accuracy
Target lock technolog
Check Price
Nikon Monarch

Class 1M/Laser Product

6x Magnification
18mm Eye Relief
+/- 4° Diopter Adjustment
Check Price
Vortex Impact 1000
Class 1M Eye-Safe Laser

6x Magnification
15mm eye relief
20mm objective lens diamete

Check Price
Beaspire 1100

 
Multifunctional Laser Rangefinder


Ultra clear 7x HD Magnification
5-1100 yards distance range
High accuracy +/- yard
Check Price
5 Best Rangefinders to Consider this Year
Let's see next some of the best rangefinders to consider this year for both your hunting and golf activities!
1. Bushnell Laser Rangefinder Bone Collectorefinder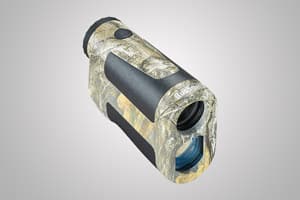 The Bushnell Bone Collector is an excellent and reliable entry-level rangefinder. It maintains a consistent rating, with many customers providing feedback.
You will be able to obtain plenty of distance for hunting or bow shooting and colorful and sharp sights to help you zero in on your target. 
The Bushnell Laser Rangefinder Bone Collector is just what you are looking for in terms of pricing and simplicity of use. It boasts a Mossy Oak finish attractive to hunters who value compact, cheap, lightning-fast results with a -/+ 1-yard accuracy.
It has a 4X magnification and a 21 mm objective diameter lens to provide bright, crisp pictures for distances ranging from 10 to 600 yards.
Low magnification makes target acquisition considerably simpler at such vast distances, ensuring that you can lock the distance on your target for a clean and spot-on shot every time.
The point is that this Bushnell Bone Collector is not for the long-range hunter who wants to bust deer at 600 yards. If you're not into severe long-range hunting, this is a fantastic alternative to explore. Plus, it's nearly unmatched in terms of pricing!
Due to its small vertical form, the Bushnell Bone Collector 4x Laser Finder is exceptionally sturdy and straightforward to carry. It is also susceptible and swift, crucial for a successful hunting expedition.
For bowhunters or 3D archers, the Bushnell Bone Collector 4x Laser Rangefinder comes highly recommended. The distances you will need are within a reasonable range, so you should be OK, even if you're standing in a tree stand.
We would only suggest it to rifle hunters if they hunt within moderate distances. Let's suppose the distance is between 200 and 300 yards.
After these distances, nailing down the game becomes quite tricky, as you will need a very steady hand and nothing around the target to throw the measurement off.
Pros
Great price
Realtree skin
It's simple to use
Compact
It includes a case
Cons
For hunting at close range only
It can't operate through a ground blind's mesh
2. TecTecTec VPRO500 Golf Rangefinder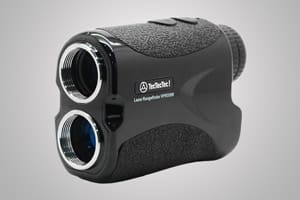 One could use the TecTecTec VPRO500 Golf Rangefinder for various activities, including hunting, measuring, and surveying. However, the truth is that this is one of the best golf rangefinders you can find in its price range.
Do not let the price fool you, because it is a premium product, featuring a continuous scan mode and advanced Pin-Seeker technology.
The latter allows golfers to measure accurately overlapping objects and subjects. In other words, this is the perfect rangefinder for measuring golf flags, hazards, and wooded areas.
In the package, you will also find a premium carrying pouch, the CR2 battery, a wrist strap, a microfiber cloth for cleaning, and the device's quick start guide. Here are some other tech specs that might interest you!
Maximum Distance: 540 yards;
Target Priority: First;
Accuracy: +/- 1 yard;
Magnification: 6X
Optics: multi-layered coating monocular lens;
Through the lens display;
2-years warranty and lifetime customer support.
Pros
It has angle compensation for accurate measurements
It has proper yardage backup
Water-resistant body
It comes with a pin sensor technology
It comes with a continuous measurement feature
Cons
No easy time measuring distances beyond 550-650 yards
It falls short of providing a heavy-duty performance
Subpar build
3. Nikon Monarch Rangefinder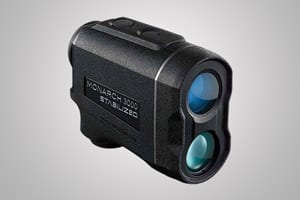 You can always rely on Nikon to change the game when it comes to optical instruments.
As rangefinders go, Nikon is an iconic brand that almost wrote the book on the high technologies needed for hitting targets at insanely long distances.
The Nikon Monarch 3000 is a beast of a rangefinder. It features image stabilization technology to provide single-handed operation even in the harshest conditions or challenging terrains.
The branded ID (incline/decline) Nikon tech automatically adjusts for incline or decline shooting angles of up to +/- 89 degrees.
One more thing you need to know is that the device features 8-second sustained measurement single or across multiple targets.
This rangefinder also reduces the vibrations in your viewfinder caused by your hand movement to about 1/5 or less. Let's see what this product is really about when it comes to serious hunting:
Maximum Distance: 8 to 3000 yards;
Target Priority: Tru-Target Technology enables you to switch between first and second priority targeting depending on your needs;
Magnification: 6X;
Display: variable intensity red OLED display with five selectable brightness levels for all lighting conditions;
Waterproof & fog proof;
Pros
Durable rubber-armored coating
High optical quality
Wide field of view
High-contrast images
Good ergonomics
Cons
Accessories are disappointing
Minor chromatic aberration
4. Vortex Impact 1000 Rangefinder with HCD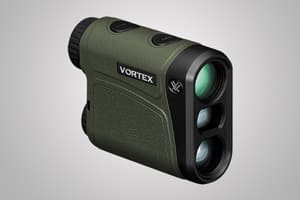 The Vortex Impact 1000 rangefinder is a new model in the Impact series with a more extensive range than any previous model. This new pocket rangefinder will be for bow hunting, rifle hunting, and long-range target shooting. 
The Vortex Impact 1000 is one of the lightest and highest-performing rangefinders. It provides the essentials, and its long-range performance is well within range for making a shot or releasing an arrow.
It is a fantastic value for money and a bargain in quality and performance. It is well worth it, especially with the VIP guarantee.
We thought it might not be the most flashy or most extraordinary hunting rangefinder on the market, but it is excellent for those looking for precise, long-range performance on a budget.
The Impact delivers high-quality and consistent performance in terms of its essential characteristics. It offers good optics, compactness, and a sturdy design, even if you ignore its well-engineered laser, electronics, and range capability. 
The Vortex 1000 has everything you need in core features from head to toe. It is perfect for rifle and bow hunters, with HCD and angles shown in LOS mode. Although the Impact is a novice rangefinder, seasoned hunters will find its no-frills design quite useful.
It features the olive drab green hue that has made Vortex so distinctive as a brand. The Impact is straightforward to utilize because you have LOS and HCD to deal with.
When all you need is a distance, there's no need to spend time away from the hunt to fiddle with settings and modes.
For waterproof protection, the battery compartment is O-ring sealed. You will need to spend more money if you're hunting in sub-zero temperatures—the Impact rates for temperatures between 14 and 134 degrees Fahrenheit. As a result, if you're hunting in severely cold temperatures, it will slow down or stop working.
The Vortex 1000 rangefinder isn't as unusual as some of the current options (think rangefinding binoculars), but it does feature everything a good rangefinder should have.
It is long-distance in its own right, effortless to use, and gives you the analytical data you need — slope and distance or corrected distance.
Pros
Simple rangefinder
HCD mode (Horizontal Component Distance)
Great for bow hunting
Long-range
Long battery life
Cons
No tripod mounting
Black lettering seems like a poor choice
5. Beaspire 1100 Laser Rangefinder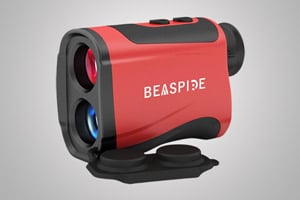 A laser rangefinder made by Beaspire 1100 is maybe the most fantastic rangefinder for bowhunting.
You will need this model for hunting if you favor sophisticated technology and seek to stay up with the times! USB charging is available on this device, as it is on many Bushnell products.
What makes this model so ideal for us? This equipment is appropriate for bow shooting and golf and urban activities, woodland activities, measuring, and climbing—everything your heart wishes. Hunters can deal with prey in any condition because of its remarkable features.
The continuous scanning mode and the ability to measure distance and speed are significant characteristics.
However, a strong battery with simple USB charging and exceptional precision when striking the target is an essential feature. In addition, we must highlight the waterproof material, high-temperature resistance, and energy efficiency. 
In today's environment, it's difficult to fathom without having a bug-out bag in case of a natural calamity. The Beaspire 1100 laser rangefinder with tree/flagpole lock feature and USB charging is a great way to add contemporary technology to your prepper's kit.
This rangefinder is excellent for golf and hunting, but it's also great for hiking, measuring, surveying, shooting, climbing, engineering, and other urban or outdoor activities.
This gadget is a lifesaver for survivalists and preppers because of its essential and fascinating tech specifications and features.
It has superior distance and speed measuring technologies and a continuous scanning mode.
You can charge the adjustable diopter for accurate focus display and the 1500mAh rechargeable lithium battery. It can be mounted on any conventional tripod thanks to its unique bracket attaching screw hole.
Pros
Premium surface
Anti-reflection
Easy to use
High definition display
Safety protection
Cons
No magnetic clip
Subpar quality
As you can see, rangefinders serve numerous purposes and hobbies. You need to do thorough research and pick a rangefinder that falls into your budget range and tech specs needs.
If you have more questions about rangefinders, and other accessories for hunting, golfing, and even urban survival, don't hesitate to use the comments section below!