The .22 Long pistol (shortened as LR) has the record of being one of the most popular of rimfire ammunition in the world.
Introduced as early as 1884, the .22LR still sees massive use, and .22LR pistols are still bought today.
If you're looking to invest in a .22LR pistol, you might be confused about what to look for.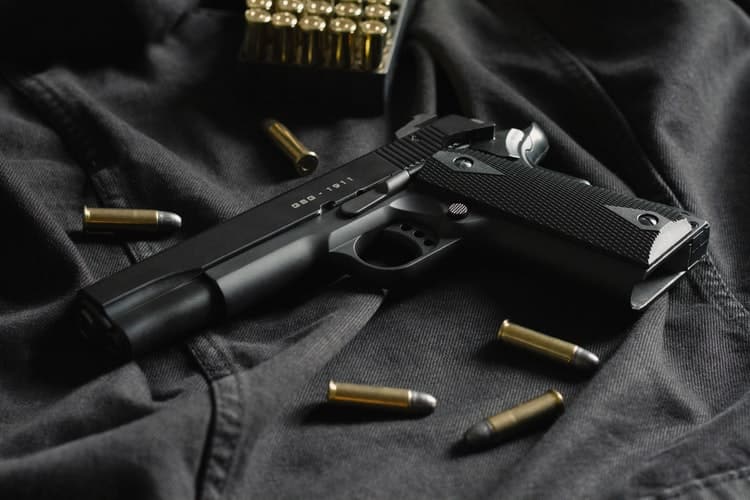 Fortunately, this article will detail all you need to know about the .22LR, list the best ones, and help you with finding quality .22LR benchrest scopes.
What Are the Specifications of the .22LR?
The .22LR is a .22 caliber rimfire ammunition.
Designed by Union Metallic Cartridge Company, the diameter of the bullet is around 5.7mm and features a rimmed, straight case.
These projectiles are available from 30 to 40 grains. .22LR ammunition features a thin copper plating to reduce barrel wear.
It is effective for around 130 m. The recoil produced by this projectile is low, making it ideal for beginner firearm training.
The accuracy of the .22LR is solid. This ammunition sees use in pistols, rifles, and revolvers.

What Are the Uses of the .22LR Pistol?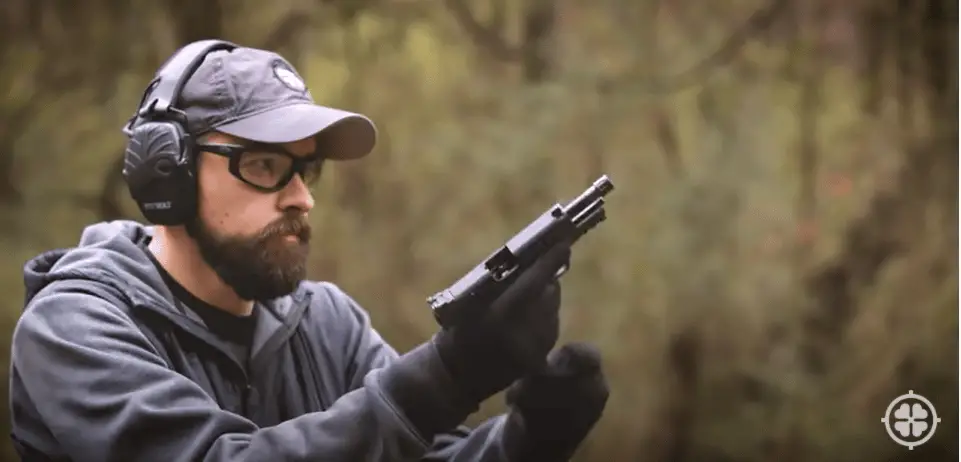 The .22LR pistol is a versatile firearm and has several uses. Their uses consist of:
Training and Beginner Courses
.22 LR pistols are recommended for many beginners or are used in many beginner firearms training courses.
They have a short effective range, not too expensive, and most of all, have little recoil. All these are important characteristics of a beginner-friendly firearm.
Vermin or Pest Hunting
These pistols have enough firepower to easily kill most vermin or pests. They can kill small game like coyotes. As a result, they do see some use for small game hunting or pest extermination.
Self-Defense
Being a pistol naturally lends it to be helpful for self-defense.
While the .22LR's firepower isn't the best, it is still nothing to sneeze at and can be used to reliably protect yourself if needed.

Top 5 .22LR Pistols
Let's now look at the best .22LR pistols available to you in 2022. We'll see what they each have to offer so that you can have an easier time choosing.
1. Ruger SR22
Ruger is a popular name in the firearms world, and it is a good idea to start with a brand that promises reliability.
The Ruger SR22 is a hammer-fired pistol that features both double and single action. It is a very reliable and easy-to-use .22LR pistol and is a good pick for many beginners.
The first thing you might notice is how amazing the gun looks with a smooth polymer frame.
It is constructed out of glass-filled nylon, and the barrel is constructed out of stainless steel so that it is resistant to corrosion. Topping it all off is the matte black finish, which makes you feel like you're in a spy movie.
Yet, the Ruger SR22 isn't all about looks as it features an ergonomic design that makes it a great pick for newbies. It features a crisp and responsive trigger for single action and an ambidextrous thumb safety so it can be used by both left and right-handed shooters.
Featuring reliability, good accuracy, small recoil, and very friendly design, the Ruger SR22 deserves a spot on this list for how easy it is to pick up and use. If you want to practice your shooting, the Ruger SR22 is a great pick.
It is light and compact, with the only issue being that the magazine needs a bit of an extra push to stay locked in place.
Top Features
Great aesthetic and sleek look

Ambidextrous thumb safety so can be used by both left and right-handers

Features three-dot sights to help with aiming

Light and easy to use
Pros
Tiny and light, making it ideal for covert carry and recreational use
Claimed to be simple and reasonably accurate by those who have used it
Many buyers praised the pistol's durability
Well worth the money, according to buyers
Excellent pistol for those who are new to target shooting
Cons
If you want something that you can readily personalize, the pistol is not ideal 
Not suitable for activities such as double-action shooting
Reversed safety function (down is safe, and up is fire)
Pulling a 7-pound double-action trigger
Because the magazine does not drop, you must use both hands to load it
2. Walther P22Q
The Walther P22Q is an amazing .22LR pistol that features everything you could ask for. It is also a hammer-fired pistol that features both single and double action. The P22Q is light and compact, making it easier to carry around.
This makes it a prime choice for self-defense along with the responsive trigger for single-action mode.
A polymer is used to construct the frame, and zinc alloy is used for the slide.
This gives it an incredible aesthetic and pleasing look.
It also features replaceable grips that allow for a customized approach to improve user experience.
There is an accessory rail for scopes and Walther's own laser for the P22.
Two of the most notable aspects of the Walther P22Q is its great accuracy and near lack of recoil.
The autoloader paired with the 3.4-inch barrel allows successive shots with very little variance in accuracy. The minimal recoil helps to make this operation even smoother.
Adding on to the features that make it such a great pistol to pick up on is the ambidextrous safety. All this is offered at an affordable price.
The Walther P22Q is light, compact, accurate, and very reliable. The one thing you should take note of it is that you need to break-in the pistol before it starts performing at its best.
Top Features
Ambi-magazine release

Threaded adaptor for suppressor mounting

Double action / single action trigger

Limited lifetime warranty
Pros
Ergonomically Sound
A simple to use, straightforward gun
Great Suppressor Host
A reasonable price for a decent gun
Good Trainer for New Shooters
Cons
Marginal reliability
It might not be the best for showing off impressive group sizes
Terrible trigger
Recurring issues with QC and parts breakage (at least from older versions)
Slide might snap
3. Smith & Wesson SW22 Victory
Next in the list is Smith & Wesson's SW22 Victory. It differs from the previous two pistols. It features a stainless steel design and is a single action. The grip is made out of polymer, allowing a smooth and comfortable hold on the gun.
And the SW22 has a very ergonomic handle due to the chequered texturing on both the front and back. A notable aspect of this gun is the detachable and customizable barrel.
It is very easy to disassemble and reassemble it as it comes with a necessary hex wrench for dismantling. This also makes it easier to keep clean and maintain.
The stock barrel itself is good and provides a great deal of accuracy, but the option of switching barrels makes this a versatile pistol.
Moreover, the trigger action is smooth and responsive, which allows smooth and successive shots.
The safety lever is much smaller than other pistols on the list. You won't accidentally activate it, but you might fumble a bit initially getting it to work until you're used to it.
Compared to the other pistols, the SW22 is bigger. This makes it a bit more difficult to carry around and conceal.
Overall, while the SW22 has a few cons, the changeable barrel, ease of use, accuracy, and reliability more than makeup for a few shortcomings and is an amazing choice.
Top Features
(2) Ten-Round Magazines Included

Fiber Optic Front Sight

Removable Interchangeable Match Barrel

Textured Grip Panels

Picatinny-Style Rail Included
Adjustable Fiber Optic Rear Sight
Adjustable Trigger Stop
Steel Reinforced Polymer Thumb Safety
Pros
It's low-recoiling and easily controlled (easier to get on target)
Small, relatively quiet round
The firearm feels excellent in hand, and the controls are within reach
Good for beginners
It comes with a match-grade barrel that is accurate right out of the box
Cons
This pistol isn't something you'd want to use for concealed carry
Under-powered as a self-defense cartridge
Too large with its 5.5-inch barrel, length, and weight
It might be much too heavy for some people to shoot for extended periods
4. Taurus TX 22
Taurus launched the TX22 in 2019, which pushed rimfire pistols in a better direction.
We've tried a few TX22 magazines, and they've all fed consistently and without any mechanical issues. Three 16-round magazines come included with the TX22, which is a significant feature. The magazine's innovative design enables the cartridge rims to drift to the left and right edges. Because of the twisting, you may fit 16 cartridges into a polymer magazine that is just slightly wider than a typical 10-round magazine.
We are seeing an increase in the number of engineered handguns on the market that are simpler to use. The TX22 isn't known to be an easy-to-use handgun, but it does have several characteristics that many will love. Thanks to a forged aluminum slide and a polymer frame, the TX22 is remarkably light.
The 16-round magazine is perhaps the most vital feature since it maintains the frequency of reloads in line with double-stack handguns.
Top Features:
Single-action only striker-fired system
Crisp, 5-lb. trigger pull with short reset
Proprietary grip texturing for favorable hand placement
The fully adjustable rear sight
Suppressor-ready muzzle threading
Reversible mag release
Integrated accessory rail
16 round magazine capacity
Pros
Excellent trigger pull
It has an internal/external/trigger safety that doesn't affect the quality of the pull
Boosted Magazine Capacities
Easy operators
A Useful Understudy for Defensive 9 mm Pistols
Cons
The grip contours make it challenging to access the thumb-­activated safety lever
No red dot to indicate the pistol is ready to fire
5. Browning Buck Mark
The Browning Buck Mark is a tried-and-true pistol that has been around for a long time. It is one of the most fantastic target rimfire pistols on the market, and with good reason. The pistol's total length is 11.25," and it weighs 38 oz. with the most extended barrel length of 7.25″. It's heavier than most handguns; therefore, it is not ideal for concealment. However, it is an excellent choice for range shooting and plinking.
All of our tested rounds have consistently cycled through the blowback action. We have probably fired a thousand rounds through mine with no failures! The Buck Mark is a steady performer who is about as dependable as possible. Even at extended range, perfect shot groups are simple to achieve.
The grip varies as well, depending on the model. A rubber grip, laminate grip, or wood grip are all options. We think the molded rubber grip is worth the additional money since it is incredibly comfortable and straightforward to handle. The trigger is quite beautiful in and of itself. It is gold-plated, which contrasts wonderfully with the rest of the handgun and gives it an appealing appearance.
Top Features:
Soft, black rubber Ultra-grip RX
Semi-Automatic with a 10-round magazine capacity
Machined-aluminum frame with a 5.5″ precision barrel
Adjustable front and rear sights
Handedness: Ambidextrous
Action: Single
Product weight: 34 oz.
Front sight: Pro-Target
Gold trigger
Manual thumb safety
Pros
Better shot-to-shot consistency
Reduced cycling load
The pistol is well known for its accuracy and reliability
The design is straightforward yet effective
The brake gives the gun a unique look and helps the pistol balance well in the hand
Cons
Some users report it cocks easily
The windage adjustment doesn't work much
Sometimes the pellet falls out when returning the barrel to firing position (perusers)
A bit heavy trigger pull
How to Choose the Right Pistol
You might be wondering what to look out for when buying a new pistol. Remember to keep these things in mind, and you'll make it easier for yourself.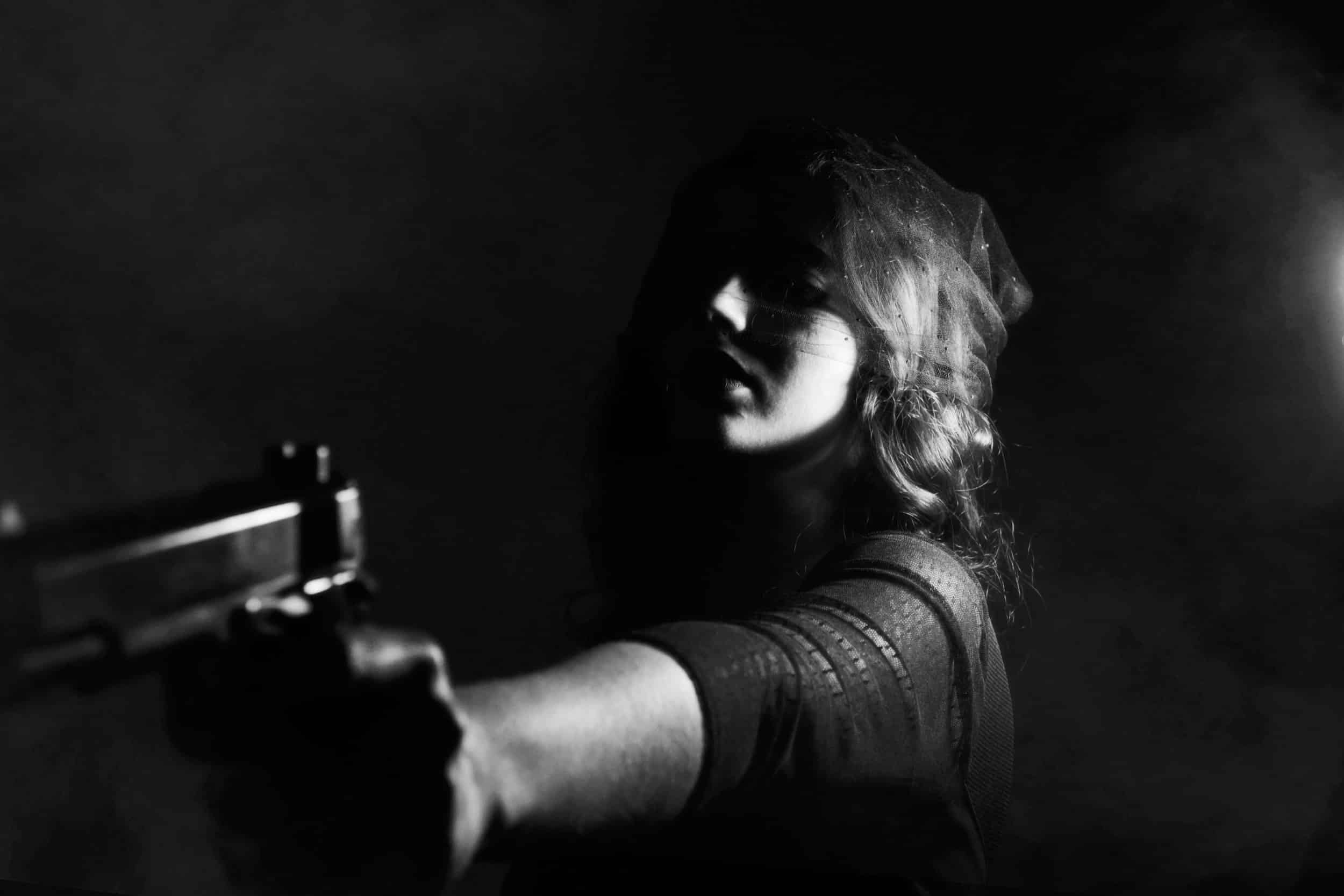 One of the most important things to look out for is how accurate the pistol is.
You will generally want a pistol with good accuracy and is consistent in its shots. And you will also want to look out for what sights the particular pistol has so that you can have an easier time aiming.
If you're going to buy a pistol, you need to ask yourself how much will you carry it around.
Heavier and bigger pistols are harder to carry around and can prove a burden. If you need to keep the pistol on you for a long time, you will want to invest in a lighter pistol.
Are you a beginner and want to try your hand at firearms? It's best to start with a user-friendly pistol. This includes features like minimal recoil and slides that are easy to operate. Some guns will help you ease into using a firearm.
Some pistols offer a wide variety of customization options to enhance and personalize their performance. For some, this might be a bit overwhelming, and they would want to stick to pistols with fewer customization options.
And some people enjoy tuning their firearms to maximize their performance and would want a pistol with cheap and easy customization.
Finally, you should always keep your budget in mind. Pistols and firearms are not cheap, with some models being more expensive than others. Sometimes you might not need all the shiny new features and can perform well with a cheaper pistol.
Conclusion
Hopefully, you've enjoyed reading this article and gain insight into the different .22LR pistols to choose from. We feel that this list and the .22LR pistols chosen all embody the best of the particular type of firearms, and they will perform reliably.