For a gun to work smoothly, it consists of several moving parts that work together.
To keep your firearm functioning at its best ability, it is essential that you regularly clean and properly maintain it.
However, those who are new to firearm ownership are not aware of this. Thus, its value quickly diminishes in a short period.
Firearms are a major investment, not only because of how much it costs to purchase them but also because of their reliability in certain situations. Although cleaning a gun seems like a simple chore, it is vital to use the right equipment and cleaning kit.
Furthermore, some people commonly make the mistake of getting cheap cleaning kits that are poorly made. Hence, I have listed down some of the components that your gun cleaning kit should contain, what to consider when purchasing one, and the best cleaning kits available for you to try.
What's inside a gun cleaning kit?
Handgun, pistol, shotgun, or rifle – regardless of the type of firearm, the basics of gun cleaning are all the same. A good gun cleaning kit should include components such as cleaning solvent, cleaning rods, cleaning jags, cleaning patches, cleaning swab, cotton swab, double-end brushes, bronze and nylon brushes, slotted patch holder, and bore snake.
Cleaning Solvent – also referred to as CLP or "Clean, Lubricate, and Protect", cleaning solvent is used to clean and lubricate your firearm. It helps remove lead, carbon, and other fouling from the bore.
Cleaning Rod – it is the most essential part of your cleaning kit because it is used to attach all the other components of your cleaning kit. It is also vital to know that when used incorrectly, a cleaning rod can damage the barrel of your gun.
Cleaning Jag – it is a little attachment that goes at the end of the cleaning rod. Simply place a cleaning patch in the center of the jag to clean the bore.
Cleaning Patch – dipped in your cleaning solvent, a cleaning patch is placed at the end of the cleaning jag. It comes in a variety of fabrics, so some may be a bit thinner than others.
Cleaning Swab – also called a gun mop, a cleaning swab is designed to remove excess residue from the barrel. 
Cotton Swab – it usually comes with 6 inches wooden handles, making it easier to push down a barrel and apply more pressure.
Double-end Brush – it is a toothbrush-style tool that can be used to clean the exterior of your gun.
Bronze Brush – it is an essential piece of firearm maintenance generally used to remove heady carbon build-up.
Nylon Brush – it is built to clean the sensitive parts of your handgun, which may not be ideal to use the bronze brush on.
Slotted Patch Holder – it is typically an alternative for the cleaning jag. Both perform the same function: you place cotton at the end to remove excess solvent.
Bore Snake – it is a tool used to clean the barrel of your gun after regular use as it helps prevent carbon build-up inside the barrel.
Things to Consider Before Buying a Gun Cleaning Kit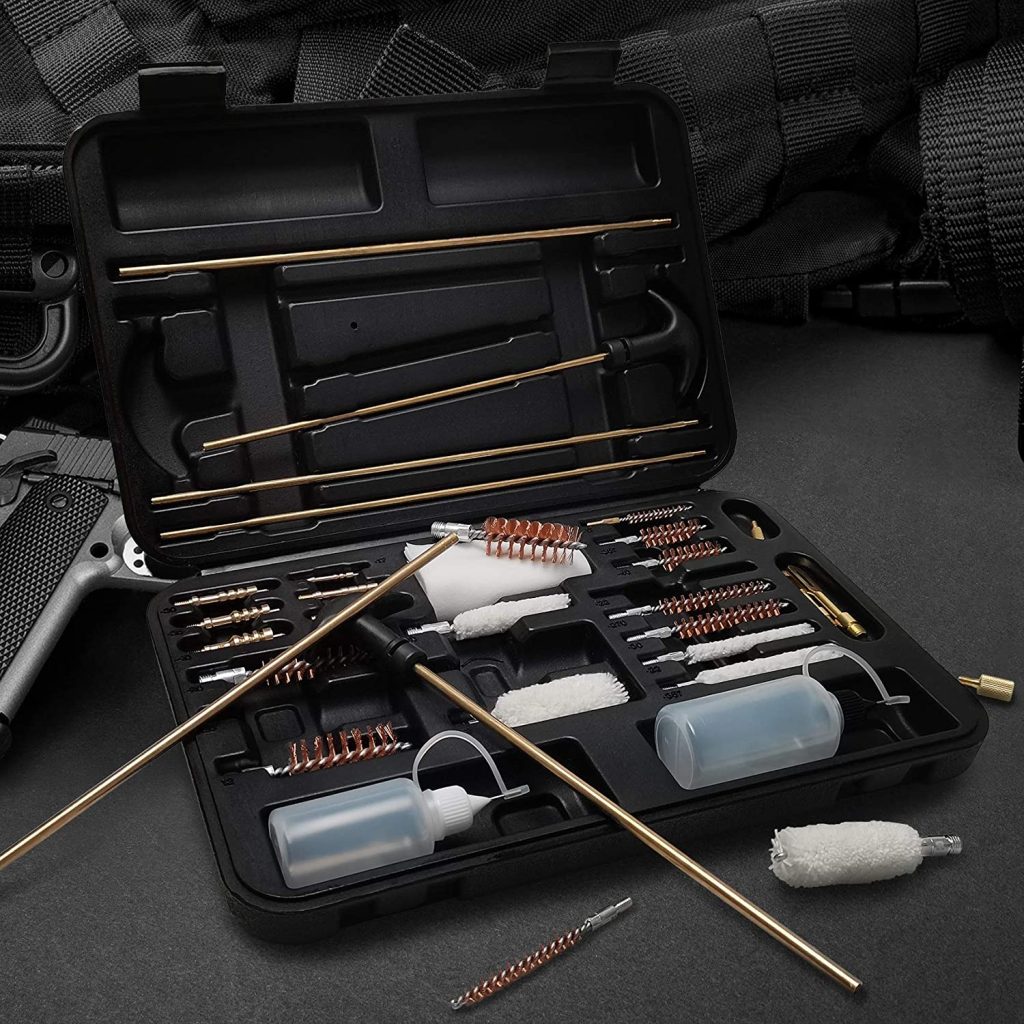 There is a wide range of guns to choose from in the market. Similarly, there are also several gun cleaning kits to select amongst, which can be tricky when you are searching for the best option possible. The list below contains some of the basic things you need to consider when choosing a gun cleaning kit.
The type of handgun
There are a few differences that you must know if you want to clean a handgun, shotgun, rifle, or all three.
If you own a handgun, then a handgun cleaning kit is definitely the way to go, which comes with a shorter cleaning rod. Meanwhile, long-gun cleaning kits are more ideal for shotguns and other long firearms. In my observation, they come with longer cleaning rods and are often more prominent in diameter, providing extra-rigid durability. Lastly, if you have a diverse collection of firearms, you can opt for universal gun cleaning kits that come with various rod lengths.
The caliber's size
Aside from the type of firearm, it is imperative that you also pay attention to caliber sizes before purchasing a gun cleaning kit. Some people usually make the mistake of not checking this while making a purchase, only to find out after that it is only capable of cleaning one of their five guns.
The ease of use
My advice for new firearms owners is to know how the various components of each kit work and how to use them properly. A cleaning kit that comes with an instruction guide or manual would be best; however, some gun cleaning kits do not have these. Hence, it is vital that you check first before purchasing one.
The tool's quality
Each gun cleaning tool is different from the others – different materials are being used, so the quality varies. Because of that, it is imperative to carefully read reviews and compare the feedback of other gun owners. After all, you don't want to spend a fortune on something that is no longer functional after a few uses.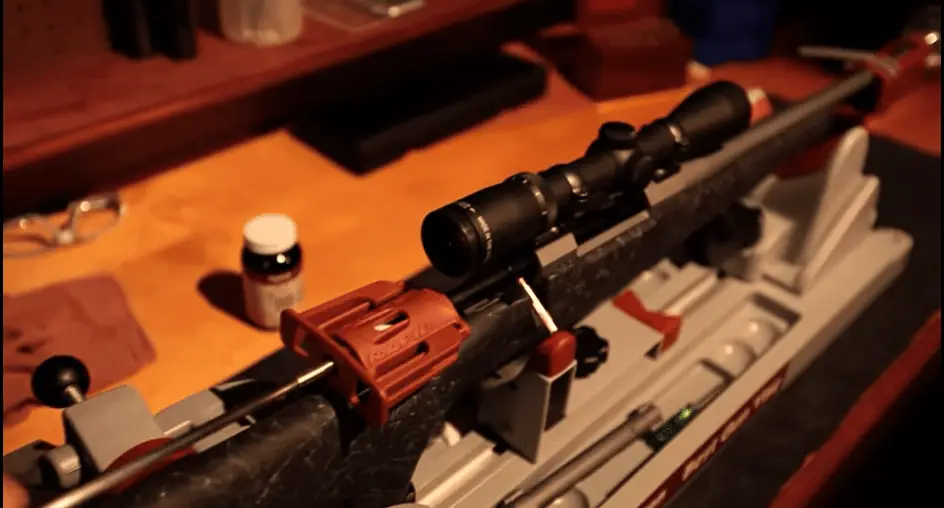 The case quality
Besides the tool's quality, it would also be best to consider the quality of the gun cleaning case, especially because most complaints are often about it. Thus, some firearms owners opt to buy a durable case separately and use their carrying cases for range shooting activities and traveling.
The design
Are you taking your gun cleaning kit to the field, or will it stay in your workbench? Let me show you a few things you need to consider when deciding between the two.
One of the first things you need to consider is weight. It is a vital factor, especially if you intend on taking your gun cleaning kit on a hunting day trip. Otherwise, if it will stay on your workbench, there is not much to worry about.
The second consideration is the size of your gun cleaning kit. Whether it stays on your workbench or you constantly bring it outside, it should fit in your range bag and should not dominate your space.
Lastly, I would go for a more specialized cleaning kit with fewer pieces but every component you will need. Remember that bigger is not always better.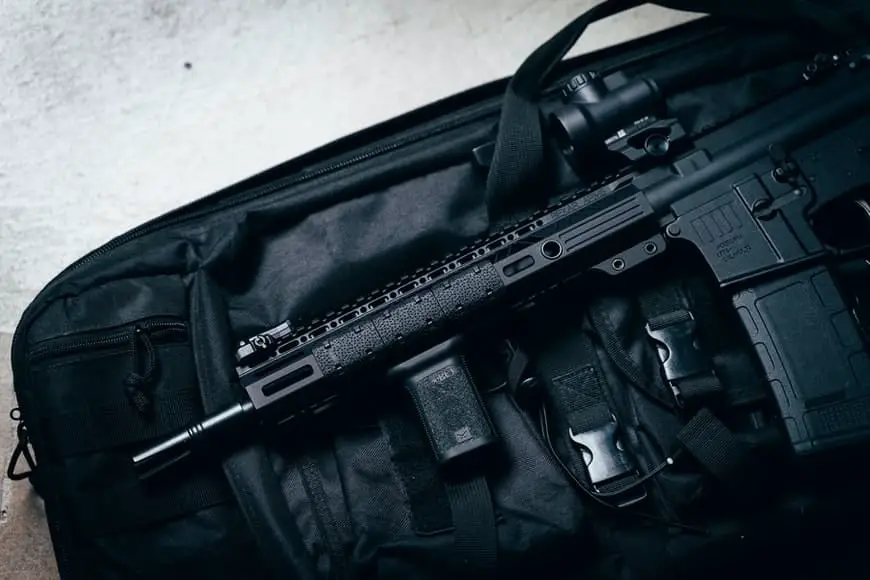 The price
Gun cleaning kits with more components usually cost more than those with fewer pieces, but they come at different price points, so there are still many great options depending on your budget. After all, just because one costs a lot does not mean it can do the job better.
The methodology
A good gun cleaning kit must be durable and stand up to regular and repeated use. It is essential to spend your hard-earned money on a cleaning kit that can last after being used many times.
Aside from durability, I would recommend taking into consideration a piece of equipment that can adapt to your changing requirements. Most times, it would be best to use a universal gun cleaning tool.
Finally, it is highly recommendable to look at the components in your gun cleaning kit and make sure that it has the tools you need to get the job done. Sometimes, there are certain items in your gun cleaning kit that you will not necessarily need.
Warranty policy
Before purchasing your gun cleaning kit, make sure to check the warranty policy and how long the warranty is covered.
Best Gun Cleaning Kits
Win Universal Soft Sided 32 PC is an affordable gun cleaning kit regardless of whether you are a frequent competition shooter or a seasonal hunter. These cleaning kits, gunsmithing tools, and accessories are built to keep your firearms ready for your next trip. It is also designed with precision and the harshness of range and outdoor elements.
This may be one of the best-reviewed gun cleaning kits. This gun cleaning kit comes with a high-quality case made of nylon, velcro straps, and a heavy-duty zipper. It features mops and brushes for 14 different calibers.
Pros
the caliber's size is stamped on the plastic bottle that holds each bronze brush
it is a 68-piece set, which can accommodate almost all types of firearms
it has many positive reviews and is priced affordably
the case contains separate sections where you can place your brushes, rods, mops, cleaning solvent, and bore snake
each section in the case is attached to velcro so that it can be easily removed from the case and placed on the table
more conveniently
Cons
the cleaning kit does not include items such as cleaning solvent, lubricating oil and bore snake, so you have to purchase these items separately
the kit does not come with instructions or a manual on how to use the items inside, but there are several tutorials on YouTube that you can refer to
Pro-shot Tactical Rifle Pack is a next-generation tactical design cleaning kit. Pro-shot is one of the most sought-after brands for frequent shooters, and highly competitive bench rest shooters. It is one of the best firearms cleaning kits available that law enforcement, special forces, competition shooters, hunters, and multiple armies trust and rely on. It features a coyote tactical carry pouch, cleaning rod, and accessories.
Pros
cleaning rod comes in a super heavy duty steel
master proven in extreme battle and field conditions
contains a complete tactical M/LE rod cleaning instructions guide
best recommended by customers to serious shooters or hobbyists
Cons
not many to note aside from its price, which can be a little bit more pricey than other options
M-pro 7 Tactical Cleaning Kit Clam contains M-pro 7 products that are low in odor, ammonia-free, and non-flammable. Its gun cleaners and lubricants are designed to improve your firearm's reliability, performance, value, and operator safety. In my opinion, it is one of the best gun cleaning options for people who want to spend more time training and using their firearms without spending too much time cleaning them. It features a high-quality case, gun cleaner, gun oil LPX, copper remover, and other necessary cleaning accessories.
Pros
improves optimal weapon performance
improves firearm's reliability and accuracy
significantly cuts gun cleaning time
removes carbon, lead, and most copper fouling
M-pro 7 products are non-toxic, almost odorless, biodegradable, non-hazardous, and environmentally-friendly
Cons
the kit does not contain a bore snake
I needed to purchase additional patches frequently since they run out quickly
Real Avid Master Cleaning Station is especially designed to thoroughly clean .22 / 9mm / .357 / .38 / .40 / .45 caliber handguns. It features a next-generation cleaning mat with an intelligently designed cleaning kit that is composed of a set of comprehensive gun cleaning tools. It also features compact storage, providing a spacious work area for your completely disassembled gun. In addition, it keeps easy-to-lose gun parts organized while you do the work.
Pros
provides a huge space while your firearm is disassembled
the magnetic lid feels secure
the handgun cleaning mat is non-slip, soft, and padded
quick set up and takedown
Cons
the rod's length is longer than what is necessary for a handgun
5. Otis Technologies FG-1000 Elite Cleaning System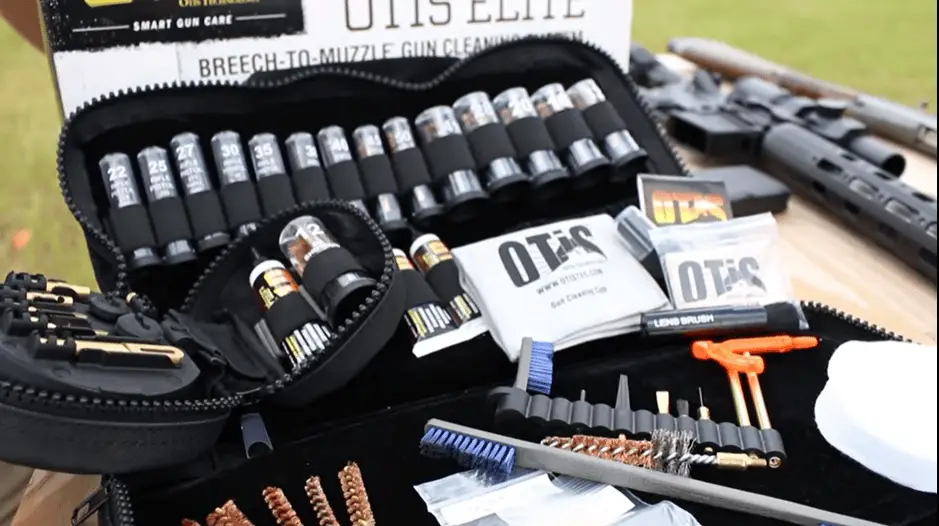 Otis Elite Gun Cleaning Kit is a comprehensive gun cleaning kit that consists of a wide variety of cleaning tools. It is designed especially for advanced gun owners and probably has everything you need to clean all of your firearms. It consists of bronze brushes that are meticulously made with the caliber engraved into the rod's base. Meanwhile, the carrying bag is made of high-quality nylon and zipper.
Moreover, Otis Elite Gun Cleaning Kit features 22 bronze bore brushes, an all-in-one cleaner, lubricant, a brass scraper tool set, a lens cleaning kit, and two 5 ounces tubes of Otis O85 Ultra Bore Solvent.
Pros
a comprehensive assortment of cleaning tools
an all-in-one gun cleaning kit
can quickly place every tool in this kit in a carrying bag
get easy replacements for a few dollars if any of the brushes break
Cons
I think others would prefer a hard-case bag than a nylon bag
the kit is very compact and large because of its assorted components
6. Outers 28-pc Uni Gun Wd Clean Box
Outers 28 Piece Universal Gun Cleaning Kit is ideal for beginners or intermediate firearms users. It is the only universal gun cleaning kit that comes in a wooden box, and it is specially designed for pistols. Although it is not a heavy-duty cleaning kit that can withstand extreme conditions, it consists of a variety of brushes for assorted calibers.
The cleaning kit consists of 8 bronze brushes, 3 brass rods, 3 pistol/rifle rods, 5 cleaning mops, 5 spear-pointed jags, 2 slotted patch tips, and an instruction guide that details the contents of the kit.
Pros
it is an impressive cleaning kit for its price
bronze brushes felt durable
Cons
rods breaking and bending after using them a couple times
the box feels very light and thin
can not fit in all sizes of calibers
A one-and-done purchase, Allen Ultimate Gun Cleaning Kit is one of the best universal gun cleaning kits because it has almost everything I need to clean anything in my collection of firearms. It is a 65-piece kit set that you can easily store compact in an ammo can.
On top of that, there is an extra space underneath if you also have a few extra essentials that you want to store. It is where I keep flashlights, additional bottles of my favorite cleaning solvent, and other gun cleaning essentials.
Allen Ultimate Gun Cleaning Kit consists of 65 pieces in total, specialty tools for the modular sniper rifle or MSR, bronze bore brushes for shotgun 12 and 20 gauge, cotton swabs for shotgun 12 and 20 gauge, and more.
Pros
all you need for handguns, shotguns, and rifles are in this gun cleaning kit
it has an organized and compact storage
provides extra storage space
Cons
a 65-piece cleaning kit might sound a lot for beginners and might be more than what they need
Breakthrough Clean Technologies Ammo Can Cleaning Kit is a comprehensive universal cleaning kit designed to clean and maintain guns from .22 caliber through 12 gauge. It features a durable plastic ammo can style case, a bottle of their bestselling Military-Grade Solvent, a tuff trainer toolkit box, double-end nylon utility brush, durable cleaning rods, and more.
Pros
very effective at breaking down carbon and copper buildup
he chemicals does not smell that much
Cons
the cleansing solvent is not consistent in taking off residues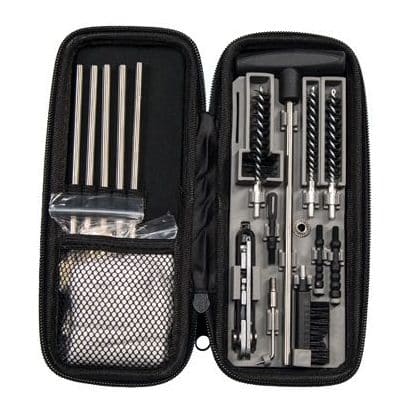 Perfect for storing in small spaces, Tipton Delta Series AR Compact Cleaning Kit is an excellent option if you like to travel a lot, clean at range, or simply want to be organized at home.
The cleaning kit comes in a semi-rigid zipped carry case and features a collapsible cleaning rod with a rotating T-handle, stainless steel cleaning rod, AR chamber brush, multifunction bolt scraper too, and more.
Pros
Cons
plastic tips easily break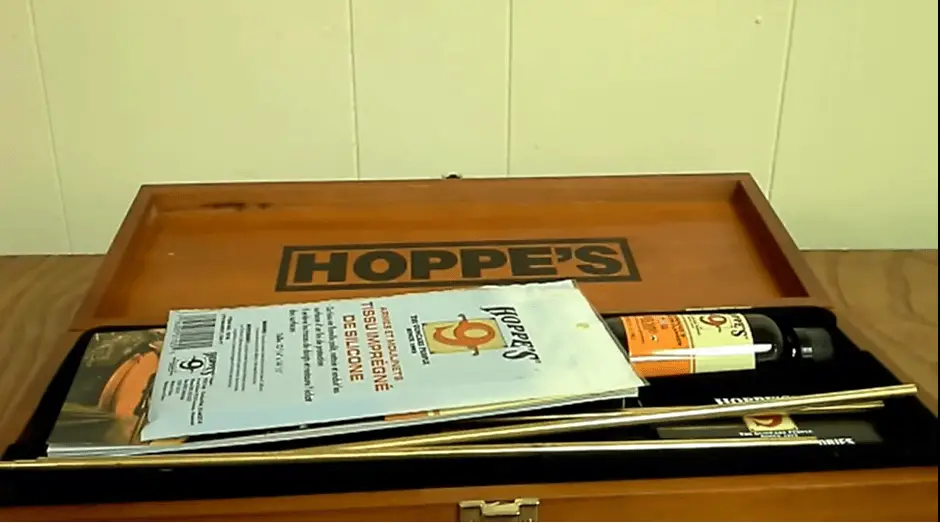 Hoppe's No. 9 Deluxe cleaning kit is also another great recommendation for people who own a wide range of firearms and want to clean them all. It is an all-purpose universal kit that includes a generous amount of cleaning solvent and famous lubricating oil. The kit also consists of a high-quality rod made of brass and an array of bore brushes.
Pros
offers an amazing value for the components it consist
it had many cleaning patches
comes with a set of instructions that are helpful for beginners
Cons
leaning solution is not included in the kit
FAQs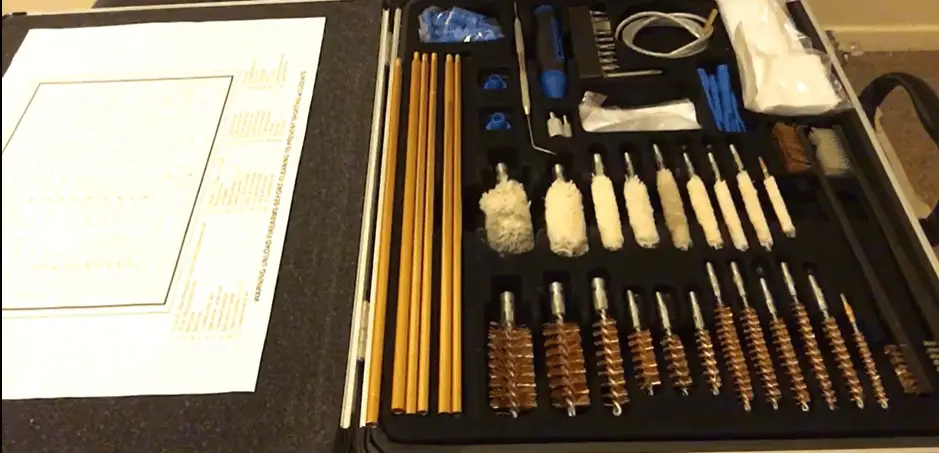 Q: How does a gun cleaning kit work?
A: Cleaning a gun involves several steps. First, ensure that your firearm is not loaded, and then set up your cleaning space in a well-ventilated area. Next is running a cloth patch soaked in cleaning solvent down the barrel, and after it has soaked in, I would run the bore brush and rod up and down the barrel until there are no more residues. Lastly, I spray the lubricant on the barrel and other surfaces of the gun, finishing it off by wiping it with a clean cloth.
Q: Does a gun cleaning kit work for all types of guns?
A: Some cleaning kits work for all, but some don't. However, universal gun cleaning kits work for firearms of all sizes. So if you have a collection of guns like me and are looking for a "one-size-fits-all" cleaning kit, I would recommend you to go for a universal gun cleaning kit for more convenience.
Q: Should you clean your gun every time after you shoot?
A: No, it is not necessary to clean your gun every time after you make a shot. However, if you shoot once a month or less, it is advisable to clean your gun every time because a bit of corrosion can damage your gun if left unattended for quite some time. On the other hand, if you are a frequent shooter (once or twice a week), there is no need to clean it every time. Instead, you can just wipe out the exteriors of your gun; meanwhile, you can give it a thorough cleaning at least once a month.
Final Thoughts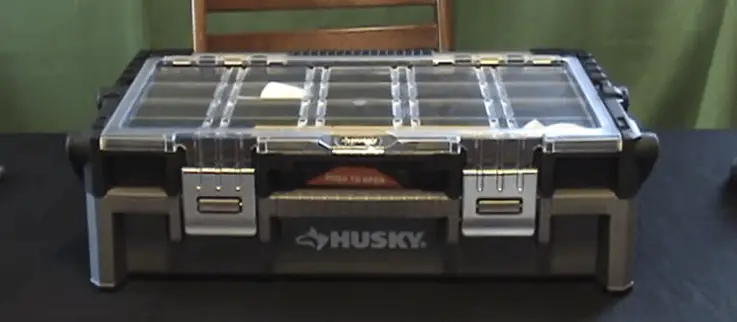 Searching for the best gun cleaning kit can be tricky, mainly because there is no such thing as the "best." Brands claim that their gun cleaning kit products are the best in the market, but the truth is, they will only come close because each one will always have its shortcomings.
With that said, the best way to find a cleaning kit that works for you is by buying multiple gun cleaning kits and trying them for yourself. In the end, you might also end up picking your favorite products and making a cleaning kit tailored to your specific needs.