If you own a gun, you already know oil has a high impact on the reliability, performance, and lifespan of your firearm.
But how do you go about choosing from the many oils available on the market today?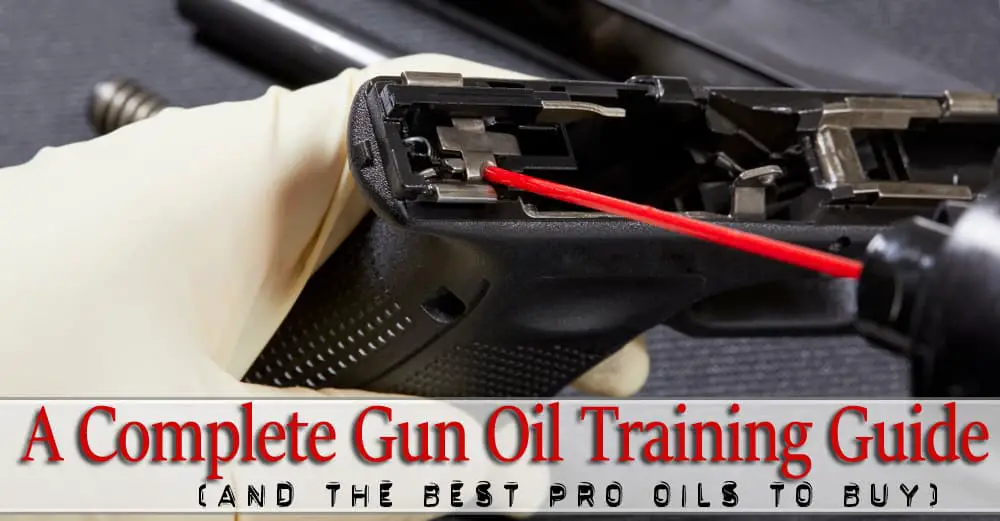 Regardless of the reasons why you own it; self-protection, hunting or as a hobby, the importance of becoming proficient at cleaning and maintenance cannot be underestimated. Possessing a malfunctioning firearm can be dangerous.
However, with the many gun lubricants and gun oils in the market, it's easy to get overwhelmed if you lack experience. Many oil brands present a lot of claims, but do they deliver? Certainly not. Many products will not live up to your expectations.
For this reason, we have compiled a comprehensive guide on everything you need to know to get the best gun oil. It will help you make an informed decision before committing.
A. Factors To Consider Before Buying Gun Oil
You might be wondering why lubricating your gun is important in gun maintenance. It plays an essential role in preventing wear and tear, allowing it to operate effectively through reducing friction between the moving parts.
Gun oils are designed to serve different purposes. Some lubricate, clean, protect and preserve. This means that there are certain factors that you must consider when buying firearm oil.
These factors will dictate the performance the gun will deliver. The best gun oil is one that not only lubricates your gun properly to ensure optimal performance, but it should also make your gun more durable.
Here are some of the most important factors to consider: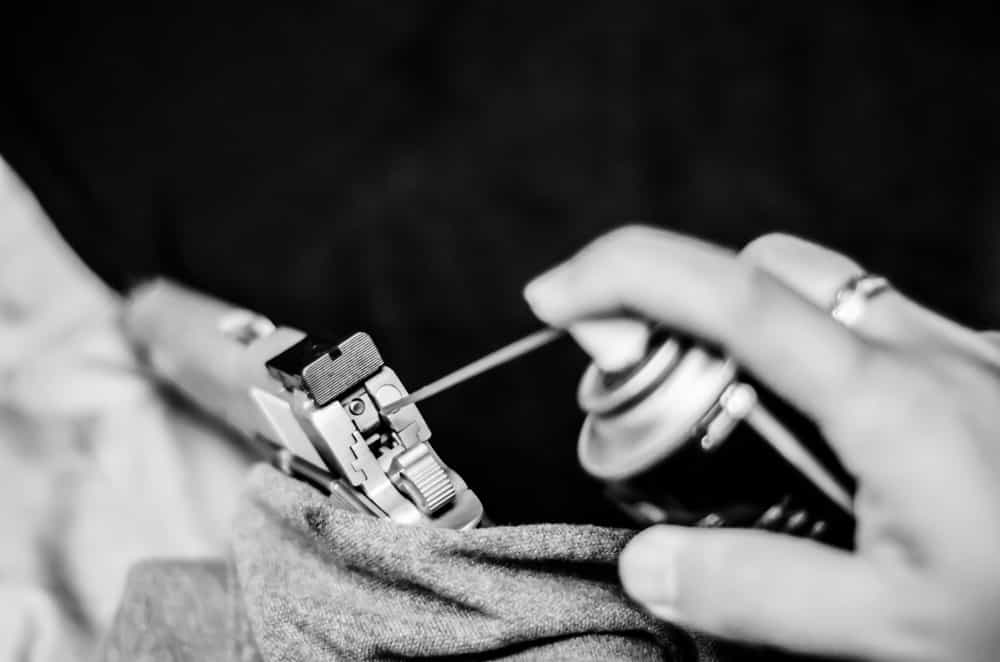 1) Grease
Grease is applied to the parts of the gun such as the barrel that require protection from corrosion or rust.  The best gun oil products on the market are designed with anti-corrosion properties, and you might not need to buy different products.
To enhance precision you can purchase all the 3 types of gun oils and apply them based on specific needs. This will enable you to improve the oiling and the oils will last for a longer period.
Grease is made by mixing different bases to achieve properties that it should possess, depending on the intended purpose. Mostly, the base is usually similar to a metallic soap substance. While others are designed to reduce oxidation, some bases are enhanced to improve water-resistance of the firearm, to help protect during extremely cold weather and water.
With regards what environment the gun will be used in, the choice of the base could vary. The bases are categorized in terms of grades which are denoted by NLGI number. The higher the number, the thicker the grease/oil is and the smaller the number, the thinner the end product. Your choice of grease will depend on the kind of thickness that is best for your gun.
2) AW/EP (extreme pressure/ anti-wear)
If you look at the different types of the best gun oils, you won't miss noticing this additive used to deliver optimum protection and functionality. The AW stands for anti-wear and EP for extreme pressure. High-quality oil normally has many additives that ensure that the gun operates smoothly.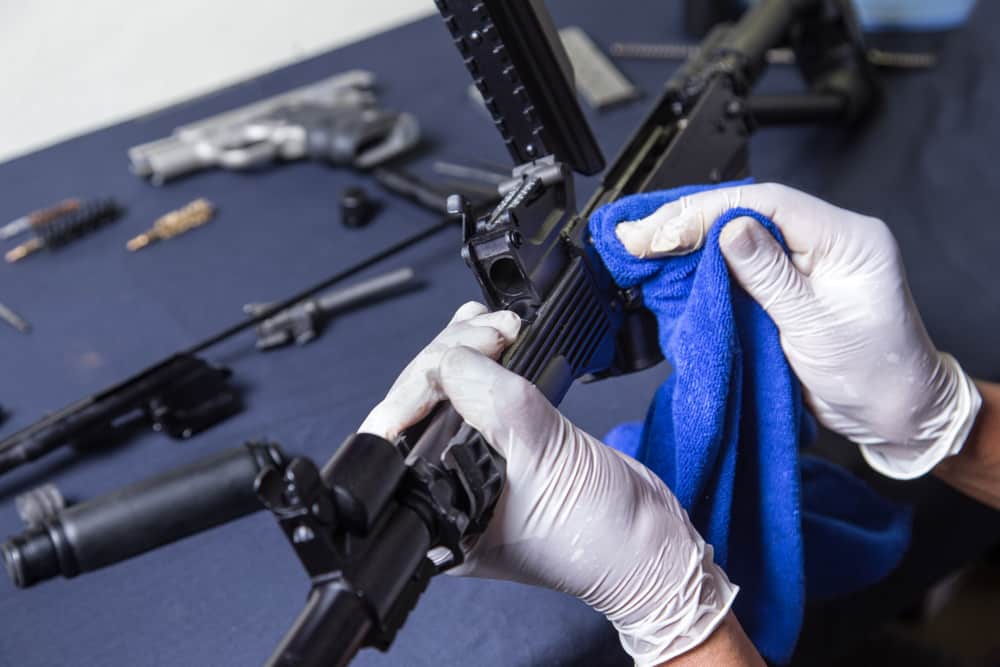 The additives consist of tiny solids mixed with straight oil to boost the thickness and add extra features to the mixture. You will find many different mixtures each tailored to suit particular needs, environmental protections and concerns.
The most used compounds include:
• Pour point depressant
• Detergents
• Tackifiers
• Zinc dialkyl dithiophosphate
• Polytetrafluoroethylene
• Phosphors
• Zinc
• Boron
• Sulfur compounds
• Antimony dialkyl dithiocarbamate
However, these are just some of the most common types. There are several different additives that are used to deliver the end product with the preferred thickness alongside other properties.
Intended Purpose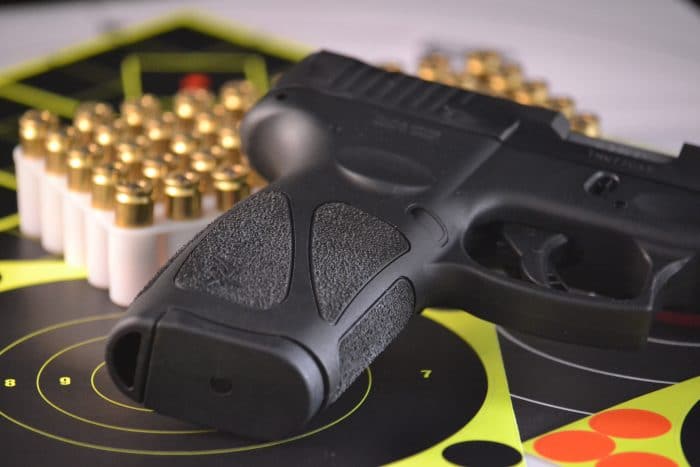 1) Where are you planning to use your firearm? The intended purpose is usually matched with your location.
2) You also need to consider the type of oil with regards to how often you will be using the gun.
3) The choice of oil will also vary depending on how long you will be storing the firearm for later use. Regardless of the length of storage, well-maintained guns have excellent performance.
So, if you reside in the salty coastal areas or humid southern regions, you should center your concerns on rust, but this is not the case with people living in more temperate areas. For gun owners living in such regions, its wise to maintain guns using oil characterized by plenty of rust prevention additives.
If you intend to use the firearm in extreme cold, then the best gun oil is one that is tailored for that condition. Luckily, oils suitable for such conditions are prevalent. But, the brands matter a lot.
In this guide, we provide you with reliable brands that adds and maintains value to your investment. For these reasons, knowing the type of use and protection, your gun will help you determine the suitable oil.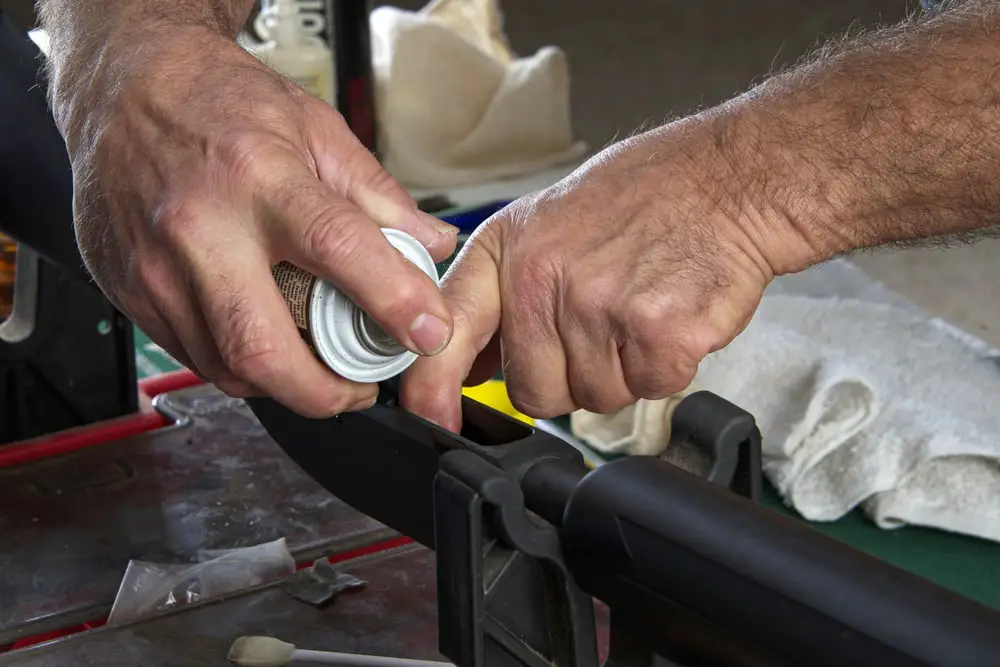 3) Thickness
With regards to the climatic condition on where you will be using the gun, thickness matters a lot. There are certain reasons why you should choose thick instead of thin oil. By understanding the difference, you will be able to make a wise decision on which oil is best for you.
Generally, thinner oils are the best gun oil since they spread faster on the metallic parts of the gun which makes them effective in curbing friction because they don't get rub off easily. However, in humid and hot climates, thicker oils are more suitable since they stick to the surface of the gun and will not be vulnerable to evaporation.
4) Viscosity
Viscosity is another factor to consider when searching for the best gun oil. Although viscosity is similar to thickness, the two vary depending on the context. A highly viscous oil will flow slowly while a low viscous oil will flow faster.
When applying the oil, less viscous oil will run away faster from the points of application and easily seeps to different parts of the gun. So, if you want better control of the parts oiled, you should consider buying a highly-viscous oil.
Therefore, it is important to identify whether your gun needs grease, oil, and lube. While grease is the thickest, lube is the thinnest. This means that lube is effective for parts of the gun which are difficult to access and oil is suitable for areas that are easy to access.
5) Oil Color
Although the choice of color might seem irrelevant, it can be very important. As said earlier, it is important to apply the oil evenly on the parts of the gun. This means that you should perform the process in an area that is well lit. Alternatively, a more effective way is buying gun oil that has a contrasting color with your weapon.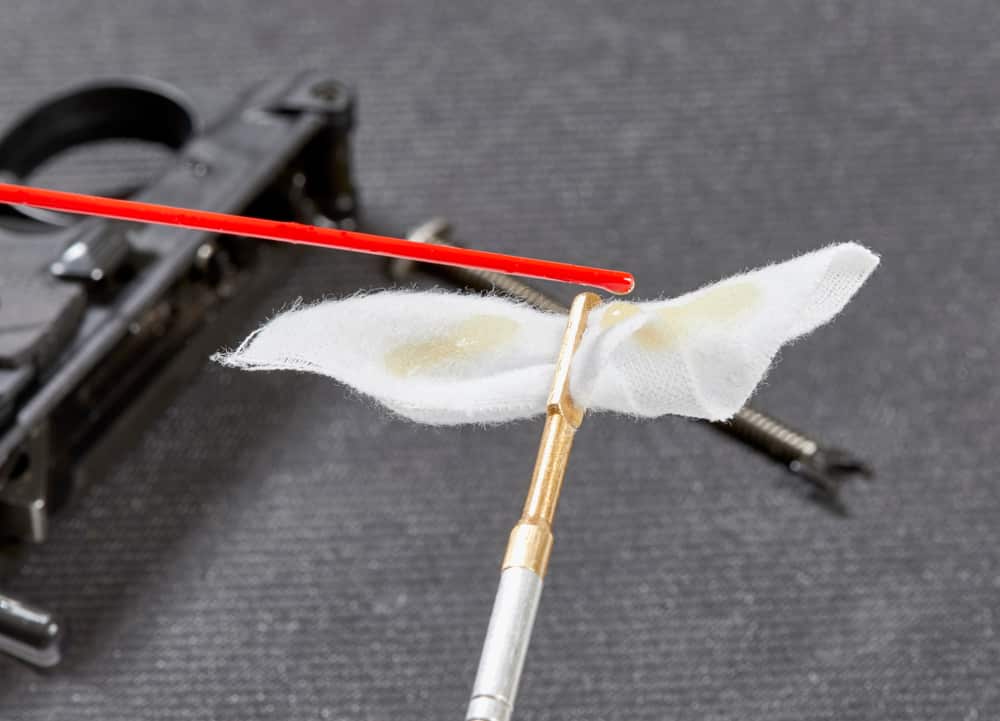 This will enable you to easily identify the parts where you might have missed to ensure that the job thorough. If you are a beginner, this could be the best method as you gain experience over time.
With this in mind, understanding what your guns requires along with the components of the oil essential. This is because there are several oil products on the market today but not all of them are effective.
Considering that this is a key aspect when it comes to gun maintenance, you ought to be willing to invest in acquiring the best oil products. High-quality oil will ensure your firearm remains functions smoothly for a long time.
B. Oil Application Method
There are various methods of oiling your gun. The choice of application is largely influenced by your assembling and disassembling skills of your weapon. If you don't have enough experience, then you should consider opting for oil products that are easy to apply.
Here are some of the common application methods:
Spraying: this method involves using a pressurized device. However, it is not suitable if you want to apply oil to the inner parts of the gun.
Precision or needle applicators: oils that are made for this kind of application normally come with an elongated opening that looks like a needle. The long opening enables one to reach various parts of the gun.
Wipes: wipes are oiling products that are pre-soaked in oil. This means that you only need to run the wipes on the surface of various parts of the firearm. The advantage of this method is that all parts are evenly covered, but they might not be the best in oiling parts which are hard to access.
No mechanism: some oil products such as the thick ones come with no specified application method. You will need to devise a method that you deem fit like dipping a cloth in oil and then applying it. While it gives you better control of the amount you use, you should be careful not to over-apply the oil.
C. The Top 9 Best Gun Oil Reviews
1) Break-Free CLP-4 Cleaner Lubricant Preservative

The CLP-4 is also commonly known as 2-in 1 since it is designed to lubricate, clean and protect your gun from corrosion, environmental conditions, and wear and tear. With these features, there is no doubt what the oil can achieve in enhancing your gun's performance.
Whether you use your gun regularly or want to keep it ready for future use, this product is one of the best gun oils available. Another great feature that the oil comes with is high migration that enables it to penetrate into all parts of your gun, providing the best protection possible.
It is also made to work well in various conditions be it in highly saline or extremely cold environments. This highly effective oil won't lose viscosity or thicken as the temperature vary.
Pros
• Organic and biodegradable
• Excellent performance in extreme environmental conditions
• Various uses
• Solid anti-corrosion and anti-static
• Long-lasting
Cons
• Gun owners used to spray application will take time to adjust
2) Ballistol Multi-Purpose Lubricant And Cleaner

Ballistol is an excellent lubricant/oil that can be used as a general-purpose gun lube. Apart from lubricating your firearm, it cleans it as well as reducing the need to clean it manually.
Although the oil was originally manufactured to be used by the German army, it can be used for more than just guns. For instance, leading industry players such as Coca-Cola use the oil in lowering friction in their machines.
The oil is biodegradable and environmentally friendly which makes it safe for use. Since it is non-toxic, you can even use it when around your family or pets without any worries.
If you need a gun with excellent value for your money, then look no further than this oil. Its satisfaction is guaranteed, and it will help a lot to keep your gun in good form.
Pros
• High quality
• Organic and biodegradable
• Can be sued for general purpose
• Preserves and protects
• Alkaline properties
Cons
• Has a slight earthy odor
3) Hoppe's No. 9 Lubricating Oil

If you are a gun enthusiast, then you have likely run across Hoppe's oil products. They have earned the trust of many gun owners since they are among the best gun oil that is long-lasting and effective in protecting your gun.
The formulation process of the oil is unique and has been having been enhanced over the years enabling customers to get the best quality.
It comes with a precision applicator that makes oiling even the tightest parts which can't be accessed easily. Additionally, it is the best choice if you need a multipurpose oil that you can use for maintaining most of your machines.
The cost-effective oil is stable under various environmental conditions and won't thicken or harden with the variation of temperature. This is due to its high viscosity enabling it to keep your gun in the right shape.
Pros
• Can be used for various purposes
• Stable under different conditions
• Extra-long lasting
• Cleans and protects
• Manufactures in the USA
Cons
It could be expensive for other users
4) Slip 2000 Extreme Weapon Grease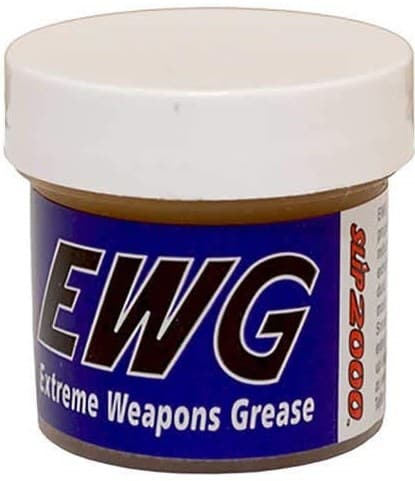 Unlike other lubricants, this grease will stay wet for a long time ensuring that your gun remains safe from wear. It can also be used to protect weapons that have wooden parts since they are safe for use with a variety of wood types.
Moreover, it prevents substances sticking that could harm your guns such as lead, copper, carbon or sand. The clean time is also reduced when using it by half.
Just like most high-quality gun grease brands, Slip 2000 is one of best gun oil which are non-toxic since it can keep the weapon and it's owner safe and doesn't pose harm to the environment as well.
Considering that you only need a little application of the grease on the parts that you want to protect, the grease can last for a long time. With all these impressive features you can expect nothing other than smooth operations that will improve your experience.
Pros
• Can remain wet longer
• Protects your gun from erosion
• Safe on plastic and wood parts as well
• It is biodegradable
• It easy to clean
Cons
• Some people might find applying it difficult
5) Hoppe's M-PRO 7 Gun Oil LPX

M-PRO 7 Gun Oil is yet another high-quality all-purpose gun oil. It was developed for general purpose usage which makes it an excellent choice for use in maintaining any kind of gun from different time periods.
The gun oil can be used as a protectant, lubricant, and cleaner. It works by repealing any form of dirt or other sources of grime and gunk. This enables it to keep all the movable parts of the gun operating smoothly with less friction causing wear and tear.
It is also made with additives that are designed to protect your firearm from corrosion and other harsh environmental conditions making it one of the best gun oil in the market. The lubrication also plays an important role in repelling dust and dirt plus it doesn't thicken or evaporate when the temperature changes.
Pros
• Comes with additives
• Excellent quality
• Long-lasting; doesn't evaporate easily
• Can be used for general purpose
• Delivers a smooth finish on the gun
Cons
• It might resist some solvents
6) CLP Oil, Lubricant, by Sage & Braker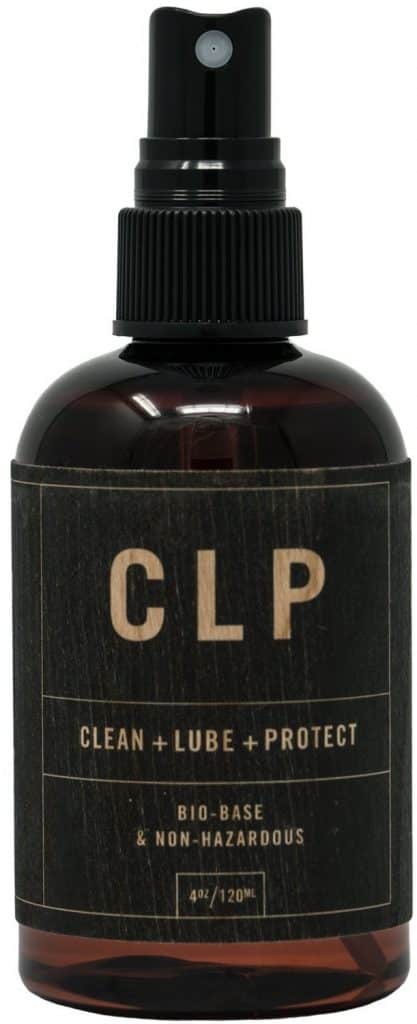 While CLP oil comes with a substantially higher price, it's worth your investment. This designer-like, non-toxic, biodegradable oil does a great job in ensuring that your gun is perfectly lubricated, protected and makes cleaning easy.
If you have not cleaned your gun for some time, this is one of the best gun oil to get since it is effective in reducing the accumulation of dust and debris on your firearm.
Although it might not be the most effective oil, it is strong and will get rid of the copper gunk, lead, or carbon. When you shoot, the lubrication part plays a crucial role in keeping the gun cool through seeping away from the heat produced. It is also developed with a static reduction factor that helps to keep away carbon from sticking to the gun.
The fact that it is non-toxic means that you won't harm yourself or pollute the environment when using it.
Pros
• Biodegradable and non-toxic
• Prevents carbon and dust buildup
• Keeps your gun cool
• Useful for cleaning firearms not cleaned for long
Cons
• It has a strong odor
• Its price could be high for some users
7) Mil-Comm. TW25B grease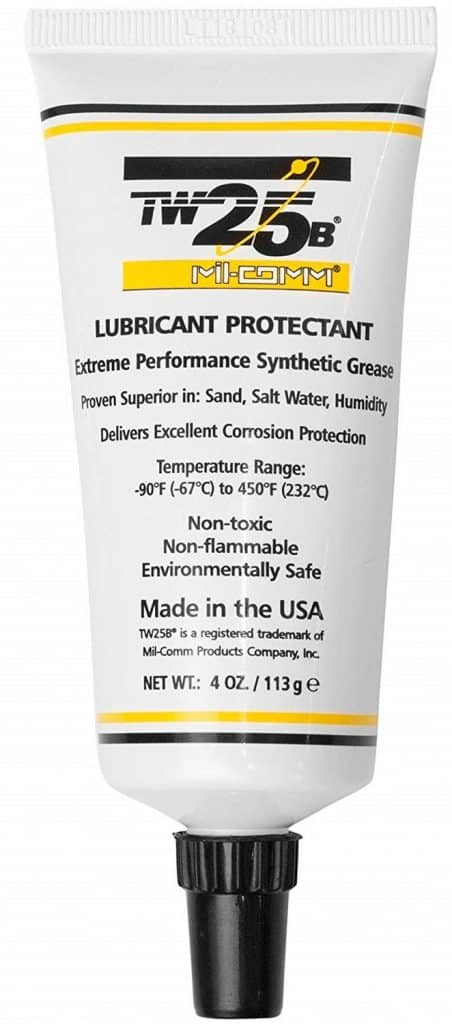 The Mill-Comm TW25B grease is another lubrication tool that's worth your consideration. It comes with a reduced tip which makes the application of oil on the hidden parts of the gun simple. The precision tip will aid in reaching the hard to reach parts.
It offers excellent protection on parts and applying it is quite simple. This makes it suitable for use by gun owners with little to no experience. You only need to rub the grease on the metal part of the gun to achieve a super impact.
Since it works perfectly in extreme temperatures, it is among the best gun oil that can be used in almost all kinds of environments.
Pros
• It is thick and will stay on where it is applied for long.
• Very easy cleanup.
• Consistent recoil
• No foul odor
• Offers excellent protection to your gun
Cons
• It could be expensive for some users
8) Grizzly Grease Non-Toxic Gun Cleaner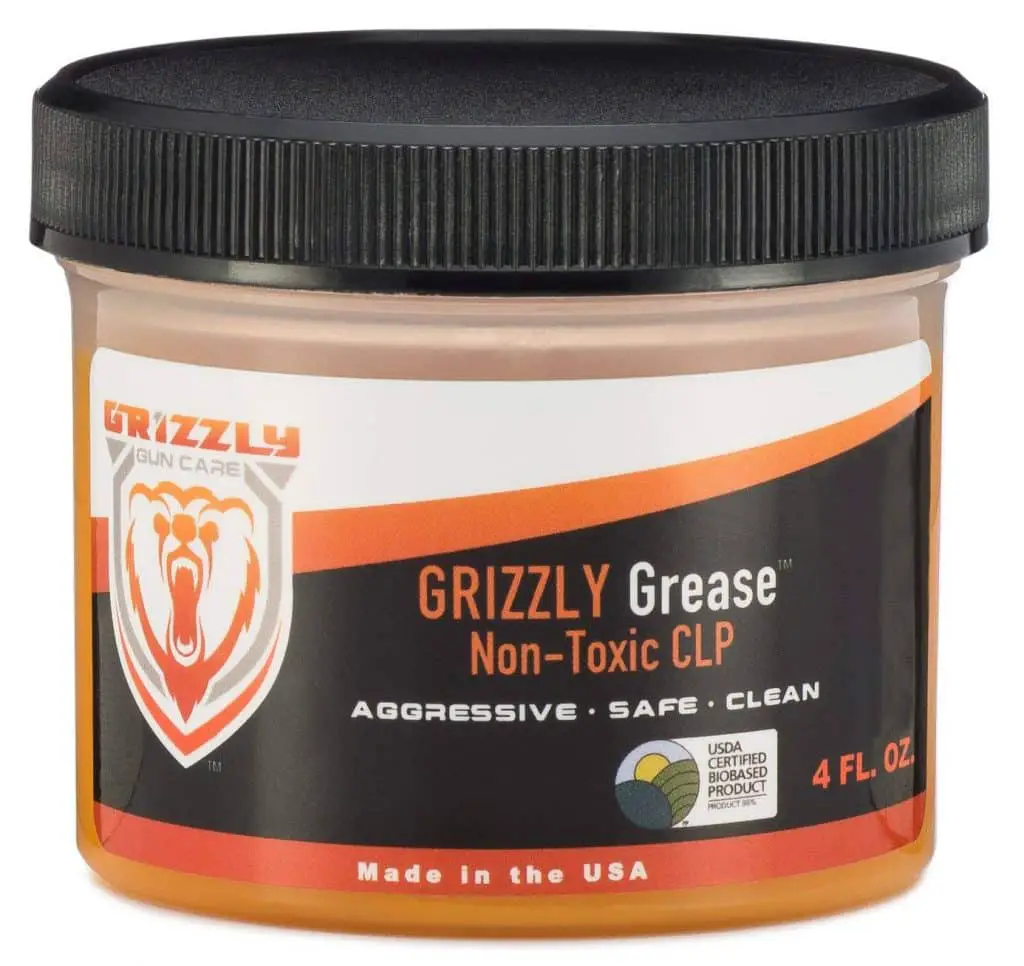 Grizzly Grease is one of the top-performing greases that you will find. What makes it favorable among many users is that it is easy to use and works very well. The grease can be applied to any movable parts of the gun which rub against each other to lower friction.
Unlike other brands of oil, Grizzly is not sticky. This means that it does not draw powder-like substances or sand that could affect the performance of the gun. If you use this oil, you will enjoy the smoothness that it delivers since it does not produce a stream, like oil.
The grease also has an incredible temperature range that makes it ideal for use in almost any climatic condition. You will be amazed at how useful it is in protecting your firearm from rust.
Pros
• Enhances the performance of your gun
• Non-Toxic
• Wide temperature range
• Prevents Rust
Cons
• It might not be the best for use in extreme temperatures
9) Lucas Oil 10006 Gun Oil – 2 oz

Are you looking for the best gun oil to lubricate a Glock? If yes, then Lucas Oil 10006 gun oil will make a great selection. It can remain wet and easily penetrates to all the parts of your gun to deliver superior lubrication.
Additionally, Lucas Oil 10006 is designed to withstand high combustion temperatures when using your firearm. This implies that even after shooting for a whole day, the oil will still stay in place boosting the performance of your gun.
It also has excellent moisture and corrosion prevention properties that ensure your gun remains in good form. Since it doesn't dry up or evaporate quickly, the oil will extend the performance of your gun keeping it functional for a long time.
Pros
• Useful for use in long-term storage
• Can be used for various purposes
• Works perfectly in all weather conditions
• It is odorless
• Biodegradable and environmental friendly
Cons
• Most suitable for use on hunting weapons
D. A Guide on How to Clean Your Gun
If you own a firearm, knowing how to clean and lubricate it is essential to ensure they stay in good form. The good thing is that the process is simple and you will master the skills in no time. If you are new to guns, seeking help from an expert on how to maintain it is wise.
But, if you can't get an experienced user to guide you, don't worry. This guide provides you with all you need to know to keep your gun well maintained and operational.
Although there are different types of guns available, the processes are similar. Here is a break down of the significant steps involved in the cleaning and maintenance of firearms.
1) Starting the Cleaning Process
Whether you assemble the necessary parts by yourself or you bought a pre-assembled gun, you should have the essential tools for cleaning. Having all the essential items will make the process quick and straightforward.
Here are some of the items that you should have before starting:
• Cotton swabs
• Flashlight
• A nylon cleaning brush
• Cleaning rod
• A patch holder and patches
• A bore brush
• Cleaning solvent
• Microfiber cloths for polishing
• Lubricant, or gun oil
2) Precautions
• Avoid taking apart the parts which are not necessary for cleaning.
• Always ensure that your working station is well ventilated; solvent perfumes could make you sick in rooms with poor air circulation.
• Keep the working surface covered with old towels, newspaper, or plastic bags that you have set aside for the process.
If you have all these tools in place, then you are ready to start cleaning the gun. But, you need to disassemble the weapon first. So let's look at the procedure: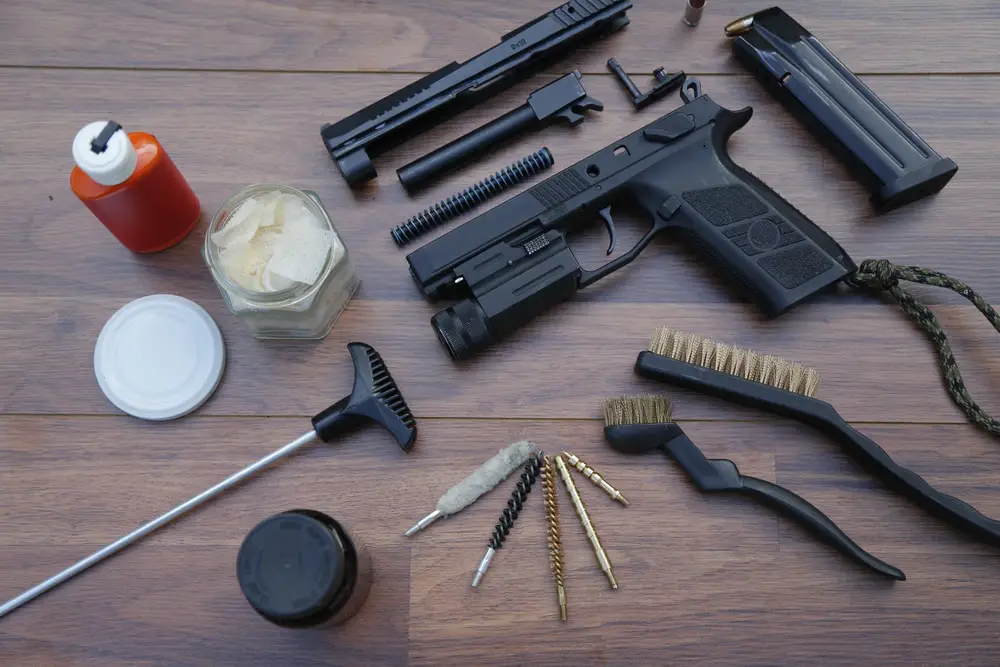 3) Disassembly
A – Unload the firearm; when cleaning a gun, you should always start with unloading it followed by double-checking to ensure that it is fully unloaded. This is because even after removing the magazine, your gun might be having around that is ready for firing.
B – Once you have opened the chamber, check the barrel thoroughly to ensure that no rounds are left inside be it stuck in the barrel or left in the chamber. A golden rule is that you should never consider the gun to be unloaded before checking the barrel.
C – Now disassemble your firearm as recommended by the manufacturer. This means that you need to check the user manual for instructions provided when preparing to lean it. By going through the instructions, you will be able to know the specific points to focus on when cleaning the gun.
Rifles and semi-automatic pistols are usually stripped into their main parts; magazine, frame, guide rod, slide, and barrel. However, you might not need to strip short guns and revolvers when cleaning.
4) Cleaning the Gun
A – Start by cleaning the barrel using patches and cleaning rods. This involves soaking the bore, or the inner side of the barrel using a patch holder, cleaning rod and correct size cotton patches. You can work from the back of the bore using a muzzle guard that prevents the rod from hitting the muzzle which could damage the gun.
B – In order, to ensure that the barrel is cleaned correctly, push a patch soaked in a solvent across the bore to the other end. Carefully remove the patch but avoid pulling it back since it will redeposit the gunk already cleaned.
C – When scrubbing the barrel, alternate the patches and bore brush to ensure that it is thoroughly cleaned. Attach the bore brush on the patch holder and run it three to four times along the bore so as to loosen debris present.
D – After that, fix the patch holder again and push cotton soaked insolvent across the bore as you remove them on the other end. Repeat this until you attain a point where the patches come out clean.
E – After this, run a dry patch across to dry the bore and then check for any build up that you might have missed.
F – Apply oil on the barrel by attaching a cotton swab on the rod and run it across the bore to apply a layer of coating on the inner part.
G – Clean the action followed by lubrication; brush every part of the action using a gun brush with solvent applied on it. Wipe the parts to dry using a clean cloth.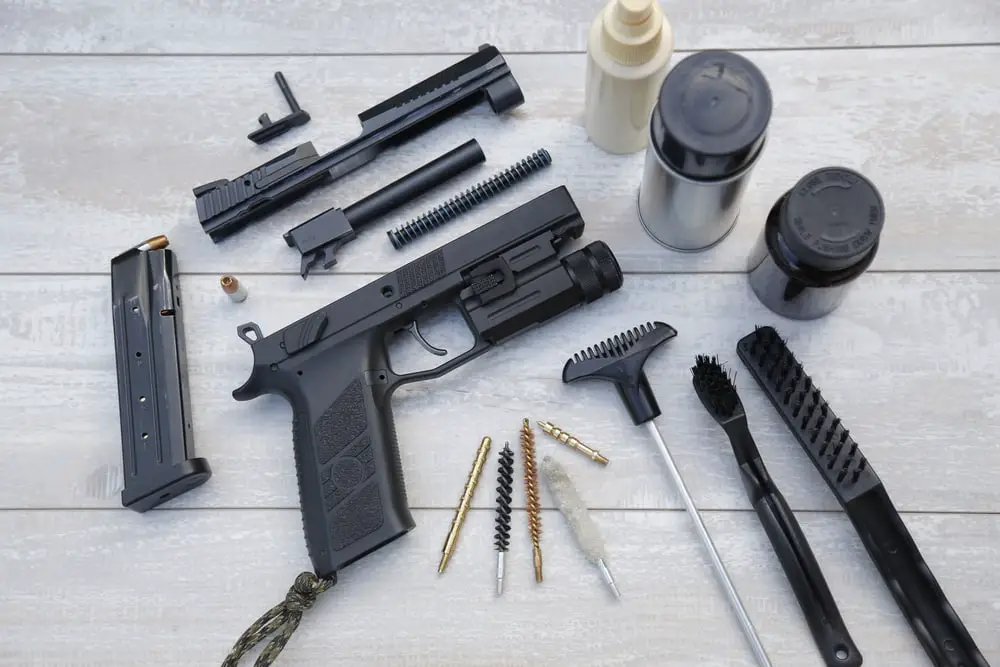 H – Apply a small amount of oil on the moving parts if action. This helps in preventing the development of rust. A heavy coating is not used because it will become gummy thereby attracting debris.
I – Using a luster cloth that comes pre-treated with lubricant, wipe the other parts of the gun to get rid of the remaining debris such as acid from fingerprints making it shine.
J – You can use any cloth like old t-shirts if you don't have a particular one set aside for cleaning guns. It should be something that you no longer need to wear again.
E. How to Maintain Guns after Use
Once you are done using the gun, you should clean it properly. A gun is a significant investment, proper care ought to be taken to ensure it has a long life. This involves giving it a good treatment after using it for for sport, home defense or hunting.
The process is not lengthy, and it will take you less than 30 minutes to completely finish the cleaning process. Performing maintenance regularly will have a positive impact on their performance. Also consider cleaning all your guns after prolonged storage if you have enough cleaning supplies.
Additionally, you should consider buying ultrasonic or snake cleaners. They are effective in cleaning, easy to use and will take you less time to get the job done. Some of them are designed with lights on the end that enable you to check the inner parts of the barrel to verify cleanliness.
You can also find hard or soft cases that can be used to keep the guns secured. If you are willing to a bit more in gun safety and security, then consider purchasing a safe or lockable gun cabinet, both designed to keep the guns in a locked and in a controlled environment.
Lastly, always keep your guns unloaded and in a dry and cool place. This will ensure that their performance will last. Avoid keeping them in places where they can be considerably affected by the environmental elements. You should even acquire trigger locks to keep them tamper-proof and safe.
F. Conclusion
Gun oils are useful in reducing friction on the moving parts of the gun where they rub against one another. Friction can be harmful to your gun because it slows the performance by hindering its ability to attain smooth function, high velocity, and maintain accurate shots.
For this reason, using the best gun oil in routine cleaning and maintenance process is crucial as the oil helps in smoothing the surfaces, allowing them to move quickly. It also safeguards your firearm from damage from wear and tear.
Hopefully, this guide has equipped you with everything you need to know about gun oils to get started. If you are looking for some of the best gun oil, then these top-ranking products will make an excellent choice with guaranteed satisfaction.