When it comes to concealed carry, a good holster is equally important as your gun. And for Glock 19 users, sky's the limit in terms of choosing which holster to use since your gun model is very popular.
That's why we put together this ultimate guide where we discuss everything you need to know about choosing the best Glock 19 holster that will fit your budget and your needs.
Holster Types
Before we get into the different brands, it is important that you know the different holster types so you can better decide which one you're most comfortable with.
Inside Waistband (IWB)
The Inside Waistband is best for open carry. With IWB, you place your gun between your underwear and pants. There are several IWB mounting options from spring clips to soft and hard belt loops.
Some even tuck their shirts into their trousers for a clean and neat appearance. The standard IWB position is placing your holster at the 3 to 4 o'clock area on your hip.
One of the main disadvantages of the IWB carry is that drawing can be difficult, given that the holster is tucked between your pants and your body. It is also uncomfortable to be seated for a long time or to do physical activities while you are wearing an IWB carry.
But if your goal is maximum concealment and to keep your gun as close to your body as possible, IWB is perfect for you.
Appendix (IWB)
Appendix carry is when you put your holster still in between your underwear and pants, but this time in the front portion of your waistband. The usual placement is halfway between your pocket and the pants' button, typically close to the appendix – hence the name.
People who prefer the appendix carry say that the main benefits are convenience, concealment, and ease of access. It's more convenient to seat both the holster and the gun in an appendix carry compared to the typical IWB.
Concealment is also easier since the natural drape of a shirt will cover your gun.
You also won't have to worry about blowing concealment whenever you are bending forward. In terms of ease of access, drawing out a gun is easier when it's located relatively in front compared to when it's secured on your side just like in an IWB carry.
Outside Waistband (OWB)
OWB holsters are excellent when you have larger guns or if you prefer open carry.
This holster type is most commonly seen among police officers who need quick and easy access to their guns at all times.
OWB holsters are mounted either on the belt or between the belt and the body. Just like in IWB, the holster is also placed at the 3 o'clock to 4 o'clock area.
Firearms in OWB holsters are more difficult to conceal, unless you wear a big shirt, coat, or hoodie. Another disadvantage is that there are a lot of areas where open carry is illegal. You have to consider this limitation before opting for OWB.
But when allowed, OWB holsters are more comfortable to wear. Since it is not pressed against your skin, you won't have to deal with the pressure when you're seated down. It's also easier to draw and return your gun in an OWB carry.
Shoulder
Shoulder holsters are perfect for those who are not comfortable with belt carry or those who require a shoulder holster.
This holster type is also perfect for people who are mostly seated (i.e. driving or traveling) throughout the day. When seated, firearms in a shoulder holster are more accessible and easier to draw than those mounted on belt holsters. Other advantages are ease of access and being able to carry your gun and spare ammo in one convenient package.
On the other hand, shoulder holsters have several advantages too. One of which is "sweeping". When a user draws a gun, he/she has to draw for at least 180 degrees before finally aiming at the target – this is why some people feel that only trained individuals should wear shoulder holsters.
Pocket, Ankle, and Women-Specific Holsters
Pocket and ankle holsters are also available, but they are usually too small for Glock 19s. Smaller guns, such as revolvers, work best with either pocket or ankle holsters.
Though women can also carry the previous holsters we've discussed, remember that those were designed with men in mind. Thus, they can be less functional and comfortable when worn by women. That's why today, there are already holsters of all the above types designed specifically for women.
Top 16 Best Glock 19 Holsters
Now that you know the different holster types, let's finally dive into the top 16 best Glock 19 holsters we've reviewed and picked for you. Each brand listed below has its own pros and cons to help you decide which one best fits your needs.
IWB
1. Amberide IWB KYDEX Holster Fit
When it comes to your safety, reaction time is critical. With this holster's adjustable retention screw, you'll know how much force you'll need to exert to draw your Glock and fire.
The holster is strong but lightweight, making it ideal to carry with confidence in any situation. Plus, it's washable and waterproof.
For optimum concealment under your clothes, the holster also comes with a standard belt clip.
Features and Specs
Material: Kydex

Hand Orientation: Left and Right

Glock Gens: Glock 19/19X/44/45 Gen3-5 & Glock 23/32 Gen3-4
2. Crucial Owb For Glock 19 Righthand Black
This holster is highly recommended if you're after perfect concealment of your weapon. It's designed with a curve to help the holster lie flat against your belt.
Additionally, it also has poly loops for additional flexibility. They make the holster adjustable as well.
Features and Specs
Material: Kydex

Hand Orientation: Right

Glock Gens: Glock 19
3. DeSantis Slim Tuck Kydex Holster
This particular holster gives you unlimited mounting option, thanks to its 360 C-Clip. Additionally, it's also an ambidextrous holster. You can go from right to left hand with ease.
The holster is made from kydex. As you probably already know, it's one of the best choices among concealed carriers. The material protects the trigger while allowing the user to experience a smooth draw.
Features and Specs
Material: Kydex

Hand Orientation: Ambidextrous

Glock Gens: Glock 17, 22, 31, 17 Gen 5
4. Fobus E2 Paddle Holster For Glock 17-19
If you're after comfort, stability and durability, then consider getting this holster. It comes with rubberized paddle.
The holster has a one-piece body construction design, making it durable and easy to carry around. With a low profile design, you won't have a hard time concealing it under clothing.
Another good thing about the Fobus E2 Paddle Holseteris its adjustable retention screw. It allows you to customize the retention pressure based on what you need.
Features and Specs
Material: Polymer

Hand Orientation: Right

Glock Gens: Glock 17, 19, 22, 23, 31, 32, 34, 35
5. Clip & Carry IWB Kydex Holster
Clip & Carry IWB Kydex Holster features a durable kydex construction. This helps ensure durability, gun retention and trigger protection.
It comes with adjustable retention screws to help you effectively conceal your Glock. It also offers maximum comfort which is hard to achieve when you're concealing a weapon.
The holster also features a full sweat shield. You can expect it to stay in perfect condition even when frequently exposed to sweat.
Features and Specs
Material: Kydex

Hand Orientation: Left

Glock Gens: Glock 19, Glock 19x, Glock 23, Glock 32 & Glock 44
6. Safariland 6360
Safariland 6360 has a slim, compact design. It rides close to your body, allowing you to have the best concealment of your weapon.
The holster has an automatic locking system which helps secure your Glock when it's holstered. It also helps you get the best accuracy.
Safariland 6360 allows quick and easy draw, thanks to its mid-rise position. It's one of the best holsters you can get if you spend a lot of time standing and walking.
Features and Specs
Material: SafariLaminate

Hand Orientation: Right

Retention Level: III
Alien Gear Cloak Tuck 3.5 is pretty solid. Your Glock won't rock around or budge easily, particularly if you use it with a good gun belt.
The holster comes with a steel plate which sits right within the backer and behind the shell. It helps minimize the chances of degradation over time.
Features and Specs
Material: Neoprene

Hand Orientation: Left

Adjustable retention
8. Relentless Tactical The Defender Leather IWB Holster
Relentless Tactical The Defender Leather IWB Holster is an excellent choice if you're after durability, comfort and function. It's made with genuine bullhide leather to ensure that it can keep up with you all day.
The holster is designed to give you ease of access when you most need it. And the best part? It doesn't sacrifice concealment. It guarantees maximum protection and comfort.
Features and Specs
Material: Leather

Hand Orientation: Left

Glock Gens:

Glock 17 / 17L / 22 / 31 | Glock 19 / 19X / 23 / 32 | Glock 26 / 27 / 33 | Glock 43
9. Concealment Express IWB Glock Holster
It is simple, comfortable, safe and very affordable. If you're looking for a holster that's complete with the features you need but still remains perfect for concealed carry, this one's for you.
Features and Specs
Material: Kydex

Weight: 3 Oz.

Hand Orientation: Left and Right

Glock Gens: Gen 1 to Gen 5
10. UM Tactical IWB Holster
UM Tactical IWB Holster is hand-made with 4332 Boltaron. This material holds up really well when exposed to high heat or extreme cold. Plus, it has a higher impact resistance when you compare it with Kydex.
Despite the durability it offers, the holster remains comfortable to wear. It's designed with an adjustable 0 to 15 cant to give you greater control.
Features and Specs
Material: Boltaron

Holster Type: Inside the Waistband Holster
Attachment/Mount Type: Belt Clip/Hook
11. Galco Miami Classic Shoulder Holsters
This shoulder holster has an impressive fit. In fact, it's comfortable to use regardless of the user's size.
The system is made with saddle leather, including its harness and ammo carrier. Because it's made with premium materials, you can expect it to look nice for a long time. Fully modular, it can fit chests up tp 52 inches.
Features and Specs
Material: Premium saddle leather

Hand Orientation: Right

Glock Gens: Glock 17, 19, 19X, 22, 23, 26, 27, 31, 32, 33, 34, 35, 45
12. Gould & Goodrich B803 Three Slot Pancake Concealment Holster
This is a great quality gun holster at a reasonable cost. It fits perfectly and allows smooth gun draw. The leather looks nice and clean, too.
Its made from vegetable tanned leather. It's molded to the gun to allow good retention and solid fit. With a three-slot design, its angle can be adjusted to allow for easier concealment.
Features and Specs
Material: Leather

Hand Orientation: Right

Style: Outside the Waistband
13. Alien Gear Shapeshift Appendix
The Alien Gear Shapeshift can be worn using both the appendix and IWB carry styles.
This is a hybrid holster made of neoprene at the back layer (to provide ventilation and comfort) and spring steel for a firm and durable core.
Features and Specs
Materials: Neoprene back layer and Spring Steel core

Adjustable retention

Full trigger guard protection

Toolless adjustment
14. 1791 Gunleather Ultra Custom Concealment Holster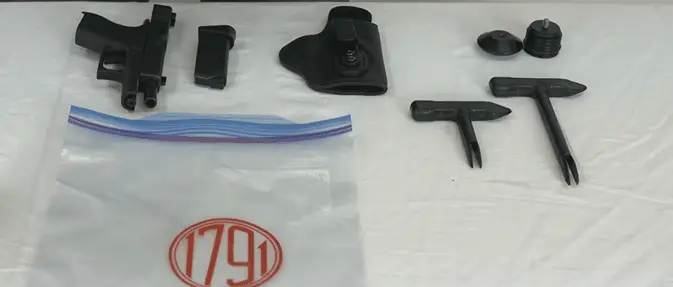 This Gunleather model is our top pick leather holster for the OWB carry.
The 1719 is perfect for those who want to complement their modern-looking gun with a classic leather holster.
It uses a pancake design that holds the holster tight to the body for maximum concealment.
This OWB belt holster will pull your firearm snug to your body, providing a comfortable and reliable carry all day long.
Features and Specs
Material: 100% American Steerhide Leather
Hand Orientation: Right
Reinforced and double stitching
Hand-molded exterior
Open-top design
15. Crossbreed SuperTuck Deluxe
Our top pick among hybrid holsters in the Crossbreed SuperTuck.
This brand specializes in hybrid holsters, and this model is by far their best. The SuperTuck is hand-molded to perfectly fit Glock 19, among the other firearm variations the brand carries.
Its rear backing is made of black cowhide leather while the external shell is made of very strong molded Kydex.
Overall, the SuperTuck is soft to the skin while providing sturdy and reliable protection to your gun.
Features and Specs
Materials: Cowhide Leather and Molded Kydex
Hand Orientation: Right Hand
Fits Glock 17, 19, 22, 23 Frames
16. Safariland 7378 7TS ALS
Safariland makes great holsters but the 7378 made it to our list for a variety of reasons.
First, it features a paddle and belt loop combo that allows you to quickly and easily wear or take off the holster without removing your gun bet.
Second, the holster is made of SafariSeven, the brand's proprietary nylon bend material ensuring that the entire holster is non-abrasive to firearms.
Lastly, it has an active retention device that you can easily deactivate with your thumb before you draw.
Features and Specs
Material: Nylon blend

Hand Orientation: Available in Left or Right

ALS (Automatic Locking System)

Concealment Paddle and Belt Loop Combo
How to Choose a Good Glock 19 Holster
A holster's most basic purpose is obviously to hold your gun when you're not using it.
But aside from that, it must also protect you, your gun, and the people around you; while remaining comfortable, convenient, and easy to use.
Now how does one holster achieve all of those requirements?
Here are the main qualities you must consider before you buy a holster:
Purpose
Is your gun for duty or for open-carry? Knowing why you have a gun in the first place will help you decide which holster to buy.
Concealed carry holsters are designed to reduce the imprint of your gun.
This means that your gun will cling tighter to your body and you can easily cover it with your shirt. These holsters' goal is to stay unseen despite the usual movements you usually make. They are not easy to draw and are good with passive retention.
Firearms used for duty are best paired with open carry holsters.
This holster type often has an active retention feature which makes sure that no one – except the owner – can draw the gun and use it.
This feature prevents someone from stealing the gun and using it against the owner. Duty holsters must contain and retain the weapon safely, while making it quick and easy for the user to draw as the need arises.
Safety
Aside from your gun, your holster must protect you and the people around you.
Buy one that protects your firearm from accidental discharge and from being dropped. Make sure that it holds your gun securely and safely and keeps it in place no matter what position you're in or what movements you make throughout the day.
The holster type you choose should also be whichever allows you to draw quickly and easily. Your gun would be no use if you can't draw and shoot it faster than the enemy.
Comfort
Just like anything you wear, try on the holster before you buy. And while you're at it, imitate your usual motions and gestures.
Some holsters can press hard or rub against your skin. While this may not be a big deal early on, continuous use may cause bruises and irritation.
Remember to buy whatever feels right. Because if you're not comfortable, you won't wear it. You'll end up buying a new one and spending more than your intended budget.
Protection
Your holster must protect your firearm from abrasions and bumps. In the product descriptions above, you may notice that holsters can be made of different materials (we'll discuss this further later). It can be made of kydex, leather, or a combination of different materials – all of which offer good protection.
Hard materials provide plenty of protection against impact, but can cause abrasions and scuff on your gun. If you're not worried about this, then you're good to go.
But if you'd like to preserve the finish of your firearm, choose a holster that's made of a softer material, or one that has soft material inside but a harder shell outside.
Tailor-made for Glock 19
Holsters can be generic or gun-specific. Generic holsters are okay – they are adjustable and capable of holding different gun models. However, they can't hold one model perfectly and properly.
We talked about safety and protection earlier. And when it comes to firearms, a small slip or error can cause injuries or worse, lives. If budget is an issue, there are many Glock 19-specific holsters that are affordable. We're sure you would not sacrifice another person's well-being in exchange for a few dollars.
The key takeaway here is simple – safety is of utmost important. Only buy a holster made specifically for a Glock 19.
Retention
Retention simply means how good your holster can hold your gun inside.
In short, a gun won't fall out of a good holster.
The go-to test for retention is to simply turn the holster upside down. If the gun stays in place, you've got a good holster. If it doesn't, go get a new one.
Again, we go back to safety and why you should buy a Glock-19 specific holster only. Gun-specific holsters are typically made following the shape of the gun.
It has enough friction to keep the gun inside, even if you toss and turn it around. Aside from safety precautions, good retention is extremely important for situations of altercation. You would not want your gun to be knocked down easily and picked up by the enemy.
We have two kinds of retention – as initially discussed under the Purpose section above – passive and active.
Most holsters come with an active retention. It serves as the safety restraining device – usually in the form of a cover, thumb break, or manual strap – placed on top of the holster to ensure that your Glock 19 stays in place.
Passive retention is just the friction between the gun and the holster. It works great as a complement to an active retention for an additional safety precaution.
Concealment
A holster's concealment determines how visible it is when you wear it. This is not necessarily a requirement for some people, but others find it important.
Concealment is beneficial as an element of surprise when responding to a threat. It also helps you avoid unfortunate situations where your handgun gets exposed and some people call law enforcement because they see someone with a gun.
Several factors affect concealment: gun type, holster material, wearer's body frame and clothing type, etc. So if you want to conceal your weapon as much as you can, make sure that you try different holster types to know which one best fits your body and is easily hidden by the usual clothes you wear.
Be mindful, though, that concealment is illegal in some jurisdictions.
Trigger Coverage
We mentioned earlier that a good holster prevents accidental discharge. Yes, there are brands who don't have this feature. But it is always safer to err on the side of caution. Better safe than sorry so go for a holster with a trigger cover.
Positive Grip
A positive grip means that you can easily and quickly draw your gun with one hand and be ready to shoot regardless of your position or even if you're in close quarters.
A good holster makes positive grip as easy as possible, but you also have to train to ensure that you can execute this properly.
Which Holster Material is the Best?
Lastly, let's talk about the different types of materials used in a holster.
Kydex
When most people hear "gun holster", the image that comes into their mind is usually a holster made of a plastic-like material – or kydex.
It is more robust, durable, and affordable – making it a crowd favorite aside from leather.
This material is a sheet that is easy to mold and work with, and because of this, it has become one of the top materials used and trusted by holster manufacturers.
Kydex holsters are scratch-resistant, waterproof, have lower friction, and hold their shape better than other materials. Unlike leather, this material doesn't break down through time. And on top of that, it allows the user to draw and re-holster the weapon quicker than other materials.
The main disadvantage of kydex is that it does not bend, which makes it less comfortable than leather holsters.
Leather
Everyone is familiar with the classic leather holsters.
It is one of the most common gun holster materials used for several decades – and for a good reason. It has been tried and tested and the expert leather crafters in this field have been producing high-quality works of art.
Leather can be used in different parts of a holster, from being the main or only component to just being a part of a hybrid holster.
Leather is naturally long lasting, holds the gun securely with a good fit, and – undeniably – it looks classy and great.
This material can be embossed and dyed and still look good. It is also quieter compared to other materials, which allows you to draw your gun as discreetly as possible. In terms of comfort, leather is not hard and feels lighter and more comfortable to wear.
Its main disadvantage, however, is that it can shrink or loosen its fit with continuous use over time. This material can also crack due to exposure to sunlight and high heat.
Synthetic
Resting closer on the spectrum to kydex and leather, synthetics are the next most commonly used material for holsters.
They are typically made of special plastics that are exceptionally hard and sturdy. A synthetic holster has several great benefits:
It is harder than leather, which means it provides slightly more trigger protection and secure fit while still allowing a fast draw when the need arises.

It is tough and sturdy, impact resistant, scratch resistant, and waterproof.

Unlike leather, synthetic holsters don't require break in periods.

It also does not lose fit or wear out over time just like leather.
Note that not all synthetic holsters have the same quality, so it is very important that you do your research well on which synthetic holster brand will best fit your needs.
Nylon
Nylon lies at the other end of the spectrum. While it is a great material for other products, it does not do well as a holster.
So if you see one, we suggest you look elsewhere. Nylon holsters are too pliable and soft to carry a firearm securely.
We are not saying it can't be used at all as it will function well as a lining or something similar, but nylon should not be the main material of a holster since there are other better-suited materials available.
Though it is cheap, it is not safe, reliable, and durable.
Hybrid
The materials discussed above have their own strengths and weaknesses which is why hybrid holsters were born.
Leather and kydex are one of the most popular hybrids. Due to its soft nature, leather often makes up the inner lining and back portion of the holster while kydex serves as the outer shell to protect the firearm from bumps and scratches.
Another type of hybrid is synthetic and leather. Leather usually makes up the main component while synthetic is used in the holster interior.
If you can't decide which material and benefits work best for you, then maybe going for a hybrid is your best option.
FAQs
1. How to Conceal Carry a Glock 19?
You need to accomplish two main steps:
Get a concealed carry permit (if required in your jurisdiction)

Choose one from the concealed carry holster we listed above
If this is your first time to conceal carry a Glock 19, you won't go wrong with either our top 1 or 2 pick in this list: Concealment Express or Tulster IWB Kydex.
2. What Should be the Angle or Cant of the Holster?
There is no single right answer here because angles or cants are based on personal preferences. Most holsters have adjustable cant or angle, so the best way for you to know is to really try it for yourself and assess your level of comfort.
With that said, we recommend you try to start with the 0 degree cant first.
This way, the tip of the gun travels fast in case you need to draw and point your Glock 19 quickly. In terms of self-defense situations, every millisecond counts.
3. Difference Between Gen 3, Gen 4, and Gen 5 Glock Holsters?
None.
The shape of the Glock 19 has not really changed across the different generations. A Gen 4 looks just as much as Gen 3 and Gen 5. Having said this, any holster made for Glock 19 will fit on any of its generations.
Conclusion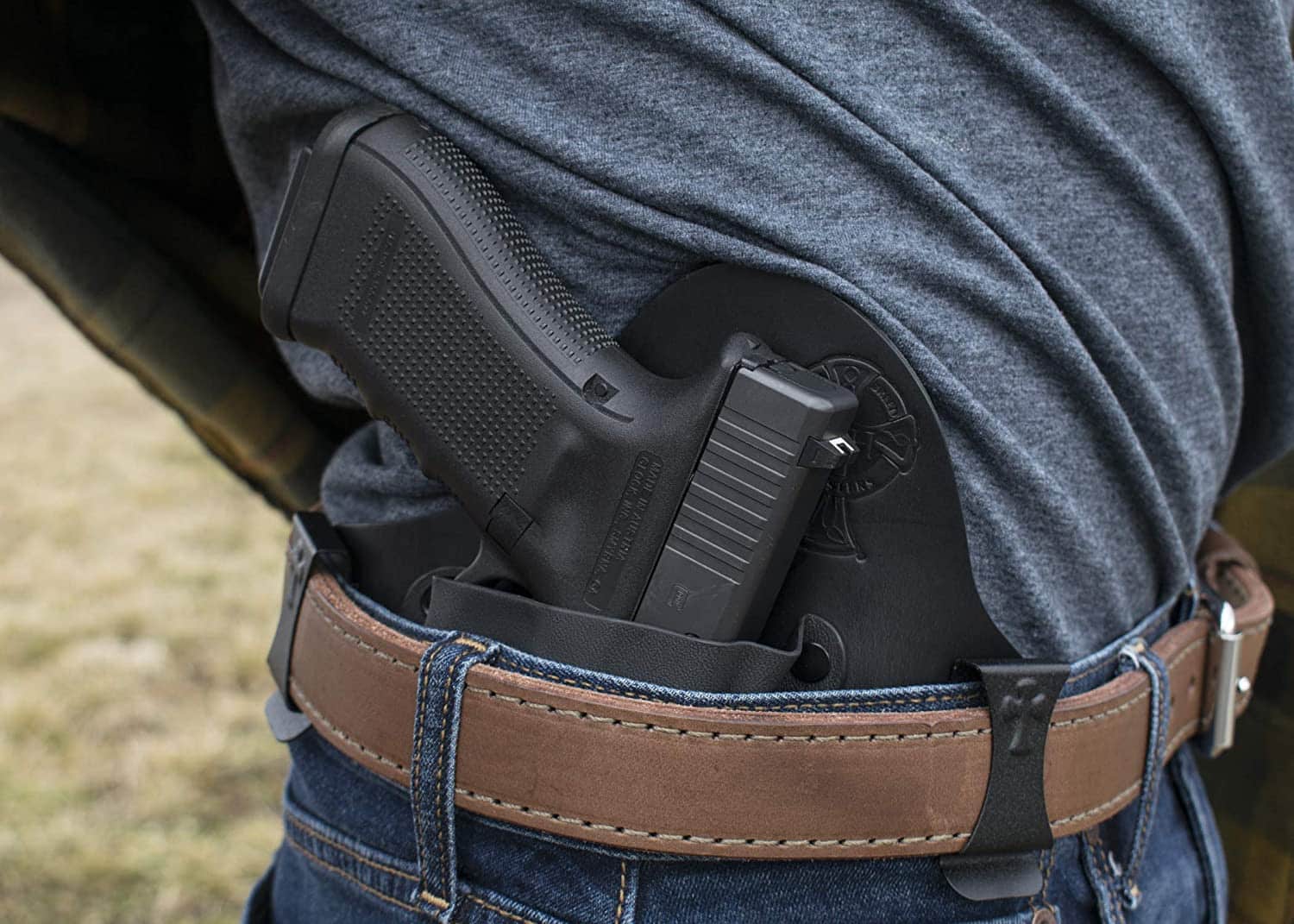 Thanks to the popularity of Glock 19, there are so many holsters in the market for users like you to choose from. The main challenge now is sorting through the pile and finding one that perfectly matches your needs
In this article, we first talked about the different holster types since whatever you choose here will largely determine the brand you eventually buy.
The main thing to remember is that the holster type follows the type of carry you are most comfortable with. Whether it might be IWB, OWB, shoulder, pocket, or ankle, you need to determine your carry type first to make a better purchase decision.
Next is the run down of our top 10 best Glock 19 holsters. Look at the pros and cons to make a better comparison before you buy. We've also included some of the questions we frequently get to help answer some of your potential questions following the information we shared.
Lastly, we discussed features that make a good holster and the different materials typically used in a holster. These sections were meant to help you narrow down your list of options and help you really think of what features matter most to you.
Whichever holster you go with, make sure that you do drills for both drawing and holstering to foster muscle memory. And when the time comes that you will need to use you're gun, you'll be more than ready.