Axes have a really long history. Back then, they were mainly used as a weapon and hunting tool.
These days, axes are widely used for professional carpentry and woodworking. Some people also rely on them for survival purposes.
Because there are different types of axes, it's important that you know what each one does. This will help you find the best one for your needs and tasks.
But before that, it's a good idea to understand what the tool means first.
What Is An Axe?
An axe is basically a tool. It's designed with a steel blade or heavy iron attached to a long handle which is often made of wood.
An axe has several parts. Below is a quick overview of each one.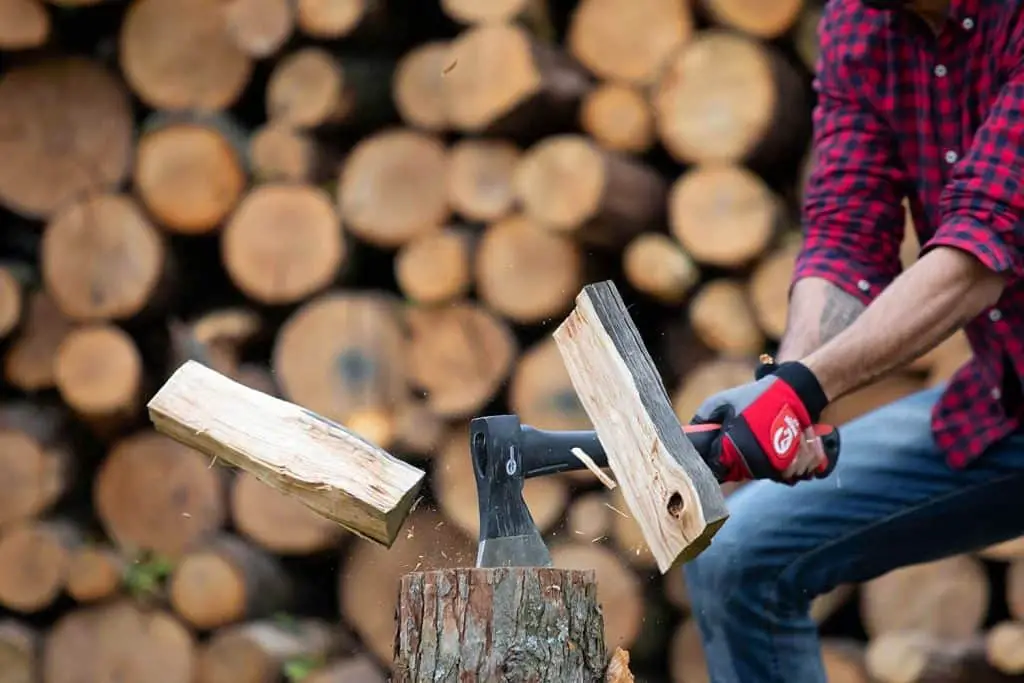 Head
This is the entire steel portion of the axe. Basically, it's the part that cuts.
These days, axe heads are made from different kinds of steel. However, in the past, they used to be made of stones. This is one good reason why they were popular during the Stone Age.
Eye
This is the part where the handle goes through. You'll typically get a better view of this part if you take a look at the top part of the head.
Take note that not all axes are designed to have an eye. Some types are designed with a composite handle so there's no need for an eye.
Bit
This is the cutting edge of the axe. Also called as 'blade', it's often made with a stronger type of steel.
Some axes have a single bit while others have double bits. A double bit axe has two cutting edges.
Toe
This part refers to the cutting edge's top corner. It earned its name from the idea that the toe is typically the body part that's removed from careless woodsmen.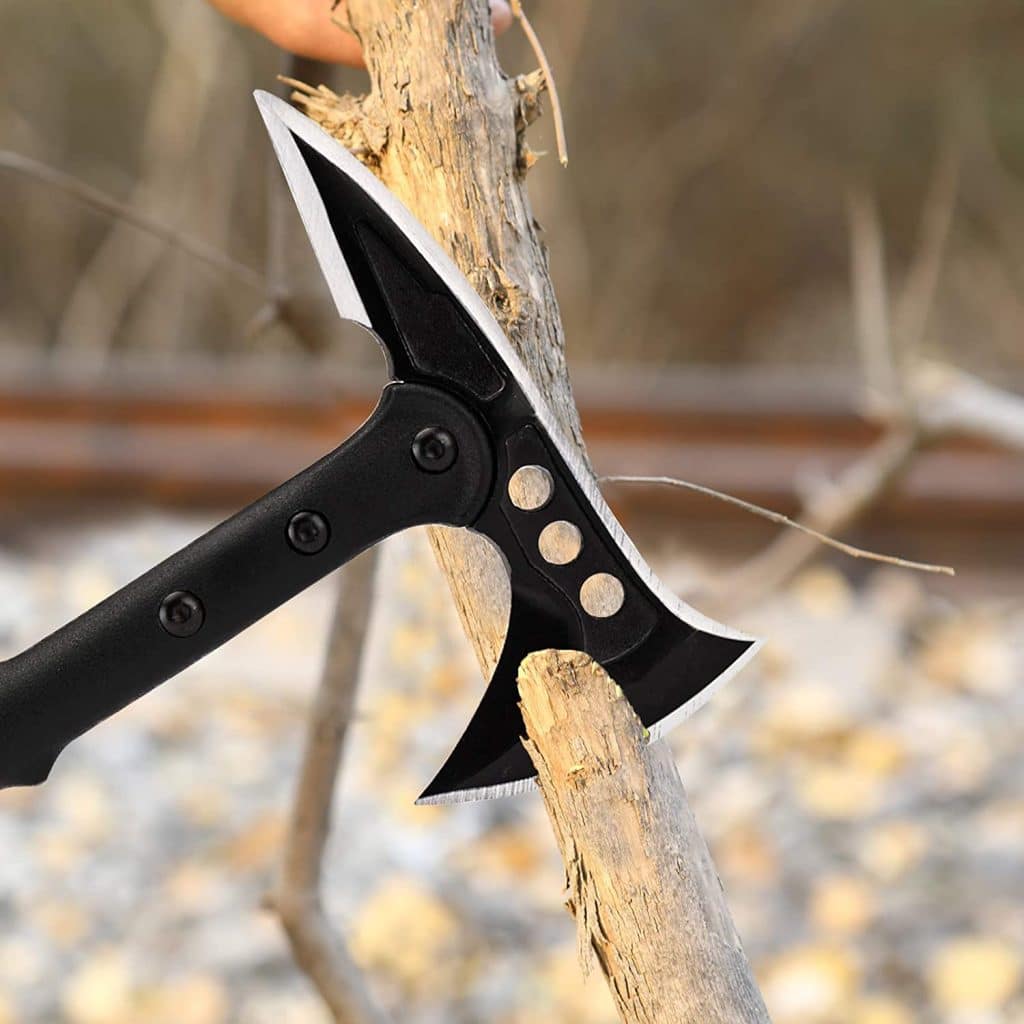 Heel
This is the bottom corner of your axe's cutting edge.
Beard
The beard is different from the heel of an axe head. To avoid getting confused, this is the concave part of your axe's head that goes from the handle and ends at the bit's heel.
A bearded axe allows its users to grip the shaft right behind the head for shaving or planing wood.
Cheek
The cheek is the side of the head. You'll find it on either side of your axe.
Poll
This is the very back part of your axe head. Also called as 'butt', you can actually use this part as a hammer.
Handle
In the past centuries, handles were made using different kinds of wood. However, as modern techniques emerged, people started using composite materials. Compared with wood, they are stronger and heavier.
Shoulder
This is the part that's directly under the axe head. Some have a noticeable curvature while others don't.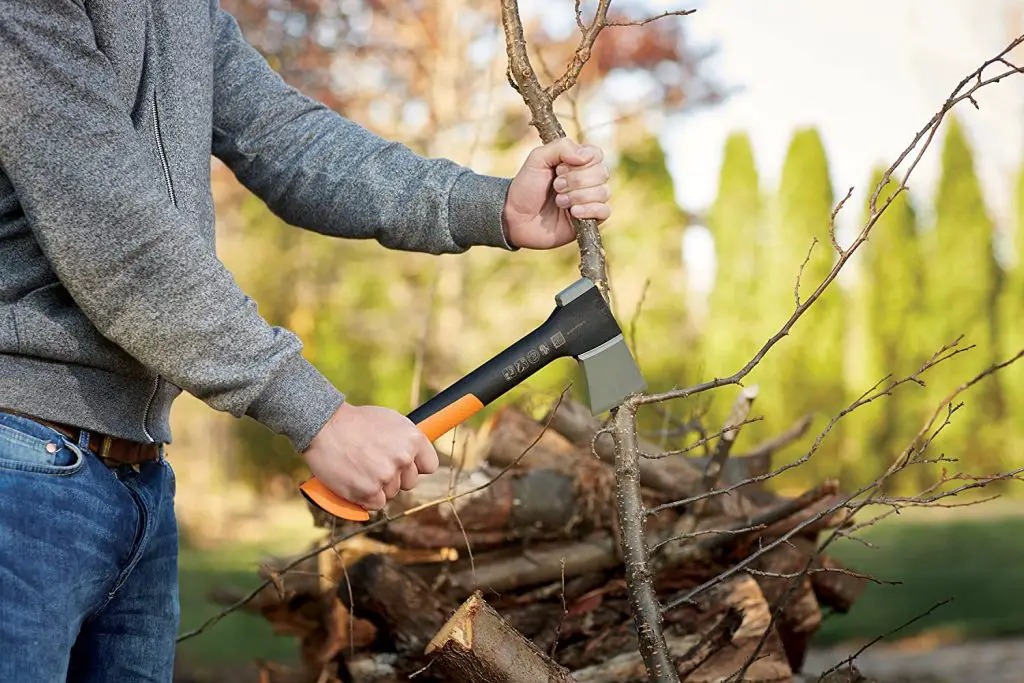 Belly
This refers to the front of the handle.
Throat
This is the part that's near the end of your handle. It can be straight or concave depending on how the handle is styled.
Grip
This is where you properly hold the handle. Usually, axes require the use of both hands.
Knob
This part's main purpose is to keep your hands in place. It prevents slipping.
Axes for Work
1. Splitting Axe
This type of axe is the best tool you can use for splitting firewood. Compared with the other types of axes, a splitting maul relies on the profile of its axehead and weight to force wood fibers apart. It doesn't just cut wood into pieces.
Splitting mauls are heavy. Typically, they weigh around 6 to 8 lbs.
Unlike most axes, a splitting maul can keep a dull edge for a longer time. The weight and shape of its head allow it to do its main purpose.
A splitting maul is sharp on one end and blunt on the other. This allows splitting along the grain of the wood.
Wilton B.A.S.H 36″ Splitting Maul
Fakespot score-B
This splitting maul is reliable when it comes to performance. With the brand's Unbreakable handle technology, it's considered virtually indestructible.
The tool is made of drop-forged steel. It's designed to withstand even the most demanding applications.
It's quite safe, too. It comes with a safety plate that locks the head into its handle. This eliminates the risk of separation when you're using it in splitting wood.
2. Hatchet
You can consider a hatchet as an all-around chopping tool. You can use it in chopping medium-sized logs, clearing bushes, and splitting smaller chunks of wood.
Lightweight, this tool is good to have at all times. With its general-use versatility, you'll find it reliable both for working and survival.
A hatchet is smaller than most axes. Because of that, you can actually use it with just one hand.
It's lighter, too. The average hatchet comes with a 1.25-pound head.
Gransfors Bruks Wildlife Hatchet
Fakespot: B
This hatchet is made by Gransfors Bruks, a Swedish company. Designed with an elongated handle, it promises extra power. This is a particularly useful feature for hacking at ice or felling trees.
The tool is lightweight. It's just 1.5 lbs in weight and a little more than 13.75 inches in length.
Despite its size and weight, it's quite durable. And with its vegetable-tanned leather sheath, you'll find this one a solid piece of investment.
3. Broad Axe
There are two main types of broad axes- the single beveled and the double beveled.
The single beveled type is reliable when it comes to hewing flat planes on a piece of wood. The other one is excellent for notching and chopping work.
In picking a good broad axe, the most important thing you'll want t assure is, the size. It needs to be very very broad to be extra effective.
Kershaw Full Tang, Stainless Steel Broad Axe
Fakespot: A
This tool is made with 3Cr13 stainless steel which makes it tough and durable. It's 14 inches long while its blade measures 3.5 inches in length.
The broad axe comes with a glass-filled nylon handle with a rubber insert. This ensures a secure and comfortable grip.
Take note that the axe has a very sharp blade. It comes sharpened and can be used straight out of the box.
Compared with most broad axes, this one has a very balanced weight. It's not bulky or heavy no matter where you hold it.
4. Felling Axe
Felling axes are designed primarily for cutting down trees. They are good for chopping across the grain of the wood with fine cuts. As a result, the wood doesn't end up misshaped or marred.
They feature high-quality steel and sharp angle to get the job done. The length and the weight of their handles, as well as the angle of their blades, play a huge role in just how deep they cut.
Compared with a splitting axe, the cutting edge of a felling axe is razor sharp while the bit is thin. These features enable the tool to cut perpendicular to wood fibers.
Take note that a felling axe isn't that effective when it comes to chopping wood. The thin blade often gets wedged into logs.
Council Tool Velvicut Premium American Felling Axe
Fakespot: A
This felling axe is forged from 5160-grade alloy steel for toughness, strength, and durability. Its hardened edge is heat treated and quenched to achieve maximum edge holding.
The handle, on the other hand, measures 36 inches. It's crafted using grade A American hickory that's carefully selected for density and grain orientation.
To make the tool long-lasting, the axe head has been coated with oil. This process prevents rusting and allows the natural beauty of the tool to stand out.
5. Carpenter's Axe
A carpenter's axe is a good tool to use when it comes to detailed woodworking. With a size between a hatchet and a felling axe, it gives enough control and leverage to take on most woodshop tasks.
Compared with traditional axes, the head of carpenter's axes is a bit different. This allows for better versatility and flexibility.
Gransfors Bruks Carpenter's Axe
Fakespot: A
This carpenter's axe comes with a thin and straight blade. This allows users to create a smooth and perfect cut in wood.
With its 18-inch handle, you won't have a hard time slicing heavy wood. The handle is suitable for all types of grips since its straight.
Thanks to the tool's 3.5-inch wide face, you'll only need to do one or two strokes to cut through heavy wood. This means you won't have to spend a lot of energy to get the same work done as with other axes.
6. Double Bit Axe
Double bit axes are quite popular among professional lumberjacks. This is due to their capability to cut wood both along and against the grain. Some of them are also used in axe-throwing tournaments.
This type of axe is quite similar to a felling axe in appearance. They have two blades on the head. One of its ends is dull for limb removal. The other is sharper and it's intended for felling trees.
Estwing Double Bit Axe
Fakespot: B
This double bit axe packs quite a punch. It's small and light which makes it a valuable tool whether you're working in your yard or going on a camping trip.
The design is also quite impressive. It has a modern design which is something you don't get to see often in double bit axes.
Its handle combines vibration absorption and strength, thanks to the patented material used to make the part. With its light axe head and short handle, this tool is easy to yield.
7. Miner's Axe
This axe is a general-purpose tool used in cramps quarters and mines. Designed with a short handle, it's easy to maneuver and use.
Council Tool 3.5lb Dayton Pattern Miner's Axe
Fakespot: A
This tool features a straight wooden handle that measures 20 inches. Its blade measures 4 inches while its head weighs 3.5lbs.
Apart from durability and strength, this axe is also safe to use. Its axe head is hydraulically sealed onto its handle. It's also secured in place with a serrated aluminum wedge.
8. Dayton Axe
This axe is just a full-sized version of the felling axe. The only difference is that it's heavier, adding oomph to its blows.
You can consider the tool a specialized felling axe which you can use for really hard chores.
9. Fireman's Axe
As the name implies, these axes are among the most common firefighting tools. They are great to use for smashing windows or chopping holes to create ventilation in a roof.
Ucostore Six Pound Fireman's Axe
Fakespot: A
Weighing 6 lbs, this tool is designed for tasks that require a lot of power. With a 4 3/4-inch wide axe blade and 4-inch long pick end, it gives you two different style tools.
If you are under six feet, the tool may feel a bit long. And if you have weak upper body strength, you may find it too heavy.
Fortunately, its American Hickory handle offers great strength and an excellent ergonomic feel.
Axes for Survival
1. Tactical Axe
You can consider this tool a "do-it-all" kind of axe. Although it's primarily designed for chopping, it also works great as a shove; weapon, prybar, and even a hammer.
Some tactical axes are more aerodynamic that they can work as tomahawks. Others are more sturdy, allowing them to function really well for heavy-duty work.
CRKT Freyr Tactical Axe
Fakespot: A
This tactical axe is a combination of traditional and modernity.
Its blade design looks like it was inspired by traditional Viking weaponry. The material, on the other hand, shows modern utility.
Its handle is made from Tennessee Hickory. It's known for its straight grain, strength, and high shock-absorbing qualities.
Weighing just below 2 pounds, this axe won't wear you down as you work on your project or trudge through woods.
2. Hudson Bay Axe
Hudson Bay axe is a good tool to have when you need to do felling, limbing, or light wood splitting. It's considered a general-purpose act with a one-handed design.
Council Tool 2.0 Hudson Bay Camp Axe
Fakespot: A
Council Tool has been around since 1886. They make really good axes and their Hudson Bay axe is an excellent example.
Their 19-inch model is a bit smaller than the average Hudson Bay axe, making them perfect for camping, hiking, or even hunting expeditions.
If you're finding that length quite short, Council Tool has a 24-inch model. It has the same weight as the 19-inch model but the longer handle allows users to hold it with two hands.
3. Forest Axe
As the name implies, forest axes are designed to be used in the forest. They usually have a long and round edge and a flat but long head. These features enable them to cut across wood fibers.
The smallest size you can get is about 26 cm long and weighs 0.3 kg. This size is best used as filleting knives.
A forest axe can come in different sizes. In picking which one is right for you, consider what size will allow you to get a comfortable hold and swing.
The largest is around 90cm long and 2.2kg heavy. This size is perfect for felling big trees.
Gransfors Bruks Small Forest Axe
Fakespot: B
This forest axe is the perfect tool for cutting and splitting small sticks. With a handle measuring 19 inches in length, it's just the right size for limbing and felling trees.
The axe features a steel safety collar to make sure that the axe head won't come off while in use. It also has an extra thick neck for added support while chopping large trees or clearing branches.
4. Axe Head Mattock
This axe is quite versatile. In fact, it's a tool that works for various trades.
It's a great axe for digging through soil regardless of consistency and hardness. However, it's true value is chopping through roots of different toughness.
WilFiks Pick Mattock
Fakespot: B
This mattock features an optimized blade geometry. This allows you to get solid aim and maximum efficiency. It's a reliable tool for removing heavy stones, weeding, breaking up soil, digging, and other gardening tasks.
The tool features a forged carbon steel heat-treated blade. This greatly enhances its density, increasing the mattock's durability.
Its handle has an ergonomic shape to minimize the strain on your hands. It also reduces slipping while adding comfort.
Axes for War and Combat
1. Viking/Danish Axe
Vikings were extremely skilled when it comes to weapons. They were great in making them, too.
Their strategists and blacksmiths created weapons that allowed them to defend themselves and conquer others. One of their most used and popular weapons was the Viking axe.
Their axes had long handles that gave them advantages during battles. They were incredibly sharp, making them viciously effective when used as a weapon.
Considering how dangerous they are, you wouldn't want to find yourself being attacked by Viking axes today.
Cold Steel Viking Battle Axe
Fakespot: A
This one has a classic design which makes it extra interesting. Constructed by high-grade 1055 carbon steel, it features a sharp blade.
Despite its look, it's actually easy to carry.
Although it's made in Taiwan, its Hickory handle is from America. It's stout and strong enough to withstand different purposes.
2. Battle Axe
Battle axes are specifically made for combat. Some designs were made for one-hand use while others require two hands for deployment.
The axes' weight ranged from 0.5 kg to 3 kgs. They weighed quite less than a modern splitting axe since they were primarily designed to cut arms and legs instead of wood. Because of that, they had narrow slicing blades, too.
The features allowed warriors to inflict devastating wounds on their enemies. They also allowed quicker movements and strikes.
Fantasy Medieval Battle Axe
Fakespot: B
You're not likely to see authentic battle axes these days except in museums. However, if you really want to own one, this tool is the closest one you can get.
This Fantasy Medieval Battle Axe is designed in Medieval fashion. Because it's small, you can easily hold it in one hand.
The axe features a dual-head which is made of stainless steel. It has a black finish that makes it extra attractive.
The blades are sharp and sturdy. Although they work well for light uses, you won't find them strong enough for heavy use.
3. Tomahawk
Tomahawks are highly specialized axes. Although they're primarily designed for combat, they can be used for different kinds of work.
You can use them for splitting, chopping, digging, or cutting rope. Basically, you can use a tomahawk for any task that requires an edged tool.
Back then, tomahawks had stone heads. That changed when metal blades were introduced for better durability and balance.
For civilians, a tomahawk serves as a multi-functional and lightweight tool which can be used for most cutting tasks. Although most axes can do that, the tool's lighter weight is an advantage. You can easily take one with you when you go hiking or paddling.
Gerber Downrange Tomahawk
Fakespot: A
Gerber Downrange Tomahawk offers versatility. As a 3-in-1 tool, you can use it as a pry bar, hammerhead, and axe.
Its body is pretty solid. Made of 420HC steel, it won't break or bend easily. It's also sturdy even when used in prying.
The handle offers excellent grip, thanks to its Desert Tan G-10 composite scales. Apart from that, it's lightweight, too. You won't strain your hand while using it.
The only downside is the blade. It's a bit dull so you may need to sharpen it properly before use.
4. Bardiche
The bardiche was used between the 14th to 17th centuries. It's a vicious weapon that ripped apart armies.
Its blade varied greatly when it came to shape. However, the most common was the long, cleaver-type blade.
The blade of a bardiche was attached to the pole. It was either via one socket at the top and another one surface mount in the base area or two sockets.
5. Axe-Pistol
The axe-pistol is an interesting type of axe. It features a flintlock pistol and on one end is an axe head. The tool is considered powerful and great to use for close quarters combat.
6. Dagger Axe
A dagger axe was a Chinese weapon that featured a puncturing weapon connected to a long shaft. A dagger-shaped blade was mounted to a perpendicular shaft that's typically wood.
Later on, the parts were turned into a single-piece tool. This version had been used as a standard infantry weapon during the Han dynasty.
Despite how it looked, it was never designed to be used for combat.
7. Halberd
The halberd is a combination of an axe and spear. Just looking at it, you'll find the weapon quite intimidating.
The tool enabled foot soldiers to fight with armored men on horseback. They used the pike head to keep the enemies at a distance. Meanwhile, the ax blade was used to strike hard and finish the opponent.
Axes for Other Tasks
1. Executioner's Axe
The executioner's axe is one terrifying tool. It served one purpose and that is to behead criminals and people who went against those in power.
2. Shepherd's Axe
The shepherd's axe features a long, straight wooden shaft and a light axe. There's typically a metal tip at its base.
On one side, there's a small metal head piece that's sharp. The other side is flat, making it effective when used as a hammer,
Back then, axes of this kind were considered works of art. Their owners had a lot of time for crafting so most of the shafts were beautifully engraved.
The shepherd's axe is good for light duty. It can also double as a walking stick
3. Ice Axe
A multi-purpose tool for mountaineers and ice climbers, ice axes enable are considered an essential safety tool. They allow climbers to efficiently arrest a fall down, minimizing serious injuries in the process.
Take note that ice axes aren't designed to be used for technical climbing. However, they can be useful when ascending ice slopes and moderate snow whenever needed. You can also use them in chopping steps and putting snow anchors.
Grivel GZERO Axe 66 Black
Fakespot: B
This tool isn't just a good choice because it's affordable. With an aluminum shaft and steel pick, it's a durable tool, too.
And if you are a beginner, you'll find this one easy to use. It features a classic straight shaft and neutral pick so you can use it easily for not-so-technical applications.
It also comes with a plastic head cover. This helps you get a stable and good grip even in cold conditions.
Axe Materials: Which One is The Best?
Axes are reliable tools. However, like with any other tool, they are only as good as the materials used to make them.
So, if you are going to invest in one, you need to make sure that it's durable and strong enough to withstand most of your tasks. That starts with finding the best material.
Let's start with axe handles.
Axe Handles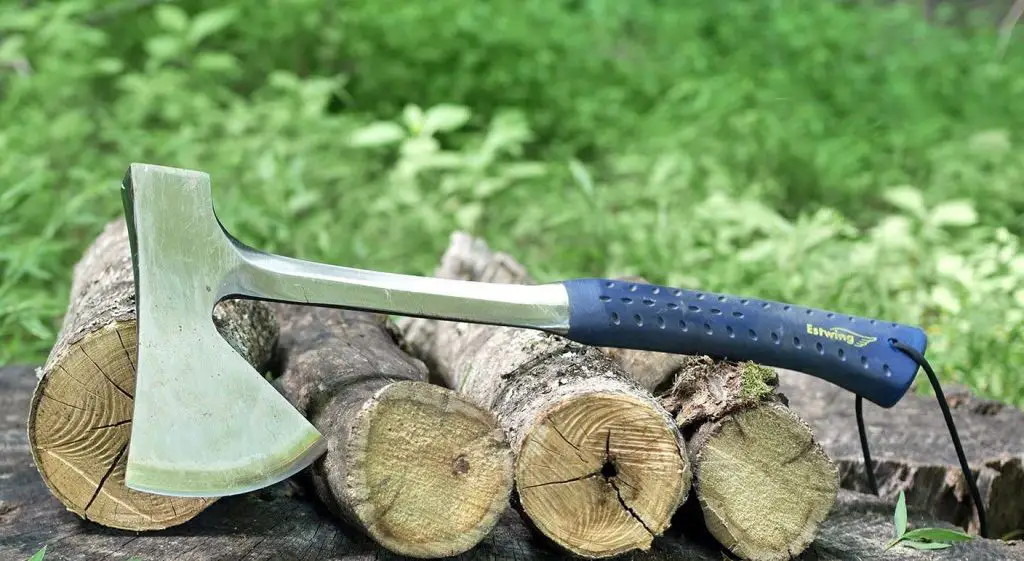 In general, there are three commonly used materials for the part.
Wood
Wood is considered the most common. Axe handles made with wood are great when it comes to absorbing shocks. However, they tend to be annoying if you have problems with your joints.
When it comes to cost, wood handles are the cheapest among the three common types of handles. This is good if you're planning to invest in a reliable tool but don't want to spend a huge amount of money.
Wood handles are also great when it comes to handling temperatures. Even when used in extreme heat or cold, they won't easily get brittle.
The only downside is their sensitivity to the environment. They tend to soak up water and almost any substance that gets on them. Plus, they can also shrink and swell depending on the humidity or temperature.
Safety is a huge concern with wood handles, too. They tend to break easily, particularly when the axehead is big and heavy.
Fortunately, replacing wood handles isn't that hard. Modifying them is easy as well. You can modify their shape, size, and length according to your needs.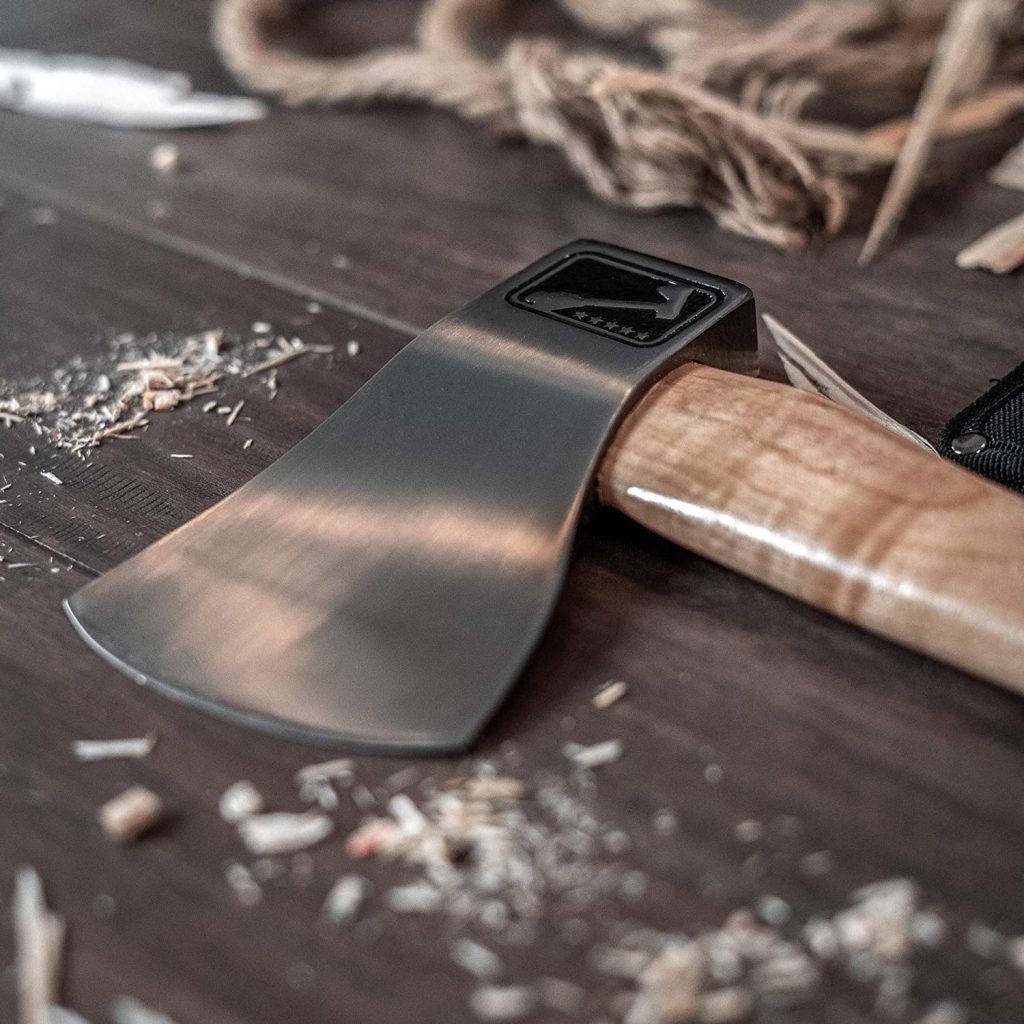 Steel
Steel handles are considered rare but they are extremely durable. That's because most of them are just a single piece of metal.
Although durable, they aren't the most comfortable to use among the different types of axes. Handles made of steel tend to transmit the most shock. If you need to do lots of chopping and cutting, you may end up with severe joint problems later on.
There are modern axes designed with patented shock-reduction grips. This is a nice feature to have since they help cushion the hands from the shock of each strike you make.
If your axe doesn't come with that feature, make sure to invest in a good pair of leather gloves.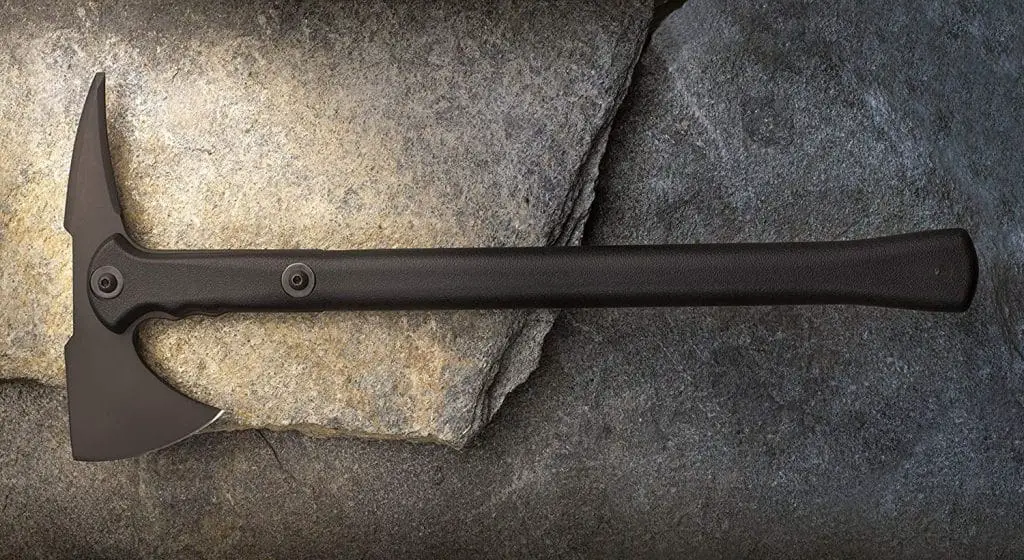 Fiberglass
Axes with fiberglass handles can withstand more punishment than average wooden handles. Plus, they are less sensitive to the environment, too.
They can fall into a swamp or get stuck in freezing conditions and they'll still be good to use. They won't shrink or soak up unnecessary substances.
Just remember that fiberglass isn't that tough when exposed to seriously cold temperatures. Over time, they can turn brittle. If you know you'll be splitting or chopping a lot in freezing temperatures, you may want to take this factor into consideration.
But here's the thing:
Although durable, fiberglass handles aren't easy to replace. In fact, you may have a hard time finding replacement handles.
If you really prefer fiberglass, do your research first. Find a manufacturer that offers a lifetime guarantee. This way, you'll have a replacement axe whenever necessary.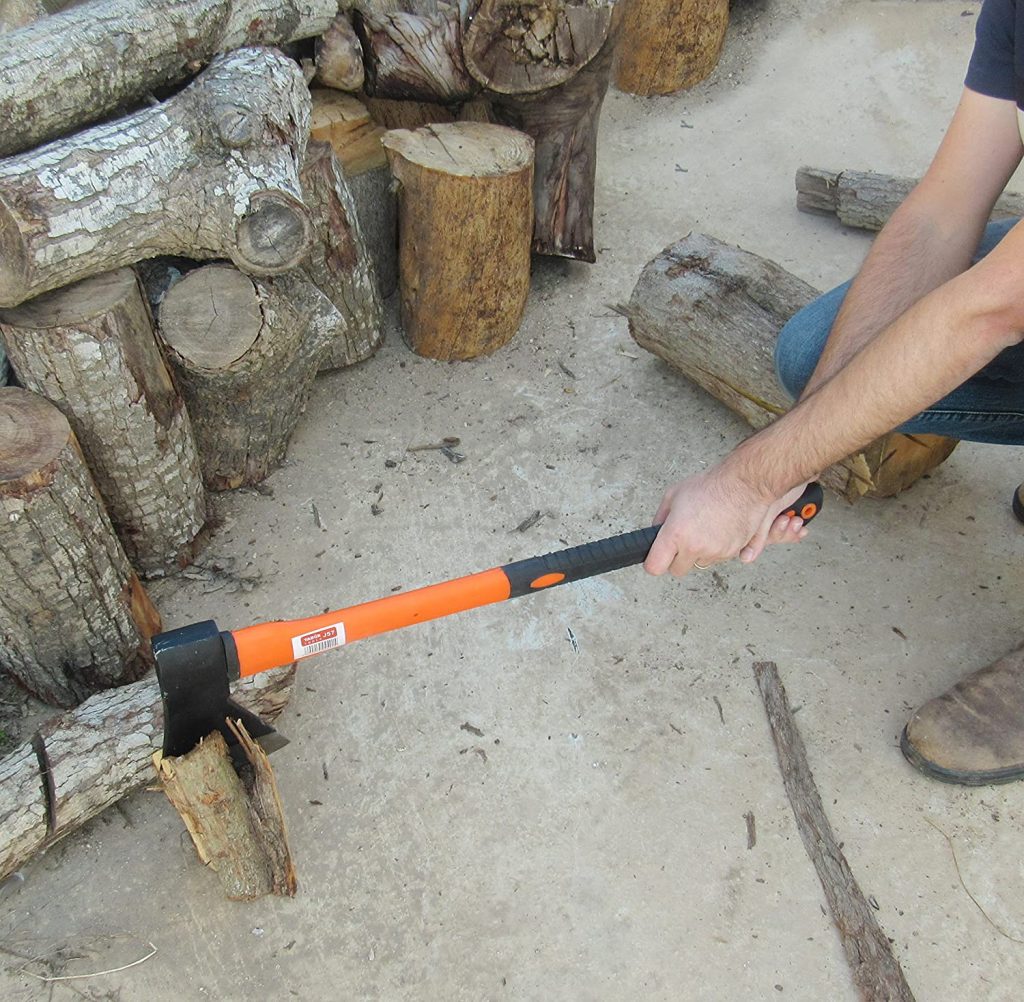 Axe Heads
As you probably already know, most axe heads are made of steel. There are different types and each one has a variety of purposes.
Plain Carbon Steel
A popular material in axe foraging, plain carbon steel is a mixture of steel and carbon.
You can find carbon in all steel types since it's an important hardening element. Plus, it plays a huge role in extending the life of your axe's blade.
Take note that using too much carbon isn't a good thing. It can make axes less tough and more prone to damage and shock.
In general, the material has three sub-categories. There's low, medium, and high.
You'll find most axes are made with medium and high-level carbon.
Plain carbon steel can be classified according to a naming system developed by the Society of Automotive Engineers. It is included in the 10xx number series with the last two numbers indicating the percentage of carbon in the steel.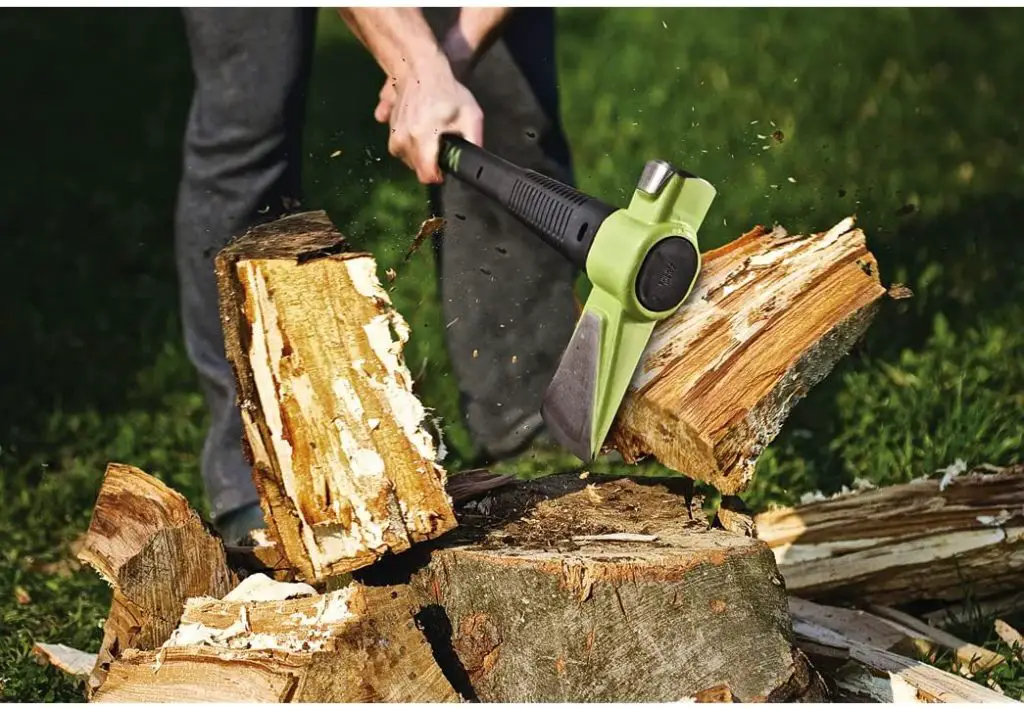 Stainless Steel
This type of steel is a popular choice because of its ability to withstand corrosion effectively. Its main component is chromium of at least 12%.
That amount allows chromium to oxidize. As a result, the material earns better resistance to wear and tear.
The most popular type is the 420 Stainless Steel. It only has 0.3% to 0.4% carbon but it has decent edge retention.
If you are finding it a bit soft, there's a 440 stainless steel that's harder.
AUS-6
Another name for this is the 6 A. Compared with the 420 stainless, this one has about 0.65% carbon.