If you are asked to choose one multi-tool in your survival belt what would it be?
While browsing the net to look for a tough compact tool, you need to consider the design, flexibility and usability while you are on the go.
I've been seeing the fancy RemGrit blade and Fiskars scissors and thought to myself that the Gerber Mp600 Pro Scout would be the multi-tool to get next.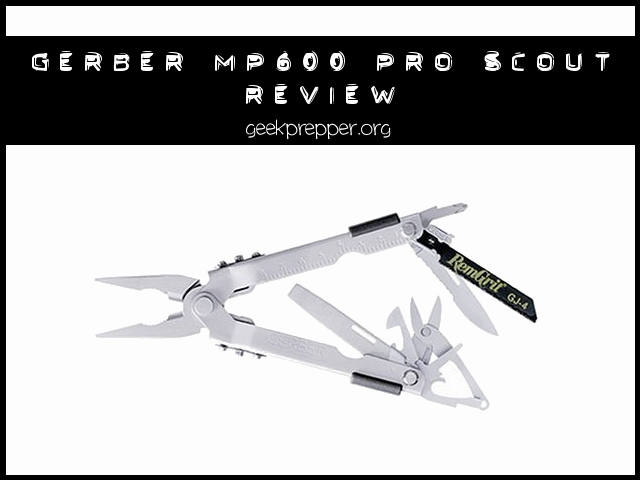 needle-nose pliers
wire cutter
crimper
standard/metric ruler
Phillips screwdriver
bottle/can opener,
serrated sheepsfoot blade/drop point blade
Fiskars scissors with lanyard ring
RemGrit Saw (replaceable saw blade)
file
small, medium, and large flathead screwdrivers
Gerber MP600 Pro Scout Review
This review will cover the differences between the Gerber Pro Scout 600 and the Gerber 600. They are very similar, but you can catch up on the different features by checking out the original Gerber 600 Multi-tool review.
The first impression of the Gerber MP600 Pro Scout is that it looked about the same as the Gerber 600 until you open it up to reveal all the tools! The Gerber MP600 Pro-Scout includes:
With the Gerber MP600 Pro Scout, you will get a unique, single-handed opening plier design containing easy to access internal tools, including the ones already mentioned. It does not have the usual traditional butterfly fold. What it has, instead, is a pair of pliers that slid up from the primary body.
You can also find a couple of release switches found on both sides to make it function. It allows you to flick the pliers without completely unfolding the tool. One thing to note about this tool is that is a bit heavier and larger compared to other multi-tools of full sizes.
Fortunately, it is not that bulky. Many also find it useful because of its adaptability.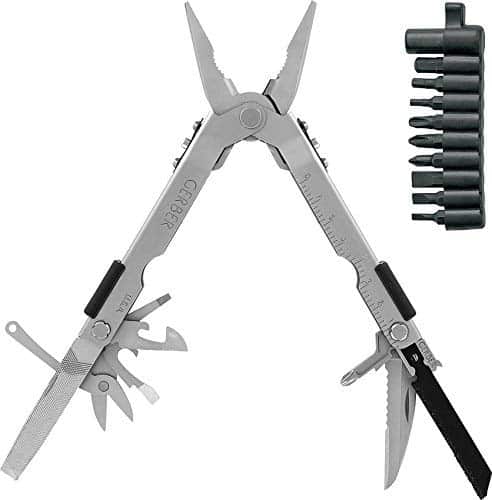 The MP600 is also a nice investment because it contains all standard tools that prospective users are hoping to see in a multi-tool together with some special features and items. It has a nice concept of putting together all essential tools in a single item because it prevents you from having to buy separate tools for various needs.
Another advantage of the Gerber MP600 is that it uses a unique locking system for security purposes. You can find sliding release buttons on both sides of its body as a means of releasing tools after using them.
Here is an overview of some of the tools present in this item:
Wire Cutters and Pliers
Among the most unique components of the MP600 are its wire cutters. It has a basic wire cutter made of steel. It basically has all you need and the toughness required in the survival field.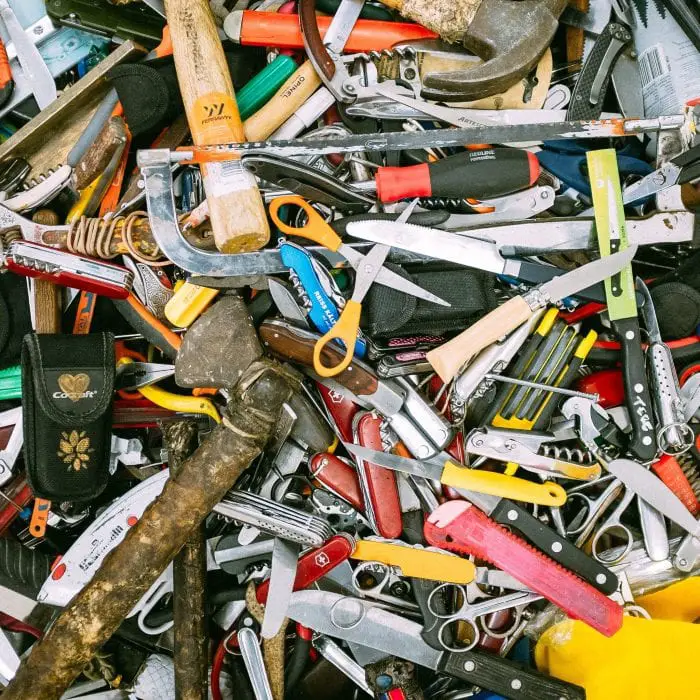 You can also find versions of this product that come with replaceable tungsten carbide blades featuring a triangular design. This blade works perfectly for wires that are stubborn and difficult to cut.
What is good about the tungsten carbide material used in its construction is that it is highly durable and strong. It can even resist chips and prevent dullness, which usually happens quickly with traditional steel.
The fact that it has a traditional design is also a big advantage as it allows rotating the blades thrice, thereby extending the life of the cutters.
As for the pliers, you can expect the MP600 to contain almost every pair that is suitable for all needs. Among your choices are the standard pliers and the typical needle nose.
It also boasts of a customized blasting cap crimper, which is ideal for combat engineers. All the pliers are designed with quality in mind. Each pair even boasts of its incredible gripping power, ensuring ease when torquing down bolts and nuts.
Screwdrivers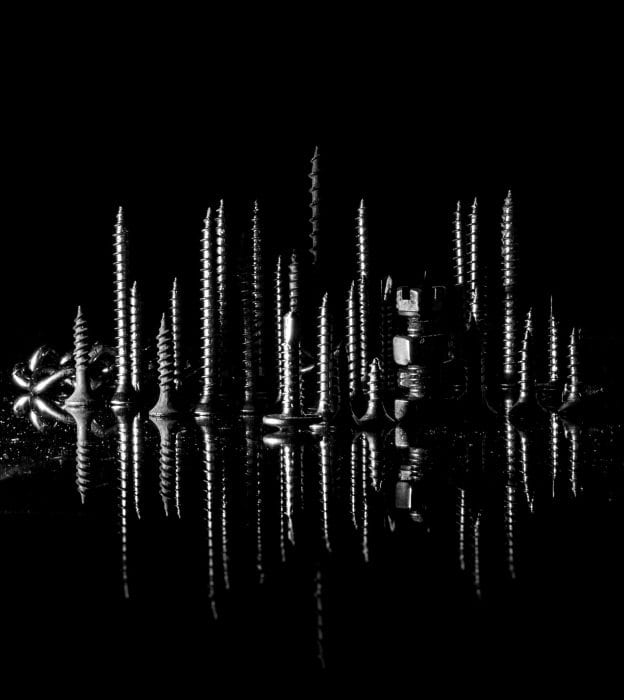 The base model of the MP600 Pro Scout from Gerber features four different screwdrivers – one of which is a Phillips head while the remaining three are flatheads of different sizes. Expect the Phillips head to feature a tapering point with a reasonable fit on various screw sizes. What makes it different from other similar items is that this one is quite stubby.
As for the flatheads, you will notice them filling a wide range of sizes. However, take note that all of them do not work for screws of electronic sizes.
Knife Blades
Various knife blades are also available for the MP600. You can even find a version of this Gerber product, which is bladeless. This one perfectly suits users who need to access secured places frequently.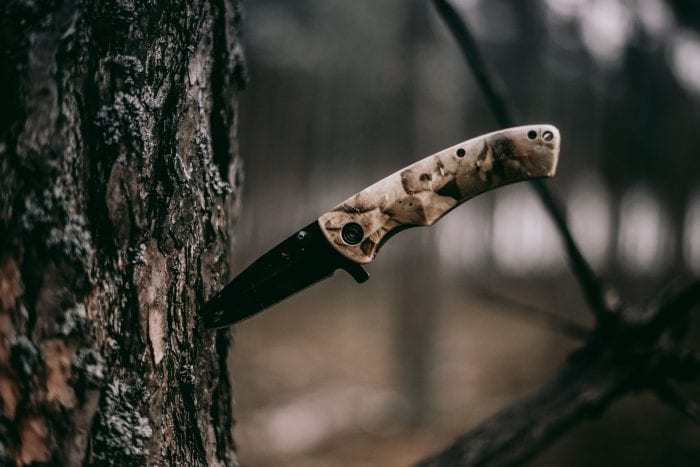 You can also find half-straight half-serrated, serrated, and straight blades.
Gerber also makes it a point to allow its users to pick from various angles of the blade. It is even possible to choose those blades with blunt tips. One thing that makes the knife blades of MP600 endearing is their sharpness.
I also noticed how easy it is to maintain each one. Generally, it is capable of offering all the things that anyone wants to get from a multi-tool knife blade.
Can and Bottle Openers
Gerber made it a point to use a unique design for the can and bottle openers of its MP600. One thing that makes it different from the others is that unlike other multi-tools available on the market, the MP600 has a separate can opener and bottle opener.
The good news is that the two separate tools work well individually.
You will notice the can opener easily and conveniently gliding through cans. The same goes for the bottle opener. The only disadvantage is that the bottle opener seems to have a weird and awkward positioning at the base of one flathead screwdriver.
Fortunately, this does not negatively affect the overall functionality and strength of the screwdriver.
Needle Nose Pliers
The needle nose pliers are also among the most valuable components of this Gerber multi-tool. It has a tip, which is small enough that it can handle more precise tasks, like getting rid of splinters and bending fish hooks. It provides an extra grip, thanks to its beak, which has small serrations to enhance it even further.
The beak's spine also features a rounded design, promoting ease in bending wires and reaching narrow spots. Furthermore, it has a wire cutter designed in such a way that you can use it for cutting small stems and branches with ease.
Other Nice Features of the Gerber MP600
Aside from the tools already mentioned, the MP600 Pro Scout Multi-tool offered by Gerber also features a nylon sheath, which is improved even further with the help of a belt loop.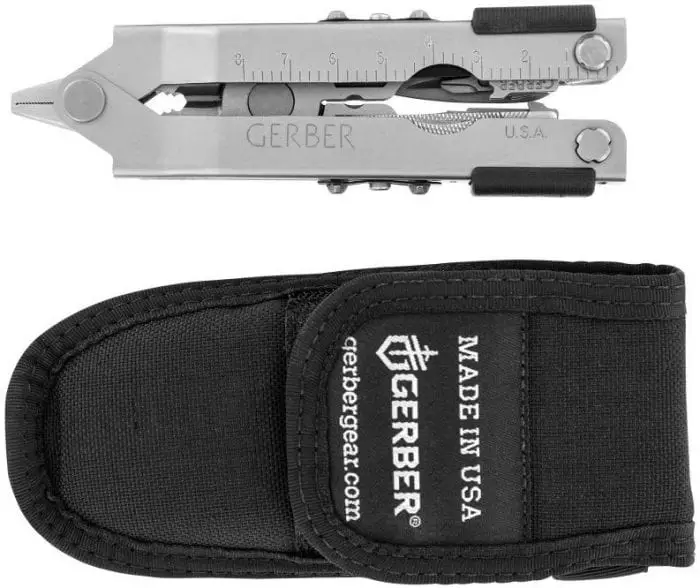 One thing you can do with the sheath is attach it horizontally so you can quickly and easily access the multi-tool. It has a seal constructed out of Velcro material, promoting ease in opening it up, too.
The included lanyard ring may seem insignificant at first but it is actually useful in those areas that make you prone to dropping the multi-tool in mud, water, or up high on scaffolding or a tree.
The MP600 Pro scout also boasts its Fiskars-branded scissors as well as a universally designed saw coupler, which supports using the RemGrit cutting blades. These blades are highly efficient when it comes to sawing thin metal pieces and plastics.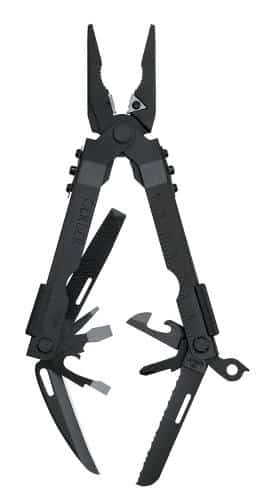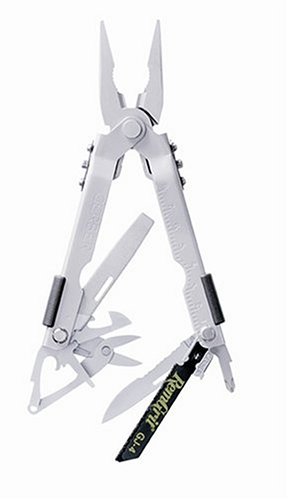 Pros:
Fiskars scissors – You don't realize how many times you need flipping scissors until you've got them.
Interchangeable and replaceable saw blade attachment (where RemGrit saw blade is currently mounted). The saw blade can be replaced with any 2-inch (or 5cm) universal jigsaw blade.
When you are ready to replace the blade (or it is worn out), you can swap it with a choice of blades that are designed for different types of materials – wood, metal, plastics, etc.

Non-replaceable wire cutters, the standard Gerber 600's wire cutters can be replaced once you dull them or notch them up from use.
The Gerber MP600 Pro-Scout has some outstanding features, namely the ability to accept any 2 inches (or 5cm) universal jigsaw blades and the Fiskars scissors.
This makes for a very versatile and adaptable tool, but only if you can deal with a single multi-edged knife (1 inch of a standard knife and the remainder being serrated) and non-replaceable wire-cutters.
I can accept the cons of this multi-tool, especially when I can carry separate wood and steel cutting jigsaw blades to complement the RemGrit blade. Replaceable wire-cutters would have been nice, but honestly, what other tool comes with those, except the Gerber 600.
The Gerber 600 would be hard to beat, but I think the Pro-Scout came out even better.
Who is the Gerber MP600 Pro Scout For?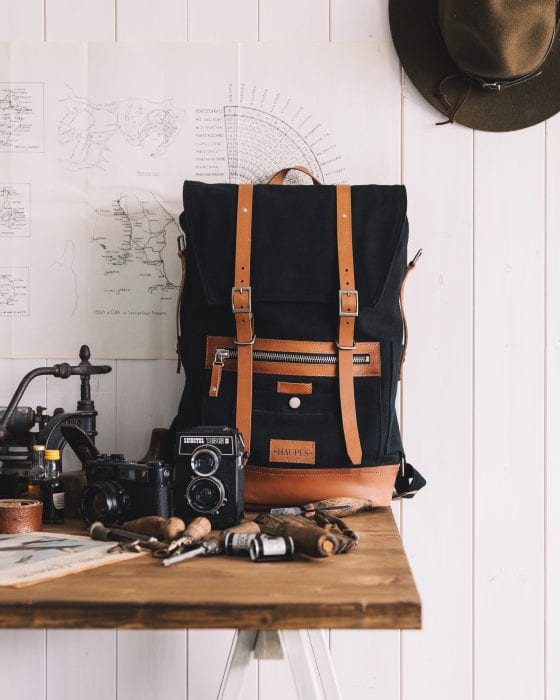 In general, this multi-tool from Gerber is specifically built for both men and women who are part of the US armed forces.
The features incorporated in the Gerber MP600 Pro Scout, including its rugged design and tactical look, Berry-compliant sheets, and sight/DET tool variations target such users.
Aside from the armed forces, this is also a handy and interesting tool for anyone who needs a multi-tool in their arsenal.
Conclusion
Overall, the Gerber MP600 Pro Scout can be considered a useful and functional multi-tool that you can use even around the house.
It is well-made and has a durable structure and plenty of well thought-out features and components. It looks sharp and is pretty loaded with useful tools.