Gas Masks are designed to keep you safe from airborne chemicals (chemical attacks) or tear gas in the case of civil unrest.
Every member of your family or household should have a gas mask.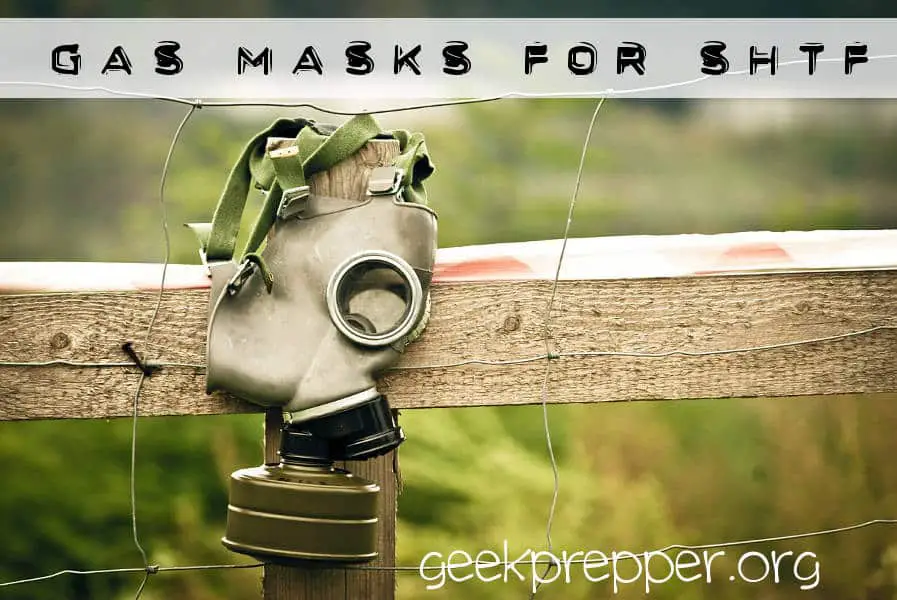 Gas Masks for SHTF
As a prepper, you want to make sure that you have the proper equipment to help you survive SHTF or any other emergency and disaster.  Gas Masks will be essential during natural disasters, civil unrest or when you need to bug out.
A SHTF gas mask is one of these vital pieces of equipment, especially in urban, industrial or areas prone to wilderness or urban fire where there is a higher concentration of people and or things that could become engulfed for a multitude of possible scenarios, including but not limited to:
Wildfires
Building fires
Tear gas
Chemical or industrial gas leaks
Tires, trash or other urban junk
Radioactive leaks (see certifications)
Biological contamination or hazards
Some of the most popular gas masks are the Israeli Civilian Gas Mask w/ Nato Filter. The assumption is that the Israelis are tough people who live in a region where every county around them wants to destroy them. They have gotten really good at staying alive.
What Can the Gas Mask Do?
During times of unrest or disaster, you may find yourself leading your family or a group through areas potentially loaded with with materials burning that may give off toxic fumes.
During these scenarios, a mask will not only protect your body's vital organs, they will get you and your family out of, and away from danger.  Taking it a step farther, it's possible  get cornered, or trapped in a cloud of airborne fumes, making escape very difficult if not impossible weather that be from a building, street, or in the thick brush.
Not only will a gas mask allow you to escape the primary danger of poisons fumes, they may aid your escape from secondary or tertiary threats, whether that be malicious people, predictors, or collapsing structures, trees, etc that are closing in while the cloud of poisonous gas looms.
During these scenarios, wearing a gas mask can save your life. A gas mask will purify the air for you to breathe, protect your skin, eyes, and lungs enabling you to swiftly move away from danger with maximum possible vision, while enabling you to properly defend yourself from threats.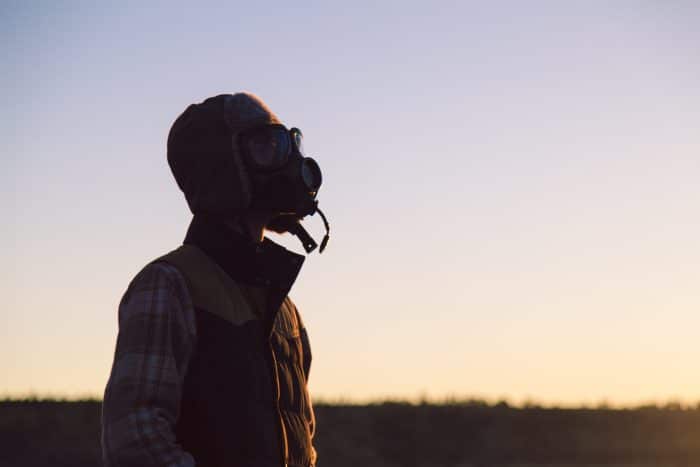 In other words, a gas mask is vital headgear designed to protect the sensitive skin around your mouth, nose, as well to keep as your eyes from burning.
Types of Prepper Gas Masks
Now that you know the vital functions performed by a prepper gas mask, I'll discuss a bit about the two main types so you can pick one that suits your needs. Here are the most commonly used types of SHTF and prepper gas masks: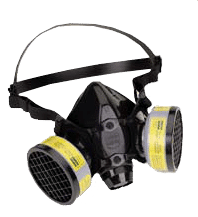 Air Purifying Respirator – This is a great choice in case you are looking for an inexpensive gas mask that you can quickly and easily put on. This is designed in a way that it covers your mouth and nose.
It effectively purifies the air, although it does not cover your eyes, leaving them exposed to chemicals. Because your eyes are not covered, these organs are at risk of getting biological infections and chemical damage. Find out if this type of respirator is sufficient for the kind of protection you want to receive before investing in it.
Full Face Gas Mask – It would be much better if you go for this type of prepper gas mask, especially if need full protection. What is great about this gas mask is that it also protects your eyes.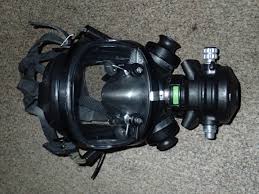 It is equipped with a huge filter, which you can see attached beneath the mouth area. It covers your whole face.
6 of the Best Gas Masks for Preppers
PD-100 Organic Vapor Full Face Respirator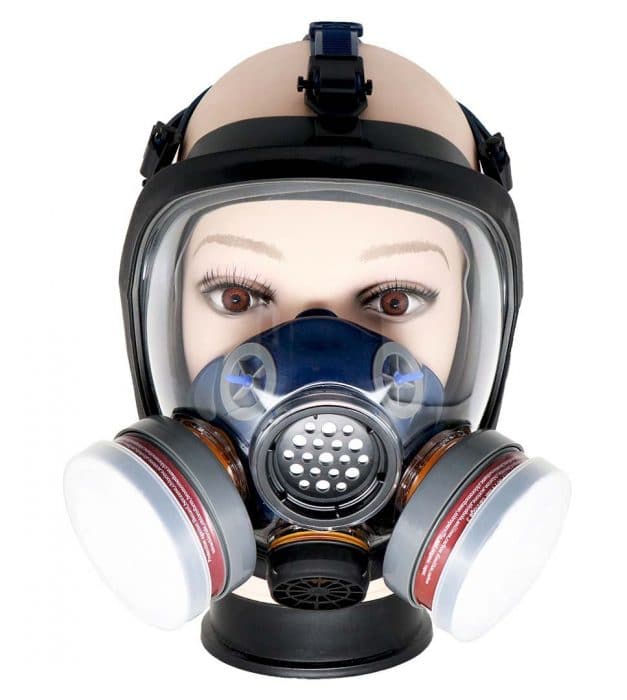 Offering multi-purpose protection, the PD-100 Organic Vapor Full Face Respirator is what you need to avoid the danger of inhaling toxic substances and chemicals. It is also designed in a way that it cushions heavy contact areas through its soft and comfy silicone nose cup and facial seal.
Pros:
Can protect you from toxic substances and chemicals in the air
Soft and comfortable to wear
Features 5 straps to ensure a snug, secure, and perfect fit
Easy to twist filter attachments
Lightweight and ergonomic construction
Cons:
Some find the built-in headband flimsy and thin.
UOPASD Organic Vapor Full Face Gas Mask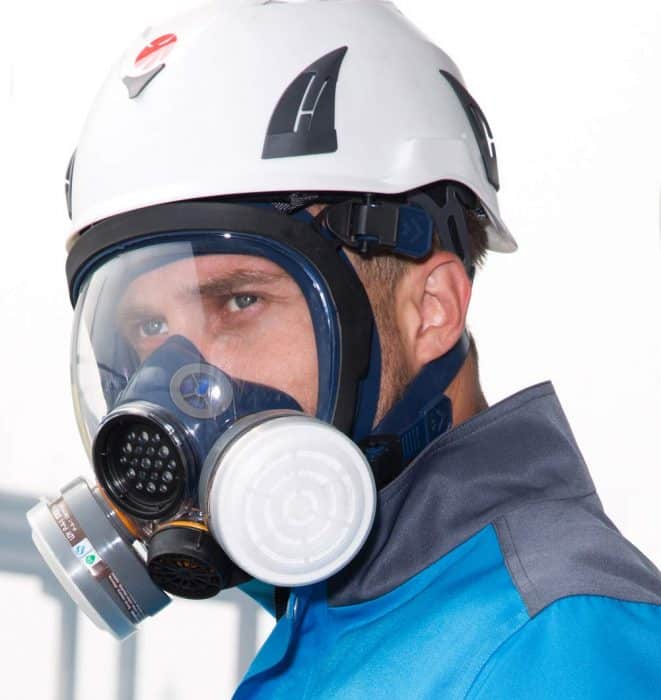 This full-face gas mask from UOPASD is the ultimate answer to preppers who need a mask that can protect them against most, if not, all harmful particles in the air. It offers limited face and eye protection against many things, like chemicals, flying articles, and welding and painting substances.
Pros:
Tight and secure yet comfortable
Features an anti-scratch lens that has an anti-fog coating
Clarity of vision guaranteed
Protects you from toxic vapors and gases
Easy to adjust and wear, thanks to its adjustable straps
Cons:
The straps are not as durable as the ones used in other gas masks.
Holulo Organic Vapor Full Face Mask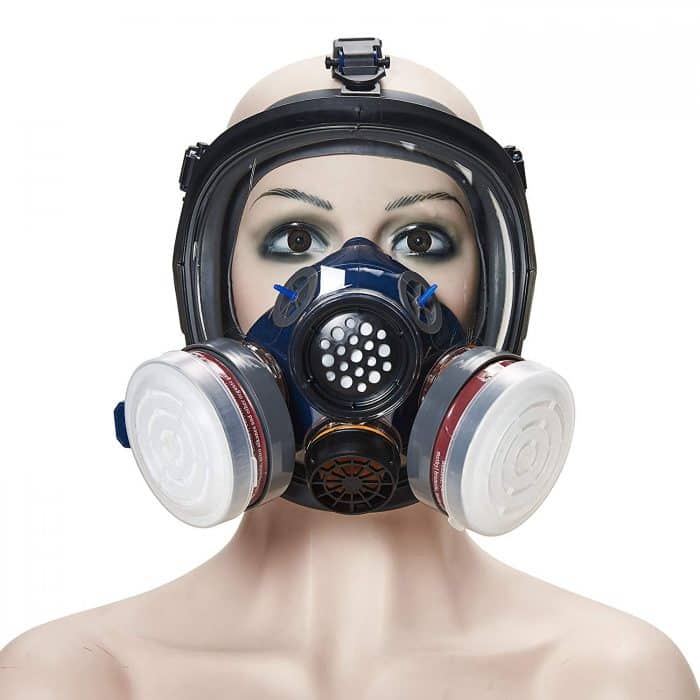 Offering an affordable means of protecting you from harmful gases, the Holulo Organic Vapor Full Face Mask deserves a spot in your bug-out or survival bag. The level of its protection is quite high as it covers a wide range of toxic particles and substances in the air. It is comfortable to wear and adjustable, too.
Pros:
Offers a wide coverage in terms of protection
Distributes weight and lessens breathing resistance through its dual filtration system
Clear lens with anti-friction and anti-fog properties
Boasts of a huge clear view area
Assures users of a proper fit
Cons:
Lack of seal or cover for the attached filters
Supergum Israeli Rubber Respirator Mask
Ideal for commercial and industrial use, this Israeli respirator mask is an item that your bug-out bag should have. It works well when used against dust, sand, paint, tear gas, smoke, and fume. Made of professional-grade material, it is long-lasting and comfortable. It also has goggles constructed from anti-scratch polycarbonate lens.
Pros:
Works for both commercial and industrial applications
Constructed from quality materials
Comfortable to wear
Can last long
Features a clear lens with an anti-scratch property
Cons:
Slightly tight around the chin
Shalon M15 Rubber Respirator Mask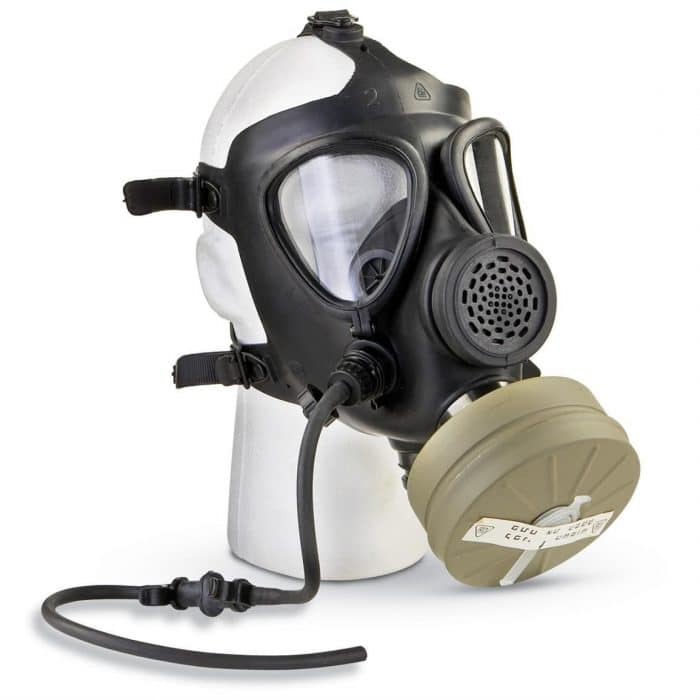 When it comes to versatility, Shalon M15 Rubber Respirator Mask does not seem to disappoint as its protection coverage is somewhat limitless. It can handle commercial and industrial applications well, including painting, smoke, dust, fume, and tear gas. Furthermore, it can fit various sizes with its easy-to-adjust straps.
Pros:
Extensive protection coverage
Useful for commercial and industrial applications
Adjustable straps included
Fits well and comfortably
Scratch-resistant and clear lens made of polycarbonate material
Cons:
Confusing sizing information
Mestel Full Face Respirator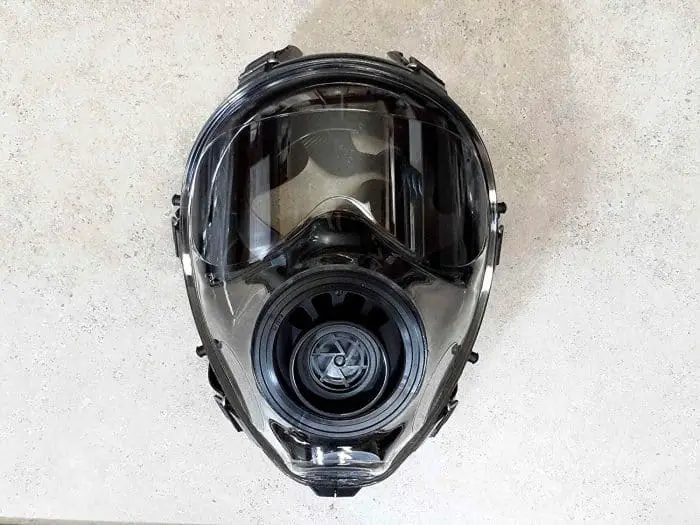 With the lightweight and compact structure of the Mestel Full Face Respirator, it is surely a convenient addition to your survival items. It is not going to disappoint in terms of protection because it is built to be multi-purpose and versatile. It is easy to maintain plus boasts of excellent visibility and wide and clear field of vision.
Pros:
Lightweight and compact
Versatile and multi-purpose protection guaranteed
Promotes excellent clarity and visibility
Easy to clean and maintain
Affordable
Cons:
Short Buying Guide
With the increasing number of people who are in preparing for SHTF and other untoward incidents, emergencies, and disasters, it's not surprising to see the number of choices for survival gas masks increasing, too.
If you are one of those confused buyers then considering the following factors when shopping for a gas mask will lend some aid, I hope.
The Level of Protection – Note that gas masks are created in such a way that they can keep you fully protected from certain harmful agents in the air. You have to determine what a specific gas mask can protect you from before buying. If possible, go for a military-grade one as this offers superior protection.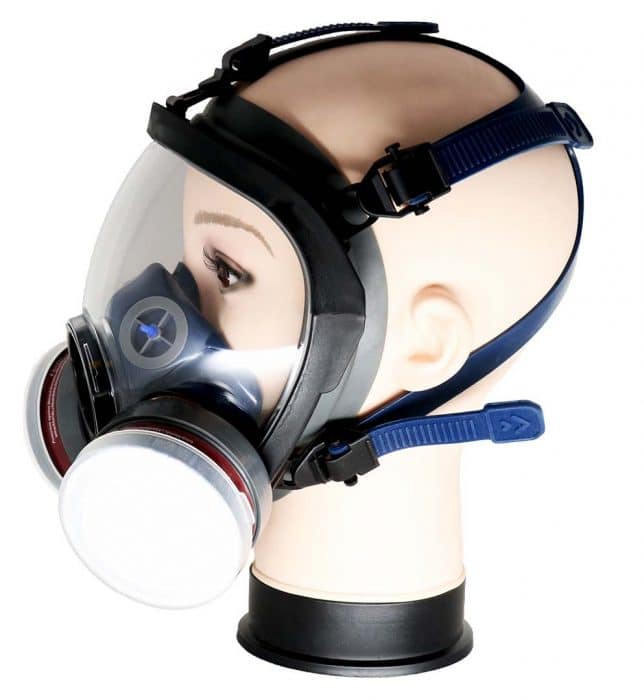 When assessing the type and level of protection provided by a gas mask, it is necessary to spend time assessing its seals of approval and/or rating. For instance, if a mask has a CBRN marking and rating then you can be rest assured knowing that it can protect you from nuclear, radioactive, biological, and chemical agents.
This rating indicates that the mask is verified to protect you from the mentioned harmful agents for a max of eight hours. You can also see masks marked and rated as NBC. This rating indicates protection from chemical, biological, and nuclear agents for a max of eight hours. It does not protect you from radioactive substances, though.
Before shopping for a gas mask, find out what kind of protection you want to receive. By doing that, you will be able to get one that is compatible with your needs and requirements.
Visibility/Clarity – Another important factor is the visibility provided by the mask. Make sure to go for one with a large field of view and a high level of visibility, especially if you plan to use it for military, law enforcement, and firefighting applications. You can opt for a mask with a singular lens, which can offer superior clarity of vision while opening up your peripheral vision.
You may also want to avoid goggle-type gas masks if you do not want your freedom to study and survey your external landscape to be hampered. Also, take note that the specific material used in creating the goggles or lens contributes to the mask's overall clarity, especially once you start using it in adverse conditions. Apart from checking visibility, look for a gas mask with a heat-resistant visor.
Comfort – Your level of comfort should also be one of your priorities when shopping for a reliable gas mask that you can use during SHTF and other survival situations. It should be comfortable enough that you will not feel troubled wearing it for several hours.
To ensure that you remain comfortable throughout the time you are wearing your chosen gas mask, check the nose cup. It is the part of the mask, which protects your nose and mouth. Observe whether it presses your nose bridge or pinches your cheeks with excessive force.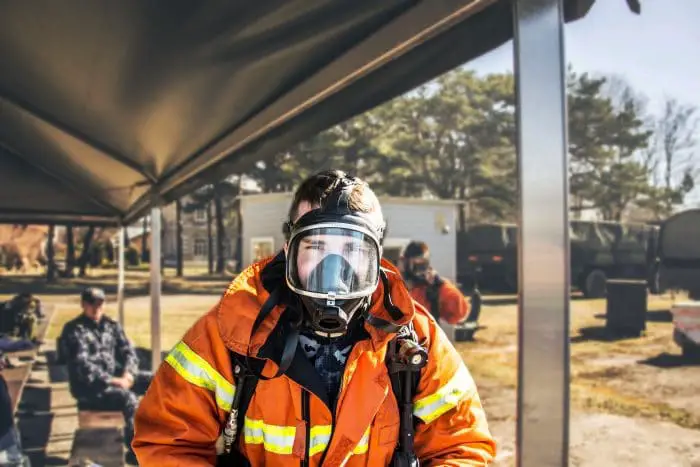 If it does then avoid it as it might cause extreme discomfort after just a short period of wearing it. Make sure the nose cup offers a snug fit, too; otherwise, it will expose you to toxic substances and agents.
During the shopping process, keep in mind that wearing and breathing in through a gas mask is harder than when you are breathing the open air. That said, seniors and those who have lung diseases, like asthma, may experience breathing difficulties when wearing the mask. In these cases, comfort may be as important as the protection level, or you will have young children or elderly peeling them off during the peak of a threat.
Positive Pressure and Negative Pressure Testing Procedures
You should test your Gas Mask as soon as you receive it and then retest it again, twice annually, for a good seal and proper fit.
Negative Pressure Test:
1. Put the gas mask on and adjust straps until the mask fits securely. Do NOT open the filter canister or attach the filter canister to the mask.
2. Use your hand to cover the gas mask's intake area. This is the circular area where the filter attaches to the mask.
3. Try to Inhale.
4. No Air should be able to enter the mask. You should feel reduced air pressure within the mask. The mask should feel like it is being sucked towards your face.
Positive Pressure Test:
1. Put the mask on and adjust straps until the mask fits securely. Do NOT open the filter canister or attach the filter canister to the mask.
2. Use your hand to cover the gas mask's exhaust area located directly beneath the filter attachment area.
3. Try to Exhale.
4. Air should not be able to exit the mask. You should feel an increase in air pressure within the mask. The mask should feel like it is being pushed away from your face to release the air pressure inside the mask.
If your gas mask fails either of the pressure tests, move on, keep testing, or exchange it immediately if already purchased.
Tip: Check to make sure the exhaust vent is not missing the rubber seal (disc-shaped rubber flap) that is supposed to prevent air from coming in via the exhaust.

Using a Gas Mask
Q) Which is more important, speed or the airtight seal?
A) Both are absolutely necessary. You must become expert, both in putting on the mask and getting an airtight seal in a matter of seconds.
Strapping on a gas mask isn't as easy as it looks in the movies. People have died by putting them on incorrectly or by not being able to put it on at all in situations of stress and panic. There are even accounts of people suffocating because they neglected to remove the plastic seal on a new filter before attaching it to the Gas Mask.
There is a reason the military conducts gas-mask training exercises.
Properly fitting and using a gas mask requires practice.
Hands-on training by a professional is preferred.
Prior practice at home is an absolute minimum.
Things you Need to Know About Gas Masks
Gas masks may help protect your lungs, however, some chemical agents may be absorbed through the skin or eyes. You'll need a full CBRN suit to keep everything out.
Gas masks may reduce, but do not eliminate exposure to chemical or biological agents.
Gas masks do not eliminate the risk of infection.
Negative pressure masks can be dangerous for children or people with respiratory problems. There are reports of accidental suffocation when people have worn masks incorrectly, as happened to some Israeli civilians during the Persian Gulf War.
Remove the plastic seal (or plug) on a new filter before attaching it to the Gas Mask! There is one on all of them!!!
Gas masks for each member of your family, group or crew should be part of your emergency kit. They will greatly improve your chances of survival in a post-disaster or post SHTF scenario.