Surviving a nuclear detonation is one thing, but saving yourself from the harmful effects of the fallout is another.
Radiation piggybacks on the ashes and specks of dust carried by the wind may penetrate a person's body through respiration. Plus, nukes radiate different types of energy after they have been detonated.
With those things in mind, we created this article for you to know the top 4 best nuclear gas masks and other relevant information to help you survive when nuclear fallout occurs (hopefully not!).
A Comparison of The Best Nuclear Gas Masks
| Name of Gas Mask | Nuclear Filter Recommendation | Dimension | Material | Check Price |
| --- | --- | --- | --- | --- |
| Mira Safety CM-6M | MIRA NBC 77 | 10 x 8 x 8 inches | Silicone | Check Price |
| Honeywell North 760008A Respirator | Honeywell 75SCP100L Combination Cartridge/Filter, Magenta-Olive | 11.5x8x7 inches | Silicone | Check Price |
| PD-100 Full Face Respirator | P-A-1 carbon-activated filters | 9.61x8.11x5.43 inches | Plastic | Check Price |
| Avon C50 CBRN | CFP100; CBRNCF50; CBRNCF50 CE | S, M, L | Silicone | Check Price |
The Best Gas Masks
A nuclear fallout can happen anytime, anywhere. Make sure that you're protected by investing in any of these best nuclear gas masks.
1. MIRA Safety CM-6M CBRN Gas Mask
Mira Safety CM-6M Gas Mask is ready for Chemical Warfare Agents (CWA) and CBRN agents. Yes, you read it right! This full-face gas mask can protect you from nuclear fallout.
Aside from being temporary protection from radioactive particulates, harmful gasses, and vapor, this gas mask can also hold out against mustard gas. 
It is a chemical warfare agent that can cause skin burns and severe blisters. If an individual inhales this gas, they can experience shortness of breath and cough from lung irritation.
Benefits of Mira Safety CM-6M Gas Mask:
Clear communication while wearing
Old-manufactured gas masks prevent a user from uttering words clearly. We all know that communication is a vital part of survival, most especially when seeking help or surviving with family members. 
The chances of survival turn slimmer when you are hard to hear each other when speaking. Mira Safety CM-6M Gas Mask has a speech diagram that makes communication more accessible and more audible.
It has a canteen
During a nuclear fallout, survivors say they get to pick between lesser evils— dehydration or chemical inhalation.
Dehydration is not a problem since it is attached to the canteen and drinking tube. Using Mira Safety CM-6M Gas Mask, you do not need to risk anything for survival.
However, if you prefer more water storage, you can buy an adaptor for a hydration bladder. But, upon comparing both water storages, the canteen is more convenient during SHTF cases.
When drinking, hold the canteen up and suck to get water. There is a drinking straw within the mask for your tongue to reach.
It is made of butyl rubber
Bromobutyl rubber is a durable material used in industrial, household or medical products that require low permeability to liquids and gasses.
Tires, conveyor belts, windscreen wipers, and medical stoppers are some of the things that utilize this type of rubber.
Regarding Mira Safety CM-6M Gas Mask, rubber can protect the user from different kinds of CWA and industrial chemicals with high toxicity.
This material is also hypoallergenic, which means that it can cater to people with sensitive skin needs.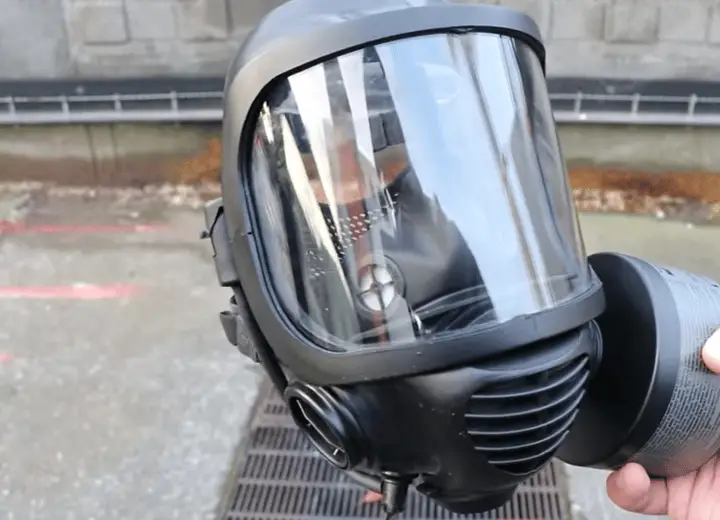 It does not fog up
Due to the rubber that seals the visor, the mask is free from fogging up. Many air respirators fail with this feature, yet the Mira Safety CM-6M Gas Mask has done it perfectly. 
Two temperature regulation mechanism is beneficial
Mira Safety CM-6M Gas Mask has exhalation chambers that allow users to avoid sweat build-up and attach to the drinking canteen. This feature is known to regulate the temperature in hot and contaminated environments without risking one's safety.
Filter caps on both sides
Two-sided filter attachments can be advantageous for users during filter replacements in toxic environments. It can also allow users to choose which side to attach to the filter for comfort and convenience when moving. 
Five strap mesh piece
It has an elastic and durable mesh piece with five straps on the back. This feature allows users to pull the straps tight for a more secure seal to the face.
However, shaving off any facial hair is essential to ensure that the gas mask has no small holes for the radioactive clouds of dust to enter the mask.
How to Wear Mira Safety CM-6M Gas Mask Properly
Place both hands inside the mask. Then stretch the mask according to the size of your head. Now, wear the mask and pull the straps tightly. Use the five-point head harness adjustments to ensure that the front securely fits your face. 
Test whether there are still gaps between your face and the gas mask. Cover the filters as you blow air inside the mask to do this. While you do this, the mask sucks to your face more.
Pros
Has gas mask size options for kids and adults
Has its own CBRN NBC protection filter
Compatible with all standard NATO 40mm canisters
Cons
Has a rubbery smell
Warranty only lasts for a year
Spectacle kit not included
2. PD-100 Full Face Respirator Gas Mask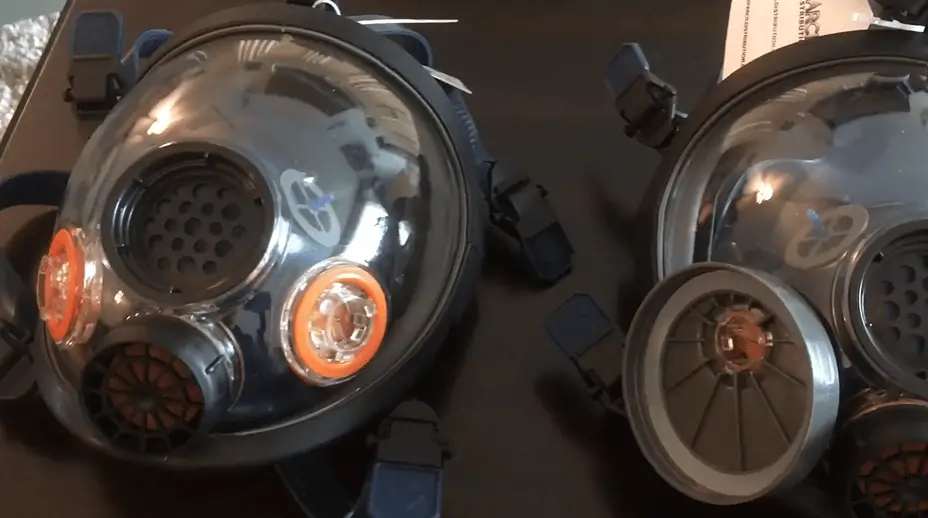 The mask is the lightest on this list, weighing exactly 1.6 pounds. This gas mask can remain sturdy and in position regardless of head shape. In terms of impact resistance, these gas masks also meet stringent requirements. 
I discovered that the PD-100 has applications in a variety of industries, including construction, pesticide protection, environmental technology, medicines, and general manufacturing, when investigating it.
Benefits of PD-100 Full Face Respirator Gas Mask
High-density elastic straps
The high-density elastic straps were another feature we loved about these masks.
These straps were simple to use and performed a good job of keeping the mask securely on a person's head, but they did loosen up over time and had to be retightened. Regardless, we believe the straps performed admirably.
Lightweight
A lot of users commend this PD-100 Full Face Respirator due to its ergonomic design. The gas mask itself is lightweight making it easier to wear than other respirators.
Comes with P-A1 cartridges
​​The fact that these masks come with two P-A1 cartridges is another feature worth mentioning.
These cartridges are N95 face mask equivalents, which means they filter out particles 0.03 microns and larger. These cartridges were also very simple to change when necessary.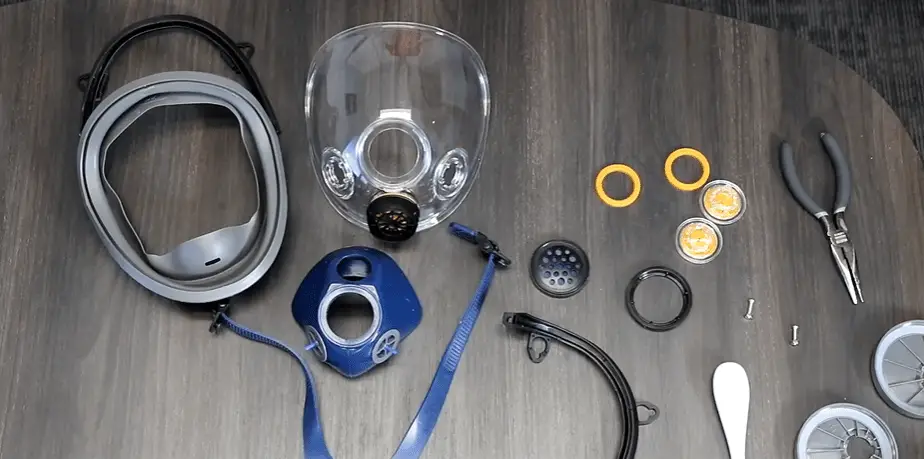 Air circulation technology 
The air circulation technology retains the coolness in your face and prevents the lens from fogging. However, it is pricey, but others consider this mask a considerable investment.
Pros
Easy-to-read instructions
Durable breathing valve
Does not fog up
Affordable
High impact-resistant lenses
1-year factory warranty
Cons
Cannot be worn with prescription glasses
3. Honeywell North 760008A Respirator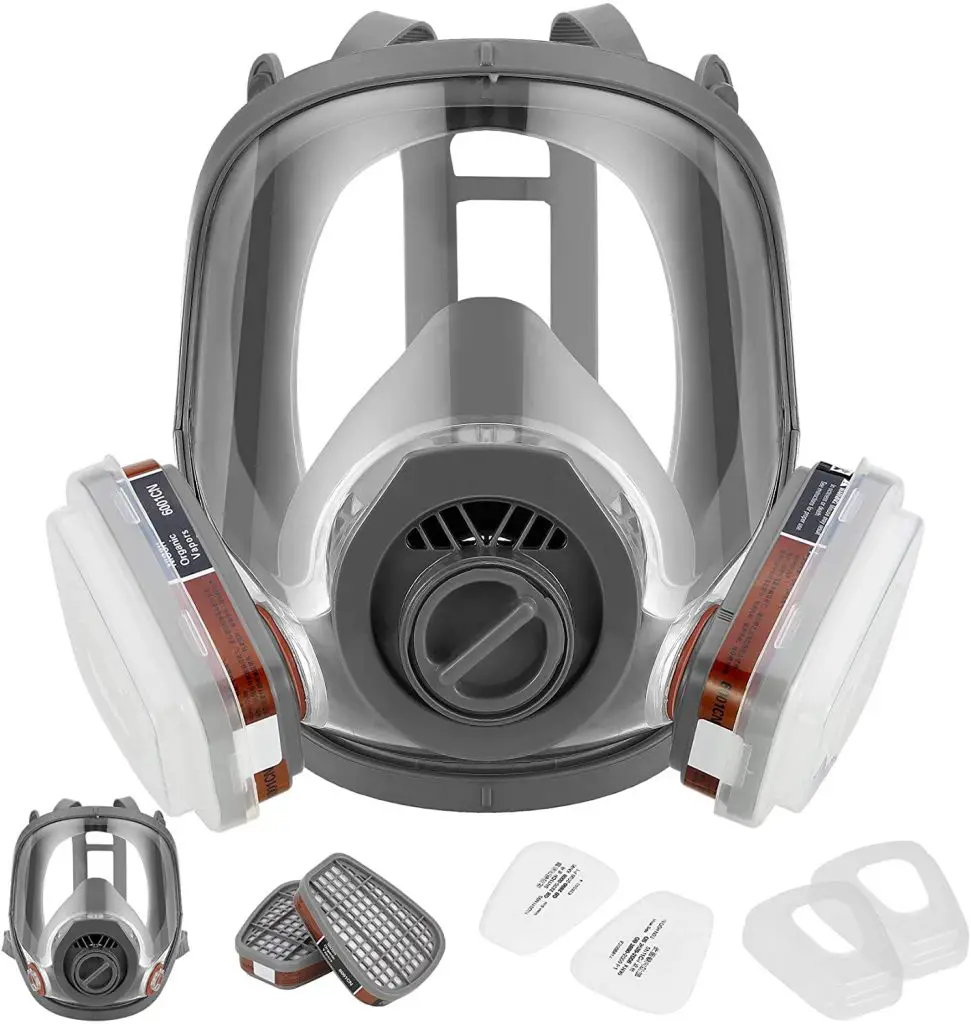 Honeywell North 760008A Respirator is one of the top-of-the-line silicone gas masks that are versatile enough to handle almost all types of environments.
This model excels in every category, including security, adaptability, and performance. 
It includes a dual flange silicone seal that provides an excellent fit and protects against airborne particles, including fumes, dust, acid gasses, and other contaminants.
This nuclear mask will provide excellent respiratory protection by covering your whole front, including your eyes.
Benefits of Honeywell North 760008A Respirator
Wide range of cartridge options
Since Honeywell North 760008A Respirator is commended for its versatility, this means that it fits a lot of cartridges types.
This is a good indicator that the gas mask can work to any situation that includes nuclear fallout. Honey offers a full choice of cartridges, filters, or a combination of both.
Accidental disconnection is impossible
Accidental disconnection or cartridge connectors are quite dangerous, especially during a nuclear fallout. Chances are you might inhale some radioactive particles.
Honeywell North 760008A Respirator's cartridge connectors are threaded enough to make sure that it will not disconnect through the whole course of wearing. This feature is vital, especially when employing the mask in PAPR and CF-SAR settings, this is extremely useful.
Wide field of view
Honeywell North 760008A Respirator has an extra-wide 200° field of vision feature. This means that in any angle, including downward and peripheral views are not a problem.
The user can still have optimal sightlines when using the gas mask. The ANSI-approved high impact-resistant lens protects your welfare and removes the need for any extra eye protection.
Secure fit and comfort
The five-point head harness ensures a tight fit, quick adjustment, and a safe and secure seal against pollutants. The extra-wide soft silicone face seal fits most faces, and the soft silicone nose cup provides long-lasting comfort.
Speech diaphragm option
It might be difficult to communicate when wearing a respirator, especially in noisy surroundings. All models under Honeywell's 7600 Series Full Facepiece Respirators have a distinct technology for speech diaphragm.
It is the Kapton Speech Diaphragm that improves communication and safety by enhancing and clarifying talks.
Pros
Full-face cover
Silicone linings for added comfort
Dual filter
Multipurpose
Sleek design
Cons
More expensive
Not sturdy enough
4. AVON C50 CBRN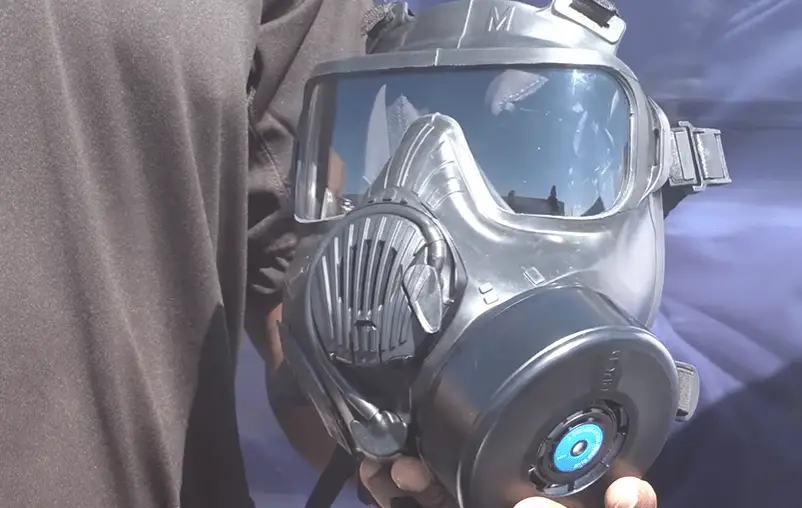 Avon C50 is a multi-purpose mask that can protect users from CBRN agents. However, a mask's effectiveness depends on the filters attached.
Thus, the manufacturer emphasizes using only the appropriate filters for the situation, so the mask serves its purpose.
This model is the civilian model of the Avon M50 CBRN Gas Mask. This first responder respirator mask provides excellent protection, range of vision, and comfort.
The user's time in the operational area is maximized thanks to the innovative design elements. 
C50 is suitable for combat CBRN protection, first responders, correctional personnel, specialist law enforcement, and counter-terrorism operations.
Benefits of Avon C50 CBRN
Polyurethane Lens and polycarbonate lens
The Avon C50 has two lenses. Built-in the mask is the polyurethane lens, however, you can have an additional lens attachment which is the polycarbonate one. 
The second lens does not come with the package therefore you need to purchase it separately. It serves as additional UV protection and flashes flare prevention. The flexible polycarbonate construction provides added impact and scratch resistance.
The main lens is impact resistance. It is also dent resistance which can be helpful during a nuclear blast when flying and falling debris can occur.
Durable and sturdy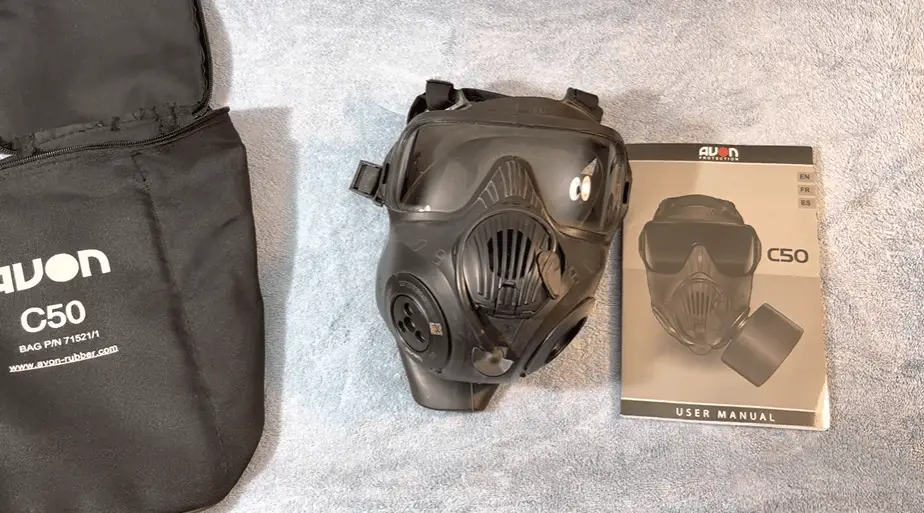 The design of the Avon C50 ensures that it will fit the user's head and face properly. The head harness is a six-point head-harness. It surpasses the previous models that only have a 5-point head harness.
The harness itself is made from micro materials making it more lightweight. It is also designed for users to tighten the straps with clasps in the bottom part.
Made of butyl rubber silicone mixture
Using rubber and silicone as the main materials for the mask can give users the guarantee that the mask can follow the shape of a face of any type.
It acts as a seal the moment you wear the mask. However, one should ensure the fit by tightening the bottom straps of the mask.
Has different sizes
The mask comes in three different sizes. The manufacturer offers a template for you to check to buy the right mask size for your head and face. 
Microphone and voice configuration unit
Like the speech diaphragm feature, the microphone, and the voice configuration unit, allow users to speak and understand clearly.
However, these attachments are not available with the package, these are sold separately. Note that the voice unit will not perform well if the user did not attach the microphone. 
Electronic communication port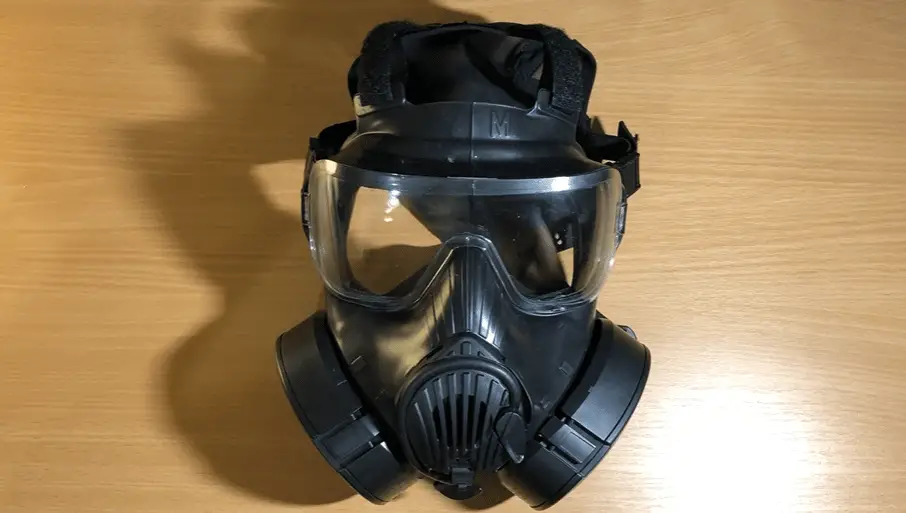 The TMC tactical communications system is a set of accessories designed for users of Avon Respiratory Protection Systems that allows them to easily and successfully connect their Avon respirators to tactical radio communications equipment. 
The TMC series includes connectors, press-to-talk units, microphones, and earpieces that are simple to configure, install, and use while wearing an Avon respirator.
To satisfy the needs and demands of real-world operating requirements, the TMC series was built with user feedback from Military and First Responders (FR) users. 
The Avon TMC system will be the ONLY NIOSH authorized respirator to tactical radio communications adapter, unlike other masks to tactical radio connection systems.
Can attach prescription lenses
The Avon C50 has a lens holder which allows users to attach their prescription lenses properly to the gas mask.
This feature allows prescription lenses ranging from -8 to +10 Diopters to be fitted to the 50 Series masks. Assembly can fold inside the mask due to the flexible design.
Filter covers
Another revolutionary feature of Avon C50 is the filter covers. During a nuclear fallout, you need to take a shower to wash the particles from your skin.
However, taking off your gas mask can also be dangerous. Filter covers allow users to take a show or decontaminate themselves freely without damaging the filter.
Pros
Accepts NATO 40mm filters
NIOSH authorized respirator
Cons
Original configuration doesn't come with voice configuration 
Pricey
Things You Need to Know Before Buying The Best Nuclear Gas Masks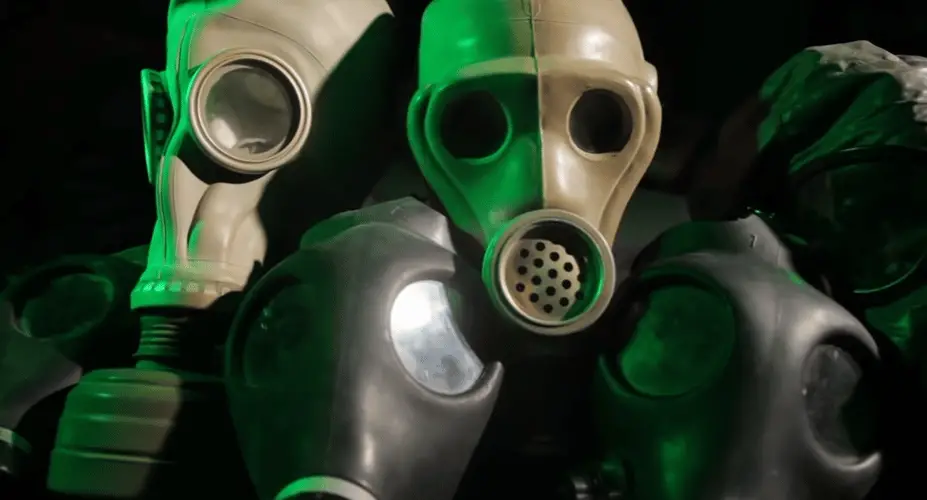 Be particular of gas mask criteria
Manufacturers do not create gas masks equally. There is a particular gas mask intended for every purpose. You need to understand first that there is a standard or criteria to look for when you decide to buy a gas mask. 
A CBA/RCA rating indicated in the gas mask means that the mask itself along with the filter is fit for chemical attacks and riot control agents. This type of mask can also handle biological, chemical, and nuclear agents.
Third-party testing is important
Communicate properly to your supplier. Let them know what you need from a mask and this includes the gas mask's purpose. When and where will you use it?
You should make sure that the mask you are buying went through third-party testing. Remember that gas masks are only as excellent as their testing and certification.
Prefer filter connections on both sides
Two-sided filter connections provide more flexibility than one-sided ones. You will have the preference on which side you want to attach the filter.
Most of the time, users position their filter on the opposite side of the gun. It avoids any interference and inconvenience in mobility.
Moreover, two-sided filter connections on gas masks have an added benefit to most users in terms of safety.
During the replacement of the filter, you can attach the new filter on the opposite side before actually removing the expired one. In this way, you can prevent yourself from exposure to harmful gasses.  
Prioritize the field of view
Indeed, gas masks should prevent the inhalation of harmful gasses in the atmosphere. It serves as a respiratory shield, but do not let your gas mask be a blockage to your vision. During a nuclear fallout, an obstructed view can possibly lead you to accidents, too! 
We suggest you should choose a mask with a large visor for a wider field of view. Google-type eye lenses are already outdated. Save yourself from the frustration of losing your peripheral vision.
Have some spare filters
Filters do not have a long shelf life. Even if they are not in use, the maximum effective time is six months only.
Also, note that when in use, the more concentrated gasses in the atmosphere get, the more frequent you need to change your filters. They can only last up to a maximum of twenty (20) hours and a minimum of eight (8) hours during a nuclear fallout.
Do not wait until it is too late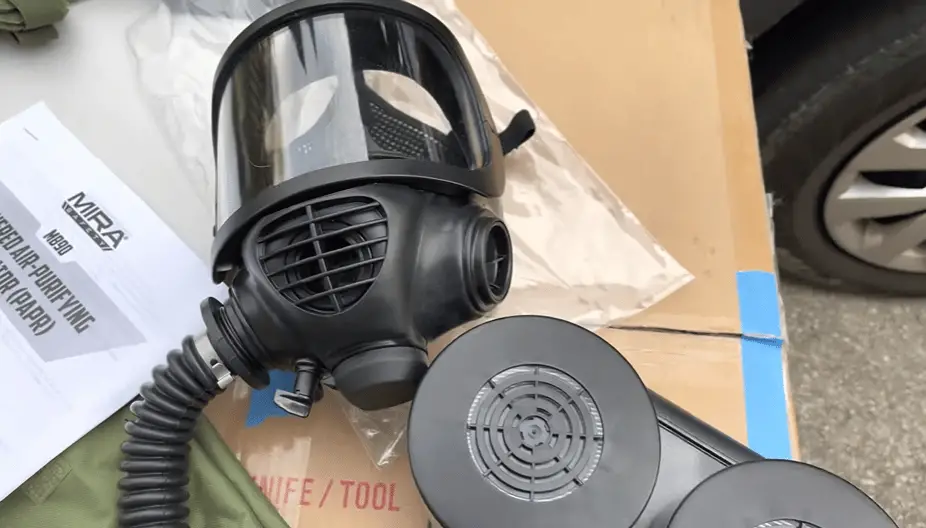 You only have one shot at wearing your gas mask at the right time. Make sure to wear them before the nuclear attacks.
Do not be complacent to say "we are just seconds late" Save yourself from the regret of being too late in the deployment of your respirator. Even seconds of exposure during a nuclear fallout can take away a life. 
Keep the mask somewhere within your reach
In connection with the previous idea, you need to place your gas mask in reachable places. We all know that nuclear attacks can happen without warnings.
Your gas mask will not serve its purpose when you keep it deep down in your treasure chest. Put it near you especially when you already know that SHTF events are most likely to happen. 
Taking the facial hair off
Beard and gas masks do not go well base on experience. Make sure to shave any facial hair before wearing your gas mask. While there are hooded versions of gas masks that people with beards can use, here is some unsolicited advice: do not take risks!
Put hygiene and comfort on your priority list. By eliminating thick facial hair, you are also giving your mask a chance to properly fit on your face and head.
Gas masks will not suffice
Here is another frustrating truth about gas masks: they are not the end game themselves. Using gas masks means protecting oneself temporarily. This means that you do not need to be in a dangerous situation for a long time.
Even though some respirators include a canteen and drinking straws, they will not make you survive for weeks of nuclear attacks. In that case, you will need to have an underground bunker to survive. 
We repeat, wearing a gas mask is a short-term solution for short-term SHTF circumstances. It is just a temporary measure to help you whole you traverse to a decontaminated area.
Consider other certifications and rating systems
Rating systems guarantee that manufacturers maintain a list of proper standards for their gas masks and other protective gears. Here are the different ratings you should know about:

CE – Manufacturers use a CE (Conformité Européenne) mark to emphasize that their products conform with the EEA Council's health, safety, and environmental protection criteria.
GOST – this product certification is either mandatory or optional. GOST is an acronym for Gosudarstvennyy Standart (Russian: государственный стандарт), which means state standard or governmental standard. This standard protects consumers from poor quality products and at the same time obliges manufacturers to produce only the best.
NIOSH – stands for National Institute for Occupational Safety and Health. NIOSH is an agency for research that has the purpose to maintain the welfare of workers across workplaces. Usually, hazardous types of jobs like construction, manufacturing, and medical require protective gears that are NIOSH-approved.
EN 136 – for this standard, masks undergo temperature, carbon monoxide concentration, resistance breathing, speech diaphragms, visual field, and impermeability tests. 
CBN or CBRN – these are the most important ratings to consider. CBN stands for chemical agents, biological, and nuclear. While, CBRN means Chemical, Biological, Radiological and Nuclear. These gas mask ratings ensure that the gear has gone through proper research and tests to increase the effectiveness of the product from the mentioned attacks.
ANSI – they support the international usage of US standards and promote US policy and technical positions in international and regional standards bodies. They also encourage the adoption of international standards as national standards when they suit the needs of the user community. Being ANSI Accredited indicates the company fulfills the highest criteria for safety.
The speech diaphragm is important for communication
Because radioactive gas masks entirely block your face, you'll need the means to communicate through them. Your voice is audible. As a result, most gas masks have a speech diaphragm. There is no universal design. 
It may differ from one mask to the next. To understand how the mask's speech diaphragm works, you'll have to try it yourself. It will help to prioritize speech diaphragm testing to land on an excellent design for the speech diaphragm.
Know the filter color code and type
Which filter should you use during a nuclear fallout? There are a lot of filter types in the market. Be careful not to buy and use the wrong one since it will not serve its main purpose during this crisis —- to protect yourself from nuclear fallout. 
Find a filter with a  'Reaktor' filter type with an orange color code. This kind of filter is usually for radioactive materials. 
The Best Gas Mask Filters
As we said a while ago, you need to make sure that the gas masks you are buying are CBRN or NBC-rated. The same rule also applies to choosing filters. Here is the best gas mask filter on the market today!
MIRA Safety CBRN NBC-77 SOF 40mm Filter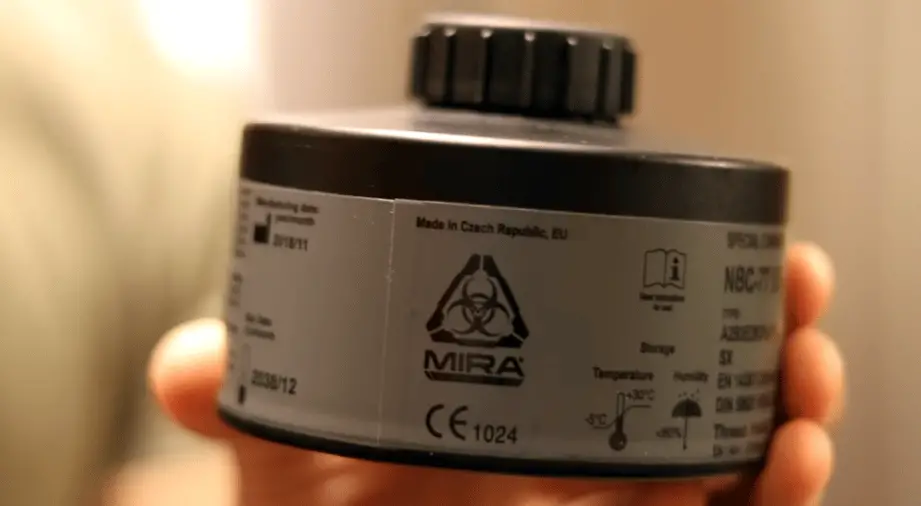 The MIRA Safety CBRN NBC-77 SOF 40mm filter is the finest CBRN gas mask filter on the market today.
Unlike ordinary filters, which have a 6-year shelf life, MIRA's filters may last up to 20 years and provide complete protection from the whole range of CBRN airborne pollutants and radiation for a total of 24 hours. 
Thanks to their rigid construction and individual, vacuum-sealed plastic packing, these filters are well worth their premium price.
Other gas mask filters for nuclear events:
Honeywell 75SCP100L Combination Cartridge/Filter, Magenta-Olive
P-A-1 carbon-activated filters
CFP100
CBRNCF50
CBRNCF50 CE
Other Parts of a Nuclear Gas Mask
Since WW1, full-face gas masks have improved and advanced significantly. It now employs cutting-edge filtration technology. Manufacturers focused their efforts on creating gas masks that were both comfortable and well-fitted.
Keep in mind that gas mask parts can differ based on the kind and manufacturer. A full-face mask has several components in common, including 
Skirt
The face-covering item is another name for the skirt. It keeps all of the other parts together. It also acts as a frame to keep the mask in place around the face. This mask part allows you to attach a one-way valve to the mask to evacuate exhaust gasses while keeping outside air out.
Eyepieces
The gas mask's eyepieces shield the eyes from the damaging effects of chemical exposure. To make the eyepieces shatterproof, fog resistant, or block out specific light types, they may need to be coated. 
Most gas mask manufacturers don't make their eyepieces; instead, they have them molded from polycarbonate plastic and sent to them for assembly. The most common lens material is polycarbonate. 
These lenses are beneficial because they defog faster than glass lenses. As a result, it ensures that the user's vision is unaffected.
Straps with Elastic
The mask is held in place by elastic straps. It's also referred to as the head harness. This part's main purpose is to allow the user to rapidly adjust and tighten the mask to their liking.
The straps are made of silicone rubber. These straps can sometimes be used to hang the mask over the user's neck when not in use. 
The eyepieces for most gas masks are molded from polycarbonate plastic and shipped to the manufacturers for assembly.
Canister
A canister is a facepiece that connects to the skirt or facepiece. This attachment is comprised entirely of styrene plastic, which is both water and chemical-resistant. Styrene plastic also provides dimensional stability to the canister for injection molding. 
It's a thermoplastic resin that can withstand numerous remelting operations. Small circular screens are also seen within canisters to keep the activated carbon in place within the cartridge.
Cartridge Filter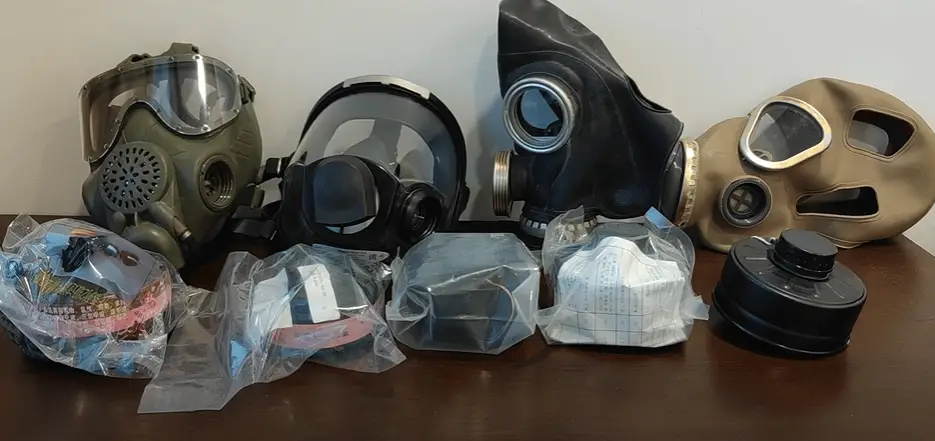 When making gas masks, manufacturers often use carbon-based filtrates since they are particularly absorbent.
They have the ability to absorb enormous volumes of organic gases, such as those used in chemical warfare. Carbon, on the other hand, does not absorb inorganic vapors well. 
To improve their absorptive capabilities, carbon particles can be treated with particular reactants or breakdown catalysts.
Carbon that has been chemically treated is referred to as "activated carbon". The type of activated carbon in a filter cartridge is determined by the sort of industrial pollution that needs to be screened.
Cartridge
A filter and a respirator cartridge keep gasses, vapors, and volatile organic compounds out of the full face mask. Even if not in use, a cartridge will live for roughly six months after being opened. 
This portion of the gas mask is not reusable and cannot be cleaned. Keep in mind that it contains carbon, which can absorb any toxins found in the environment. As a result, keeping track of when to replace your mask cartridge is critical.
What Happens During a Nuclear Fallout?
Using a nuclear reactor or device, which sometimes most people call a "nuke", one could create a nuclear fallout. Nuclear blast or nuclear detonation— they all mean one thing. It is the product of a nuclear bomb explosion. 
During this process, atomic fission and fusion happen. Then a massive wave of air pressure, heat, power, and most of all radiation are created as result. In other terms, a huge ball of fire will most likely occur. 
Have you seen the mushroom-like cloud of explosion in the action or SHTF movies? That is what we are talking about. Imagine how fatal that is, it has the power to vaporize all material within its reach. 
Radioactive material from the atomic gadget blends in with the disintegrated material in the mushroom cloud.
As this disintegrated radioactive material cools, it becomes dense and structures particles, like residue. The dense radioactive material then, at that point, falls back to the earth; this is known as fallout.
The fallout can go with the wind and can travel through long distances and even miles. Since these particles are very minute they can contaminate the things they get in touch with such as your water, and food, and can enter your respiratory system.
Winds and blast intensity may carry this radioactive debris hundreds of kilometers. This radioactive fallout is a pollutant that has the potential to cause severe illness and death.
Radioactive fallout material can be spread over the earth's surface by air winds due to the microscopic nature of fallout particles and the weapon's strength that created the nuclear blast.
This is known as global fallout, and it is a concern associated with atomic weapons. The fallout in that region is the more immediate risk for anyone caught in a nuclear bomb.
How Do Gas Masks Help During a Fallout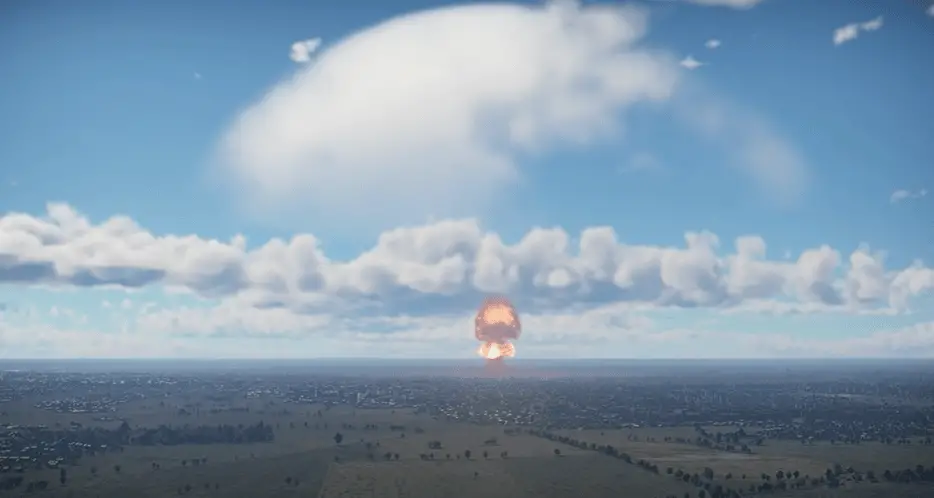 As we mentioned, a fallout is a radioactive particle with characteristics similar to dust. Let us explain how gas masks and filters work without getting too complex. There are two contaminants that gas masks filter: gasses and particles.
Any tiny material that has a solid feature falls under particles. For instance, it could be combusted debris, asbestos, viruses, bacteria, and dust. Tear gas is also considered a particle instead of a gas since it is made of minute crystals, not gas.
Gasses, on the other hand, are quite tricky to handle by filters. They tend to slip into the grained screen regardless of how fine the screens are. Blocking the gasses from entering is quite impossible since by doing so, users will not able to breathe air. 
What happens instead is activated charcoal inside the filter acts as an absorbent that absorbs and attracts the impurities and chemicals passing through.
Another dilemma is not all filters are created equally to soak up all types of gasses. Thus, it is important to know the use and purpose of the filter during the buying process.
Gas Masks as Protection From Radiation
Can gas masks truly protect an individual from the harmful rays of radiation? It may seem unusual, but yes it can! How amazing is that? Here is how your gas mask can protect you from radiation.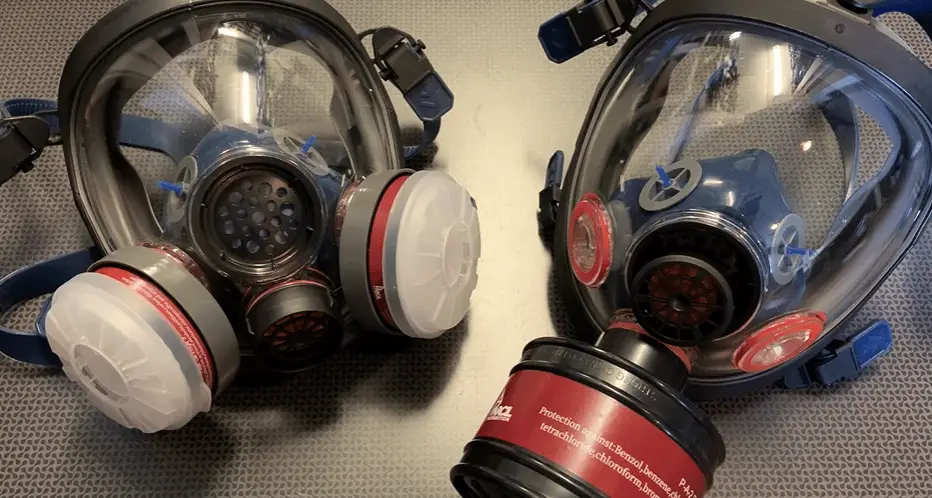 There are two types of radiation that gas masks can protect you from Alpha and Beta materials
Alpha radiation is a weak energy particle that eventually loses its energy during its travel. Even a blow of the air can destroy and hamper these radiation waves. A little water and even the surface of your skin can break the rays. 
However, when a person inhales this radio wave, it has the ability to pose some threats to the organs, human tissue, and chromosomal make-up.
Thus, the most vital variable to consider in an Alpha ray is the dose.1 00 rems of exposure can decrease the lymphocyte cell count which makes an individual more sensitive to infection.
Individuals exposed to 200 rems or higher can experience hair loss, sterilization, and gastrointestinal problems.
1,000 to 5,000 rems can inflict heart failure. 5,000 rems or higher can destroy brain cells. The thyroid can also suffer due to Alpha radio waves or worse can lead to fatal death.
Beta radiation is closely similar to Alpha. It is also a low-energy material. Yet, the can be fatal the moment it enters the body.
Due to the low-energy nature of these radio waves, a gas mask can be an excellent shield to prevent Alpha and Beta particles from entering your internal tissues. We recommend that you should use a full-face gas mask to protect your eyes, too!
It Cannot Protect You From Gamma Rays
Wearing a gas mask alone is not enough to protect you from Gamma radiation. Note that this type of radiation has the highest energy particle among the three. For to prevent it from penetrating your skin and organs, there should be a specialized way of shielding. 
The material should be as thick and as dense as possible. Gamma rays are so strong that you need 14" of water, 1.3' of lead, and 6.6' ft. of concrete to block them. Another way to avoid its destruction is to STAY AWAY FROM IT!
Other Harmful Effects of Radiation on the Human Body:
Weakens and breaks down DNA
Damages and kills cells
Turns cells into cancer cells
How Do Gas Masks Protect You from Dangerous Environments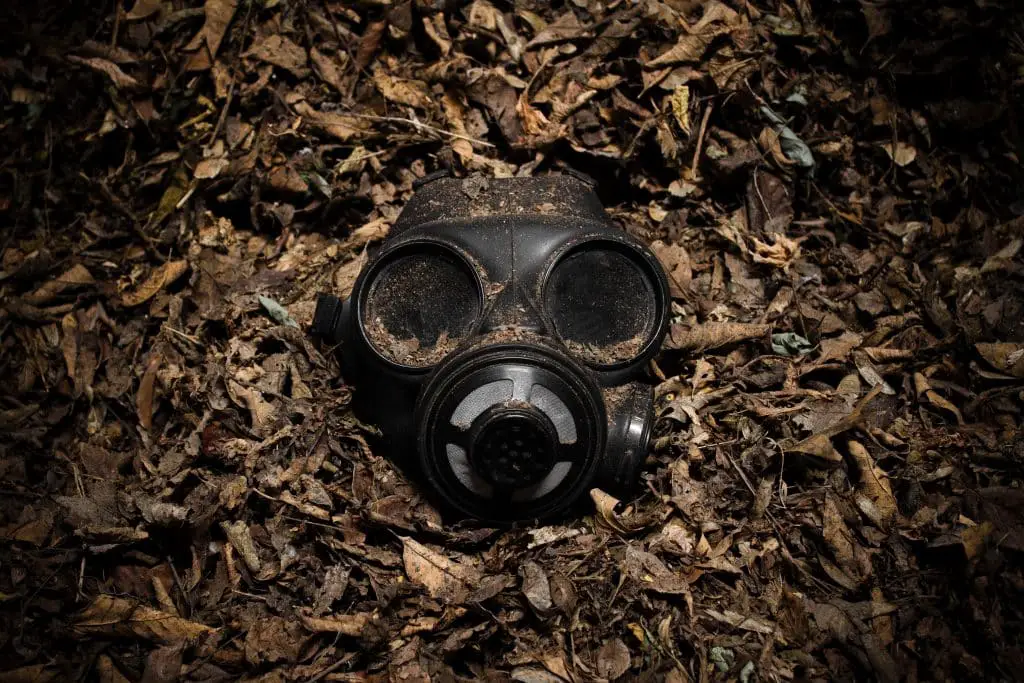 It serves as a protective shield
Gas masks, especially full-facial masks, operate as a barrier between the chemicals and the layers of the face skin. Also, keep gases away from your eyes, mouth, and nose. The first line of defense against particles entering the mask is the filter fibers. 
It makes the adsorption process easier
Adsorption is the process of a solid particle retaining gas and liquid molecules. Following the separation of material from one phase, it accumulates or concentrates at the surface. This process is quite similar to the way cigarette filters hold the nicotine a smoker inhales.
The two functions of gas masks that protect the user in dangerous settings can only work if the mask is worn properly. When using a mask incorrectly, gasses and other dangerous compounds can flow into the equipment. 
Here are various methods for determining whether the gas mask is correctly sealed: 
Check for a good or negative fit. 
Check for a good fit: 
With your palm, cover the exhalation valve. 
Allow the air to build up inside the respirator by exhaling. 
A leak occurs when air comes into contact with the skin on your face. 
Check for negative fit: 
With your hands, cover the cartridges. 
Try to inhale after that. 
If there are no leaks, the mask will be moved closer to your face.
Nuclear Disaster Preparedness in the U.S
According to the Federation of American Scientists, the world already has over 14,000 declared nuclear warheads and given the yet-to-be-fulfilled ambitions for a world free of nuclear weapons, the possibility of a nuclear tragedy looms enormous. 
However, Dr. Irwin Redlener in his TED Talk says that there is no putting the toothpaste back in the tube here.
There is no sure scenario in which we could have verified information about the global eradication of all nuclear weapons. Acceptance, prevention, and preparation are the best ways to deal with it.
Reality check, the truth is people in the United States show low preparedness in handling the aftershocks of a nuclear attack.
The six cities that can be a target of attack are Chicago, New York, Washington D.C., San Francisco, Los Angeles, and Houston. Unfortunately, only three out of six cities have emergency management sites to respond to nuclear disasters of any type. 
How to Survive During a Nuclear Explosion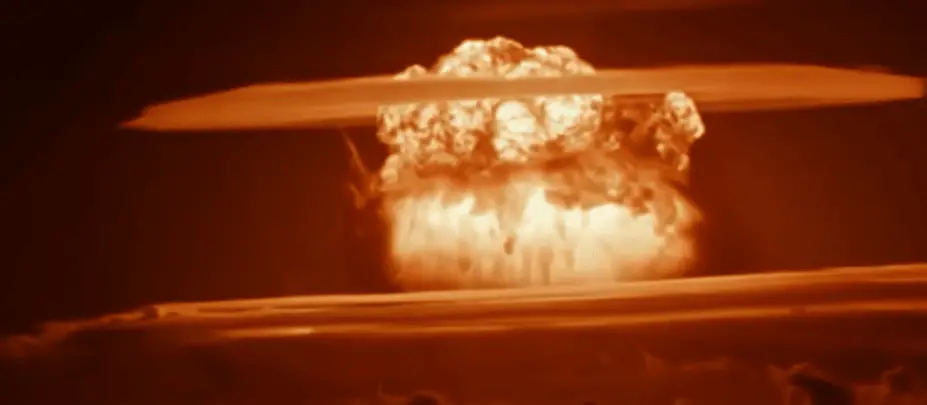 The gas mask is just one of the many measures you should do during a nuclear blast and fallout. Here are some preventive steps you need to follow when this untoward incident occurs:
1. Avoid
Nuclear attacks is usually done without a warning. Unlike typhoons where news advisories are up to date. The local government, however, may warn you if there is imminent attack hours or minutes before. The moment you receive the news, find cover immediately.
To do this, find a building nearest to you. Take note to move away from the windows. Windows are very vulnerable during the blast as they may be the first ones to shatter. Glass debris may pierce your skin.
If you are not inside your home, make sure to wear a mask and distance yourself from other people. Do not stare at the explosion as it may cause blindness. Open your mouth to handle the pressure from the explosion.
2. Move or Shelter
If you are outdoors when the situation occurs, find anything that can cover and offer you protection. Then, do not expose yourself too much. With face down, lie down to avoid heat and debris. 
Do not touch your mouth, nose, and eyes to avoid contamination and infection. When you are driving when the blast happens do not increase your speed and drive recklessly. Stop safely and duck down inside the car.
Before the fallout arrives, get inside your house or find an appropriate shelter. But before doing this, ensure that shockwaves are already done.
To avoid the impacts of the mushroom cloud's fallout, travel ten to twenty minutes walking distance away from the detonation site or seek refuge below ground or above the 9th story of a structure. If you opt to depart, move crosswind away from damaged structures for 10-20 minutes.
3. Decontaminate
Upon arriving in your home or a shelter, the first thing you need to do is to decontaminate yourself. Specks of dust and other particles that may have radiation along with them may transfer to your furniture and may contaminate your water and food. It is better to remove your clothing. 
Place your clothing inside a bag and isolate it from the crowd. Wash your skin and hair with water and soap. Rinse yourself with running water preferably a hose. If the scenario does not permit, grab a wet cloth and wipe the exposed area of your body. 
It's vital to remember that you shouldn't use conditioners while washing your hair since they'll glue radioactive particles to it. Seek medical attention if needed.
It's critical to keep the shelter you're in a decontaminated zone and make sure to get the message across to the people you are with.
4. Stay inside for 12 to 14 hours
Lastly, we recommend you to stay inside your shelter for as long as the local officials mandate. However, if there is no advisory, keep yourself safe for twelve to twenty-four (12 to 24) hours. To receive such messages, make sure you have a battery-operated radio! 
Key Takeaways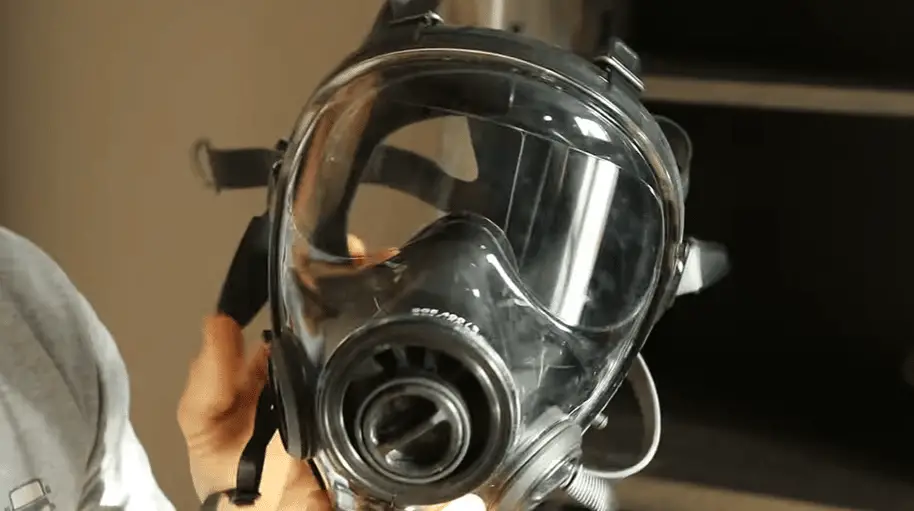 Most nuclear weapons will include high explosives in variable amounts—even hundreds of pounds—in the event of a nuclear weapons accident or terrorist attack. The employment of high explosives in nuclear weapons poses a significant radiation risk
Remember to have a gas mask and an appropriate filter at your disposal. These things will give you an immediate response and protection against imminent danger. Stock up on filters so that they will suffice until the fallout fades away. 
FAQs
1. Do nuclear gas masks provide radiation protection?
Yes, they can shield your lungs from harmful radiation. And a gas mask is required since our bodies absorb radiation more quickly when we inhale the contaminated air.
However, a gas mask alone will not protect you from the radiation. To protect oneself from radiation, you'll need a full suit.
2. Do nuclear gas masks have expiry dates?
No, gas masks have no expiration date. The filters, on the other hand, have a certain shelf life. If not in use, they must be replaced on a regular basis. Its usability also shortens when in use. It usually takes less than 24 hours, after this period it should be discarded.
3. Are gas masks same as any other masks?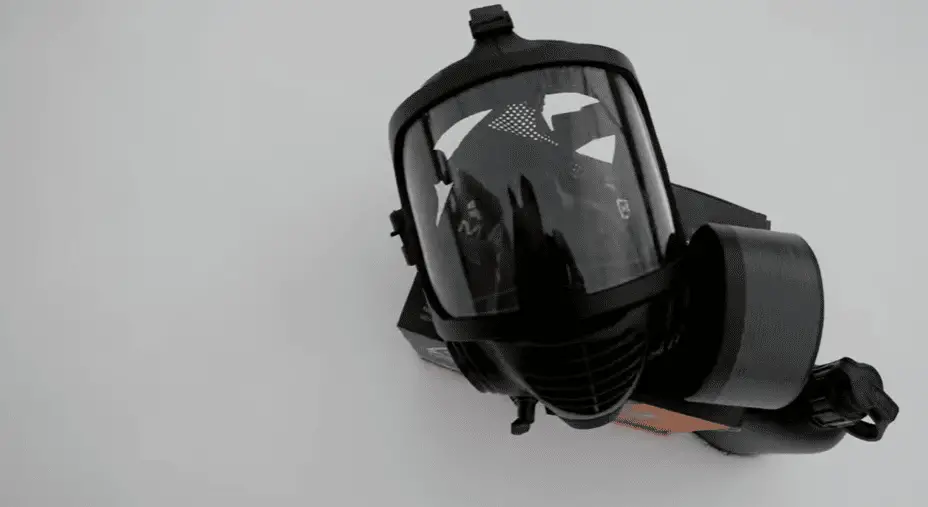 No. A full-faced gas mask includes two elements that prevent us from inhaling potentially hazardous particles in the air if an assault is expected. They are barriers that are inserted in the filter on the mask's snout. 
The first is a particle filter, which filters out any microorganisms from the air you breathe. There's no chemistry here, only a physical barrier that creates a field between the poisons and the face. 
The second component uses a chemical process called adsorption to remove hazardous chemicals such as sarin, a nerve gas.
A solid or a liquid can trap particles on its surface through adsorption, similar to how a cigarette filter minimizes the number of pollutants inhaled when smoking.