Vision and hearing protection is important when handling a firearm. Small particle discharges, residues and loud noises coming from a fired gun can instantly cause permanent hearing loss and damage to eyesight. 
Go for top-quality ear plugs, ear muffs, and other vision and hearing protection devices with an excellent Noise Reduction Rating (NRR). It does not only ensure safety but also improve the overall experience.
In this guide, you'll learn more about the 10 best hearing protection for shooting this 2022.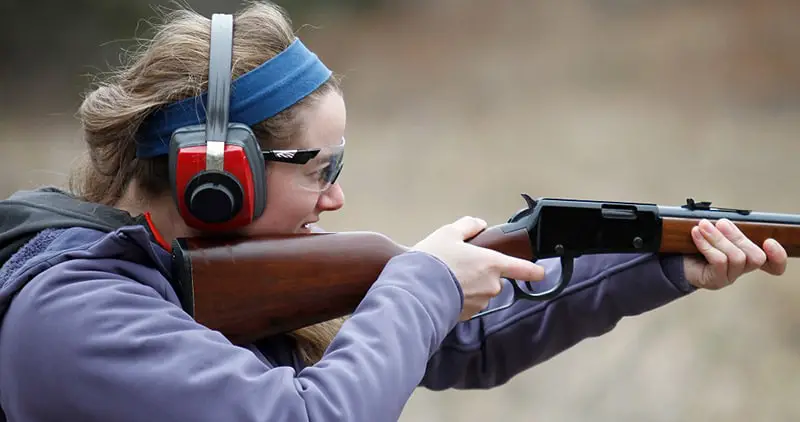 Quick Navigation
Top 10 of the Best Hearing Protection for Shooting That You Should Consider
Ready to purchase one? Check out these top picks:
1. Peltor Rangeguard Gray Noise Reduction Rating 21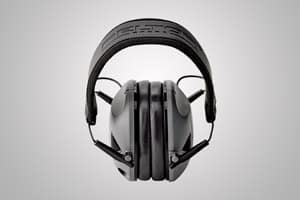 If you're looking for a comfortable fit, without the feeling that your head is being squeezed and with an even distribution of weight in the head, then 3M's Peltor Rangeguard is the one you're looking for.
It has a flexible and fully adjustable cushioned headband and durable recessed microphones. 
This is perfect for indoor and outdoor shooting activities. The dimensions of the ear cup openings are enough to go around the entire ear.
Though the acoustic foam on these earmuffs is exposed and doesn't have a lining, I found it easy to clean. 
The Noise Reduction Rate of the Peltor Rangeguard is at 21 decibels and it runs on 2 triple A batteries.
It has fixed noise filtering and gunshot suppression features. Its low-profile ear cups have cut-outs to cater to the use of shotguns and rifles. 
Pros
Great fit and comfort around the ears
Thick paddings on the headband and ear cups, for extra cushion
Low profile ear cups are best for hiding in cramped spaces
With great sound amplification, can effectively suppress gunshot noises and can amplify the sound of voices to hear conversations.
Cons
The noise-canceling attack time is slower than other electronic earmuffs
Its ability to shut out noises when used indoors is average
Low NRR
2. Walkers Digital Razor Muff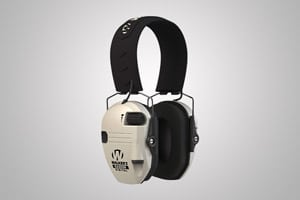 This has one of the slimmest designs of any other electronic muffs on this list. Its slim and low profile did not compromise its amazing sound quality and lightning-fast reaction time. 
Powered hearing protectors that are budget-friendly are still better than the non-powered options when it comes to functionalities.
Razor's electronic muffs are well known for their plastic ear cups, adjustable headbands, and thick paddings. 
Walkers Razor Muffs has an active noise canceling with an NRR of 23dB. While testing it out, I found it to be highly effective when it comes to filtering out sharp sounds of gunfire while still allowing you to hear voices.
The headband is ergonomically designed for support and comfort. To ensure the preservation of its battery life, this equipment automatically shuts off at 2, 4, and 6-hour marks. 
Ear paddings feel soft and dense around the ear. The Razor's Hi-Gain Omni Directional Microphones on each earmuff can provide a 360 degrees sound pick-up to eliminate audio blind spots.
It keeps the voices crystal clear and muffled fire shots effectively. The volume knobs are low profile and provide a decent range of output settings.
Pros
Lightweight
Excellent sound quality
Ergonomic headband with metal frame for support
Ambient sound can be amplified 5x its original volume
Automatic shut off at 2, 4, and 6 hours to preserve battery life
Active and dynamic sound suppression
Cons
Recurring cost of AAA batteries
Bulky over-the-ear design
3. Radians Vertex Slim Electronic Earmuff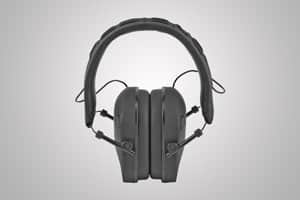 High-performance electronic earmuffs by Radians will allow you to stay connected and hear your environment while you stay protected.
Their ultra-slim low-profile earmuffs are the ear protection solution every time you're in the shooting range. Get the competitive advantage while keeping your ears safe at all times. 
The Radian's vertex Slim earmuffs have dual microphones to effectively amplify environmental sounds and rechargeable Lithium-ion power cells so you don't have to keep changing used batteries. Its durable rubber coating helps in enhancing sound quality and protection. 
The earmuffs' advanced circuitry claims to compress sounds that are over 85 decibels- and it's true in my case. Plus, it features a foldable headband for easy storage. The Noise Reduction Rate is at 21dB. 
Pros
Rechargeable
Made in the US
Low profile design
Adjustable and foldable headbands with wire guides
Cons
Reviews and descriptions are limited
Discomfort around the ears when worn
Low NRR
4. Peltor Sport Tactical Hearing Protection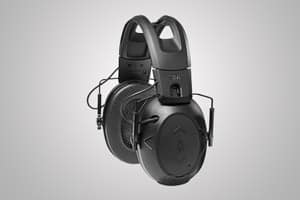 Peltor Sport Tactical 500 became the flagship of the most famous makers of comms-enabled military hearing protectors in the market.
You can tell that they are quite futuristic when it comes to their 3M SMART noise recognition and Bluetooth technology. 
Peltor divisions of 3M company have been releasing a series of high-end to mid-range options of user-friendly versions of electronic earmuffs.
Bluetooth technology is exclusive to this model and it is considered one of the best electronic hearing protection options released in the market. 
Peltor Sport Tactical 500 has a 3.5mm port for wired connectivity and uses a 3M Alpha 1100 Lithium-ion rechargeable pack as a power source.
Its Bluetooth technology will allow you to take calls while on the field and stream your favorite tunes for more upbeat. 
The Peltor Sport Tactical line has proven its durability to a lot of leisure shooters. When tested indoors and in confined spaces, Peltor Sport 500 has exceeded expectations when a 12-gauge shotgun and an AR-15 were fired.
Claiming an NRR of 26 decibels, it was able to muffle fire shots into a comfortable level. 
Volume buttons are easily located at the right earmuff. The headset will even give out a warning sign when the battery is low. It also has an auto "power off" feature, with a 10-second countdown, after a period of inactivity.
Its clear voice-tracking technology lets you hear background voices clearly and reduces background noises for better speech intelligibility. 
Pros
Bluetooth technology
Ease of use and functionality
Ideal for indoor and outdoor shooters
Excellent durability
Rechargeable
Suitable for military use
Cons
Compatibility issues with other devices
Expensive
5. Howard Leight Impact Sport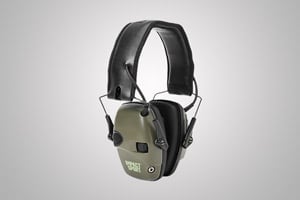 Another one of the most talked-about pairs of earmuffs, apart from Peltor Sport Tactical, is the Howard Leight Impact Sport. It is famous for a reason.
May it be for a hunt or a shooting range, these electronic earmuffs will enhance environmental awareness and keep you protected from damaging noises at a phenomenal level. 
Howard Leight Impact earmuffs come in a watertight hard case which is perfect for traveling. Howard Leight had also installed a 5.0 Bluetooth technology aiming to improve their classic models. 
This allows the user to stream their favorite music from smartphones, tablets, or computers. The earmuffs are water-resistant and are available in OD green and black versions. The overall sleek design of the product is perfect for shouldering a rifle without interference. 
Sporting an NRR of 22dB and a battery life that lasts up to 350 hours, Howard Leight Impact has a shut-off feature that engages every 4 hours of non-activity.
The headbands are padded and it has a telescopic height adjustment for comfort. I also like that it can be folded for easy storage. 
Howard Leight Impact has a 3.5mm audio input where you can plug it into any media player device. The Air Flow Control Technology on its low-profile ear cup allows clearance for a rifle stock.
Pros
5.0 Bluetooth capability
Watertight hard case
Air Flow Control Technology
The sponge cover on the microphone makes it resistant to wind noise
Sound amplification
Cons
Slim ear cup design
Howard Leight Impact is difficult to wear with safety glasses
Volume can't be adjusted independently in each ear
6. Pro Ears Pro Tac Slim ​Gold Ear Muffs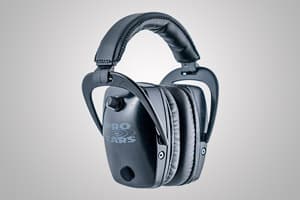 Pro Ears Pro Tac Slim Gold is one of the best electronic ear muffs with a stellar reputation. The price might be a problem but the quality you get is worth every penny.
If Howard Leight Impact earmuffs have served you well, then you might want to consider upgrading to gel caps. 
Pro Tac Slim is designed with an NRR of 28 decibels and a 1.5 millisecond attack time. Featuring its superior DLSC Compression Technology where it allows its user to hear quiet sounds even during high volume sound spikes.
The earpiece has a military circuit board that is fully enclosed with gold connectors and an adjustable headband for comfort.
The ProForm leather ear seals are designed to create a sound-blocking tight seal without giving too much pressure on the head.
It also features a 3.5 mm audio jack, auto shut off, and a low battery indicator. The Pro Ears Pro Tac Slim muffs come in black and green color variants. 
Pros
Sturdy build
Superb noise attenuation
Can not be folded compactly
Made in the U.S.
DLSC Compression Technology
Cons
Poor performance in indoor shooting
Bulky earpiece
Longer response time
7. Safariland TCI Liberator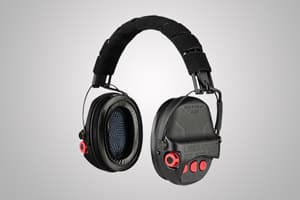 It is no surprise that Safariland TCI Liberator will be among the list of the best. This is the next generation of electronic ear muffs manufactured by one of the leading global providers of hearing protection designed for military, public safety, and outdoor markets. 
The Safariland company has been buying headset shells from Sordin and Peltor, adding their own improvements and releasing them to the market under their "Liberator" series.
The TCI Liberator has features that make it stand out from the pack. It has slim ear cups layered with noise barrier technology enhancing hearing protection and sound localization. 
The Safariland sound system has made use of modern sound processors to give their muffs the best overall sound quality.
It also has an adjustable, adaptive headset suspension that can be worn over the head. With its 26dB noise reduction rate and gel ear seals, it was able to give me maximum protection and comfort.
The first of its kind to feature 3 distinct hearing protection operating modes: Enhanced mode, Move mode, and Clarity mode. Enhanced mode offers amplification of bionic hearing. 
It can block noise impulse while greatly enhancing hearing. Move Mode allows you to effectively block all external sound allowing you to hear your radio better.
Clarity mode does not only prevent sounds from coming in from the environment but also clarifies the user's speech. 
Pros
Sound quality
Firmware updateable electronics
Dual fueled battery compartment
3 Distinct protection modes
Adjustable headset
Cons
No comms support feature
Expensive
Inflexible mounting options
8. Sordin Supreme PRO X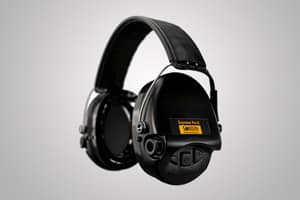 From one of the most legendary manufacturers of top-quality hearing protection, Sordin introduces their new and improved Supreme PRO X. Their products are specially designed to withstand harsh environments and cater to every user's needs.
Their slim cup design allows the shooter to have a full range of movements and the headset can be worn under several low-cut, classic combat helmets.
Letting the user experience that snug fit over the ears without compromising comfort. Giving you the best electronic ear muffs out in the market. 
Featuring its SordinHEARTM Audio system, Sordin Supreme PRO X brags its excellent sound reproduction. Delivering the most "crisp" sound quality among the list, with a premium high-end treble boost, you'll never be looking for another pair of shooting ear protection again.
The neckband is conveniently foldable and has 2 separate water-resistant microphones on each side for maximum sound direction location. 
You can wear these ear muffs for hours and can be useful in any situation that needs hearing protection. The noise reduction rate uses the Single Number Rating system and claims to reduce damaging noise down to 25 decibels of sound pressure. 
The average battery life can last up to 600 hours supporting its LED light features integrated on the headset for proper illumination when tracking at night.
Its gel-like seal cushion is a bonus that allows you to wear eye protection without compromising safety. 
Pros
Comfortable to wear
SordinHEARTM Audio System
Audio Input
Can be used as a military headset
Great sound amplification
Gel seal
Cons
Compatibility with electrical plugs
Inflexible mounting
Complex battery compartment
Low NRR
9. Decibullz Custom Molded Earplugs Decibullz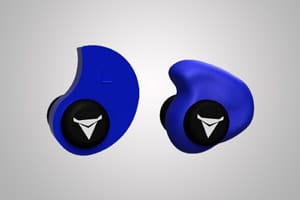 Now, let's talk about earplugs. You can't deny that over-the-ear protectors can be really hot and uncomfortable when used during summer, this could lead to ear fatigue.
Using custom-made electronic earplugs will give you the protection you need, plus it can easily fit under any type of headgear without interference. 
Custom Molded Earplugs by Decibullz offers the highest hearing protection out in the market. With an NRR of 31 decibels, it can filter damaging sounds of up to 166 decibels.
The product is easily moldable, making it a perfect fit for everyone's ear canal. 
By simply heating the earpiece for 3-5 minutes, letting it cool for 30 seconds, you can start molding the earplugs into the contours of your ear when it starts to feel sticky and pliable. Allow it to solidify for a good 5 minutes and you're ready to go.
The Decibullz earplugs are made out of thermoplastic materials that come with 3 sets of Triple Flange Tips (Small, Medium, and Large) and a pouch with the Decibullz logo for storage.
It also comes in different color variations: Blue, Pink, Red, Orange, Green, and Black. The snug fit on your ears will give an incredible level of sound isolation and wearing earplugs does not interfere with your cheek weld when shooting a rifle. 
Pros
NRR of 31 dB
Manufactured in the U.S
Molded to ear contours with a secure fit
Effectively filters loud sounds
Cons
Molding and application process can be tricky
Expensive
It can be easily misplaced
Durability issues
10. 3M Peltor Sport Ultimate Hearing Protector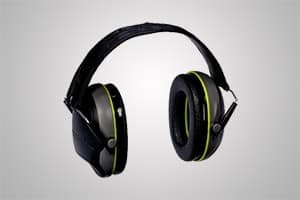 Another addition to their 3M Peltor series is the 3M Peltor Sport Ultimate Hearing Protector. A passive set of ear protectors with the highest level of Noise Reduction Rating of 30 decibels.
Featuring its full-sized over-the-ear cups and is lined with thick foam for maximum comfort and protection. 
It is mainly designed to offer excellent sound reduction to protect users from hearing damage but still allows you to hear the conversation.
Peltor Sport Ultimate can not completely block out incoming noise but it can effectively bring it down to a much safer level.
Weighing only 13 ounces, it weighs much less than how it looks. Cup depth including the cushion is at 6.7cm, giving your ears more room. 
The Peltor Sport Ultimate headband is made with a vented rubberized top and steel wire is lightweight and conforms well on the user's head. 
It is very comfortable to wear under a head cap but could be uncomfortable to wear under combat helmets and other types of headgears. 
Pros
Highest NRR for passive earmuffs
Foldable and great for compact storage
Cons
Heavy to wear
Bulkier than most earmuffs
Interfere with cheek weld when firing a rifle
Interferes the wearing of eye protection
Why Is Wearing Ear Protection Important When Shooting?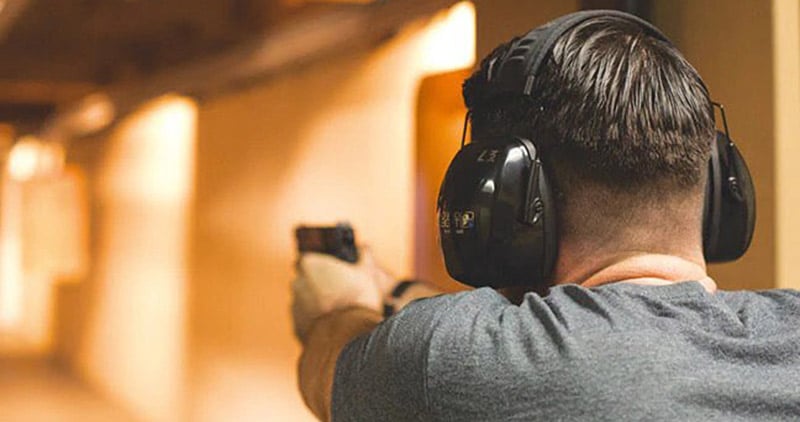 Who wants to go deaf or suffer a permanent ringing sound in your ear after shooting a gun?
A gunshot can produce a loud noise that causes concussive energy and percussive vibrations that can damage little bones and hair in your inner ear. Continuous exposure to loud blasts can permanently cause deafness. 
Hearing protection devices are important in shielding your ear from dangerous sound levels. Every sport and recreational activity has its own protective devices and shooting a firearm is not an exemption.
Increased Situational Awareness
Wearing a pair of shooting ear protection can improve situational awareness.
Wearing ear protection with a high Noise Reduction Rating can not only protect your ears from loud fire shots but can also reduce unwanted noise coming from the environment.
It can help you focus more on the target and keep yourself from being distracted. 
Everyone's brain reacts differently in the same situation. During firearm handling, especially if you have to do a shoot/don't shoot judgment call, situational awareness is very important.  
Long-Term Comfort
Two reasons why you constantly wear your ear protectors is that: it serves their purpose of preventing you from hearing loss and it fits you comfortably.
When it comes to your safety make sure to invest in good quality ear protectors, aside from its durability it could also provide long-term user comfort. 
Research shows that hearing protection devices are less effective if the users are not comfortable wearing them. And they tend to wear out for a shorter time. 
The comfort of ear protection is based on its physical, acoustical, functional, and psychological dimensions. Noise-induced tinnitus and hearing loss are always preventable if earmuffs and ear cups are fitted properly. 
Comms Capability
Background noises make it impossible for shooters to communicate verbally.
If noise exposure can't be reduced through moving far away from the sound, turning down the sound, or limiting exposure time, wearing a good quality hearing protection is the best option. 
Some high-end in-ear options can even offer comms interrogation. These ear protectors can also function as radio headsets.
It can push away your hearing protection for some time and allows you to hear the conversation with less electronic interference than that of other radio handsets.
Required Hearing Protection Rating
The Noise Reduction Rating on a hearing protection packaging will tell you its noise reduction capability or the amount of noise the equipment can block after being tested in a laboratory.

It is a unit of measurement that can determine the effectiveness of ear protection devices to lessen sound exposure in a given environment. It is classified by their ability to reduce the sound in decibels (dB). 
Hearing protection devices must be tested, passed, and approved by the American National Standards (ANSI) and in accordance with OSHA or the Occupational Safety and Health Administration.
ANSI is a non-profit organization that cooperates and administers the conformity assessment system and US voluntary standards. 
According to OSHA, The amount of environmental noise can be easily determined using different testing devices.
Exposure to 85 decibels and above for 8 hours is considered an excessive sound. People exposed to this level of noise are required to wear hearing protection.
A premium ear protection is required to meet an ANSI level of S3. 19-1974 testing of Noise Reduction Ratings. 
Some of the most common producers of sound levels that OSHA acknowledges as dangerous are firearms, rock concerts, firecrackers, industrial machinery, motorcycles, and power tools.
When you are constantly exposed to this type of environment, active hearing protection is strongly recommended. 
Types of Hearing Protection Used for Shooting
If you're into shooting sports make sure to invest in the best shooting ear protection. Some people tend to forget about ear protection.
As long as they can still "hear" after the shooting activities it is easy for them to assume that their ears are adequately protected.
Others who wear hearing protection don't care about the noise reduction ratings or the quality of the device, but the model and style don't mean that they can provide the defense you need against harmful shooting sounds. 
Unpowered Earplugs
Earplugs come in different styles, designs, and sizes to accommodate every ear canal. Some earplugs are even custom-made. Find one that best fits you.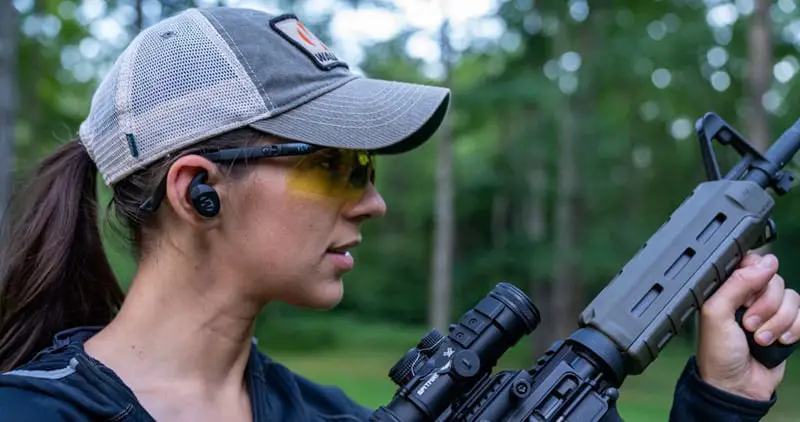 Disposable, foam earplugs are easy to use and cooler when worn in a hot/humid environment. It can also provide the best levels of attenuation but its efficiency depends on how it fits perfectly on your ear canal.
Earplugs are the most inexpensive choice of shooting ear protection, you can even buy it over-the-counter. When inserted properly it can deliver the best performance and protection. 
Unpowered Earmuffs
Passive ear muffs work similarly with foam earplugs. If the user intends to use ear muffs at a shooting range, wearing a lower profile earmuff is great to discourage being caught in low branches or getting pulled by low-hanging foliage. 
Every unpowered earmuff also comes with an NRR. The higher the ratings, the higher number of decibels it can cancel.
Wear an earmuff that can still give you access to better communication, where a shooter can still hear voice commands and safety precautions. 
Powered In-Ear Protection
Electronic earplugs have built-in microphones that can still pick up outside noises. This powered in-ear protection can muffle a loud sound and can amplify low sound levels as well.
Here's how an electronic earplug works: when the external mic picks up a sound that reaches a dangerous level, the amplifier will automatically turn off leaving the user with passive protection.
When the dangerous noise goes away, the amplifier will resume picking up environmental sounds. These electronic earplugs allow you to hear quiet sounds while protecting your ears at the same time. 
Powered Over-The-Ear Protection
Electronic ear muffs have hard plastic ear cups with noise absorbing lining and cushion, firmly held over-the-ear by tensioned headbands.
Just like electronic earplugs, electronic earmuffs can also reduce loud noises and enhance quiet sounds. 
Electronic muffs fit snugly over your ears, unlike earplugs, they are much bigger and hard to lose especially when worn in shooting range activities.
But these types of ear protection are extremely uncomfortable to wear in a humid environment. They can trap heat which is not an ideal choice when the temperature reaches above 80 degrees. 
Electronic Hearing Protection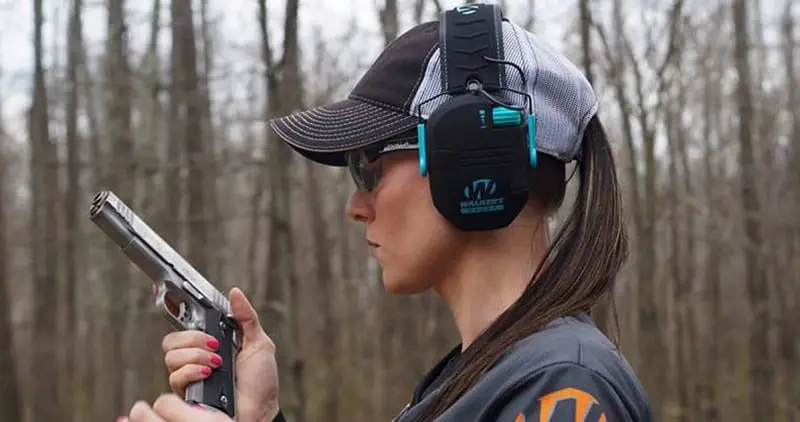 Standard, non-electronic hearing protection can cup a shooter's ear and muffled sharp sounds to protect their hearing.
However, it makes it harder for them to hear normal volume levels, and tends to shout when having a conversation. 
Electronic hearing protection also has a sound-absorbing foam lining so if the batteries die the user's hearing will still be protected. Electronic hearing protection has a volume control that can allow shooters to hear sounds better than their bare ears.
They have a "stop gate" feature where the amplifier simply shuts off when it can sense a loud sound and turns back on when the dangerous sound stops. 
These electronic protection devices allow you to hear low-level sounds like footsteps, wind noise, cracking branches, and distant conversations
.
Basic Features to Look For When Choosing a Shooting Ear Protection
Shooting is a noisy sport and ear protection devices are a MUST to protect your ears from firearm blasts damage.
Manufacturers have developed a lot of traditional types and hybrid ear protection devices. The best noise protection equipment is the ones that are convenient and comfortable to wear. 
Decibels
Decibels are the unit measurement for sound and noise. It is a measure to let us know the safe levels of noise exposure to prevent hearing damage.
A decibel meter is a device used to measure sounds. The higher the decibel levels, the louder the sound. 
On a decibel scale, an increase of 10 means that the level of the sound is 10 times more powerful. 
Noise Reduction Rate (Nrr): How Much Do You Need?
Noise reduction in a hearing protection device is rated in decibels. Normal conversational sounds are at around 60 dB at a meter.
Damaging sounds are when the sound reaches 80-90 decibels. The NRR of hearing protection devices is the measure of their effectiveness to reduce sound levels. NRR values of these devices can go up to approximately 33 decibels.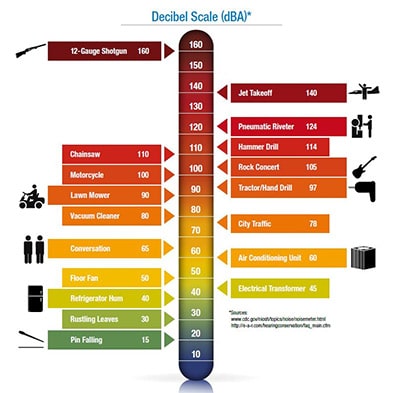 The NRR rating system will provide an estimation of the actual sound protection that you will get from your choice of noise-canceling headphones, earplugs, and earmuffs. 
Riffles when fired produce a sound that can peak to 158 decibels, 600 times louder than that of a .22 caliber.
When dealing with these types of harmful noises, the safest choice is to purchase ear protection that features a high NRR. 
'Hear Through' Capability
One of the best things about using high-powered and electronic sound protection devices is its "hear through" capabilities.
This feature will allow you to be situationally aware of your surroundings. Though the ear cups securely cover your ears, the built-in microphone can pick up and enhance softer sounds from the environment. 
More advanced versions of electronic earmuffs and earplugs can even compress our hearing spectrum to a narrow span of dB and increase noise reduction rates.
The best hearing protection for shooting is responsible for blocking background noise, just enough to reduce one's exposure to a safer level. 
Reducing the sound too much can make the user feel isolated and decreases situational awareness.
Overprotection against sound can become counterproductive. The user will instinctively remove hearing protection to either listen to their equipment, hear natural sounds or hear range commands.
Attack Time
Attack time is the reaction time or how fast an earmuff can respond to a sharp sound and the lag time between when the amplifier turns off and on after a gunshot.
Attack time may vary with every hearing protection device, some react as fast as 0.5 milliseconds and some at 20 milliseconds. For shooting hearing protection, choose equipment with the fastest attack time. 
Design Functionality
Ear protection for shooting is designed and built to have specific engineering considerations.
When choosing among a variety of earplugs and earmuffs, it is important to find the features and functions that you care about. 
Ear protectors with cut-outs help contour the size and shapes of your safety glasses.
The cushion on the ear cups helps improve attenuation and the crevices will give you the comfort of leaning on your gunstock while you are shooting. The gunstock should fit perfectly into the cut-out.
Low-profile designs of ear protectors also play an important role when you are trying to hide in tight and cramped areas during a hunting game. 
Durability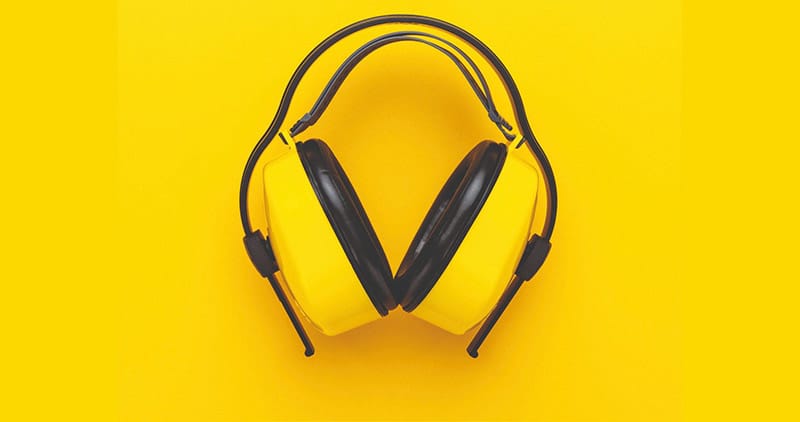 Durability is the ability of your earplugs and earmuffs to remain functional, without the need for excessive maintenance or repair.
The durability of a product can be measured through the number of hours used and the number of operational cycles. 
Hearing protection devices are constantly exposed to harsh conditions. Make sure that your choice of shooting ear protection can take that kind of beating. 
Comfort and Fit
Hearing protection devices can offer maximum and effective protection if they fit the user correctly. Every ear shape, head shape, and ear canal size is individualized.
They are different from every person. That means, if the ear cups can fit your colleagues, it doesn't mean that they will fit you as well. 
The fitting and comfort of the device should also be considered when looking for an ear protector. You are going to use it for longer periods of hours so you might want to feel comfortable while wearing it.
Some people even customize their earplugs and earmuffs so they can mold perfectly in their ears when worn. 
Volume Limit
According to OSHA guidelines, listening to a sound level of more than 90 decibels should be limited to at least an hour a day.
But if your work or hobby requires you to be around a noisy environment with this amount of threshold, it is best to use the perfect type of hearing protection.
Wearing electronic earmuffs and earplugs with volume-limiting technology will lessen your risk of ear damage.
Opting for the right equipment that could provide the maximum hearing protection you need can reduce the loudness and the intensity of the sound coming from your surroundings. 
Weight
The weight of your hearing protection is important since you might be wearing this equipment for protection for a longer period.
Invest in earmuffs that can offer a lighter weight without compromising your safety and comfort.
Wearing heavyweight ear protectors with combat helmets will make you feel uncomfortable and tired, plus it could leave you with neck and back pains. 
Dual Hearing Protectors: How Can It Change the NRR?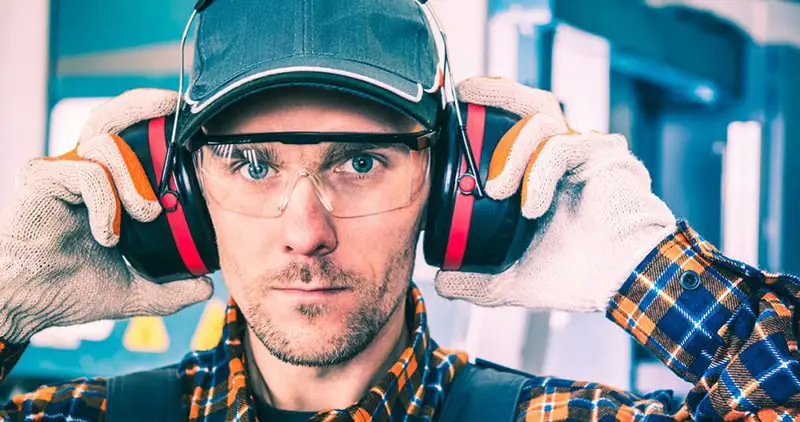 A dual hearing protector involves two types of ear protection used simultaneously. It can be a combination of an earplug and an earmuff.
It is not stated as a requirement by OSHA but it can boost hearing protection by 4-8 decibels, more than that of other ordinary hearing protection equipment. 
Wearing combined protectors simply means that it is also giving you double protection. But instead of adding together both types of equipment NRR, you just simply add another 5 decibels to the device with a higher NRR among the two.  
Dual hearing protectors are necessary if the attenuation of your hearing protection device is insufficient to protect your ears from the damaging sound from your surroundings.
Wearing dual protection devices can ensure that you are achieving the maximum dB protection you need. 
Frequently Asked Questions
What Is Considered Ideal Ear Protection for Shooting?
Based on CDC and The National Institute for Occupational Safety and Health (NIOSH) guidelines, dual protection that involves wearing both earmuffs and earplugs, with safety glasses on is the ideal protection you need.
Being constantly exposed to areas with peak impulsive noises that exceed more than 140 decibels, can cause noise-induced hearing loss and other irreversible hearing damage. 
Wearing an electronic hearing protection device with high NRR can be safe too. But, your ear safety will depend on the amplifier's reaction time in avoiding the damaging noise from high-level impulse noise, such as firearms.  
Are Earplugs or Earmuffs Better for Shooting?
Earplugs and earmuffs have their own advantages and disadvantages. Earmuffs with the highest Noise Reduction Ratings and with the fastest attack time are better when worn properly.
They are easier to wear and perfect for intermittent use. While earplugs will give you better protection if they can directly fit into your ear canal.
Choosing the best ear protection is a personal choice. The options vary depending on every person's needs. 
Are Foam Earplugs Enough for Shooting?
Passive foam earplugs may be inadequate to protect your ears from gunshots, especially during indoor shootings. It is best to use it with earmuffs to completely clock out damaging noise.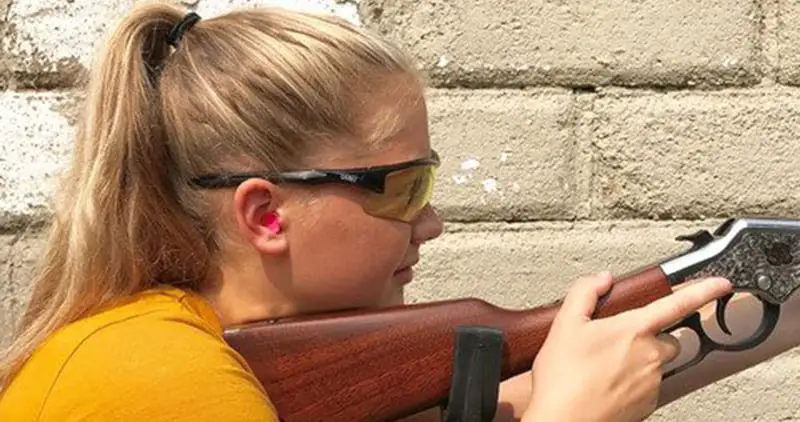 Electronic earplugs with high NRR are great with hunting, tactical training, and outdoor shooting but dual protection is still a safer choice. 
What Does the Military Use for Ear Protection?
Peltor Sport Tactical 500 and Sordin Supreme Pro X are both best for military use. Both devices offer hands-free comms and radio systems and are made with the highest standard quality to endure a hard beating.
With "talk-through" abilities and clearest ambient listening capabilities, both headsets are durable and reliable for military use. 
Are Electronic Ear Muffs Better?
Yes, electronic earmuffs can provide you with the same standard protection that passive earmuffs and earplugs do but with more advanced features.
Aside from its noise reduction abilities, it can also amplify quiet sounds, allowing you to hear external noise without the trouble of constantly putting and removing the device from your ear to have a conversation. 
Final Thoughts
The ear-splitting volumes produced by a gunshot and other firearms can cause hearing loss and irreversible hearing damage. Going to the field without any ear and eye protection is unsafe and dangerous.
That is why investing in the perfect type of ear protection is always important when you are into firearms handling.
Get the protection that you need without compromising your safety and comfort. Invest in hearing protection devices that can cater to your needs.
Buying the perfect equipment with advanced technological features can drastically improve and enhance your overall shooting experience.These electronic earplugs allow