Children's minds are like sponges. Show them something, or teach them something while young and they'll have it for life.
An important skill that children should be taught is knot tying.
Doesn't it make sense to give them knowledge that will come in handy almost every day of their life?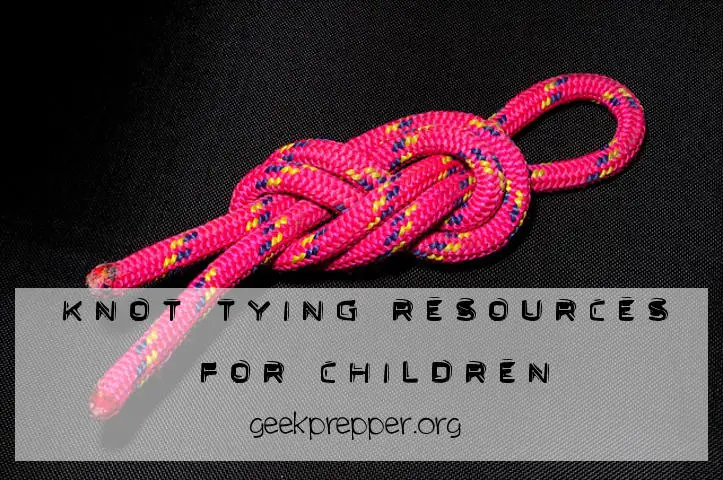 Knot Tying Resources for Children
One skill I find myself constantly falling back on, is knot tying. Whether you're tying a canoe or kayak to the roof of your vehicle or lashing a bedroll to your backpack, knowing the right knot for the right purpose is essential.
Let's give our children that ability.
Once I realized, that this was a great skill for my kids, I started looking around for knot tying resources for children, and I was amazed by what I found. There are books and games on knots designed especially for children! That was some great news.
 40 Knots to Know: Hitches, Loops, Bends & Bindings (Quick Starts for Kids!) – Grade 4-7, Scouts, campers, anglers, and sailors are just some of the people who will find this title useful.

Introductory pages list and define types of knots and terminology, and a quiz helps readers decide what type of knot to use for specific kinds of tasks.

The chapter on "Fab Five Knots" notes uses and provides directions for square, two half hitches, figure-eight, bowline, and sheet bend knots, one of which is likely to be appropriate for any situation in which a knot is needed.

Practicing tying, even in the dark, is continually emphasized. The step-by-step directions and diagrams with directional arrows are helpful. Stetson's informal writing style sprinkled with comments about how and when she has used the knots will appeal to readers.

The table of contents and index will guide those readers who already know the name of the knot they need; otherwise, it may take some digging to find what coil, bind, hitch, loop, or lash to use for a particular situation. All in all, a solid addition to teach knot tying.

 
 My First Book of Knots – What is more memorable than a child first learning to tie his shoes? Or wrapping his first Christmas presents?

Knots aren't easy to learn, but they are very helpful—whether you are five years old, ten years old, or even fifty years old. Here is a children's picture book that will help parent and child learn knot tying together.

In My First Book of Knots, you'll learn how to tie knots you can use in fishing, camping, ranching, farming, and more.

You'll learn how Santa Claus ties up his sack full of presents and how to tie a knot that will make it easy to carry heavy objects.

Every step of each knot is drawn out for you and includes clearly written instructions. After you read this book, you can save the day with a square knot and wow your friends with a double figure eight bend. 28 color illustrations

 
The Klutz Book of Knots – Knot tying for the landlubber.

Nylon cord, color-coded to the illustrations, is tied through the holes on each heavy-stock page, allowing the reader to practice all 24 knots right there on the premises.

A unique gift, intriguing puzzle, practical tool and entertaining book. All tied up together. Comes With: 5 feet of nylon cord
One of my daughters really excelled at knot tying, and the books gave her more knowledge and practice to take her knot tying to the next level.
She has also become the master of untying knots. It's become such a skill for her, that she cons her sisters into tying her to a chair, so she can escape (weird kid, I know). I can say, if I have a knot that I can't get out, I take it to her and let her young nimble fingers untie it for me.
Knot Tying Games for Kids
It's hard to get kids interested, in things that you'd like them to learn. While trying to find a way to trick… I mean "teach", my kids how to tie knots, I stumbled across this knot tying game. ThinkFun Knot So Fast is a family game but I it's targeted more towards kids. We love it and it really is fun for everyone in the family.
Imagine playing a game with your children that actually teaches them to tie knots. The good thing is, while you're spending quality time with you kids,and having fun, they are learning and you are brushing up on your knot tying abilities also. Knot So Fast covers all aspects of knot tying and includes the most common and handy knots.
ThinkFun Knot So Fast
This  game tests who can tie a series of knots the fastest. Be the first player or team to finish tying the knot shown on one of 40 challenge cards, call out "Knot So Fast.", then move the Tug-O-War Rope one notch forward. When the Tug-O-War Rope slides all the way to one side, that player or team wins.
While knot tying is a great skill to master at any age, it especially helps spatial development and manual dexterity in younger players. Play solo and practice for the next head-to-head match up. Ages 8 to adult.
A knot tying race game
40 challenges
Tug-o-war card holder/score keeper
4 color ropes and 2 rings
Learning skills: Teamwork, spatial reasoning and dexterity
ThinkFun Knot So Fast really is a great game. You'll have hours of fun and your kids will never realize that this is a learning activity.
They're never to young to start learning these skills.
Another great companion to Knot So Fast, that can help teach the essentials of knot tying, is a fun book, The Klutz Book of Knots.