We have a tradition at my house, every winter we get outside and have some hot cocoa.
This gives us a great chance to practice our cooking with the Kelly Kettle.
The kids love this annual festivity and it gives me a chance to teach them some outdoors stuff.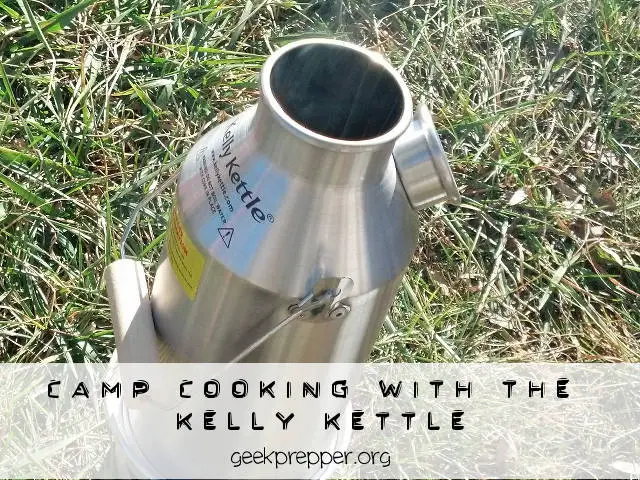 Cooking with the Kelly Kettle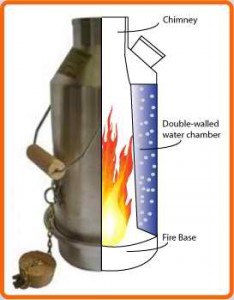 The Kelly Kettle is a hollow wall volcano stove. This simply means that all the water is inside the walls of the stove itself. It's very efficient because all the heat goes up through the chimney and heats your water, very very quickly.
I am always amazed by how quickly I can get 17oz of water to boil with the Kelly Kettle. We're talking less than 5 minutes.
I start the fire in the base by using a homemade fire starter (egg carton, lint and candle wax), put the kettle on the base then start dropping twigs, small sticks or other natural fuels down the chimney as needed.
I've been known to use other camp stoves, but if I needed to travel light, or be out in the wild for an undetermined amount of time, I'd take the Kelly Kettle with me, to leverage unlimited fuel, that I can find in the great outdoors.
The Kelly Kettle is very convenient because if you can burn it, it can be fuel (use your head, we mean solid fuels like sticks, twigs, husks and shells of nuts, dry grasses, leaves). Fuel consumption is very low.
I can find a handful or two of twigs and that will be enough fuel, to boil water and cook up a quick meal.
Once really handy accessory is the Kelly Kettle Pot Stand. It allows you to put a pan or cooking pot over the chimney, so you can cook food, while you are boiling water. Sheer genius.
Important Notes Before Cooking:
Pot-support (aka: Pot Stand) is only to be used when the kettle is full with water.  Never use the pot-support if the kettle is empty.

The pot-support is only suitable for cooking quick meals such as Noodles / Rice / Oatmeal / Re-hydrated food, etc.

Never use the Kettle without Water in it. It's designed for maximum heat transfer to water, without water it will burn holes through your kettle and may be dangerous.

Verify that the stopper is NOT in the pour spout when heating water on the fire-base. Once the water boils it will generate intense pressure (steam) which will blow the stopper, liquids and steam out under intense pressure!

The kettle's chimney is very hot. Please make sure to lift the kettle using the handle from the back and not from the top or you will burn your hand. You can use the handle in coordination with the stopper chain to carefully pour hot water from the kettle.
Kelly Kettle company recommends using their own large or small cook sets, but I've been able to balance other cookware on it, or over it with sticks or paracord (safety first. These generate a lot of heat).
The nice thing about the Kelly cook sets is that they nest nicely inside the kettle saving room in your pack. There is tons of info over at the Kelly Kettle site, but we recommend reading: What type of food can be cooked using the pot-support?
I can tell you that anytime I plan to camp, or if I ever need to bug out, this will be one item that I will make sure is in my pack!
Sometimes it's hard to decide on a camp stove, just by looking at ads. I wanted to give you some size references and background to help you choose.
I've been waiting for the weather to break so I could test out my new Solo Stove.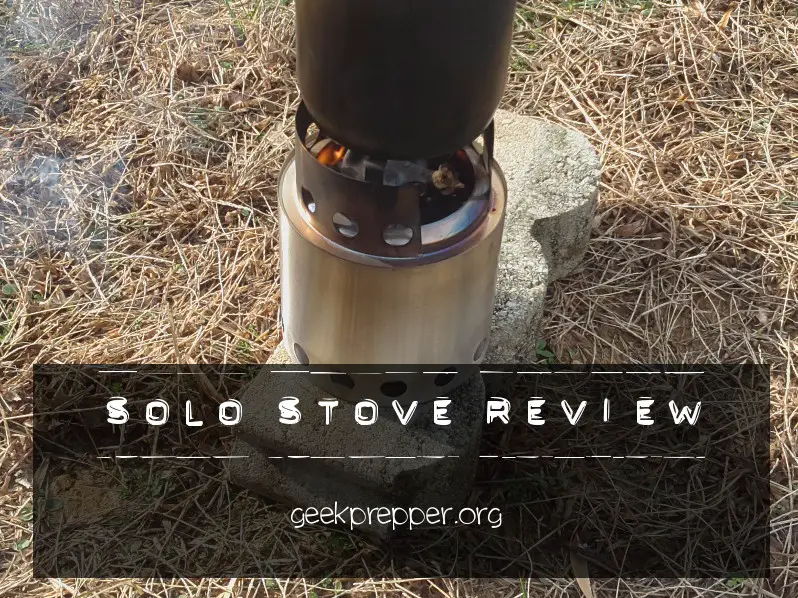 Solo Stove Review
I've been drying to get outside and cook on my new Solo Stove. Today was the day.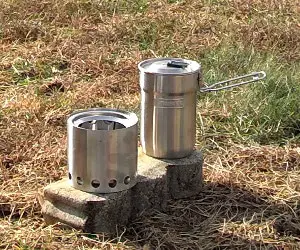 One bad thing about campfire cooking is the amount of wood you have to gather to make a meal. If I'm just stopping to eat, I don't want to have cut and haul a ton of wood, just to get a warm meal.
This is what makes the Solo Stove perfect.
I grabbed a handful of dry sticks, broke them into 3-4 inch pieces and prepared to get cooking.
It wasn't long before I had a little fire going, but would it be enough to boil water?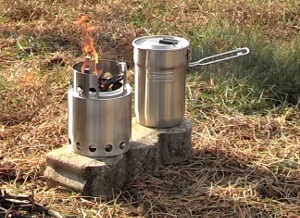 There was only one way to find out, how the Solo Stove would cook, and it was too late to back down now. I had already committed to eating outside today, I had already bragged to my wife.
No turning back now! I pulled up my Big Boy Pants and put 16 oz of water in my Stanley Adventure Camp Cook Set Pot and set it on the blazing Solo Stove.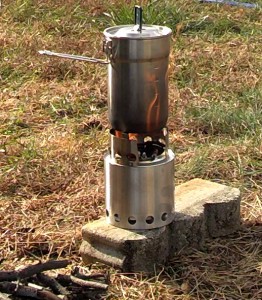 I was amazed, I had gathered almost no wood, yet I had a nice little blaze going in a small controlled area. The pot was heating up nicely and the water was starting to bubble, and this had only taken about 5 minutes. Things were looking good so far.
I had achieved boiling water. All I had to do now was get 8 oz of this water safely into my Mountain House food pouch and dinner was guaranteed!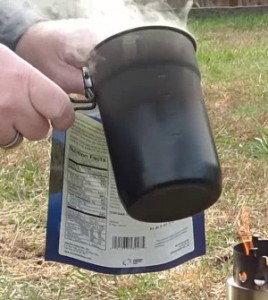 I was really feeling confident now, and I still had another 8oz of water to spare. 8 oz of water is enough to make coffee….or…. Hot Cocoa! I grabbed one of the cups from my Stanley Adventure Camp Cook Set and added a packet of instant Hot Chocolate. Sweet sweet victory is mine!
In about 10 minutes of work, I had gathered sticks, boiled water, made lunch and a hot beverage, not bad, Solo Stove, not bad at all! I didn't have to chop wood, or gather logs.
I ate the Mountain House Scrambled eggs with bacon, and drank the cocoa. The little fire was still going so I tossed in a few more sticks and called for backup. We had to finish testing the Solo Stove.
There were still enough sticks left for my girls to roast marshmallows. I even have more than enough sticks left over, to cook something else tomorrow.
The Solo Stove is a great little stove, that has earned a place in my camping or bug out kit. A tiny bit of biomass (wood, grass, pine cones, etc) goes a long long way! I think this stove will see a ton of use at our house, even when we aren't planning on camping. How else can I pick up a few sticks and have enough fuel to roast marshmallows or cook a few hotdogs?
Comparing the Kelly Kettle and Solo Stove
The Solo Stove an the Kelly Kettle are two great camping stoves, but how does one know which one to choose?
For my use and testing, I used the Kelly Kettle Trekker Aluminum (I should have purchased stainless steel), the Kelly Kettle Cookset (for the Trekker) and the Kelly Kettle Pot Stand, the Solo Stove (not the Titan model) and the Solo Pot 900.
It comes down to what is important to you.
Is size and weight the most important factor in your planning?
Weight
Solo Stove + Solo Pot 900 + stuff sacks = 17.10oz (485g)
Kelly Kettle Trekker + Cook Set + Pot Stand + stuff sack = 28.95 oz (821g)
Cooking Needs
What are your desired cooking requirements? Are you only wanting to boil some water for coffee, tea, or to prepare some dehydrated foods? Are you planning to cook regular foods and may potentially be cooking for more than one person?
Video
Comparing the Kelly Kettle and Solo Stove side by side in pictures and tests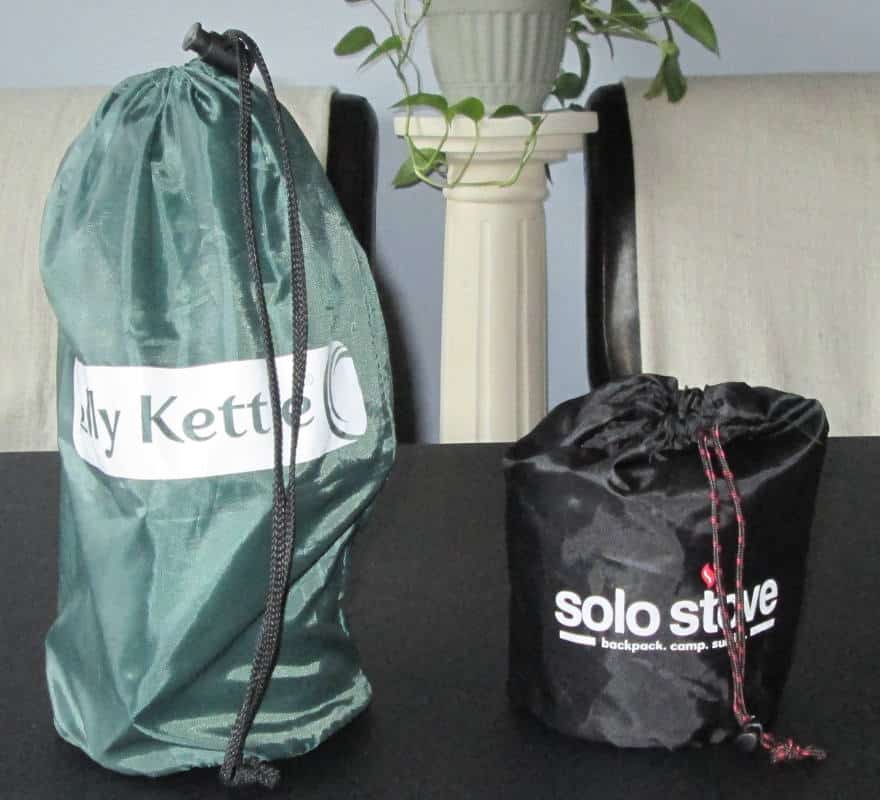 Conclusion
Comparing the Kelly Kettle and Solo Stove isn't easy, so it comes down to what's important to you! If rapidly boiling water is your main concern, the Kelly Kettle is hard to beat, but if saving backpack space and cooking regular foods are your priority, then the Solo Stove is the clear winner.
Is a Kelly Kettle or Solo Stove right for you?

You know it's time to buy a camp stove; but which one? How big are they in real life? How much space will they take up?
These are all good questions.
I've decided to make a post that shows the Large Base Camp Stainless Steel Kelly Kettle, the Aluminum Trekker Kelly Kettle, a Solo Stove and a standard can side by side. This should give you some reference to determine which camp stove will suit you best.
Camp stoves typically unfold or expand for cooking. Here are the camp stoves, not ready to cook.
Once you have added the cooking ring or the fire-base these stoves are a bit larger.
Since the Kelly Kettles and Solo Stove are now in cooking mode (always remove plug/cork from the Kelly  Kettles before applying heat), you are ready to cook.
The Solo Stove is ready to place a pan, pot or metal cup on top for cooking. If you are tight on space, or you are an ultralight backpacker, the Solo Stove is awesome!
If you need more cooking gear that will next with your Solo Stove, you can find the Solo Stove & Solo Pot 900 combo online. I don't have the combo yet, but as soon as I do I'll update this post with more pictures.
The Kelly Kettles are ready to fill with water so you can rapidly boil water for drinks, dehydrated meals or freeze-dried meals.
Another nice thing about the Kelly Kettles is, you can buy a cook set that nests inside the kettle itself. There is a cook set for all sizes of the Kelly Kettle, but I only show the cook set for the Base Camp Kelly Kettle.
This cook set allows you to cook while water is heating inside the Kettle itself. Nice!
What do you do if your water is boiling and you still need to cook your food, in the Kelly Cook Set pan?
You add the cooking grate to the firebase, where the hot coals are.
You can use the pot holding "pliers" to put your cooking pan right on the firebase grill.
When you're done cooking, and finish the dishes, you stow the entire cook set (and a spork or flatware) inside the Kelly Kettle itself!
There is much more information on the Kelly Kettle, cooking on it and the technology behind it at Camp Cooking with the Kelly Kettle
Is a Kelly Kettle or Solo Stove right for you? How do you choose between 2 awesome camp stoves? Do you go with the Solo Stove or the Kelly Kettle?
Neither stove is better than the other. It all comes down to space available and your needs.
I like the lightweight and simplicity of the Solo Stove. I really love the ability to heat water in the Kelly Kettle while cooking food at the same time. Therefore I have both styles…
I guess I just couldn't choose ?