As a tech professional and a prepper, I've tried to find essential smartphone apps for preppers to make a smartphone into an EDC survival tool.
In this post, learn how to use your cell phone to gain an edge in survival situations. I'll run down the ones I like and why.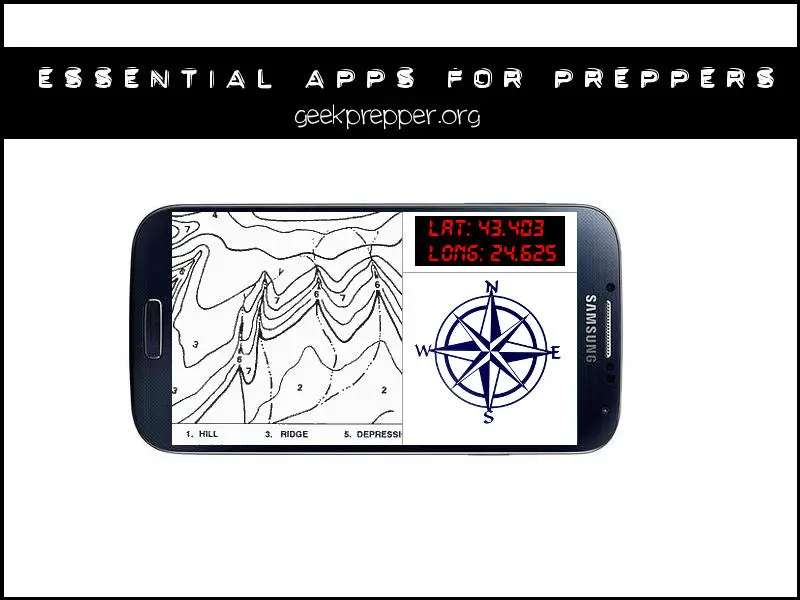 A smartphone is a pocket sized computer and communication device. These multi purpose devices can be anything from a handheld gaming rig to a guitar tuner or GPS. It only makes sense that people of a preparedness mindset would want to use these tiny devices as another tool in their survival bag of tricks.
These days there are millions of apps and many of them are targeted to the preparedness community. These are essential smartphone apps for preppers, and should come in very handy.
30 Essential Smartphone Apps for Preppers
Survival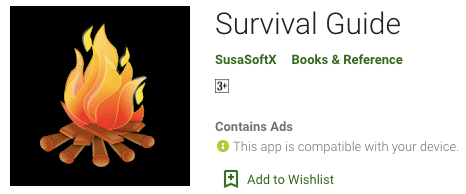 1. Survival Guide
Cost: Free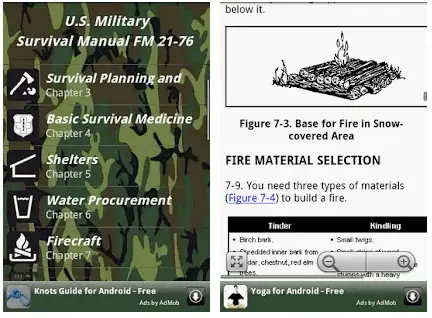 This app is pretty much a digital copy of the FM21-76 Army Survival manual. That's right. You can EDC a full survival guide! It can be installed to the SD flash card keeping your phone's internal storage free for other stuff. This application is also not reliant on a data connection and can be run when you are not in a service area or when there is NO service any longer.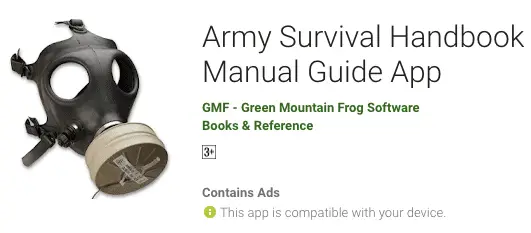 2. Army Survival Handbook – Offline Manual Guide App
Cost: Free
Platform: Android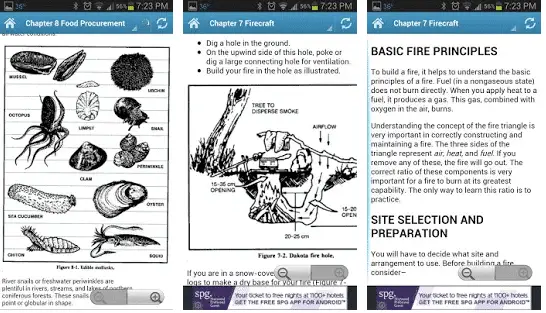 Army Survival Handbook is the perfect app if you are looking for an offline survival guide app that is based on the principles taught to the military. This app is beneficial when you go camping or backpacking, and even when you are loading knowledge to prepare for doomsday.
3. Offline Survival Manual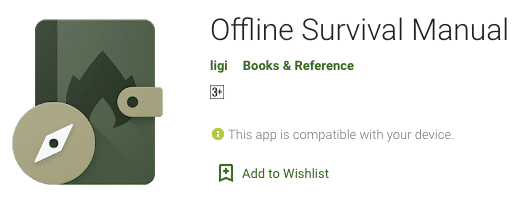 Cost: Free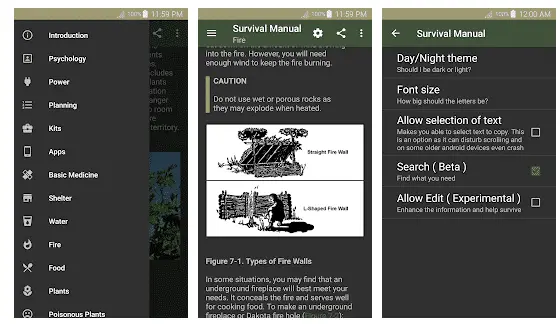 Platform: Android
Having an offline survival app is extremely helpful, especially in scenarios where you are in an unfamiliar area with no network coverage available.
This app will teach you how to make fire, build a shelter, find food, heal, and more. This information is useful not only in emergencies but also for preparedness when you go on hiking or camping trips.
4. Prepper Colony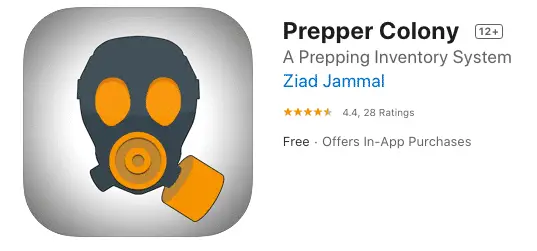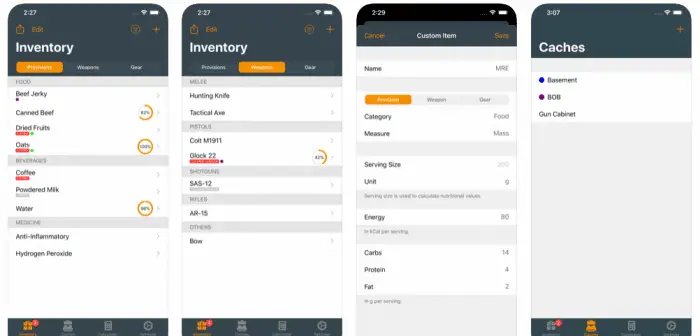 Cost: Free
Platform: iOs
Preppier Colony will make it easier for you to keep track of your supplies inventory. It even allows you to organize items in three categories: provisions, gear, and weapons. An estimate of how long your supplies will last is available once you input all your things. You will also be notified when perishables are about to expire and when it's time for weapon maintenance.
5. Wild Plant Survival Guide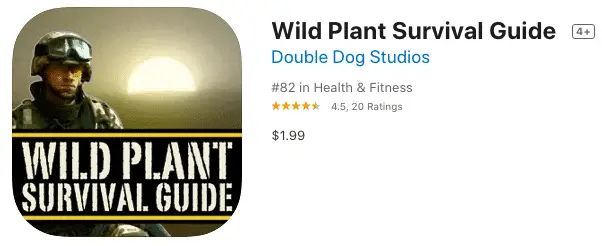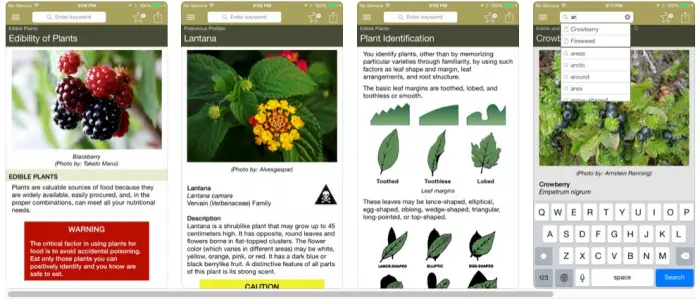 Cost: $1.99
Platform: iOs
This app is beneficial to keep you fed in case you run out of food. Nature can provide you with plants to eat. You just need to make sure you don't eat the wrong ones. Aside from that, this app will also help you identify medicinal plants to help you survive in emergencies.
First Aid

6. First Aid – American Red Cross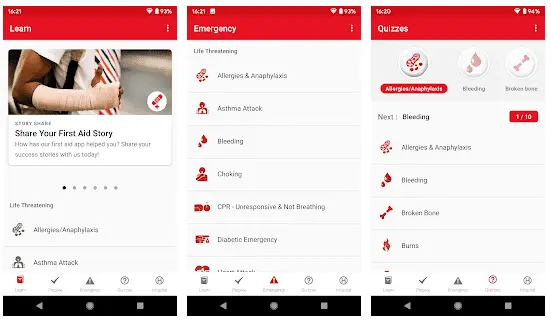 Cost: Free
This is pretty self-explanatory. A first aid manual with directions, procedures, text, and short videos to show you how to take the necessary action step by step and in the right order. 
7. Pet First Aid – American Red Cross
Cost: Free
A first aid manual for Pets. It includes directions, procedures, text, and short videos to show you how to take the necessary action step by step and in the right order.
8. WebMD
Cost: Free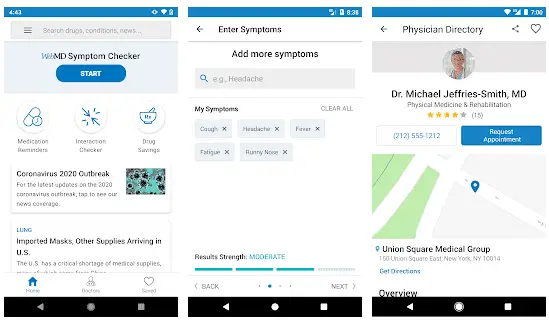 WebMD for Android helps you with your decision-making and health improvement efforts by providing mobile access 24/7 to mobile-optimized health information and decision-support tools, including WebMD's Symptom Checker, Drugs & Treatments, First Aid Information and Local Health Listings. The WebMD app also gives you access to first aid information without having to be connected wirelessly – critical if you don't have Internet access in the time of need.
9. First Aid and Emergency Techniques
Cost: Free
Platform: Android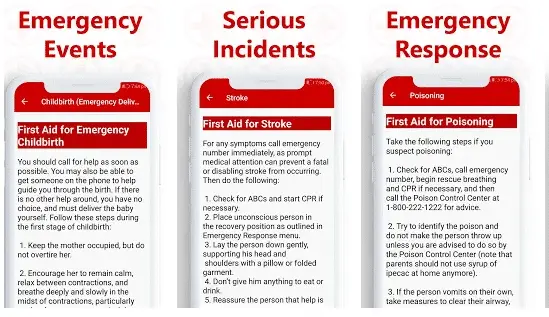 First aid care is crucial in saving lives or in preventing sickness or disease from becoming fatal. At any moment, it can be you or a companion who could get sick or suffer from injuries. This app can be of great help while you wait for medical experts to arrive.
Navigation
10. Waze
Cost: Free
Waze is one of the most popular navigation apps today. It helps you reach your destination faster by informing you if traffic jams, accidents, and hazards are available in your chosen route. A speedometer is also included in the app, which alerts you when you reach the driving speed limit.
11. Google Earth
Cost: Free
Use Google Earth to help you get back on track if you get lost in the wilderness. Once it finds your location through GPS, you can zoom the map out to see the nearest spot you are looking for – may it be a road, lake, or river.

12. Cargo Decoder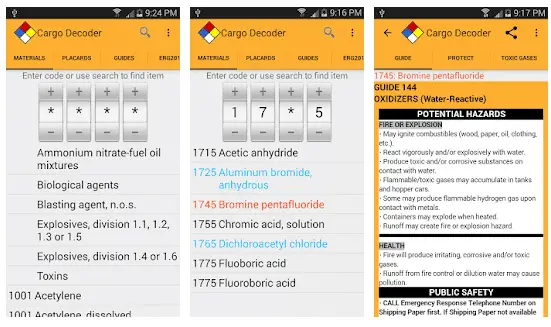 Cost: Free / $1.99
Cargo Decoder is your guide to what is in the truck or tanker next to you on the highway. Enter the four-digit number from the DOT placard to learn about a material. See details from either the 2012 Emergency Response Guidebook (ERG 2012) or the 2008 Emergency Response Guidebook (ERG 2008).
13. TruckerPath
Cost: Free
Gas stations, bathrooms, food, Rest Areas, and everything a trucker needs on long road trips. (GasBuddy doesn't tell you about the Rest Areas ahead of you, or the closed Weigh Stations where the cop might be holding a radar-speed gun.)
14. Gas Buddy
Cost: Free
Gas Buddy will help you find the cheapest gas near your location. You can filter results by location, price, brand, and amenities like restrooms or convenience stores. Thousands of reviews are also available within the Gas Buddy community in case you need more inputs before you decide.
15. Compass Steel 3D
Cost: Free
Platform: Android
Compass Steel 3D has indicators for true north and magnetic north. On top of that, it also has a sun direction indicator and a moon direction indicator. This app will tell you sunrise, sunset moonrise, and moonset times. Plus, it self-calibrates as you keep on using the app. There are other compass apps out there, but this one is recommended because it is free, it has no ads and doesn't ask for unnecessary permissions.
Disaster Preparedness
16. Disaster Alert
Cost: Free
Disaster Alert provides near real-time updates about 18 different types of active hazards as they are happening around the world.
Automated updates on the following global events are provided by the app: hurricanes, tsunamis, earthquakes, floods, volcanos, and wildfires. Meanwhile, updates for the following events are manually provided: Marine hazards, droughts, storms, and manmade incidents.
17. Federal Emergency Management Agency (FEMA) App
Cost: Free
Platform: Android
The FEMA app provides time alerts and helpful resources to equip you with sufficient knowledge before, during, and after a disaster. Learn what you need to do when natural disasters like disasters such as earthquakes, hurricanes, and tornadoes are forecasted to strike in your area.
You can also use this app to share real-time information with your family and friends to keep in touch. An emergency kit checklist and information on local disaster recovery centers can also be found on the app.
18. Weatherbug
Cost: Free
Weatherbug provides weather alerts, real-time weather conditions, and hourly and 10-day forecasts. It has 18 weather maps allowing you to choose which weather conditions you would like to see.
Additional features: heat index, UV index, wind speeds, air quality, pollen count, hurricane tracker, and global fire data.
Tools
19. Toolbox Pro
Cost: $2.60 / $3.99
Turn your smartphone into a multipurpose measuring tool with Toolbox Pro.
Its Android version has 14 tools: barometer, compass, altimeter, decibel, teslameter, timer, metronome, stopwatch, seismometer, plumb bob, surface level, ruler, spirit/bubble level, and protractor. 
The iOS version has 13 tools plus flashlight. These tools are the barometer, compass, altimeter, teslameter, timer, metronome, stopwatch, seismometer, plumb bob, surface level, ruler, spirit/bubble level, and protractor. 
20. Smart Tools
Cost: Android $2.99, iOS Free
This app equips your smartphone with the following six sets of tools:
Set 1: Length, Slope, Level, Angle, Thread
Set 2: Distance, Width, Area Height
Set 3: Compass, GPS, Metal detector
Set 4: Sound level meter, Vibrometer
Set 5: Flashlight, Mirror, Magnifier
Set 6: Unit Converter
21. Flashlight by Ruddy Rooster
Cost: Free
Platform: Android
All smartphones have flashlight apps pre-installed. But I am recommending this app because it has additional features that can be extremely helpful outdoors or during emergencies.
This flashlight app can engage both your screen and the back LED of your phone. It can also flash SOS signals, morse code, strobe, and warning light. Plus, it's free!
22. Knots 3D
Cost: $2.60 / $4.99
Learn how to tie more than 139 knots used by fishermen, arborists, firefighters, military, girls and boy scouts, and climbers through this app. No internet connection is required, and Knots 3D is completely ad-free, and no in-app purchases are required to use it fully.
Communication
23. RepeaterBook
Cost: Free
If you are a HAM radio person, here is your repeater book. I took this on a family road-trip across I-70 last Thanksgiving, and it was incredibly accurate and useful.
24. OpenSignal
Cost: Free
OpenSignal helps you find network coverage, detect the nearest tower, and conduct speed tests for 3G, 4G/LTE, 5G, and WiFi. It also alerts you when you don't have data or call connectivity.
Information
25. Kindle
Cost: Free
Platform: Android
Read more than 850,000 Kindle books with Amazon's free application for your Android phone–no Kindle required. Kindle for Android makes it more convenient than ever to bring Kindle books everywhere you go, even if you don't have a Kindle. Whispersync ensures you'll never lose your place by allowing you to sync bookmarks, the last page read, notes, and highlights between all of your Kindle-ready devices.
26. Apple Books
Cost: Free
Platform: iOs
There are tons of helpful and free PDF documents available on the internet. Organize and easily navigate them through Apple Books. A wide selection of PDFs and Audiobooks are available on the app for your consumption. You can also choose fonts and page colors for easy reading.
27. YouTube
Cost: Free
All sorts of informative videos and tutorials on survival and emergency preparedness are available on YouTube. The app can give you thousands of results about almost anything you can think of.
An internet connection is needed to search for videos. But you have the option to save videos offline and conveniently watch them at a later time.
Other Useful Apps
28. ISS Detector
Cost: Free

Platform: Android
ISS Detector will tell you when and where to look for the International Space Station or Iridium flares. You get an alarm a few minutes before a pass. You will never miss a pass of the International Space Station, and you will never miss the bright flashes of the iridium communication satellites. ISS Detector will also check if the weather conditions are right. A clear sky is perfect for spotting.
29. CCW – Concealed Carry 50 State
Cost: $2 / $1.99
This app helps gun owners know firearm laws in different states across the country. Most preppers consider handguns as essential, and carrying a firearm during travel can be a legal problem if you don't know the rules. As such, the CCW app would be beneficial for them to recognize which states recognize the handgun carry permit they have. All information available offline (no internet connection needed).
30. Scanner Radio: Police and Fire
Cost: Free
As a prepper, you should always be aware of what is going on in your surroundings. Knowing what happens around you is crucial, most notably during an emergency.
The Scanner Radio app lets you listen to fire and police scanners, amateur radio repeaters, weather radios, marine radios, and air traffic and from around the world. 
The information you get from scanning can help you avoid dangerous areas and know when to bug in or out.