We are very limited with what we can carry on an airplane, but if you travel, then you really need an airport carry-on get home kit!
Read on to learn what you can carry-on, and what you can't for your own survival if you happen to get stranded.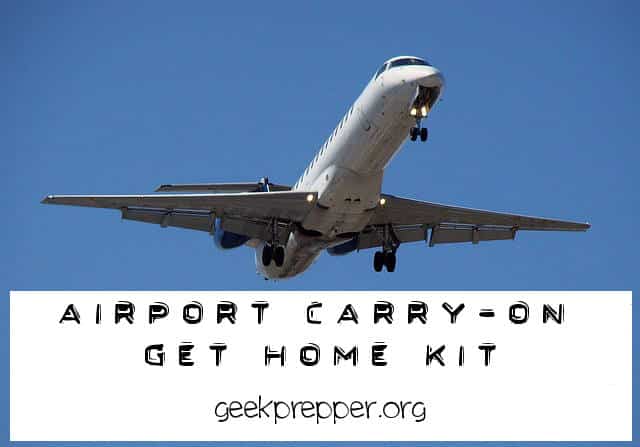 Airport Carry-On Get Home Kit
If you fly often for work or pleasure, then you should do your best to carry some form of Get Home Kit when you fly.'
If you've followed our modular approach to my Survival Kits and Get Home bags, you can slide your EDC survival kit pouch into your backpack or carry-on luggage and it will provide you with a more effective kit than you had access to previously.
Can you imagine the frustration of being marooned in a faraway city, wanting to get home to your loved ones, but having no supplies that would allow you to get started on that long journey home?
This list of gear isn't all-inclusive since you are limited by what you can take in your carry-on bags. One item that you'll need to scrounge up would be a decent knife, but you could look for that while you were already on the move.
We can't have the gear to cover every eventuality, but these are some good solid basics, that we can build on if they are ever needed.
You should be constantly reevaluating your Airport Carry On Get Home Kit, but this is a good start for your carry-on bag or backpack.
Flashlight
Bandana or even better, a Shemagh
Duct Tape – wrapped around an old hotel key card.
Paracord – In addition to 50-100 feet of paracord in your bag, you may want to keep an extra Paracord Bracelet, clipped to your carry-on bag's handle
Military Rain poncho – This can act as your rain gear and your shelter tarp, or in a pinch you add a poncho liner or jungle blanket and you've got a weather-resistant sleep system.
Compass – even a  simple, cheap Ball Compass
Small water filter – a Sawyer Mini (100,000 gallons) or a LifeStraw (264.172 gallons) would be perfect. (See how these 2 filters compare)
Stainless Steel water bottle – This can save you from buying the $4 bottled water at the airport and can be used to carry and boil water if you find yourself stranded far from home! If you don't go stainless steel, you still need a way to carry water so consider a Collapsible water bottle – or a Nalgene bottle. Remember to make sure it's empty before going through security at the airport.
Cigarette Lighter – You may not smoke, but if you have to get home on foot, it'd sure be nice to be able to make fire quick and easily. The Bic lighters seem to have a higher quality construction and reliability, over the generic gas station lighters.
carry-on would be pushing your luck, then try the Super Sharpie Marker (very large heavy marker) – Good for marking things, and perhaps an improvised kubotan!
Cell phone charger – you'll want some form of battery backup charger and perhaps a hand-crank charger or solar charger for your phone.
Extra medications – in case you are on the road longer than originally expected
List of phone numbers – In case you're phone becomes inoperable, you can still use another phone to call loved ones or emergency contacts.
First Aid Kit (Travel Size)
Building your EDC Airport Survival Kit
If you want to travel whether for business or leisure then you may have to tweak your usual EDC (everyday carry) kit to ensure that it meets the standards set out by the TSA (Transportation Security Administration). It is crucial to create an EDC airport survival kit with approved items.
When preparing the kit, spend time evaluating the specific items you usually carry then narrow them down to what you will specifically need during the whole trip. Ask yourself about the specific challenges or threats that you will most likely face when you travel by plane as well as when doing the activities you intend to engage in while roaming around your destination.
Fortunately, even if you have listed some necessary items that the TSA does not approve, you can always modify them or find alternatives so your airport survival kit will comply with the federal law.
We have already tackled some important items you should include in your airport carry-on kit. Let us elaborate on the most important ones in the provided list, so you will know in general that you are bringing the right tools.
Tactical Flashlights
Some flashlights are allowed but keep in mind that it falls under the category of a tool, so it is important for it to be less than 7 inches long. Make sure that the flashlight does not look aggressive, too. This will prevent it from being subjected to additional scrutiny.
It is important to remove the flashlight's batteries before packing it. This is to prevent accidental leakage. Put the batteries in a Ziploc bag in a similar way as when you are storing liquids.
Also, take note that the agent from the TSA might try the flashlight to find out if it works. This makes it necessary to pack the batteries close to you.
Tactical Pen
One of the trickiest items when creating an airport survival kit is the tactical pen. This item might raise suspicion from security personnel. It will also depend on the TSA agent's discretion whether to allow you to bring it on the plane. If you think you really need a tactical pen then ensure that it is packed in your checked luggage.
This is specifically important if the pen comes with features that will categorize it as a weapon. As much as possible, invest in a TSA-approved tactical pen just to avoid being questioned and scrutinized, holding you up. To be safe, you may want to bring the following pens that are guaranteed to be approved in airports.
Smith & Wesson 6.1-inch Refillable Aircraft Aluminum Tactical Pen
The features of this matte black Smith & Wesson Pen fit the requirements for the TSA. Aside from having the look of a harmless mechanical pencil, this pen also comes with a pull cap. Make sure to put the cap over the pen's pointed end if you plan to include it in your carry-on bag to turn it into the writing config. It features a tipped point made of aircraft-grade aluminum material. You can also easily clip it to your TSA-approved survival kit or carry-on bag.
Pocket Partners Practical Tactical Pen

 
With its sleek design and minimalist apperance, you can consider this tactical pen to be the ultimate discreet self-defense weapon. It is a great item to include in your EDC kit for the flight. At face value, it looks just like a writing pen. You can even clip this item on your shirt pocket. Despite its simple look, it is extremely useful in emergencies with its glass breaker and aircraft-grade aluminum material.
Folding Knives
While folding knives are not often permitted as carry-on, you can still find a suitable and TSA-approved alternative. To find such an alternative, think about the specific ways  you will be using the folding knife. You should then consider other items that can perform the same function.
A great alternative that is safe for your travels is a Swiss Army Knife that does not come with an actual knife. What it contains, instead, are tools serving the same purposes, like scissors, tweezers, mini-screwdriver, and a nail file that has a pointed and unsharpened end.
First Aid Kit
Of course, your EDC survival bag will not be complete without a first-aid kit. Note that you do not need to make a full-blown TSA first aid kit. Just a few bandages, prescription meds, and over-the-counter pain relievers should suffice. As much as possible, put some antacids in the kit, too. It is a must to have a basic first-aid kit as you won't know when you will be dealing with issues while traveling, like headaches, blisters, or traveler's runs.
Multi-tool
The majority of multi-tools nowadays come with a blade, which the TSA does not permit. This is the main reason why you have to figure out ahead of time specific features that you will likely need during your trip.
A great choice is the LEATHERMAN Style PS Keychain Multi-tool that contains several useful tools and features, like nail file, tweezers, screwdrivers, pliers, scissors, and wire cutters. TSA will allow this to pass their screening process.
You can also go for the Gerber 600 Needlenose Multi-Plier Bladeless, which is a full-size multi-tool without the knife.
Fire-Starting Kit
The rules and regulations of the TSA permit one set of safety matches and one cigarette lighter, which is also TSA-approved for carry-on. You may also bring two more lighters but you have to put them in your checked baggage. It is also important for these additional lighters to be in containers approved by TSA.
Back-up fuel or flammable items are not allowed, even if you check them. If you are planning to visit a place that requires you to use the mentioned items then ensure that you have the ability to pick these items up once you land.
Survival Whistles
Bring a survival whistle with you on your trip. It is allowed both in your checked luggage and carry-on bag. However, make sure to check if the whistle you are bringing contains fire-making parts. Remember that you are not permitted to put strike-anywhere matches in all your luggage.
Bonus Items
If you have space and can bear the extra weight, here are some nice to have items.
SAS Survival Handbook pocket edition (any survival handbook will do, choose your favorite)
A larger, lightweight tarp for a shelter.
Leatherman Sidekick Carabiner Multipurpose Tool – A carabiner with bottle opener and small wrench.
Tactical Pen – The trick is to get one that doesn't look like it's a tactical pen. The Schrade Tactical Pen is a good choice, for this very reason. If you think that carrying a tactical pen in your
There is never going to be an Airport friendly kit that will let you carry 100% of the supplies you'll need to go to or from during a long journey, but these carefully chosen items should provide you with a great start.
If we overlooked any items that you think would be helpful, let me know!
Conclusion
There is no need for you to abandon your EDC survival kit if you plan to travel by airplane. Note that there are a few ways for you to modify it in a way that it retains its functionality while adhering to the TSA regulations. However, take note that such TSA regulations often change.
With that, make it a point to check the guidelines and rules set by the TSA one week before your scheduled flight. Be extra careful because TSA agents are authorized to confiscate any item which they think causes suspicion and alarm.