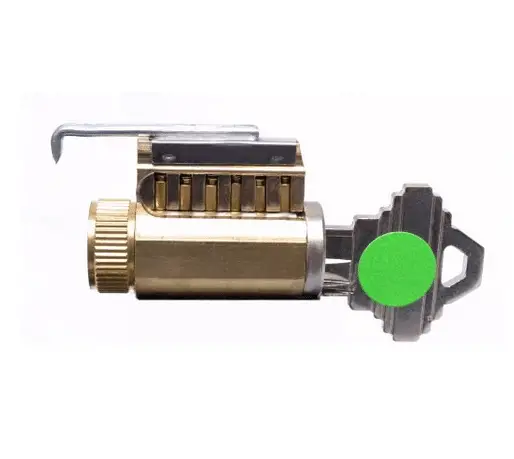 Lock picking is a skill of finesse. If you push too hard, you'll over set the pins in the lock and it won't open. How does one learn how to properly manipulate the pins and tumblers. Practice. Luckily you can Sharpen your Lock Picking skills with CutAway Locks.
Sharpen your Lock Picking Skills with CutAway Locks
I've been tinkering with lock picking for quite a while, and to be honest, I'm not great at it. I have gotten much more proficient by using CutAway Locks.
Cutaway locks allow you to see the pins as you move them, so you can understand the tactile response when they move into the proper place.
Many of the cutaway locks are also able to be "rekeyed". This means you can create a lock with a single pin and add more and more pins as you become proficient. Then you can swap pins into an almost limitless number of combinations to simulate different locks.
I started out with the SouthOrd Visible Cutaway Practice Lock with Standard Pins (I also bought it's advanced version, SouthOrd Visible Cutaway Practice Lock with Spool Pins).
The SouthOrd Visible Cutaway Practice Lock is simply a lock with a transparent Lucite housing, allowing you to see the all the internal workings as you pick.
I have gotten pretty decent with the SouthOrd Visible Cutaway Practice Lock, but It isn't able to be rekeyed, so I'll need to upgrade at some point to something similar to the EZ Rekey CutAway Practice Lock, which can have it's pins changed.
Practice makes perfect, but there is no substitute for being able to see the inner workings of a lock as you pick it. If you want to get into lock picking I recommend that you sharpen your lock picking skills with cutaway locks.
Keep in mind that lock picking is not illegal. It is used in law enforcement, by locksmiths, security professionals and by magicians. Never open a lock that you don't own or have permission to open. We do not condone illegal activities.