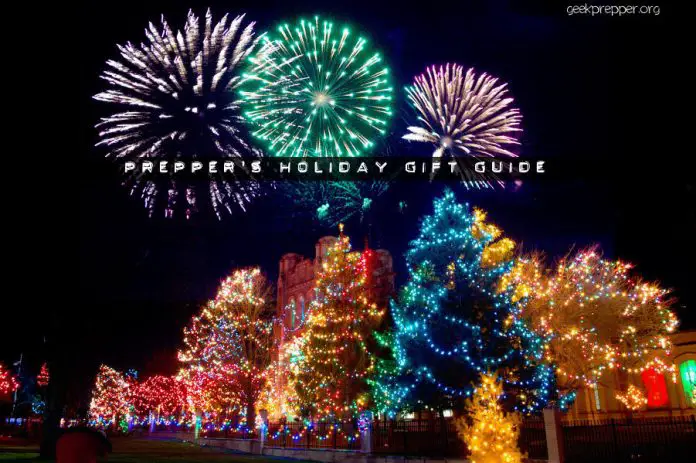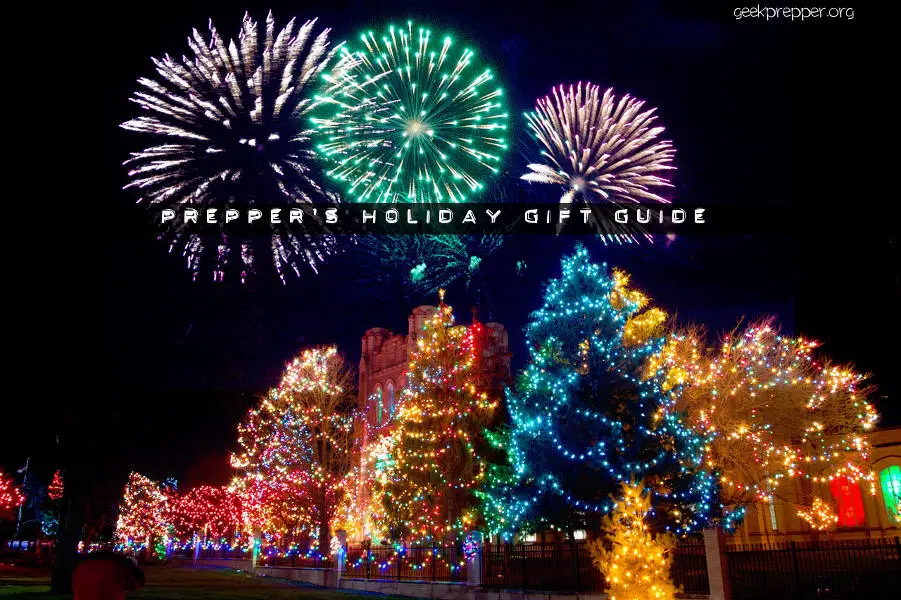 What do you buy your favorite preppers for holidays? Our 2015 Prepper Holiday Gift Guide should have enough holiday gift Ideas for preppers to help you out.

Holiday Gift Guide for Preppers
When I buy these items for the Preppers on my list, I like to print out a copy of my blog posts, where I discuss them, and package them up with the item. That way they instantly see how this item can benefit them. I've listed the posts where applicable.
Prices are subject to change. It's the holiday season, so items go up in price or go on sale.
We're adding new items to this list frequently, throughout the holiday shopping season. Check back so you don't miss the latest recommendations!
Price Ranges:
Under $10
 Brutus the Bull Dog Self Defense Keychain (2 Pack) – Looks like a decoration but gives you the edge if the time comes to defend yourself or your family. Great stocking stuffers. Order early as these ship from Asia and can take a week or 2 to arrive.

Impact resistant molded plastic – as strong as metal (but won't set off metal detectors)
Easy to carry, looks like a decoration.
Can be attached to your key ring
Measures 3.5″ x 2.5″

Jones Stephens Four Way Key – Water is a high priority in most emergency situations; for something as simple as thirst, to decontamination, personal hygiene, or refilling a vehicle's radiator. There are times that you need access to it, and it's right there, but you can't access it. One simple, inexpensive tool can change all that, the 4-way sillcock key.

This key is used for valve, faucet and sillcock sizes 1/4″, 9/32″, 5/16″ and 11/32″

Tops Knives 5 pack Dog Tag style Signal Mirrors – These dog tag style signal mirrors are a great gift. Add a dog tag bead chain and you have an EDC signal mirror, that goes with you everywhere! Made in the USA.
Mini Cree Led Adjustable Focus Flashlight – Up to 300 Lumen of awesome! Runs on a single AA battery!

7W 300LM Mini CREE LED Flashlight Torch Adjustable Focus Zoom Light Lamp ( Head of the flashlight can be pulled out to focus the beam)
Super mini size, bright, blinding effect
Skid-proof design & waterproof design.
Output brightness can reach up to 300 lumens (MAX).
This mini flashlight uses 1 AA size Alkaline, NiMH, or lithium 14500 batteries.

Gerber Shard Keychain Tool – On-board tools include a small and medium flat driver; Philips head driver, wire stripper, pry bar, bottle opener, lanyard hole. Perfect size with the basics to carry anywhere, Lightweight and airline safe!

Lightweight and airline safe
Titanium nitride coating for corrosion resistance
Perfect size with the basics to carry anywhere
Includes: small flat driver, medium flat driver, Philips head driver, wire stripper, pry bar, bottle opener, lanyard hole
Hangs on your Keychain, so it's always ready for action!

Paracord – Paracord is the Go-To cordage of Preppers everywhere. Surprise the preppers, who have been good boys and girls, all year with 100′ of paracord in their stocking!

Commercial paracord ideal for utility use
7-strand core made to 550-pound test
100-percent nylon construction
Made by certified US Government contractor
Measures 5/32 inches in diameter

Nite Ize Figure 9 Rope Tightener – No more knots! Eliminates the hassle of tying, adjusting and untying knots. Great for setting up tents and other outdoorsy camp tasks!

High quality aluminum
No knots! Eliminates the hassle of tying, adjusting and untying knots
Figure 9 is laser engraved with instructions for use
Pull it tight – keep it tight

Trumark Folding Slingshot – Trumark Slingshots are made in the USA, using quality construction and materials, second to none!

Trumark's FS-1 wrist-braced sling shot folds down to a compact size
It's unique bottom valve "flips" open, to dispense 5/16″, 3/8″ or 1/2″ ammo
The wide aluminum forks, with a 4 1/2″ spread between the prongs, increases powerband life
The light non-rust aircraft aluminum frame and compact size make the FS-1 sling shot a favorite survival aid for campers, hunters, and backpackers
Patented snap-open handle
---
Under $20
 Morakniv Companion – The Mora Companion Heavy Duty is a powerful tool for bushcrafters, hunters and outdoor enthusiasts. Suitable for batoning, the Companion Heavy Duty features a thick, 1/8-inch (3.2mm) carbon steel blade with a  27 Degree edge angle for high load capacity and maximum sharpness resistance. The Companion HD has an extra large ergonomic handle with a soft high-friction grip. The classic scandi grind combined with high quality carbon steel makes the knife easy to resharpen. Mora knives are made from high carbon steel achieve high hardness, sharpen easily and are exceptionally tough.

Fixed blade outdoor knife with 4.1-inch high carbon steel blade
Extra-large ergonomic handle with patterned, high-friction grip that makes the knife comfortable to hold and easy to handle
Blade Thickness: 0.125 inches (3.2 mm), Blade Length: 4.1 inches (104 mm), Total Length: 8.8 inches (224 mm), Net Weight: 4.8 oz. (135 g)
Color-matching plastic sheath with belt clip
Limited lifetime manufacturer's warranty; Made in Sweden

 Cold Steel Bushman Knife – For the money, these might be the strongest survival/outdoor knives in the world! Unlike most hollow handled survival knives, there is no joint or seam between the blades and handles that requires a mechanical fastener. Instead, the Bushman's blades and integral handles are each expertly cold forged out of a single piece of 2.5mm thick SK-5 high carbon steel. The resulting knives are expertly heat-treated and tempered to RC54 and, when subjected to our tests, have withstood over two tons of pressure on their blade/handle transition! Every Bushman blade has been carefully ground to an extra thin edge and then honed and buffed by hand until razor sharp. They are available in two blade styles (standard and the new Bowie point). Both feature continuously curved blades that are ideal for skinning and will pierce, cut, slash, slice and shear like you won't believe. Both Bushman knives come complete with the new Secure-Ex sheath which features a Ferrocerium Fire Steel; strike it on the spine of the blade and start a roaring campfire in no time!

Blade Thickness: 3/32″ (2.5mm)
Handle: Hollow
Overall Length: 12.25″
Steel: SK-5 High Carbon
Sheath: Secure-Ex Plastic with Ferrocerium Fire Steel Attached
Blade Length: 7″

Exotac polySTRIKER XL Ferrocerium Fire Starter – Made from recyclable ABS plastic, the polySTRIKER XL fills the minimalist niche without sacrificing design or usability. The polySTRIKER XL line features the same innovative tungsten carbide striker design as the nanoSTRIKER. The tungsten carbide insert is built into an easy-to-use striking tool that snaps into the handle.

Snap-in striking tool
Ultra sharp tungsten carbide striking tool
Ferrocerium rod works when wet
Up to 10,000 fire-starting strikes
Made in the USA

Spy Secrets That Can Save Your Life – When Jason Hanson joined the CIA in 2003, he never imagined that the same tactics he used as a CIA officer for counter intelligence, surveillance, and protecting agency personnel would prove to be essential in every day civilian life.

Prevent home invasions, carjackings, muggings, and other violent crimes!
Run counter-surveillance and avoid becoming a soft target!
Recognize common scams at home and abroad!
Become a human lie detector in any setting, including business negotiations!
Gain peace of mind by being prepared for anything instead of uninformed or afraid!

Suunto Clipper Compass – tiny, convenient, accurate

Clips to watch strap, sleeve, strap of backpack, side of map etc.
Liquid filled jewel bearing compass
Cardinal directions in luminous prints on card
Direction on rotating bezel in 10 degrees increments
A fun, supercompact aid for underwater navigation

MPOWERD Luci Original Inflatable Solar Lantern

3 modes – Bright, Super-Bright, Emergency Flashing
Solar powered
Rechargeable
Holds a charge for up to 12 hours and stays bright all night
Inflatable and Packable
Lightweight (4 ounces)
Waterproof Lantern

QuikClot Advanced Clotting Sponge – Quikclot is a chemically inert material that speeds coagulation of blood, resulting in a stable clot that stops bleeding. The quikclot zeolite beads are contained in a sterile, non-adherent mesh bag so that it can be easily applied by anyone and also easily and cleanly removed from the wound by professional medical providers. Quikclot is safe to use and is a low heat formula that will not burn the skin. Leave quikclot in place until more advanced medical help arrives.


Stop bleeding fast
Keep wounds clean

X-cords Paracord Carabiner – Stainless steel Carabiner multi survival tool with smooth rolling pulley, to get your gear where you need it.

Fits all Paracord -550-750-850
Smooth roller pulley provides a mechanical advantage

American Red Cross Hand Turbine AM/FM Weather Radio and LED Flashlight – The American Red Cross FRX1 is a rechargeable hand turbine AM, FM and weather radio, complete with LED flashlight and glow-in-the dark lining to easily find at night or during a power outage. There is also an option for AC power with the DC-input (mini-USB) and headphone output for individual listening. Save yourself in times of need with the FRX1.

Receives AM/FM/Weather band
Hand Turbine power
LED flashlight
Headphone jack
Glow in the dark locator

Sawyer Products Mini Water Filtration System – The Sawyer Mini Water Filtration System removes a minimum 99.99999% of waterborne bacteria and surpasses EPA standards for water filters. It also removes a minimum 99.9999% of waterborne protozoan parasites and filters to an amazing 0.1 microns.

The Sawyer Mini 128 is ideal for outdoor recreation, hiking, camping, scouting, domestic and international travel and emergency preparedness
High performance filter fits in the palm of your hand, weighs 2 ounces and filters up to 100,000 gallons (378,541.00 liters) – 30 times more than comparable filters
Attaches to included drinking pouch, standard disposable water bottles, hydration packs, or use the straw to drink directly from your water source
Removes 7 log (99.99999%) of all bacteria and 6 log (99.9999%) of all protozoa
Sawyer's certified 0.1 micron absolute filter removes bacteria and protozoa at a higher rate than accepted EPA guidelines

POST: https://www.geekprepper.org/100000-gallons-of-water-for-your-bug-out-bag/

Berkey Sport Bottle Portable Water Purifier – Perfect for the frequent traveler or outdoorsman. Eliminates or Reduces up to 99.9% of:

Unpleasant taste and odors,
cloudiness, silt, sediment and chlorine
Toxic chemicals: Trihalomethanes, VOCs, detergents, pesticides, etc
Harmful microscopic pathogens: Cryptosporidium, Giardia, E-coli >99.99999% and other pathogenic bacteria
Heavy metals: Aluminum, Cadmium, Chromium, Copper, Lead, and Mercury

LifeStraw – I've bought these for many of the preppers in my family and friends. The LifeStraw Removes a minimum 99.9999% of waterborne bacteria and surpasses EPA standards for water filters. It also removes a minimum 99.9% of waterborne protozoan parasites and filters to an amazing 0.2 microns. Filters up to 264.172 gallons (1000 liters) of contaminated water WITHOUT iodine, chlorine, or other chemicals. The LifeStraw comes in a sealed bag, perfect for storing for emergencies.

Ideal for outdoor recreation, hiking, camping, scouting, domestic and international travel and emergency preparedness
High performance filter filters up to 264.172 gallons (1000 liters)
Removes a minimum 99.9999% of waterborne bacteria
Removes a minimum 99.9% of waterborne protozoan parasites

POST: https://www.geek-prepper.com/bug-out-bag-1000-liters-of-water/

Book Diversion Safe – Hiding valuables and preparedness supplies in plain site.

Diversion Safes are made from the actual cans or books themselves, so they blend in perfectly!
Open book to reveal a secret storage compartment
Hidden Compartment is 6.5-by-4-by-1-inches deep
Perfect for home, office, school, travel, RV's, and boats
Hide your passports, currency, documents, jewelry, account numbers, credit cards, and keepsakes

These are perfect for the preppers, secret agents, or friends on your list!

Liquid Wrench Diversion Can Safe – Hiding valuables and preparedness supplies in plain site.

Diversion Safes are typically made from the actual cans or books themselves, so they blend in perfectly!
Screw off bottom
Practical gift for any occasion
Perfect for Home Office School Travel RV's and Boats
The best place to hide anything is in plain sight

These are perfect for the mechanics, handyman, preppers, secret agents, or friends on your list!

Features dual electrode capacitive sensing technology, which they call "Swipe-To-Shine". This means that you have to swipe your finger across the capacitive sensor on the Micro light to turn it on or off, or to activate it's 4 Functions
4 Functions: High Power, Variable Dim, Low Power & Strobe.

Energizer Weatheready 360 Degree LED Area Lantern

Three-mode – Modes include 55-lumen white high, 28-lumen white low, and amber nightlight
Dual battery options – Runs on three AA or three D batteries (three AA Energizer Max Alkaline batteries included)
Glow in the dark push button switch
Fold out hanging hook on underside/bottom
Waterproof (to one meter)

Run times with three AA Energizer Max Alkaline Batteries: High Mode–29 hours, Low Mode–58 hours
Run times with three D Energizer Max Alkaline batteries: High Mode–195 hours, Low Mode–380 hours

 Pak-Lite 9V LED Flashlight – The Pak-Lite snaps on top of a 9v battery. The two white LED bulbs provide plenty of light to walk and run by at night. When you turn the switch off, the Glow-In-The-Dark plastic cap aids in locating it for the next 6+ hours. The Pak-Lite comes equipped with a 9v Standard Battery, which will give you 20+ hours of light. If you need a longer burn time, simply un-snap the Pak-Lite and snap it onto a Duracell Alkaline or an Ultralife Lithium 9v battery (extra batteries sold separately).

Two White LED Bulbs (10,000 hour rating)
Burn Time: 20+ hours (Alkaline=30 hours, Lithium=80 hours)
Bright & Off Modes
6+ hour Glow-in-the-dark Cap
Total Weight: 1.5oz with Battery
9v Standard Battery Included
5-years limited warranty
---
Under $50
 Texsport Camouflage Trail Tent – This compact tent from Texsport offers a comfortable night's sleep for two campers. It features easy set-up and take-down. Ruggedly durable taffeta material has a water-resistant polyurethane coating and is flame retardant to C.P.A.I.-84 specifications. Its classic pup tent design is accented by a tub-style polyethylene floor constructed of water- and boot-proof ripstop material, and a zippered mesh rear window with storm flap for optimal airflow.

Polyurethane
Camouflage two person trail tent (not the neon colors of most tents)
54-by-38-by-84 inches (W x H x D)
Lightweight, easy to assemble, Weighs 4 Lbs.
Constructed of rugged polyurethane coated polyester taffeta with tub-style rip-stop polyethylene floor
Zippered mesh rear window with storm flap, Flame retardant meets CPAI-84 specifications
Complete with stakes, carry/storage bag

LuminAID PackLite 16 Inflatable Solar Light – The new PackLite 16 is made out of a thick and durable TPU (PVC-free) material. The PackLite 16 provides up to 16 hours of LED light and can be easily recharged in the sun, ideal for recreational use outdoors or in the home as an extra light source. It has two extra-bright multi-chip LEDs that provide up to 45 lumens of light and a 32+ hour flashing mode. The PackLite 16 folds up into a compact, portable size that is easy to clip to your backpack to charge on-the-go or store in your emergency kit. The durable and weather-resistant TPU material (100% PVC-free) inflates to diffuse the LED light and create a lantern. The PackLite 16 will easily light up a 125 square feet space. Tuck it away in your first-aid kit or hook it on your backpack for your next adventure

Updated version of the original LuminAID Solar Light
Provides up to 16 hours of light on a single charge
32+ hour emergency flash setting
Packs flat for easy storage and charging, weighing 2.9oz
Waterproof up to 1 meter deep (FL 1 STANDARD IPX-7) and can float

Schrade Tactical Pen (Black) –  This pen is designed to be a "hide in plain sight" personal defense item. It is noticeably heavier than a normal aluminum pen and the point is designed to puncture. The cap is a screw on type with a flat top to give somewhere for your thumb to sit and apply extra force. It could be used as a glass breaker, if needed. I have traveled extensively and personal safety has always been a concern. This pen fills that void where a handgun or a knife are not practical.

Fully functional Pen, suitable for every day use.
5.7″ overall length
CNC machined 6061 aircraft aluminum
screw-on/off cap
Hauser Parker ball point pen cartridge included
Matte black finish

BaoFeng Dual-Band Ham Two-Way Radio – Awesome multi-purpose radio!

2 Meter
70cm
FRS
GMRS
MURS
Public Service Freqs
NOAA Weather Freqs
Marine VHF and more

Solar 11-in-1 Battery Charger – This high powered solar charger charges two Rechargeable Batteries of the same type and size (D, C, AA, AAA). This is the most versatile battery charger available on the market today.Its in-built meter shows you the following conditions: strength of the sun, strength of the current out-put from the solar panel, time required to fully charge the different types of batteries

Built-in blocking diode to prevent reverse flow of electricity from charged batteries during storage
The solar panel is incorporated into the hinged cover which can be angled for maximum sun exposure.
Charges "D," "C," "AA," and "AAA" size batteries
Polycarbonate transparent cover makes the charger weather resistant
environmentally safe, cost efficient and trouble free
This charger is an ideal gadget for camping, fishing, boating, and picnics. It is equally suitable for home use.

Exotac nanoSTRIKER Ferrocerium Fire Starter – The nanoSTRIKER is a high quality, ultra-small and completely self-contained waterproof fire starter. Sacrificing neither form nor function, its unique all-in-one design puts all the tools you need to start a fire into one tiny package. To top it off, the rods are replaceable and the striker is ultra-sharp tungsten carbide. Ferrocerium fire starters work best with tinder materials that contain large surface areas: dry grasses, wood shavings, cotton balls, dry leaves, clothing lint, etc. Using a tinder material of your choosing, create a loose tinder bundle to catch the sparks from the ferro rod. Wrap the included lanyard around a few fingers to secure the striker handle. Holding the striking tool at an angle, use moderate pressure to quickly scrape the rod. The striker should be carving material off the ferrocerium rod.

Ultra-portable for key ring, pocket and neck carry
Replaceable 3/16″ Ferrocerium rod works when wet
Up to 1000 fire-starting strikes
Collapsible self-contained waterproof fire starter
Machined in the USA from 6061 aluminum

Condor Recon Chest Rig (Tan) – The Condor Recon chest rig comes with three BUILT IN stacker Kangaroo-type mag pouch, will hold six M4 mag and six pistol mag. -Swivel Lockster – Swivel Push-Button release buckle. -Padded cross-back shoulder strap with webbing and D-ring. -Additional mesh pocket on the back. -Two open-top mag pouch. (one on each side)

Six M4 mag
Six pistol mag pouches
Swivel Push-Button release buckle
Padded cross-back shoulder strap

Estwing E45A Campers Axe Metal Handle – For felling, trimming trees and or splitting wood, notching timbers, driving wooden or plastic stakes. Forged one-piece solid steel construction to eliminate loose heads Nylon vinyl deep cushion grips bonded to steel handle for comfort and durability. Since 1923, the Estwing family and its employees have taken pride in designing and manufacturing the world's most durable, comfortable and attractive striking and struck tools. All claw hammers, axes, specialty tools and pry bars are manufactured to the highest possible standards and offer a true value to both tradesmen and craftsmen alike.

Estwing campers steel axe with metal handle and nylon vinyl shock reduction grip
Intended for felling trees, trimming trees, splitting wood, notching timbers and driving wooden or plastic stakes
The 4-Inch cutting edge makes deeper faster cuts and easier chopping
Includes embossed leather sheath
26-Inch approximate overall length at 4.3-Pound

Cold Steel Special Forces Shovel with Hardwood Handle – A shovel that can be used as a shovel, a hatchet, or a weapon. The Special Forces Shovel is modeled after the original Soviet Spetznaz shovel. The Spetznaz soldiers made up the most elite unit in the Soviet Army (The U.S. equivalent would be our Green Berets).

The shovel head and socket are forged from medium carbon steel, then heat treated for maximum strength.
The edges come sharpened to a utility/axe edge that can easily be improved to razor sharpness.
Handle replacement is simple. The handle is held on with 2 screws. That's right, screws. not rivets. Since Cold Steel used screws, you can change the handle out with a longer one (or a stick) to compensate for numerous other purposes.

The Cold Steel Shovel has so many uses and this is the shovel that lives in my EDC automobile kits, in all my family vehicles! I bought a few of these, last year, for some of my special family members. Over the past year, I've seen these shovels in the vehicles, of everyone I gifted them too!

Mr. Beams MB470 UltraBright LED Lantern

260 lumen – Two light modes; Bright and Dim.
Powered by 4 D-cell batteries.
30 hrs of light on one set of batteries.
USB battery backup charging port allows you to charge a smartphone or mobile device.
Auto shut-off feature turns this LED lantern off automatically after 60 minutes.
Fold out hanging hook on underside/bottom
Cover is removable, to act as a super-bright flashlight (or an overhead light)
Weatherproof and water-resistant for use indoors and outdoors.

Casio Men's Solar Sport Combination Watch – Another watch powered by light itself!

Never change a battery again (20 years anyway, according to manufacturers sites)!
With its solar-power capabilities, multi-lingual day display, and myriad functions, this rugged Casio watch is suited for the world traveler.
Features alarm, world time (48 cities), LED light, multi-lingual day display, five alarms, stopwatch, and countdown timers
Japanese Quartz movement with analog and digital displays
Protective mineral crystal dial window
Water resistant to 330 feet (100 M): suitable for snorkeling, as well as swimming, but not diving

Instapark 10 Watt Solar Panel Portable Solar Charger – This solar charger has Dual USB Ports for iPhone, iPad & all other USB Compatible Devices. It also has handy loops for lashing it to trees or your backpack, while on the go!

10 Watt high-efficiency solar panel with foldable design offers excellent portability, ideal for emergency preparedness, backpacking, camping and other outdoor activities
Built-in dual USB charging ports for directly plugging in iPhone, iPad and other USB compatible mobile devices
No additional battery needed for charging external devices, 100% green energy with zero carbon footprint
handy loops for lashing it to trees or your backpack, while on the go!
Measures only 9 X 6 X 2 inches and weighs less than 0.9 lb

Instapark 10W Mono-crystalline Solar Panel with 12V Solar Charge Controller – If you have a prepper who wants to get into solar, this is your starter kit. All you need to add is a 12v battery and an inverter and you have solar power!

Power (Pmax) : 10W
Maximum power voltage ( Vpm ) : 17.5V ;Maximum Power Current: 0.57A
Cable lengths : 3.0′
Open circuit voltage ( Voc ) : 21.95V
Charge controller prevents overcharging of 12-volt batteries

 Cold Steel Trench Hawk Axe – The Trench Hawk may well be the perfect antidote to the raw terror of eyeball to eyeball combat in the confined spaces of a trench, bunker, alley or narrow hallway. All it takes is one stroke from either the vicious cutting edge or its brutal wedge shaped spike to end the fight! The handle of the Trench Hawk is highly resistant to shock and impact and will withstand abuse that would easily break even a tough hickory handle. The handle is easily and inexpensively replaced when it's finally worn out or broken from repeated throwing (NOTE: any handle can, and will, break eventually).

Hawk Length: 8 3/4″
Handle: Polypropylene
Overall Length: 19″
Steel: Drop Forged 1055 Carbon
Primary Edge: 3 1/2″
Break out of confined spaces like a trench, bunker, alley or narrow hallway
3-1/2-inch cutting edge and wedge-shaped spike
---
Under $100
 Goal Zero Guide 10 Plus Solar Recharging Kit – The Guide 10 Plus Solar Recharging Kit is a go-anywhere, mobile solar power kit that keeps your handheld gear going strong. Charge AA/AAA batteries from the sun with included Nomad 7 Solar Panel or any USB port, then power your phone, MP3, GPS, or perk up your tablet in a pinch. Use with most USB powered devices and all devices using AA/AAA batteries. The Guide 10 Plus is best used with your smaller USB power devices.

Directly charge a smartphone in 1 hour
Charge up removable AA/AAA batteries from USB or sun
Built-in LED light runs for 150+ hours per charge
Kit includes Nomad 7 solar panel and Guide 10 Plus power pack
4 AA rechargeable batteries included

Ka-Bar Becker BK2 Campanion Fixed Blade Knife – This is a rugged knife, designed for the challenges of outdoor activities. If I'm camping or hiking, this is the knife I have with me!

Fixed blade knife with drop point shape and 20-degree edge angle
Blade made of 1095 cro-van steel blade for strength
Handle made of Grivory material
Blade measures 5.5 inches long; knife measures 10.5 inches long and 1/4″ thick!
Limited lifetime warranty

Voodoo Tactical Tactical Chest Rig (Army Digital)

Pistol Mag pouches
Rilfe Mag pouches
Load bearing design
Carry all your tactical gear in easy reach!

Kelly Kettle Small Aluminum Trekker Cook Stove – The Kelly Kettle is a hollow wall volcano stove. Which means that all the water is inside the walls of the stove itself. It's very efficient because all the heat goes up through the chimney and heats your water, very very quickly. If you're looking to purify some water by boiling, this model can do 17 oz at a time, very quickly. There are larger models available.

Environmentally Friendly
Trekker holds 17 fl. oz. of water (2.1 Cups)
12 inches tall, weighs only 1.3 pounds – Comes in a handy carrying bag
No need to buy bulky, expensive fuel canisters. Kelly Kettles use natural occuring fuels such as sticks and dry grass etc. Kelly Kettles are Ultra Lite and Ultra Fast for boiling water
Can be transported on any airlines

There is the Small Trekker model. Kelly Kettles come in various sizes from this small one person Trekker, model all the way up to large family and base camp sizes.

Grand Trunk Single Parachute Nylon Hammock – Parachute Nylon Single Hammock—The grandfather of hammocks! Weighs in at 1lb and provides the ultimate comfort in portable hammocks. At over 10 feet long and 5 feet wide our SH is the portable hammock you've been looking for. No other single parachute nylon hammock offers the same amount of bed space as Grand Trunk. Comes complete with everything you need to use and sets up in less than a minute. Holds up to 400 lbs, making the SH one of the biggest, softest and strongest hammocks we offer.
Grand Trunk Skeeter Beeter Pro Hammock – If you were to wander through the woods near my home, there would be a very good chance that you'd find this setup near my camp. I use this all year round. It's perfect for "stealth camping" out in the wilds (if you use a natural color tarp or rainfly).

100% Nylon
Grey No-See-Um mosquito netting hangs overhead and away from your face so you can still read a book or sip a drink without feeling claustrophobic
Just sit in the hammock and zip yourself in with the double-sided zipper
If the coast is clear and you dont need the mosquito netting, just flip the hammock over and sit or recline on it as a normal hammock
Triple-stitched reinforcements on the mesh and fabric boost the hammocks strength
Weight Capacity 400lbs

 Carson MiniAura Digital Night Vision Monocular (NV-200) – Say goodbye to night vision devices with image intensifier tubes that burnout over time. The Mini Aura is a 100% digital night vision monocular that won't ever burn out. It boasts a 19-degree angle of view and provides visibility up to 82 feet in total darkness. The Mini Aura is compact and lightweight and can fit in your pocket. It can be used in ambient light or total darkness.

Completely Digital (Images appear in a crisp Black and White)
19 Degree Angle of View and See Up to 82 Feet In Total Darkness
Extremely Compact – Dimensions: 2.6" x 2.2"x 2.2"
Lightweight – Weight: 3.4 oz.
Infrared Intensity Can Be Easily Adjusted With the Push Of A Button
Included with Carrying Pouch and Wrist Strap
Uses 3 AAA Batteries (Not Included)
One Year Limited Warranty

Sentry Safe Quick Access Safe – Have quick, reliable access to firearms when it matters most. Equipped with compression gas strut that allows for quick single-handed, whisper-quiet entry, the SentrySafe Quick Action Pistol Safe empowers you to defend your homes and family during unfortunate circumstances.

Quick access pistol safe
Quick-entry back-lit electronic lock, zero feedback
At-the-ready pistol presentation for convenient access to firearm
Pry resistant solid steel construction to help protect against unauthorized access to firearms
Override key for convenient back up access
---
Over $100
StoveTec Deluxe 1 Door Stove (Wood & Biomass Fuel Options) – The StoveTec Deluxe 1 Door Rocket Stove burns wood or biomass. It is durable, easy to operate, safe to use, and long lasting. Stove includes the fuel shelf and upgraded adjustable pot skirt for boiling. These stoves are designed to be used for cooking outdoors.

Insulative, abrasion-resistant fire chamber with refractory metal liner to increase durability
Thick Cast iron stove top with 6 pot supports
Adjustable galvanized steel pot skirt
Stick support
thick tile floor
Heat Resistant Plastic and Steel Handles Model
Dimensions: Stove D-11 in H-12 1/2

Chef's Banquet All-purpose Readiness Kit 1 Month Food Storage Supply (330 Servings) – A bucket of emergency foods. Great gift for your family members who may not prep. If they really don't prep, you can keep it at your house, so when they show up after SHTF, you've got them covered 😉

Each ARK contains the following: 330 Total Servings – 2,100 calories/day for 30 days
Delicious just-add-water meals
Easy to open zip-seal Metalite foil pouches, Oxygen absorber in every pouch
Easily Transportable 6 gallon bucket
Shelf Life – Up to 20 years – if stored in a dry, cool environment
No High Fructose Corn-Syrup
Net Weight: 23 lb 13 oz
No MSG

Citizen Men's Eco-Drive Canvas Strap Watch – Its a watch powered by light itself!

Never change a battery again (20 years anyway, according to manufacturers sites)!
Canvas strap with leather lining and metal-lined sizing grommets
Japanese quartz movement with analog display
Mineral dial window and brushed stainless steel case
Charges in natural or indoor light, day and date calendar, and luminous hands and indices
Water resistant to 330 feet (100 M): suitable for snorkeling, as well as swimming, but not diving

Kelly Kettle Large Stainless Steel Base Camp Basic Kit – The Kelly Kettle is a hollow wall volcano stove. Tjos means that all the water is inside the walls of the stove itself. It's very efficient because all the heat goes up through the chimney and heats your water, very very quickly. If you're looking to purify some water by boiling, this base camp model can do 50.7 oz at a time, very quickly. This is one of the largest models available.

Kelly Kettle Base Camp Stainless Steel Kit is Environmentally Friendly
Kelly Kettle Stainless Steel Base Camp holds 50.7 fl. oz. of water (6.3 Cups) Pot holds 32 oz.
The Kelly Kettle Stainless Steel Base Camp is 15 inches tall, weighs only 2.6 pounds – Comes in a handy carrying bag
No need to buy bulky, expensive fuel canisters. Kelly Kettles use natural occurring fuels such as sticks and dry grass etc. Kelly Kettles are Ultra Lite and
Ultra Fast for boiling water.
Can be transported on any airlines or any other form of transportation

Citizen Women's Eco-Drive Promaster Diver Watch – A women's watch powered by light itself!

Never change a battery again (20 years anyway, according to manufacturers sites)!
Eco-drive
Iso certified dive watch
Black ion plated stainless steel case with orange rubber strap
Mineral glass crystal
Water resistant to 990 feet (300 M):suitable for scuba diving to a depth of 30 meters for up to 2 hours

Seiko Men's Adventure-Solar Classic Casual Watch – Its a watch powered by light itself!

Never change a battery again (20 years anyway, according to manufacturers sites)!
Classic brown leather strap, high-tech solar-powered watch featuring a compass dial and a classic polished stainless steel case.
Japanese quartz movement with analog display, LumiBrite watch
Protective Hardlex crystal dial window
Features include alarm chronograph, curved hardlex crystal with inner rotating ring
Water resistant to 330 feet (100 M): suitable for snorkeling, as well as swimming, but not diving

Intex Excursion 5 Boat – Bridges are natural choke points. They are the perfect place for bad guys, to ambush families that are heading out of dodge! Help your preppers avoid these choke points in with a boat!

3 air chambers including an auxiliary air chamber in hull for extra buoyancy
Boston valve on two main hull chambers for quick-fill & fast-deflate
All around grab line
Inflatable I-Beam floor for comfort and rigidity
Has 2 welded oar locks on each side

Sentry Safe Biometric Quick Access Pistol Safe – Get protection as unique as your fingerprint. The SentrySafe Quick Access Biometric Pistol Safe allows you to program a fingerprint in addition to your combination for quick, reliable entry. The whisper-quiet gas strut allows for quick, single-handed access to your firearm. So, when seconds count, you can quickly defend your home and family.

Internal storage space: minimum ability to hold1 J & K size revolver; full size semi-automatic hand gun
Whisper quiet hardware
Pry-resistant top lid design
Single handed access
Works Inside a drawer or mounted to floor or furniture!

 GunBox – Gun Storage Evolved

360° Biometric fingerprint scanner (Premier & Biometric versions only)
RFID Scanner
Stylish wristband, ring or label sticker for quick access
Aircraft strength aluminum alloy shell
Motion/Vibration sensor with audible alarm on EVERY model!
2 USB ports for charging devices or connecting accessories.
Battery Backup
Even More!

 Snugpak Scorpion 3 Tactical Shelter (Olive) – The Scorpion 3's stylish and sleek design helps the Scorpion 3 to fend off fierce winds and is built and designed for long term hard use. It's 5000mm PU Coated Fly can handle large amounts of rain keeping you and your gear dry. The Scorpion 3 has lots of extras like internal mesh pockets, No-See-Um-Mesh, all seams are seam taped and much more. The Scorpion 3 is a Fly First pitch type tent.

1 Doors / 3 Vents
50D Polyester No-See-Um-Mesh
DAC Featherlite NSL anodized poles
Alloy Stakes (18 + 2 Spare Stakes)
Comes with a Basic Repair Kit
Shelter Weight: 5.00 lbs;  Trail Weight: 6.44 lbs; Pack Weight: 7.47 lbs
Packsize: 17 x 8.25 in
Still no luck? For the prepper who has everything, you can check to see if they need something from our Overlooked Bug Out Bag essentials post.
If you still haven't found that perfect gift your favorite prepper (or outdoors loving friend), you may want to peruse our shop, the Geek Prepper Bazaar.
Holiday shopping for your Preppers can be fun and educational, read learn and shop. Happy Holidays, Friends!