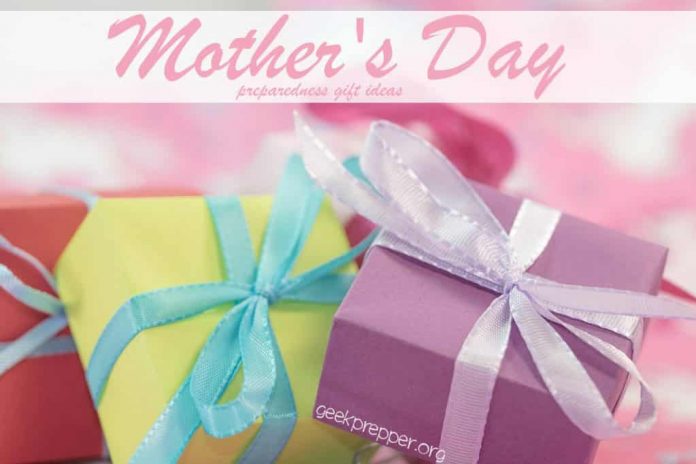 What do you buy your Wife and Mother for Mother's Day? If your wife or mother isn't a prepper, she will appreciate the fact that you want her to be safe! Here are some great holiday gift Ideas to help you out.

Preparedness Mother's Day Gift Ideas
Having a tough time finding that perfect gift, for that special lady in your life? Browse this list we've created or browse Amazon's ideas for Mother's Day Gifts!

When you buy one of these items for your Wife, Mother and Mother-in-Law,  print out a copy of the referenced blog posts, and package them with the item. That way they instantly see how the item works and how it will benefit them.
This list will be updated right up until Mother's day (May 10, 2015) so check back to see what's new!
Price Ranges:
Under $10
Seatbelt Cutter & Window Breaker – Pack of 2

A Window Breaking Hammer
Seat Belt Cutter with Recessed Razor Blade
Family Two Pack, put one in each car you own
Protection for the whole family and vehicle occupants!

 Emergency Mylar Thermal Blankets (Pack of 10)

Rescue Blanket provides compact emergency protection in all weather condition
Retains/reflects 90% of body heat
Made of durable insulation Myalr material
Waterproof and weatherproof
10 Pack
Size of each open blanket: 54 inches x 84 inches

Canvas Ammo Shoulder Bag

Measurements: 10″ x 8″ x 3.5″
100% cotton

Water is a high priority in most emergency situations; for something as simple as thirst, personal hygiene, rinsing your eyes or refilling a vehicle's radiator. There will be times that you need access to water, and it's right there, but you can't access it. One simple, inexpensive tool can change all that, the 4-way sillcock key.
300 Lumens of awesome! Runs on one AA battery!
Perfect size with the basics to carry anywhere! On-board tools include:

a small and medium flat driver
Philips head driver
wire stripper
pry bar
bottle opener
lanyard hole
Lightweight and airline safe!

100 Ft of paracord. If mom will ever needs cordage or rope, this is probably a good choice!
No more knots! Eliminates the hassle of tying, adjusting and untying knots. Great for setting up tents and many other tasks!
Under $20
The Cyalume SnapLight is an industrial grade light stick that provides instant 360 degree illumination, and can be seen up to a mile away!

6″ Long
12 Hour Duration (at 72 degrees F). Each 50-degree F (10-degree C) increase or decrease in temperature doubles or halves the reaction rate, and therefore the brightness and duration.
Pack of 10
light stick has a hook and gate top, for hanging or attaching the light
waterproof, non-toxic, and non-flammable
Each light stick is individually foil-wrapped for protection from light and moisture
five-year shelf life from date of manufacture.

 Fenix E01 Flashlight

Max 13 lumen output from a single AAA battery
21 hour run time using just one 1.5V AAA battery (battery included)
A perfect backup light for car, backpack, pocket or purse
1 ounce body made with aircraft-grade aluminum for long durability
IPX-8 Waterproof, 2 meters for 30 minutes

Does your wife or mother travel via Airlines? Give her a multi-tool that is TSA approved! This is the perfect carry on tool for your Wife or Mother who travels via Air.
 Burktek Pocket Wrench II

Laser engraved inch and metric scales are convenient for measuring fasteners and other small items.
Self-tightening gripping action allows Pocketwrench II to grip fasteners that standard wrenches won't.
Grips both inch or metric sizes, hex or square – anything that fits in the opening.
Variable width straight blade screwdriver doubles as a high-leverage, high-strength mini pry bar.
4″ long x 1″ wide x 1/8″ thick

I've bought these for all the preppers in my family and friends lists. Features of the LifeStraw

Removes a minimum 99.9999% of waterborne bacteria and surpasses EPA standards for water filters. It also
Removes a minimum 99.9% of waterborne protozoan parasites and
Filters to an amazing 0.2 microns.
Filters up to 1000 liters of contaminated water WITHOUT iodine, chlorine, or other chemicals.

The LifeStraw comes in a sealed bag, perfect for storing for emergencies.

SAS Survival Handbook, Third Edition: The Ultimate Guide to Surviving Anywhere

The ultimate guide to surviving anywhere, now updated with more than 100 pages of additional material.
Revised to reflect the latest in survival knowledge and technology, and covering new topics such as urban survival and terrorism.
Food: What to eat, what to avoid, where to find it, and how to prepare it.
First aid: A comprehensive course in emergency/wilderness medicine, including how to maximize survival in any climate or when injured.
Disaster survival: How to react in the face of natural disasters and hostile situations—and how to survive if all services and supplies are cut off.
Self-defense: Arming yourself with basic hand-to-hand combat techniques.
Security: Protecting your family and property from intrusion, break-ins, and theft.
Climate & terrain: Overcoming any location, from the tropics to the poles, from the desert to the mountains and sea.

 The Cold Steel Shovel is the the perfect choice for your mother or wife's EDC automobile kits! It can also be used as a hatchet, or a nasty weapon.
Hiding valuables and preparedness supplies in plain site. Diversion Safes are typically made from the actual cans or books themselves, so they blend in perfectly! These are perfect for the secret agent mother in your life!
Hiding valuables and preparedness supplies in plain site. Diversion Safes are typically made from the actual cans or books themselves, so they blend in perfectly! These are perfect for the secret agent mother or ninja wife in your life!

The Nite Ize Micro Light STS Features dual electrode capacitive sensing technology, called "Swipe-To-Shine". The modes are controlled by swiping your finger across the capacitive sensor on the Micro light to turn it on or off, or to activate it's 4 Functions:

High Power
Variable Dim
Low Power
Strobe.

This Awesome LED Lantern runs on three D batteries OR three AA batteries (three AA Energizer Max Alkaline batteries included). Talk about giving you some options!
Under $50
 If your mother or wife's mobile device(s) or small electronics use a micro-usb port to charge, then all she'll need to do is slide this in her pocket, purse, bag or backpack and she's ready to recharge or power her device(s).

Built in USB cable for re-charging the the Halo's internal battery
Built in Micro-USB cable for charging your devices
Comes with cables and adapters to charger your devices that don't have a Micro-USB charging port.
5500mAh battery

If your wife or mother uses her phone for everything (GPS, Video, Camera, Music Player) then this is a great companion for her devices!

American Red Cross Self-Powered AM/FM/NOAA Weather Radio with Flashlight, Solar Power and Cell Phone Charger

AM (520-1710 KHz) & FM (87-108MHz) NOAA weatherband & 8211
USB cell phone charger (USB cable not included)
3.5 mm headphone input
Dimensions:

2.5 inches x 1.75 inches x 5.25 inches

 Sawyer Products Mini Water Filtration System – Ideal for outdoor recreation, hiking, camping, scouting, domestic and international travel and emergency preparedness

0.1 Micron absolute hollow fiber membrane inline filter
Filters 100,000 gallons of water!
Removes 99.99999% of all bacteria, such as salmonella, cholera, and E.coli
removes 99.9999% of all protozoa, such as giardia and cryptosporidium
High performance filter fits in the palm of your hand; weighs just 2 ounces
Attaches to included drinking pouch, standard disposable water bottles, hydration packs, or use the straw to drink directly from your water source
Backed by a manufacturer's limited lifetime warranty

A single radio that allows communications on 2 Meter, 70cm, FRS, GMRS, MURS, Public Service Freqs, NOAA Weather Freqs, Marine VHF and more. A truly versatile and  great radio.
This solar charger has Dual USB Ports for iPhone, iPad & all other USB Compatible Devices. It also has handy loops for lashing it to trees or your backpack, while on the go!
Mom wants to get into solar? This kit can be perfect to get her started. All you need to add is a 12v battery and an inverter and she'll have solar power!
Under $100
| | |
| --- | --- |
| | This is a rugged knife, designed for the challenges of outdoor activities. |
| | This is a very slim knife. It will fit in most pockets or purses and doesn't add bulk or a bunch of extra weight. It has a 3″ blade so it is most likely legal in most states. Please check to verify before you carry it. |
| | The Kelly Kettle is a hollow wall volcano stove. The water is contained with the walls of the stove itself. This makes it's super efficient because all the heat goes up through the chimney and heats your water very quickly. If there is a need for a couple cups of coffee (or tea) or to purify some water, this model can do 17 oz at a time. There are larger models available. |
Over $100
Now Mom can keep all her eBooks in one convenient place. You can even gift her some Preparedness or Survival Kindle eBooks to go with it!
A bucket of emergency foods. Great gift for Mother's Day, because we all have family members who may not prep. Now when they show up after SHTF, your Mom's got them covered 😉
The Kelly Kettle is a hollow wall volcano stove. The water is contained with the walls of the stove itself. This makes it's super efficient because all the heat goes up through the chimney and heats your water very quickly. If there is a need for some coffee, tea or to purify some water, this base camp model can hold and heat 50.7 oz of water.
Samsung Smart WiFi Digital Camera – With built-in Wi-Fi capability, the WB350 makes it easy to post pictures and videos, along with comments, to Facebook, YouTube, Flickr, and other sites. You can also email files to friends and family members or use the Group Share function, which allows you to send images to up to four people simultaneously. The camera also comes with 2 GB of free Dropbox online storage or 50 GB if you also own a GALAXY smartphone.

Share your best photos instantly with Family and Friends with Built-in Wi-Fi with NFC
SMART features – Social Media Upload, E-mail, Photo beam, Direct Link, Mobile Link, PC Auto-backup, Remote Viewfinder, All Share
21x Optical Zoom for great shots up front or from a distance
1080p HD Video
microSD card required

Maybe your Mother enjoys a relaxing day on the water, or loves to fish! This boat is the perfect solution. It's deflates for storage and won't break the bank!

3 air chambers including an auxiliary air chamber in hull for extra buoyancy
Boston valve on two main hull chambers for quick-fill & fast-deflate
All around grab line
Inflatable I-Beam floor for comfort and rigidity
Has 2 welded oar locks on each side
1,000-pound maximum weight limit
Still no luck? If you still haven't found that perfect gift your Mother or Wife, then you should browse Amazon's ideas for Mother's Day Gifts!

Mother's Day shopping can be fun and educational, read learn and shop. Happy Mother's Day, Friends!