The Jackery Solar Generator 1500 is a pretty decent unit. With a good-sized battery that can charge up quickly, it can power up anything that requires 120v power.
But is it worth your hard-earned money? Here are my thoughts:
Specifications
Cell Chemistry: Lithium-ion Battery
Capacity: 1534Wh
Life Cycles: 500 cylces to 80% capacity
Weight: 35.2lbs
Dimensions: 14 x 10.4 x 12.7 inches
Operating Usage Temperature: 14 to 104F
AC Output: 110VAC, 60Hz, 1800W
USB-A Output: 5V, 2.4A
USB-C Output: PD60W
Car Output: 12V, 10A
DC Input: 24V, 10.5A
Battery Capability and Size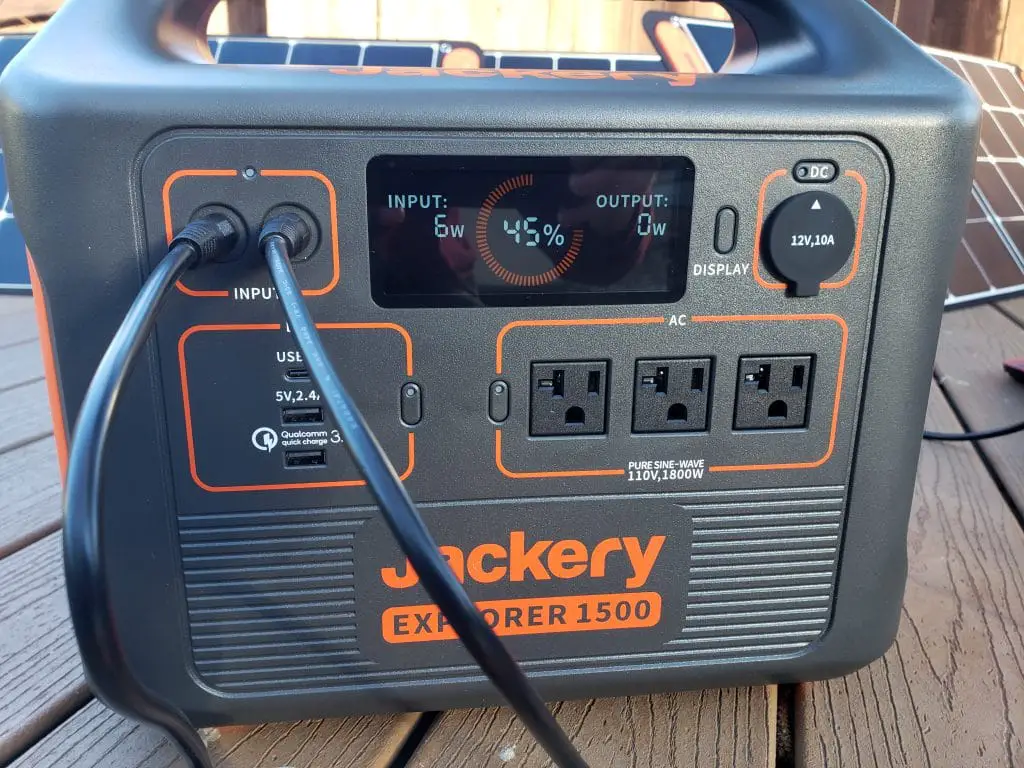 The solar generator has a 1.534wh battery. As a 24v system, it has 12v and 120v outlets right in front of it.
The unit uses a Lithium NMC battery which gave me no problem when it comes to pushing out power at its max load or even when sending power to my devices that have lower loads.
Take note that the battery is the heaviest part of the unit. And while it's beefy, I didn't have a hard time managing it and moving it around. It's portable and quite easy to move from one spot to another. At 35lbs, anyone won't have a hard time using the whole unit
Honestly, the generator's battery capacity is what I found the most impressive about it. The unit is actually capable of running a 1,800w load up until it hits zero percent. In my experience, that takes around 44 minutes- with no interruption, using full draw load.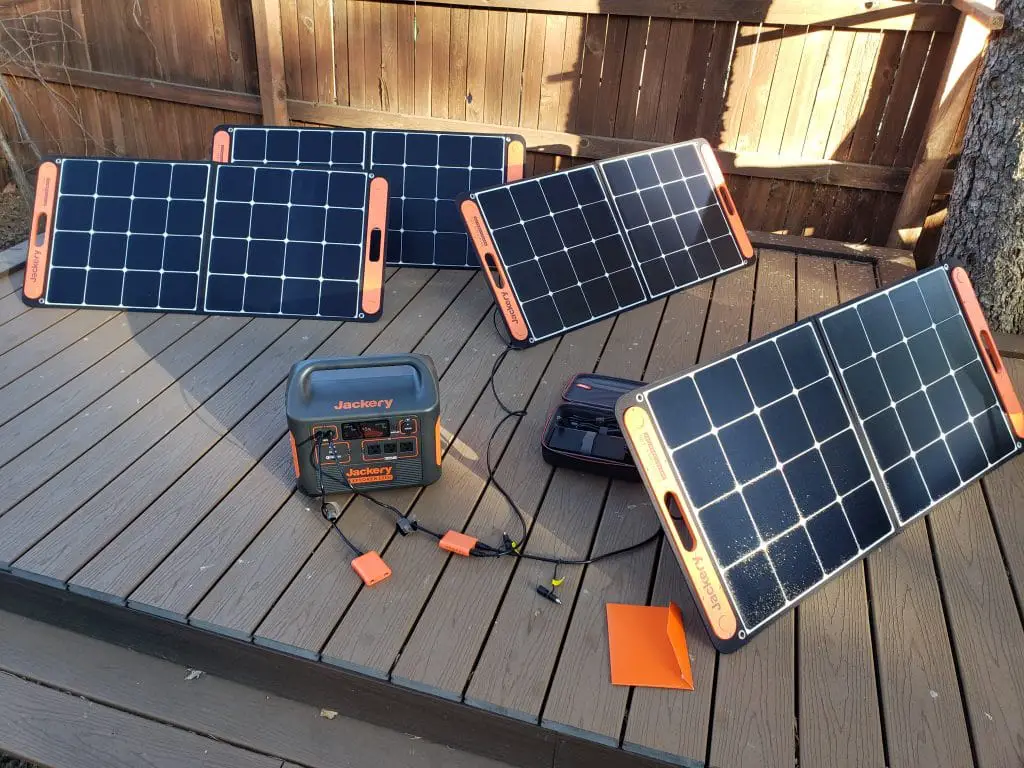 Now, here's the thing.
Using the solar generator, discharging it to 0%, and recharging it back to full means that you've used it for one full cycle. If you do that 500 times, its battery capacity will only be at 80%.
So instead of enjoying a 1.534wh battery, it will only be a 1.227wh battery. That's not entirely bad since that many hours on a gas generator will have wear with lower output, depending on how well it's maintained.
Charging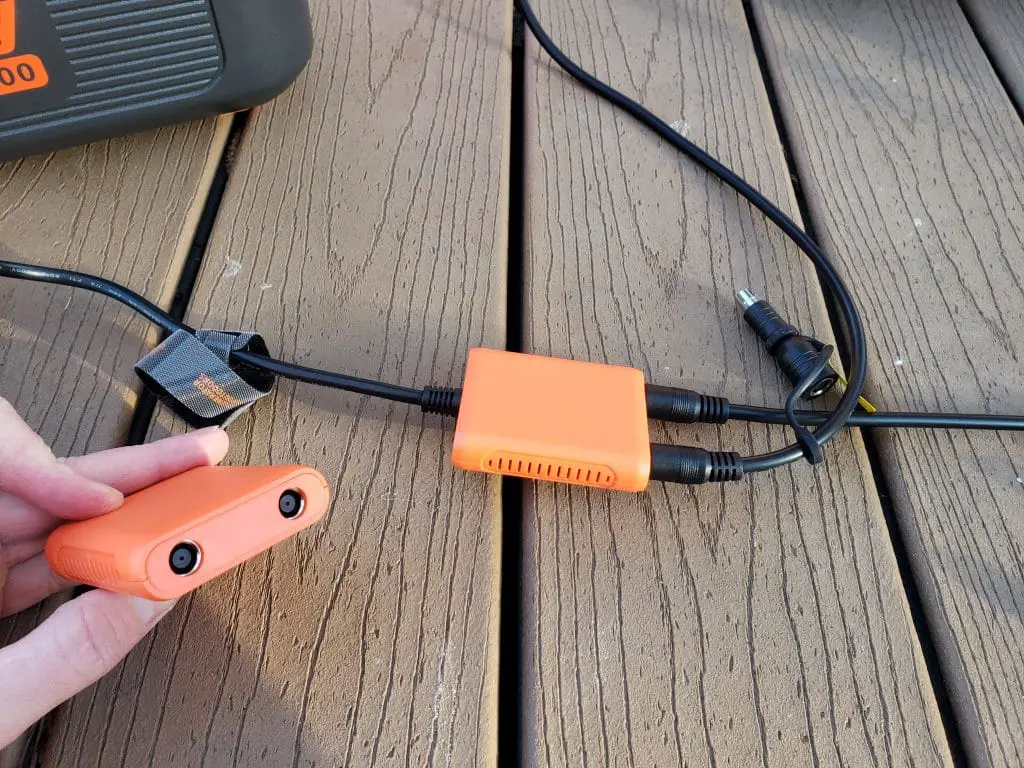 This is probably where I had experienced most of the issues with the unit.
Basically, there are different ways you can charge the generator. You can plug it into a wall outlet, through a DC car charger when you're on the road, or to solar panels if you're camping.
Based on the advertisement, the Jackery 1500 can charge up to 500w of solar panel. Ideally, that means you can have it recharged in just three hours.
Can it really put in 500w? Unfortunately, no. According to the user manual, its max input rating is only 400w.
But, hey. 400w of solar power is still quite good. Charging a 1.53wh battery can take around 4 to 5 hours but that is if you're not running anything off of it while you're getting it charged. If you do run chargers, fans, and lights while charging, it will considerably increase the charge time. And for people who like spending a lot of time outdoors, not being able to charge it in a day can be a huge disappointment.
Display and Other Features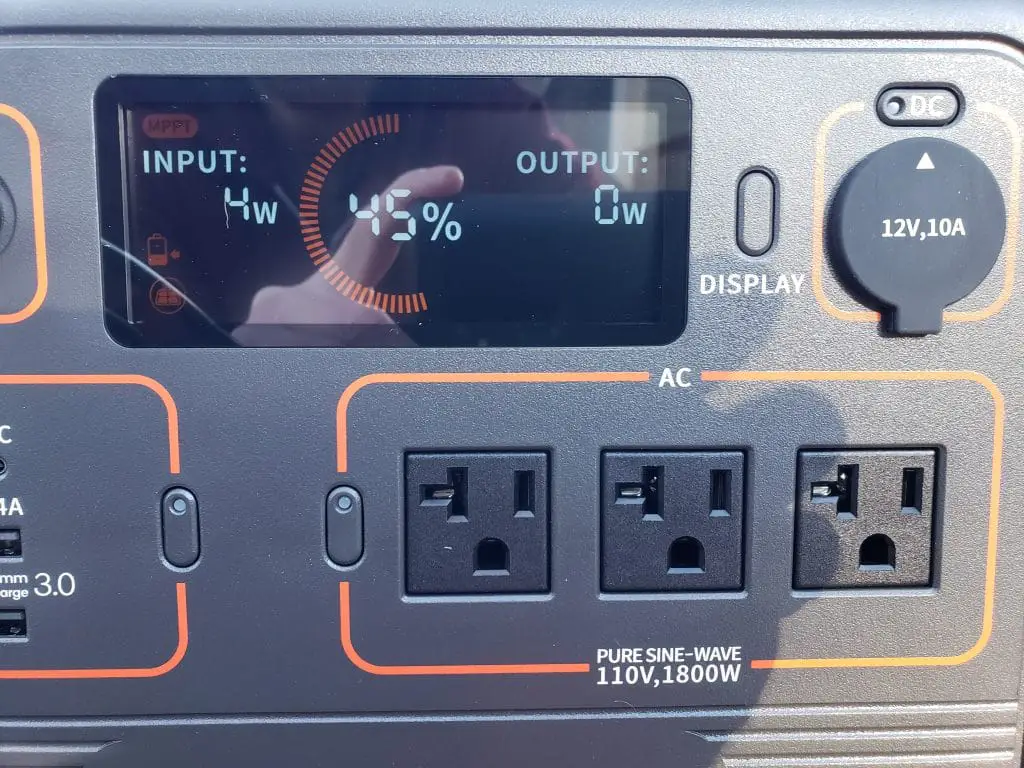 Compared with the brand's previous units, the Jackery Solar 1500 is definitely an improvement.
The intuitive approach the company used in making it is something you'll love. It features a clear visual display where you can see not just the input and output power but the battery icon as well. This is a big help if you don't want to do any calculations each time you want to check how much power is left.
Outlets and Connectors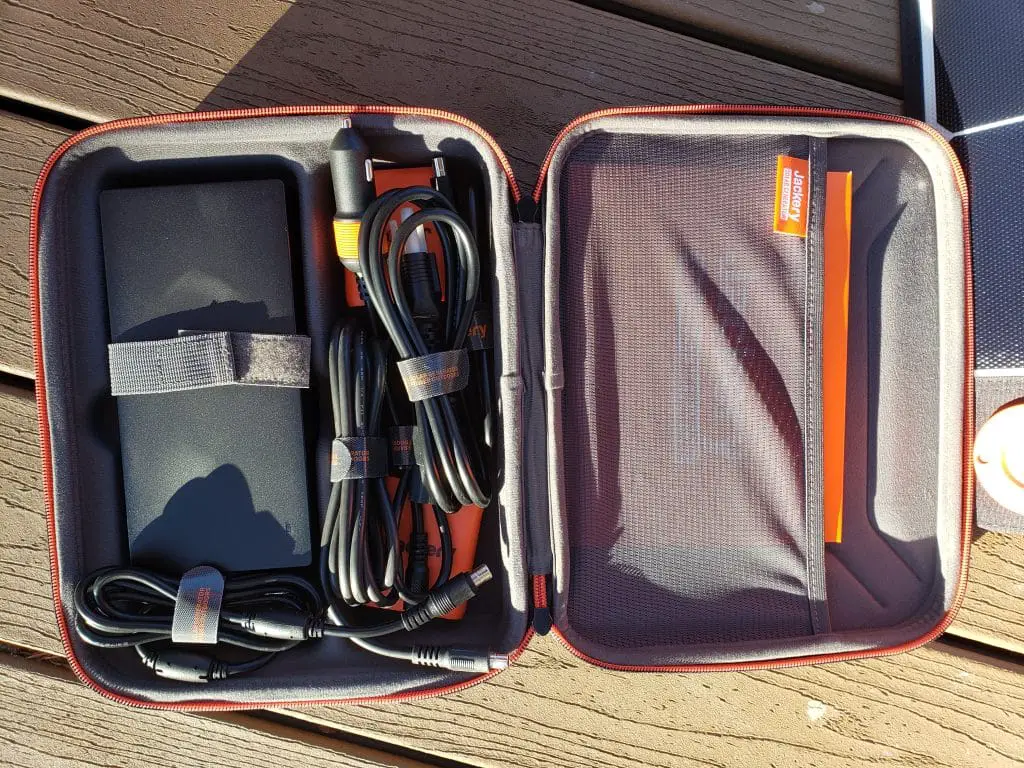 The generator comes with three 120v 15a rated outlets. They are essentially the same as 110v at 16.4.
There are two USB A type outlets that you can use for tablets, smartphones, and charging cables. There's also a single USB C plug rated to give an output of up to 60w.
And like most solar generators and power stations, it also comes with a 12v DC cigarette lighter port.
Customer Service and Warranty
The generator comes with a 2-year warranty which is really nice. This allows you to enjoy more coverage.
Jackery's customer service is quite impressive too. I have emailed and called them several times and each time, there's always someone answering my phone calls and responding to my emails. I had zero issues with them.
Testing It Out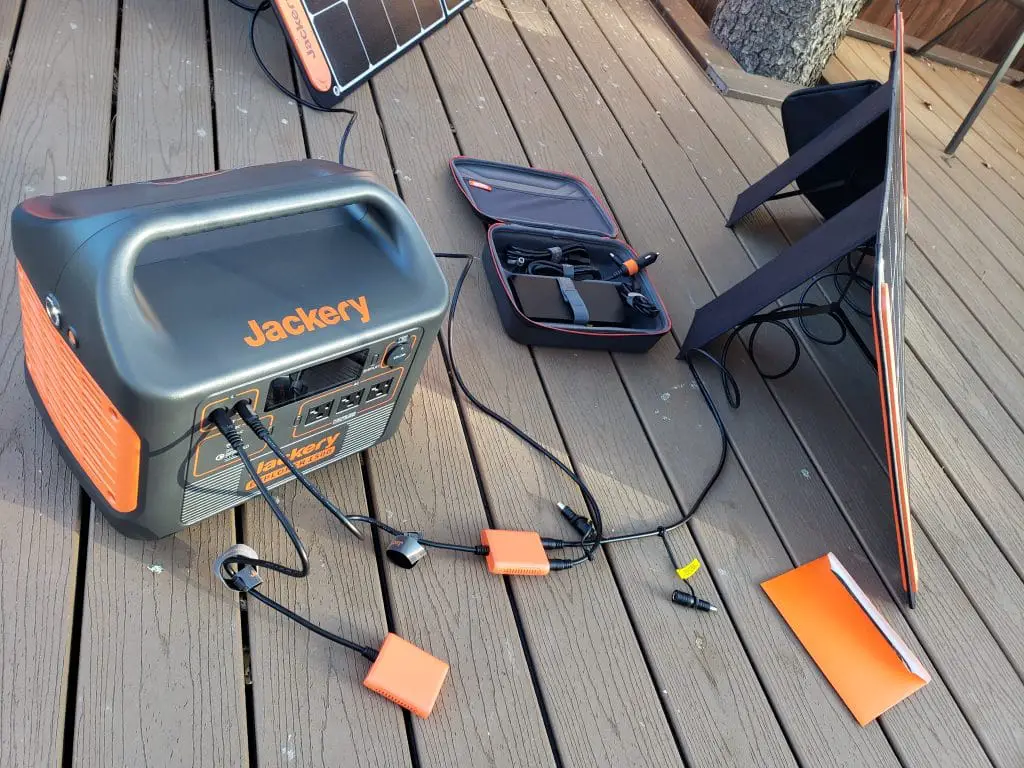 Based on Jackery's website, the generator can work with 85% of all electronic devices. The list even includes the approximate times it can run them continuously.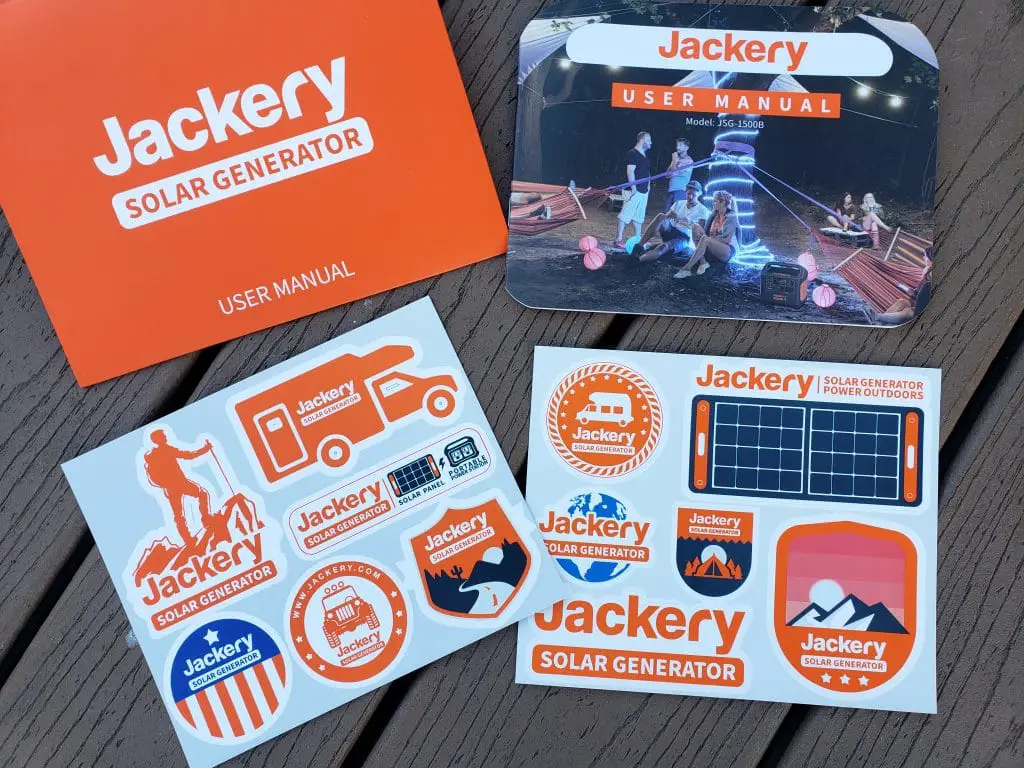 For example, the generator can power an electric grill for about 60 minutes. It can operate a mini cooler for around 21 hours, a pressure cooker for about 75 minutes, and a coffee maker for about 68 minutes.
So, to check which devices actually work with the generator, I decided to test a couple of them out.
I started with a mini chest freezer. I hooked it up to see how much power it'll draw. With the compressor cycled on, it pulled between 300 and 350 watts. When it stopped, the wattage output sank to zero.
My next subject was a full-sized home fridge. With the appliance plugged in and running, the generator reported about 265 watts being drawn. It has registered a possible run-time of about 7.1 hours.
While I wasn't able to know if the unit can power a mini-fridge or a camp freezer, the little test showed the device being a reliable source of backup power when it comes to multiple-day power outages.
Apart from the fridge, I also tested a 1000W tea kettle and a 1200W toaster. Both of them functioned well when hooked to the generator.
The Issues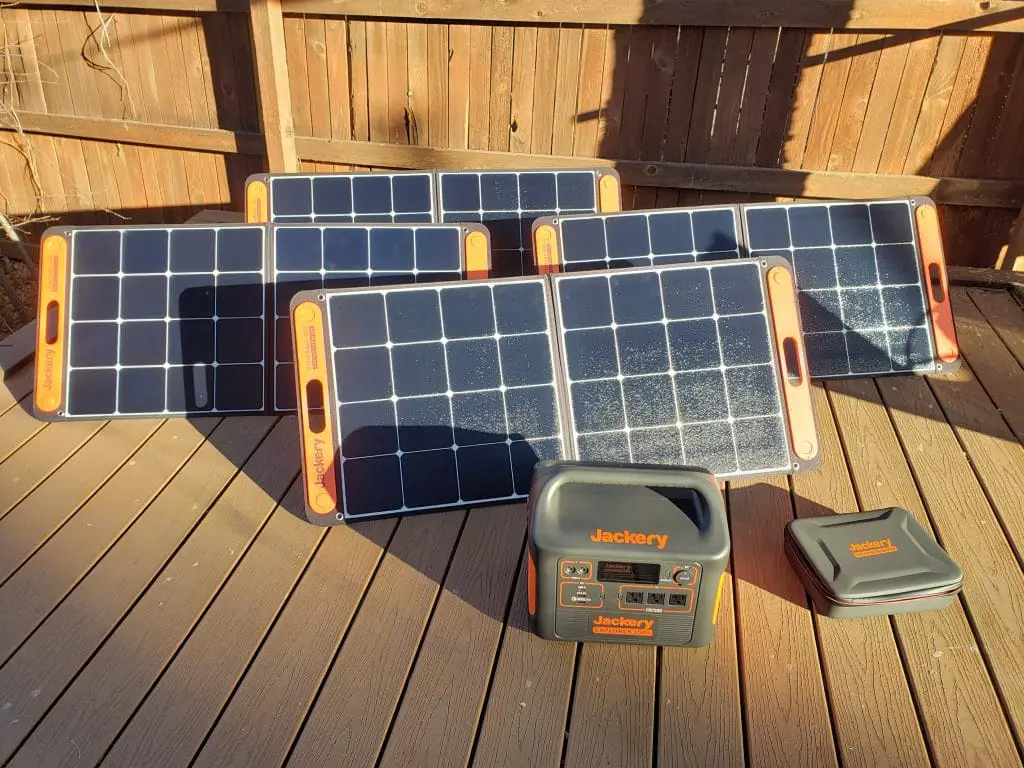 As mentioned earlier, one of the biggest deal breakers of this generator is more obvious with solar and wall charging.
Additionally, it requires the use of the SolarSaga solar panels. At around $300 each, it can be quite expensive, particularly since they don't give the highest output.
Apart from that, the screen doesn't stay on. It turns off after 10 to 15 minutes and that can be annoying when you want to view the charging status from a distance. You'll need to get really close to do that.
The generator isn't ideal for older folks and those people who like to go on backpacking trips. The weight of the generator may slow them down or even stress them out.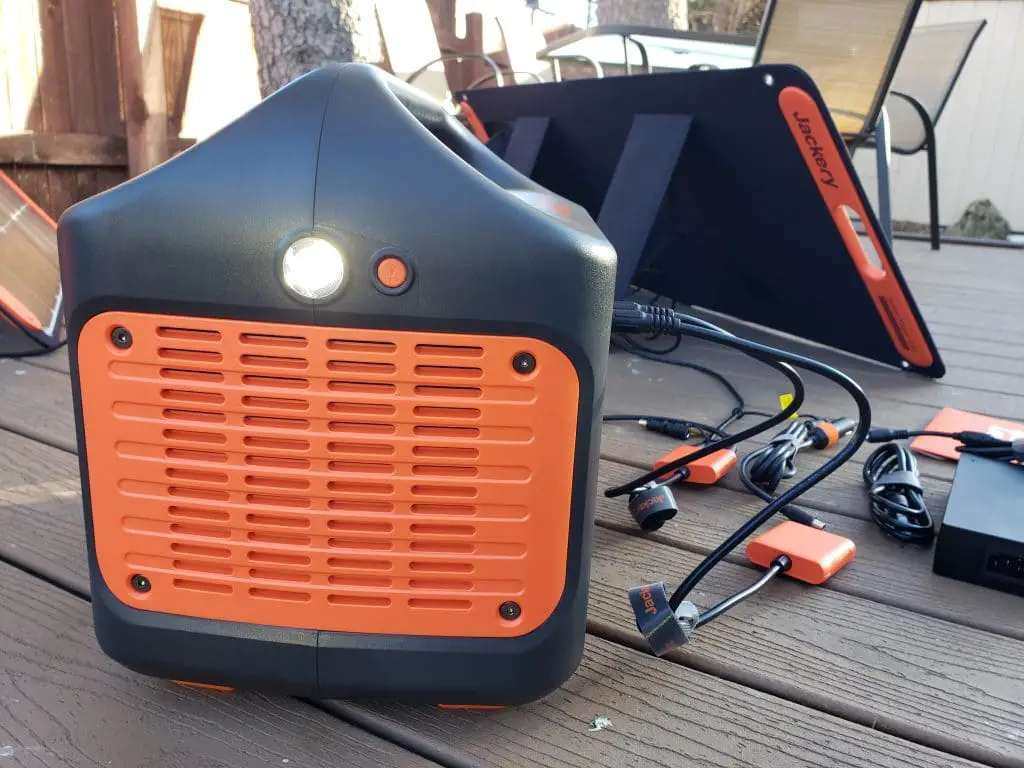 Should You Get It?
With the number of devices you can power with this generator, I'd say yes. Plus, there's solar power. If you like to go on nomadic off-grid bliss, consider it your ticket.
The built of the Jackery Solar Generator 1500 is of excellent quality. The LCD is colorful and bright, making it look so much better than the old Explorer 1000. It's easy to read. Even if you're in the dark, you won't have a hard time knowing how much juice the unit still has or how much power you're drawing from it.
With everything else, the Jackery Solar 1500 is an excellent buy. Although I highly recommend this for outdoor uses, it's still reliable when it comes to charging up devices in your basement in cases of disasters and unexpected events. If you're the type of person who likes going on vehicle-based adventures, purchasing it is a no-brainer.