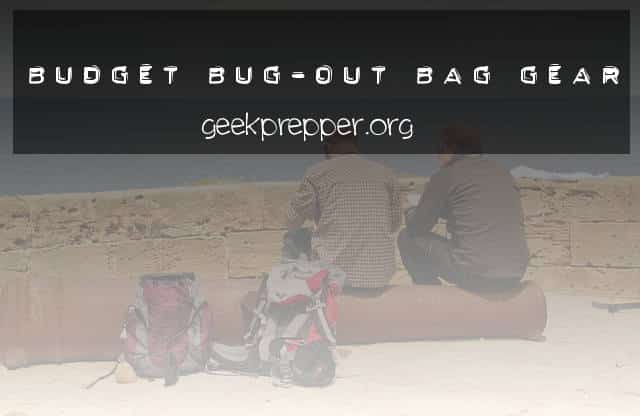 Everyone deserves a chance, regardless of income or station, in life. The budget bug-out bag gear list will give you multiple options to help you cut costs, while giving you dependable options, for the bag itself and the contents to keep you alive.
Budget Bug-Out Bag gear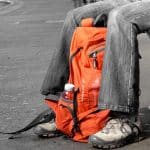 Backpacks:
Medium Size ALICE Pack w/Frame: $50 The ALICE Pack is rugged, dependable and has been field tested by the military for over 40 years of service. Some of the Medium ALICE packs come with an external frame. The frame can also utilize an ALICE Pack Shelf to for cargo carry, if the ruck sack is removed. The frame can be removed if needed. The original ALICE should straps and waist straps can be replaced with the newer MOLLE straps (Hell Cat Mod ALICE Pack) making one awesome Budget Bug Out Bag.
Load rating: 50lbs;
Volume: 2,350 cubic inch capacity
Price: $50ish (can be found cheaper or even bartered for if need be)
Condor Medium Assault Pack: $54 (give or take a few bucks, you may have to settle on color to get the best price). The more I use Condor gear, the more I trust them. They are rugged, well made and I have a healthy respect for them. This isn't a huge pack, but "light and agile" should be your methodology.
Volume: 1846 cubic in capacity
Price: $54 (give or take a few bucks, you may have to settle on color to get the best price)
The alternative to these backpack is any dependable backpack you can find. Look at your local thrift stores, big box stores and military surplus outlets. You can also look online for deals on cragislist.org.
Survival Manual:
US Army Survival Manual (FM 21-76): $10 This book is chock full of the same survival knowledge that has keep our armed forces guys (and gals) alive. I've seen these at the local surplus store for around $5, but get one someplace, anyplace, now. Stick it in your bug out bag!
Survival Knives:
Here we have a 3 good recommendations for your Budget Bug Out Bag. All have a full tang (blade metal extends fully through and is part of the handle) and all have great reviews.
Cold Steel Bushman: $28. I own a couple of these, and one of them is in my Get Home Bag! The blade and handle are one seamless piece of hardened steel. The handle portion is rounded/hollow allowing you to easily mount it on a pole to make a spear. The handle can be corked at both ends to hold smaller supplies (fishing tackle perhaps). The sheath doesn't have a snap or velcro to hold the knife in security, you're going to need to use paracord or something to hold it fast. The sheath does have a nice external pocket for extra items (sharpening stone perhaps).
Smith & Wesson CKSUR1 Bullseye Search and Rescue: $24. This knife appears to be designed with the K-Bar military knives in mind, but is a bit smaller (not a bad thing). I EDC a Smith and Wesson knife and find their quality and price point to be pretty good. This one is on my wishlist for an upcoming purchase. This knife has had great reviews on Amazon and should be a good Budget Bug Out Bag survival knife.
Cold Steel GI Tanto Knife with Secure-Ex Sheath: $24. Another great knife from Cold Steel. This knife is rugged and inexpensive. It will baton wood like a champ. I am a really big fan of the tanto style tips for durability too. Make sure to order the one that comes with the Secure-Ex sheath!!
Mora Knives: $8-16. Make sure to get a smaller, general purpose blade, to back up your survival knife and to handle smaller more delicate tasks (cutting food). Either the Swedish Mil. Mora Knife or the Mora Utility Knife would be perfect. Mora makes a really fantastic knife, their blades come razor sharp and hold that edge quite well.
Light:
Lighting EVER Super Bright LED Headlamp: $7. This headlamp has 18 White LED and 2 Red LED, offering you a choice of 4 Brightness Levels. The win factor for me was the Red LED mode. You can operate with lower Red light, saving your night vision and helping to protect you from observation when navigating. Make sure to have a headlamp and some red light source in your budget bug out bag.
Shelter:
Woodland Camouflage Rip-stop Poncho: $26. I like this because it's both rain gear and can be unsnapped into a shelter tarp. It's dual purpose saves space and could save money instead of buying rain gear and a tarp.
Texsport Camouflage Trail Tent: $36 If you already have a rain coat or just really want a tent, this is a great tent. I'm 6 foot and fairly stout, but I can lay in this tent comfortably. My 3 children (3, 5 and 7 yrs) can also fit in here with me. It's light and packs up to about the size of a loaf of bread. I'd replace the cheap tie down lines on this with paracord. I must recommend using waterproofing spray on this tent or any other, before using it in the wild.
Multi-Tools:
Leatherman Wingman: $23. Knives and multi-tools are places where it's really hard to cut corners to save money. Leatherman tools are rugged and I use my Wingman every day. It's served me well and I'd trust it with my life.
Gerber Suspension: $19 I have 4 Gerber multi-tools, mostly the Gerber 600 and Gerber 600 MP Scout. The Gerber Suspension is one I don't have, but based on my experience with Gerber, this one should be comparable.
Cooking and Water:
Rothco Canteen / Cup Kit with Cover in Olive Green: Canteen, Canteen Cover and GI Cup. Drink from the Cup and also use the cup for cooking your meals. If you are bugging out a family, just lash one of your skillets to the outside of your backpack! You can also add the Aluminum Canteen Cup Stove ($11) and nest it all together, saving space. Esbit 1400 Degree Smokeless Solid Fuel Cubes would make this a fully complete cook set.
Esbit Ultralight Folding Pocket Stove with Six 14g Solid Fuel Tablets: $6.  If you don't want to use the Canteen Cup Stove, the Esbit folding pocket stove is almost the standard in backpacking/survival stoves and it comes with 6 fuel tablets already.
Columbia River – EatN Tool: $5. A Spork with a bottle opener and carabiner attachment. Also has a couple hex openings for common bolt sizes. You could just grab your own silverware on the way out the door, but in an emergency who's thinking about flatware?
GI P51 and P38 Can Openers: $2. I know you want to open that can of food you thought to bring. I keep one in my tackle box.
LifeStraw Personal Water Filter: $22. The standard for portable water straws. Filter up to 1000 liters with this amazing device. Every bug out bag and automobile should have one in them. I know I have these stashed in my bags and cars. Do you?
Potable Aqua Water Treatment Tablets: These are great for when you can wait 30 minutes to take a drink. Perfect though for treating the water in your canteen that you just filled from that dirty river! When you make camp, then you'll have time to boil….maybe.
Fire:
Bic Lighters (6 pack): $5.  I buy these by the 50 count, so I can have a handful in each bag and each car. I also keep one in my pocket.
Coghlan's 1005 Flint Striker: $5. I highly recommend that you practice with this before you try to use it in an emergency. Yes it will make fire, but you need to understand how to do it.
Fishing:
South Bend 137-Piece Deluxe Tackle Kit: $12  A bunch of good supplies, probably too much. I'd probably take the essentials and move them to a smaller Plano 3214 Stowaway Micro Organizer Box ($5).
Fishing Line: South Bend Monofilament Line, 50-Pound: $4. 110 yards of 50 lb test. Yes that's heavy line for fishing, but there's a good chance you'll be using this for many other things.
Other:
Paracord: You can never have enough Paracord. This is good to have in Bug Out Bags, automobiles, and in tool boxes. I even keep some in my laptop case.
Duct Tape: You probably have duct tape already, if not make sure to get some next time you are shopping.
Mini Sewing Kit: You don't want to run around in the apocalypse with a hole in the butt of your pants. What would the other survivors think?
First Aid Kits: You can piece together what you need. It's hard to justify buying cheap items when it comes to heath.
This list of Budget Bug Out Bag items isn't all inclusive. This is only a good starting point or good base for you to modify or substitute according to your needs or regions. Feel free to browse the products on Amazon so you can read the customer reviews, of the products we recommended, and then look at competing or alternate items.
You can also browse our Budget But Out Bag list on our Shopping Portal.